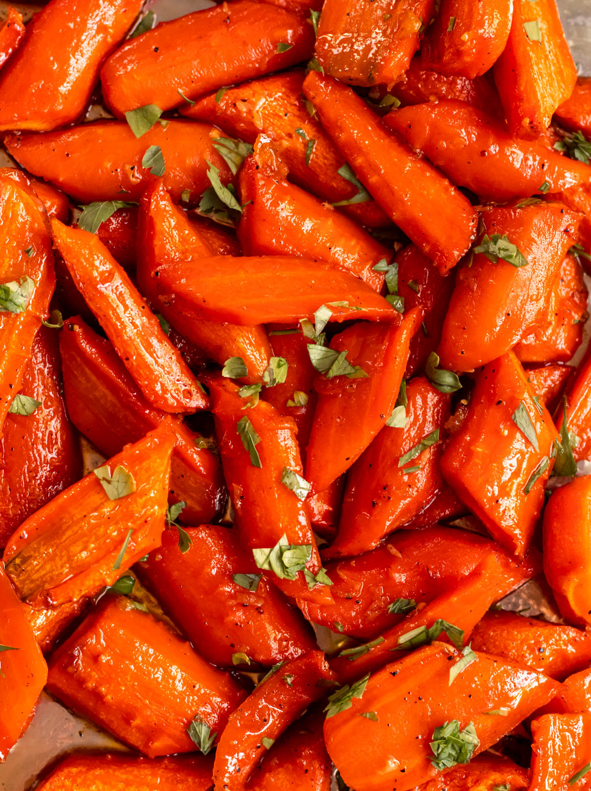 Yields:

5 Servings
Difficulty:

Easy
Prep Time:

10 Mins
Cook Time:

20 Mins
Total Time:

30 Mins
These brown sugar glazed carrots are one of our favorite side dishes to make. These brown sugar glazed carrots are super easy to make, take a few simple ingredients, and come together in a snap! These glazed carrots are perfect to pair with any main dish!
These glazed carrots are made by roasting carrot slices that are tossed together in brown sugar, butter, salt and pepper, fresh garlic, and olive oil. Sounds good to you? Keep on reading for the instructions!
If you like side dishes as much as we do, check out our smashed potatoes, air fryer potato wedges, and our creamy mashed potatoes.
Why this recipe works:
It uses carrots that you can keep fresh in the fridge for a few weeks.
They are inexpensive to make.
This recipe includes only 5 ingredients.
The whole recipe comes together in under 30 minutes.
The perfect side dish for any main dish.
Watch our video for how to make brown sugar glazed carrots:
If you enjoyed this video version of this recipe, please subscribe to  OUR YOUTUBE CHANNEL!

What you will need for this brown sugar glazed carrots recipe:
Carrots- use fresh carrots for this recipe. You will need about 1 kg of carrots for this recipe.
Garlic- use fresh garlic for this recipe. Grate it or mince it.
Brown sugar- you will need ¼ cup of brown sugar for this recipe.
Salt and pepper- for taste.
Olive oil- use your favorite kind of olive oil. Canola oil and vegetable oil will work great as well.
Butter- melt the butter in the microwave on 30 seconds pulses, to make sure that the butter doesn't boil up and explodes in the microwave (been there done that), or melt it on the stovetop.
Parsley- for toppings. (optional)




How to make brown sugar glazed carrots:
Preheat your oven to 200c (400f).
Peel and cut your carrots diagonally. Make sure that the carrot pieces are about the same size so they will cook evenly.
In a medium mixing bowl, add the carrots, brown sugar, garlic, salt and pepper, melted butter, and the olive oil. Mix with a wooden spoon until the carrots are covered with the ingredients evenly.




Spread the carrots on a baking sheet evenly and bake them in a 200c(400f) preheated oven for 10 minutes.
After 10 minutes in the oven, mix carefully and bake for another 10-15 minutes.
Toss the carrots with the glaze that is on the baking sheet. Top with chopped parsley and serve!
Frequently asked questions:
Do I have to use brown sugar?
No! these glazed carrots can be made with a bunch of different sweeteners:
Honey
Maple syrup
Dark brown sugar
Agave
How long will these brown sugar glazed carrots last?
These brown sugar carrots will last for up to 4 days stored in an airtight container in the fridge. We like eating the carrots fresh, but if you have leftovers, simply reheat them in the microwave or in the oven.
How do I know when the brown sugar glazed carrots are ready?
Some people like eating their carrots when they are just ready, and some like eating their carrots when they are overbaked. This step depends on you. If you like a bit of a crunch to your carrots, bake them for 20 minutes. If you like your carrots a bit softer, bake them for a few minutes longer and check them to your preference.




What to serve next to these brown sugar glazed carrots?
When it comes to side dishes like these brown sugar glazed carrots, we like to serve them next to our favorite main dishes like roasted chicken, cottage pie, stuffed chicken, and more!
Can I make this recipe ahead of time?
Yes! We like eating these carrots fresh, but if you'd like, you can toss the carrots in the brown sugar, melted butter, olive oil, and the spices, and place them in a covered bowl in the fridge. When you are ready to serve, roast the carrots according to the instructions, this step takes only 20 minutes!




Tips for this recipe:
Cut your carrots into even pieces so they will cook evenly.
Season with salt and pepper to taste.
Add more brown sugar if you like sweeter glazed carrots.
If your carrots are on the thicker side, cook them for a bit longer.
You can subtitle honey, dark brown sugar, or maple syrup for the brown sugar.

More side dishes to try:
Rosemary Garlic Crispy Smashed Potatoes- This crispy from the outside and creamy from the inside roasted smashed potatoes have become our family favorite potato side dish ever!
Parmesan Crusted Potatoes- These parmesan crusted potatoes are addictive, with a crispy exterior and a creamy interior they are hard to resist.
Creamy Mashed Potatoes- This creamy mashed potato recipe is incredibly delicious. Made with only 5 ingredients, you get a perfect side dish for Thanksgiving or Christmas!
Air Fryer Potato Wedges- These air fryer potato wedges are what you've been looking for, these potato wedges are a healthier version of traditional fried or roasted potatoes. These simple air fryer potato wedges are crispy on the outside and tender on the inside.
If you tried this recipe, don't forget to leave a rating and a comment below. We love hearing from you.
If you liked this recipe:
Share/pin this recipe to Pinterest.
Leave a comment down below!