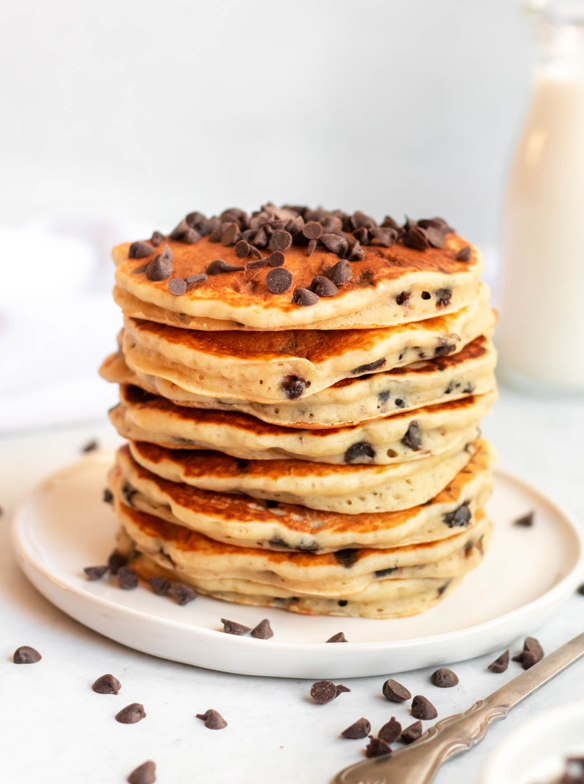 Yields:

5 Servings
Difficulty:

Easy
Prep Time:

5 Mins
Cook Time:

15 Mins
Total Time:

20 Mins
Chocolate chip pancakes are one of our favorite sweet breakfasts to make, they are super simple to make, come together in under 20 minutes, and tastes amazing. Who doesn't like dessert for breakfast? These pancakes are incredibly fluffy, filled with chocolate chips that add a delicious flavor, and they turn out amazing every time!
If you like breakfast as much as we do, check out our lemon ricotta pancakes, shakshuka, chocolate chip banana bread, peanut butter banana overnight oats.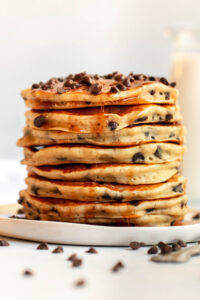 Watch our video for how to make chocolate chip pancakes:
If you enjoyed this video version of this recipe, please subscribe to  OUR YOUTUBE CHANNEL!
Why this recipe works:
This recipe uses simple ingredients that are easy to find in your pantry.
It doesn't get easier than this! this recipe can be made by anyone, there is no need for cooking skills.

Chocolate chip pancakes ingredients:
Buttermilk- we make our homemade buttermilk (1 cup of milk plus 1 tbsp of lemon juice or vinegar).
Eggs- use room temperature eggs.
Butter- melt your butter in the microwave or on the stovetop.
Chocolate chips- we like using semisweet chocolate chips.
Vanilla extract- for extra flavor.
Sugar- we use granulated sugar, but caster sugar will work as well.
Baking powder- to help the pancakes rise.
Baking soda- to help the pancakes rise.
Kosher salt- use kosher salt for this recipe.
Flour- we use all-purpose flour for this recipe, but cake flour will work great as well.
How to make chocolate chip pancakes:
1.  Into a large mixing bowl, add the sugar, baking powder, baking soda, salt, and flour. Mix with a whisk or with a spatula.
2.  Add the buttermilk, eggs, melted butter, and vanilla extract, and mix well with a whisk. Make sure you don't overmix so you won't get dry pancakes.
3.   Melt ½ tsp of butter on a skillet over medium heat and cook each pancake until bubbles are formed on the top of the pancakes.




4.   Flip the pancake and cook for another minute on medium-low heat.
5.   Serve these pancakes with more chocolate chips and maple syrup and enjoy!
Reheating pancakes:
These pancakes are amazing while fresh and hot, but if you want to reheat these pancakes the day after, simply preheat an oven to 150c (300f) and heat them for 5-7 minutes.
Another way to reheat these pancakes is by reheating them in the air fryer for a few minutes at 150c (300f).
Another way to reheat pancakes is by toasting them in the toaster oven, just like you would do with bread.
What oil should I use for cooking pancakes?
There are a few options:
Butter- our favorite way to cook pancakes is with ½ tsp of butter at a time. The butter gives the pancakes a delicious buttery flavor.
Coconut oil- we love making pancakes with coconut oil, it's a slightly healthier option and gives the pancakes a light coconut flavor.
Vegetable or canola oil- we love using vegetable or canola oil for cooking pancakes as well, you won't need a lot, for each pancake you will need about ½ a tsp.
Topping ideas for chocolate chip pancakes:
Maple syrup
Fresh berries
Lemon curd
Chocolate chips
Sliced banana
Nutella
Whipped cream
Butter
Powder sugar

Frequently asked questions:
Can I freeze chocolate chip pancakes?
Yes, these pancakes freeze great although we prefer and suggest eating these pancakes fresh. If you want to freeze these pancakes, place them in an airtight container for up to a month in the fridge. To preheat, place the pancakes in a preheated oven for 150c (300f) until the pancakes are heated well.
How long will chocolate chip pancakes last?
These chocolate chip pancakes will last for up to 3 days stored in the fridge in an airtight container. We suggest making these pancakes the day you eat them, they taste the best fresh.
How to serve chocolate chip pancakes?
We love serving lemon ricotta pancakes with whipped cream, blueberries, and maple syrup. These lemon ricotta pancakes are extremely moist, so you won't need to add a lot of maple syrup.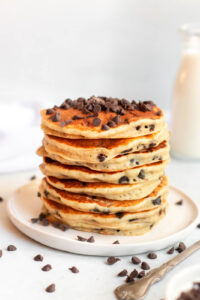 What to serve with chocolate chip pancakes?
Bacon
Eggs or egg muffins
Smoothie
Hash brown
Sausage
Smoothie bowl
Breakfast casserole
More breakfast ideas:
Lemon ricotta pancakes- These lemon ricotta pancakes are fluffy, moist, and full of lemony flavor. These pancakes are made with lemon zest, lemon juice, and ricotta cheese that makes these pancakes moist, extremely fluffy, and flavorful.
Homemade Granola- This homemade granola recipe is made with oats, nuts, seeds, cinnamon, coconut oil, honey, and natural peanut butter.
Shakshuka- Shakshuka is an easy Israeli and middle eastern dish of eggs poached in a sauce made with fresh tomatoes, olive oil, peppers, onion, garlic, and spices.
Chocolate Chips Banana Bread- This super moist banana bread is stuffed with melted chocolate chips is just amazing. This chocolate chip banana bread is made in just one bowl and takes only a few minutes to prep. This recipe is a family favorite and hard to resist.
Peanut butter banana overnight oats– Overnight oats are one of our favorite healthy breakfast ideas, especially for busy mornings. We find this peanut butter banana overnight oats combination is the best combination for overnight oats.
If you tried this recipe, don't forget to leave a rating and a comment below. We love hearing from you.
If you liked this chocolate chip pancakes recipe:
Share/pin this recipe to Pinterest.
Leave a comment down below!