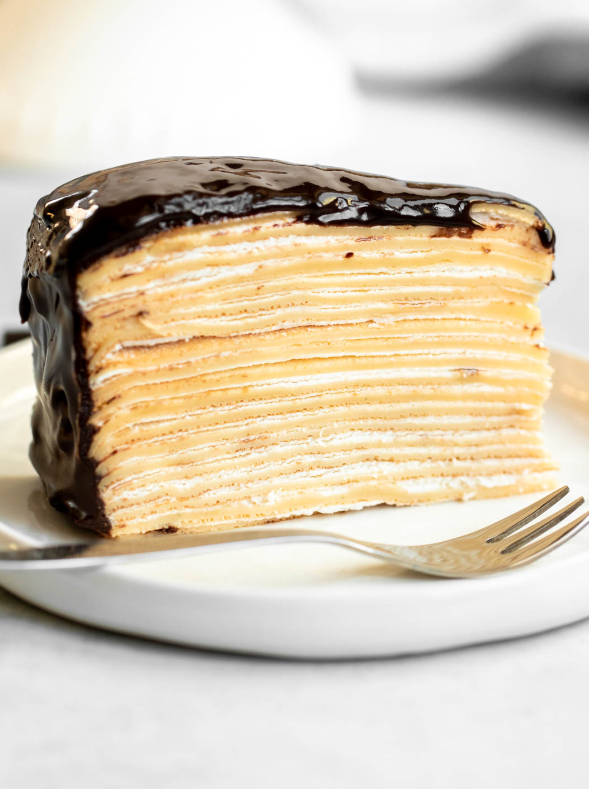 Yields:

12 Servings
Difficulty:

Easy
Prep Time:

20 Mins
Cook Time:

30 Mins
Total Time:

50 Mins
This crepe cake recipe is made by layering French crepes with whipped cream and topped with a delicious chocolate ganache. This cake is impressive, easy to make, and delicious.
This crepe cake is perfect for any occasion, everyone will think it took you hours to make this cake, but it's quite simple and quick to make. Our favorite part about this recipe is that it takes really simple ingredients to make this crepe cake.
Watch our video for how to make French crepes:
If you enjoyed this video version of this recipe, please subscribe to  OUR YOUTUBE CHANNEL!




Tools in this recipe:
Offset spatula- to smooth out the crepes.
Mixing bowls- best glass mixing bowls.
Whisk set- our favorite copper whisk set.
what you will need for this recipe:
for the crepes:
flour- we used all-purpose flour for this recipe.
sugar- we used granulated sugar for this recipe, caster sugar will work great as well.
eggs- use room temperature eggs for this recipe.
milk- we suggest using regular milk, but most milk kinds will work.
oil- we used canola oil for this recipe, vegetable oil will work great as well.
vanilla extract- for flavor.
Pinch of salt- for taste.
For the whipped cream:
Heavy whipping cream- use cold heavy whipping cream.
Powder sugar- for sweetness.
Vanilla extract- for extra flavor.
For the chocolate ganache:
Dark chocolate- use your favorite brand of dark chocolate.
Heavy cream
How to make chocolate crepe cake:
1.    In a big-medium mixing bowl add flour, and sugar, and salt. Mix well.
2.   Add the wet ingredients: eggs, milk, and vanilla extract. Mix well until well combined.
3.   Heat a nonstick pan over medium heat. Spray with oil or butter the pan with butter.
4.   Add a ¼ cup of the batter to the pan and spread the batter quickly.
5.   Flip the crepes when the edges are slightly golden and cook for another 30-40 seconds.
6.   Let the crepes cool completely before adding the whipped cream.
7.   Into a large mixing bowl, add cold whipping cream, powder sugar, and vanilla extract.
8.   Mix with an electric hand whisk or with a stand mixer (balloon whisk attachment) and mix until stiff peaks form.
9.   Melt dark chocolate and heavy cream in a small to medium mixing bowl in the microwave for about 50 seconds.




10.  Let the chocolate and the cream sit for 10 minutes for the chocolate to melt, then mix until the chocolate ganache is smooth and silky.
For the assembly:
1.    Place the first crepe onto a serving platter and spread an even thin layer of the whipped cream on top. Repeat this step on the rest of the crepes and the whipped cream. Place the cake in the fridge for an hour to help it firm up.
2.   Place an 8-inch plate on top of the crepe cake and cut off the edges all around the cake with a serrated knife until the edges of the cake are even and you get a clean circle.
3.   Pour the ganache on top of the cake and spread it with an offset spatula.
How to make French crepes in the blender:
1.    Add the wet ingredients first to the blender to prevent the dry ingredients from sticking to the bottom of the blender.
2.   Add the dry ingredients and blend until the crepe batter is smooth and silky.
3.   Pour the batter into a medium-sized bowl and cover it with plastic wrap. Let the batter rest for at least 30 minutes.
4.   Cook the crepes according to the instructions.




Tips to perfect this recipe:
Chill the batter for at least 30 minutes. We like to chill the crepe batter overnight. This step gives the crepe batter a better flavor and texture.
Use a blender to make the crepes. Making French crepes in a blender makes the crepes batter super silky and smooth with no lumps.
Tilt and rotate the pan when you make the crepes, this is the most efficient way to spread the batter evenly.
Serve this cake the day you make it. This cake tastes the best the day it's made.


Frequently asked questions:
What are French crepes?
French crepes are French-style pancakes, crepes are very thin. Crepes can be serves as sweet or savory, there are a variety of fillings that can go into crepes. French crepes can be served as breakfast, or brunch, they can be served as a dessert or as a dinner.
Can I make French crepes in my blender?
Yes, a lot of people like to make French crepes in their blender, it helps the crepes to be super smooth and takes no time to make. For this recipe, throw all the ingredients into the blender, blend, and follow the rest of the instructions.
How long will this crepe cake last?
This crepe cake will last for up to 3 days stored in the fridge in an airtight container.




Can I make this chocolate crepe cake in advance?
Yes! You can prepare all the ingredients in advance, the crepe batter, the whipped cream, and the chocolate ganache. The crepe batter can be in the fridge for up to a day.
Another option is to make the crepes a day ahead, make sure you store them in an airtight container so they won't dry up.
All you have left to do is assemble the cake. If you make the chocolate ganache in advance, warm it in the microwave an let it cool to room temperature so it won't be too hot.
How to store this chocolate crepe cake?
It's important to store this cake in the fridge because the cake is filled with whipped cream, and whipped cream needs to stay refrigerated.




More impressive and easy cakes to try:
Black Forest Cake- This black forest cake is made by layering moist chocolate cake layers with fresh cherries, cherry liquor, whipped cream, and topped with chocolate ganache.
Best Ever Chocolate Cake– This is the best ever chocolate cake ever. I've been searching for the best one bowl chocolate cake recipe for so long and found it and can't wait to share it with you!
No-Bake Éclair Cake– Éclair cake is one of the easiest recipes or desserts of all time. This recipe is perfect for when you don't have time to prep a fancy dessert but still want to impress. Make this recipe for your next BBQ, picnic, family or friends get together, or make it just for you!
If you tried this recipe, don't forget to leave a rating and a comment below. We love hearing from you.
If you liked this chocolate crepe cake recipe:
Share/pin this recipe to Pinterest.
Leave a comment down below!
Adjust Servings
For the crepes:

For the whipped cream:

For the chocolate ganache:

Instructions:

For the assembly: