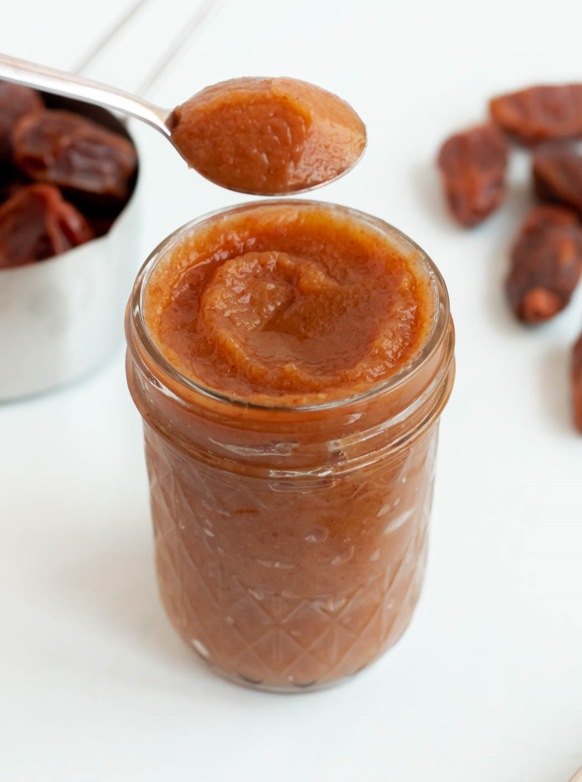 Yields:

14 Servings
Difficulty:

Easy
Prep Time:

30 Mins
Date paste is super easy to make, takes only two ingredients, and is a great natural sweetener, dip, or spread for baking. This healthy sugar substitute is loaded in fiber, is rich in antioxidants, and has many other health benefits.
Date paste is vegan, gluten-free, dairy-free, paleo-friendly, and whole30 approved! Our favorite way to use date paste is as a filling in our date roll cookies.
Watch our video for how to make date paste:
If you enjoyed this video version of this recipe, please subscribe to  OUR YOUTUBE CHANNEL!
Recipes to use date paste:
Cookies
Muffins
Brownies
Smoothies
Coffee sweetener

Do dates raise blood sugar?
Dates contain a large amount of fiber, and that balances the glycemic index and makes date paste a great natural sweetener for diabetics.




What you will need for this recipe:
Pitted dates- we used Medjool dates, they are the sweetest and the softest, but you can use any kind of dates that you'd like because we soak the dates and soften them with hot water.
Hot water- use hot boiling water to soften the dates.
How to make date paste:
1.    Remove the stems from each date using a knife (see in the video).
2.   Fill a heat-resistant bowl with hot water, and add the dates to the bowl.
3.   Let the dates soak the water and soften for 30 minutes.
4.   When the dates have softened, reserve 1 cup of the date water and drain the rest.
5.   Place the dates in a food processor or in a blender and start blending, adding water if the mixture is too thick.
6.   When you get the right texture, place the date paste in a jar or an airtight container and store it in the fridge for up to 2 weeks.
Frequently asked questions:
How long date paste last?
Date paste lasts for up to 3 months stored in an airtight container in the fridge, or up to 5 months stored in an airtight freezer-friendly container. Thaw in the fridge overnight.
How to soften hard dates?
If you have hard dates and you want to make a smooth and silky date paste, don't worry! The best way to solve this problem is by soaking the dates in hot water, and this process gives you super soft dates to work with.
What dates should I use for this recipe?
We like to use Medjool dates, they are sweetest in flavor and the softest. You can use any of your favorite kinds of dates for this recipe, if you soak them enough, they will soften.
Is date paste good for you?
Yes! Dates have many health benefits:
Dates are high in fiber.
Dates are rich in antioxidants.
May promote brain health.
Help promote stable blood sugar.
Date contains calcium and magnesium that helps with bone health.

Explore more basic recipes:
Oat flour- Learn how to make homemade oat flour at home! All you will need is one ingredient. This recipe shows you step by step for how to make oat flour at home. (coming soon)
Almond butter- Homemade almond butter is a healthier tastier and cheaper way to consume almond butter. The best part of this recipe is that you will only need one ingredient, almonds!
Greek salad dressing- This salad dressing is zingy, tangy, zesty, and delicious. We love using this salad dressing for salads, pasta salads, roasted vegetables, or as a marinade. We love that this salad dressing is gluten-free, paleo, dairy-free, and vegan.
Buttermilk- coming soon
If you liked this homemade almond butter recipe:
Share/pin this recipe to Pinterest.
Leave a comment down below!