Yields:

3 Servings
Difficulty:

Easy
Prep Time:

15 Mins
Cook Time:

25 Mins
Total Time:

40 Mins

This homemade home fries recipe is not a basic home fries dish, these home fries are baked in the oven and thrown in a delicious chili and butter sauce. This recipe is decadent, irresistible, and satisfying.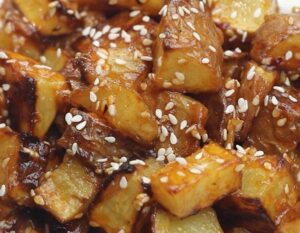 It's hard to find a good home FRIES recipe, but don't worry, I've got you covered. These are really easy to make, made with basic ingredients, served as a side dish next to your favorite protein.




Watch our video for how to make home fries:
If you enjoyed this video version of this recipe, please subscribe to  OUR YOUTUBE CHANNEL!




What you will need for this recipe:
Potatoes– for this recipe, we like to use Yukon Gold potatoes, russet potatoes, or red potatoes, but any potato kind will work great for this recipe!
Sweet chili sauce– use any of your favorite brand of sweet chili sauce, or use a homemade chili sauce.
Silan (date honey syrup)– we prefer to use silan for this recipe, it gives the perfect sweetness, honey will work great as well.
Olive oil– we used olive oil for this recipe, canola oil, and vegetable oil can work as well.
Paprika– use your favorite brand of paprika.
Chili flakes– adds a great chili flavor.
Kosher salt– use kosher salt in this recipe.
Fresh garlic– fresh garlic gives the best garlicky taste.
Spices for the chili sauce- for the cream sauce we added kosher salt, black pepper, and garlic powder.
Butter– we used unsalted butter for this recipe so we can control the saltiness of the potatoes.
Sesame seeds (optional)- for decoration.




How to make home fries?
1.   Preheat an oven to 200c (400f) and prep a baking sheet with parchment paper.
2.   Wash and cut the potatoes into small cubes.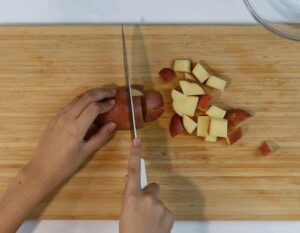 3.   In a small mixing bowl, add the potatoes, olive oil, and salt and mix well.
4.   Place the potatoes onto a parchment paper-lined baking sheet. Bake in a preheated oven for 15-20 minutes.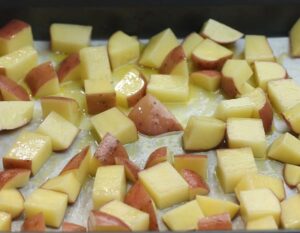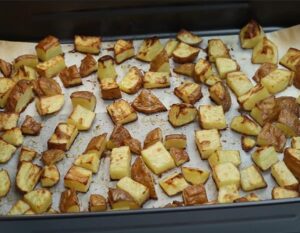 5.   Heat 1-2 tbsp of olive oil on a medium-sized pan over medium-low heat, fry the garlic for 1 minute until lightly golden.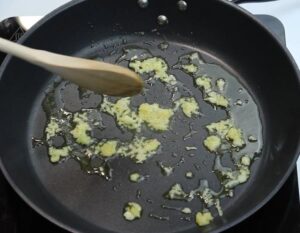 6.   Add the silan, sweet chili sauce, and mix.
7.   Add the butter and mix until the butter is fully melted.
8.   Add the paprika, chili flakes, and mix well.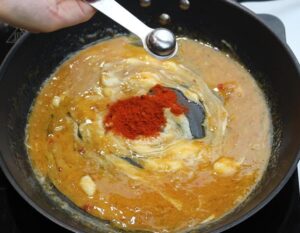 9.   Add the cooked potatoes to the pan and mix gently until the potatoes are covered with the chili sauce.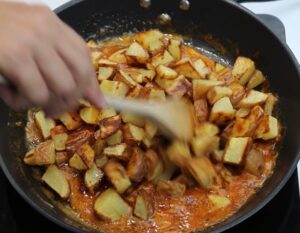 10.  Top the potatoes with sesame seeds and serve.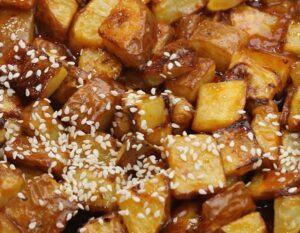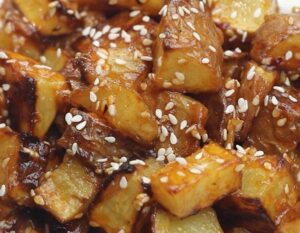 Frequently asked questions:
What are the best potatoes for this recipe?
for this recipe, we like to use Yukon Gold potatoes or russet potatoes, but any potato kind will work great for this recipe!
How long will the home fries last?
The home fries will last up to a week stored in the fridge in an airtight container or in the freezer for up to 2 months.
Can I freeze the home fries?
Yes, let the home fries cool to room temperature, then place them in the freezer stored in an airtight freezer-friendly container for up to 2 months.
When ready to use, place the home fries in the fridge overnight to defrost, or thaw it at room temperature for a few hours. Reheat in the oven, or in the microwave.
How to serve home fries?
Serve fries next to your favorite protein. Serve home fries as a side dish in a holiday dinner like Thanksgiving or Christmas. Serve it as a side dish at a barbecue.




Can I make this recipe vegan?
Yes, replace the butter with the vegan butter of your choice.
Can I use red potatoes?
Yes, this recipe will work great with most kinds of potatoes.
Why we love this recipe?
We love this recipe so much because it's so easy to make, it tastes amazing, and takes only a few simple ingredients.




For more potato side dishes:
Smashed potatoes  – These smashed potatoes are a must-try, made with only 5 ingredients that can be found in any kitchen! These are going to change your potato game entirely.
Creamy Mashed Potatoes  – This creamy mashed potato recipe is incredibly delicious. Made with only 5 ingredients, you get a perfect side dish for Thanksgiving or Christmas!
Parmesan Crusted Potatoes – These parmesan crusted potatoes are addictive, with a crispy exterior and a creamy interior they are hard to resist.
Scalloped potatoes– Thinly sliced potatoes are layered in an easy cream sauce, topped with cheese, and baked to perfection.
Adjust Servings
Sweet chili sauce:

Instructions: