Yields:

12 Servings
Difficulty:

Easy
Prep Time:

10 Mins
Cook Time:

45 Mins
Total Time:

55 Mins
This easy pumpkin cake is fluffy, extra moist, and tastes amazing. This pumpkin cake is made with pumpkin puree, brown sugar, cinnamon, and spices, topped with creamy cream cheese frosting.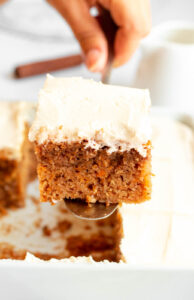 This pumpkin cake is super versatile, you can use this cake batter into pumpkin cupcakes, pumpkin bars, pumpkin muffins, and for a pumpkin loaf cake! This pumpkin cake recipe is made without a mixer, can be made in one bowl, and is everyone's favorite fall cake!
We LOVE making pumpkin recipes in fall and thanksgiving time, like our pumpkin cupcakes, pumpkin bread, pumpkin pie, and pumpkin cheesecake.
Fresh pumpkin or canned pumpkin in pumpkin cake?
We like making our pumpkin cake with fresh pumpkin puree, but this is a personal preference. We rather baking with fresh pumpkin because we know exactly what goes into the cake. However, canned pumpkin puree will give you the same exact result.
Watch our video for how to make pumpkin cake:
If you enjoyed this video version of this recipe, please subscribe to  OUR YOUTUBE CHANNEL!
This pumpkin cake is:
Extremely easy to make.
An extra moist cake that stays moist for 4 days!
Made with simple ingredients.
Perfect to make when you need a fall-themed dessert.
Has a light pumpkin flavor and is filled with fall spices.
The perfect dessert for Thanksgiving, fall, and winter.
Pumpkin cake ingredients:
For the cake:
Pumpkin puree- we like making our own pumpkin puree from fresh pumpkins. You can use either canned pumpkin puree or homemade pumpkin puree, make sure that you strain the extra liquids from your fresh pumpkins. You will need 450 grams of pumpkin puree.
Flour– we used all-purpose flour for this recipe, self-rising flour, and cake flour will work great as well.
Baking powder and baking soda – to allow the cake to rise.
Vegetable oil – we used vegetable oil for this recipe. canola oil will work great for this recipe.
Sugar- we used granulated sugar for this recipe. You can use caster sugar as well.
Brown sugar- adds a caramelly flavor to the cake.
Cinnamon- we love adding cinnamon to our pumpkin pie, it adds so much flavor that compliments the pumpkin flavor.
Ginger- use ground ginger for this recipe. You can add any of your favorite fall spices like cloves, allspice, and pumpkin spice.
Nutmeg- use either ground nutmeg or fresh nutmeg in this recipe.
Eggs- use room-temperature eggs in this recipe.
Vanilla extract- adds extra flavor.
Kosher salt- you will need about 1/2 tsp of kosher salt for this recipe.




For the cream cheese frosting:
Butter- make sure you are using room temperate butter.
Cream cheese- make sure that you are using whole-fat cream cheese that is at room temperature.
Powder sugar- known as confessional sugar. For a smoother frosting, sift it before adding to the butter.
Vanilla extract- for extra flavor.
Pinch of salt- to balance the sweetness.
Tools to make this recipe:
Mixing bowls- best glass mixing bowls.
Whisk set- our favorite copper whisk set.
How to make pumpkin cake:
1.   Preheat an oven to 180c (350f).
2.   In a medium-size bowl, add the dry ingredients: flour, brown sugar, sugar, baking powder, baking soda, cinnamon, ginger, nutmeg, and kosher salt. Mix the dry ingredients with a spoon or a whisk.
3.   Set the dry ingredients aside and into a medium mixing bowl, add the wet ingredients: eggs, pumpkin puree, oil, and vanilla extract. Mix with a whisk until a smooth mixture forms.
4.   Sift the dry ingredients into the wet ingredients and mix until combined.  Don't overmix the batter so you won't get dry and dense cake.
5.   Grease a 9×13 inch pan with oil spray or butter. Pour the pumpkin cake batter into the baking pan and bake in a 180c (350f) preheated oven for about 45 minutes or until a toothpick inserted into the cake comes out clean.
How to make cream cheese frosting:
1.    Make the cream cheese frosting: into a large bowl add room temperature butter and mix with a hand mixer or a stand mixer until the butter is light and fluffy.
2.   Add the cream cheese and mix until smooth.
3.   Add ½ of the powder sugar at a time (you don't want to be in a powder sugar cloud).
4.   Add a pinch of salt, and vanilla extract and mix well until smooth.
5.   Spread an even layer of cream cheese frosting on top of the pumpkin cake, slice, and enjoy!
Tips for this recipe:
Use room temperature ingredients.
Don't overmix the batter, you don't want to develop the gluten in the flour. This step ensures you have moist cake and not dense and dry cake.
Use room temperature butter and cream cheese.
Use full-fat cream cheese, this step makes sure that your frosting is stable.
Allow the cake to cool completely before adding the frosting.
Mesure you flour correctly! When measuring your flour, avoid scooping it with a measuring cup. Instead, stir the flour with a spoon to create as many air pockets as possible, and spoon it into your measuring cup. Finally, level it with a back of a knife.
Use pure pumpkin puree in this recipe! It is very important that you use pure pumpkin puree in this recipe. Make sure that you are not using the presweetened or pre-spiced pumpkin puree. You will be able to find this information on the ingredient list of your pumpkin puree can.
Frequently asked questions:
How to store the pumpkin cake?
The cream cheese frosting needs to be refrigerated because it contains cream cheese and butter. If your cake isn't frosted, it's okay to store the cake at room temperature. Make sure that you store the cake in an airtight container so it won't dry out.
How long will the pumpkin cake last?
These red velvet cupcakes will last up to one week in the fridge. Cover the cake with plastic wrap or foil to prevent it from drying out. This cupcake tastes amazing the day after.
Can I freeze the pumpkin cake?
Yes, you can freeze pumpkin cake after it cooled completely in an airtight freezer-friendly container for up to 3 months, some people find the cake tastes better after freezing it.
our tip is not to freeze it decorated or covered with frosting, because it can ruin the decorating on the cake, we suggest freezing the cake and decorate it when you defrost it.
How to serve pumpkin cake?
We like to serve the pumpkin cake with cream cheese frosting on top.




Can I make this pumpkin cake as a cupcake?
Yes! These cupcakes bake great as a cupcake! if you want to make pumpkin cupcakes, we suggest you to use our pumpkin cupcakes recipe.
What flour do you use for this cake?
We use all-purpose flour for this cake. Self-rising flour and cake flour will work great as well.
What frosting can I use instead of cream cheese frosting?
If you don't like cream cheese frosting, you can use vanilla buttercream or chocolate buttercream, or cinnamon cream cheese frosting.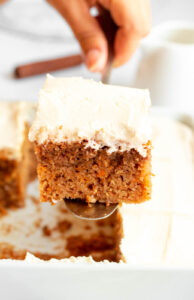 More pumpkin recipes to try:
Classic pumpkin pie- This classic pumpkin pie is soft, creamy, not too sweet, and the ultimate dessert for thanksgiving! This pumpkin pie recipe is extremely easy to make, loaded with pumpkin and fall flavors, and served with a big dollop of whipped cream.
Pumpkin Cupcakes- These super moist pumpkin cupcakes are soft, delicious, stay moist for 3 days, and are topped with cinnamon cream cheese frosting. These pumpkin cupcakes are packed with pumpkin flavor and fall spices. These cupcakes are a must-try for fall!
Pumpkin Bread- Our homemade pumpkin bread, made with fresh pumpkin, and fall spices gets you a moist and soft melt in your mouth pumpkin bread.
If you tried this recipe, don't forget to leave a rating and a comment below. We love hearing from you.
If you liked this apple crumble pie recipe:
Share/pin this recipe to Pinterest.
Leave a comment down below!
Adjust Servings
For the cake:

Instructions:

How to make cream cheese frosting: