Yields:

4 Servings
Difficulty:

Easy
Prep Time:

15 Mins
Cook Time:

30 Mins
Total Time:

45 Mins

This baked feta pasta is incredibly delicious and easy to make. This pasta dish went viral in Finland, and because of this recipe, the grocery stores in Finland ran out of feta cheese.
We wanted to see if this dish really does worth the hype, and it does!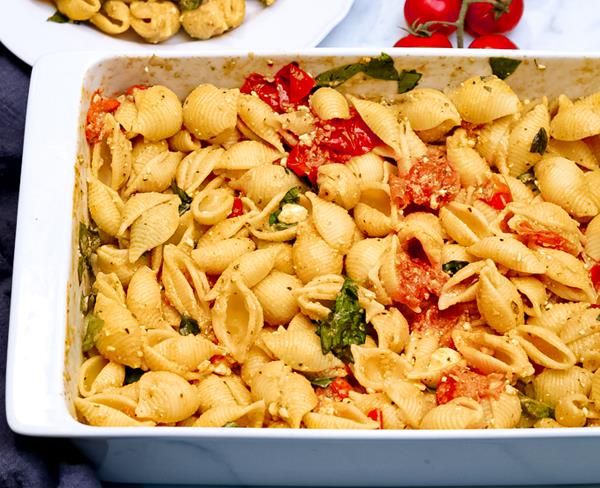 This viral recipe is called #uunifetapasta and went viral in Finland by  Liemessa and Tiiu. This baked feta pasta is made with cherry tomatoes, feta cheese, fresh basil, garlic, olive oil, and spices.
This whole dish can be made in under an hour, and it's beyond easy to make.




Watch our video for how to make baked feta pasta:
If you enjoyed this video version of this recipe, please subscribe to  OUR YOUTUBE CHANNEL!
What you will need for this baked feta pasta recipe:
Feta cheese- use a block of feta cheese. use your favorite brand of feta cheese.
Cherry tomatoes- use the best quality cherry tomatoes that you can find. Cherry grape tomatoes are extra flavorful, also cherry Roma tomatoes are very flavorful.
Cooked pasta- we used shell pasta in this recipe, but you can use any kind of pasta that you'd like.
Olive oil- we used extra virgin olive oil for this recipe.
Salt- we like to use kosher salt for this recipe.
Black pepper- for flavor.
Fresh basil- adding fresh basil makes this dish extra flavorful and it gives it a fresh aroma.
Dried oregano- we used dried oregano for this recipe.
Fresh garlic– use your favorite kind of fresh garlic.
If you like your pasta a little bit spicy, add 1/3 tsp of chili flakes.




how to make baked feta pasta:
1.    preheat an oven to 200c (400f).
2.   Add the cherry tomatoes to an oven friendly baking dish.
3.   Toss the cherry tomatoes with olive oil, salt, black pepper, garlic, and oregano.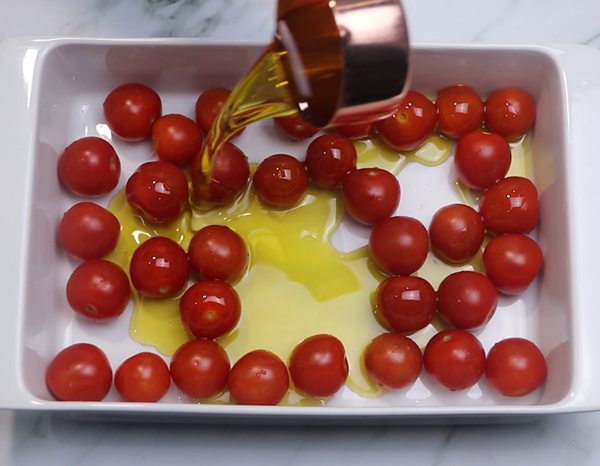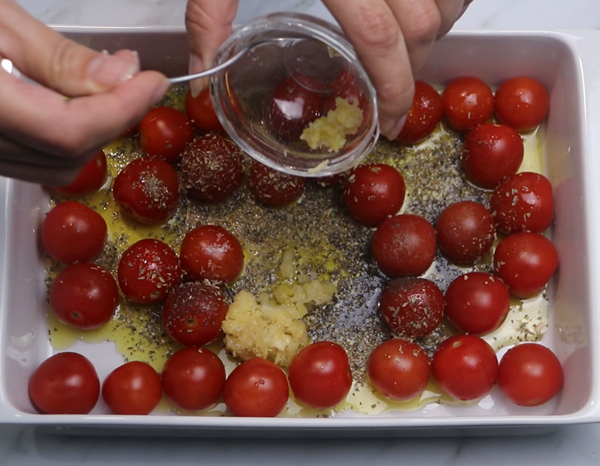 4.   Add a block of feta cheese in the middle of the dish and place all the cherry tomatoes around it.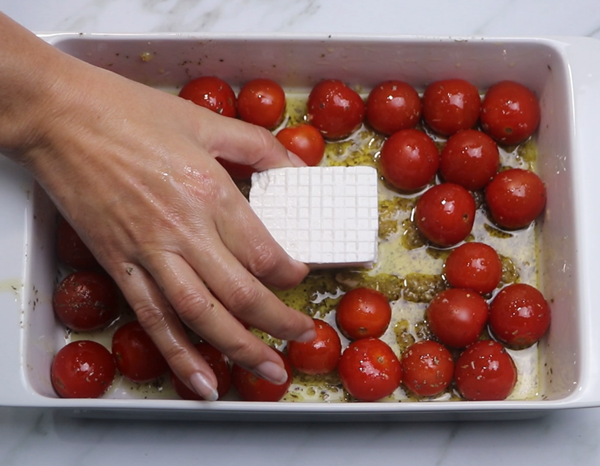 5.   Drizzle 1 tbsp of olive oil on top of the block of feta cheese and sprinkle it with more oregano.
6.   Bake in a preheated oven for 20-30 minutes or until the tomatoes are cooked through and the block of feta cheese is softened.
7.   Cook the pasta with a tbsp of kosher salt.
8.   Remove the baking dish from the oven and mash the feta block with a fork, then mix it with the tomatoes until a creamy sauce forms.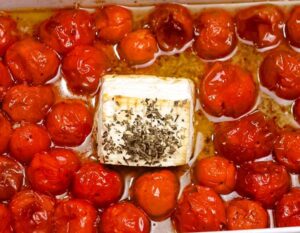 9.   Add the cooked pasta and fresh basil, mix well.
10.  Serve hot as a dinner or lunch and enjoy!
frequently asked questions:
what to do if my pasta dish is too dry?
This can be solved easily when cooking the pasta, save some pasta water, and add it if needed.
Can I use crumbled feta cheese?
A block of feta cheese is the ultimate way to make this recipe, although, crumbled feta cheese can work as well. Keep an eye on it when it's in the oven, crumbled feta cheese burns faster.
What pasta kind should I use for this recipe?
We made this pasta dish with shell pasta, but any kind of pasta suppose to work great for this recipe. Try to use short pasta for the best results.
How long will this baked feta pasta last?
This baked feta pasta will last for 3-5 days in the fridge, stored in an airtight container.
How to serve baked feta pasta?
Serve this pasta dish at a picnic, barbecue, or party. This recipe fits any type of occasion. Serve this pasta dish next to your favorite protein, next to a grilled chicken, hamburger, tofu, etc.
serve it by itself! This baked feta pasta is filled with fresh vegetables, carbs from the pasta, and healthy fats from olive oil. This recipe makes a perfect brunch, lunch, or dinner!
Can I use whole grain pasta for this recipe?
Yes! You can use any kind of your favorite pasta kinds and pasta shapes, like chickpea pasta, brown rice pasta, spinach pasta, quinoa pasta, etc.
Can I make this pasta dish vegan?
Yes. It is very easy to make this recipe vegan, simply replace the feta cheese with vegan feta cheese.
More pasta recipes:
Easy Greek Pasta Salad- This creamy Greek pasta salad is out of this world. This Greek pasta salad is perfect for any occasion, make with cooked pasta, fresh veggies, olives, and homemade Mediterranean Greek pasta salad dressing.
Spinach Pasta Salad- This Spinach Pasta Salad is made with fresh spinach, feta, red onion, cherry tomatoes, and freshly made pasta combined together with a simple homemade salad dressing that makes the perfect refreshing and filling summery pasta salad.
Lasagna Roll-Ups- These lasagna roll-ups are so easy to make, simple prep, and easy to assemble. These are made with lasagna noodles stuffed with our easy homemade cheese mixture, and our marinara sauce, topped with mozzarella and baked to perfection.
If you tried this recipe, don't forget to leave a rating and a comment below. We love hearing from you.
If you liked this recipe:
Share/pin this recipe to Pinterest.
Leave a comment down below!