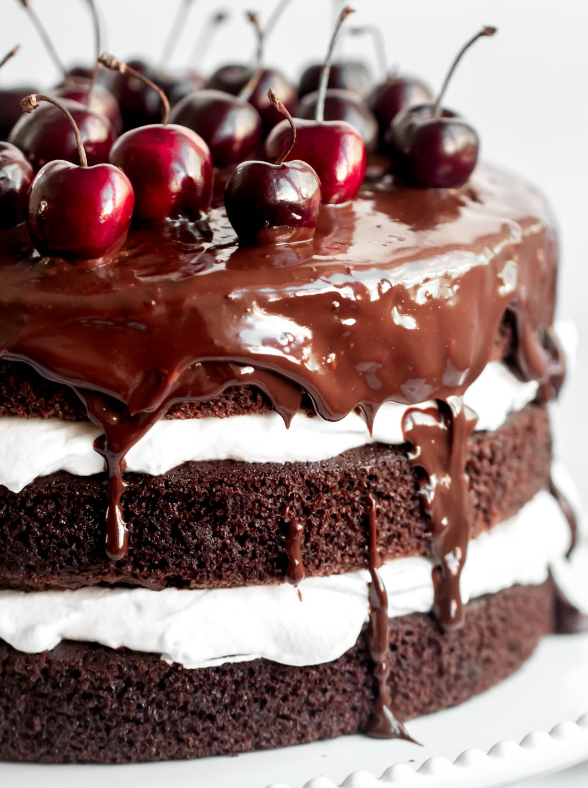 Yields:

12 Servings
Difficulty:

Medium
Prep Time:

1 Hr 30 Mins
Cook Time:

25 Mins
Total Time:

1 Hr 55 Mins
This black forest cake is made by layering moist chocolate cake layers with fresh cherries, cherry liquor, whipped cream, and topped with chocolate ganache.
Black forest cake doesn't only look impressive and delicious, but the flavor and texture don't disappoint. This cake is surprisingly easy to make and takes simple ingredients.
Watch our video for how to make black forest cake:
If you enjoyed this video version of this recipe, please subscribe to  OUR YOUTUBE CHANNEL!
Tools to make this recipe:
Cake strips– to make perfect baked cakes with even tops.
8-inch cake pans- to bake the cakes in.
Mixing bowls- best glass mixing bowls.
Whisk set- our favorite copper whisk set.
What you will need for this recipe:
For the cake:
Flour– we used all-purpose flour for this recipe, self-rising flour, and cake flour will work great as well.
Dutch cocoa powder– we like to use Dutch-process cocoa powder for our chocolate cake because we like the deep and rich chocolate taste, but the natural cocoa powder will work great as well!
Baking powder and baking soda – to help the cake rise.
Granulated sugar– we like to use granulated sugar, also the most common sugar used in baking. Caster sugar will work great as well.
Vegetable oil – we used vegetable oil for this recipe. canola oil will work great for this recipe.
Eggs– To give the cake a good structure. Make sure you're using room-temperature eggs.
Buttermilk– gives the cake extra moisture. You can make your own buttermilk if you don't have one on hand. Simply mix a cup of milk with a tbsp of vinegar or lemon juice and let it sit for at least 10 minutes.
Hot coffee– make a strong hot coffee, you can use espresso, or instant coffee, both will work.
Vanilla extract– Vanilla extract Is an essential ingredient for chocolate cake.
Salt– We used kosher salt for this recipe. Salt doesn't give the cake a salty taste, it helps to enhance the chocolate flavor.




For the whipped cream:
Heavy whipping cream- use cold heavy whipping cream.
Powder sugar- for sweetness.
Vanilla extract- for extra flavor.
For the chocolate ganache:
Dark chocolate- use your favorite brand of dark chocolate.
Heavy cream
For the cherry liquor:
Sugar- use granulated sugar or caster sugar.
Cherry juice- or use water. We like the extra cherry flavor.
Kirsch- is a cherry liquor
How to make even cake layers:
Our biggest tip to make even cake layers is to use a scale and cake strips. Weigh the chocolate cake batter and divide it into two even pans. Then use cake strips to make sure your cake layers bake evenly and don't develop a dome on top. Cake strips give you an evenly baked cake with a flat top.
What is black forest cake?
Black forest cake is a popular German dessert made by layering chocolate sponge cake layers soaked in kirsch syrup, topped with whipping cream, and fresh cherries. Usually, black forest cake is decorated with whipped cream, cherries, and chocolate shavings.
How to make black forest cake from scratch
For the chocolate cake layers:
1.    Preheat the oven to 180 (350f) and prep three 8-inch baking pans with parchment paper.
2.    Into a big bowl, add the flour, sugar, cocoa powder, baking powder, and baking soda.  Mix well with a whisk until combined.
3.   Add the eggs, oil, vanilla extract, and buttermilk. Mix well until combined.
4.   Add the kosher salt and the hot coffee, mix well until the batter is smooth.
5.   Divide the mixture into three 8-inch baking pans, we suggest using cake strips for even baking. (weight the batter for better results) and bake in a preheated oven for 25-30 minutes or until a toothpick comes out clean. Let the cake cool completely before adding the frosting.
6.   While the cakes are baking, pit and slice in half fresh cherries and place them in a medium bowl. Reserve the prettiest cherries for the top of the cake.




How to make kirsch syrup for black forest cake:
1.    Into a small saucepan, add the cherry juice, kirsch, and sugar. Mix it on medium heat until the sugar dissolves.
2.   Bring the kirsch syrup to a boil and remove it from heat. Let the syrup cool completely before adding it to the cake.
How to make cream for black forest cake:
1.    Into a large mixing bowl, add cold whipping cream, powder sugar, and vanilla extract.
2.   Mix with an electric hand whisk or with a stand mixer (balloon whisk attachment) and mix until stiff peaks form.
For the chocolate ganache:
1.    Melt dark chocolate and heavy cream in a small to medium mixing bowl in the microwave for about 50 seconds.
2.   Let the chocolate and the cream sit for 10 minutes for the chocolate to melt, then mix until the chocolate ganache is smooth and silky.




How to assemble black forest cake:
1.    Soak the first cake layer with the kirsch syrup, then top with the whipped cream, then top the whipped cream with as many cherry halves that you can press into the cake.
2.   Repeat this process with the next cake layer.
3.   Add the third cake layer on top, soak it with kirsch syrup, top it with chocolate ganache, and finally top it with whole fresh cherries for decoration.




Frequently asked questions:
How long will this black forest cake last?
This black forest cake will last for up to 5 days stores in the fridge in an airtight container.
How to store black forest cake?
Store this black forest cake in the fridge, not at room temperature. Black forest cake is topped and covered in whipped cream which must be refrigerated.




Can I make this black forest cake alcohol-free?
You definitely can! Black forest cake is traditionally made with alcohol, but if you want to make this cake alcohol-free and kid-safe, simply make a simple sugar syrup for the cake layers instead of kirsch syrup. (½ cup of sugar over ½ cup of water)
More cherries recipes:
Cherry smoothie- coming soon
Cherry pie- This homemade cherry pie is incredible. Our homemade cherry pie is made with a delicious and easy cherry pie filling and the easiest flakey pie crust. This recipe is a family favorite and always gets rave reviews.
If you tried this recipe, don't forget to leave a rating and a comment below. We love hearing from you.
If you liked this black forest cake recipe:
Share/pin this recipe to Pinterest.
Leave a comment down below!
Adjust Servings
For the chocolate cake layers:

For the kirsch syrup:

For the whipped cream:

For the chocolate ganache:

Instructions:

For the chocolate cake layers:

For the kirsch syrup:

For the whipped cream:

For the chocolate ganache:

For the assembly: