Yields:

8 Servings
Difficulty:

Easy
Prep Time:

30 Mins
No-bake key lime pie is a refreshing no-bake dessert that is perfect for summer and spring. Key lime pie is an easy recipe that comes together in under 20 minutes. It's refreshing, creamy, zesty, and delicious.




This key lime pie recipe takes a few simple ingredients to make and is super simple to throw together in a matter of minutes. The best part of this recipe is that it does not require an oven.
Watch our video for how to make no-bake key lime pie:
If you enjoyed this video version of this recipe, please subscribe to  OUR YOUTUBE CHANNEL!





What you will need for this recipe:
Graham crackers/ tea biscuits- We like using tea biscuits because they are sweeter, but graham crackers will work great as well.
Butter- melt the butter.
Granulated sugar- we like using granulated sugar, but caster sugar will work as well.
Cream cheese- use room temperature cream cheese.
Heavy cream- use cold heavy cream.
Lime zest- you will need 1 tbsp of lime zest.
Lime juice- use fresh limes or key limes for this recipe for best results.
Condensed milk- use your favorite brand of condensed milk.





How to make key lime pie:
1.    In a medium mixing bowl, add the crushed graham crackers, granulated sugar, and the melted butter. Mix with a spoon until combined.
2.   Transfer the crumbs into a prepared pie pan, pressing evenly and firmly into the pan.
3.   Place the pie pan in the fridge for at least 30 minutes until the crumbs are firmed up.
4.   In a big mixing bowl, add the room temperature cream cheese and mix with an electric hand mixer until the cream cheese is creamy.




5.   Add the condensed milk, lime zest, and lime juice, and mix until well combined.
6.   In a separate bowl, whip together the heavy whipping cream and the powder sugar until stiff peaks form.
7.   Lightly fold the whipped cream into the cream cheese mixture until the mixture is well combined and creamy.
8.   Pour the creamy mixture into the pie pan and smooth out the tops. Place the pan in the fridge to firm up for at least 5 hours.
9.   Pipe dollops of whipped cream around the edges of the pie and place slices of key limes on each dollop of whipped cream.




Frequently asked questions:
Can I make this recipe without cream cheese?
Yes, if you don't like cream cheese, simply switch it with mascarpone cheese.
How to store key lime pie?
Store this key lime pie in the fridge (because of the dairy and citrus juice) in an airtight container for up to 3 days.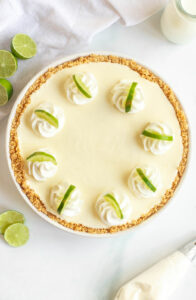 How to serve key lime pie?
Serve key lime pie by itself! As a dessert on a hot summer day, this pie is refreshing, creamy, and delicious.
Can I freeze key lime pie?
Yes! This key lime pie freezes great. Make the pie according to the instructions, cover it with plastic wrap, and place it in the freezer for up to 2 weeks. This key lime pie is great for dinners and parties. To thaw, place it at room temperature for 20-30 minutes until it's creamy again.




More easy desserts you may like:
Best Ever Chocolate Cake- This is the best chocolate cake ever. I've been searching for the best one bowl chocolate cake recipe for so long and found it and can't wait to share it with you!
No-Bake Chocolate Biscuit Cake- one of the easiest no-bake recipes, takes only 20 minutes from start to finish, and it tastes incredible!
Cherry pie- This homemade cherry pie is incredible. Our homemade cherry pie is made with a delicious and easy cherry pie filling and the easiest flakey pie crust. This recipe is a family favorite and always gets rave reviews.
Chocolate Babka- This recipe is made by making a decedent brioche-like bread and filling it with rich chocolate filling made with dark chocolate, butter, powder sugar, and cocoa powder, topped with a simple sugar syrup that brings all the flavors together.
If you tried this recipe, don't forget to leave a rating and a comment below. We love hearing from you.
If you liked this homemade almond butter recipe:
Share/pin this recipe to Pinterest.
Leave a comment down below!