Cottage pie is an English classic and hearty comfort food. This meal is made by making a savory mixture of ground beef, topped with creamy mashed potatoes, topped with cheese, and baked to perfection.
This English classic is one of our favorite comfort meals to make. We love to make this pie for a Thanksgiving meal, on a rainy day, or any other day.
Jump to:
Ingredients
Meat layer:
Ground meat- we like using ground lean meat for this recipe.
Onion- chop a big yellow onion into small cubes.
Carrots- we like using fresh carrots for this recipe, but frozen carrots can work as well.
Garlic- minced fresh garlic.
Corn- we used canned corn, but it's popular to use frozen corn.
Dried parsley- use dries parsley for this recipe.
Salt and pepper- to taste.
Flour- to thicken up the beef mixture.
Frozen peas- use frozen or fresh peas.
Olive oil- use extra virgin olive oil. Canola oil or vegetable oil will work as well.
Tomato paste- for extra flavor.
Soy sauce- it's popular to make this pie with either soy sauce or Worcestershire sauce. Pick your favorite.
Cheese- we like using parmesan on top of the mashed potato layer, but cheddar cheese or mozzarella will work as well.
Beef broth/ vegetable broth- the traditional way to make this pie, is with beef broth, but we like switching it up with vegetable broth or even chicken broth.

Mashed potatoes layer:
Potatoes– for this recipe, we like to use Yukon Gold potato, but any potato kind will work great for this recipe!
Butter– for this recipe, we use room temperature butter. We suggest using unsalted butter, so you have full control over how salty your mashed potatoes.
Milk– hot milk incorporates easiest into the potatoes.
Salt and pepper– to taste.
Garlic powder- for extra flavor. (optional)

Shepherd's pie vs cottage pie
Many people are wondering what is the difference between shepherd's pie and cottage pie. Both dishes are the same, the only difference is that Shepard's pie is made with lamb, and cottage pie is made with beef. Shepard's pie = sheep and cottage pie = beef.
Instructions
Mashed potatoes layer-
Peel and cut your potatoes into 4 pieces each. Boil the potatoes with 1 tablespoon of kosher salt. Cover and cook until tender.
Drain the water and place the potatoes in a stand mixer or a big mixing bowl.
Smash the potatoes with a potato masher until the potatoes are creamy.
Add the salt, pepper, garlic powder, butter, and hot milk. Mix until the mixture is creamy and smooth.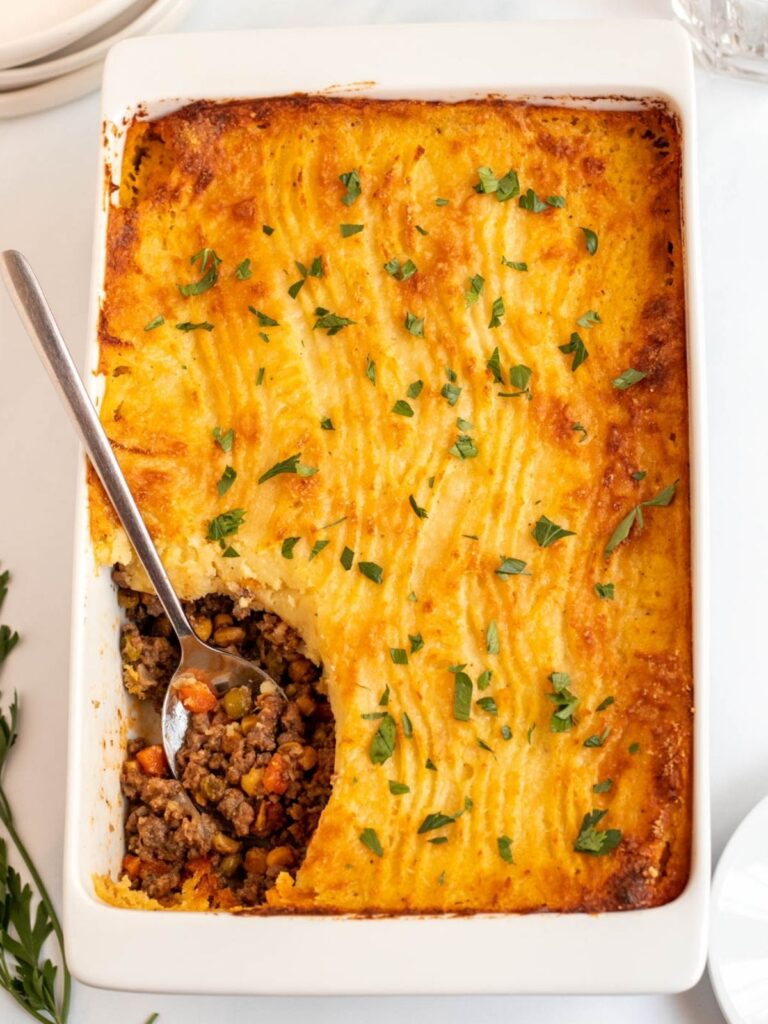 Beef layer-
In a large skillet, on medium heat, add olive oil, and the onions, and cook them until they are lightly golden brown.
Add the carrots, peas, and corn and mix until combined. Cook for 7-10 minutes mixing constantly.
Add the minced garlic, and mix. Add the ground beef and break the meat into small pieces with a wooden spoon. Cook until the meat is browned.
Then add the tomato paste, salt and pepper, soy sauce, and dry parsley and mix.
Finally, add the vegetable/meat broth, and mix.
Add the flour to thicken the mixture up and mix well until combined. Close the lid and let the mixture simmer for 15 minutes on low heat.
Assemble the pie:
Spoon the meat mixture into the casserole and smooth it out with a spoon. Spoon the mashed potatoes on top and smooth them out with a spoon.
Sprinkle parmesan cheese or any melted cheese on top of the pie and bake uncovered in a 200c (400f) preheated oven for 30-40 minutes. Allow it to cool for 15 minutes before serving.
Faq's
How long will this pie last?
This pie will last for up to 4 days stored in the fridge, or up to 2 months stored in the freezer.
Can I make cottage pie vegan?
Yes! Switch out the meat with lentils, or rice. You can switch out the beef broth with vegetable broth. Switch out the butter with vegan butter. Switch out the milk with vegan milk, like almond milk or soy milk. We suggest adding more vegetables!
How to store this pie?
Store this pie in the fridge in an airtight container for up to 4 days.
What to serve with this pie?
We like serving this pie with a refreshing salad on the side, like our chopped Mediterranean salad or our Caesar salad.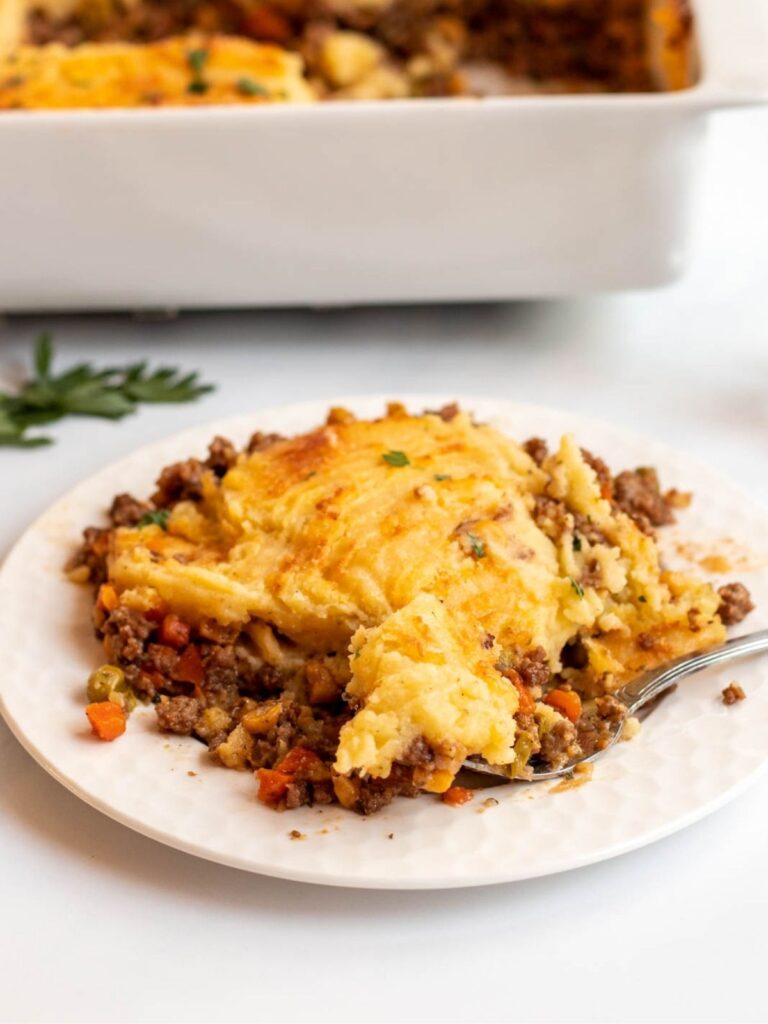 Freezing
Simply bake the pie in a freezer-friendly baking pan. After baking according to the instructions, let the pie cool completely, then cover it with plastic wrap or foil, and freeze it for up to 2 months.
More comforting recipes to try:
Lentil Soup- This is the absolute best one-pot lentil soup recipe, we've been making it for years. It's creamy, healthy, delicious, and satisfying. It's surprisingly easy to make and made with only a few simple ingredients.
Baked Goat Cheese Pasta- This baked goat cheese pasta is made with cherry tomatoes, feta cheese, fresh basil, baby spinach, mushrooms, balsamic vinegar, garlic, olive oil, and spices.
Pumpkin Soup- This thick and creamy pumpkin soup is the perfect dish for a cool fall or winter night. Packed with vegetables and fresh pumpkin, the perfect combination for a healthy and tasty meal.
Homemade Falafel- This homemade falafel recipe is our family's secret to making the best falafel we've ever had!
If you tried this recipe, don't forget to leave a rating and a comment below. We love hearing from you.
If you liked this recipe: