I love making lemon desserts all year round. They light up my day and can make a cloudy day successful. These lemon desserts are tangy, sweet, and full of lemon flavor.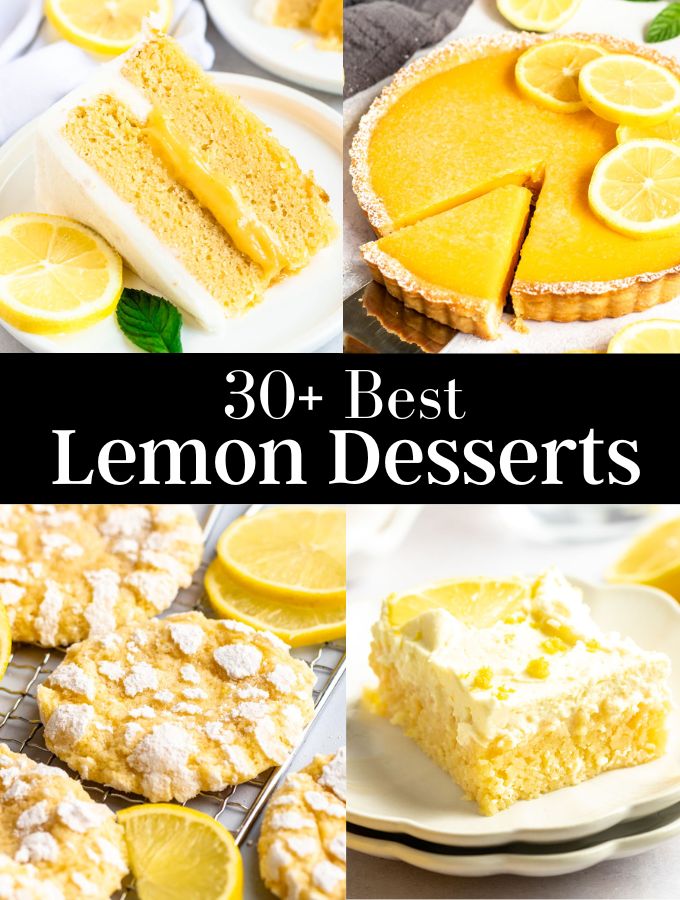 These desserts are perfect when you have lots of lemons to use up. They are the perfect desserts to serve on any occasion from birthdays to parties, to get-togethers.
This list of luscious lemon desserts is the ultimate list for lemon dessert lovers. It goes from lemon cookies to lemon loaves, from lemon cakes to lemon bars. And the list goes on.
For more recipe roundups, check out my Rice Krispie Treats Variations, best nutella recipes, best cake recipes, and best thanksgiving desserts.
Jump to:
1. Lemon Poke Cake
This lemon poke cake is made with a moist and tender lemon cake, lemon condensed milk filling, and lemon mascarpone whipped cream.
2. Lemon Curd Cake
This lemon curd cake is made with two layers of moist lemon cake, filled with lemon curd, and frosted with lemon buttercream frosting.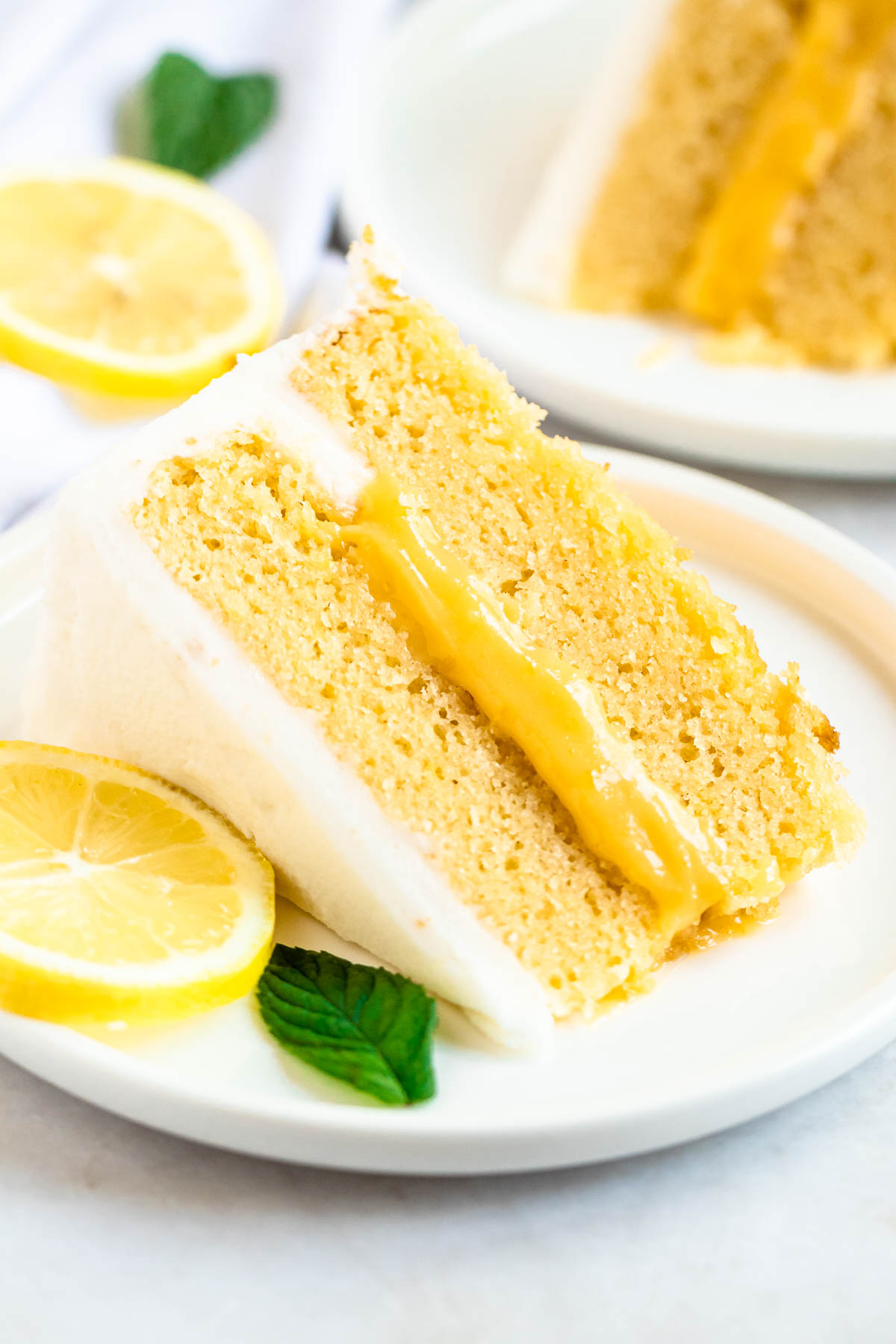 3. Lemon Crinkle Cookies
These lemon crinkle cookies are chewy and soft and are filled with lemon zest and lemon juice for a delicious citrus flavor. They are rolled in sugar and powdered sugar and have a crispy and delicious exterior.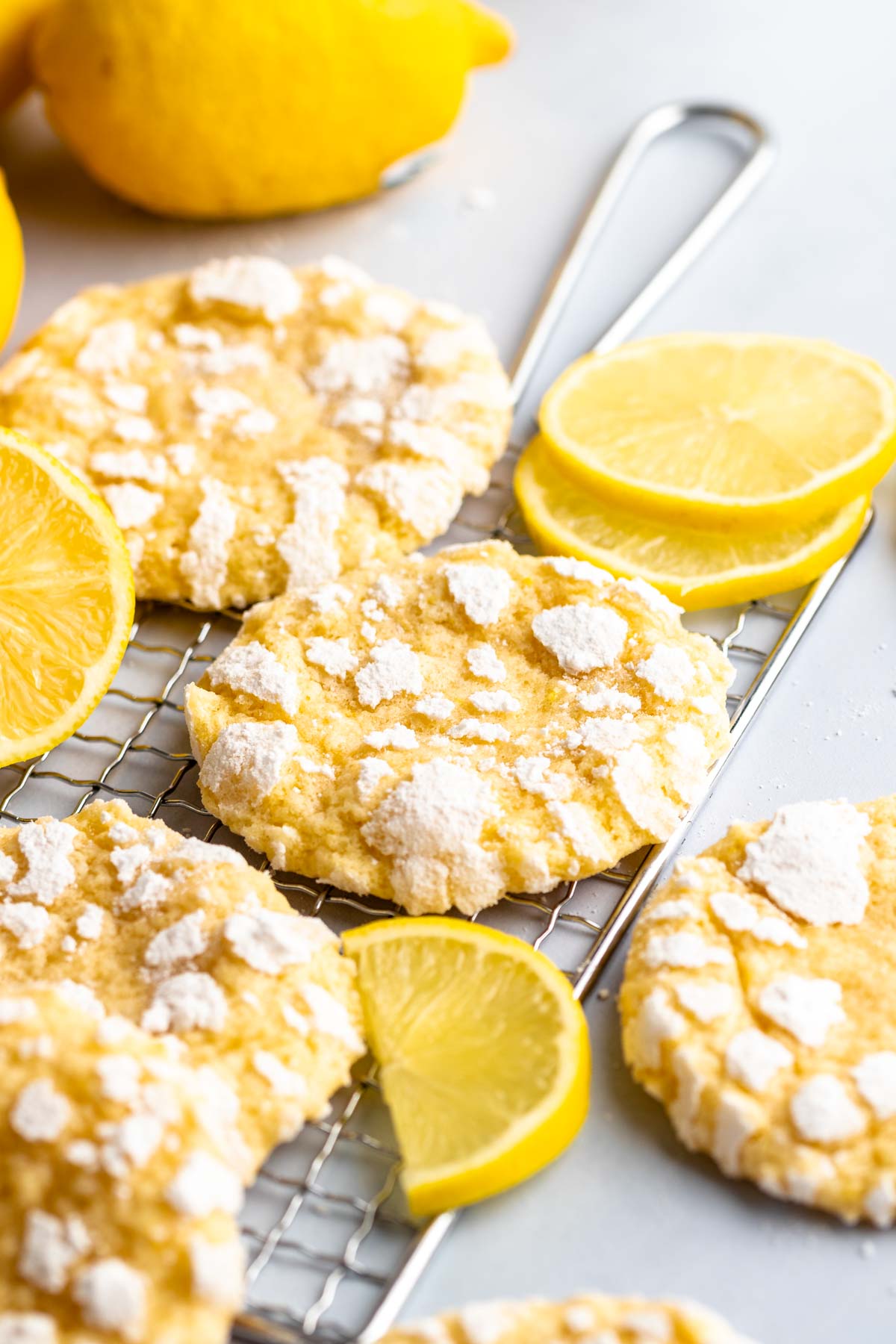 4. Lemon Pound Cake
This lemon pound cake is dense and moist and made with fresh lemon juice and lemon zest that makes the flavor pop! It is topped with lemon glaze and tastes so delish.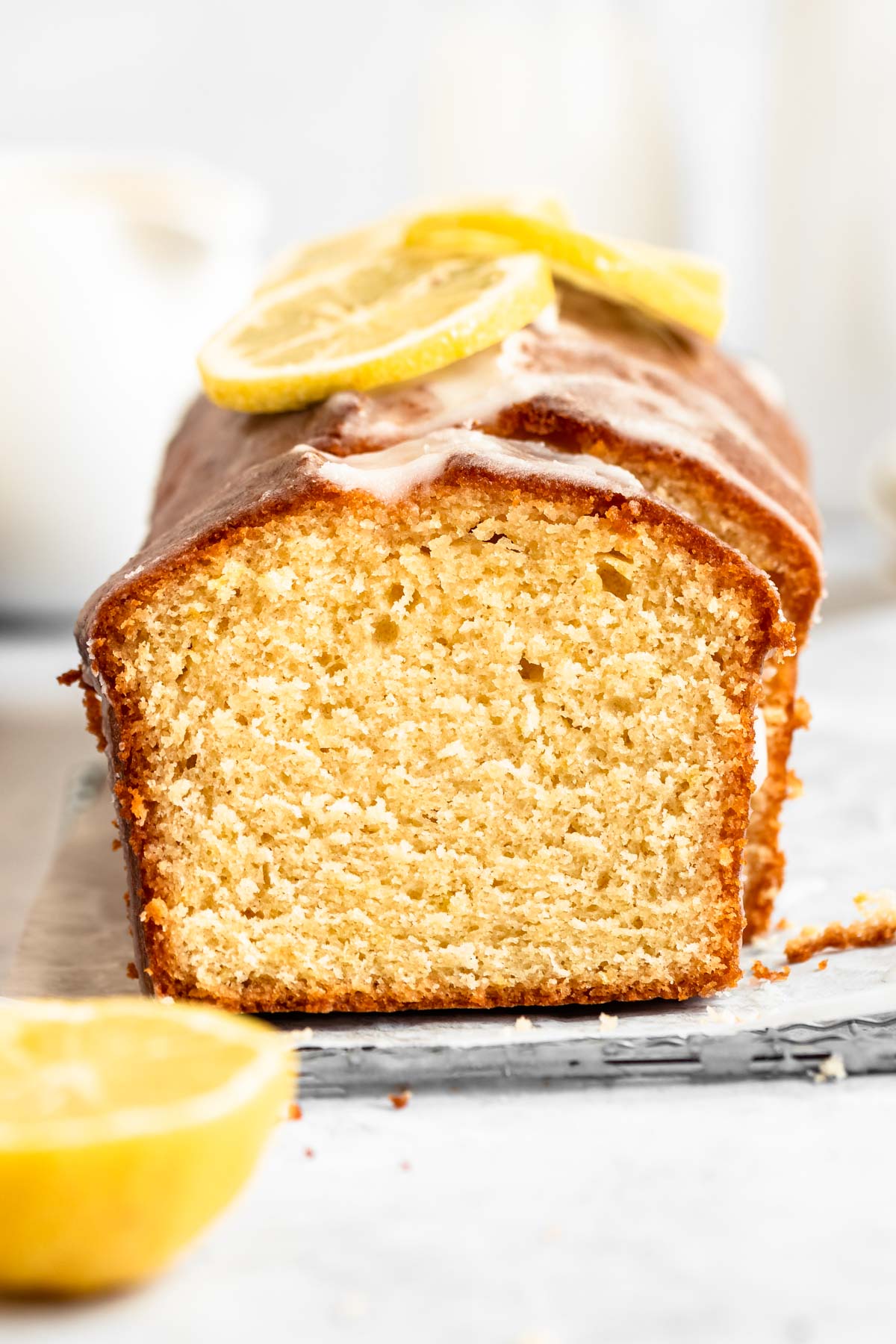 5. Lemon Bars With Graham Cracker Crust
These lemon bars with graham cracker crust are super easy to make. They are made with a zesty and creamy lemon filling and are topped with plenty of powdered sugar.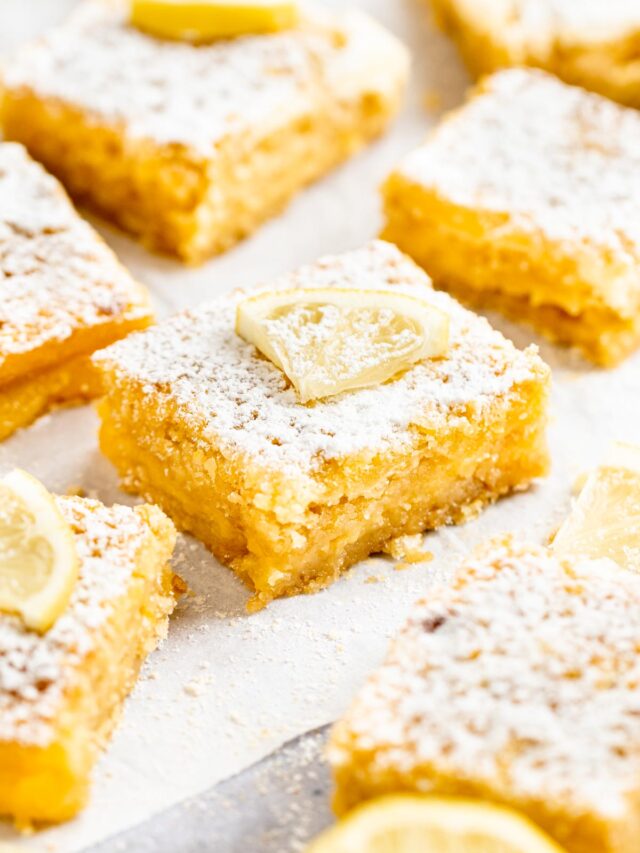 6. Lemon Shortbread Cookies
These lemon shortbread cookies are made with a buttery dough filled with both lemon zest and lemon juice, baked and topped with a zesty lemon glaze.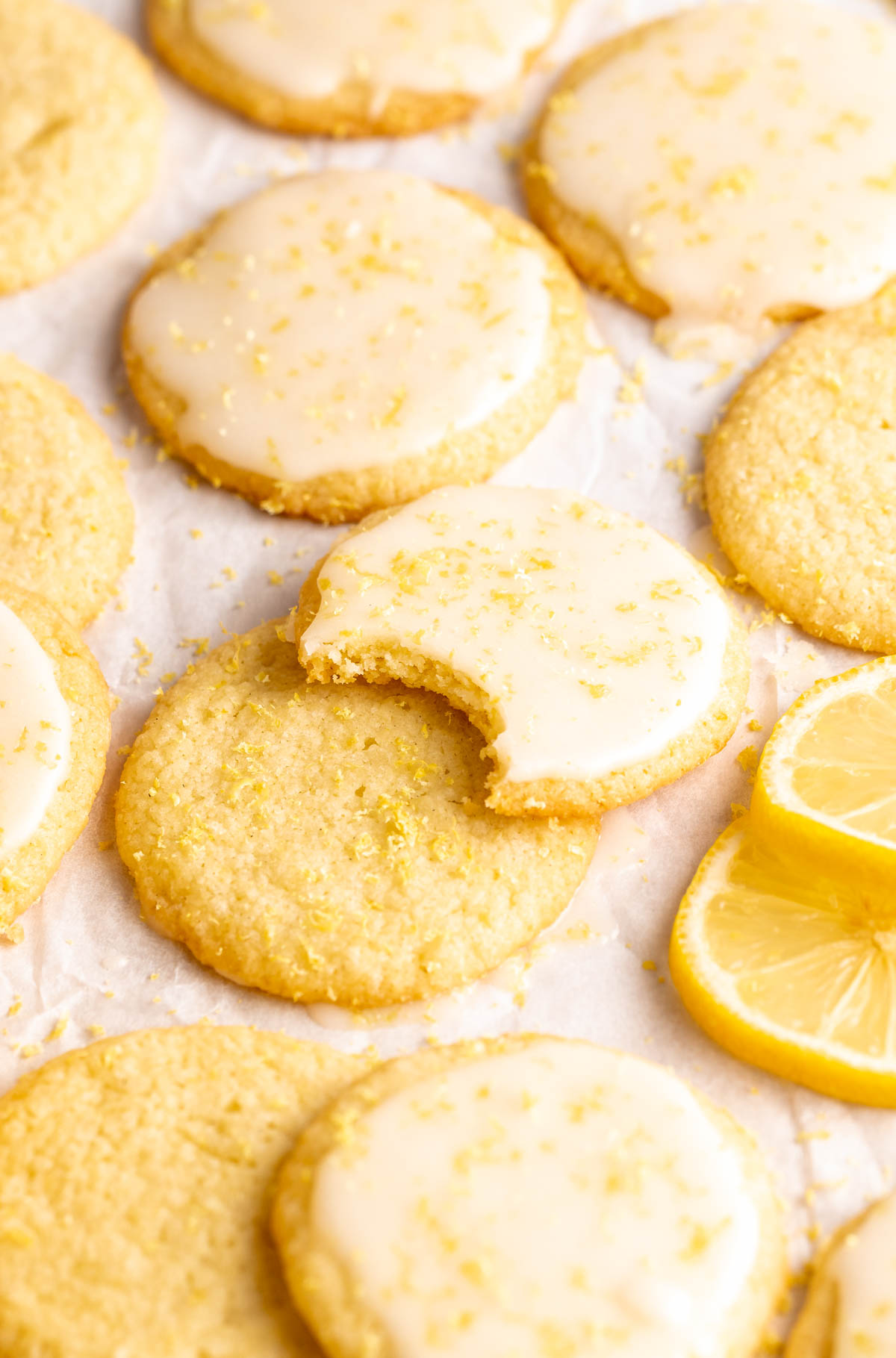 7. Lemon Cooler Cookies
These lemon cooler cookies are made with fresh lemon zest and lemon juice, making the lemon flavor pop! These are the perfect summer cookies buttery and tossed in powdered sugar.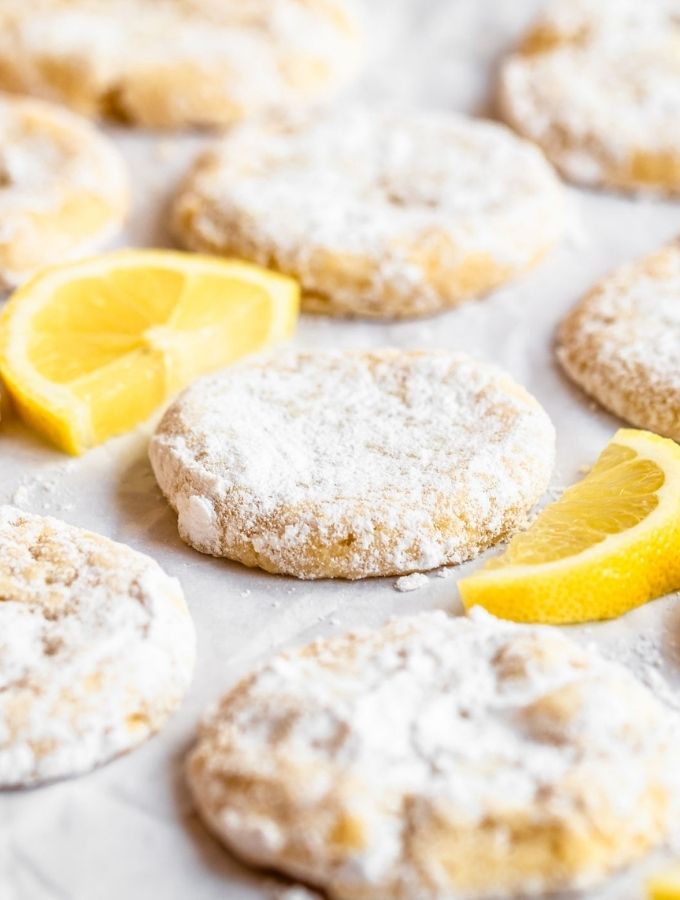 8. Lemon Tart
This lemon tart is made with a buttery pastry crust and filled with a zesty lemon curd filling. This tart is a ray of sunshine in a dessert!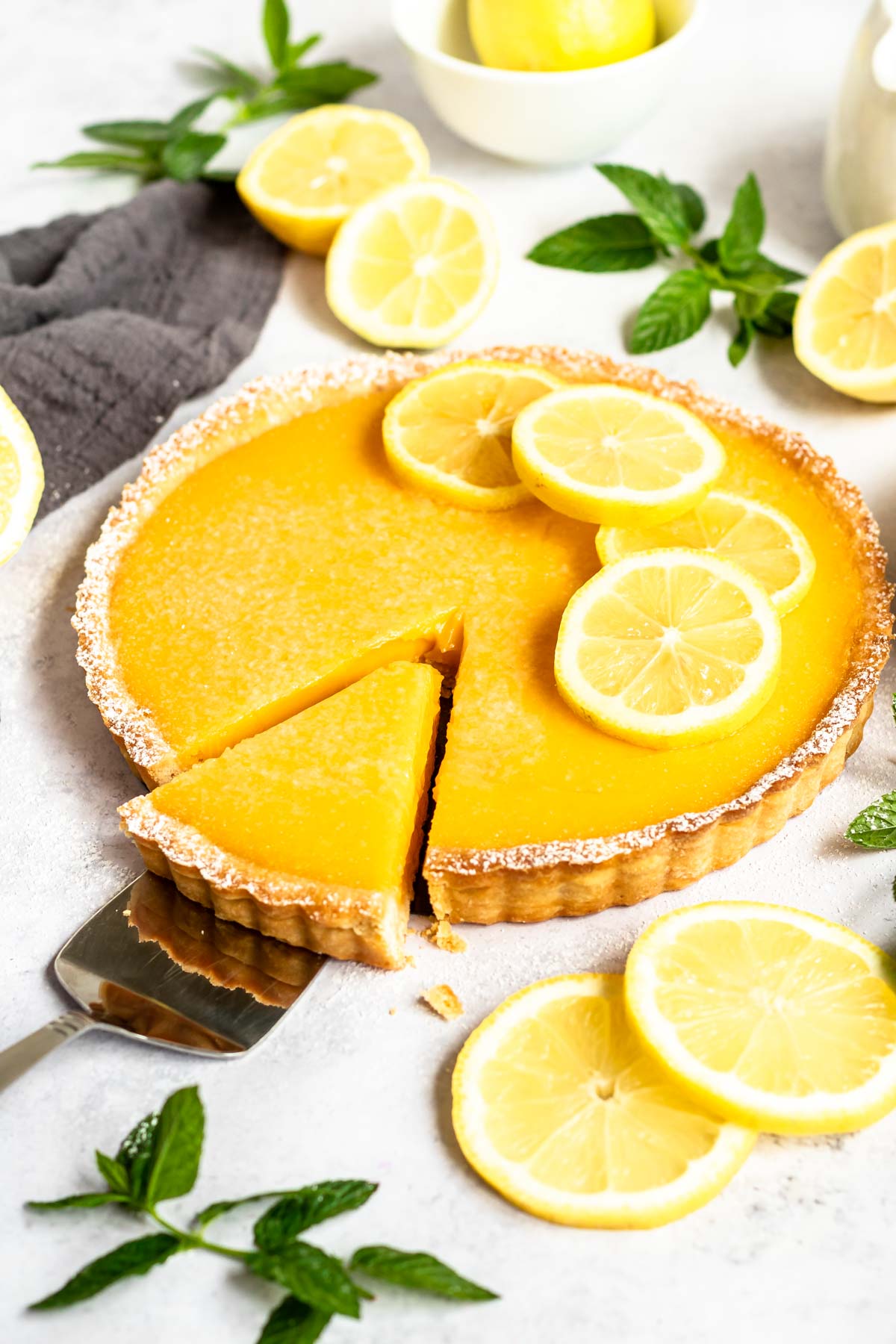 9. Lemon Poppy Seed Muffins
These lemon poppy seed muffins and moist, soft, fluffy, filled with lemon zest and poppyseed, and topped with a delicious lemon glaze.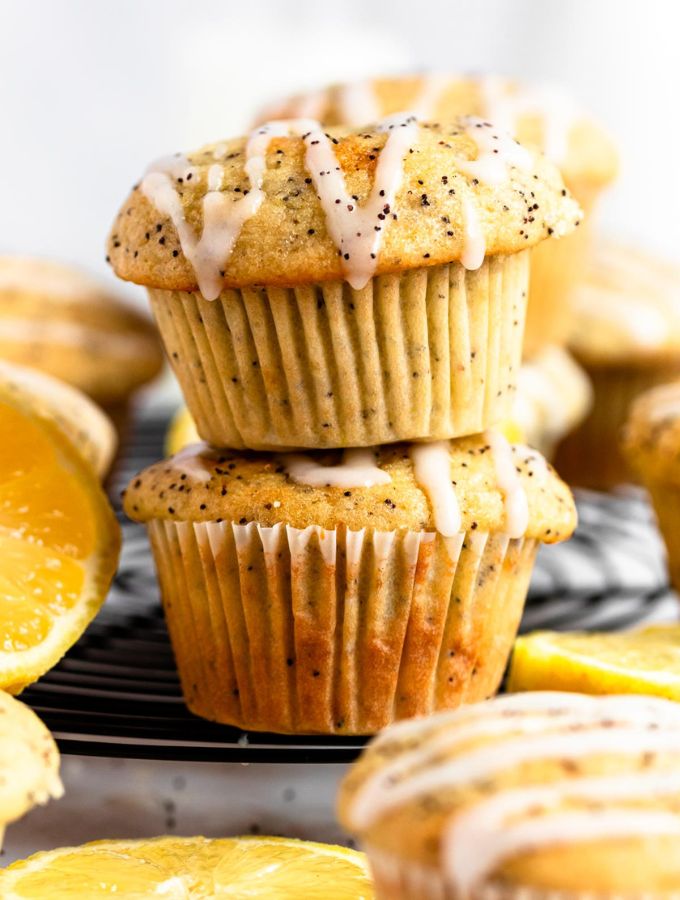 10. Chewy Lemon Blueberry Cookies
These chewy lemon blueberry cookies are loaded with white chocolate chips and flavorful blueberries, are chewy in the middle, and crispy on the edges.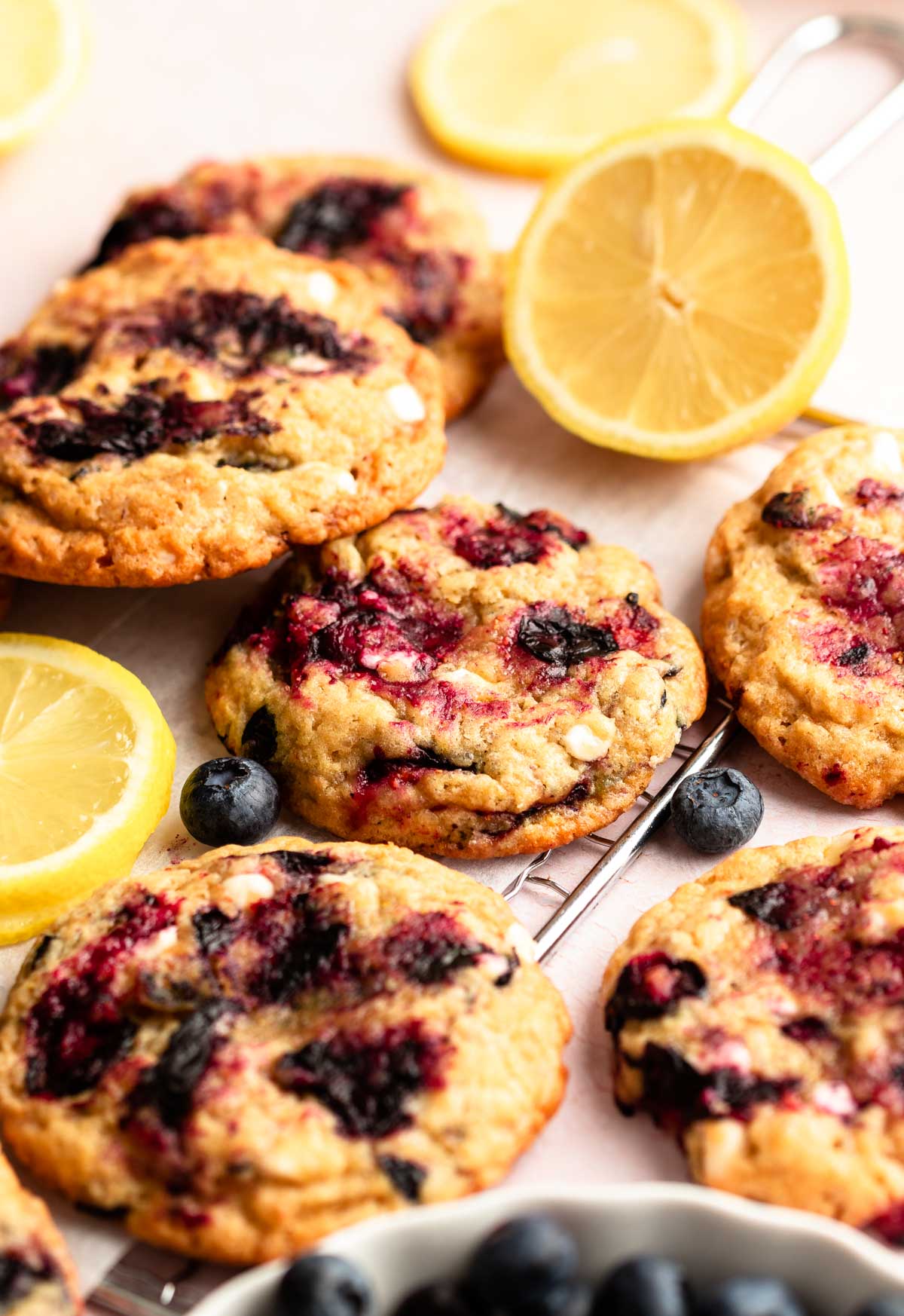 11. Lemon Curd Cookies
These lemon curd cookies are made with a shortbread thumbprint cookie and filled with homemade lemon curd.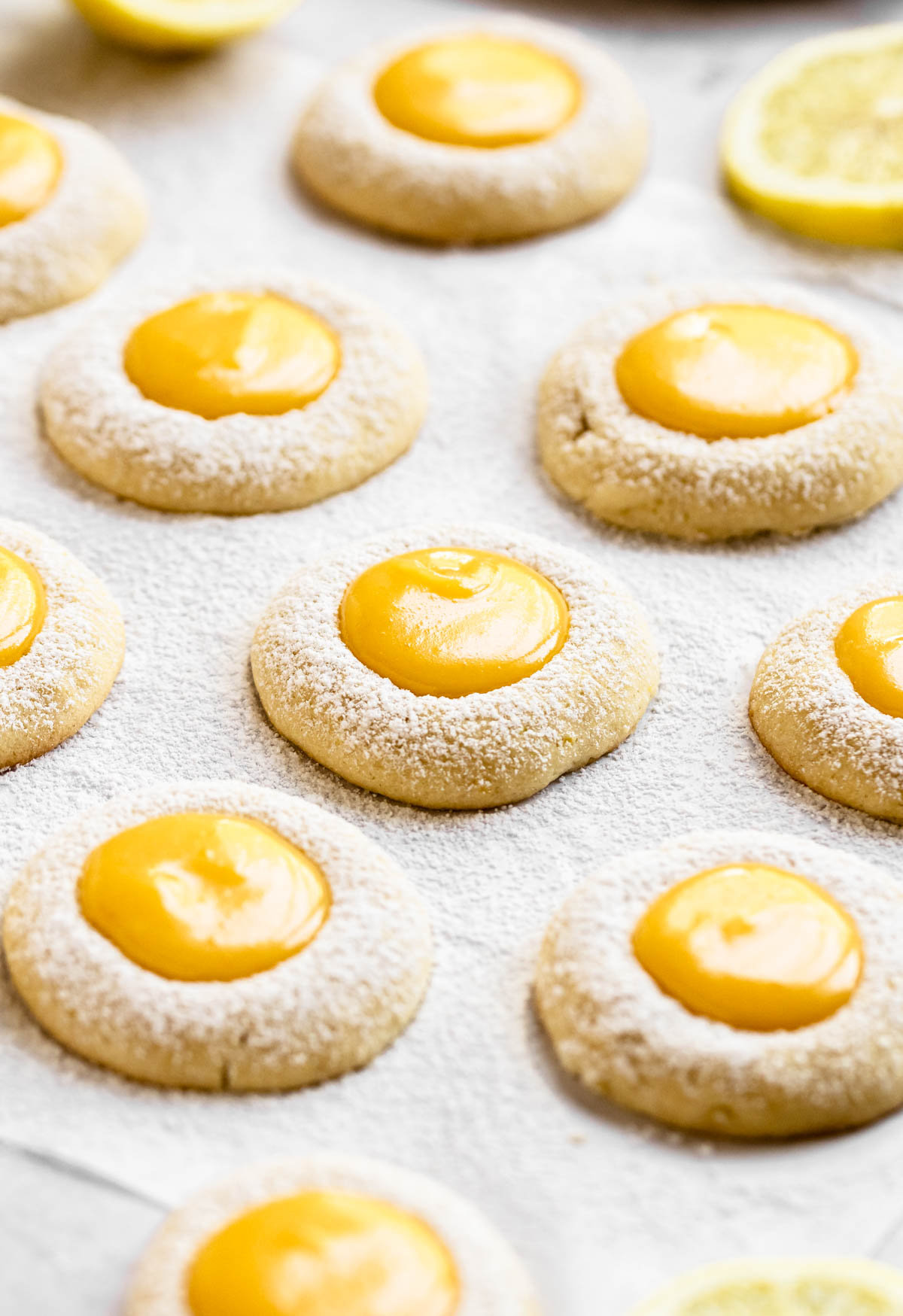 12. Lemonade Bundt Cake
This lemonade bundt cake is made with fresh lemon juice and lemon zest and topped with a lemon glaze. This cake and bright and will light up your day!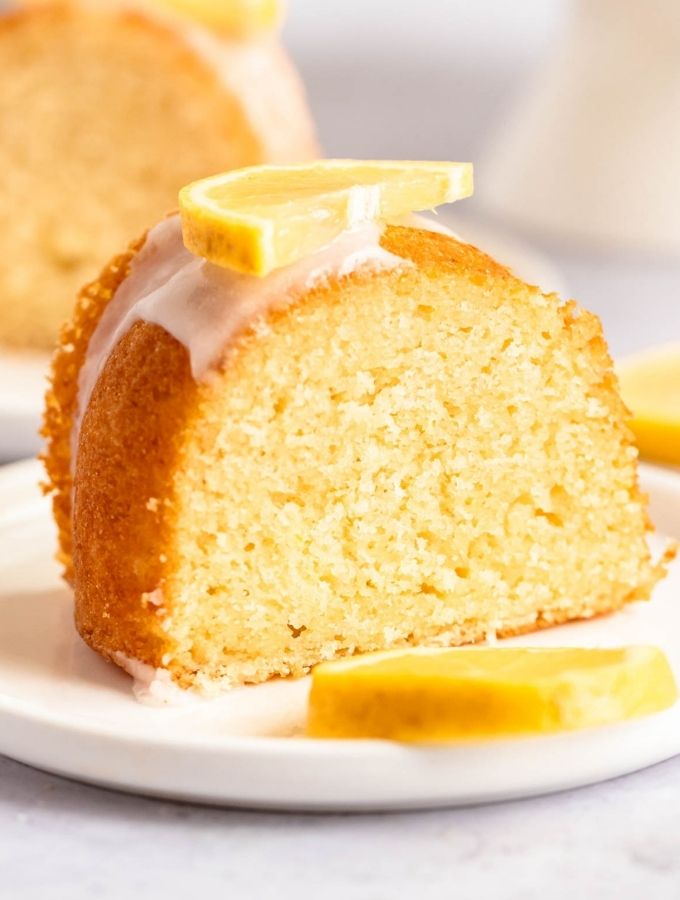 13. Lemon Ricotta Pancakes
These lemon ricotta pancakes are fluffy, moist, and full of lemony flavor. These pancakes are made with lemon zest, lemon juice, and ricotta cheese which makes these pancakes moist, extremely fluffy, and flavorful.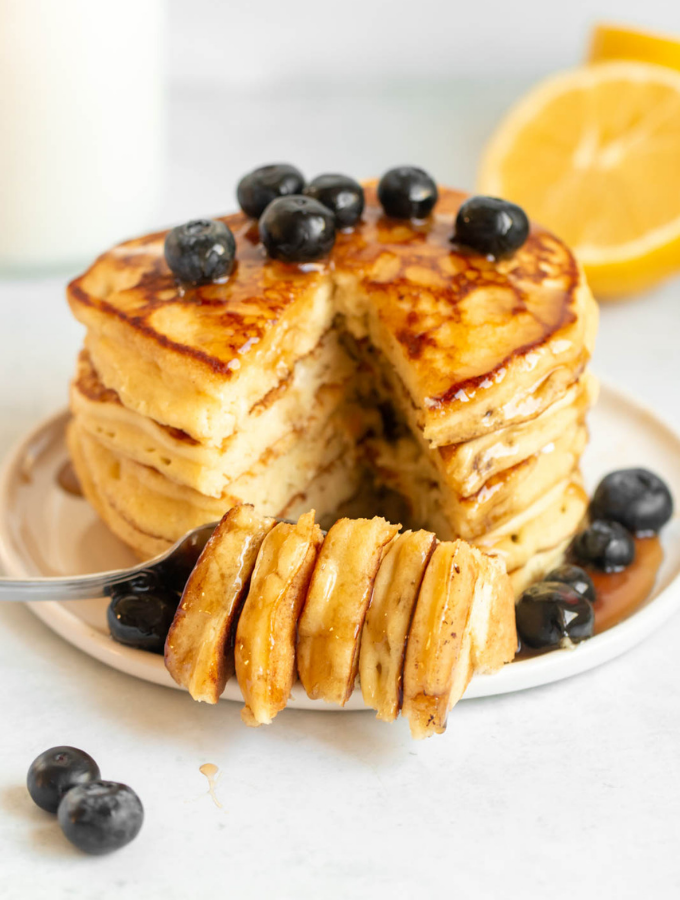 14. Lemon Ricotta Cake
This one-bowl lemon ricotta cake recipe is super simple to make with the most basic ingredients. As an added bonus, this cake is made without butter or oil!
15. Lemon Curd Tartlets
These Lemon Curd Tartlets are a delicious and fancy little dessert to serve for a party or afternoon tea. Buttery, crunchy and oh-so tangy, these Mini Lemon Tarts combine a homemade shortcrust pastry and creamy lemon curd into a delicious bite!
16. Italian Lemon Drop Cookies
These cookies have a cakey, lemony texture and are baked to a light golden brown, and then smothered in a bright, fresh lemony icing. They are perfect for Spring and will earn bragging rights at your next cookie swap.
17. Lemon Curd
Lemon curd is a delicate custard made from lemon juice, eggs, butter, and sugar. It is used as a sauce/filler for pies, tarts, cakes, and pastries. And sometimes even served as a separate dessert.
18. Lemon Mousse with Lemon Curd
Topped with a tangy lemon curd, these lemon mousse cups are perfect for a dinner party or when you are simply after a creamy, refreshing dessert!
19. Lemon Olive Oil Cake
This Lemon Olive Oil Cake is brightened up with fresh and vibrant lemons making it perfect for brunch or dessert! It's just 5-ingredients and 300 calories per serving, are you in love yet?
20. Lemon Meringue Cake
The Lemon Meringue Cake is the classic pie turned into a cake form: a twist from the original recipe to create a new lemon curd dessert. This recipe features a buttery cake topped with lemon curd and torched meringue.
21. Lemon Swiss Roll
A light and fluffy sponge cake, filled with a creamy, tangy lemon filling, and then rolled into a beautiful swirl.
22. Lemon Dump Cake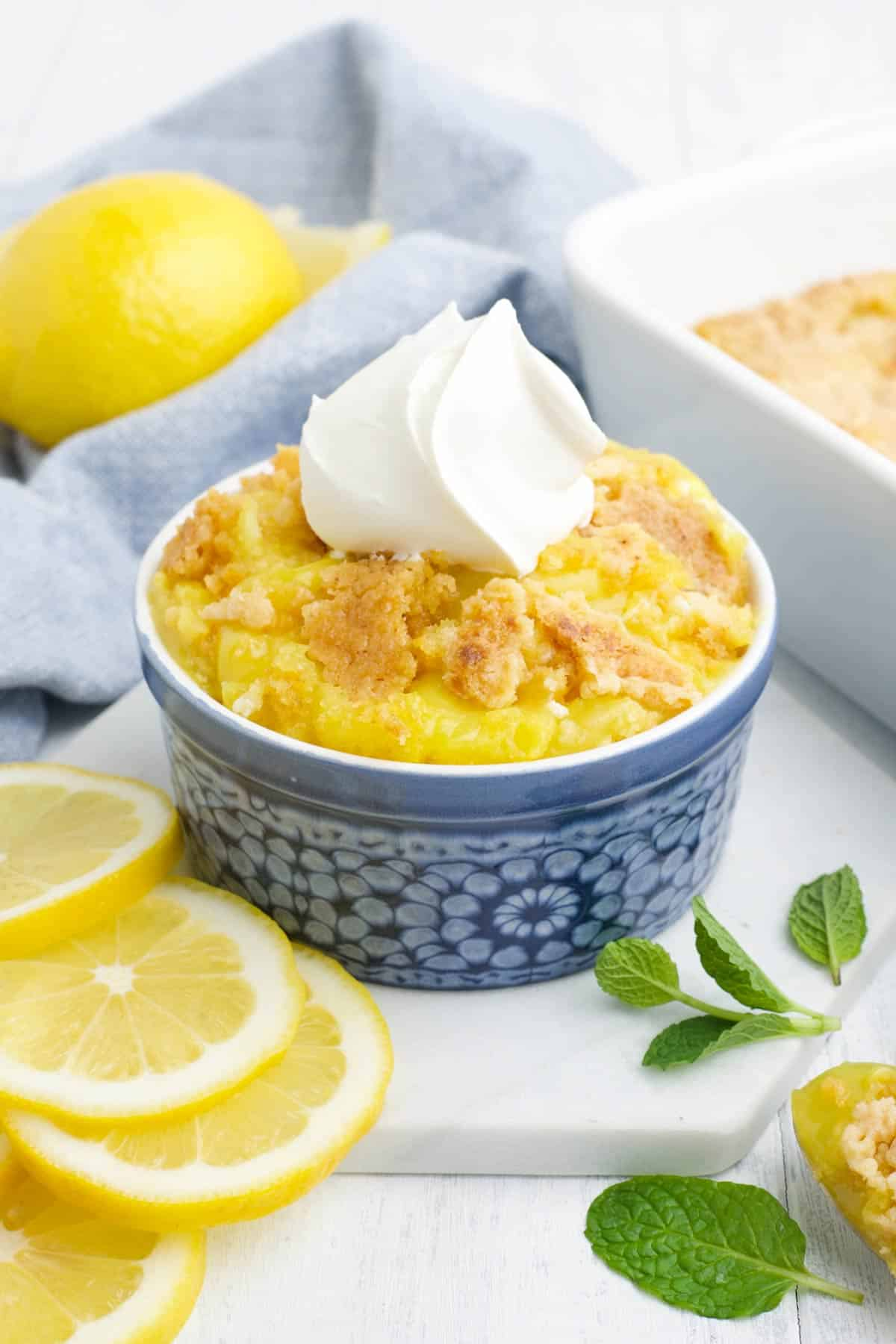 This super simple 4-ingredient lemon dump cake recipe is a fresh and flavorful summer dessert idea your entire family will love.
23. Mini Lemon Meringue Pies
Flaky crust, tart lemon curd, and sweet Italian meringue! There is nothing better than these Mini Lemon Meringue Pies, and no need to share.
24. No Bake Lemon Cheesecake
This No Bake Lemon Cheesecake is a creamy, easy dessert! You'll love the graham cracker crust topped with a tart citrus cheesecake filling!
25. Lemon Lush
This recipe for Lemon Lush Dessert features 4 delectable layers of tangy lemon curd, creamy lemon cheesecake filling, sweet vanilla cookie crust, & fluffy whipped coconut cream.
26. Lemon Tiramisu with Lemon Curd
This lemon tiramisu is tangy, zesty, creamy, and the perfect make ahead dessert. The filling has lemon curd, is so easy to make, and is packed with tangy lemon flavor.
27. Lemon Cookies
These lemon cookies are crispy on the outside with chewy centers. They have a bold lemon flavor with hints of vanilla. Serve them drizzled with this lemon glaze for a bright and irresistible cookie you'll make on repeat.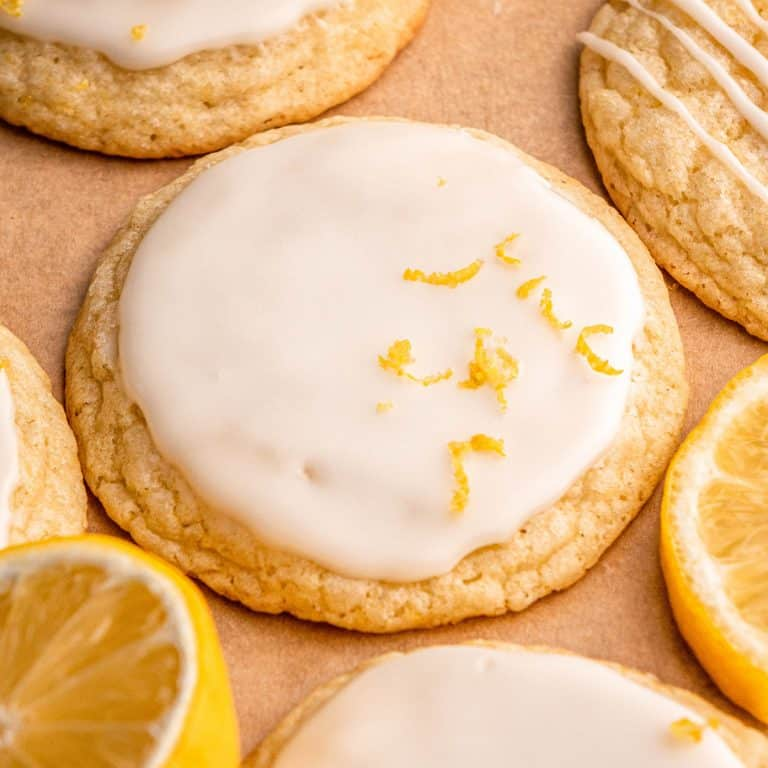 28. Lemon Poppy Seed Cake
This lemon poppy seed cake is moist with a rich lemon flavor and the most delicious lemon glaze. This lemon and poppy seed cake is easy to make and is a bright and cheery dessert for any time of the year.
29. Homemade Lemon Ice Cream
No ice cream maker? No problem! No churn ice cream is so easy to make and this no churn lemon basil ice cream is a combo you will be so amazed by the lemon and basil really complement each other in this creamy treat!
30. Lemon Butter Cookies
These delightful 2-bite Lemon Butter Cookies are light and refreshing, with the sweet taste of summer. They are the perfect treat on a hot summer day.
Lemon Desserts Faq's
What can I do with a lot of lemons?
Make lemon desserts! Like lemon bars, lemon cakes, lemon cookies, lemon cheesecakes, and more! Lemons are one of the most popular flavors to add to desserts.
What flavor goes well with lemon in desserts?
There are a lot of flavors that go beautifully with lemons like lavender, strawberry, coconut, blueberry, and raspberry. It also goes perfectly with fresh herbs like basil!
What cheese goes best with lemon?
The delicious citrus flavor of the lemon goes perfectly with goat cheese and ricotta cheese.
Does lemon go with chocolate?
Absolutely! Lemon goes perfectly with chocolate. One of my favorite combinations is lemon and white chocolate.
More recipes using lemon
Best blueberry biscuits- These blueberry biscuits are loaded with bursting blueberries, have a flakey and buttery texture, and are perfect with a drizzle of honey next to a cup of coffee or tea for breakfast!
Moist blueberry cake- This easy and moist blueberry cake is made in one bowl and is loaded with bursting blueberries and lemon zest flavor.
Honey lemon pepper wings- These honey lemon pepper wings are made with a sweet and savory glaze, baked in the oven or in an air fryer, are extra easy to make, and taste absolutely incredible.
If you tried any of these recipes, don't forget to leave a rating and a comment below. We love hearing from you.
If you liked this post
Share/pin this recipe to Pinterest.
Leave a comment down below!
📖 Recipe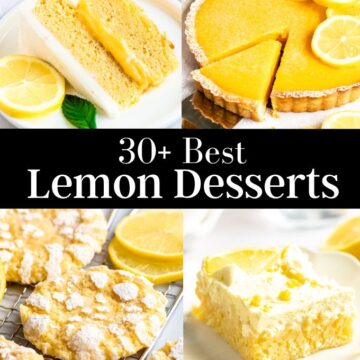 30+ Lemon Desserts: Lemon Tart & More
This lemon tart is made with a buttery pastry crust and filled with a zesty lemon curd filling. This tart is a ray of sunshine in a dessert!
Ingredients
Crust
1 ⅓

cup

Flour

¼

teaspoon

Kosher salt

⅓

cup

Powder sugar

115

g

Butter

cold

1

Egg

large

½

teaspoon

Vanilla extract
Lemon curd filling
½

cup

Lemon juice

2

tablespoon

Lemon zest

1

cup

Granulated sugar

115

g

Butter

¼

teaspoon

Kosher salt

2

Eggs

large

4

Egg yolks

large
Instructions
Start by making the tart dough. In a food processor, add the flour, powder sugar, and salt, and mix until combined.

Add cold cubed butter, and blend until there are pea-sized pieces of butter. If you dont have a food processor, you can do it by hand, mixing the cold butter into the flour mixture. Make sure that your hands are cold.

Then, add the egg, and the vanilla extract and mix until a dough forms. Try not to overmix the dough.

Cover the dough with plastic wrap and let it chill in the fridge for at least an hour.

Transfer the dough onto a clean floured surface and roll with a rolling pin into a circle and transfer it into a 9-inch tart pan. Cut off the extra edges. Make little holes with a fork and freeze for 20 minutes.

Bake in a 180c (350f) preheated oven for about 15-20 minutes or until the crust is a light golden brown color. Remove from the oven and let it cool while making the filling.
Make the lemon curd:
Put all of the ingredients in a saucepan and cook it over medium-low heat whisking constantly.

Once the butter melt, the consistency of the mixture will be thin, dont increase the heat. Keep whisking until the mixture thickens for about 5 minutes.

When the mixture thickens, transfer it to a fine-mesh strainer set over and bowl and strain the mixture from any unnecessary lumps. This will give you a perfect and smooth curd.

Cover the bowl tightly with plastic wrap and let the mixture cool for about 20-30 minutes.

Pour the curd into the tart crust and smooth it out with a spatula. Bake the tart in a 180c (350f) preheated oven for about 10 minutes or until the edges are set.

Refrigerate the tart for at least 2 hours, cut, and serve!
Notes
Dont let the lemon curd come to a boil! This will cook the eggs and leave you with scrambled eggs. Make sure that the lemon curd mixture cooks over medium-low heat.
Use COLD butter for the crust, we suggest cutting the butter into cubes and then placing it in the fridge, so when you are ready to use it, it will be very cold.
If the crust puffs a bit while baking, press it down using a cup.
Constantly whisk while making the curd! It is really important if you want to get a smooth and silky curd.
Use room temperature ingredients. It is important that you use room-temperature ingredients like butter. This step ensures that your mixture mixes into a homogenous mixture.
Use an easy-release tart pan. We use an easy-release tart pan for all of our tart recipes. This makes sure that your tart will be easy to release from the pan.
Before you start to make this recipe, measure and prepare your ingredients so the cooking process will go smoothly and easily.
Nutrition
Calories:
348
kcal
Carbohydrates:
38
g
Protein:
5
g
Fat:
22
g
Saturated Fat:
13
g
Polyunsaturated Fat:
1
g
Monounsaturated Fat:
6
g
Trans Fat:
1
g
Cholesterol:
176
mg
Sodium:
287
mg
Potassium:
65
mg
Fiber:
1
g
Sugar:
20
g
Vitamin A:
752
IU
Vitamin C:
6
mg
Calcium:
28
mg
Iron:
1
mg