If you are looking for the best Nutella recipes look no further! In this post, I share the best 30-plus recipes for Nutella. They are decadent and full of Nutella flavor.
Jump to:
What is Nutella?
Nutella is a chocolate hazelnut spread that is made with cocoa powder, hazelnuts, skim milk, and blended into the perfect creamy chocolate spread. You can make Nutella at home with simple ingredients.
We love baking with Nutella, you should try out our favorite Nutella recipes like our No-bake Nutella cheesecake-, 3 Ingredient Nutella brownies, Nutella mug cake, and our Nutella tart.
We think that Nutella tastes good with anything!
Faq's
Can Nutella be frozen?
Yes! Nutella can be frozen in an ice cube tray in an airtight container for up to 2 months.
Can I make homemade Nutella?
Yes! There are plenty of recipes for several variations of homemade Nutella. Some are healthier and made with specific ingredients, and some are decent and similar to the original spread.
What can you do with Nutella?
There are plenty of uses for Nutella, such as brownies, cakes, cookies, mousses, toast, croissants, pancakes, waffles, etc.
Nutella cake
This incredible Nutella cake is made by making three chocolate hazelnut cake layers, topped with Nutella buttercream, topped with chocolate ganache, and covered with toasted hazelnuts.
Nutella banana muffins
These Nutella swirl banana muffins are made with a deliciously moist and fluffy banana muffin batter, topped with Nutella swirls, and baked to perfection.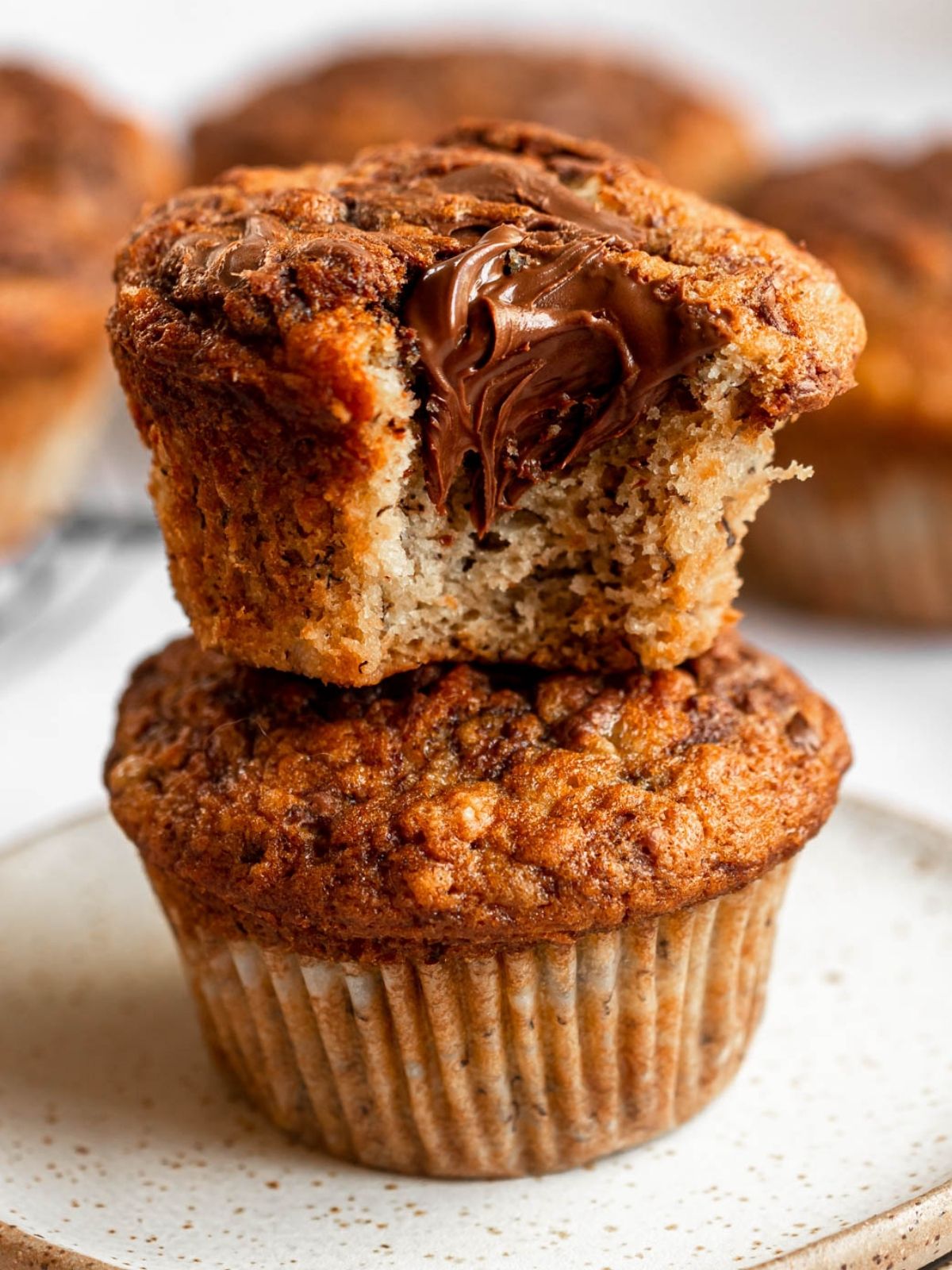 Nutella cookies
These Nutella cookies are chocolate cookies that are made with Nutella inside the cookie dough and topped with dollops of melted Nutella.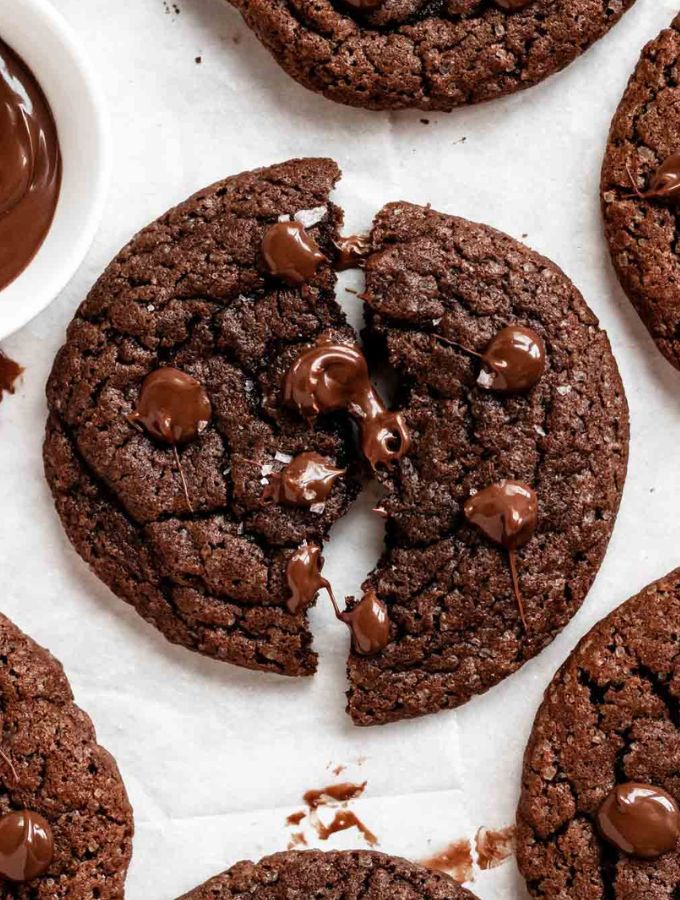 Nutella cheesecake
This no-bake Nutella cheesecake is rich in Nutella flavor, creamy silky smooth with a texture that is melt-in-your-mouth delicious. This cheesecake is extremely easy to make and requires simple ingredients.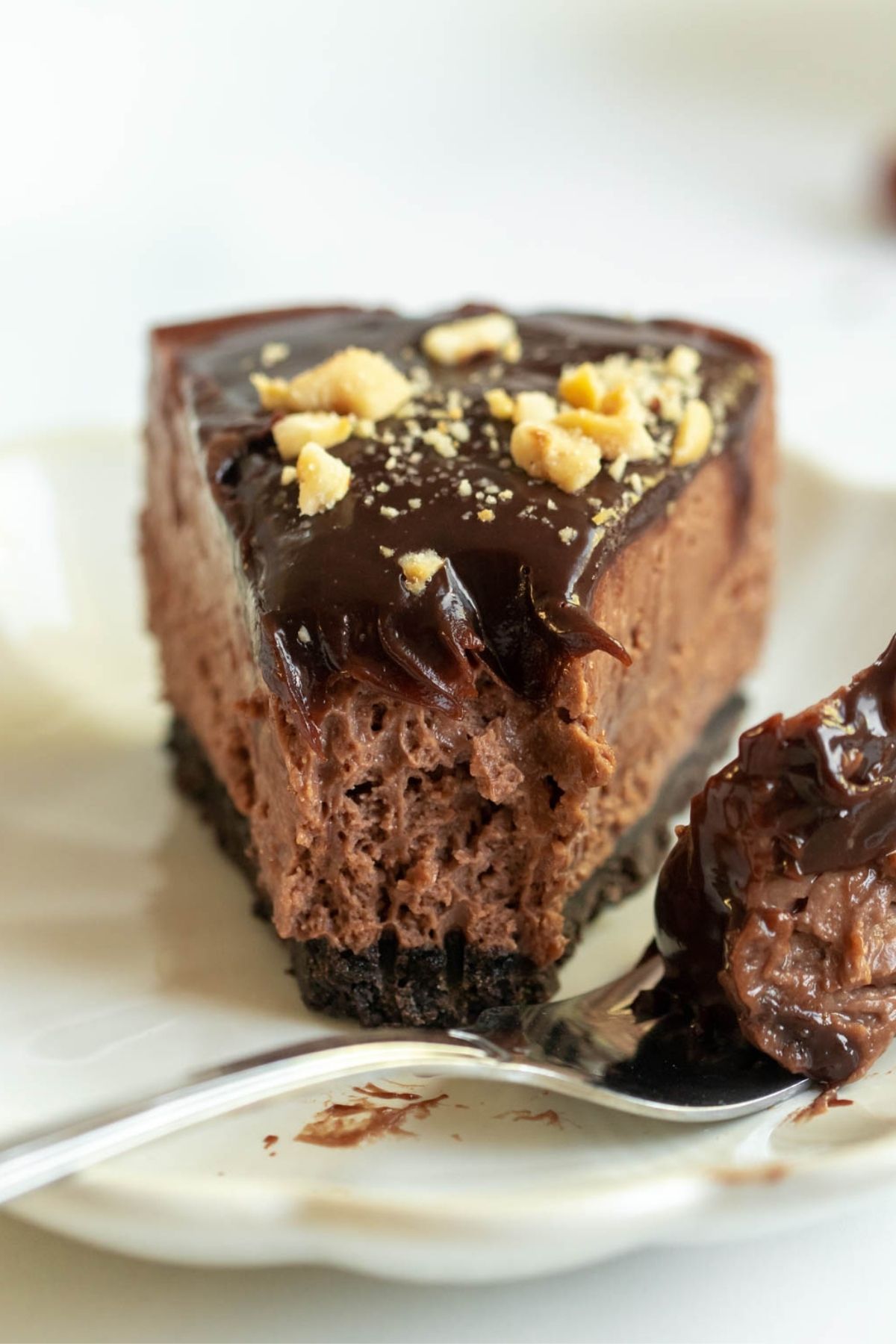 Nutella Tart
This Nutella tart is made with an easy hazelnut tart crust, filled with a decadent and creamy Nutella filling, and topped with chopped toasted hazelnuts. This dessert is impressive, incredibly easy to make, and tastes amazing.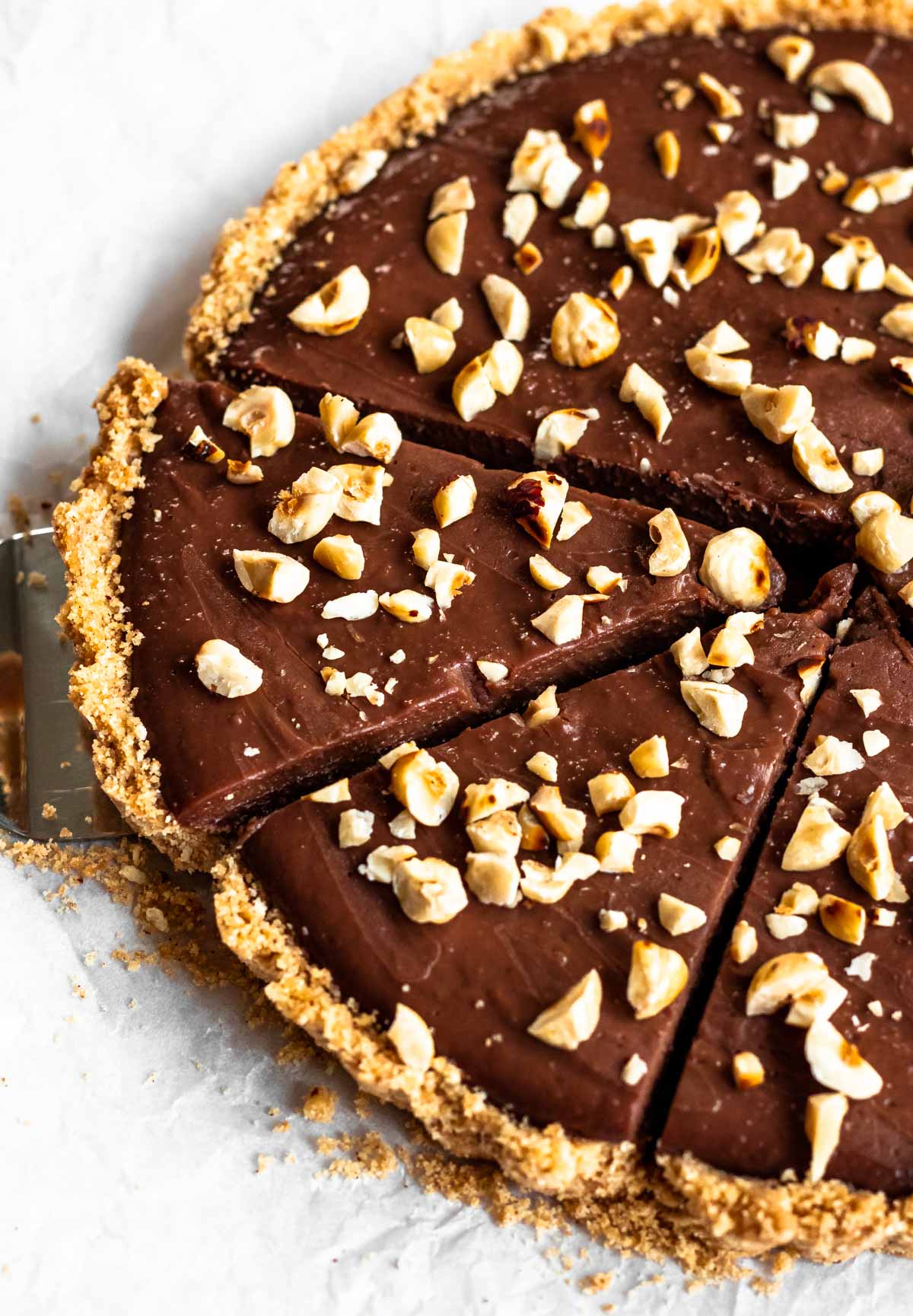 Nutella mug cake
This Nutella mug cake is gooey, rich, chocolaty, soft, tender, and dreamy. When you're in the mood for a decadent dessert, this easy mug cake comes in handy.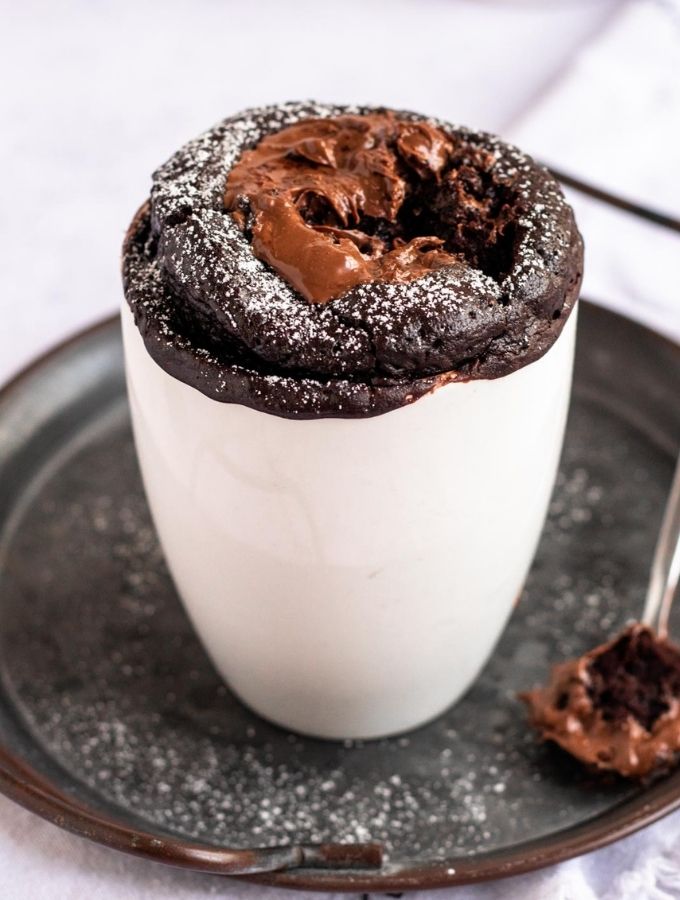 Nutella stuffed cookies
These Nutella stuffed cookies are made with our favorite chocolate chip cookie dough and stuffed with frozen Nutella that gives these cookies a gooey Nutella filling.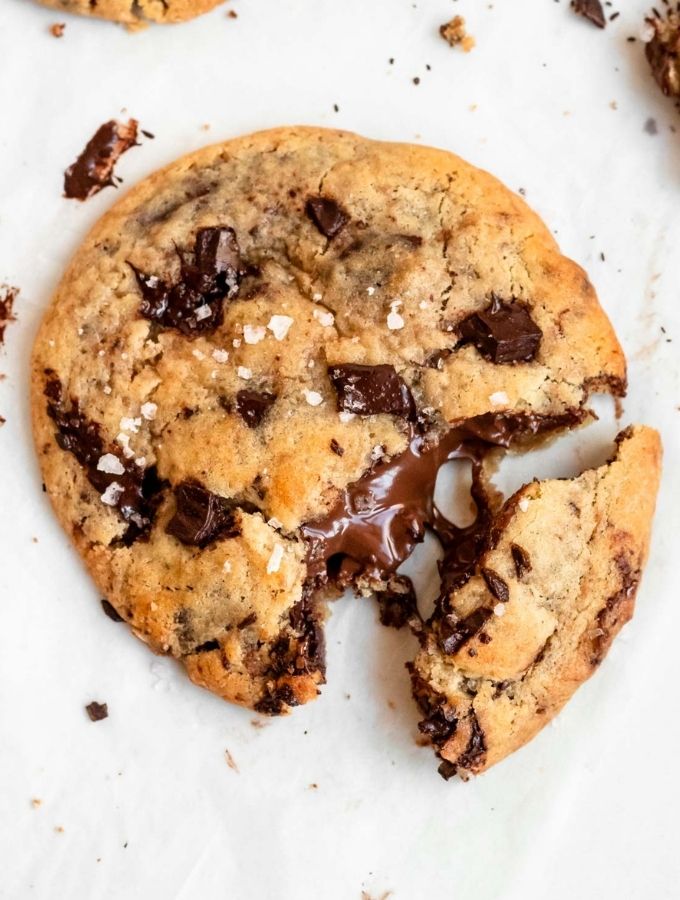 Nutella brownies
Easy 3 ingredient Nutella brownies recipe, the easiest way possible to make brownies, loaded with rich Nutella flavor, takes only 5 minutes to prep.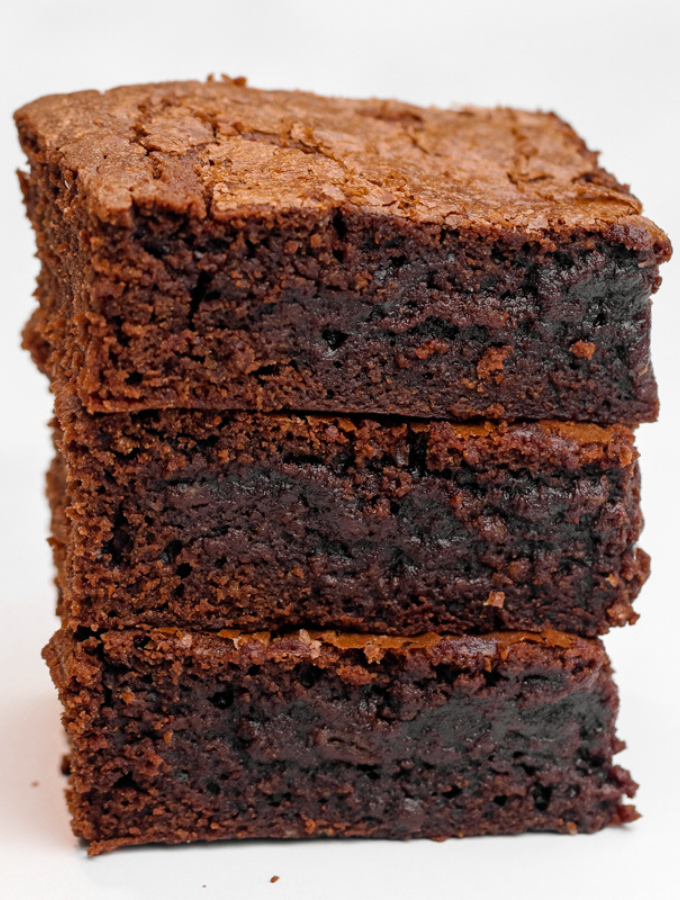 Nutella milkshake
This creamy milkshake is for all Nutella lovers who can not get enough of that rich chocolate hazelnut spread. This delicious Nutella milkshake is made with just 3 simple ingredients and will cure that sweet tooth!
Nutella tiramisu
Nutellamisu! Fast and easy Nutella tiramisu with the traditional flavors of coffee and mascarpone, with a layer of Nutella and made without eggs.
Nutella Slice
Nutella Slice - attention all Nutella lovers! This no-bake slice is a dream come true with a Nutella and biscuit base, topped with more Nutella and chocolate.
Nutella pop tarts
These Air Fryer Nutella Pop Tarts are so much better than store-bought and they are perfect for a quick and easy breakfast.
Nutella stuffed pancakes
Nutella Stuffed Pancakes will elevate weekend brunch! This Nutella pancake recipe is simple to make and a creative way to make brunch at home.
Nutella berry crepes
These nutella berry crepes are a foolproof recipe for blender crepes stuffed with nutella and fresh berries. Crepe recipe adapted from Martha Stewart.
Nutella swirl cheesecake bars
Chocolatey crust, creamy filling, and decadent Nutella make these Nutella Swirl Cheesecake Bars a delicious and easy dessert.
Nutella zucchini bread
One bowl, one hour, and 9 simple ingredients you already have in the house will get you this easy zucchini bread full of Nutella!
Nutella coconut popcorn
Have a delicious treat with this Coconut Nutella Popcorn! It's the perfect recipe for a dessert or snack that will allow you to indulge your sweet tooth.
Nutella linzer cookies
Classic Linzer Cookies sandwich two buttery spiced shortbread cookies with Nutella chocolate hazelnut spread in between. The shortbread is lightly spiced with cinnamon and nutmeg.
Nutella molten cake
Molten Nutella Cakes are a rich, 5-ingredient desserts! These cakes have a delicate layer of chocolate cake around a hot, fudgy center! Perfect special occasion dessert dessert.
Nutella stuffed churros
These homemade churros are filled with nutella. Seriously, it's so good, you'll want to try this recipe!
Nutella fudge
This decadent Nutella fudge is almost too good for words! Rich, smooth, and loaded with chocolate flavor, it's truly a treat! Even better, this 3 ingredient fudge recipe is so easy that it's practically foolproof!
Nutella babka
This Nutella babka is a sweet and beautiful bread that is delicious as a dessert or perfect for breakfast as well.
Nutella waffles
Full of creamy Nutella, these Nutella Waffles are so simple to make, and are loaded with sinful Nutella! Up your waffle game with these amazingly easy waffles!
Nutella Ice Cream
Learn how to make a small batch of homemade no cook egg free Nutella Ice Cream in a blender with 5 ingredients.
Chocolate Macarons with Nutella Buttercream
These chocolate macarons are filled with Nutella buttercream and topped with drizzled dark chocolate and chopped hazelnuts.
Chocolate Hazelnut Cupcakes with Nutella Buttercream
Ever wish you could eat Nutella in cupcake form? Now you can with these chocolate hazelnut cupcakes with Nutella buttercream! The secret? Hazelnut flour.
Easy Chewy Peanut Butter Cookies With Nutella
These easy chewy peanut butter cookies with Nutella are the perfect combination of chocolate and peanut butter.
Nutella Swirl Sour Cream Coffee Cake
The classic sour cream coffee cake recipe with a Nutella swirl. The bundt cake shape is then perfectly drizzled with a cinnamon Nutella glaze.
Nutellotti Soft Nutella Cookies with Filling
Nutellotti soft nutella cookies are a great Italian Christmas cookie idea. Nutella thumbprint cookies like these are perfect for the Nutella lover in the family.
Nutella Fudgesicles
These homemade Nutella Fudgesicles are the classic fudgy treat but with hazelnut and cacao for a touch of added nutrition!
If you tried this recipe, don't forget to leave a rating and a comment below. We love hearing from you.
If you liked this post:
Share/pin this recipe to Pinterest.
Leave a comment down below!
📖 Recipe
30+ Best Nutella Recipes: Nutella Cake & More
If you are looking for the best Nutella recipes look no further! In this post, I share the best 30-plus recipes for Nutella. They are decadent and full of Nutella flavor.
Ingredients
Nutella cake:
3

cups

Flour

½

cup

Dutch cocoa powder

2

teaspoon

Baking powder

1

teaspoon

baking soda

2

cups

Granulated sugar

¾

cup

Vegetable oil

¾

cup

Nutella

3

Eggs

1

cup

Buttermilk

1

cup

Hot coffee

1

tablespoon

Vanilla extract

1

teaspoon

Salt
Nutella buttercream frosting:
340

g

Butter

2

cups

Powder sugar

½

cup

Cocoa powder

½

cup

Nutella
Chocolate ganache:
100

g

Dark chocolate

100

g

Heavy cream
Instructions
How to make Nutella cake:
Preheat the oven to 180 (350f) and prep three 8-inch baking pans with parchment paper.

Into a big bowl, add the flour, sugar, cocoa powder, baking powder, and baking soda. Mix well with a whisk until combined.

Add the eggs, oil, Nutella, vanilla extract, and buttermilk. Mix well until combined.

Add the kosher salt and the hot coffee, mix well until the batter is smooth.

Divide the mixture into three 8-inch baking pans, we suggest using cake strips for even baking. (weight the batter for better results) and bake in a preheated oven for 25-30 minutes or until a toothpick comes out clean. Let the cake cool completely before frosting.
How to make Nutella buttercream:
Into a large bowl add room temperature butter and mix with a hand mixer or a stand mixer until the butter is light and fluffy.

Add half of the powder sugar and the cocoa powder and carefully mix until combined.

Add the other half of the powder sugar and mix until smooth.

Add the Nutella to the mixture and mix until well combined and smooth.
How to make chocolate ganache:
Melt dark chocolate and heavy cream in a small to medium mixing bowl in the microwave for about 50 seconds.

Let the chocolate and the cream sit for 10 minutes for the chocolate to melt, then mix until the chocolate ganache is smooth and silky.
For the Nutella cake assembly:
Pipe a small dollop of the frosting on the surface that you will frost on. Lay the first cake layer over the frosting dot.

Pipe ⅓ of the frosting on top of the cake layer and spread an even layer.

Top with the second cake layer and spread another layer of frosting, we like piping the frosting on top of the cake layers, and smooth it out with a straight spatula.

Repeat with the third cake layer, and frost the entire cake with a crumb coat. Place the cake in the fridge for 20 minutes, and frost the cake with the rest of the frosting.
How to decorate Nutella cake:
For decoration, we made chocolate ganache, once the ganache is cooled slightly and thickened, we made drips all around the edges of the cake (with a piping bag).

Once you are happy with the drips, pour more ganache on top of the cake and lightly smooth it out with a small offset spatula.

Then I topped the cake with dollops of Nutella frosting around the edges of the cake.

Press chopped hazelnuts into the sides of the cake.
Notes
Don't skip the coffee in the cake, you can't taste the coffee, it simply enhances the chocolate flavor.
Use cake strips! Cake strips give you even and perfectly baked cake layers. Click here for the amazon link.
Use room temperature ingredients. It is important that you use room-temperature ingredients like eggs and butter. This step ensures that your mixture mixes into a homogenous mixture and bakes perfectly. you don't want to place cold batter into the oven.
Measure your flour correctly! When measuring your flour, avoid scooping it with a measuring cup. Instead, stir the flour with a spoon to create as many air pockets as possible, and spoon it into your measuring cup. Finally, level it with a back of a knife.
Don't overmix the batter, you don't want to develop the gluten in the flour. This step ensures you have a moist cake and not a dense and dry cake.
Line your baking pan with parchment paper! This step helps the cake to bake evenly, and it makes sure that your loaf cake will release easily from the pan.
Make sure that your butter is at room temperature. An hour or two before making the buttercream, take the butter out of the fridge and let it come to room temperature. The butter should be soft to the touch. If your butter is too cold, it will be harder to mix and there will be lumps of butter in the frosting.
Be patient! I know it's extremely tempting to frost this cake as it is pulled out of the oven, but let the cake cool for at least 1 hour so it will be more firm and won't crumble up, and prevent the frosting from melting.
Nutrition
Calories:
645
kcal
Carbohydrates:
80
g
Protein:
7
g
Fat:
42
g
Saturated Fat:
23
g
Polyunsaturated Fat:
7
g
Monounsaturated Fat:
9
g
Trans Fat:
1
g
Cholesterol:
85
mg
Sodium:
445
mg
Potassium:
291
mg
Fiber:
5
g
Sugar:
40
g
Vitamin A:
695
IU
Vitamin C:
0.04
mg
Calcium:
101
mg
Iron:
4
mg