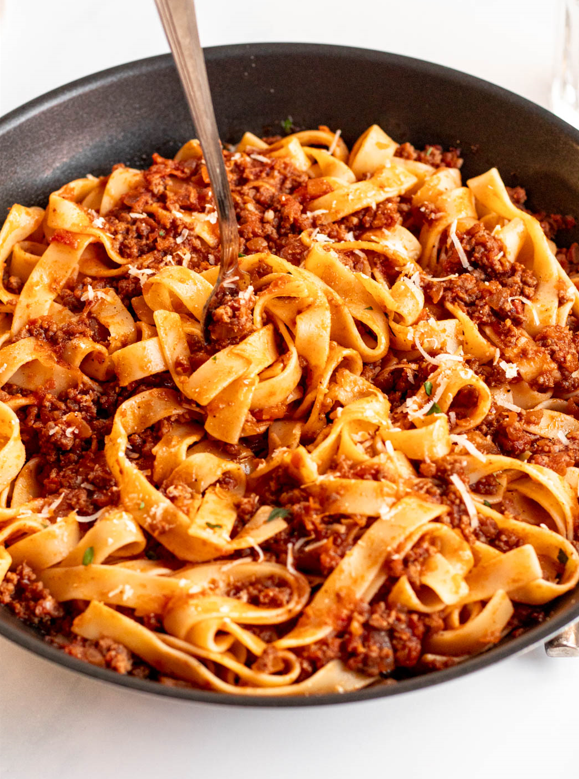 Yields:

7 Servings
Difficulty:

Easy
Prep Time:

10 Mins
Cook Time:

40 Mins
Total Time:

50 Mins
This easy bolognese sauce is my famous mom's recipe. This bolognese sauce comes together in under an hour, takes simple ingredients, and tastes absolutely divine. This is one of my favorite savory meals to eat!
This bolognese sauce is perfect to make when you crave a hearty and comforting meal to enjoy on a rainy day or any other day! This bolognese sauce is thick, flavorful, and perfect with any kind of pasta.
If you like hearty meals as we do, you should try our cottage pie, lentil soup, baked goat cheese pasta, pumpkin soup, and our butternut squash soup!
Watch our video for how to make easy bolognese sauce:
If you enjoyed this video version of this recipe, please subscribe to  OUR YOUTUBE CHANNEL!
Bolognese sauce ingredients:
Ground meat- some people like adding Italian sausage for this recipe, but we like to make this recipe with ground meat only. It's easy, simple, and delicious. We use lean ground meat.
Onion- chop two medium yellow onions into small cubes.




Tomatoes- the secret ingredient for this recipe, is fresh tomatoes. NOT canned tomatoes. Fresh tomatoes have so much more flavor than canned tomatoes. We like using Roma tomatoes as we find them delicious, but any kind of fresh tomatoes will work. We great the tomatoes on a regular grater.
Garlic- you will need 5 garlic cloves for this recipe. Use fresh garlic and not pre-grated garlic from the store. Freshly grated garlic gives this dish the best flavor.
Salt and pepper- to taste. We added 1 tsp of black pepper and 1 tbsp of salt.
Paprika- use regular paprika powder for this recipe. You will need 1 tbsp of paprika powder.
Sugar- if your tomatoes are sweet and not sour, you will not need to add sugar. We had lightly sour tomatoes when we made this recipe, so we added 1-2 tsp of sugar to break the sour taste. This step can transform your entire sauce. It's truly all about balance.
Olive oil- use extra virgin olive oil. Canola oil or vegetable oil will work as well.
Tomato paste- for extra flavor. You will need 3 tbsp of tomato paste for this recipe.
Parmesan- We like topping this dish with parmesan cheese. this step is optional.
Parsley- we like topping this dish with chopped parsley.




How to make bolognese sauce:
In a large skillet, on medium heat, add olive oil, and the onions, and sautee the onions until they are lightly golden brown.
Add the garlic, and mix until combined. Add the ground meat and mix with a wooden spoon until the meat is browned.
Add the tomato paste, and mix until combined. Then add the paprika, sugar, black pepper, and sugar (if needed) and mix well until combined.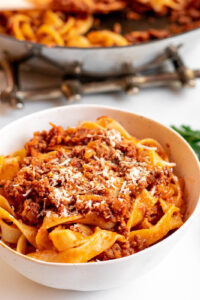 Add the grated tomatoes, and mix until the mixture is combined. Cover the pan with a lid and let the sauce simmer on low heat for at least 30 minutes. If you have more time, let it simmer for longer. The longer it simmers, the richer the flavor will be.
Cook the pasta of your choice according to the package instructions, and scoop the bolognese sauce over the paste. We like to top our pasta bolognese plate with parmesan cheese and chopped parsley.




Frequently asked questions:
How to serve bolognese sauce?
There are two ways to serve bolognese sauce. The first way is to scoop the sauce over the pasta. The second way and the traditional way is to save 1/2 cup of pasta water and toss the sauce with the pasta in a pan or a pot. Add pasta water if needed. The second way is more popular in Italian restaurants because the sauce sticks to the pasta better when it is cooked that way.
How long will this bolognese sauce last?
This bolognese sauce will last for up to 4 days stored in an airtight container in the fridge, or up to 2 months stored in the freezer.




Can I freeze bolognese sauce?
Yes! Bolognese sauce freezes great. Simply after cooking the sauce according to the instructions, let the sauce cool to room temperature, and place it in an airtight freezer-friendly container. Freeze this bolognese sauce for up to 2 months.




Can I make this bolognese sauce vegan?
Yes! Switch out the meat with lentils, or rice. Switch out the beef broth with vegetable broth. We suggest adding more vegetables like carrots, celery, and red pepper!
How to store bolognese sauce?
Store this bolognese sauce in the fridge in an airtight container for up to 4 days.




What to serve with bolognese sauce?
For the best Italian experience, serve this bolognese sauce with:
Garlic bread
Foccacia
Italian salad
Pull apart bread
Tossed salad.
What's for dessert?
We like finishing this delicious meal with a comforting dessert, like our fudgy brownies, chocolate ice cream, chocolate crinkle cookies, key lime pie, tiramisu.




More hearty recipes to try:
Cottage pie- Cottage pie is an English classic and hearty comfort food. Cottage pie is made by making a savory mixture of ground beef, topped with creamy mashed potatoes, topped with cheese, and baked to perfection.
Lentil Soup- This is the absolute best one-pot lentil soup recipe, we've been making it for years. It's creamy, healthy, delicious, and satisfying. It's surprisingly easy to make and made with only a few simple ingredients.
Baked Goat Cheese Pasta- This baked goat cheese pasta is made with cherry tomatoes, feta cheese, fresh basil, baby spinach, mushrooms, balsamic vinegar, garlic, olive oil, and spices.
Pumpkin Soup- This thick and creamy pumpkin soup is the perfect dish for a cool fall or winter night. Packed with vegetables and fresh pumpkin, the perfect combination for a healthy and tasty meal.
If you tried this recipe, don't forget to leave a rating and a comment below. We love hearing from you.
If you liked this recipe:
Share/pin this recipe to Pinterest.
Leave a comment down below!