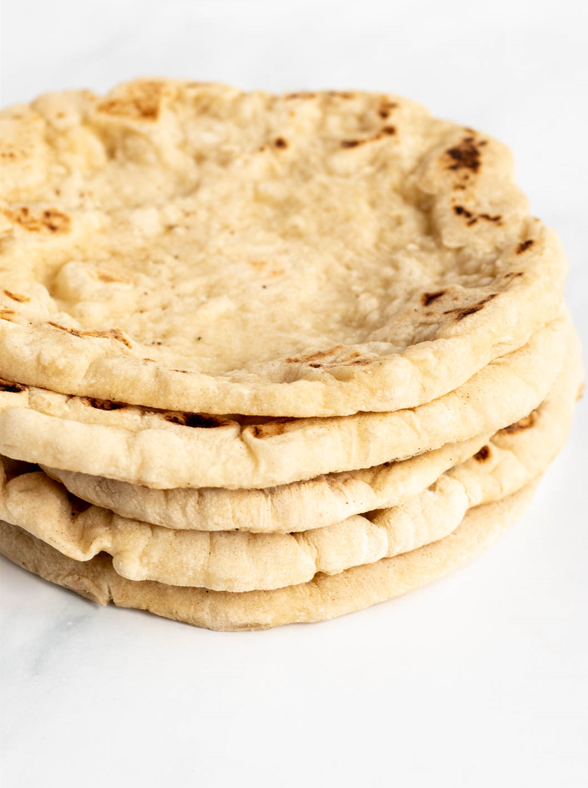 Yields:

8 Servings
Difficulty:

Easy
Prep Time:

1 Hr 30 Mins
Cook Time:

5 Mins
Total Time:

1 Hr 35 Mins
This greek pita bread is fluffy, soft, and delicious. After you will make this greek pita bread recipe, you will never want to buy store-bought pita bread. This homemade greek pita bread requires only a few simple ingredients that you probably have lying around in your kitchen.
We love making our own pita bread and homemade greek pita bread. We like serving the greek pita bread with tzatziki sauce, hummus, falafel, tahini sauce, gyros chicken, and our favorite shakshuka!
This greek pita bread is perfect for freezing, perfect for making ahead of time. Make sure that you follow our instructions and step-by-step recipe.
Why this recipe works:
Made with super simple ingredients.
Tastes a million times better than store-bought pita bread.
Easy to make.
Cheap to make.
Fluffy and chewy.
What is the difference between pita bread and greek pita bread?
Pita bread and greek pita bread are actually quite different. Greek pita bread is similar to a flatbread, when pita bread is more fluffy and puffy and has a pocket inside of it.
Watch our video for how to make greek pita bread:
If you enjoyed this video version of this recipe, please subscribe to  OUR YOUTUBE CHANNEL!




Greek pita bread ingredients:
Flour– we use all-purpose flour for this recipe. Bread flour will work great as well for this recipe.
Active dry yeast– active dry yeast works best for this recipe.
Granulated sugar– granulated sugar works best for this recipe, caster sugar can work as well.
Olive oil- use extra virgin olive oil for this recipe.
Kosher salt– use kosher salt for this recipe.
Water– use room temperature water.
How to make greek pita bread:
In a bowl of a stand mixer, add the flour, dry yeast, and sugar. Mix with a spoon until combined.
Add the salt, and mix until combined.
Add the olive oil and room temperature water, and start mixing on low until the dough forms.
Increase the speed to medium and keep mixing for at least 8 minutes or until the dough is smooth and silky.
Cover the bowl with plastic wrap and let the dough rise at room temperature for 1-2 hours or until it's doubled in size.
Punch down the dough and transfer it to a clean floured surface. Roll the dough into a roll and divide it into 8 equal pieces (we suggest weighing the dough).
Roll each dough piece into a ball (see in the video) and place 8 dough balls onto a floured surface. Cover with a clean towel and let the dough rest for 30 minutes.
Using a rolling pin, roll each dough ball into a thin circle. Try to roll out the dough into the thinnest thickness without ripping it (if your dough sticks too much to the surface, simply sprinkle some flour). Repeat with the other pieces of the dough.
Frequently asked questions:
How to cook pita bread?
There are two ways to cook pita bread. One is on the stovetop and the second way is in the oven.
Cooking pita bread on the stovetop:
Heat a castiron pan (or a regular pan) over medium to high heat, you can drizzle some olive oil if you want, and carefully place the pita bread dough on the pan. Cook the pita bread for 1-2 minutes on each side, until bubbles start to form, checking constantly that the pita doesn't burn from the high heat (been there done that).
Baking pita bread in the oven:
To bake pita bread in the oven, you will need to reheat your oven to its highest temperature. Pita bread needs very high heat to form a pocket if that's what you are looking for. Greek pita bread doesn't have a pocket, so it's okay to reheat the oven to 250c (480f).
Place a pizza stone or an oven tray and reheat the oven to 250c (480f). Carefully transfer the pita dough onto the preheated tray and bake for 3-4 minutes. Keep an eye on the pita so it won't burn.




Serve the greek pita bread with:
Tahini sauce
Gyros chicken
Hummus
Chicken shawarma
Kebab
Grilled chicken
Grilled meat
How long will the greek pita bread last?
The pita bread will last for about 3 days at room temperature, stored in an airtight container. Or freeze up to 3 months.
Can I use wholewheat flour in this recipe?
Yes! To make pita bread with wholewheat flour, simply replace 1/2 of the flour with wholewheat flour. We suggest not making this pita bread with %100 wholewheat flour, because the pita will turn out dense and not fluffy.
Can I bake these in the oven?
Yes, simply preheat an oven to its highest temperature, and bake the pita for 3-5 minutes. Keep an eye on the pita to see that it doesn't burn.
Can I freeze this greek pita bread?
Yes, after baking the pita bread, let them cool completely and freeze it in an airtight container for up to 3 months. When ready to use, defrost at room temperature for 30 minutes and reheat in a toaster oven for 2-3 minutes.
How to serve the pita bread?
There are so many options to enjoy pita bread. Some people like to serve it as is with homemade hummus, or tzatziki sauce, some like to enjoy it falafel, some like to enjoy it as a sandwich with salads, eggs, kebabs, or even chocolate spread!  
How many pita breads does this recipe make?
This recipe makes about 8-10 pita bread, depends on the size. You can make them smaller or bigger.
Tips for this recipe:
Make sure that your yeast isn't expired. You can check if your yeast is expired by mixing a tsp of dry yeast with 1/4 cup of room temperature water, wait 10 minutes, and if the yeast has bubbles in it and it puffed a bit, your yeast is alive and good, if there are no bubbles in your yeast mixture, your yeast is probably expired.
Be patient! Let the dough rise at least until it doubles its size.
Use bread flour! We like to use either all-purpose flour or bread flour for making bread. Bread flour contains more gluten, which makes the dough more stretchy and easy to work with.
Make sure that your ingredients are fresh! Make sure that your flour and yeast are fresh and not expired. This step ensures that you will have a great dough to work with.
Explore more bread recipes:
Super Soft Dinner Rolls– Soft, airy, and fluffy dinner rolls are impossible to resist.
With only a few ingredients, you can achieve the most perfect no-fail addition to any main dish.
3 Ingredients Naan Flatbread- This 3 ingredients naan flatbread recipe is the easiest and fastest way to make naan bread. It is made with no yeast, no stand mixer, and no rising time! This recipe takes only 3 ingredients.
Homemade pita bread- Pita bread is one of our favorite bread to bake, making your own homemade pita bread is easy, inexpensive, simple, and delicious.
If you tried this recipe, don't forget to leave a rating and a comment below. We love hearing from you.
If you liked this recipe:
Share/pin this recipe to Pinterest.
Leave a comment down below!