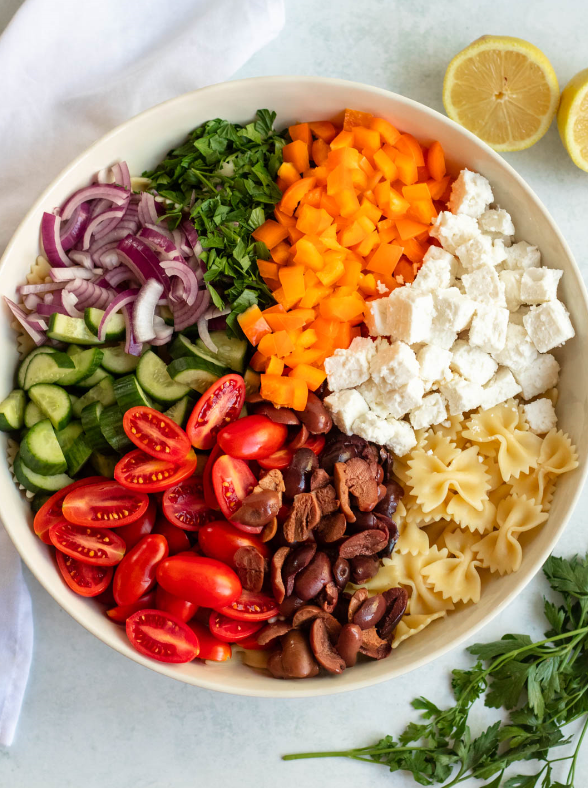 Yields:

5 Servings
Difficulty:

Easy
Prep Time:

20 Mins
Cook Time:

10 Mins
Total Time:

30 Mins
Greek pasta salad is the perfect side dish for any occasion, make with cooked pasta, fresh veggies, kalamata olives, feta cheese, and homemade Greek salad dressing. We love to serve this pasta salad at a picnic or barbecue.
This Greek pasta salad is colorful, full of flavor, and super easy to throw together. Your friends and family will love this greek pasta salad, it has been a family favorite for years, and we're excited to share this easy and delicious recipe with you!
Watch our video for how to make easy Greek pasta salad:
If you enjoyed this video version of this recipe, please subscribe to  OUR YOUTUBE CHANNEL!




Tools in this video:
Mason jars- our favorite mason jars.
Mixing bowls– our favorite mixing bowls ever.
What you will need for this recipe:
Pasta– use any kind of your favorite pasta, we used Farfalle pasta.
Bell pepper- we used orange bell pepper, any kind of bell pepper will work.
Cucumber– use fresh cucumber for this recipe. cut the cucumber into small pieces.
Cherry tomatoes– we love using fresh Roma cherry tomatoes for this recipe. cut the cherry tomatoes in half.
Red onion– cut the red onion into slices, then cut it into 4 pieces.
Kalamata olives- use your favorite brand of kalamata olives.
Feta cheese– we like to top our pasta salad with feta cheese.




Greek pasta salad dressing:
Olive oil– to make the salad dressing, we used olive oil. Canola oil or vegetable oil will work as well.
red wine vinegar- use red wine vinegar or white wine vinegar.
dijon mustard– you will need a tsp of dijon mustard for this recipe.
Lemon juice- use fresh lemon juice for the best flavor.
Spices– for spices, we used kosher salt, black pepper, and dried oregano.
Fresh garlic– use freshly grated garlic for the dressing.
How to make Greek pasta salad:
1.    Prepare the salad dressing by mixing olive oil, red wine vinegar, lemon juice, minced garlic, dried oregano, salt, and pepper in a jar or a medium mixing bowl.
2.    Bring a large pot of salted water and cook the pasta according to the package instructions. drain and rinse the pasta with cold water to stop the cooking process.
3.   In a big bowl, add the cooked pasta, cucumber, cherry tomatoes, kalamata olives, red onion, chopped parsley, bell pepper, and feta cheese.
4.   Add the greek salad dressing on top and mix with a wooden spoon until combined. Serve and enjoy!
Tips to perfect this recipe:
Make the pasta in salted water. this will make sure that the pasta flavor isn't flat. add a generous amount of salt to the boiling water.
Cook the pasta to al dente. to stop the pasta from turning soggy from the juices, cook the pasta to al dente. this step will keep your pasta salad fresh and delicious.
Use fresh ingredients! this greek pasta salad is the perfect side dish for any occasion, it's fresh and summery so make sure that you use fresh vegetables and fresh ingredients. the quality of the ingredients really makes this salad the best.
Frequently asked questions:
How long will this Greek pasta salad last?
This pasta salad will last for up to 5 days in the fridge, stored in an airtight container.
How to serve Greek pasta salad?
Serve pasta salad at a picnic, barbecue, or party. This recipe fits any type of occasion. Serve this pasta salad next to your favorite protein, next to a grilled chicken, hamburger, tofu, etc.
serve it by itself! This Greek pasta salad is filled with fresh vegetables, carbs from the pasta, and healthy fats from olive oil. This recipe makes a perfect brunch, lunch, or dinner!
Can I serve this pasta salad with another dressing?
Yes! This pasta salad fits well with a lot of different flavors. You can serve it with Italian dressing, middle eastern dressing, lemon dressing, red wine dressing, etc.




Can I use whole grain pasta for this recipe?
Yes! You can use any kind of your favorite pasta kinds and pasta shapes., like chickpea pasta, brown rice pasta, spinach pasta, quinoa pasta, etc.
Can I make this Greek pasta salad with chicken?
Yes! This recipe works great with chicken. Roast or cook chicken breast, seasoned with salt and pepper, then slice it into small slices and mix it with the pasta salad.
Can I make this Greek pasta salad vegan?
Yes. It is very easy to make this recipe vegan, simply replace the feta cheese with vegan feta cheese, or don't use cheese at all.
Can I prepare the greek pasta salad in advance?
Yes, pre-make the pasta a day or two ahead, cut the veggies a day or two ahead, make the dressing a day or two ahead. When ready to serve, throw the pasta, veggies, and the dressing together, mix well, and serve!
More salads to try:
Spinach Pasta Salad– This Spinach Pasta Salad is made with fresh spinach, feta, red onion, cherry tomatoes, and freshly made pasta combined with a simple homemade salad dressing that makes the perfect refreshing and filling summery pasta salad.
Adjust Servings
For the pasta salad:

Greek salad dressing:

Instructions: