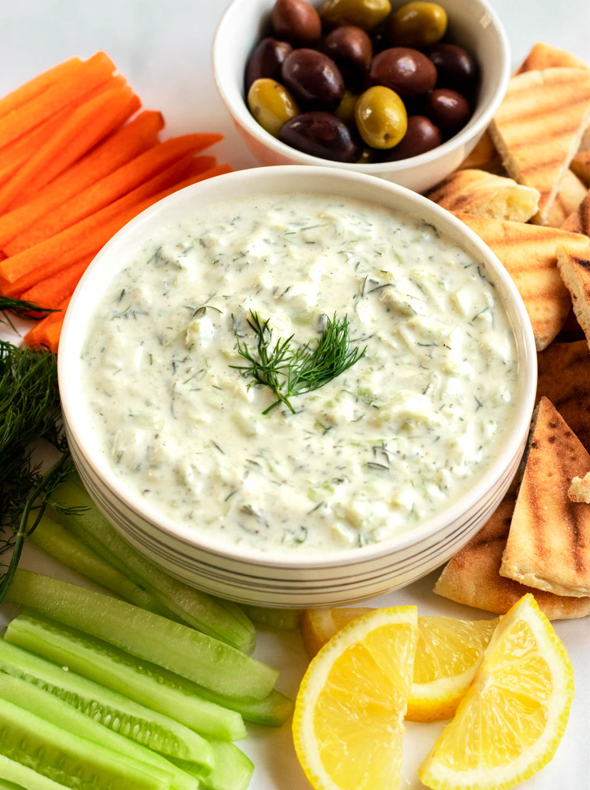 Yields:

10 Servings
Difficulty:

Easy
Prep Time:

15 Mins
This Greek tzatziki sauce is the best thing ever. Made with grated cucumber, chopped dill, olive oil, Greek yogurt, lemon juice, and spices, this makes the best fresh sauce that goes with chicken, pita chips, gyros, veggies, grilled veggies, falafel, etc.
What is a tzatziki sauce?
Tzatziki sauce is a Greek yogurt and cucumber dip that came to us from the Greek island of Paros. Greek tzatziki is usually served as a dip for veggies and pita chips or as a sauce for gyros, grilled chicken and meat, and much more.
Watch our video for how to make Greek tzatziki sauce:
If you enjoyed this video version of this recipe, please subscribe to  OUR YOUTUBE CHANNEL!
Tzatziki sauce ingredients:
Cucumber- we used Persian cucumbers, but an English cucumber can work great as well.
Dill- use fresh dill for this recipe, dill adds a lot of flavor. If you don't like dill, you can skip it or add mint instead.
Greek yogurt– use refrigerated Greek yogurt. Any percent of fat will work.
Olive oil- use extra virgin olive oil for the best flavor.
Lemon juice- use lemon juice from fresh lemon for the best flavor.
Garlic- we suggest adding the garlic to taste. We used
Salt– for flavor. Adjust the salt to your personal taste.
Black pepper- for flavor. Adjust the black pepper to your personal liking.




How to make tzatziki sauce:
1.    Start out by peeling and grating a cucumber. There are a few ways to prep the cucumbers, you can either chop the peeled cucumbers into small pieces or grate the cucumbers on the large holes of a box grater. We prefer grating the cucumber.
2.   Drain the excess water from the cucumber by either squeezing out the cucumbers over a sink or by draining the excess water by placing the cucumbers over a bowl lined with a cheesecloth or a fine-mesh strainer.
3.   In a medium mixing bowl, add the cucumbers, chopped dill, Greek yogurt, lemon juice, garlic, olive oil, salt, and black pepper. Mix well with a spoon until the mixture is combined. Top with olive oil.
Frequently asked questions:
How to store tzatziki sauce?
Store tzatziki in an airtight container in the fridge for up to 5 days.
Is tzatziki sauce good for you?
Absolutely. Tzatziki is one of the healthiest dips or sauces out there. It's full of healthy ingredients like Greek yogurt, cucumber, olive oil, and lemon juice.
Can I add mint to the tzatziki sauce?
Yes, there are a few variations for tzatziki sauce. Some people like adding chopped mint to their tzatziki.




How to serve tzatziki?
Serve tzatziki with:
Roasted vegetables
Falafel
Pita chips
Gyros
Grilled chicken
Grilled meat
Greek salad
Greek pasta salad
Chicken wrap
Fresh vegetables (as a dip)
Kebab

More Mediterranean recipes to try:
Greek Pasta Salad- Greek pasta salad is the perfect side dish for any occasion, make with cooked pasta, fresh veggies, kalamata olives, feta cheese, and homemade Greek salad dressing.
Homemade Falafel- Falafel is a very popular middle eastern dish, made with chickpeas, fresh herbs, and spices, gets you a delicious crispy on the outside and tender on the inside delicious dish.
Homemade Pita Bread- Pita bread is one of our favorite bread to bake, making your own homemade pita bread is easy, inexpensive, simple, and delicious.
Baked Feta Pasta- This baked feta pasta is incredibly delicious and easy to make. This pasta dish went viral in Finland, and because of this recipe, the grocery stores in Finland ran out of feta cheese.
If you tried this recipe, don't forget to leave a rating and a comment below. We love hearing from you.
If you liked this Greek tzatziki recipe:
Share/pin this recipe to Pinterest.
Leave a comment down below!