This marble loaf cake is moist and flavorful and topped with a layer of chocolate ganache. Marble loaf cake is one of our favorite desserts to make because it's so beautiful and so delicious and we love the chocolate and vanilla combination!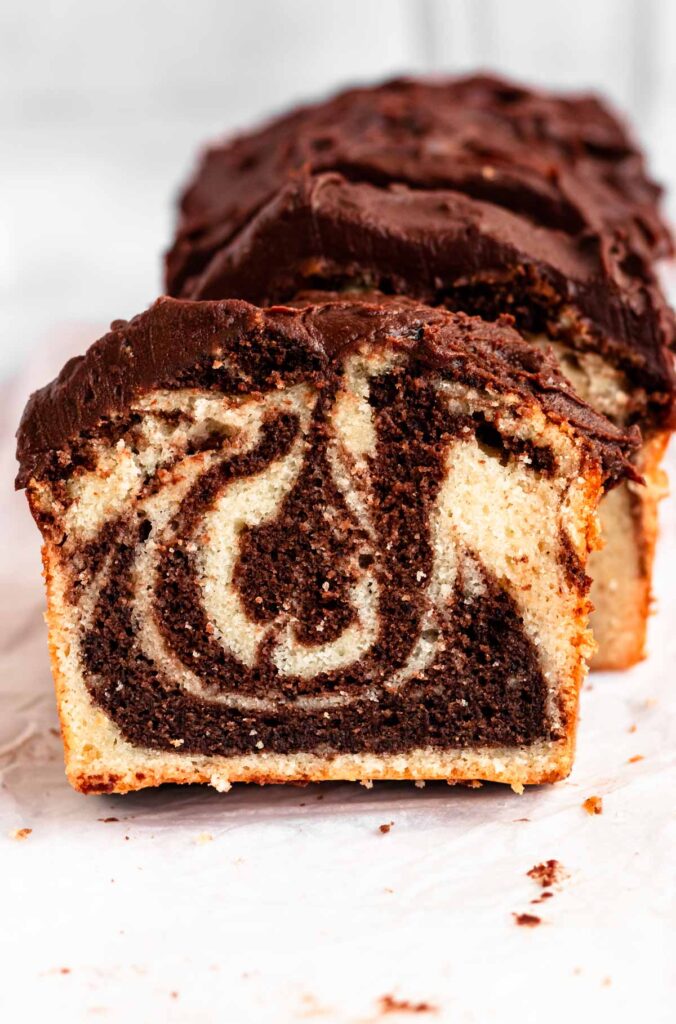 If you like making cakes in loaves, you should try our sour cream chocolate pound cake, lemon pound cake, moist honey cake, double chocolate banana bread, and our chocolate chip banana bread.
Jump to:
Why this recipe works
Extremely easy to make.
Turns out perfect every time!
Is extra moist and soft.
Topped with a thick layer of chocolate ganache.
Made with simple ingredients.
Ingredients:
Before you start to make this recipe, measure and prepare your ingredients so the cooking process will go smoothly and easily.
Butter- use unsalted butter for this recipe. Only butter will work for this recipe, no margarine, and no coconut oil. Margarine has a weird taste and can ruin the flavor of this delicious bake.
Eggs- you will need 4 large eggs for this recipe. Make sure that your eggs are at room temperature.
Flour– we used all-purpose flour for this recipe. cake flour will work great as well.
Dutch cocoa powder– we like to use Dutch-process cocoa powder for our baked goods because we like the deep and rich chocolate taste, but the natural cocoa powder will work great as well!
Baking powder – baking powder allows the cake to rise. Make sure that your baking powder isn't expired. Don't replace the baking powder with baking soda!
Granulated sugar– we like to use granulated sugar, also the most common sugar used in baking. Caster sugar will work great as well.
Vanilla extract- adds extra flavor.
Buttermilk– gives the cake extra moisture. You can make your own buttermilk if you don't have one on hand. Simply mix a cup of milk with a tablespoon of vinegar or lemon juice and let it sit for at least 10 minutes.
Vegetable oil – we used vegetable oil for this recipe. canola oil will work great for this recipe.
Sour cream- use either sour cream or greek yogurt. Both will work great.
Kosher salt- you will need about ¼ teaspoon of kosher salt for this recipe.
For the chocolate ganache:
Chocolate- use the best quality semisweet or dark chocolate bars for the best flavor. using the best quality dark chocolate is very important in this recipe.
Heavy cream- use full-fat heavy cream for this recipe. the heavy cream makes this french hot chocolate extra creamy and silky.
Instructions
Step 1: Preheat an oven to 180c (350f) and prepare a loaf pan with parchment paper.
Into a big measuring cup or a small mixing bowl, add the buttermilk, vanilla extract, vegetable oil, and sour cream, and mix with a whisk.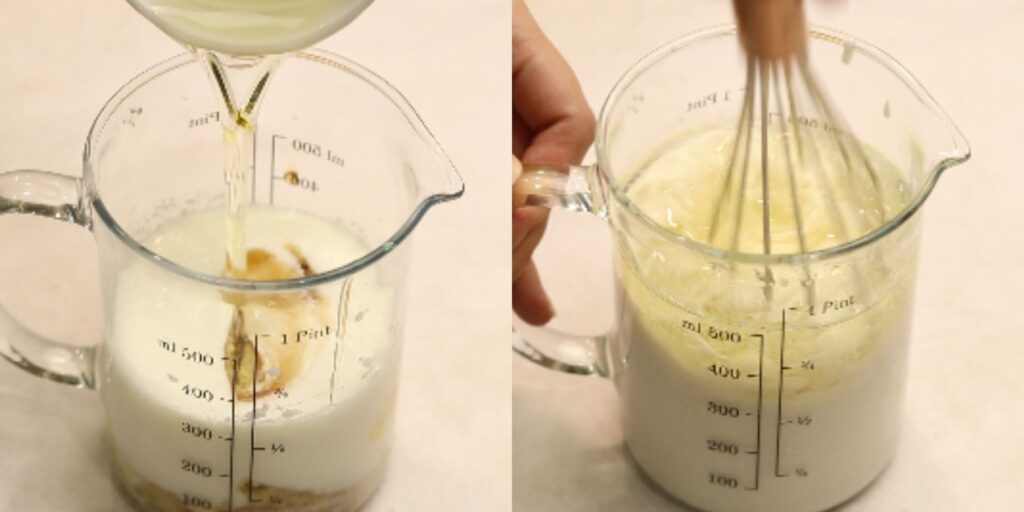 Step 2: Then into a medium mixing bowl, add the flour and baking powder. Mix with a whisk until combined.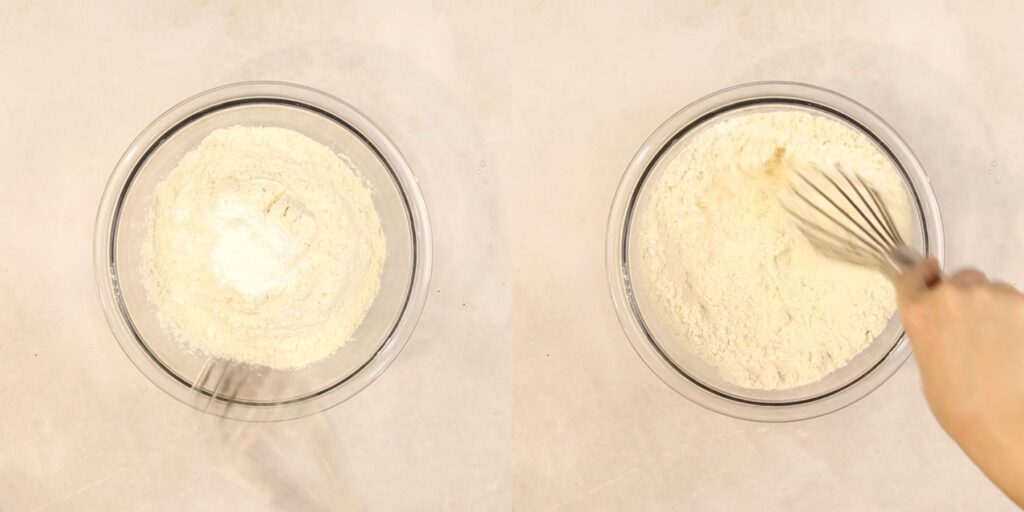 Step 3: Into a big mixing bowl, add the soft butter, and sugar. Mix with an electric hand mixer until creamy and smooth for about 2 minutes.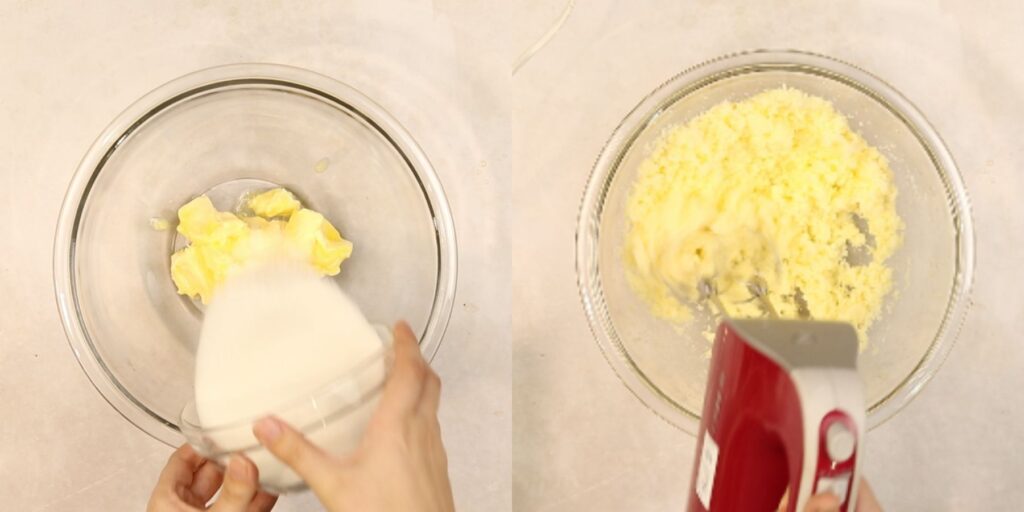 Step 4: Add the room temperature eggs and mix until well combined.
Then add ½ of the dry mixture and ½ of the wet mixture into the butter mixer and mix it until almost combined.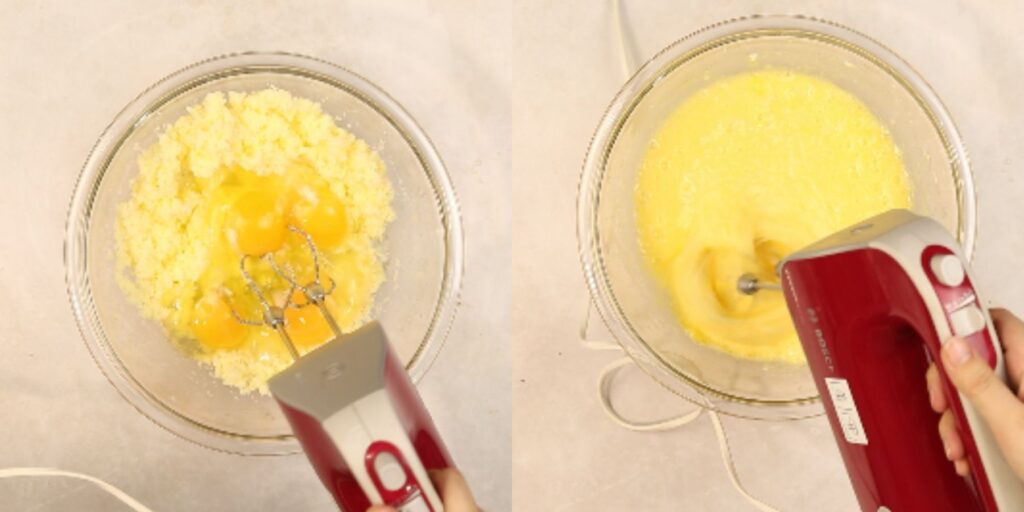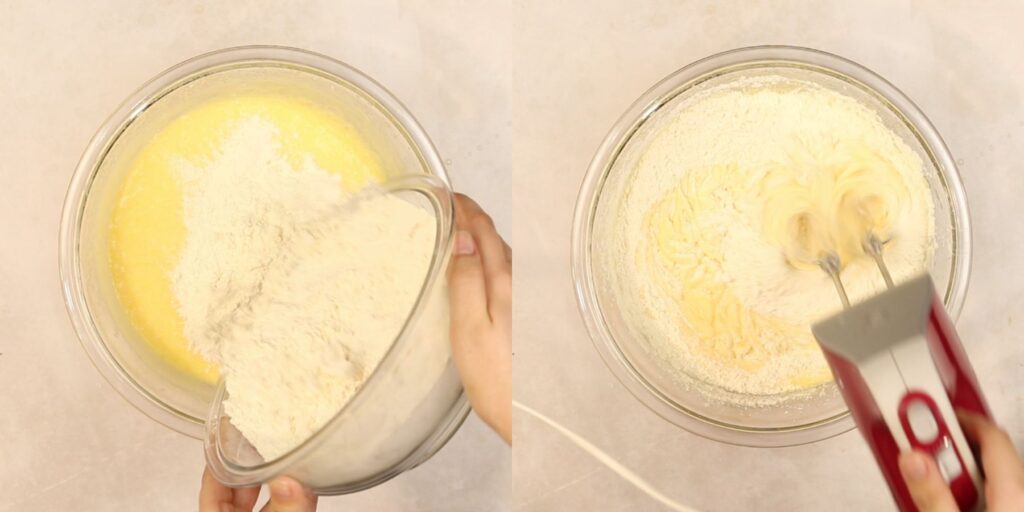 Step 5: Add the other half of the dry ingredients and the wet mixture until just combined.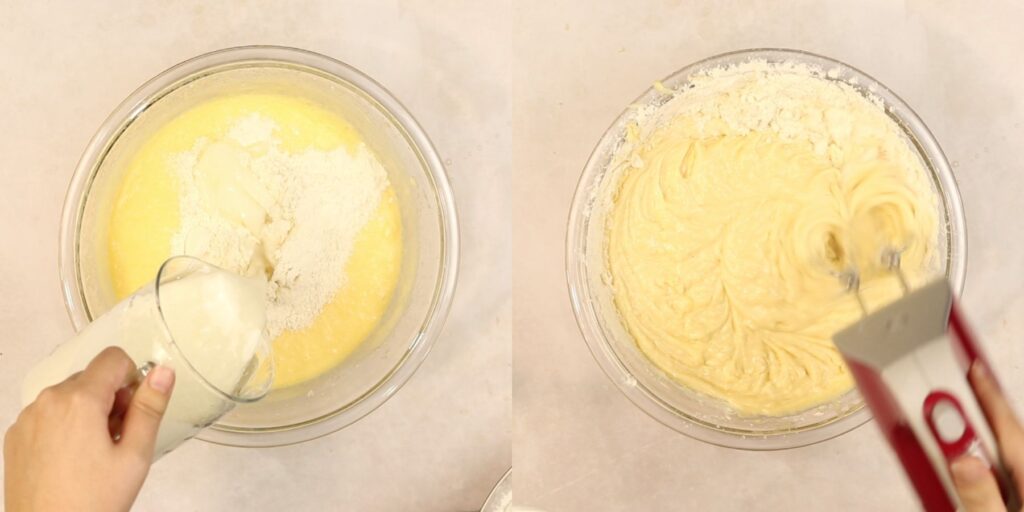 Step 6: Divide the mixture in half sift the cocoa powder into one half of the cake mixture and mix until just combined. Don't overmix.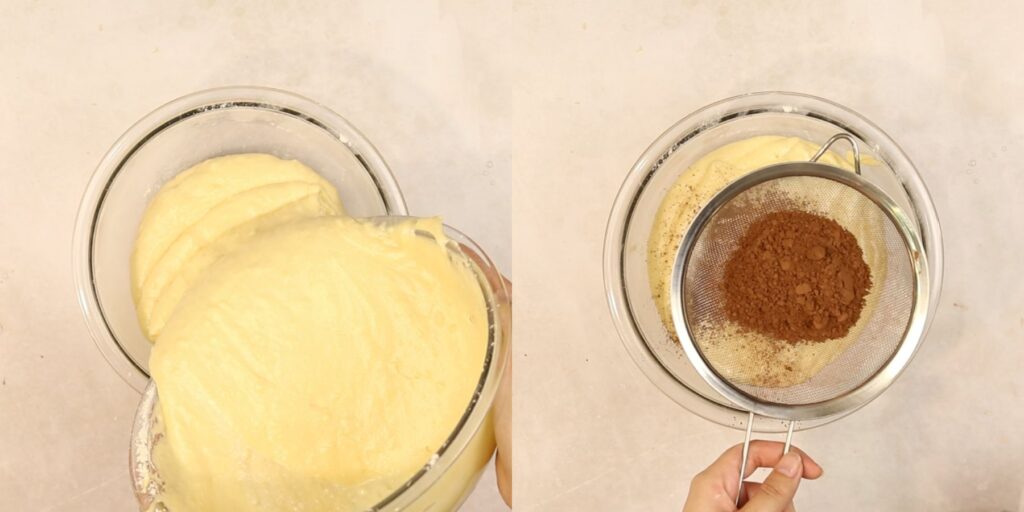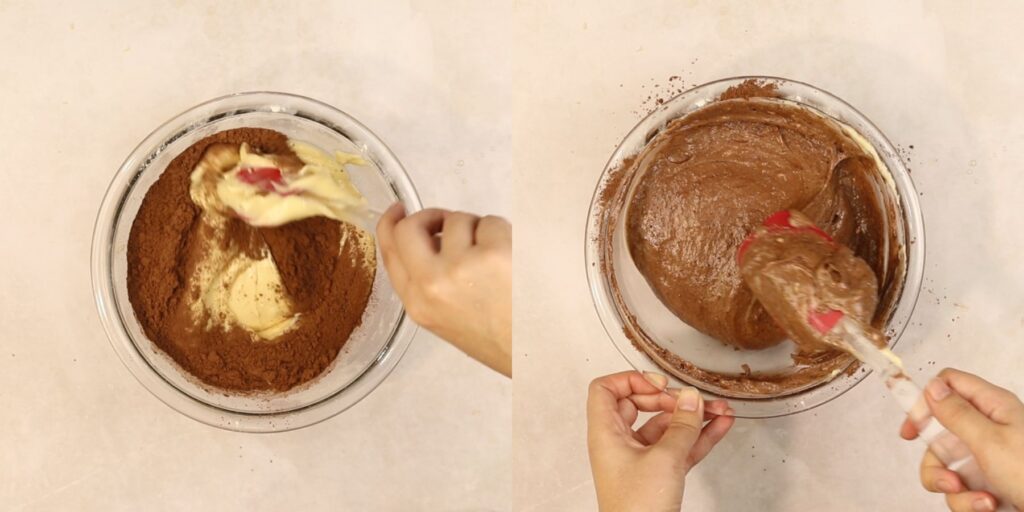 Step 7: Scoop ¼ cup of the vanilla mixture into the loaf pan, and ¼ cup of the chocolate mixture. Repeat until you run out of cake batter. (as seen in the video)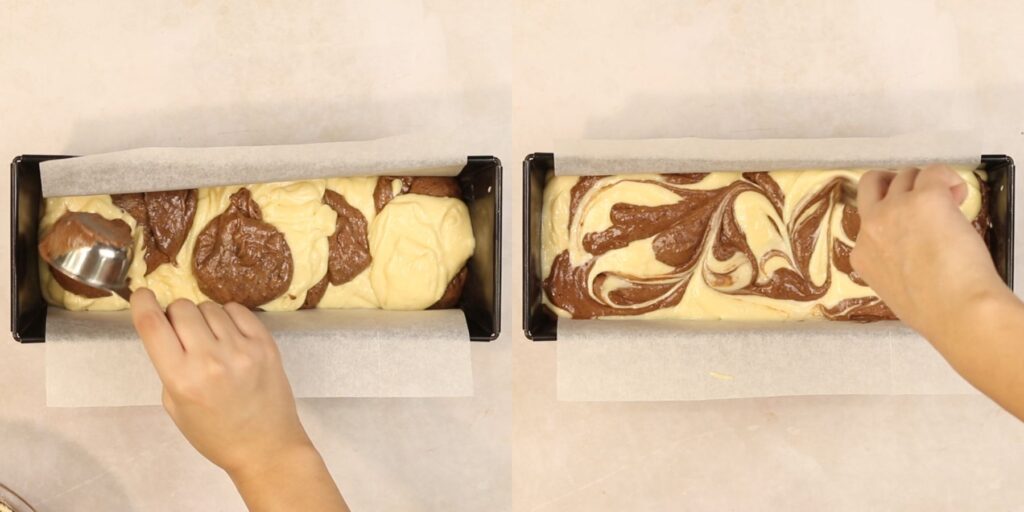 Step 8: Bake in a 180c (350f) preheated oven for about 40-50 minutes or until a toothpick inserted into the cake comes out clean.
Make the chocolate ganache:
Melt dark chocolate and heavy cream in a small to medium mixing bowl in the microwave for about 50 seconds.
Let the chocolate and the cream sit for 10 minutes for the chocolate to melt, then mix until the chocolate ganache is smooth and silky.
Place the chocolate ganache in the fridge for about 40 minutes or until it hardens and has a frosting-like texture.
Frost the cake with the chocolate ganache and make a wave pattern with a spatula.

Expert tips
Use room temperature ingredients. It is important that you use room-temperature ingredients like eggs and butter. This step ensures that your mixture mixes into a homogenous mixture and bakes perfectly. you don't want to place cold batter into the oven.
Mesure you flour correctly! When measuring your flour, avoid scooping it with a measuring cup. Instead, stir the flour with a spoon to create as many air pockets as possible, and spoon it into your measuring cup. Finally, level it with a back of a knife.
Don't overmix the batter, you don't want to develop the gluten in the flour. This step ensures you have a moist cake and not a dense and dry cake.
Line your baking pan with parchment paper! This step helps the cake to bake evenly, and it makes sure that your loaf cake will release easily from the pan.
Make sure that your butter is at room temperature. An hour or two before making this, take the butter out of the fridge and let it come to room temperature. The butter should be soft to the touch. If your butter is too cold, it will be harder to mix and there will be lumps of butter in the mixture.
Be patient! I know it's extremely tempting to eat this cake as it is pulled out of the oven, but let the loaf cool for at least 20 minutes so it will be more firm and won't crumble up. This loaf cake is extra moist and melt in your mouth delicious, so it will be worth it to wait these 20 minutes.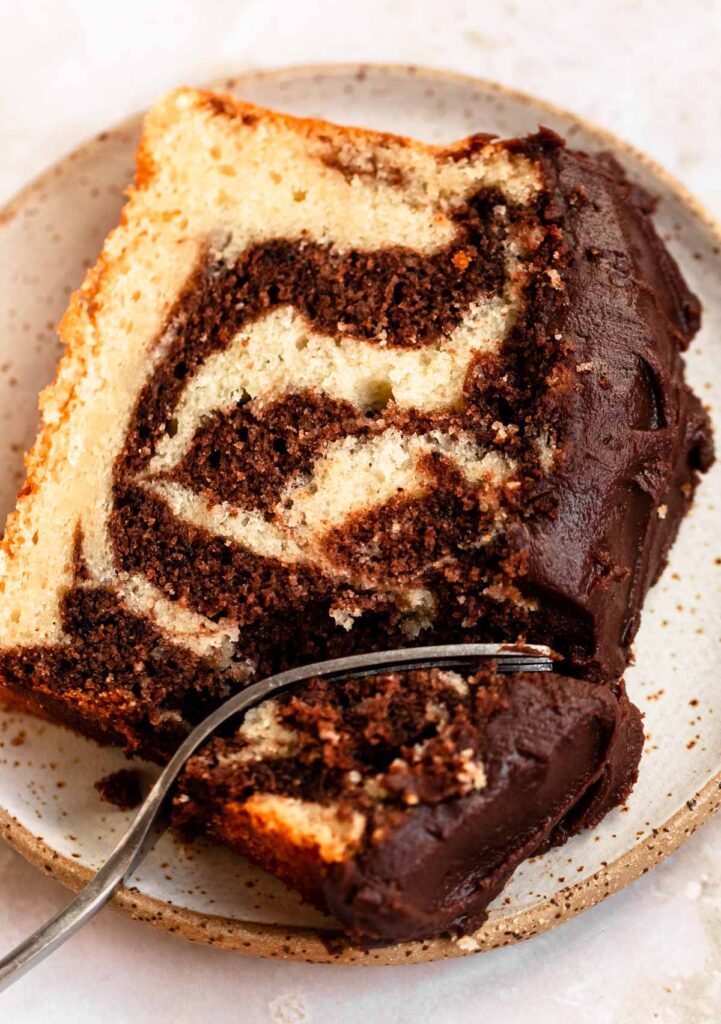 Faq's
How long will this cake last?
This cake will last up to 4 days in an airtight container at room temperature.
What flour do you use for this cake?
We use all-purpose flour for this cake. Self-rising flour and cake flour will work great as well.
Can I use natural cocoa powder for this recipe?
We like to use Dutch prosses cocoa powder because it gives the cake a deeper rich chocolate taste, but the natural cocoa powder will work! It's just a personal preference.
Storing
It's okay to store this cake at room temperature. Make sure that you store the loaf in an airtight container so it won't dry out.
Freezing
This cake is very easy to freeze. After baking, let the cake cool to room temperature, transfer it into a freezer-friendly Ziploc bag, or wrap it tightly with a plastic wrap. Freeze up to 3 months.
To thaw: place the cake in the refrigerator overnight or place it a room temperature for a few hours.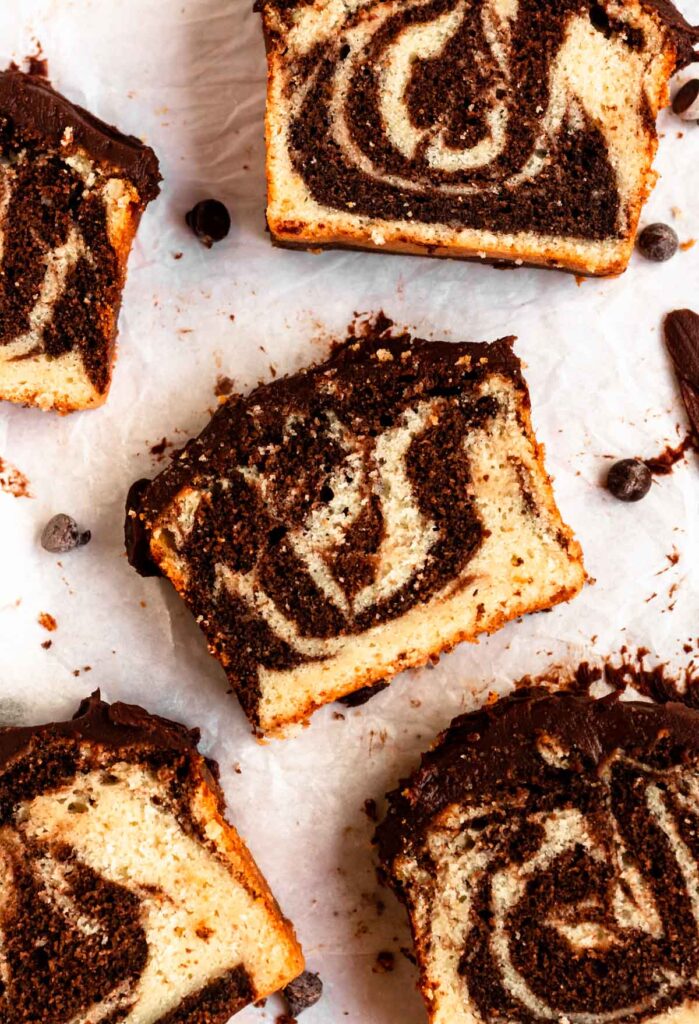 Substitutions
There are a few substitutions that may be helpful for your diet:
Gluten-free - if you want to make this recipe gluten-free, simply replace the flour with gluten-free flour.
Dairy-free- you can make this cake dairy-free by replacing the butter with vegan butter or using your favorite dairy-free chocolate ganache.
Variations
Chocolate chips- add chocolate chips to the cake batter for an extra chocolate flavor!
Frosting- Use your favorite chocolate frosting instead of chocolate ganache like dark chocolate frosting, stabilized chocolate whipped cream frosting, chocolate cream cheese frosting, etc.
Tools
More easy cake recipes:
Favorite chocolate cake- This is the best ever chocolate cake ever. I've been searching for the best one bowl chocolate cake recipe for so long and found it and can't wait to share it with you!
Moist honey cake- This honey cake is moist, rich in flavor, full of spices that will make your house smell like autumn. This honey cake is definitely a family favorite.
Easy apple cake- This easy apple cake is going to be your new favorite easy and light cake! This cake is fluffy, light, airy, moist, soft, and delicious.
Strawberry sheet cake- This extra moist and fluffy strawberry sheet cake is made with fresh strawberries and topped with strawberry whipped cream. It's really easy to make and the flavor will not disappoint.
If you tried this recipe, don't forget to leave a rating and a comment below. We love hearing from you.
If you liked this recipe: