These pistachio desserts are the ultimate list of desserts to make when you are craving pistachio-flavored dessert or have a lot of pistachios to use up!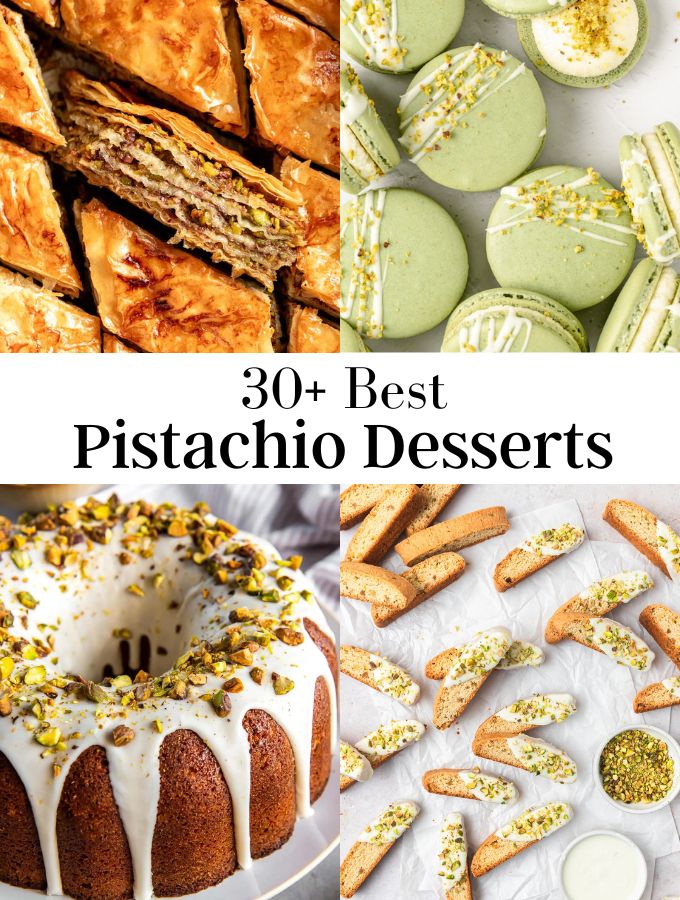 If you are looking for pistachio recipe ideas or green recipes to make for St Patrick's Day, this is the post for you!
You will find delicious pistachio recipes like pistachio cheesecake, pistachio tiramisu, pistachio cake, pistachio muffins, pistachio cookies, and much more!
These pistachio dessert recipes are perfect for pistachio lovers and perfect to use these delicious nuts in baking recipes.
Pistachio pairs perfectly with so many flavors like dark chocolate, cranberries, vanilla, white chocolate, cinnamon, honey, and citrus fruit.
For more recipe roundups, check out my best cheesecake toppings, easy baking recipes, unique cookie recipes, Rice Krispie Treats Variations, best nutella recipes, best cake recipes, and best thanksgiving desserts.
Jump to:
This super delicious pistachio baklava is buttery, sweet, flakey, nutty, gooey, and surprisingly easy to make!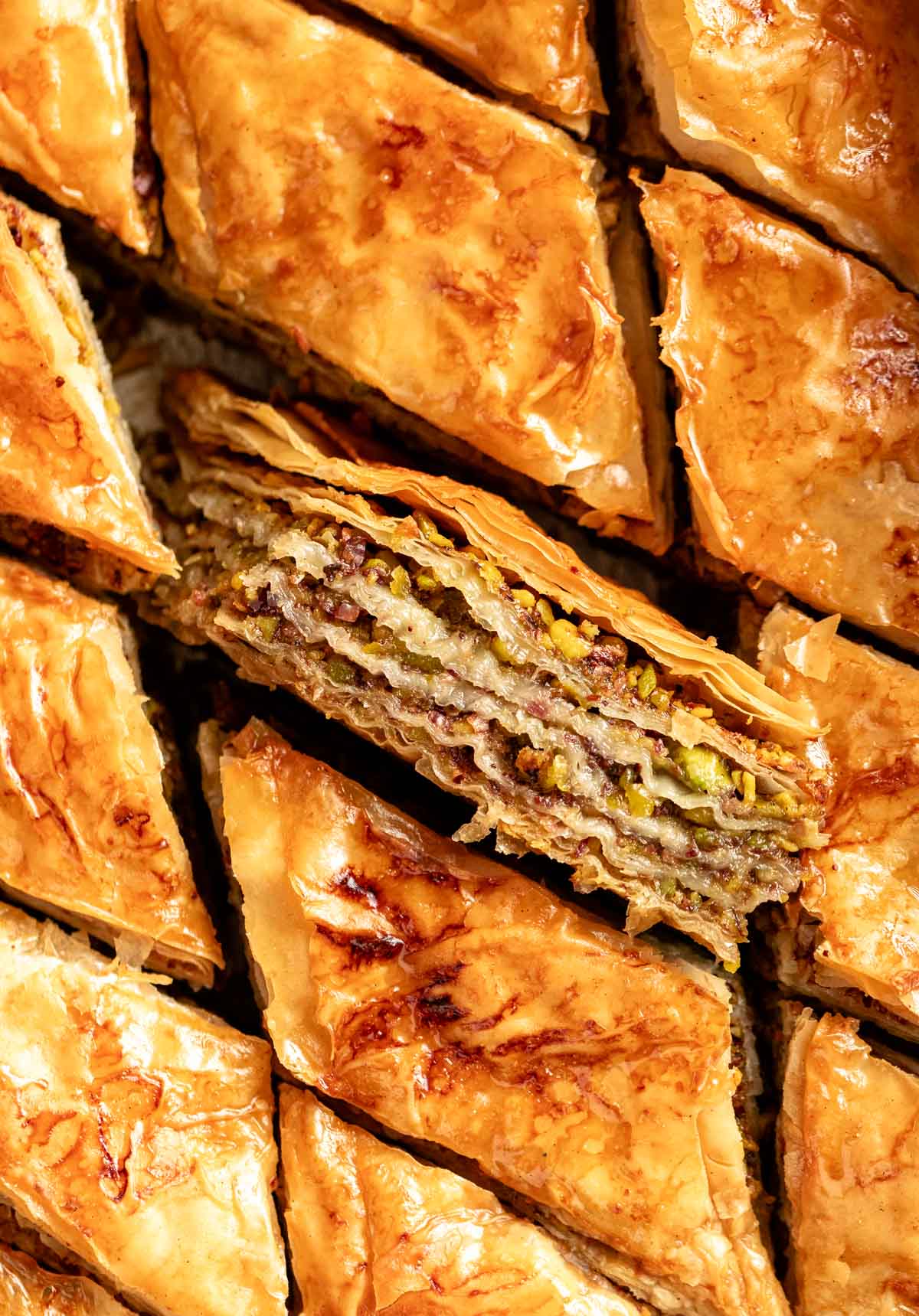 These pistachio cookies are made with a chocolate chip cookie base filled with chopped pistachios and chocolate chunks and topped with flakey salt!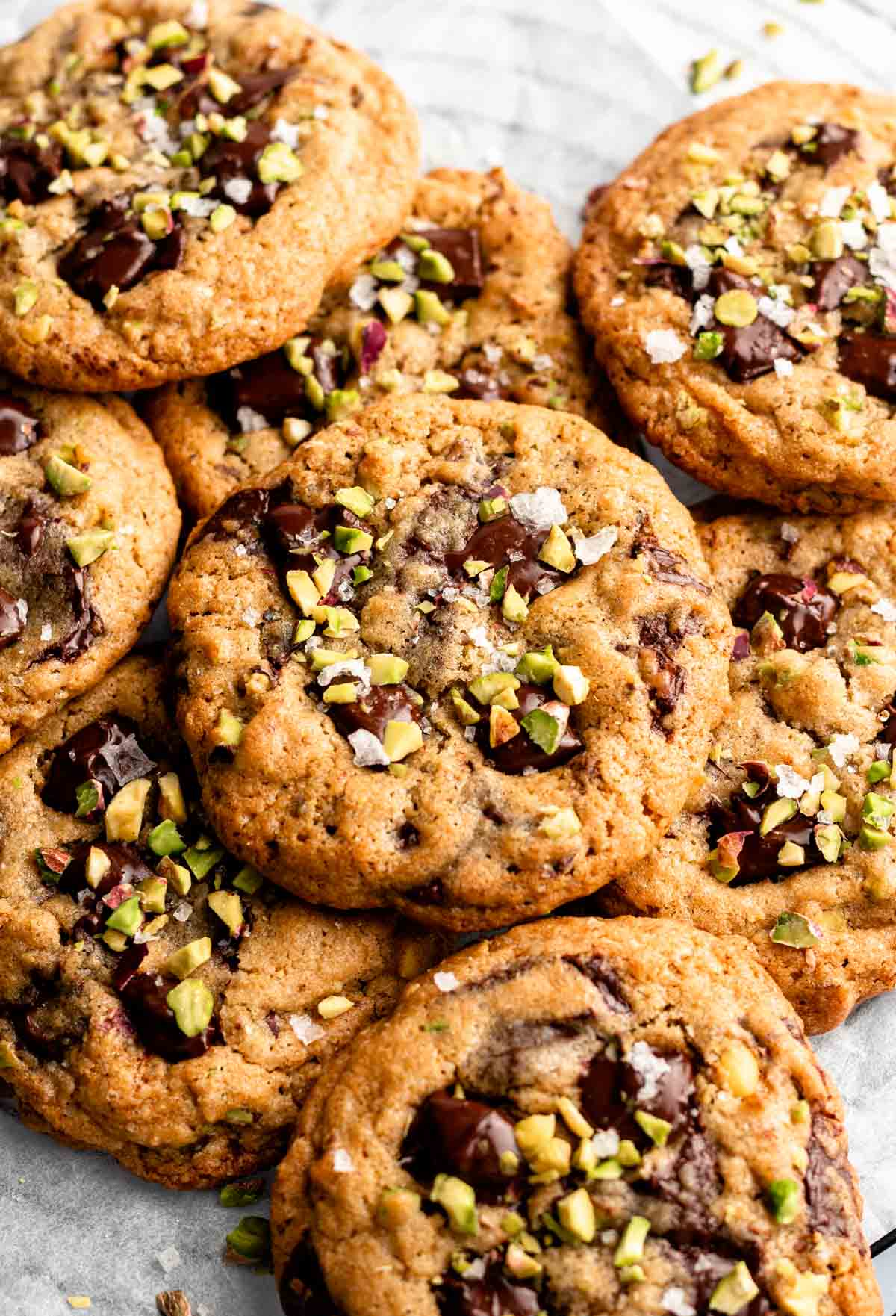 These pistachio muffins are loaded with real pistachios and pistachio flavor! They are fluffy and moist and are topped with a pistachio crumble topping.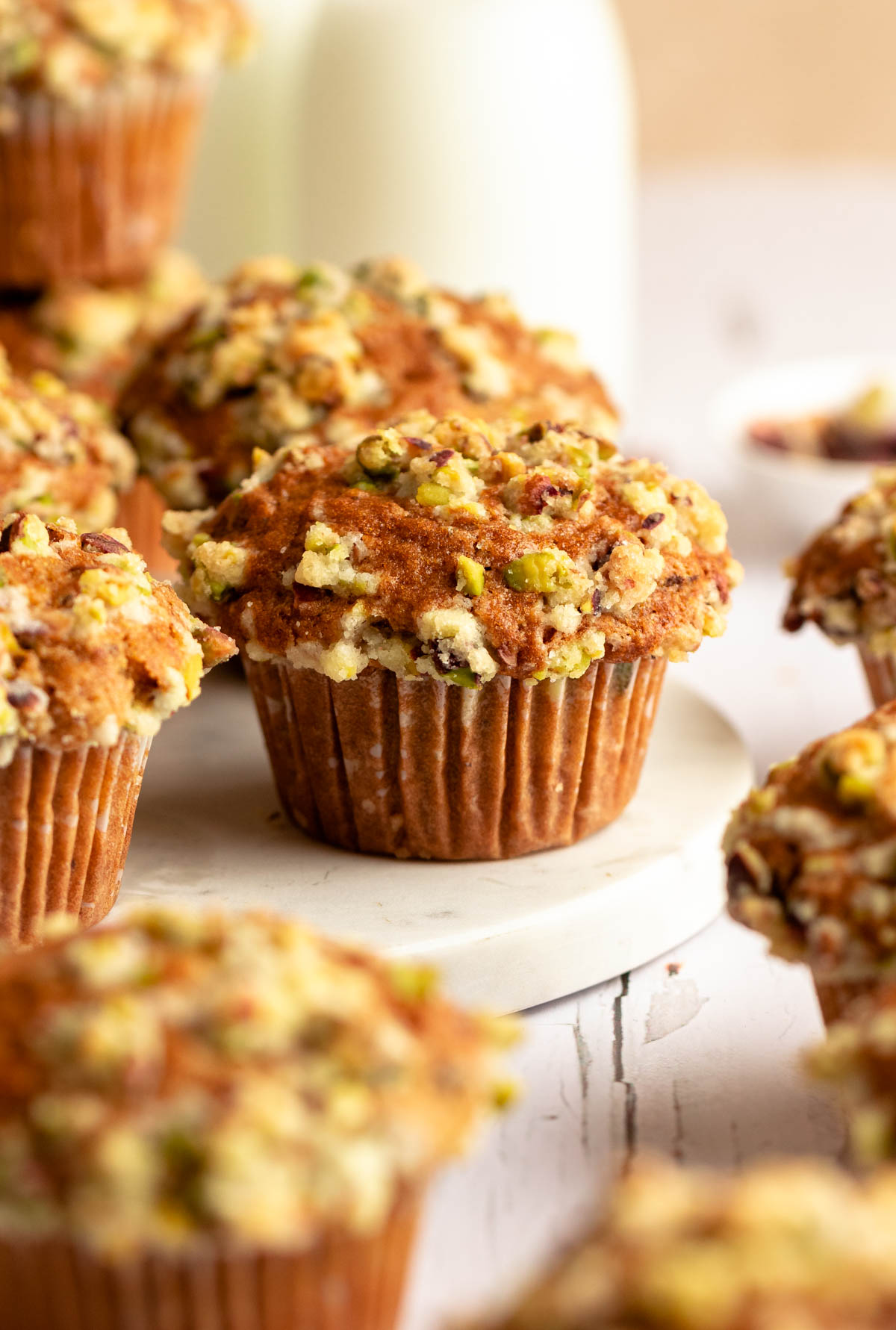 This pistachio cake is made with real pistachios and pistachio paste, full of pistachio flavor, topped and covered with pistachio buttercream frosting, and topped with chopped pistachios.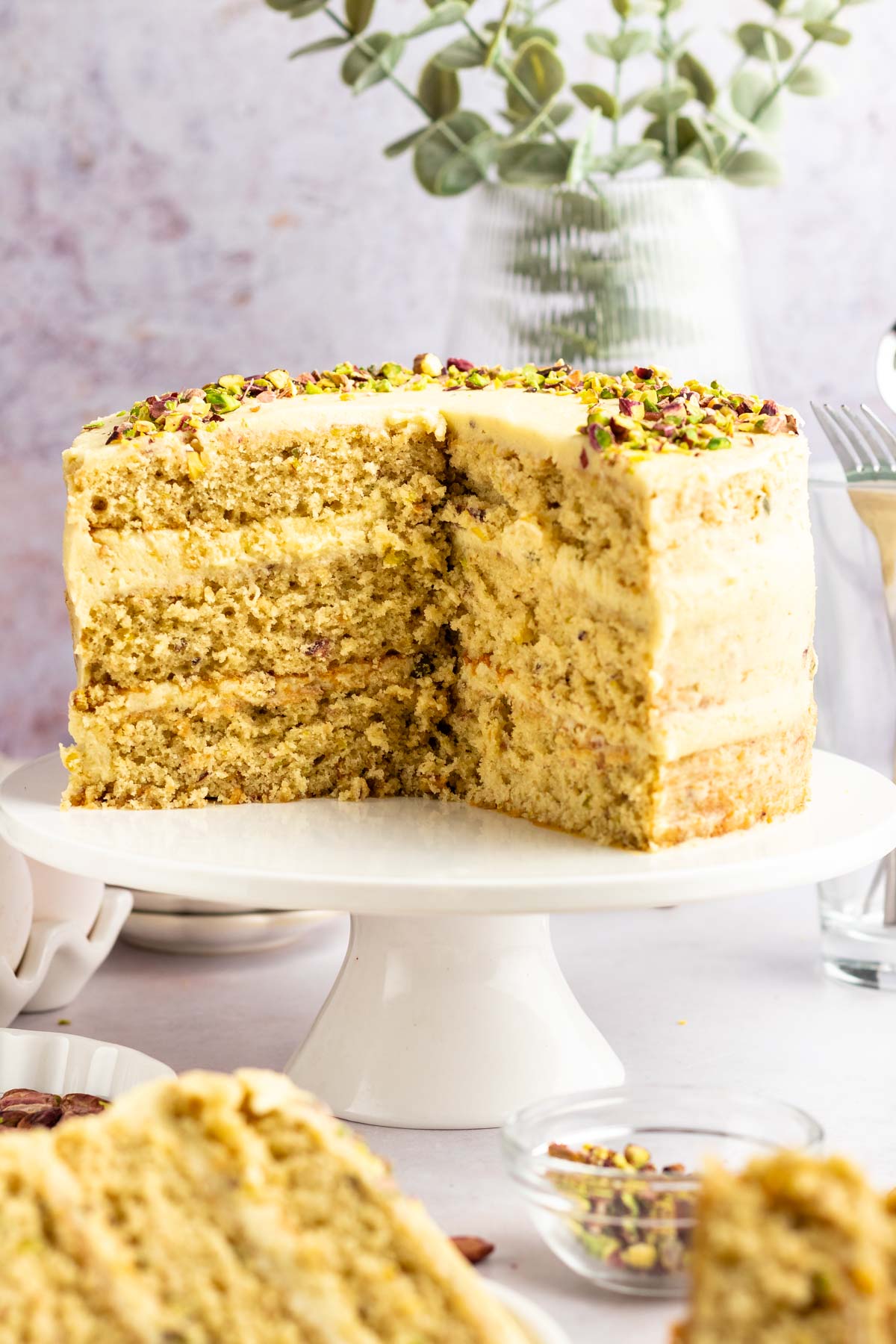 This pistachio cheesecake is luxuriously, rich, creamy, made with plenty of real pistachios, and made without a water bath!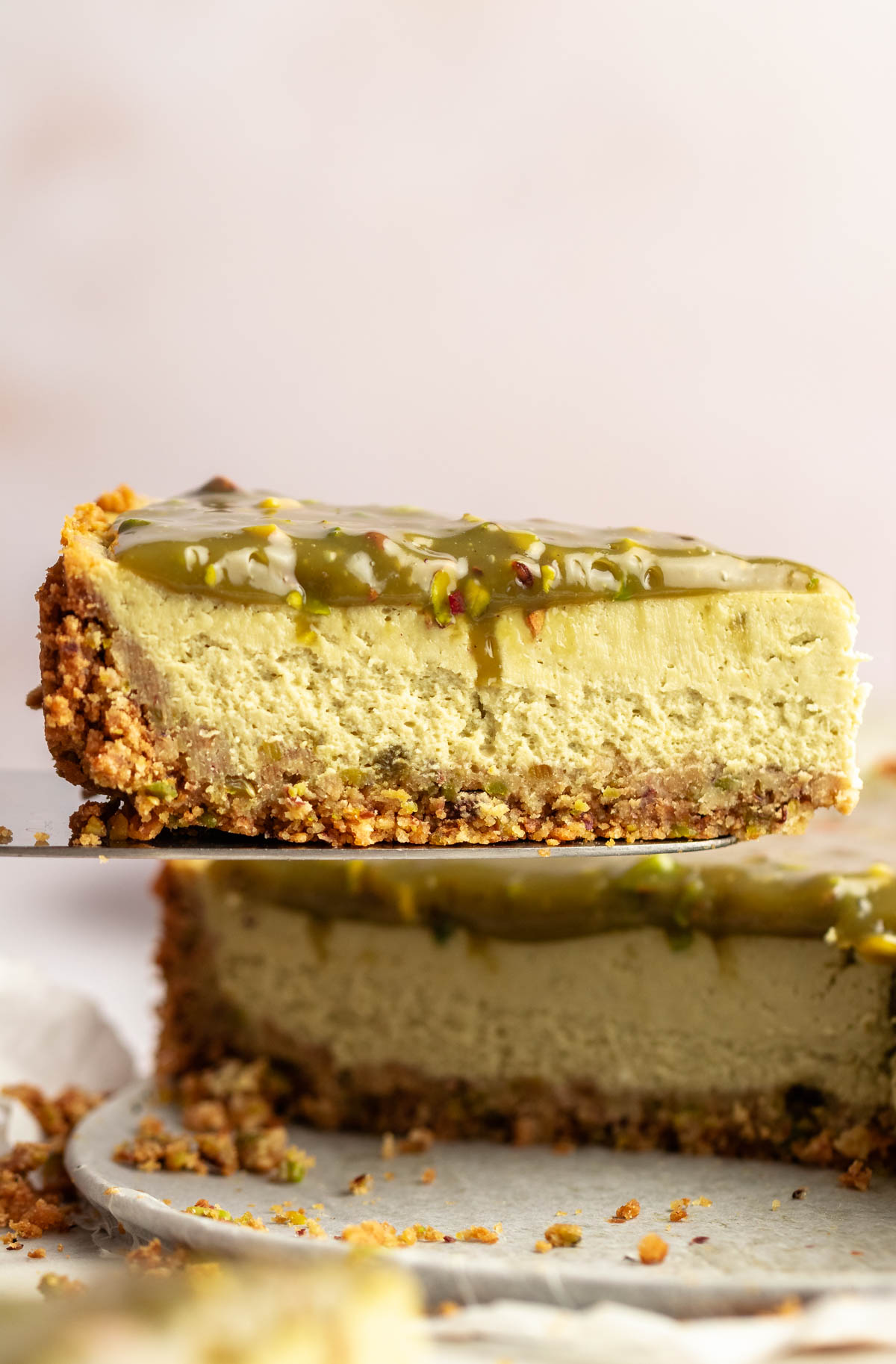 These festive White Chocolate and Pistachio Cantucci Biscuits are incredibly easy and make a perfect foodie gift for your loved ones this Christmas!
Salted Pistachio Brown Butter Rice Krispies Treats are the perfect combination of sweet and salty! A twist on your childhood favorite.
Cherry Pistachio Snowballs are a tender butter cookie with maraschino cherries and toasted pistachios inside! The outside is rolled in confectioner's sugar and red sanding sugar for a fun, festive appearance!
This flavorful Pistachio Babka is made with a soft and billowy enriched dough that wraps around layers of thick, sweet, pistachio butter. Best enjoyed slightly warm, this babka can be eaten for dessert, breakfast, or even when you need a quick snack!
These pistachio biscotti are dipped in white chocolate and sprinkled with chopped pistachios! Super easy to make and perfect for brunch!
This six-strand Pistachio Challah is filled with an incredible white chocolate pistachio cream that is perfect for breakfast, before Shabbat and even dessert!
These pistachio cookies are buttery, sensationally nutty, with a hint of lemon. They almost melt-in-your-mouth, and make great holiday gifts.
Delicious and flavorful, this homemade pistachio bundt cake is the perfect dessert for spring. The easy-to-follow recipe yields a moist cake that has a natural nutty taste in each bite. Top it with a simple glaze and you have a treat everyone will love!
These pistachio macarons have a light French macaron shell flavored with ground pistachios, then filled with a creamy white chocolate ganache and even more crushed pistachios!
Delicious vegan pistachio tiramisu with homemade ladyfingers, and creamy mascarpone. A fun dairy-free and eggless twist on a classic Italian dessert.
These Italian Pistachio Cookies aren't like other pistachio cookie recipes. These festive nutty cookies are crispy outside, chewy inside & naturally dairy and gluten free.
Using a homemade praline, these Pistachio Gelato Milkshakes are nutty, creamy and perfect for warm summer days.
Crispy, flaky, homemade cannoli filled with a luscious, creamy pistachio filling. The classic ricotta filling with chocolate chips is amazing, and I make that in my Air Fryer Cannoli recipe.
If you are a pistachio lover like me, this homemade pistachio cream is going to knock your socks off. Rich, creamy, and full of intense flavor, this is the ultimate addition to any pistachio dessert.
This Pistachio Dacquoise cake is hands down the best thing I have ever tasted. I don't say that lightly. Chewy, crispy, and smooth all at the same time and bursting with authentic pistachio flavor. If you love pistachios you absolutely have to try this.
This homemade pistachio ice cream is full of toasty roasty pistachio flavor and pretty green color that's totally natural and actually tastes like pistachios.
This no-bake Pistachio Lush dessert is perfect for potlucks, holidays and entertaining. This pistachio pudding layered dessert combines cream cheese, whipped cream, and of course pistachio pudding for an easy dessert option everyone will rave about.
Ooey gooey: two words that go straight to my heart. And these gluten-free dairy-free pistachio Rice Krispie treats are an ooey gooey flavorful twist on the classic no-bake treat.
Sweet and nutty pistachio paste is so easy to make at home. It's also cheaper and tastes so much better than store-bought – just pure pistachio flavor, sweetened to your liking.
These pistachio tartlets are a celebration of pistachios. A crisp shortcrust shell filled with pistachio paste and a pistachio cheesecake filling topped off with a drizzle of chocolate.
Perfectly sweet and salty, buttery shortbread cookies, loaded with roasted pistachios - the ultimate treat to go with your afternoon latte or tea
These pistachio blondies with white chocolate are chewy and decadent with that familiar brownie texture. I've added a sharp raspberry puree to cut through the sweetness and swirled it into hearts!
Cranberry and pistachio white chocolate bark is so festive and it's perfect for Christmas! It's like almond bark but with pistachios rather than almonds.
These Pistachio Cream Bars have a shortbread cookie base and the filling is a cross between a pudding and a cheesecake.
Chocolate Pistachio Cookies-chocolate cookies with chocolate chunks, pistachios, and a sprinkling of sea salt. These cookies are a great Christmas cookie or any day cookie!
This is an easy cookie recipe prepared in 1 bowl with just 6 ingredients. Instead of artificial pistachio pudding mix, flavor these pistachio cookies with real pistachios and almond extract.
If you love pistachios, this pistachio cupcake recipe with pistachio Italian meringue buttercream will blow your mind! Made with real pistachios, they are absolutely bursting with pistachio flavor.
Pistachio Desserts Faq's
What does pistachio pair well with?
Pistachio pairs well with so many delicious flavors like dark chocolate, white chocolate, cinnamon, cranberries, cardamon, citrus fruit like orange, lemons, raisins, apricot, and so much more!
What do you use pistachio paste for?
Pistachio paste is great for different types of pistachio desserts like pistachio cake, pistachio cheesecake, pistachio ice cream, pistachio bread, and pistachio macarons.
Do pistachios and pecans go together?
Absolutely! The nutty flavor of pistachios and pecans go perfectly together. You can use them as a mix for Greek baklava!
More dessert recipes
Best Matilda's Chocolate Cake- This Matilda's chocolate cake is made with moist one bowl chocolate cake layers that are topped and filled with the most luscious and glossy chocolate fudge frosting that is swirled onto the cake beautifully.
Moist Banana Pudding Cupcakes- These banana pudding cupcakes are made with a moist, tender, and light banana cupcake base, filled with a banana pudding filling, and topped with stabilized whipped cream.
Lemon Poke Cake With Lemon Mascarpone Frosting- This lemon poke cake is made with a moist and tender lemon cake, lemon condensed milk filling, and lemon mascarpone whipped cream.
If you tried any of these recipes, don't forget to leave a rating and a comment below. We love hearing from you.
If you liked this recipe
Share/pin this recipe to Pinterest.
Leave a comment down below!
📖 Recipe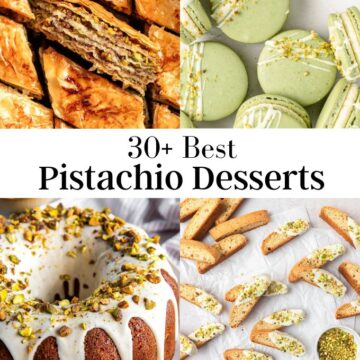 30+ Best Pistachio Desserts: Pistachio Cookies & More
These pistachio desserts are the ultimate list of desserts to make when you are craving pistachio-flavored dessert or have a lot of pistachios to use up! These pistachio cookies are made with a chocolate chip cookie base filled with chopped pistachios and chocolate chunks.
Ingredients
115

g

Butter

Softened

½

cup

Brown sugar

dark or light

½

cup

Granulated sugar

1

teaspoon

Vanilla extract

½

teaspoon

Kosher salt

1

Egg

1

Egg yolk

½

teaspoon

Baking soda

1 ½

cup

Flour

AP

1

tablespoon

Cornstarch

¾

cup

Pistachios

chopped

1

cup

Chocolate chunks
Instructions
Add the eggs and the egg yolk, and mix until combined and creamy.

Then, add the flour, cornstarch, and baking soda, and mix with the hand mixer until almost combined.

Add the chocolate chunks and chopped pistachios and mix until just combined.

Cover the bowl with plastic wrap and let the dough rest in the fridge for at least an hour. We let the dough rest in the fridge overnight.

Use a large cookie scooper to scoop out the cookies or scoop the cookies with a regular tablespoon, 3 tablespoons at a time.

Place the cookie dough balls onto a parchment paper-lined baking sheet and bake in a 180c (350f) preheated oven for 10-12 minutes. Immediately top them with more chocolate chunks

Let the cookies cool for 5 minutes, and then transfer them to a wire rack to cool completely.
Notes
Use room temperature ingredients. It is important that you use room-temperature ingredients like eggs and butter. This step ensures that your mixture mixes into a homogenous mixture and bakes perfectly.
Don't overmix the dough, you don't want to develop the gluten in the flour. This step ensures you have moist cookies and not dense and dry cookies.
Make sure that your butter is at room temperature. An hour or two before making these cookies, take the butter out of the fridge and let it come to room temperature. The butter should be soft to the touch. If your butter is too cold, it will be harder to mix and there will be lumps of butter in the dough.
Measure your flour correctly! When measuring your flour, avoid scooping it with a measuring cup. Instead, stir the flour with a spoon to create as many air pockets as possible, and spoon it into your measuring cup. Finally, level it with a back of a knife.
Line your sheet pan with parchment paper or a silicone mat! This step helps the cookies to bake evenly, and it makes sure that your cookies release easily from the pan.
Use a cookies scoop to scoop out the cookies, that way you will have even-sized cookies, plus it ensures that your cookies bake evenly.
Chill the dough! This step is crucial and prevents the cookies from spreading out too much. After making the cookie dough, cover the bowl with plastic wrap or a clean towel, and chill the dough in the fridge for at least 1 hour.
Be patient! I know it's extremely tempting to eat these cookies as they are pulled out of the oven, but let these cookies cool for at least 15 minutes so they will be more firm and won't crumble up.
We suggest letting these cookies cool for 5 minutes and then transferring them to a wire rack to cool for at least 10 more minutes. This step ensures that the bottom of your cookies will not be soggy from the steam.
Nutrition
Calories:
248
kcal
Carbohydrates:
30
g
Protein:
4
g
Fat:
13
g
Saturated Fat:
7
g
Polyunsaturated Fat:
1
g
Monounsaturated Fat:
4
g
Trans Fat:
0.2
g
Cholesterol:
38
mg
Sodium:
161
mg
Potassium:
148
mg
Fiber:
2
g
Sugar:
17
g
Vitamin A:
240
IU
Vitamin C:
0.3
mg
Calcium:
25
mg
Iron:
2
mg