These coffee desserts are the ultimate list of desserts for coffee lovers! You will find delicious coffee desserts that are foolproof and easy to make and will impress anyone who appreciates the delicious flavor of coffee and espresso.
These coffee dessert recipes will make you fall in love with baking and the flavor of coffee in these diffrent desserts like coffee cookies, coffee layer cake, tiramisu cake, coffee cupckaes, cofffee macarons, coffee brownies, and many more.
I like using coffee to enhance the flavor of chocolate in many chocolaty recipes, but in this collection of desserts, the coffee is the star and works perfectly with diffrent flavors like chocolate, vanilla, walnuts, etc.
For more recipe roundups, check out my best cheesecake toppings, easy baking recipes, unique cookie recipes, Rice Krispie Treats Variations, best nutella recipes, best cake recipes, and pistachio desserts.
Jump to:
These espresso chocolate chip cookies are chewy chocolate chip cookies, loaded with chocolate chunks, and espresso powder. They are super easy to make, perfect for coffee and mocha lovers, and will make your coffee dreams come true!
This tiramisu cake is made with genoise cake layers soaked with espresso and filled with creamy and silky mascarpone cream, then topped with plenty of cocoa powder. This delicious coffee dessert will turn into your new favorite!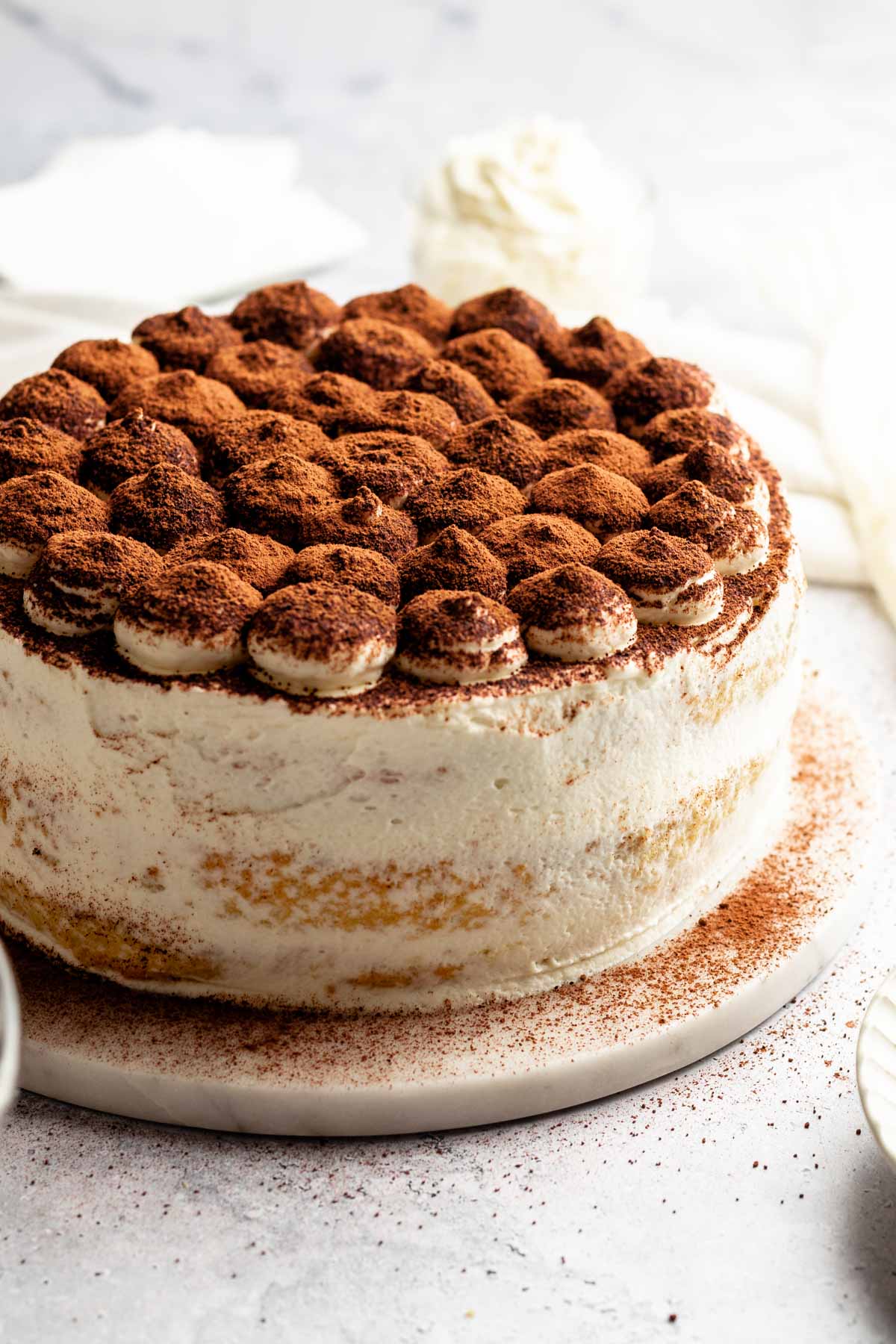 These individual tiramisu cups are an easy twist on the classic dessert, made with layers of creamy mascarpone, ladyfingers, and cocoa powder, this makes the perfect dessert!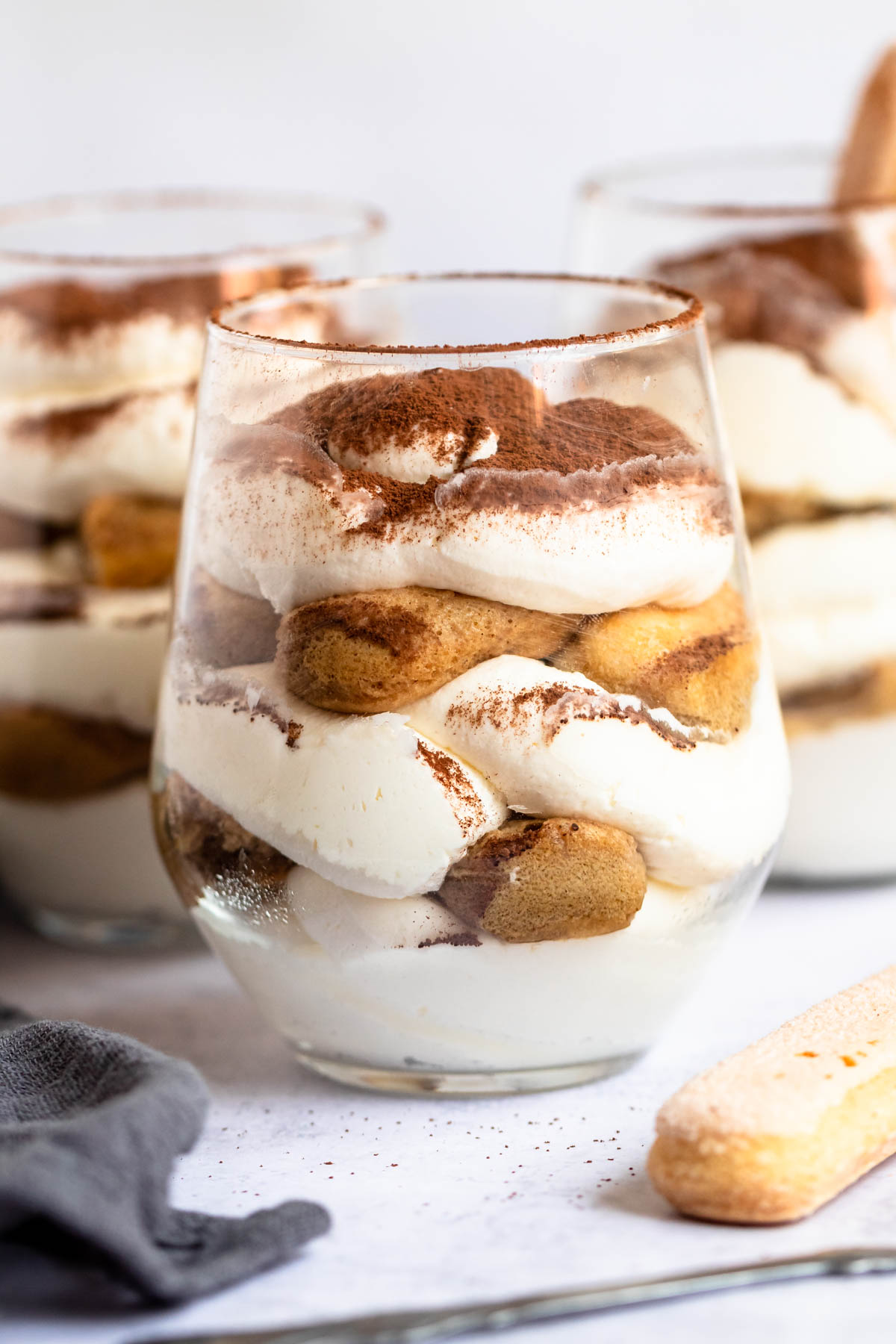 This easy tiramisu is made with coffee-soaked ladyfingers, easy eggless mascarpone cream, and topped with cocoa powder!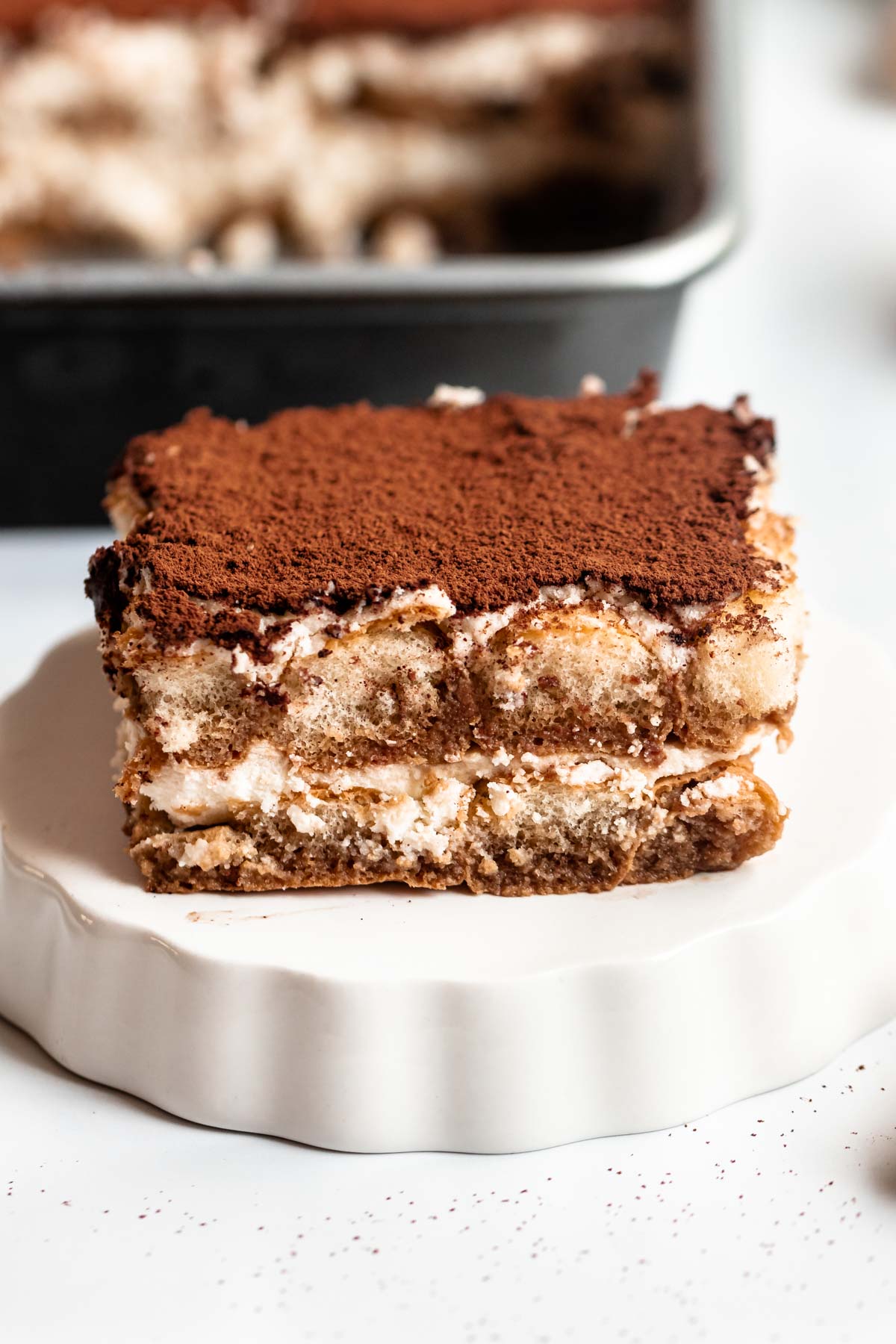 These coffee cupcakes are every coffee lover's dream. Fluffy coffee-infused sponge topped with silky smooth coffee buttercream. Perfection.
A Moist Layered Coffee Cake recipe that is easy to make and has a delicious, rich espresso flavor. A three-layered naked coffee cake topped with a creamy coffee Italian meringue buttercream.
These tiramisu macarons have an espresso French macaron shell and are filled with a mascarpone Kahlua frosting and then dusted with cocoa powder!
Perfect for breakfast or with a warm cup of coffee, this Coffee Loaf Cake topped with a Coffee Glaze is packed with flavours and aromas. The light and moist espresso cake is super quick and easy to make in one bowl only and will stay fresh for a few days!
These Coffee donuts are delish! They've got that exquisite coffee aroma topped with a delicious coffee glaze. They are easy to make, they're baked and the donut batter is all made in one bowl. Have them on their own or with a mug coffee.
Luxurious Coffee Cheesecake that is decadently smooth with a delicious coffee flavor that is sure to impress anyone.
These Coffee Cinnamon Rolls make the most decadent and delicious breakfast or sweet snack. The coffee dough is filled with a coffee cinnamon filling and finished with a simple coffee icing. A coffee lover dream bake!
This Chocolate Coffee Bundt Cake is moist and soft and incredibly delicious. With a good kick of coffee flavour, and inside studded with chocolate chips and rich chocolate ganache on the outside, this easy coffee cake is the perfect morning tea pick me up.
If you like the combination of chocolate, coffee, and liquor, these chocolate cakes belong to your recipe file. Whether you make mini cakes, one large bundt cake, cupcakes, or loaf, they're easy to make (one bowl) and incredibly moist.
Luscious, creamy and incredibly easy to make this coffee creme brulee only requires 4 ingredients. This easy make ahead dessert of coffee mixed through a thick baked custard, is the latte of your dreams.
Soft and slightly crunchy biscuits with a rich coffee buttercream sandwiched in-between; if you love coffee, then this recipe is for you! These tasty coffee kisses smell as good as they taste.
These Honey Lavender Latte Cookies are espresso sugar cookies frosted with honey lavender buttercream! Your favorite drink in cookie form!
A decadent Polish coffee cake recipe or Tort Migdalowy, with almonds and a sweet and luscious coffee caramel buttercream filling.
Coffee Slice - the perfect no-bake, sweet treat match for your next cup of coffee! A coffee and biscuit base with chocolate and coffee icing.
The perfect pairing of coffee and Baileys in this delicious cake. A vanilla Baileys cake layered with chocolate ganache and a coffee Baileys swiss meringue buttercream.
The classic vanilla milkshake gets a grownup makeover with this Coffee Milkshake recipe! It's so easy to make, with just 3 ingredients and 2 of them being our favorite foods ever created- coffee and ice cream!
Coffee ice cream is luxuriously thick, creamy, and easy to make with just a few simple ingredients. It starts with a rich coffee custard that's folded with whipped cream for a light, mousse-like consistency. This recipe works great with or without an ice cream maker!
My rich and creamy, smooth and decadent, Easy Coffee Truffles are the ideal after-dinner confection. Containing just 4 ingredients, they are a chocolate lover's dream! Coffee and chocolate come together to produce a luxurious sweet treat.
Layers of rich espresso chocolate cake filled with smooth and glossy, 'punch you in the face with flavor' espresso buttercream.
Have you ever wanted to drink your coffee and eat it to?? Then you need these espresso cupcakes!! A rich, coffee flavored cupcake topped with creamy espresso buttercream; these cupcakes should count as breakfast! Truly a coffee lovers dream!
This delectable 3-ingredient coffee mousse is creamy, smooth and fluffy with a rich, bold flavour from the coffee. I'll repeat, it's *rich*. Incredibly easy to make with 5-10 minutes of prepping and one hour fridge time.
Coffee Popsicles are a great way to use up leftover coffee. They are creamy and flavorful, and make a great pick-me-up snack or dessert. Enjoy this recipe for Coffee Popsicles that is made vegan and dairy-free.
Ready in under an hour, these easy espresso brownies combine dark chocolate, cocoa powder, espresso powder, and two types of sugar to create a decadent chocolate dessert that tastes amazing and smells incredible!
These Coffee Toffee Chocolate Cookie Bars are a total tongue twister but delicious as ever. They are filled with coffee, toffee, and chocolate flavors. You are going to love how buttery, chewy, and soft these are.
The Affogato is a classic Italian dessert consisting of sweet vanilla ice cream topped, or "drowned" with hot espresso coffee. A sweet mid-afternoon treat or after dinner pick-me-up, this espresso ice cream is just what you need to survive the hot summer months (thank you, Italy).
This is a soft and moist Coffee and Walnut Loaf Cake, full of mellow coffee and walnuts flavours with a creamy coffee buttercream frosting.
Rich and indulgent panna cotta packed with coffee flavor and topped with chocolate caramel sauce and chocolate curls.
This Chocolate Mocha Cake is the ultimate indulgence. A rich dark chocolate cake with a silky mocha swiss meringue buttercream.
Coffee Desserts Faq's
What desserts made from coffee?
There are many desserts that are made with cofffee, the top ones are tiramisu, affogato, mocha cake, coffee cheesecake, mocha mousse cake.
What coffee is best with dessert?
The best coffee for dessert is coffee that has been lightly roasted and has a light roast flavor. Light roasts tend to have acidity and bright flavors.
Is coffee served with dessert?
The most traditional to serve coffee is with dessert like cookies, a slice of cake, cheesecake, or freshly baked pastry.
More dessert recipes
Tiktok cinnamon rolls with heavy cream- These TikTok cinnamon rolls with heavy cream are ooey gooey, fluffy, and moist, and are topped with homemade cream cheese icing.
Soft Strawberry Shortcake Cookies- These strawberry shortcake cookies are made with fresh strawberries, and rolled in buttery shortcrust crumble, and are chewy on the inside and crunchy on the outside.
Chocolate Fudge Cake- This chocolate fudge cake is the most amazing chocolaty, rich, moist, and tender, and is the perfect dessert to satisfy your chocolate cravings!
If you tried any of these recipes, don't forget to leave a rating and a comment below. We love hearing from you.
If you liked this recipe
Share/pin this recipe to Pinterest.
Leave a comment down below!
📖 Recipe
30+ Coffee Desserts: Coffee Cookies & More
You will find delicious coffee desserts that are foolproof and easy to make and will impress anyone who appreciates good coffee. These delicious coffee cookies are chewy chocolate chip cookies, loaded with chocolate chunks, and espresso powder.
Ingredients
115

g

Butter

softened

½

cup

Granulated sugar

¾

cup

Brown sugar

½

teaspoon

Kosher salt

1

teaspoon

Vanilla extract

1

Egg

1

Egg yolk

¼

teaspoon

Espresso powder

2

cups

Flour

AP

½

teaspoon

Baking soda

1

cup

Chocolate chunks
Instructions
Add the egg, egg yolk, and espresso powder, and mix until combined and creamy.

Then, add the flour, and baking soda, and mix with the hand mixer until almost combined.

Add the chocolate chunks, and fold with a spatula until the mixture is just combined. Don't overmix!

Cover the bowl with plastic wrap and let the dough rest in the fridge for at least an hour. We let the dough rest in the fridge overnight.

Use a large cookie scooper to scoop out the cookies or scoop the cookies with a regular tablespoon, 3 tablespoons at a time.

Place the cookie dough balls onto a parchment paper-lined baking sheet and bake in a 180c (350f) preheated oven for 10-12 minutes. Immediately top them with more white chocolate chunks.

Let the cookies cool for 5 minutes, and then transfer them to a wire rack to cool completely.
Notes
Use room temperature ingredients. It is important that you use room-temperature ingredients like eggs and butter. This step ensures that your mixture mixes into a homogenous mixture and bakes perfectly.
Don't overmix the batter, you don't want to develop the gluten in the flour. This step ensures you have moist cookies and not dense and dry cookies.
Make sure that your butter is at room temperature. An hour or two before making these cookies, take the butter out of the fridge and let it come to room temperature. The butter should be soft to the touch. If your butter is too cold, it will be harder to mix and there will be lumps of butter in the dough.
Measure your flour correctly! When measuring your flour, avoid scooping it with a measuring cup. Instead, stir the flour with a spoon to create as many air pockets as possible, and spoon it into your measuring cup. Finally, level it with a back of a knife.
Line your sheet pan with parchment paper or a silicone mat! This step helps the cookies to bake evenly, and it makes sure that your cookies release easily from the pan.
Use a cookies scoop to scoop out the cookies, that way you will have even-sized cookies, plus it ensures that your cookies bake evenly.
Chill the dough! This step is crucial and prevents the cookies from spreading out too much. After making the cookie dough, cover the bowl with plastic wrap or a clean towel, and chill the dough in the fridge for at least 1 hour.
Be patient! I know it's extremely tempting to eat these cookies as they are pulled out of the oven, but let these cookies cool for at least 15 minutes so they will be more firm and won't crumble up.
We suggest letting these cookies cool for 5 minutes and then transferring them to a wire rack to cool for at least 10 more minutes. This step ensures that the bottom of your cookies will not be soggy from the steam.
Nutrition
Calories:
215
kcal
Carbohydrates:
30
g
Protein:
3
g
Fat:
9
g
Saturated Fat:
6
g
Polyunsaturated Fat:
0.5
g
Monounsaturated Fat:
3
g
Trans Fat:
0.2
g
Cholesterol:
34
mg
Sodium:
144
mg
Potassium:
88
mg
Fiber:
1
g
Sugar:
18
g
Vitamin A:
192
IU
Calcium:
20
mg
Iron:
1
mg