These cake mix recipes will make your life easier when you want a quick baked good but don't want the whole process.
With pre-measured ingredients and easy-to-follow instructions, cake mixes offer a hassle-free way to create delicious desserts at home.
Whether you prefer classic flavors like chocolate or vanilla or more adventurous options like red velvet or lemon, there is a cake mix recipe to suit every taste.
From birthdays to special occasions, cake mix recipes provide a simple yet satisfying solution for whipping up delectable treats in no time.
For more recipe roundups, check out my cupcake recipes, coffee desserts, best cheesecake toppings, easy baking recipes, unique cookie recipes, Rice Krispie Treats Variations, best nutella recipes, best cake recipes, and pistachio desserts.
Jump to:
These easy one-bowl red velvet cake mix cookies are chewy and fudgy and are loaded with white chocolate chips. These are perfect for Valentine's day or for any other day!
This 3 ingredient peach cobbler is the easiest peach cobbler recipe out there and has a crispy top and juicy peaches!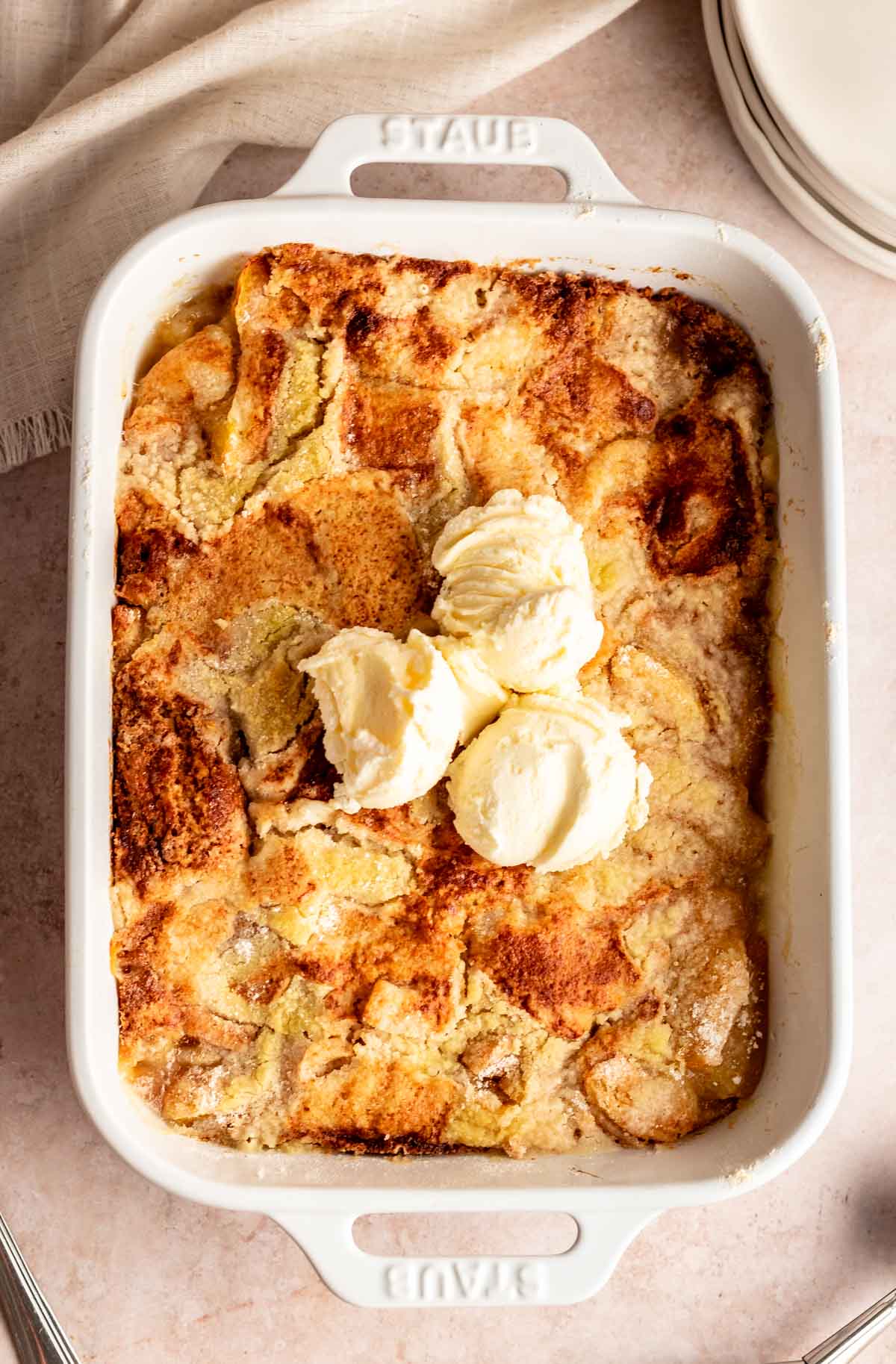 Chocolate Cake Mix Cookies are soft, chewy, and a little fudgy. The recipe only requires 4 ingredients, so it's the perfect easy chocolate cookie recipe for whenever the craving hits.
This pumpkin cream cheese dump cake is the perfect Fall treat! Imagine this - a moist pumpkin cake with a cream cheese swirl that's full of pumpkin pie spice and brown sugar and topped with yellow cake mix for a crumbly delicious topping!
You're going to love the ease of these 3 ingredient pumpkin muffins! Perfect for pumpkin season – or right now! All you need is a yellow cake mix and a couple of other simple ingredients to get started!
These 3-Ingredient Banana Cookies are the best easy recipe. Soft in texture, and full in flavor, you'll love this easy dessert. They're the perfect treat and a great way to curb a sweet tooth craving.
Gooey pecan dream bars are the perfect mix of soft and gooey with a little bit of pecan crunch. They use a box cake mix, toffee bits, and sweetened condensed milk to make an easy but memorable dessert.
Rich, delicious chocolate cake with a bit of cherry and a drizzle of glaze is a perfect ending to any meal. Luckily this cake is easy to make and every bit as tasty as it looks.
This simple dessert recipe will win the hearts of many. Fresh peaches flavored with cinnamon and a cake mix topping that is topped with pecans form a crunchy, crusty layer that combines beautifully with the soft, cooked peaches.
You need to try these Lemon Cake Mix Muffins! Yes, you read that right. You can make muffins out of a boxed cake mix! And the results are soft, moist, easy muffins every time!
Moist and flavorful Irish Cream Bundt Cake that's made without any alcohol. This easy cake that begins with a cake mix is perfect St. Patrick's Day dessert recipe!
Cake recipes don't get much better than this Cinnamon Roll Poke Cake – tender white cake filled with buttery cinnamon-sugar filling and rich cream cheese frosting!
Lemon dump cake with condensed milk only takes 5 ingredients and is one of the best lemon dump cake recipes! This is a quick, easy dessert you'll love to try, or you can switch it up and make a blueberry lemon dump cake using lemon cake mix!
These rich and decadent Black Forest Cupcakes are SO EASY because they are made using a cake mix and cherry pie filling.
Carrot cake mix cookies only require three simple ingredients to make easy cake batter cookies. It's a delicious treat any day of the week and a perfect addition to your Easter dessert menu!
This is hands down the BEST Coconut Cake recipe you'll ever make. This easy coconut cake recipe uses fresh coconut and a secret ingredient to make the coconut cake extra moist!
Easy yellow cake mix cookies with chocolate chips or plain are a fun treat you can bake quickly. A 4 ingredient family friendly dessert we love.
Fun and easy to make, these Valentine's Day Cake Pops will put a smile on anyone's face! Make them for your family, your special someone, or just to share with neighbors and friends. Great for parties, too!
This Cake Mix Cobbler takes just three essential ingredients, and couldn't get any easier. Bursting mixed berries wrapped in a perfectly sweet cake base.
Lemon crinkle cookies made with cake mix. This delicious lemon dessert is perfect for baby showers, bake sales, and many other purposes!
These homemade cake cones are easy to make using funfetti cake mix. These are the perfect cupcakes for birthday parties!
Picture this… it's late at night; you're sitting on the couch watching TV when you suddenly get a craving for something sweet. But what can you throw together in just a few minutes? The answer is this simple, 3-ingredient cake mix mug cake!
Easy homemade cake pops covered in a sweet chocolate coating. The perfect bite-sized party treats or favor for any occasion!
These Cake Mix Cookies and Cream Cupcakes combine a box mix with homemade icing and feature a chocolate sandwich cookie baked into the bottom of each one!
A recipe for cake balls that uses cake mix, frosting and candy melts to create fun and festive bites. Cake balls are perfect for gift giving and they're easy to turn into cake pops!
Delicious with a cup of coffee, this Cherry Cheesecake Dump Cake Recipe is a crowd-pleaser and an easy recipe to make for family gatherings.
Delicious Oreo and whipped cream topped chocolate cake with pockets of Oreo cookies and cream pudding inside. Scrumptious!
These Funfetti Cake Mix Cookies are made with cake mix, sprinkles and are so much fun! Chewy, soft, and made in 20 minutes. They are easy to make, simple and everyone will love them!
Key Lime Poke Cake is filled with refreshing lime zest, fresh raspberries, and key lime juice to make it tangy and pucker worthy!
Strawberry Coconut Cupcakes are the perfect dessert for Valentine's Day, or any day in between. They're filled with real strawberry goodness!
Peanut Butter Cake Mix Cookies are delicious soft and chewy cookies made simple with the ease and convenience of a cake mix. This shortcut recipe saves you time and creates cookies with fabulous, rich peanut butter flavor.
Cinnamon Chip cake mix Biscotti are crunchy enough for dunking, yet just as enticing to nibble on their own.
This Easy Chocolate Kahlua Cake is both quick and impressive when you're short on time. Your friends and family are sure to love this moist, tender chocolate bundt cake infused with Kahlua and drizzled with ganache.
Fall into autumn with this delicious apple crisp made with cake mix and granola. Drizzle with caramel sauce and serve with vanilla ice cream for the ultimate fall dessert.
These fudgy red velvet cake mix brownies are easy to make with only 4 ingredients. They are soft, chewy, and filled with white chocolate chips for the best flavor. This is the ultimate doctored red velvet cake mix recipe that leaves you wanting more!
Looking for a colorful snack to brighten up your mood or cheer up the kids? Well, our confetti whoopie pies are here for you! A super-soft, fluffy, and perfectly vanilla-flavored with a marshmallow whoopie pie filling that you'd love to stare at and eat.
Super moist and so simple, this 4 Ingredient Cake Mix Banana Bread is perfect to satisfy your banana bread craving!
Full of chocolate chips and rolled in sweet powdered sugar, these Chocolate Crinkle Cookies with Cake Mix are a must make!
In the mood for homemade brownies, but there's no brownie mix in sight? A chocolate cake mix will do the trick!
The easiest chocolate cake recipe ever! Made by combining chocolate cake mix, butter, instant chocolate pudding, milk, and chocolate chips and baking until warm and gooey. So easy and delicious!
Cake mix may seem like an unlikely place to find an amazing cinnamon roll recipe, but these irresistible glazed Cake Mix Cinnamon Rolls are easy to make and versatile.
Cake Mix Faq's
What is the best box cake mix to use?
One popular option is the Betty Crocker Super Moist Cake Mix, known for its consistently delicious results and wide range of flavors.

Duncan Hines is another well-known brand that offers a variety of cake mixes with moist and fluffy textures. For those seeking organic or gluten-free options, brands like Simple Mills and King Arthur Flour have gained popularity in recent years.
How to make box cakes better?
Consider adding an extra ingredient or two to enhance the flavor. Like a teaspoon of vanilla extract or a handful of chocolate chips to the batter.

Additionally, try substituting milk for water to create a richer and more moist texture. Another way to elevate the taste is by incorporating different mix-ins such as nuts, fruits, or even shredded coconut. Lastly, don't forget about the frosting! Homemade frosting can take your box cake to the next level by adding a personal touch and enhancing the overall taste experience.
What is the best tip for making cakes?
Don't overmix the batter, you don't want to develop the gluten in the flour. This step ensures you have a moist cake and not a dense and dry cake.
More Dessert Recipes
Creme brulee cheesecake- This creme brulee cheesecake is creamy, thick, and custardy, made with a graham cracker crust, and topped with a burnt caramel shell on top, just like creme brulee!
Buttermilk chocolate cake- This moist, and rich buttermilk chocolate cake is made in just one bowl and combines the richness of chocolate with the tanginess of buttermilk.
Mini cupcakes- These mini cupcakes are bite-sized treats that are perfect for any occasion. This recipe shares mini vanilla cupcakes and mini chocolate cupcakes as well as chocolate buttercream and vanilla buttercream.
If you tried any of these recipes, don't forget to leave a rating and a comment below. We love hearing from you.
If you liked this recipe
Share/pin this recipe to Pinterest.
Leave a comment down below!
📖 Recipe
40+ Cake Mix Recipes: Red Velvet Cookies & More
These cake mix recipes will make your life easier when you want a quick baked good but don't want the whole process. These easy one-bowl red velvet cake mix cookies are chewy and fudgy and are loaded with white chocolate chips.
Ingredients
¼

cup

Vegetable oil

2

Eggs

½

teaspoon

Kosher salt

1

cup

White chocolate chips

1

tablespoon

Cornstarch

15.25

oz

Red velvet cake mix
Instructions
Into a large mixing bowl, add the eggs, vegetable oil, and kosher salt, and mix it with a whisk until well combined.

Add the cake mix, and cornstarch, and mix until the mixture is just combined.

Add the white chocolate chips and mix until the mixture is just combined. Do not overmix the dough to keep these cookies fudgy!

Cover the bowl with plastic wrap and let the dough rest in the fridge for at least an hour.

Use a cookie scooper to scoop out the cookies or scoop the cookies with a regular tablespoon, 1 ½ tablespoons at a time.

Immediately top them with more white chocolate chips. Let the cookies cool for 5 minutes, and then transfer them to a wire rack to cool completely.
Notes
Use room temperature ingredients. It is important that you use room-temperature ingredients like eggs. This step ensures that your mixture mixes into a homogenous mixture and bakes perfectly.
Don't overmix the dough, you don't want to develop the gluten in the flour. This step ensures you have moist cookies and not dense and dry cookies.
Line your sheet pan with parchment paper or a silicone mat! This step helps the cookies to bake evenly, and it makes sure that your brown butter chocolate chunk cookies release easily from the pan.
Use a cookies scoop to scoop out the cookies, that way you will have even-sized cookies, plus it ensures that your cookies bake evenly.
Chill the dough! This step is crucial and prevents the cookies to spread out too much. After making the cookie dough, cover the bowl with plastic wrap or a clean towel, and chill the dough in the fridge for at least 1 hour.
Be patient! I know it's incredibly tempting to eat these cookies as they are pulled out of the oven, but let these cookies cool for at least 15 minutes so they will be more firm and won't crumble up.
Let these cookies cool for 5 minutes and then transfer them to a wire rack to cool for at least 10 more minutes. This step ensures that the bottom of your cookies will not be soggy from the steam.
Nutrition
Calories:
231
kcal
Carbohydrates:
29
g
Protein:
3
g
Fat:
13
g
Saturated Fat:
4
g
Polyunsaturated Fat:
4
g
Monounsaturated Fat:
4
g
Trans Fat:
0.03
g
Cholesterol:
24
mg
Sodium:
334
mg
Potassium:
138
mg
Fiber:
1
g
Sugar:
18
g
Vitamin A:
36
IU
Vitamin C:
0.1
mg
Calcium:
70
mg
Iron:
1
mg