This collection of delectable cupcake recipes will satisfy your cravings for delicious and visually appealing desserts.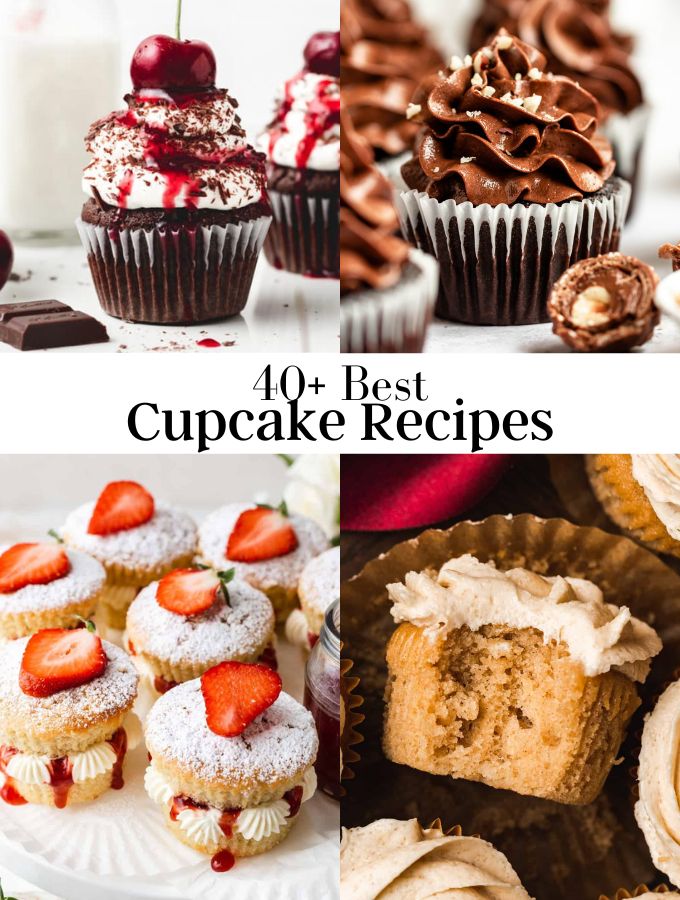 If you're a fan of baking and have a sweet tooth, then a Cupcake Recipes roundup is just what you need.
From classic flavors like vanilla and chocolate to more adventurous combinations like salted caramel or red velvet, there's something for everyone in this roundup.
Whether you're hosting a party or simply want to treat yourself to a homemade sweet treat, these cupcake recipes are sure to impress. So grab your apron and get ready to indulge in the world of cupcakes!
For more recipe roundups, check out my coffee desserts, best cheesecake toppings, easy baking recipes, unique cookie recipes, Rice Krispie Treats Variations, best nutella recipes, best cake recipes, and pistachio desserts.
Jump to:
These banana pudding cupcakes are made with a moist, tender, and light banana cupcake base, filled with a banana pudding filling, and topped with stabilized whipped cream.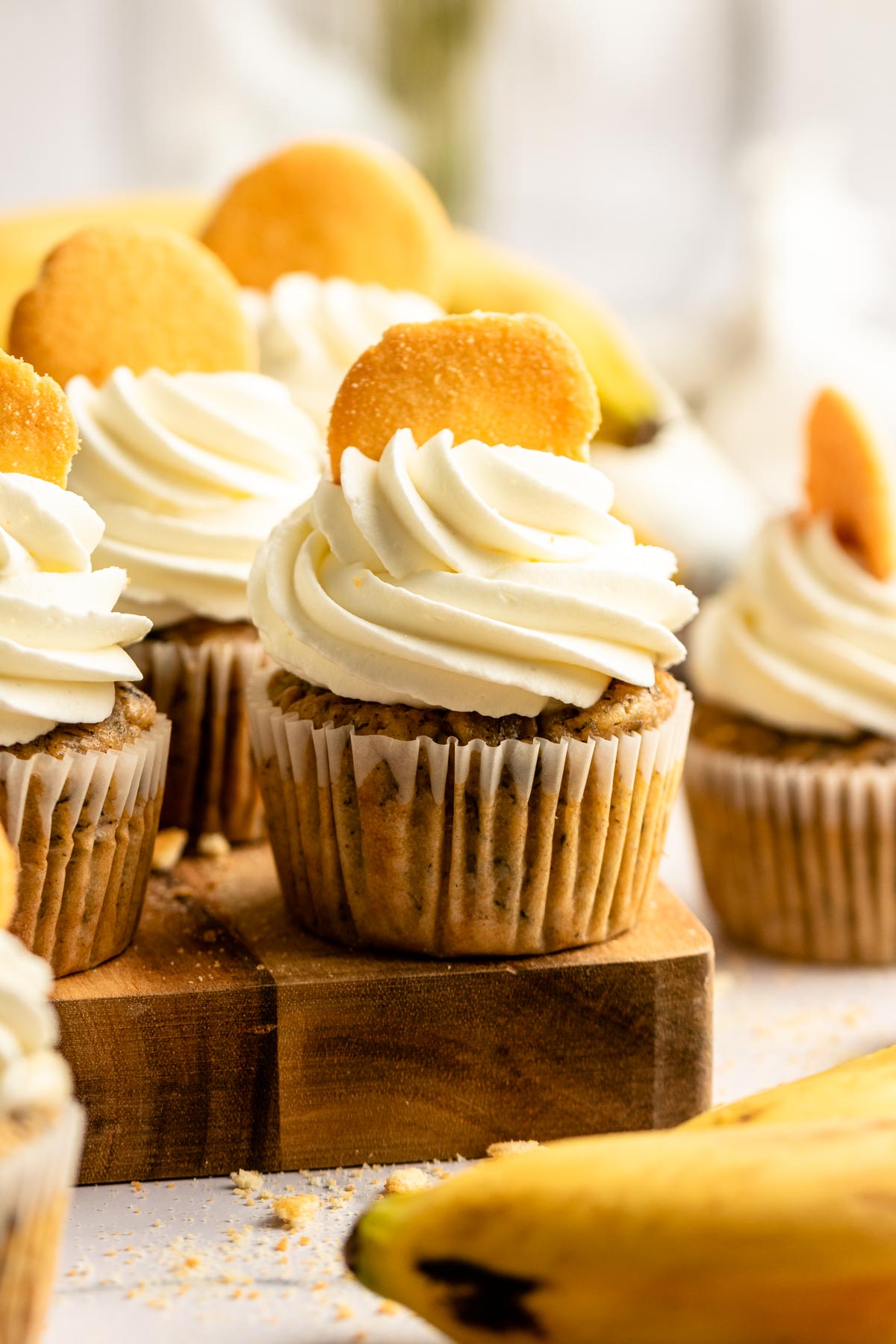 These strawberry filled cupcakes are made with vanilla fresh strawberry cupcakes, filled with chopped ripe strawberries, and topped with strawberry buttercream frosting.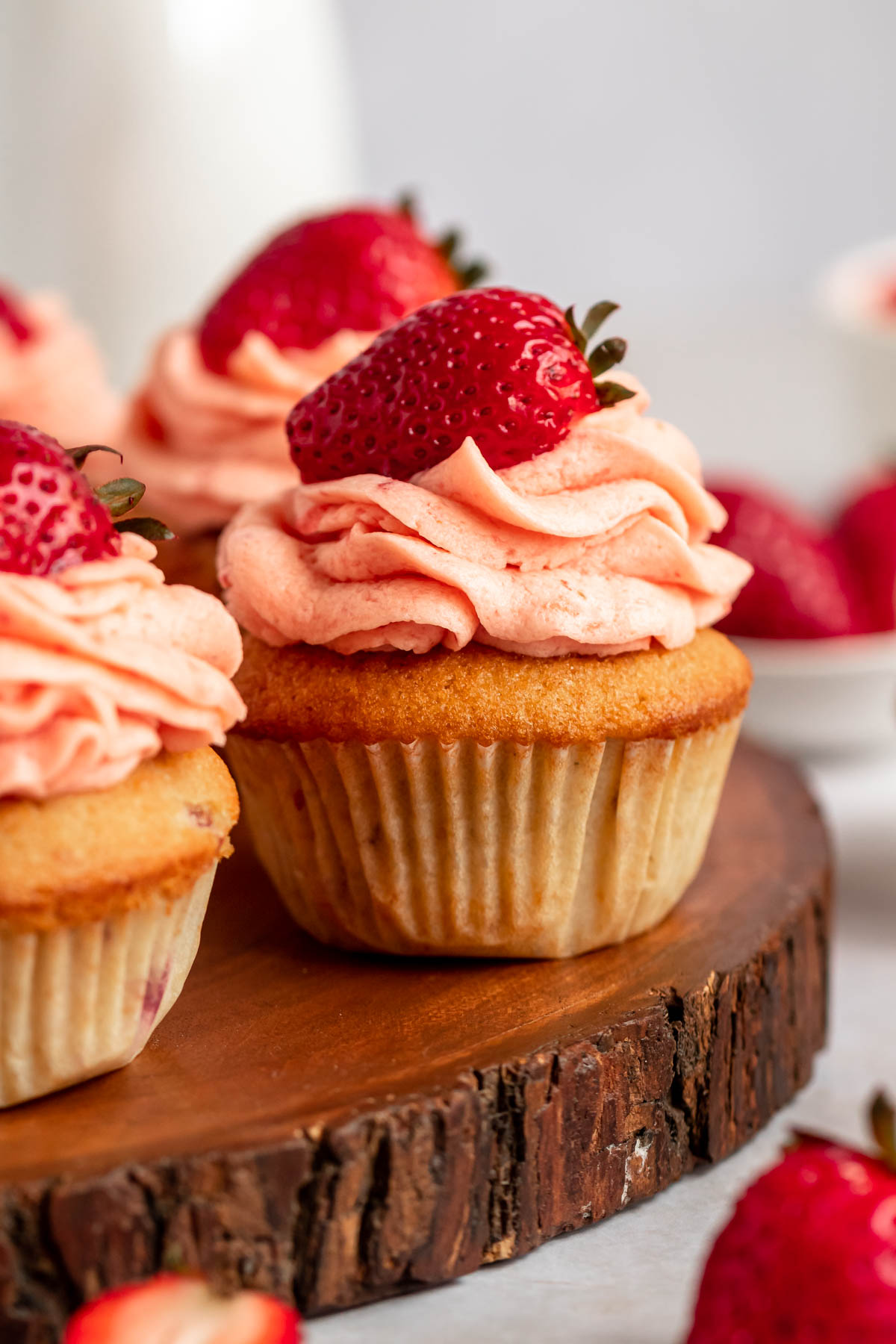 These honey cupcakes are made with soft and moist honey cupcakes, topped with freshly made whipped cream, and more honey!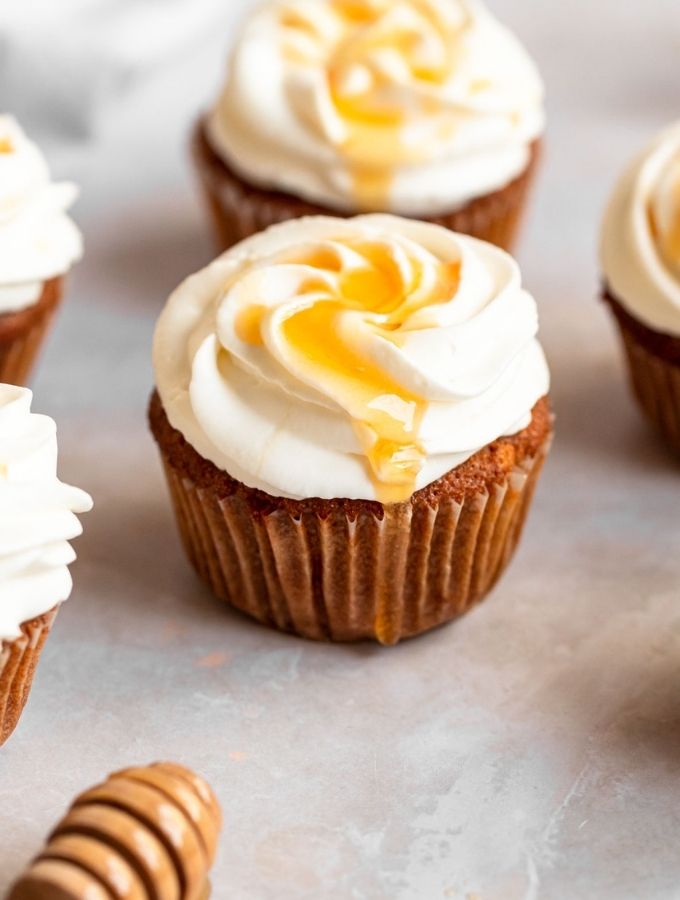 These Nutella cupcakes are made with delicious chocolate Nutella cupcakes, filled with Nutella, and topped with Nutella buttercream and chopped hazelnuts!
This is the most amazing chocolate cupcake recipe. These chocolate cupcakes are moist, fluffy, and full of rich chocolate flavor, and come together in one bowl.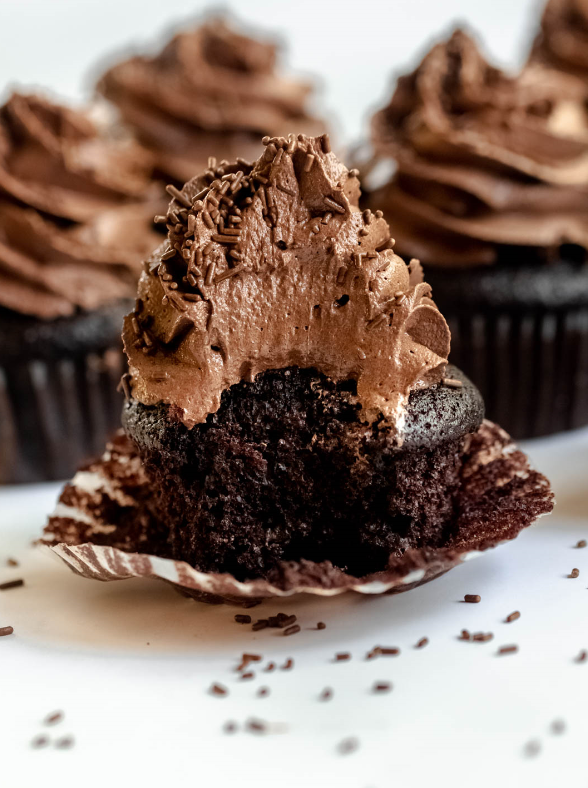 These super moist pumpkin cupcakes with cream cheese frosting are soft, and delicious, and stay moist for 3 days. These are packed with pumpkin flavor and fall spices.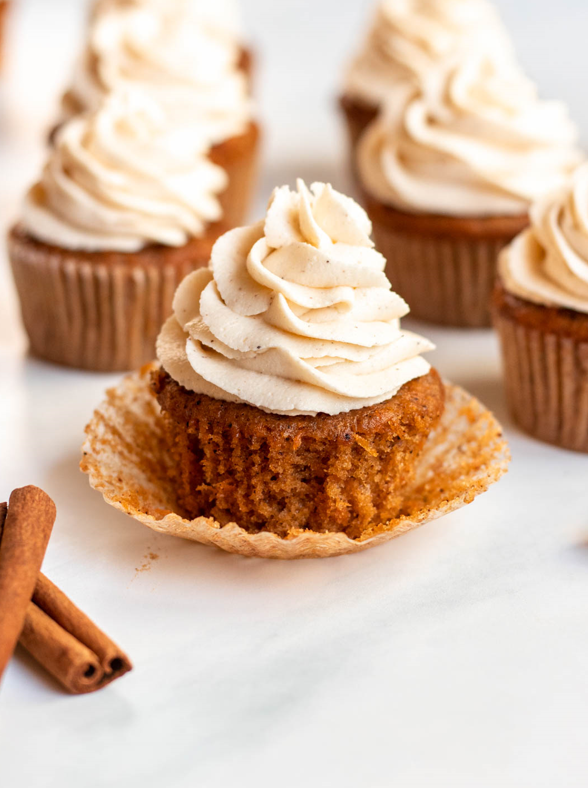 These red velvet cupcakes are fluffy, light, moist, and topped with cream cheese frosting. These bakery-style red velvet cupcakes taste incredible and are every red velvet lover's dream!
These carrot cake cupcakes are moist, soft, perfectly spiced, and every carrot cake lover's dream. These carrot cake cupcakes are made with grated carrots, brown sugar, and fall spices, and topped with a creamy cream cheese frosting.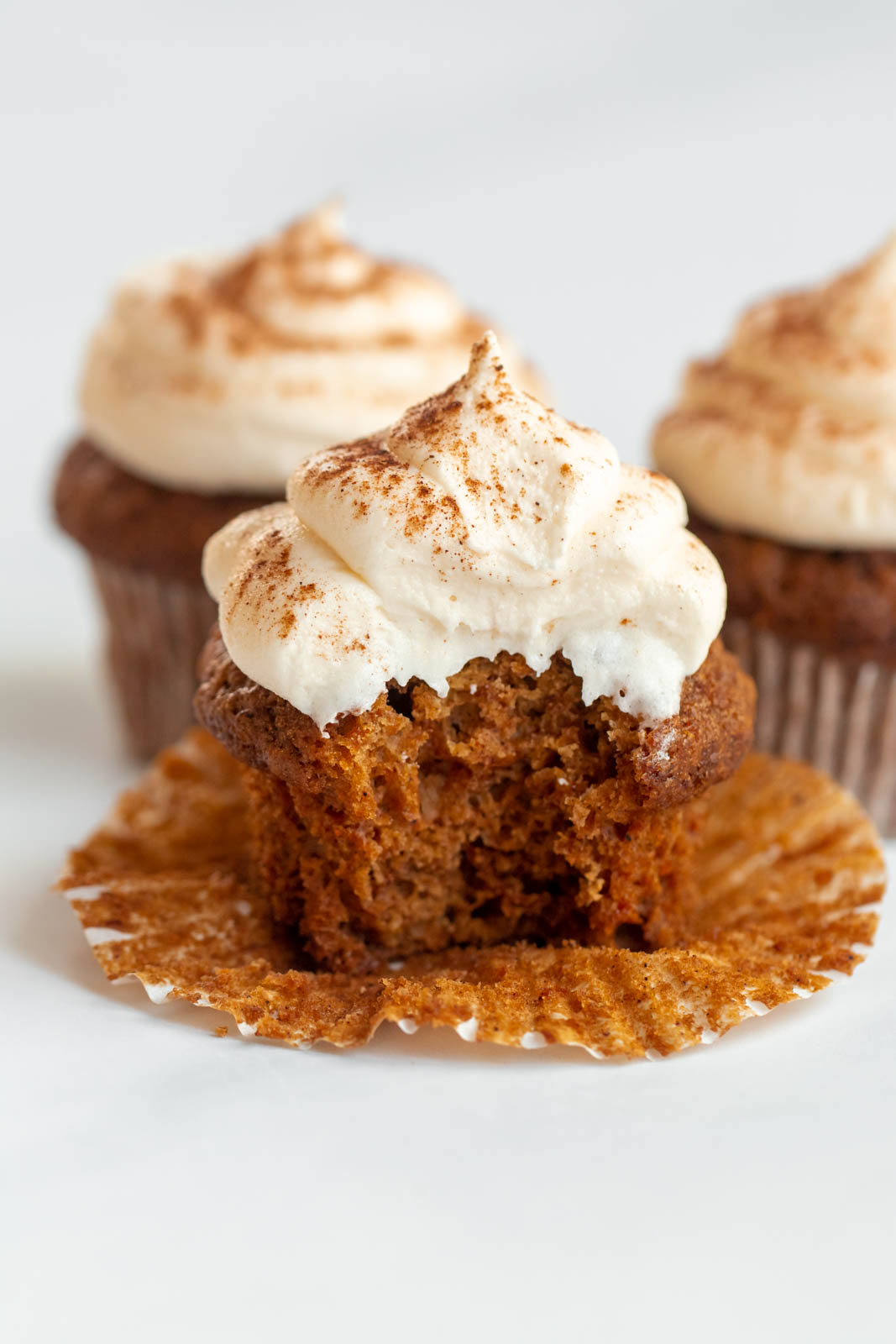 These Christmas tree cupcakes are super easy to make, they are made with chocolate cupcakes, vanilla buttercream or vanilla frosting, shredded coconut, pretzels, green candy melts, and sprinkles!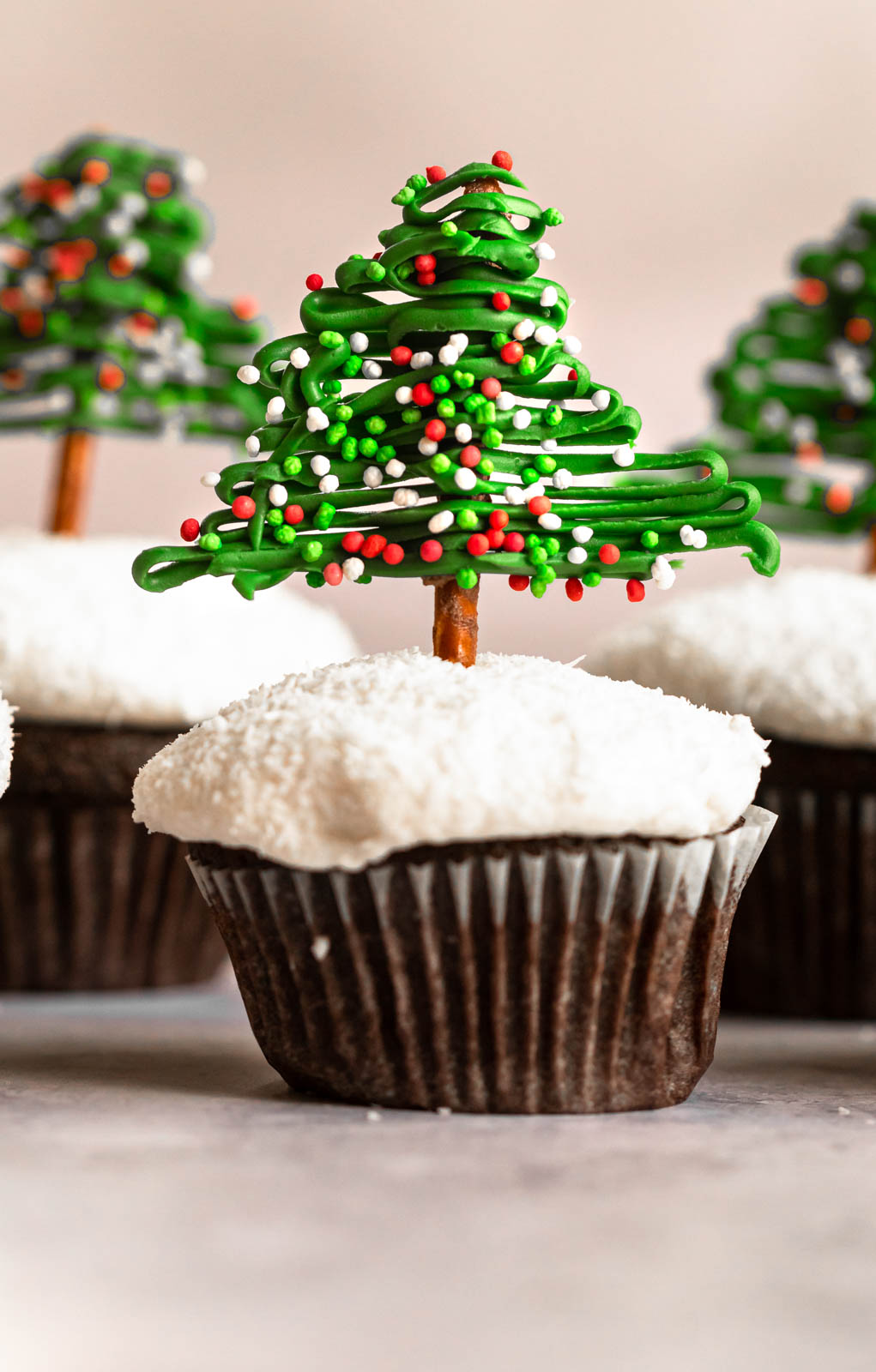 These adorable reindeer cupcakes are surprisingly easy to make! All you will need is chocolate cupcakes, chocolate buttercream, pretzels, vanilla wafers, and red M&M'S.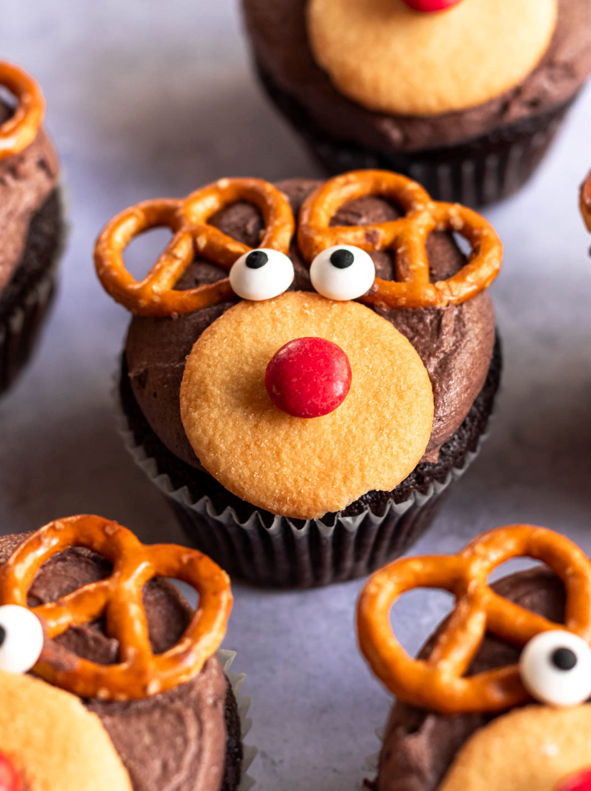 These moist and tender vanilla cupcakes are made in one bowl and are topped with the most delicious vanilla buttercream frosting.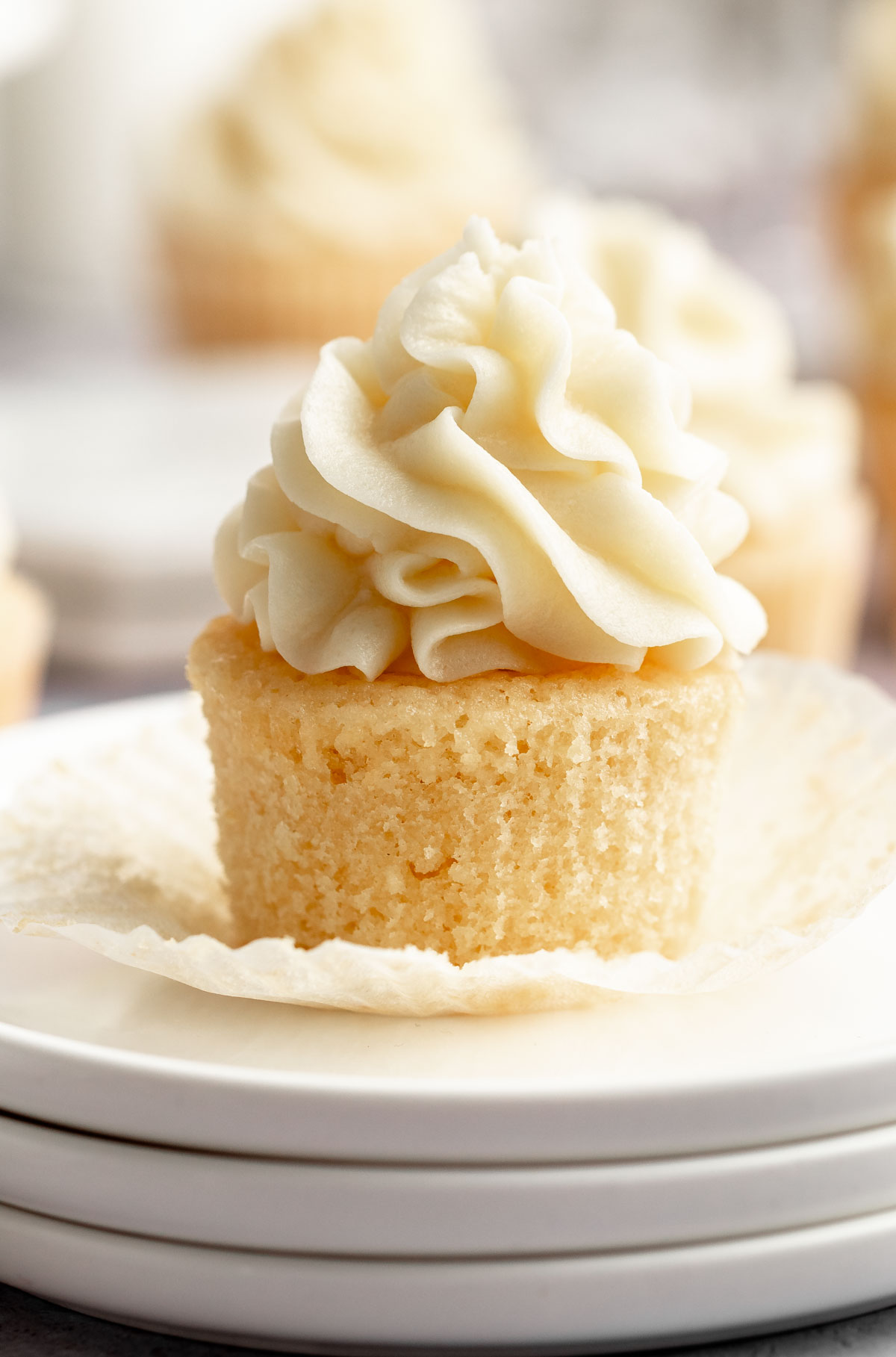 These mini cupcakes are bite-sized treats that are perfect for any occasion. This recipe shares mini vanilla cupcakes and mini chocolate cupcakes as well as chocolate buttercream and vanilla buttercream.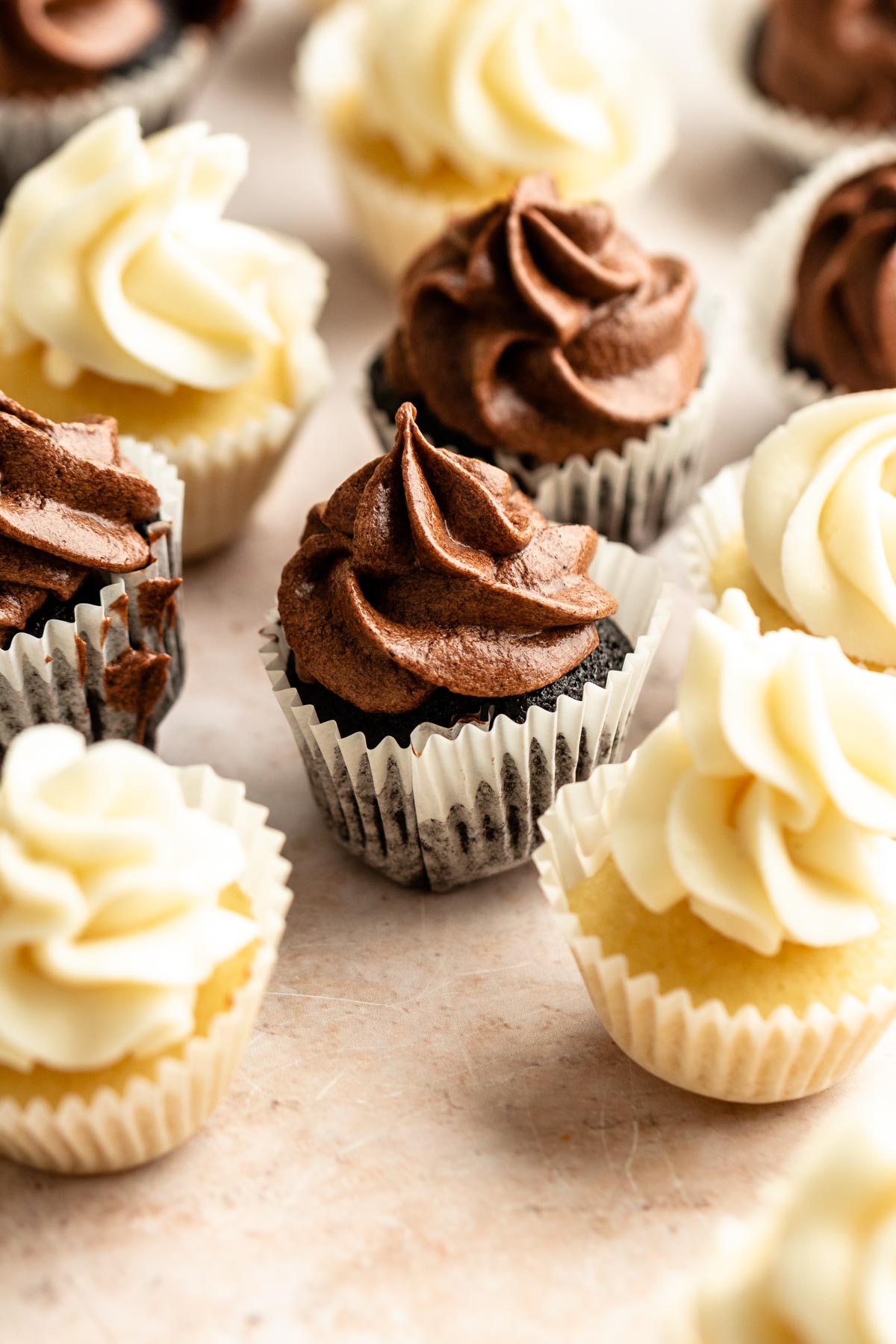 These lemon meringue cupcakes are ultra-soft vanilla cupcakes filled with a tart lemon curd and decorated with a torched swiss meringue!
Put a fun twist on Thanksgiving dessert with these Pumpkin Pie Cupcakes! Decorate with cream cheese frosting or with whipped cream to look like mini pies.
These black forest cupcakes have a moist chocolate base, homemade cherry filling with Kirsch, and a light whipped cream topping.
This recipe for chocolate chip cupcakes is a tender white cake studded with plenty of chocolate, topped with chocolate frosting and more chocolate chips. The perfect treat for any celebration!
This recipe for chocolate hazelnut cupcakes is chocolate cupcakes filled with milk chocolate hazelnut spread, then finished off with chocolate hazelnut frosting and fresh berries. The perfect treat for a special occasion!
Deliciously delightful strawberry shortcake cupcakes made with a soft and fluffy vanilla cupcake base that's stuffed with a Golden Oreo and a fresh strawberry center!
These retro-inspired cupcakes make things in the kitchen a little more convenient by using a yellow cake mix. Pineapple Upside Down Cupcakes are moist, full of caramel and pineapple flavor, and are so eye-catching with the pineapple and cherry design!
If you're on the hunt for amazing apple recipes, this apple pie cupcake recipe is a crowd pleaser for sure. Oh, they smell just like fall when they are cooking.
These soft and fluffy cupcakes are enriched with a lovely coffee taste and spiked with an Irish cream whiskey buttercream. They have all the flavors of an Irish coffee in a cupcake form.
These fluffy tiramisu cupcakes are soaked with a coffee and Kahlua mixture and then topped with a creamy mascarpone frosting and a dusting of cocoa powder!
The perfect fix to your chocolate cravings, these double chocolate cupcakes are loaded with rich chocolate flavor and topped with a dreamy, creamy chocolate fudge frosting!
These espresso cupcakes are for all coffee lovers out there! it's a super simple recipe that delivers super fluffy espresso cupcakes, with a creamy espresso buttercream frosting.
These biscoff cookie butter cupcakes have a brown butter spiced cupcake base filled with speculoos cookie butter and topped with fluffy cookie butter frosting and biscoff cookies!
Caramel cupcakes with filling are so sweet and tasty! They're made with a brown sugar cake filled with caramel sauce and topped with caramel buttercream frosting.
Featuring a moist chocolate cupcake base, topped with a creamy Oreo frosting, these cupcakes are sure to be a hit at birthday parties, special occasions, or whenever you're in the mood for a delightful sweet treat.
Apple spice cupcakes have diced apples and seasonal spices in every bite. They are topped with a luscious cinnamon buttercream frosting.
Coconut cupcakes are made with desiccated coconut and coconut milk. The soft coconut buttercream frosting is garnished with toasted coconut!
Hummingbird cupcakes are moist, flavorful and one-of-a-kind. Made with crushed pineapple, banana and pecans, they are simply delicious with cinnamon cream cheese frosting!
Zucchini cupcakes are fluffy and moist with the perfect amount of spice. Topped with a luscious cream cheese frosting, this easy dessert is ready in an hour!
Want a dessert to brighten your day? Try these quick and easy lemon cupcakes. They are fluffy, moist, and topped with a delicious lemon buttercream. This dessert is perfect for spring!
Tender, soft White Chocolate Cupcakes are topped with a smooth and lightly whipped white chocolate ganache. The combination is dreamy. Decorate with your favorite Mini Eggs to make this your perfect Easter Cupcake.
These Victoria Sponge Cupcakes are a twist on a British Classic. Vanilla cupcakes sandwiched with sweetened whipped cream and jam. These make the perfect addition to your afternoon tea.
Lightly spiced cupcakes dipped in cinnamon sugar, filled with luscious caramel and topped with silky smooth Dulce de Leche Russian Buttercream, make these an irresistible addition to your Autumn (Fall) baking.
Buttery, textured graham cracker cupcakes topped with a duo of velvety smooth chocolate buttercream and fluffy marshmallow buttercream.
Easy white cupcakes are soft, delicate, and surprisingly simple to make from scratch. These moist and light-as-air cupcakes are perfect for weddings, events, and birthdays.
Applesauce cupcakes are an easy fall dessert to make from scratch. These cupcakes are tender and moist, with a soft apple flavor and a hint of cinnamon. Topped with rich brown butter frosting!
These moist, tender, fluffy cupcakes are baked with colorful sprinkles and topped with creamy frosting for the perfect celebratory cupcakes!
These mint chocolate cupcakes have a rich chocolate cupcake base and are topped with chocolate mint buttercream and thin mint cookies!
These brown butter cupcakes are filled with spiced peaches and topped with stabilized whipped cream! It's like a classic peaches and cream milkshake but in cupcake form!
These tender cupcakes are made with peanut butter in the batter and are topped with creamy peanut butter frosting. They have a double dose of peanut butter for the perfect peanut butter cupcake recipe.
Every bite of these moist Fresh Strawberry Cupcakes is a taste of sweet summer-ripe strawberries in from-scratch homemade cupcakes with a light strawberry buttercream frosting swirled on top.
These simple brown sugar cupcakes are moist, flavorful, and comforting. Topped with smooth and fluffy brown sugar buttercream, this cupcake recipe is definitely a crowd pleaser and bakery worthy!
Cupcake Recipes Faq's
When do you know when a cupcake is done baking?
My biggest tip for this is to do the toothpick test. Insert a toothpick into the middle of 1-2 cupcakes, and if it comes out clean, with a few moist crumbs, the cupcakes are ready!
What is the most popular flavor of cupcakes?
The top 10 most popular flavors of cupcakes are chocolate, vanilla, pumpkin, banana, carrot, lemon, peanut butter, red velvet, peanut butter, and coffee.
How to make fluffy cupcakes?
Make sure that all your ingredients are at room temperature and your butter is softened. The most important ingredients that should be at room temperature are eggs, buttermilk, and butter.

This will ensure that your mixture mixes into a homogenous batter and will bake perfectly.
More dessert recipes
Tiktok cinnamon rolls with heavy cream- These TikTok cinnamon rolls with heavy cream are ooey gooey, fluffy, and moist, and are topped with homemade cream cheese icing.
Soft Strawberry Shortcake Cookies- These strawberry shortcake cookies are made with fresh strawberries, and rolled in buttery shortcrust crumble, and are chewy on the inside and crunchy on the outside.
Chocolate Fudge Cake- This chocolate fudge cake is the most amazing chocolaty, rich, moist, and tender, and is the perfect dessert to satisfy your chocolate cravings!
If you tried any of these recipes, don't forget to leave a rating and a comment below. We love hearing from you.
If you liked this post:
Share/pin this recipe to Pinterest.
Leave a comment down below!
📖 Recipe
40+ Best Cupcake Recipes: Chocolate Cupcakes & More
This collection of delectable cupcake recipes will satisfy your cravings for delicious and visually appealing desserts. These chocolate cupcakes taste amazing with our chocolate cream cheese frosting and our chocolate buttercream frosting.
Ingredients
2

Eggs

1

cups

Granulated sugar

1 ½

cups

Flour

1 ½

teaspoon

Baking powder

1

teaspoon

Baking soda

⅓

cups

Cocoa powder

½

teaspoon

Kosher salt

⅓

cups

Vegetable oil

1

cups

Hot coffee

2

teaspoon

Vanilla extract
Chocolate buttercream
340

g

Butter

2

cups

Powder sugar

½

cup

Cocoa powder

1

teaspoon

Vanilla extract

1

Pinch of salt

150

g

Dark chocolate
Or Make Chocolate cream cheese frosting
230

g

Cream cheese

softened

115

g

Butter

softened

½

teaspoon

Kosher salt

3 ½

cups

Powder sugar

1

teaspoon

Vanilla extract
Instructions
For the cupcakes:
Preheat an oven to 350f (180c) and prep a cupcake pan with liners.

In a big mixing bowl, add the flour, cocoa powder, baking powder, baking soda, sugar and mix with a whisk until well combined.

Add the hot coffee, oil, vanilla, and eggs. Mix well until combined and smooth.

Use an ice cream scoop to fill out the cupcake ⅔ full (do not overfill) and bake in a preheated oven for about 20 minutes or until a toothpick comes out clean.

Cool the cupcakes for 10 minutes and transfer them into a cooling rack to cool completely (don't frost warm cupcake).
For the chocolate buttercream frosting:
Make the chocolate frosting: into a large bowl add room temperature butter and mix with a hand mixer or a stand mixer until the butter is light and fluffy.

Add half of the powder sugar and the cocoa powder and carefully mix until combined.

Add the other half of the powder sugar and mix until smooth.

Melt dark chocolate or semisweet chocolate and let it cool completely to room temperature.

Add the melted chocolate to the mixture and mix until well combined and smooth.
For the cream cheese chocolate frosting:
Make the chocolate frosting: into a large bowl add room temperature butter and mix with a hand mixer or a stand mixer until the butter is light and fluffy.

Add the cream cheese and mix until smooth.

Add the powder sugar, cocoa powder, pinch of salt, and vanilla extract and mix well until smooth.
Notes
Don't skip the coffee in the chocolate cupcake, you can't taste the coffee, it simply enhances the chocolate flavor. Use room temperature ingredients. It is important that you use room-temperature ingredients like eggs and butter. This step ensures that your mixture mixes into a homogenous mixture and bakes perfectly. you don't want to place cold batter into the oven. Don't overmix the batter, you don't want to develop the gluten in the flour. This step ensures you have moist cupcakes and not dense and dry cupcakes. Make sure that your butter is at room temperature. An hour or two before making these cupcakes, take the butter out of the fridge and let it come to room temperature. The butter should be soft to the touch. If your butter is too cold, it will be harder to mix and there will be lumps of butter in the dough. Measure your flour correctly! When measuring your flour, avoid scooping it with a measuring cup. Instead, stir the flour with a spoon to create as many air pockets as possible, and spoon it into your measuring cup. Finally, level it with a back of a knife.
Nutrition
Calories:
480
kcal
Carbohydrates:
59
g
Protein:
5
g
Fat:
36
g
Saturated Fat:
19
g
Polyunsaturated Fat:
5
g
Monounsaturated Fat:
9
g
Trans Fat:
1
g
Cholesterol:
89
mg
Sodium:
438
mg
Potassium:
216
mg
Fiber:
4
g
Sugar:
20
g
Vitamin A:
753
IU
Calcium:
60
mg
Iron:
3
mg