These delish pecan desserts are delicious and indulgent treats that showcase the rich buttery flavor of pecans with classic desserts.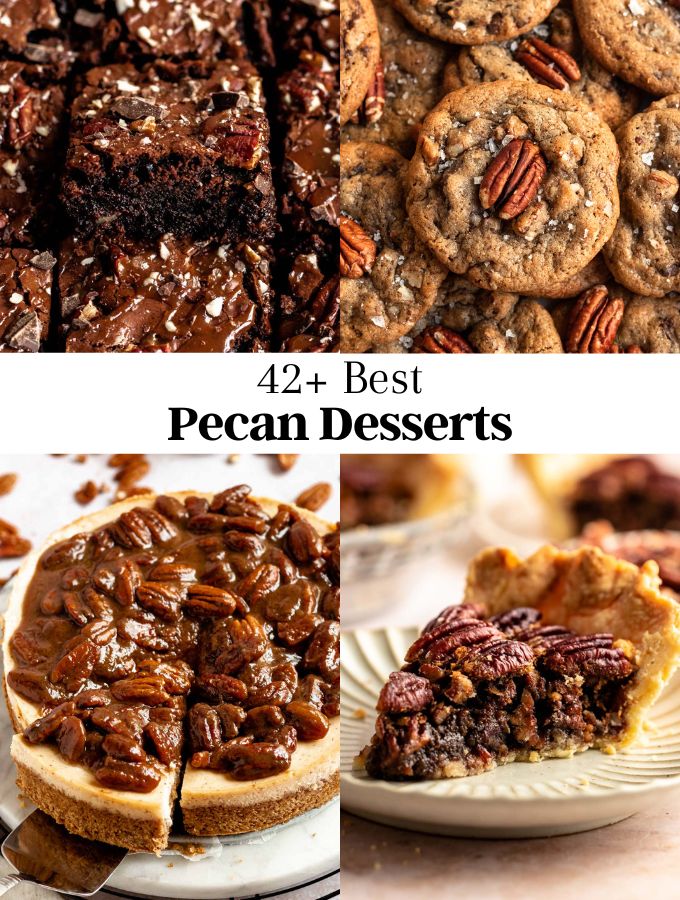 From classic pecan pie to pecan tarts, bars, and cookies, these desserts offer a delightful combination of sweetness and nuttiness.
Pecans can be used as a topping or incorporated into the batter, adding a satisfying crunch to every bite.
Whether enjoyed on their own or paired with other flavors like chocolate or caramel, pecan desserts are sure to satisfy any sweet tooth.
For more recipe roundups, check out my sweet breakfast recipes, honey desserts, Jewish recipes, loaf cake recipes, pink desserts, and sour cream desserts.
Jump to:
This caramel pecan cheesecake is made with a cinnamon crust, creamy cinnamon cheesecake filling, and a caramel pecan topping.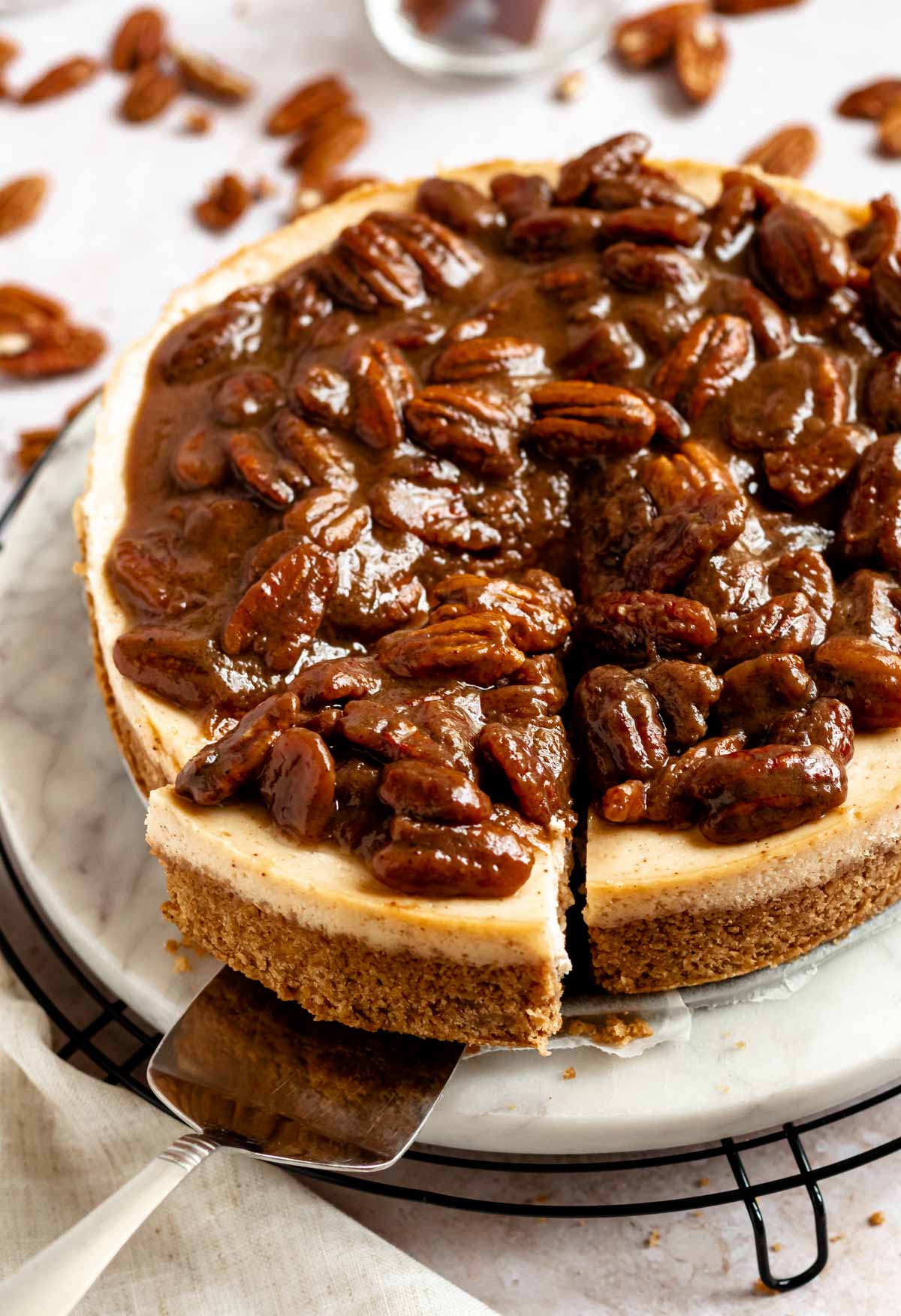 This pecan upside down cake is made with a moist and simple vanilla cake and topped with an easy caramel pecan topping.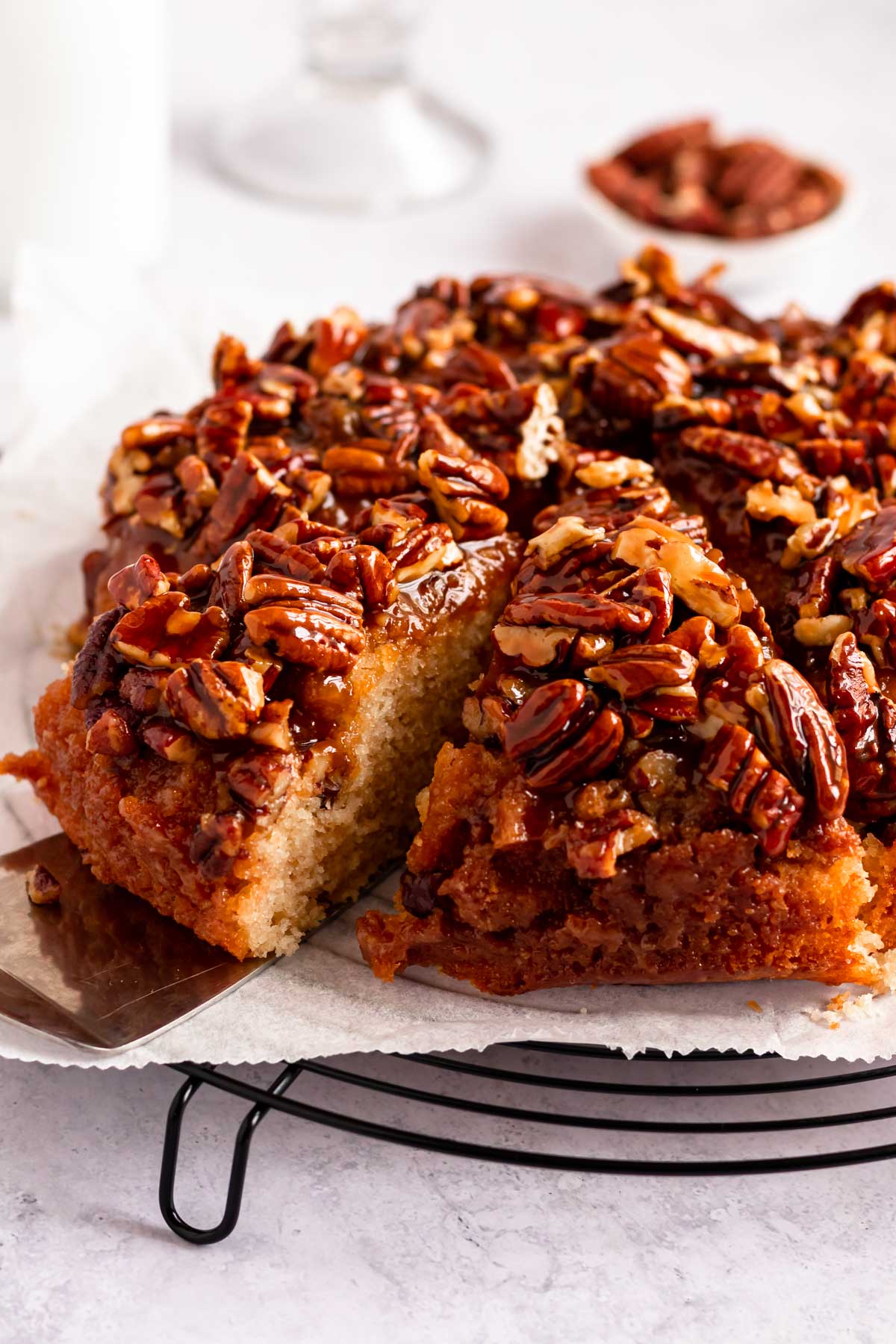 These coconut pecan cookies are made with shredded coconut and chopped pecans, resulting in a crunchy and chewy texture.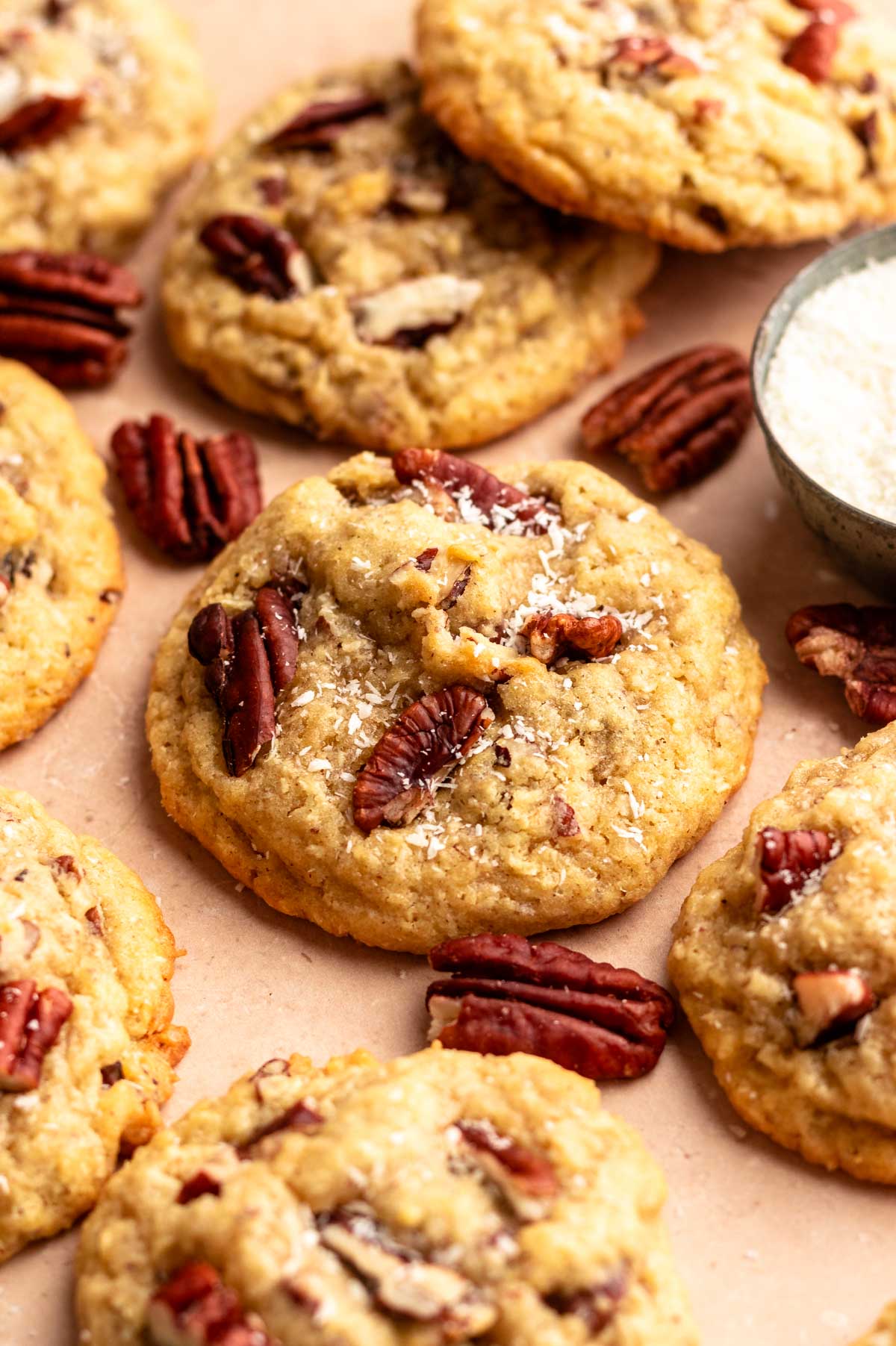 This extra moist pecan banana bread is made with brown butter, mashed bananas, chopped pecans, and greek yogurt that makes this bread super soft and fluffy.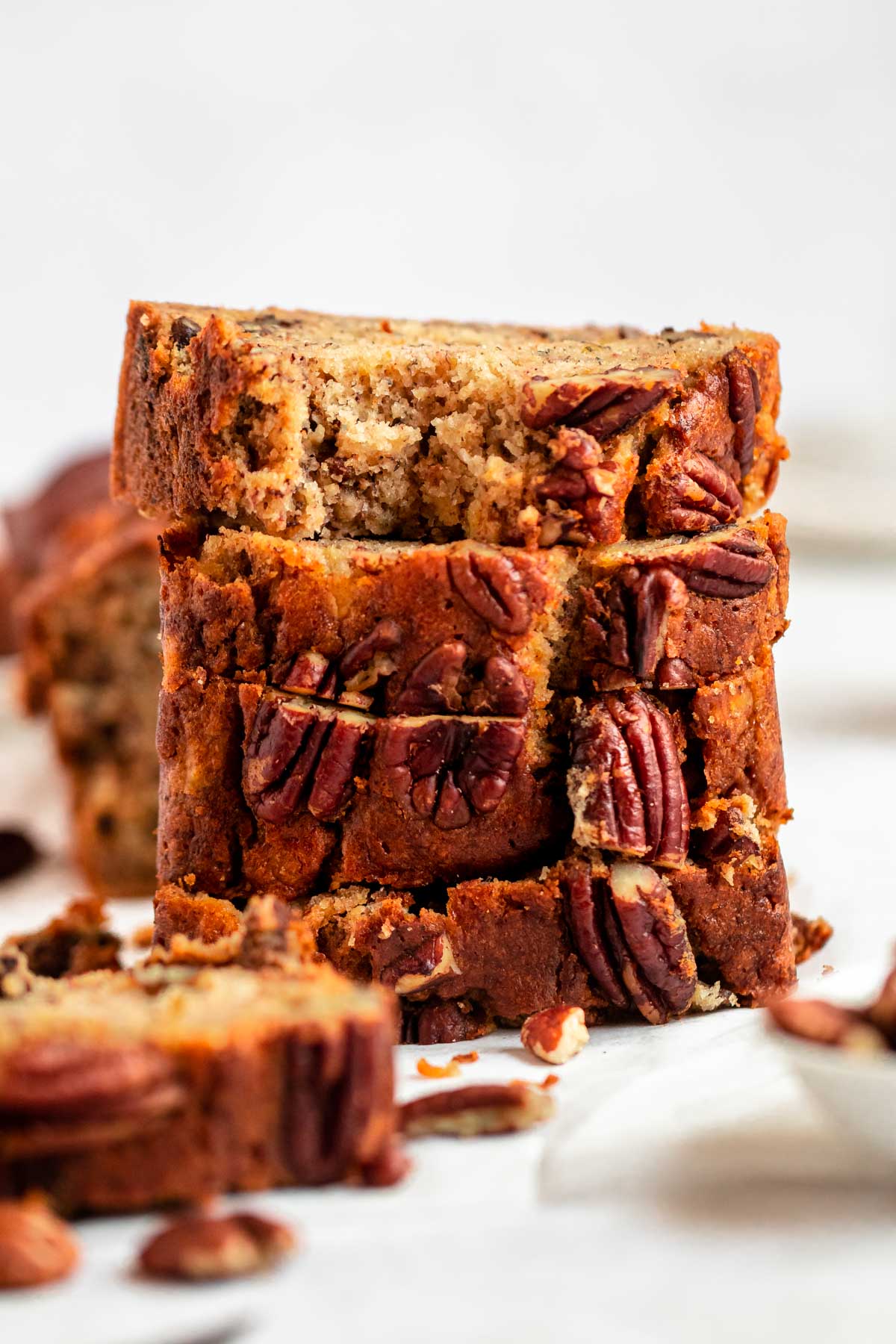 These brown butter pecan cookies are made with toasted chopped pecans, brown butter, and chocolate chunks, and topped with flakey salt and a big pecan for decoration!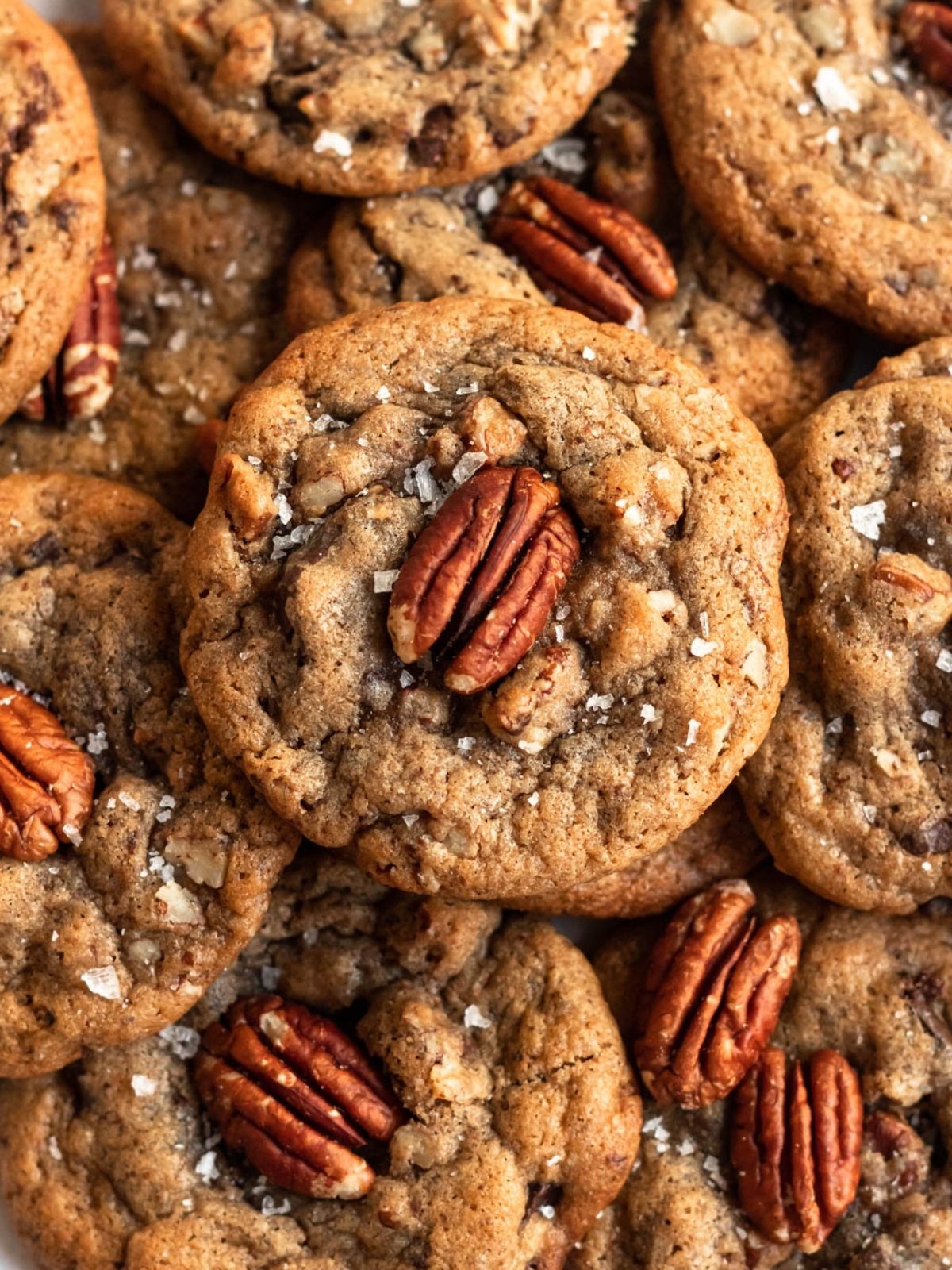 This delish pecan pie without corn syrup is made with a buttery flakey crust and is filled with a sweet and gooey filling.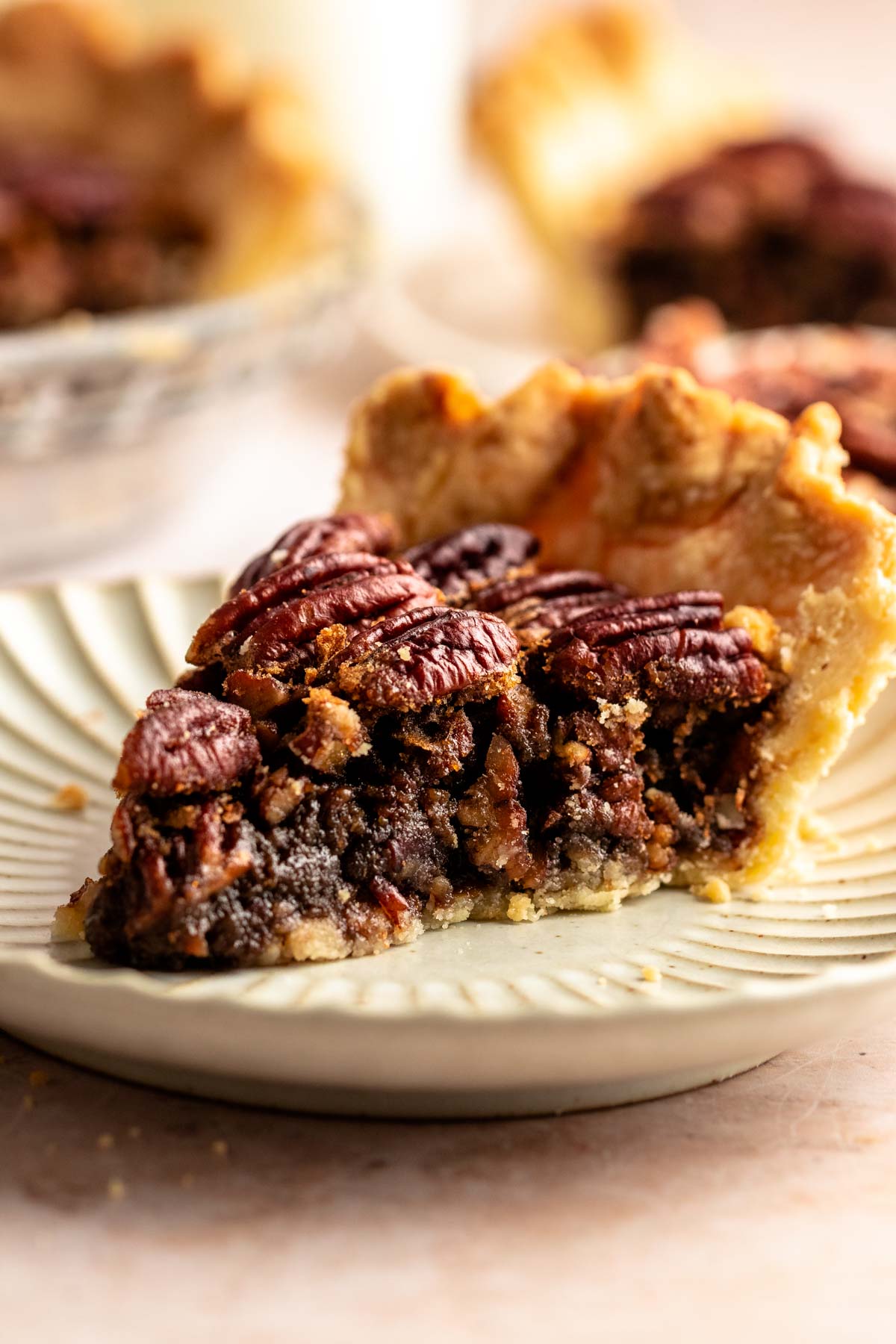 These turtle cookies are made with a chocolate cookie that is filled with pecans, stuffed with caramel, and topped with chocolate drizzle.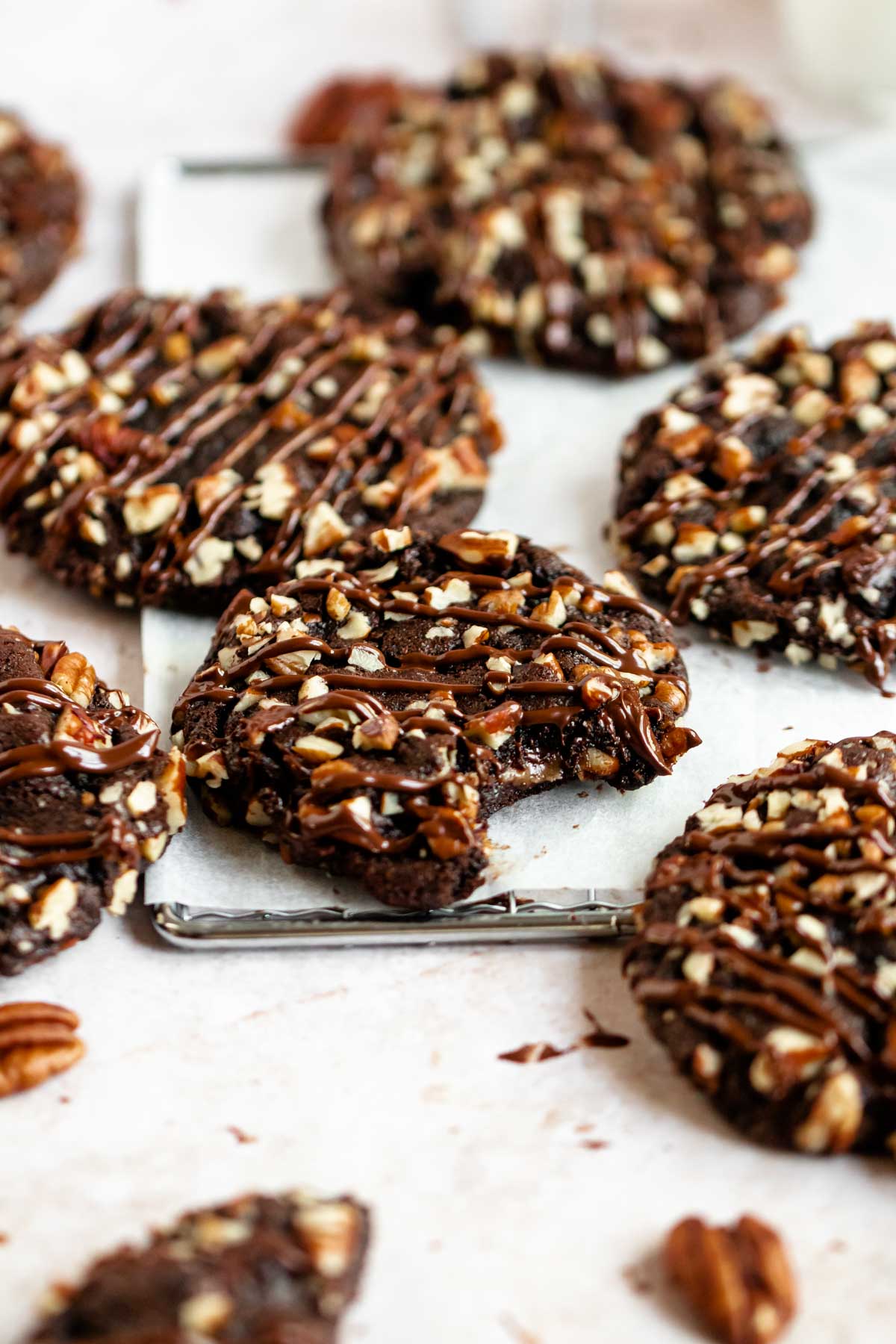 These fudgy turtle brownies are filled with chopped pecans, chocolate chunks, caramel sauce, and plenty of chocolate flavor. They are drizzled with caramel sauce and taste delicious.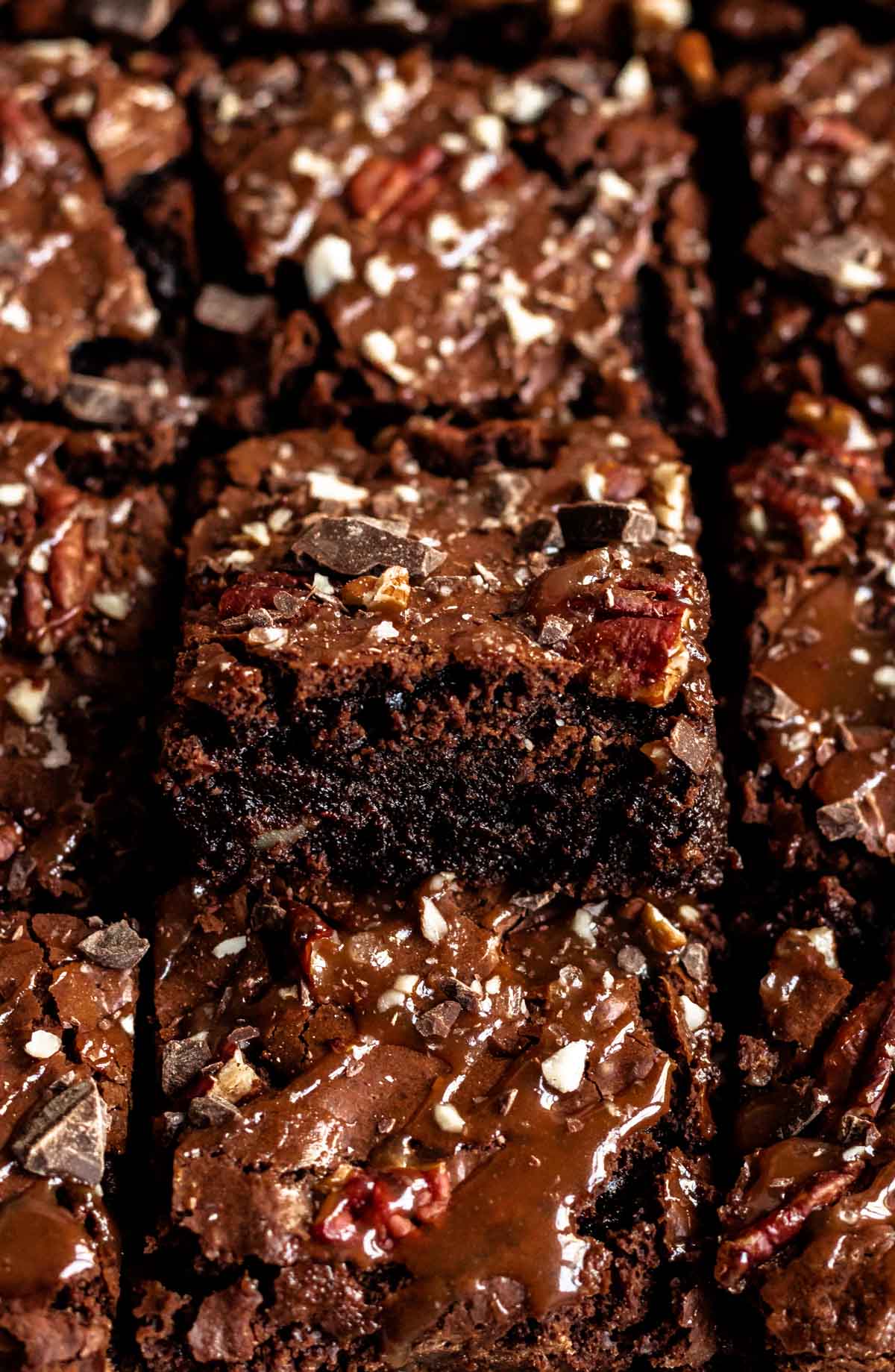 No ice cream maker required for this Homemade Butter Pecan Ice Cream! This No-Churn ice cream recipe is full of crunchy and buttery pecans with a hint of maple and is a perfect summer treat.
Combine two popular desserts and bake these pecan pie brownies. They are thick, fudgy brownies topped with bourbon pecan pie filling. It's just as decadent as it sounds and a perfect dessert for Thanksgiving!
Maple pecan bars are made with a brown sugar shortbread crust and rich maple pecan pie filling. These squares taste just like pecan pie!
Homemade pecan sandies are brown sugar shortbread cookies packed with chopped pecans. The slice-and-bake cookie dough is easy to make ahead of time for holiday prep.
These snowball cookies also called Russian tea cakes, Mexican wedding cookies, for Italian wedding cookies are tender, buttery, and melt-in-your-mouth little snowballs.
This Raspberry Pecan Babka is the perfect sweet treat for springtime breakfasts, bridal showers, and holiday brunches.
Southern Pecan Praline Cake is a delicate and scrumptious cake packed with brown sugar, cream cheese and pecans. This delicious cake with golden brown color is topped with an amazing praline icing that gives it a royal touch.
This pecan pie double sweet potatoe recipe is a fun new take on a thanksgiving dessert or side. It is gently sweetened with maple syrup and spiced with cinnamon.
These Crumbl pecan pie cookies are made with a soft sugar cookie base instead of the pie crust and are topped with pecan pie filling! To die for.
These Rolo pretzel turtle candies are one of the best Christmas candies you'll ever make. They are simple and oh so tasty!
Easy homemade candied pecans are made with just 7 simple ingredients! These sugared pecans are not overly sweet and have the best thick and crunchy cinnamon coating.
Get the best of both worlds, in a single delicious pie! Pumpkin Pecan Pie is a mashup of pumpkin pie and pecan pie that is creamy, sweet, and decadent.
Sorry Pecan Pie, you just got pushed aside in this major upgrade that includes a decadent chocolate filling and a splash of bourbon!
These Pecan Pie Cream Puffs are brown sugar craquelin cream puffs filled with pecan pie filling and bourbon whipped cream!
This Brownie is the perfect combination of thick, fudge, and gooey inside and crinkly, crispy top with intense chocolate taste, crunchy pecans, and a pinch of cinnamon
This Spiced Bourbon Butter Pecan Cake with Brown Butter Maple Frosting is an autumn-worthy cake that's perfect for your Thanksgiving spread. The sweet, nutty, creamy, spiced flavors of a pecan pie in a gorgeous cake!
Butterscotch pecan ice cream with brown butter - brown butter and pecan flavor infused throughout the ice cream, this is the BEST butter pecan ice cream ever!
A recipe for the perfect Canadian butter tart recipe with a crisp but flaky pastry shell, a slightly runny filling, with a rich caramel flavor. For those of you who haven't yet been able to experience this delicious dessert, it's similar to a Pecan Pie.
These delicious and easy Chocolate Chip Pecan Pie Bars will be a hit with your friends and family! A great alternative to pecan pie, these chocolate chip pecan bars are easy to slice and share!
This Triple Layer German Chocolate Cake is a total showstopper! Featuring super moist cake layers stuffed with coconut pecan frosting and slathered in chocolate frosting.
These Butter Tart Squares are so sweet and gooey that a shortbread crust makes these so easy and SO good! So much quicker than butter tarts.
Sweet, creamy, and crunchy, these Old Fashioned Pecan Pralines are melt-in-your-mouth delicious and make perfect Christmas candies.
Classic pecan pies in the form of a bar or slice! A buttery shortbread crust and a fudgy flavorful pecan pie layer. A decadent and easy Thanksgiving dessert, or for any time of the year!
Chocolate Chip Pecan Oatmeal Bars are a thick, buttery, chewy cookie dessert that is perfect for any occasion! Enjoy this treat hot and fresh out of the oven with a cold glass of milk, a cup of coffee, or a scoop of vanilla ice cream.
This cheesecake is rich and creamy with that perfect pumpkin pie flavor. It is baked in a crisp crust made with vanilla cookies enriched with those same warm pumpkin pie spices. Indulge!
The maple pecan cookies are loaded with toasted pecans and plenty of maple flavor. They are topped with a maple glaze that makes them irresistible. If you love the taste of maple, these cookies will be your new favorite treat.
Sweet, buttery biscuit rolls mixed with candied pecans and vanilla. These Butter Pecan Pull-Apart Muffins are simple and comforting, a breakfast everyone would love to wake up to.
Tender, flakey mini pecan chocolate pie bites are the perfect two-bite dessert. Great for party trays and perfect for Thanksgiving, these deliciously buttery easy mini pecan pies make the best sweet treat!
Get the amazing flavor of pecan pie in tender and pillowy cupcake form! Featuring a soft and airy brown sugar cupcake: these treats are filled with a crunchy and creamy homemade pecan pie-inspired filling and topped with a fluffy brown sugar buttercream frosting.
Breakfast and brunch have never been more indulgent and delicious than with these make-ahead maple pecan sticky buns! For step-by-step photos, scroll down below the recipe.
This Pecan Pie Layer Cake is made with moist layers of brown sugar cinnamon cake, homemade pecan pie filling and cinnamon frosting! It's tastes like eating pecan pie, except you're eating a delicious cake!
These pecan pie balls are made with a gooey pecan filling and dipped in melted chocolate to make an irresistible dessert!
With just 5 ingredients, you'll love how easy it is to make these amazingly delicious Pecan Pie Muffins. They're a cross between a pecan pie and a muffin with a chewy texture and a sweet brown sugar dessert treat taste.
This pecan tart recipe is a delicious tart filled with a rich pecan frangipane flavored with vanilla bean, bourbon, and maple.
Faq's
What are the best pecan desserts?
The best and most popular pecan desserts are pecan cake, pecan tart, pecan pie, pecan cookies, pecan bars, and pecan cheesecake.
Should I toast the pecans?
Toasting your pecans before adding them to desserts will give your desserts a richer nut flavor.
What goes well with pecans?
There are plenty of flavors and ingredients that go well with pecans, some of the top ones are caramel, maple syrup, bourbon, chocolate, hazelnuts, cinnamon, sweet potatoes, pumpkin, etc.
More fall desserts
Cinnamon Apple Cake- This cinnamon apple cake is moist and buttery with a tender crumb, filled with apples, and a cinnamon swirl topping, and a drizzle of simple glaze.
Apple Cobbler With Cake Mix- This apple cobbler with cake mix also known as a dump cake, is made with a few simple ingredients and is the perfect dessert for fall!
If you tried any of these recipes, don't forget to leave a rating and a comment below. We love hearing from you.
If you liked this post
Share/pin this recipe to Pinterest.
Leave a comment down below!
📖 Recipe
42+ Best Pecan Desserts To Make This Fall
These delish pecan desserts are delicious and indulgent treats that showcase the rich buttery flavor of pecans with classic desserts.
Instructions
Select your favorite recipe that caught your eye.

Make a shopping list and purchase the ingredients.

Make your favorite pecan desserts recipes!