These divine honey desserts offer a sweet and natural twist to traditional desserts from cakes to cookies to cheesecakes.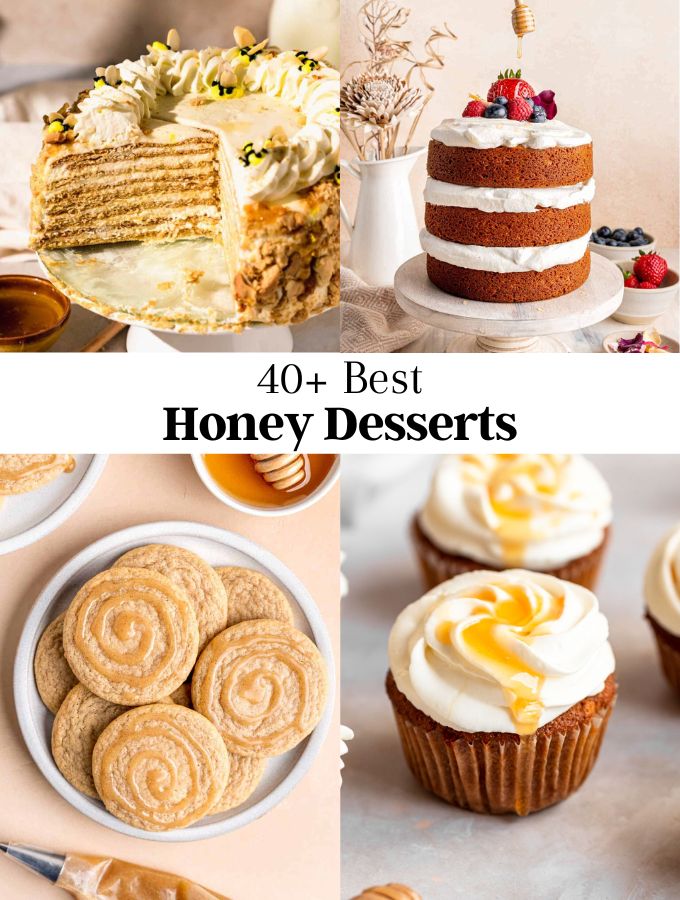 Made with the golden goodness of honey, these treats provide a unique flavor profile that is both indulgent and satisfying.
From honey cakes and cheesecakes to honey-infused ice creams and puddings, there are endless possibilities when it comes to creating delectable honey desserts.
Whether you have a sweet tooth or simply appreciate the natural sweetness of honey, these desserts are sure to leave you craving more.
For more recipe roundups, check out my Jewish recipes, loaf cake recipes, pink desserts, chicken tenderloin recipes, custard desserts, cake filling recipes, Thanksgiving dessert recipes, birthday cake ideas.
Jump to:
This honey cake is moist, rich in flavor, and full of spices that will make your house smell like autumn. We make this cake every Rosh Hashanah, it's our favorite time of the year.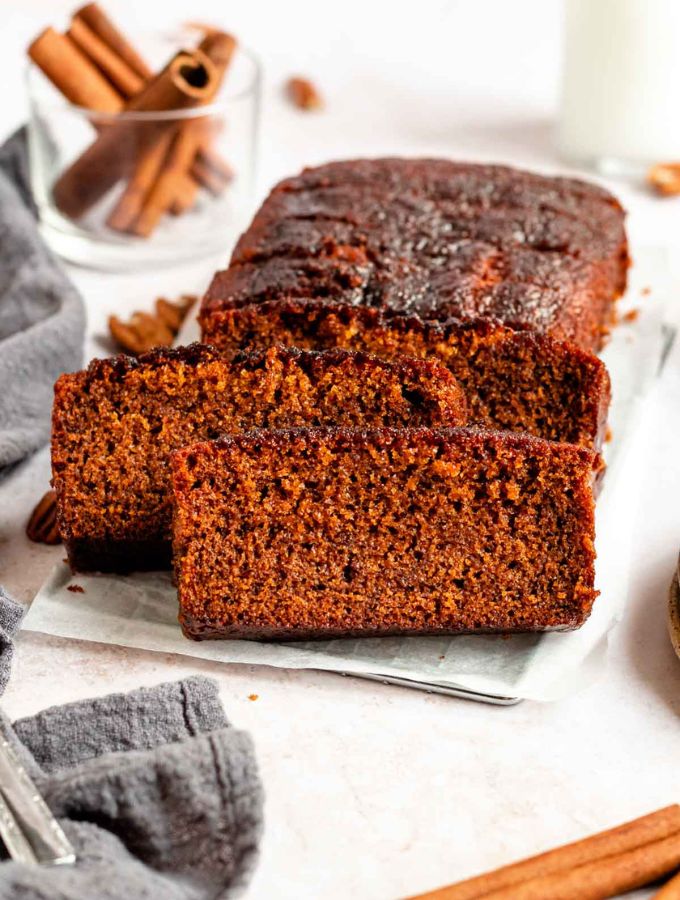 These honey cupcakes are made with soft and moist honey cupcakes, topped with freshly made whipped cream, and more honey!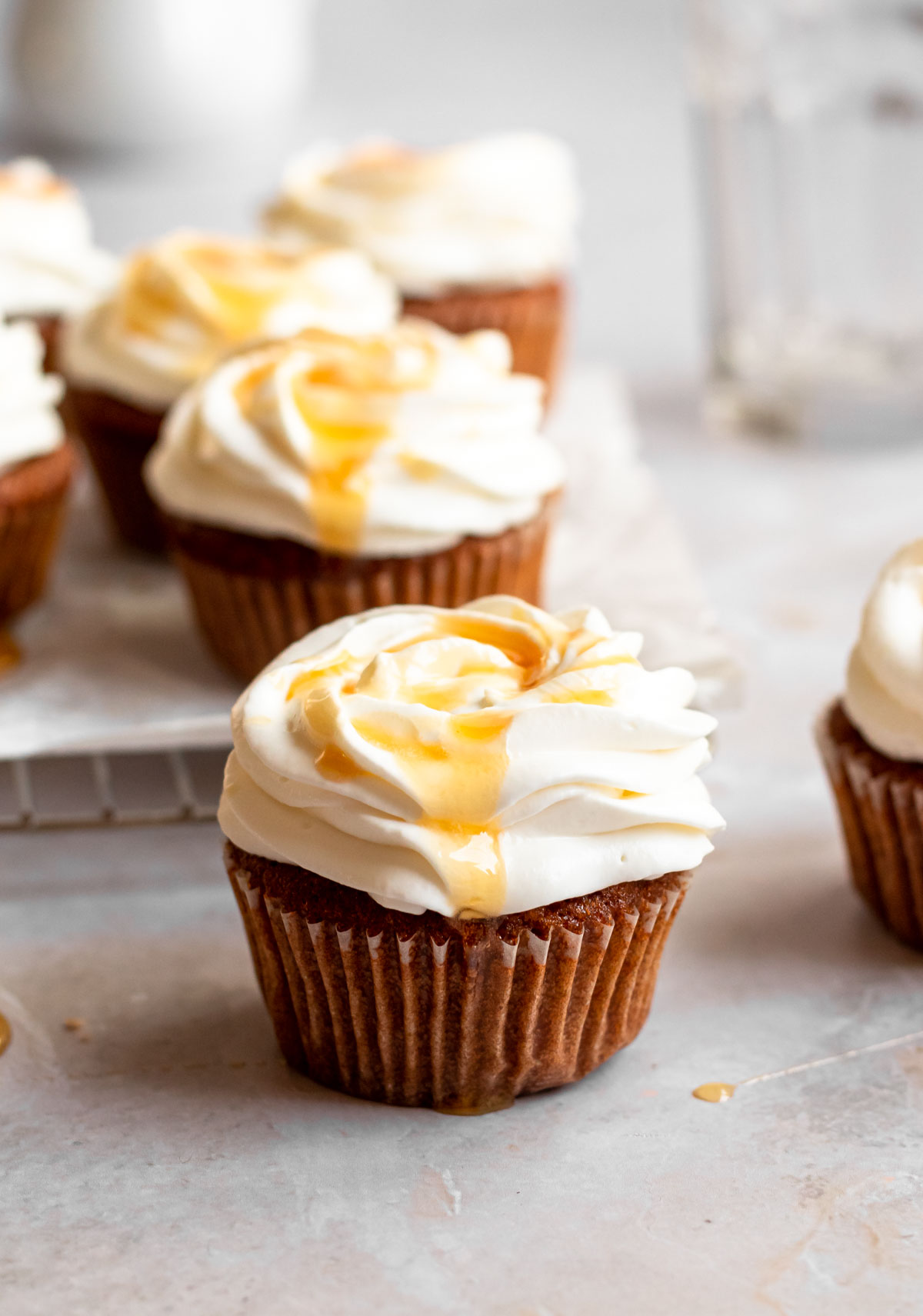 This super delicious honey pistachio baklava is buttery, sweet, flakey, nutty, gooey, and surprisingly easy to make!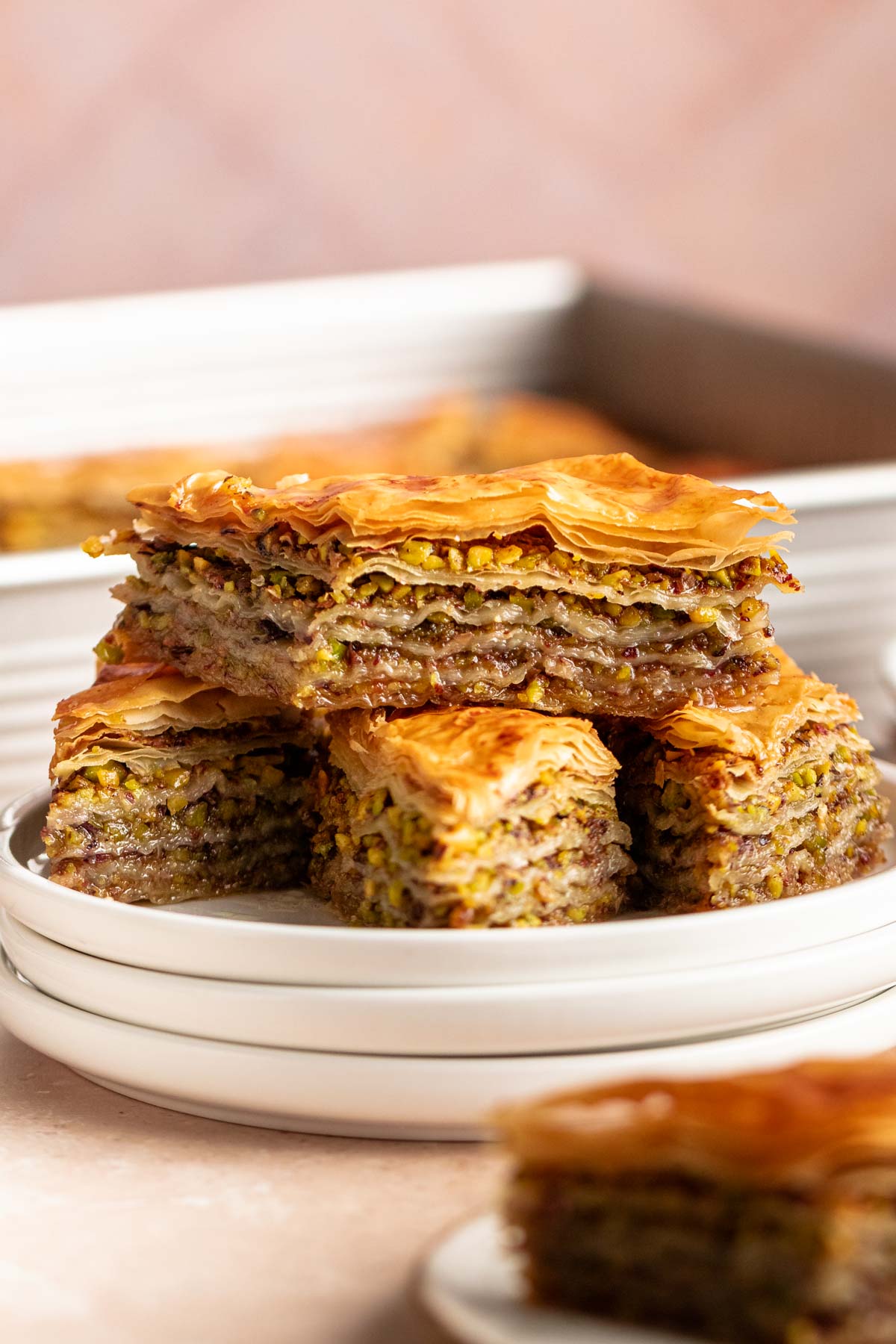 Sparkling Honey Lollipops make beautiful Rosh Hashanah gifts for family and friends. Enjoy them as honey candy or as tea stirrers, adding smooth honey sweetness as they melt into the tea!
Crunchy, buttery honey caramel and tiny bits of apple chips coat every piece of Apples and Honey Caramel Popcorn for a mouthwatering snack that is positively addicting, one handful after another!
Honey sweet potato pie is rich and flavorful, but packs a healthy punch of vitamin A. Perfect for the holidays or an anytime winter treat!
This honey-lavender ice cream sounds fancy, but it's actually super simple to make. Plus, it's delicious. You'll want to eat this all summer long.
Paired with a sweet, and subtle honey cake, the blackberry jam buttercream is really to star of the show for this cake.
These Honey Apple Bars are filled with fall spiced apples that are layered on top of a honey almond shortbread crust and topped with a buttery crumble and honey caramel sauce!
These flaky and tender biscuits are a delightful combination of sweet and salty flavors, made even better with the drizzle of sticky honey butter on top.
Honey cake with orange blossom Crème Fraîche frosting and orange blossom & honey poached figs
Grilled peaches with mascarpone cheese, drizzled with a bit of honey and topped with toasted almonds, is an easy summer dessert.
This Honey Vanilla Cake recipe is 3 delicious honey flavored sponges layered with homemade vanilla whipped cream! It's so easy to whip up and is the perfect size for small gatherings.
They are honey cookies with the iconic swirled top drizzled with cinnamon honey butter icing. The honey-glazed cookies are sweet and slightly spiced.
Enjoy this honey sweetened twist on a chess pie. With a kiss of lemon, honey richness and lots of chess pie goodness, it is a perfect treat for almost any occasion!
My super simple honey panna cotta recipe is four ingredients and foolproof! Quick, easy, and elegant - this panna cotta is the perfect make-ahead dessert for any occasion.
Lavender Honey Ice Cream is an easy no churn ice cream recipe with honey and a beautiful, floral flavor from lavender syrup. This lavender ice cream is a pretty purple color, just like fresh lavender flowers.
A layer of buttery shortbread topped with a gooey mixture of honey and nuts, these walnut bars are easier to make than you'd think and very delicious!
Bee sting cake is an iconic and very popular dessert cake in Germany. For a good reason! Imagine two layers of soft yeast bread filled with vanilla pastry cream and topped with a layer of crunchy honey almonds.
Loaded with hearty oats, honey, fresh blackberries and flavor, Blackberry Muffins are a great grab-and-go snack. Made from scratch with no refined sugar, these wholesome breakfast treats are the perfect use for summer berries.
Honey pear cake is such an easy and delicious bake you can serve for breakfast, afternoon snack or even dessert. Perfect when served plain, or with freshly whipped cream, custard or ice cream!
It's soft, moist, tangy, and tastes like honey! It has an impressive eight cake layers with an easy four ingredient sour cream filling.
Honey Donuts with Vanilla Honey Glaze are soft, fluffy baked honey donuts with a flavorful vanilla bean-honey glaze! Perfect for breakfast, brunch, or an afternoon pick-me-up!
How do you like your cornbread – sweet or savory? Well, these honey glazed cornbread donuts with crumbled bacon are both! There's a bit of sweet and a bit of savory all in one bite.
The most delicious homemade flapjacks made with honey and 2 other ingredients. This recipe is super quick and easy, and the taste is so damn good.
This Honey Joys Recipe has been perfected to deliver these old-fashioned treats with just the right amount of sweetness and crunch. Add it to your favorites collection!
These easy, honey-baked figs are a classy way to end a meal. A simple, light dessert that you can make in less than an hour.
Pasteli are delicious Greek sesame bars! You only need 2 ingredients to make this nutritious, ancient Greek superfood!
Just in time for Rosh Hashanah, this round, braided apples and honey babka is packed full of apple butter and drizzled with a honey icing. Warning: You will get messy making it.
Less than 5 minutes is all it takes to get this Honey Mug Cake ready to eat! Sweet, gooey, and hits all the right places, especially if you add on some extra honey.
Honey madeleines are a sweet French treat that is quick and easy to make. They're perfect for a light dessert, as an afternoon treat (alongside a cup of coffee), or as part of a sweet breakfast!
Best homemade honey buns! This easy homemade honey bun recipe makes soft sweet rolls topped with honey butter icing in about an hour.
Honey Bread Pudding with Raisins is a simple bread pudding recipe made with pieces of French bread, soaked in custard and baked to perfection. Serve with an easy vanilla sauce made just for bread pudding.
Warm up your oven with this irresistible Vanilla Honey Almond Cake with a triple dose of almond flavor and a generous brushing of vanilla honey.
These Honey Sesame Cookies are for you! Reminiscent of your classic Sesame Snaps, these cookies are made with tahini, sweetened with honey, and rolled in sesame for an added crisp!
This honey cheesecake is made with ginger nut biscuits base and extra-creamy, rich and super smooth filling sweetened with honey.
This Honeycomb Cake is truly magical. It starts out with crepe-like pale batter that takes on a beautiful, deep amber color as it bakes. The taste, texture, and smell are all very unique and oh so delicious.
Adorned with toasted pecans, these golden Honey Bars are soft, slightly chewy, and infused with the natural sweetness of honey.
Honey Cake Biscotti are crunchy honey cookies great for snacking or dunking in a cup of tea. These lightly sweet treats are delicious any time of day.
These Honey Macarons are filled with delicious Honey Cream Cheese Frosting. If you have access to bee pollen, make sure to use it on the recipe, since it will provide a delicious fragrance and enhance the taste of the filling in these macarons.
Faq's
What can I do with lots of honey?
If you have a lot of honey to use up, make one or a few honey desserts from this roundup post! Some of my favorites are honey cake and honey baklava.
Can you bake with honey?
Yes! There are plenty of desserts and baking recipes that use honey as a main or secondary ingredient, like honey cookies, and honey cheesecake.
What is honey used for in cooking?
Honey is usually used as a natural sweetener in baking and cooking. It is a great replacement for processed sugar.
More sweet recipes
Chocolate Caramel Cake- This chocolate caramel cake is made with a moist one bowl chocolate cake, filled with caramel sauce, and frosted with chocolate caramel frosting.
Cornflake Candy- This peanut butter cornflake candy is a delicious old-fashioned treat that combines peanut butter, sugar, and corn syrup with crunchy cornflakes.
Creme Brulee Cheesecake- This creme brulee cheesecake is creamy, thick, and custardy, made with a graham cracker crust, and topped with a burnt caramel shell on top, just like creme brulee!
If you tried any of these recipes, don't forget to leave a rating and a comment below. We love hearing from you.
If you liked this post
Share/pin this recipe to Pinterest.
Leave a comment down below!
📖 Recipe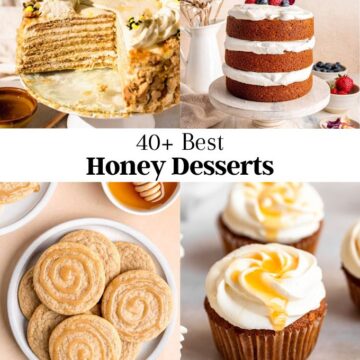 40+ Top Honey Desserts To Sweeten Up Your Day
These divine honey desserts offer a sweet and natural twist to traditional desserts from cakes to cookies to cheesecakes.
Instructions
Select your favorite recipe that caught your eye.

Make a shopping list and purchase the ingredients.

Make your favorite honey desserts recipes!