These pink desserts are delightful and visually appealing desserts that add a touch of sweetness and color to any occasion.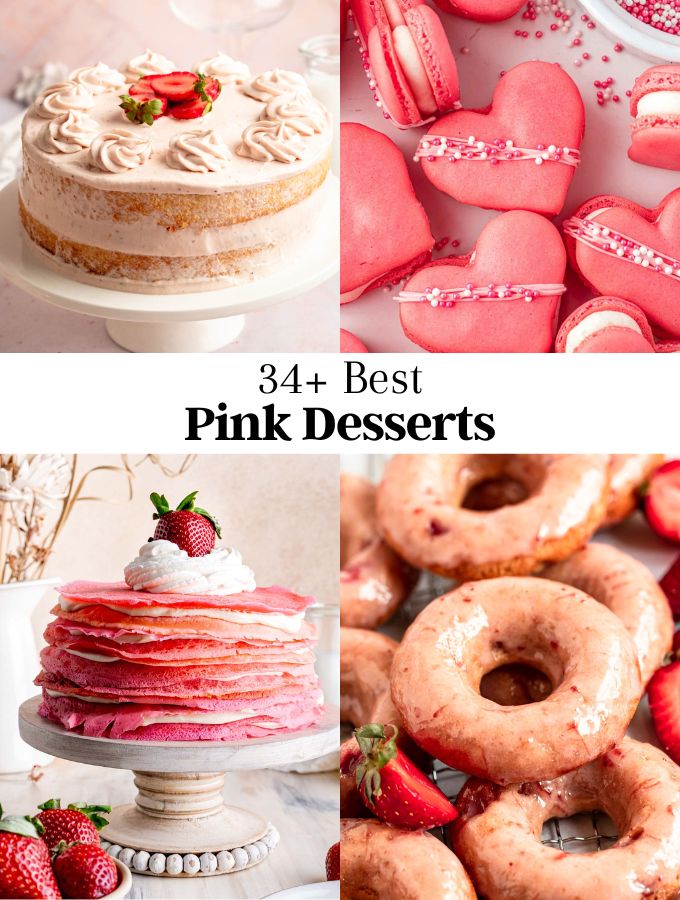 From strawberry cookies to raspberry macarons, these desserts showcase the vibrant hue of pink in all its glory.
Whether it's a birthday party, bridal shower, or simply a craving for something pretty and delicious, pink desserts are sure to satisfy both the eyes and taste buds.
For more recipe roundups, check out my chicken tenderloin recipes, custard desserts, cake filling recipes, Thanksgiving dessert recipes, birthday cake ideas, dessert shooters, and cupcake recipes.
Jump to:
This strawberry bundt cake is made with fresh strawberries, and fresh strawberry puree and is topped with a strawberry glaze.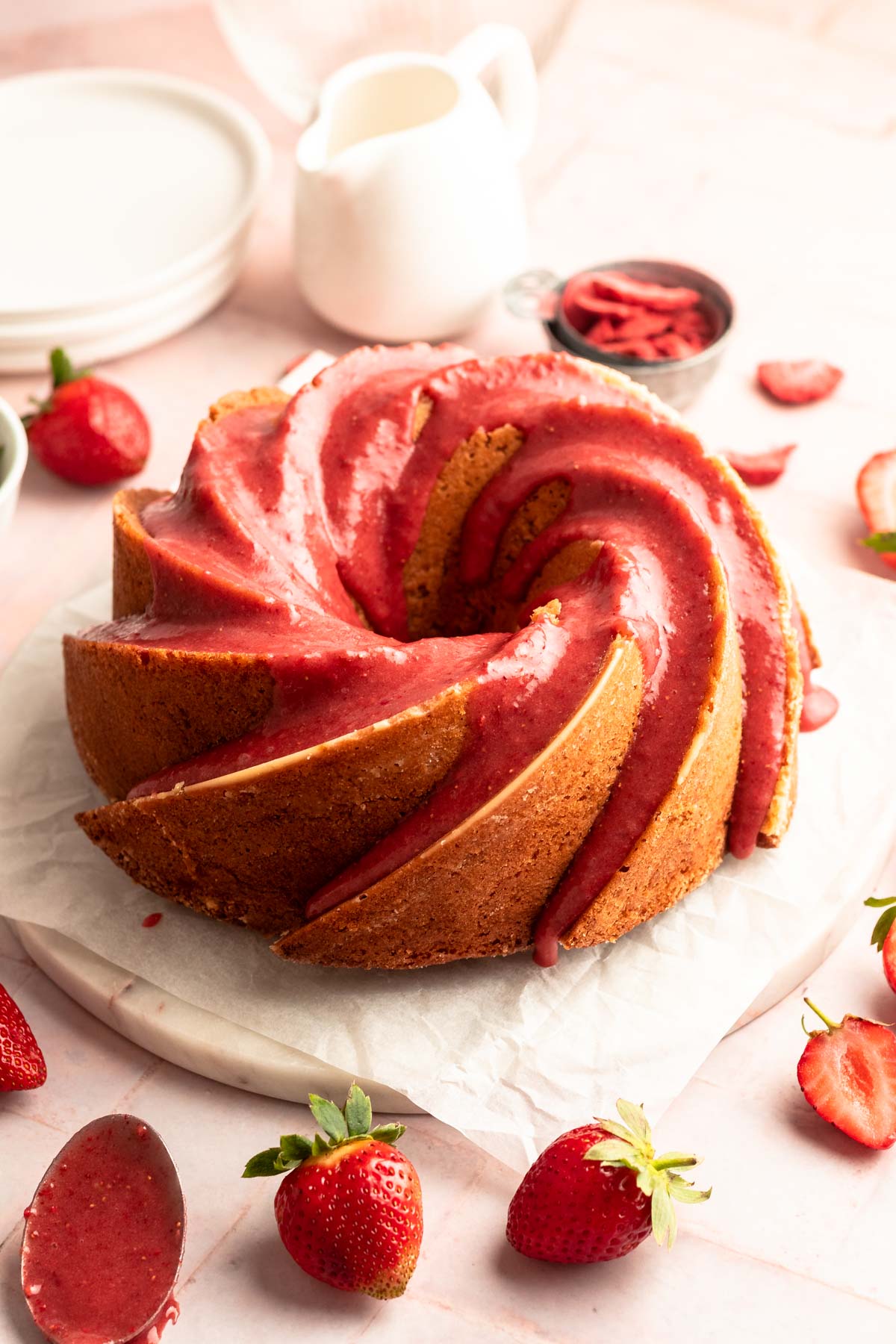 These strawberry cinnamon rolls are soft and gooey and are made with homemade strawberry filling and topped with strawberry cream cheese icing.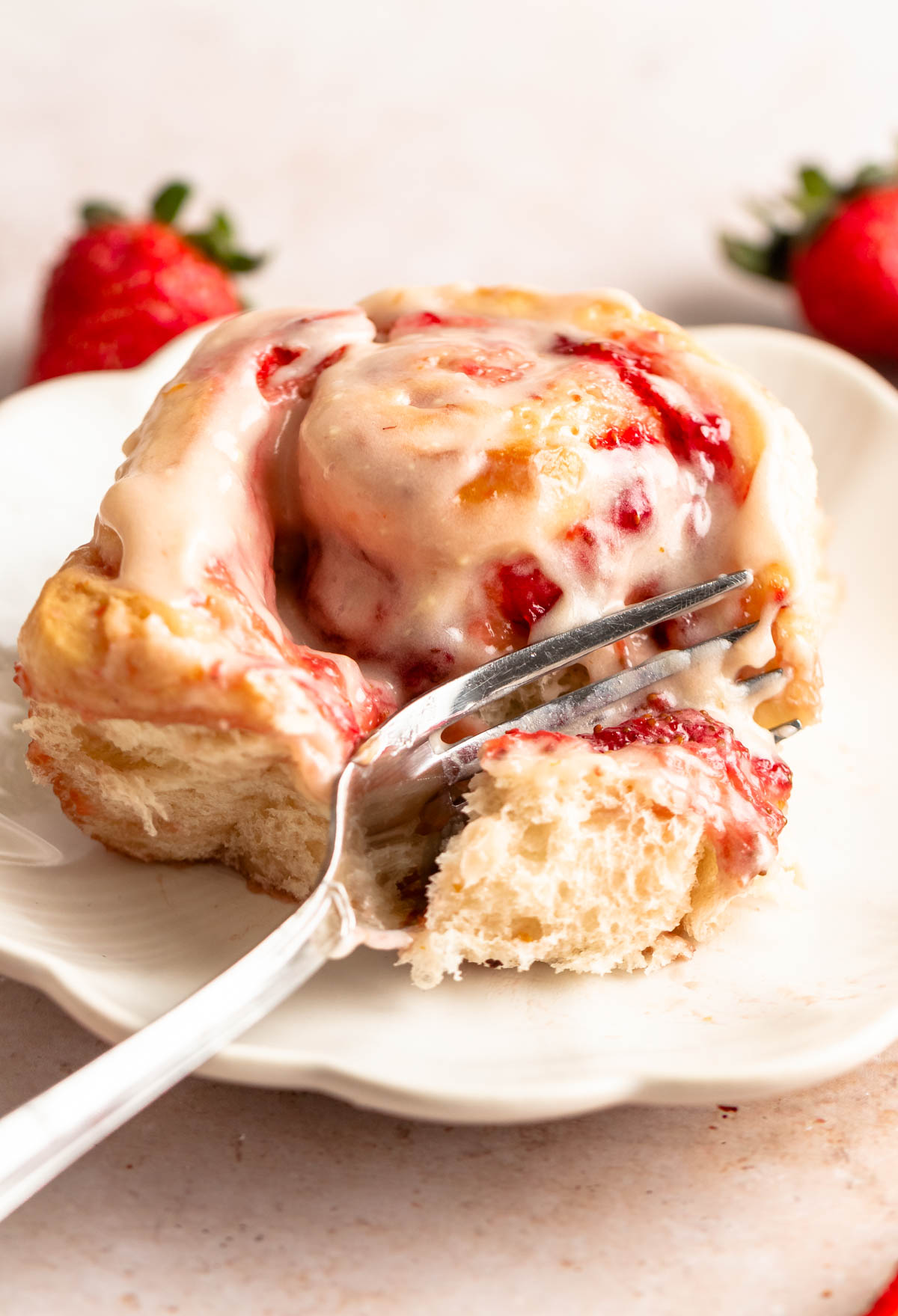 These strawberry filled cupcakes are made with vanilla fresh strawberry cupcakes, filled with chopped ripe strawberries, and topped with strawberry buttercream frosting.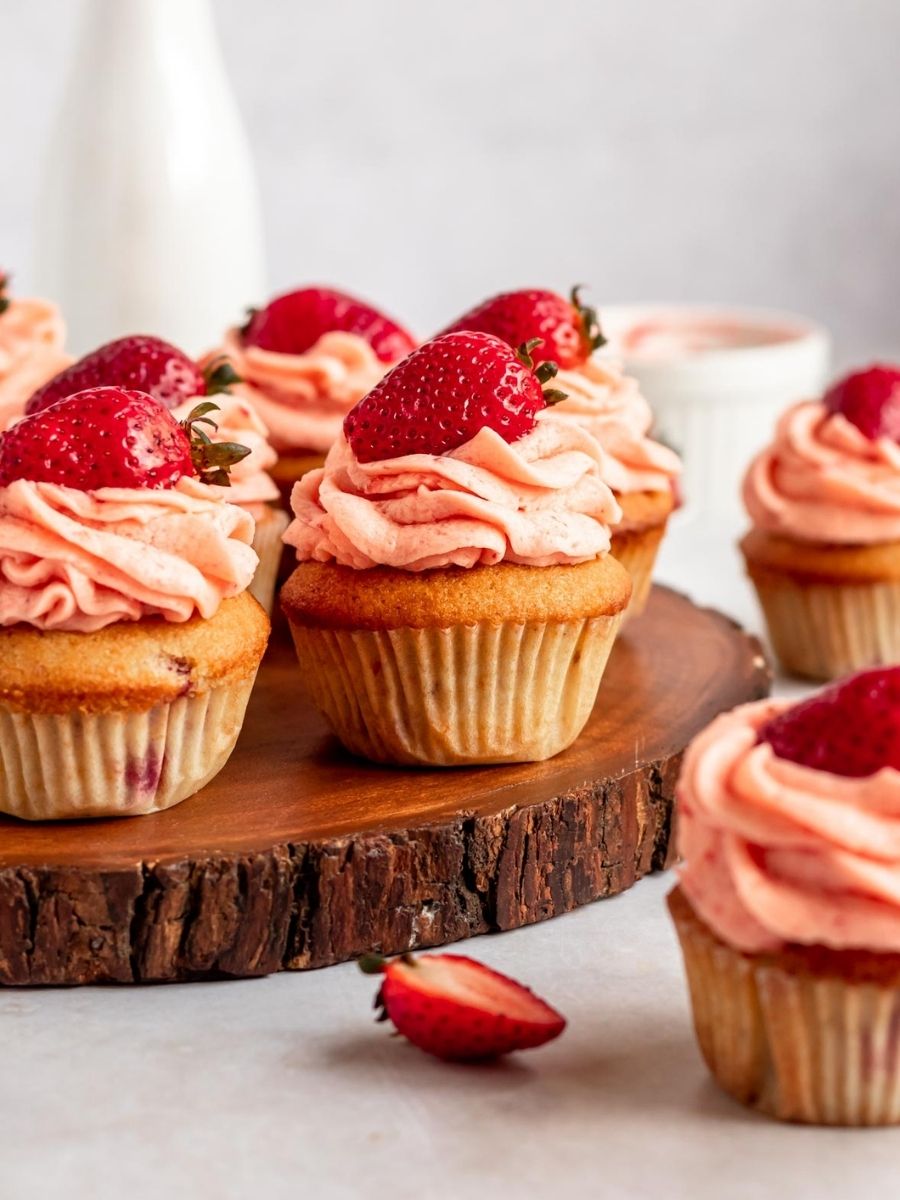 These strawberry-glazed donuts are made with baked donuts that are made with fresh strawberries and topped with a fresh strawberry glaze.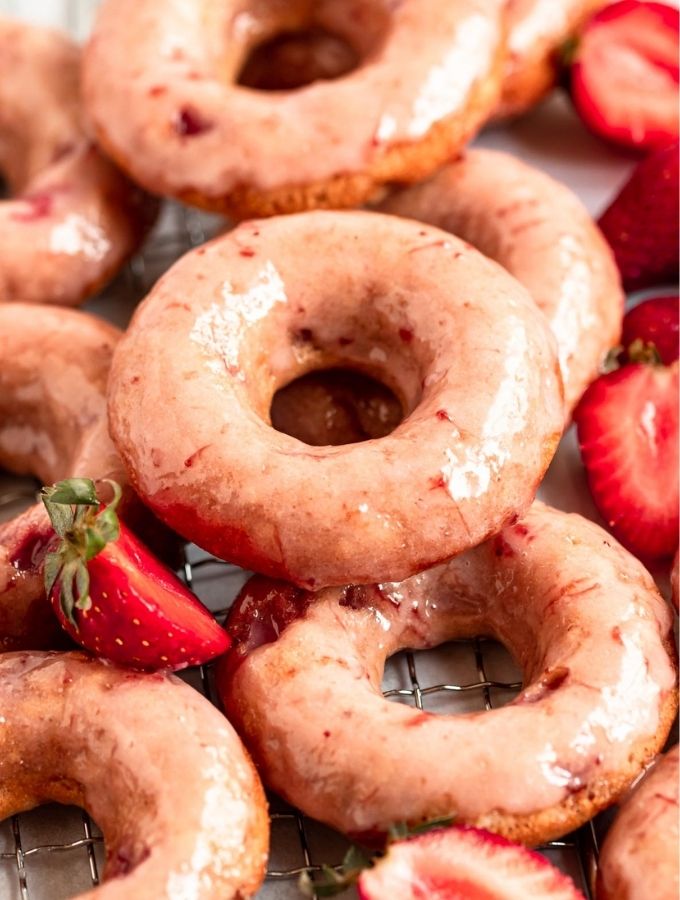 This extra moist and fluffy strawberry sheet cake is made with fresh strawberries and topped with strawberry whipped cream. It's really easy to make and the flavor will not disappoint.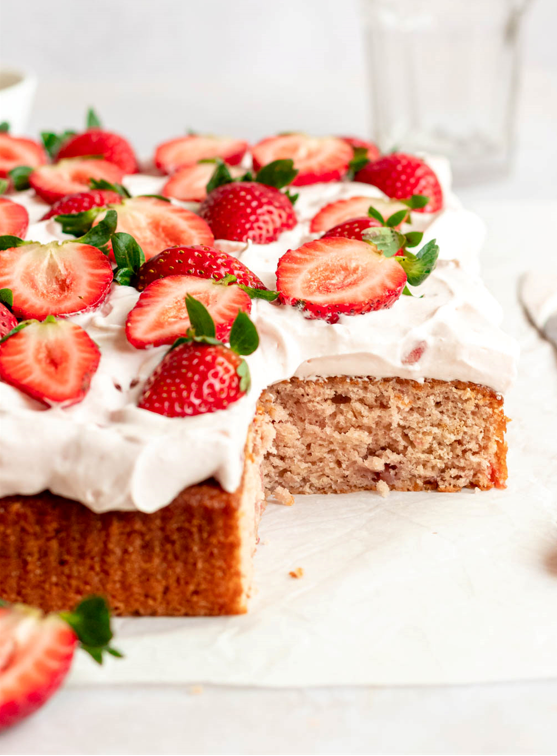 This incredibly moist fresh strawberry bread is made with fresh strawberries and is topped with a delicious strawberry glaze.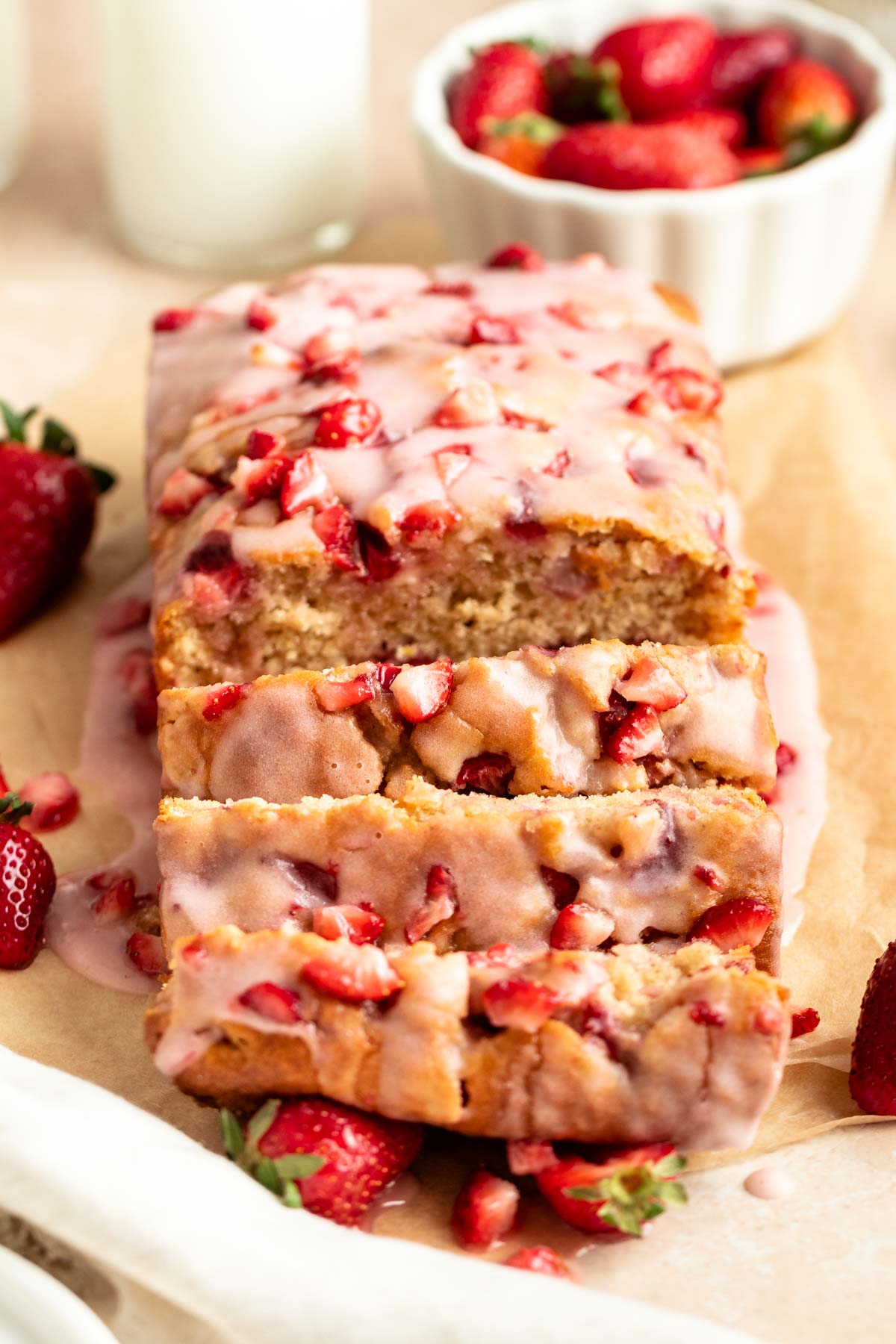 These strawberry shortbread cookies are buttery, and full of strawberry flavor and have a texture that will just melt in your mouth.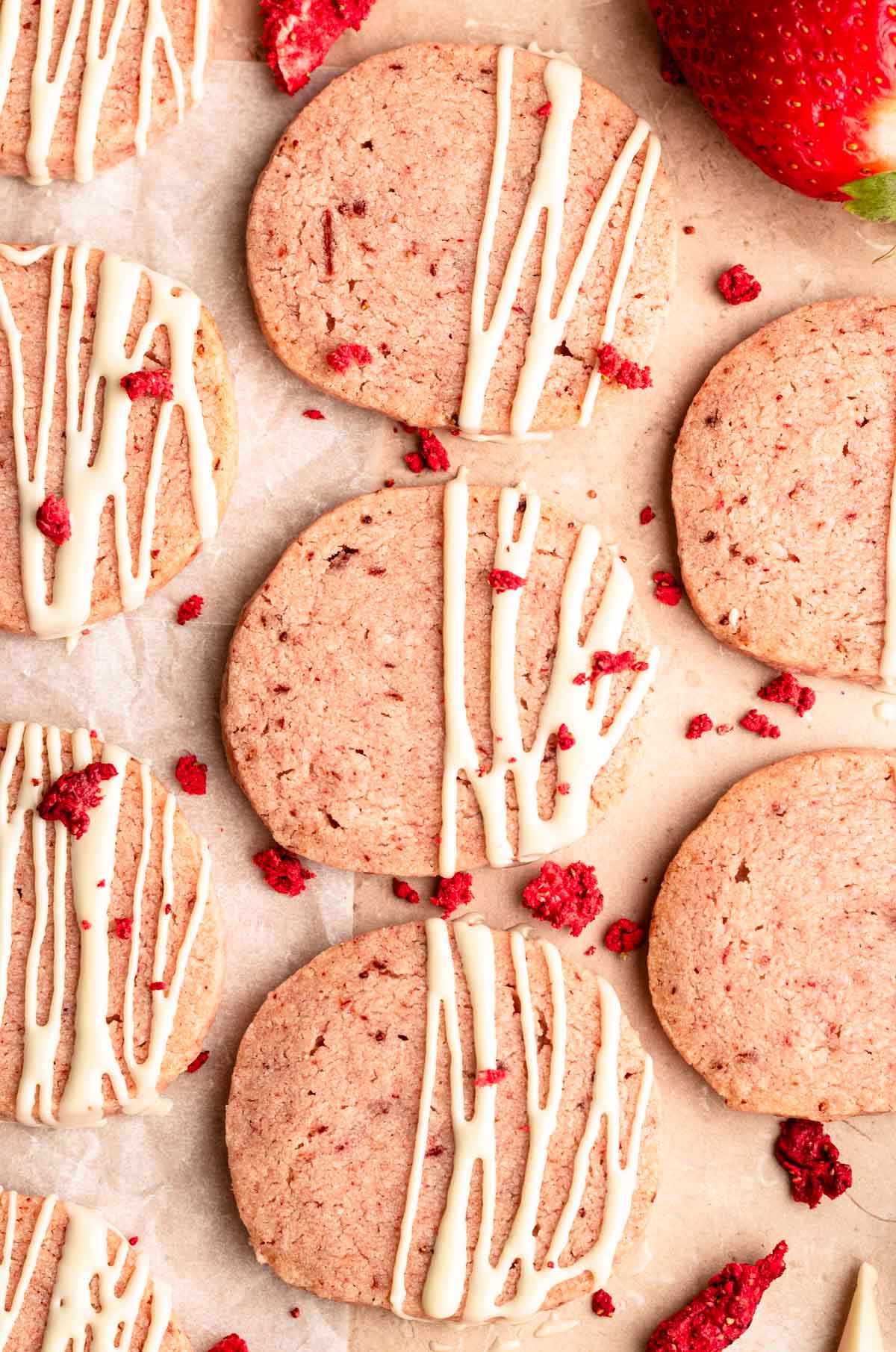 This strawberry tiramisu is made with a delicious and creamy mascarpone strawberry filling, soft ladyfingers, and topped with fresh strawberries.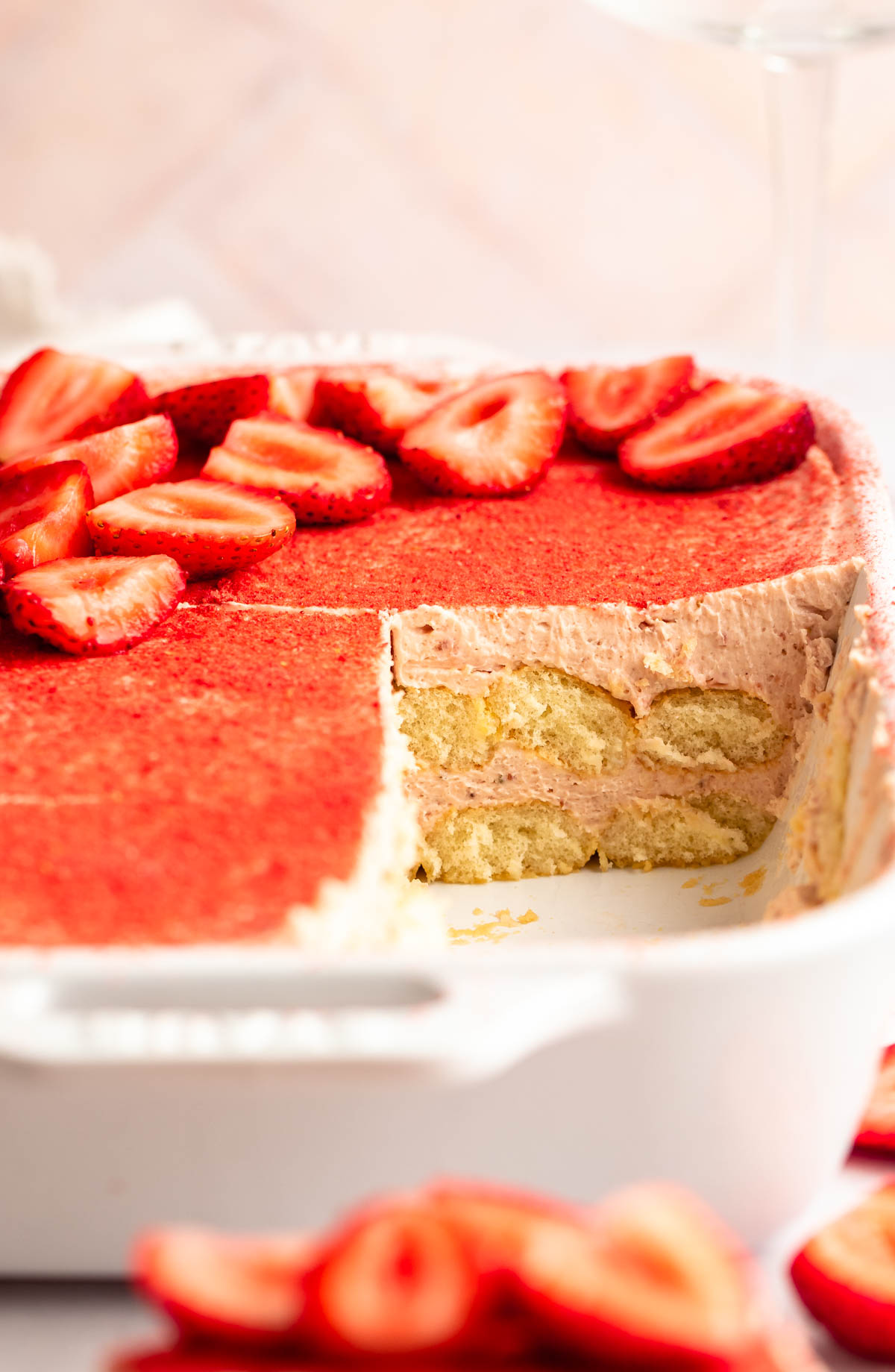 This incredible vanilla cake with strawberry filling is moist, tender, and full of strawberry flavor and is made with fresh strawberries!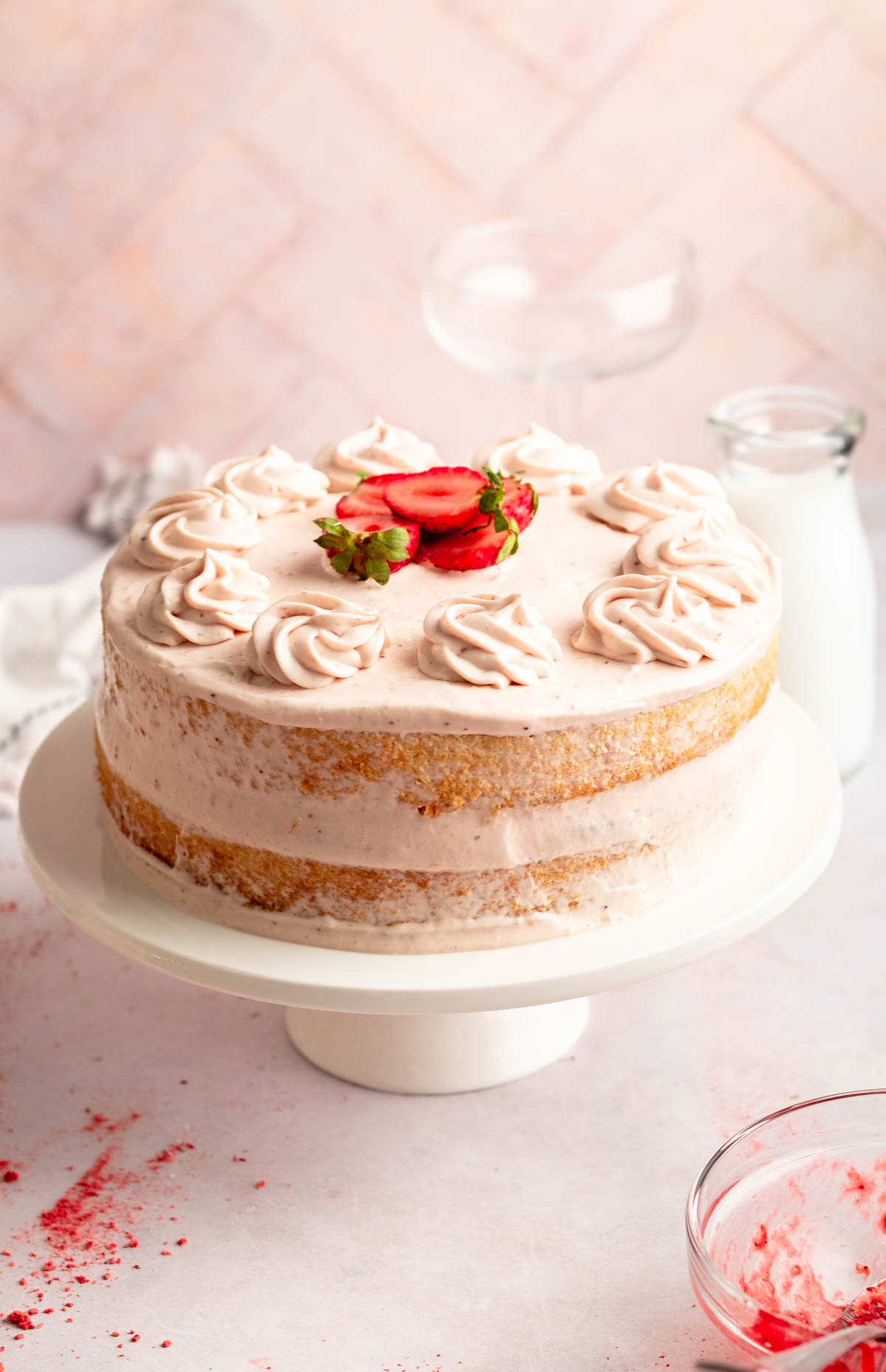 These sour cream cookies are light and fluffy, they are a no-chill cookie recipe, and they are topped with a creamy and delicious buttercream frosting.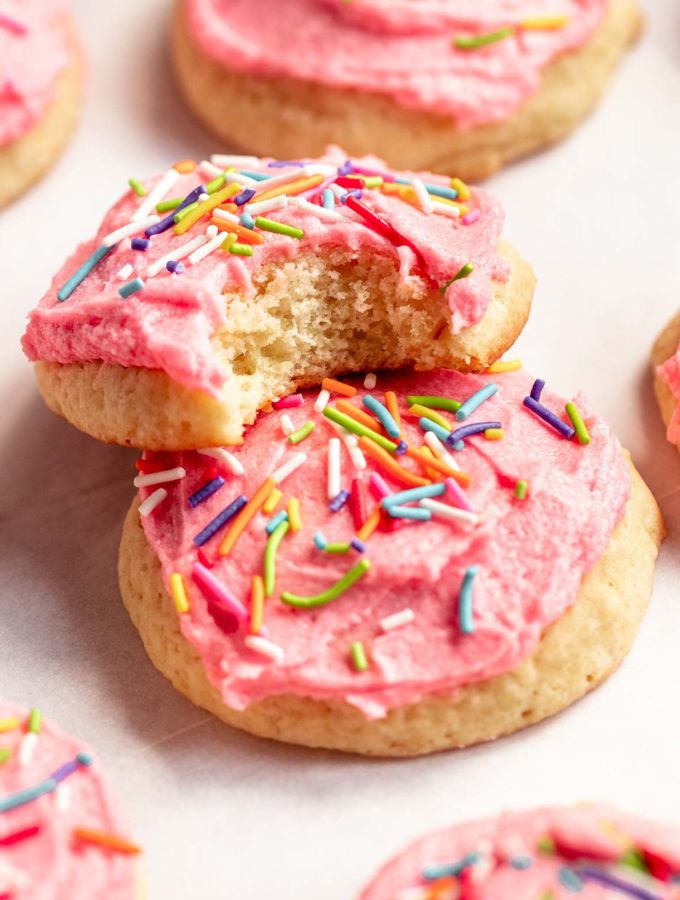 This beautiful cherry fluff consists of crushed pineapple, cool whip, and cherry pie filling. It makes one heck of a pretty presentation with its soft pink color and fun garnishings.
This might be the best Valentine's Day cookie recipe yet! These soft and chewy pink sugar cookies are naturally flavored with freeze dried strawberries and are so easy to make.
These mini strawberry Bundt cakes are so cute! Imagine a light and sweet strawberry cake made with jello. Not only do these look pretty, but they taste really amazing.
These strawberry lemonade bars are super easy to make and taste so good. It will be very hard to just eat one of these strawberry squares!
Strawberry Madeleines. Cute, pink, fluffy with soft, sticky bumps and lightly crisp edges.
These pink chocolate covered strawberries are made with 4 simple ingredients: fresh strawberries, white chocolate chips, coconut oil, and natural red food coloring
Strawberry Cream Pie is a simple summer dessert that's super fresh and fruity. Made with just six ingredients and no baking!
These little pink clouds are flavored with strawberry jello which also gives them their pretty pink color. Making marshmallows from scratch is so much easier than you'd expect and they are so much better than a store-bought bag.
This Easy Strawberry Mousse Cups recipe topped with a fresh Strawberry Compote is a deliciously light and fresh dessert, perfect for Summer!
This Strawberry Panna Cotta with Strawberry Sauce is a deliciously light and creamy summer dessert. Perfect Dessert for a Party, Date Night or even Valentine's Day.
A perfect appetizer or gift, this melt-in-your-mouth buttermint recipe is surprisingly easy to make at home. Customize them with different colors!
These macarons have delicious raspberry-flavored shells and creamy white chocolate and raspberry filling. They're pretty, festive, and not as difficult as you might think to make!
This Strawberries and Cream Crepe Cake is all you'll need! Just imagine biting into soft crepes layered with a fluffy cream cheese filling and fresh, sliced strawberries.
This is the easiest homemade ice cream I make with an outstanding fresh strawberry flavor! A no-churn, 4-ingredient recipe made mostly in a blender (no need for an ice cream maker) that also works with frozen berries.
A deliciously simple macaron recipe with a vanilla buttercream filling, except we are switching up the shape. Heart Macarons are the perfect Valentine's Day treat!
Pink Pancakes are perfect for Valentine's Day. The pancakes are soft, tender, and made from scratch.
Velvety smooth fudge that's pretty in pink! This Strawberry Swirl Fudge recipe makes it easy to create homemade candy with swirls of vanilla and strawberry fudge with no candy thermometer needed!
Inspired by the Good Humor strawberry shortcake ice cream bars, this strawberry crunch ice cream cake recipe is easy, no-bake, & summer ready.
Pink Velvet Cake is fluffy and delicate vanilla cake with a hint of pink color, topped with a smooth vanilla buttercream. The texture of this cake justifies its "velvet" name with its soft and luxurious crumb.
Strawberry brownies made from cake mix are a fun & colorful dessert that is so simple to make. Just 3 ingredients for chewy pink brownies. A great recipe for Easter, Spring, pink-themed parties, birthdays, showers, & Mother's Day.
Crispy, delicious little heart-shaped crispy pops. Great fun for Valentine's Day.
Air Fryer Pop Tarts are a truly delectable version of the popular store-bought toaster pastries. Kids and adults alike will love starting their day with these homemade pop tarts!
This classic recipe for Meringue Cookies gets a lovely upgrade that is perfect for Valentine's Day, date night, or any other celebration!
This Pink Popcorn is almost as fun to make as it is to eat! It is super versatile and you can make it any color or flavor you like! It is a childhood classic.
Pink Desserts Faq's
What are the best pink desserts?
The best pink desserts are pink velvet cake, pink popcorn, pink cookies, pink brownies, and pink meringue cookies.
What are naturally pink desserts?
Naturally pink desserts are usually made with strawberries or raspberries. Some naturally pink desserts are strawberry cheesecake, strawberry cookies, strawberry cake, and raspberry macarons.
What makes desserts pink?
You can get a pink color in desserts by using pink food coloring, or use red colored fruit and produce like strawberries and raspberries.
More dessert recipes
Pumpkin cheesecake cookies- These pumpkin cheesecake cookies are soft and chewy, filled with cheesecake filling, and rolled in cinnamon sugar.
Pecan pie without corn syrup- This delish pecan pie without corn syrup is made with a buttery flakey crust and is filled with a sweet and gooey filling.
Homemade vanilla wafers- These homemade vanilla wafers are rich and buttery and can be enjoyed on their own or used as a versatile ingredient in various desserts like banana pudding.
If you tried any of these recipes, don't forget to leave a rating and a comment below. We love hearing from you.
If you liked this post
Share/pin this recipe to Pinterest.
Leave a comment down below!
📖 Recipe
34+ Best Pink Desserts That Are Stunning
These pink desserts are delightful and visually appealing desserts that add a touch of sweetness and color to any occasion.
Instructions
Select your favorite recipe that caught your eye.

Make a shopping list and purchase the ingredients.

Make your favorite pink desserts recipes!