These ricotta desserts are a delicious collection of the best desserts made with ricotta cheese from cheesecakes to cannoli, these will not disappoint!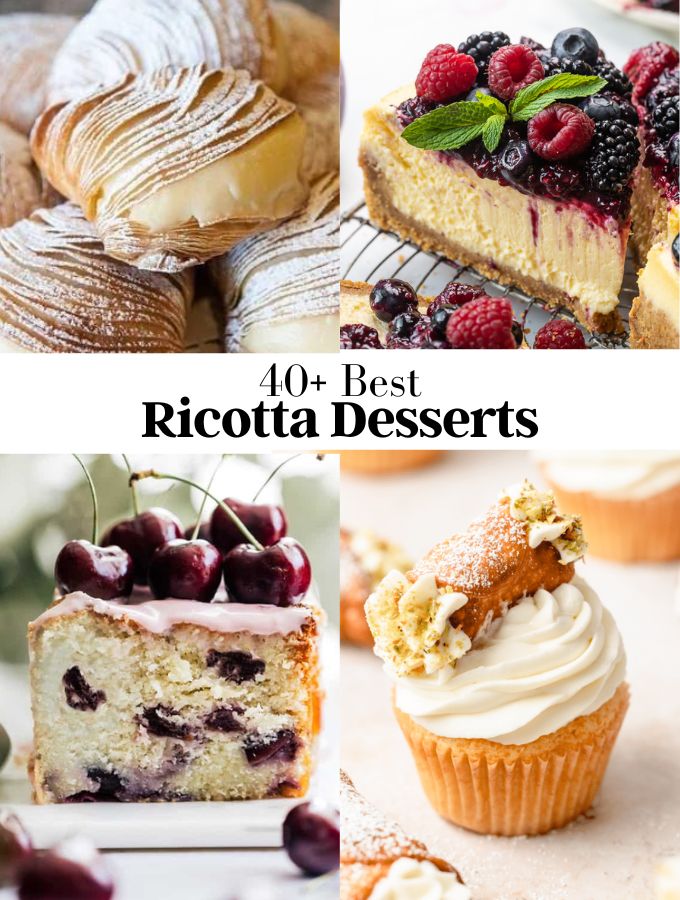 Ricotta, a creamy Italian cheese, adds a rich and velvety texture to desserts, making them irresistibly smooth and indulgent.
From classic cannoli filled with sweet ricotta cream to fluffy ricotta pancakes topped with fresh berries, there are endless possibilities when it comes to creating delectable ricotta-based desserts.
Whether you prefer baked goods like ricotta cheesecake or lighter options like ricotta mousse, these desserts offer a delightful balance of sweetness and creaminess that is sure to satisfy any dessert lover's cravings.
For more recipe roundups, check out my cake mix recipes, cupcake recipes, coffee desserts, best cheesecake toppings, easy baking recipes, unique cookie recipes, Rice Krispie Treats Variations.
Jump to:
These lemon ricotta pancakes are fluffy, moist, and full of lemony flavor. These pancakes are made with lemon zest, lemon juice, and ricotta cheese which makes these pancakes moist, extremely fluffy, and flavorful.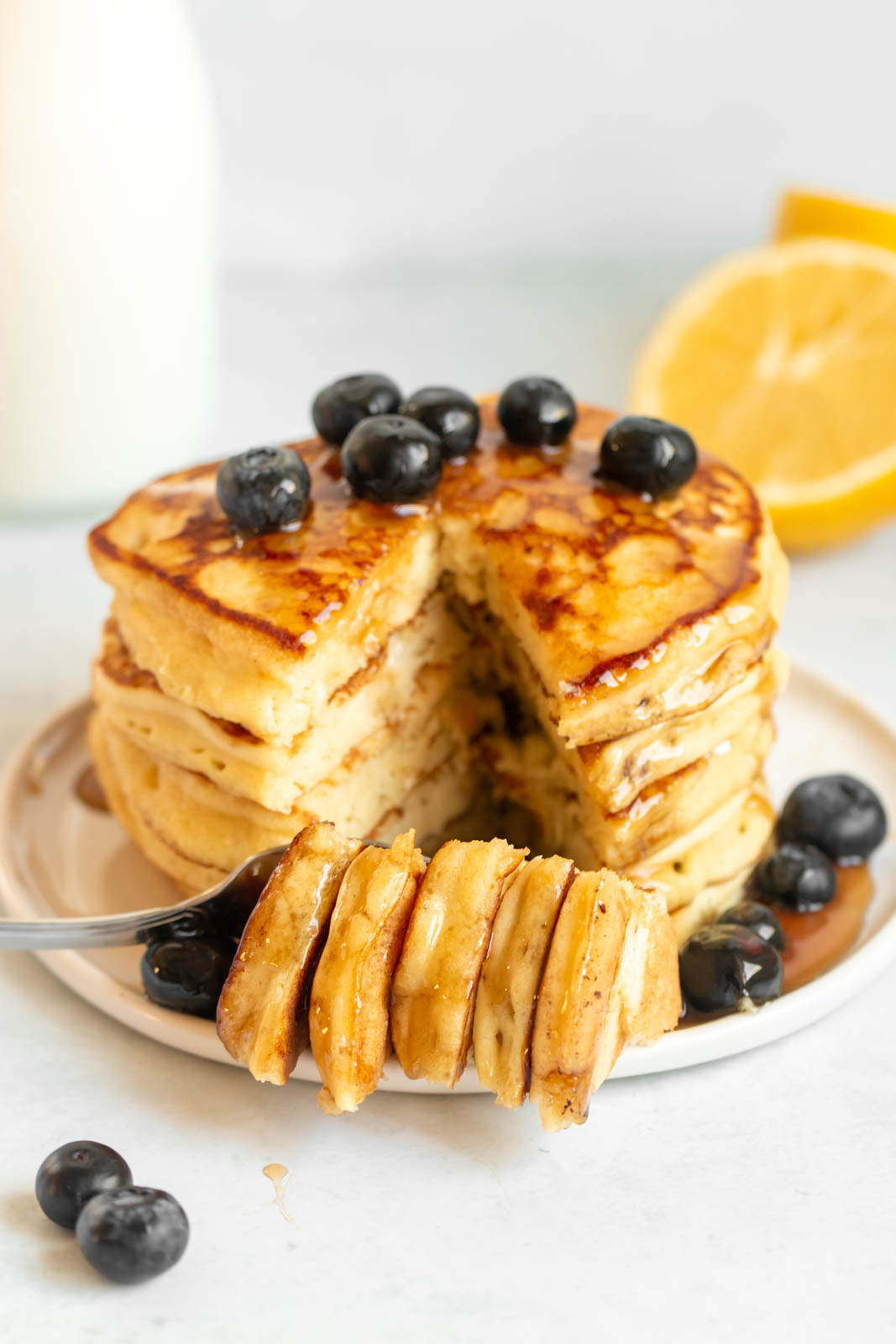 One of my favorite Easter traditions is baking a creamy ricotta cheesecake for my family! Delicious on its own, but outrageously good with a fresh berry sauce on top!
This Creamy and Delicious No-Churn Ricotta Ice Cream is easy and only has four ingredients. Start the summer off right with a simple ice cream that will have everyone wanting seconds.
This 7-ingredient ricotta cheesecake is a fantastic recipe. Soft and very creamy, it leaves the most wonderful aroma in your kitchen, lasts several days, and cuts like a dream. It's crustless and made with 100% ricotta cheese.
The mixture of ricotta and fresh strawberry compote are dynamic together and provides a generous touch of sweetness.
This Baked Lemon Ricotta Cheesecake is super creamy, light, fluffy and packed with flavours - you would never guess it's a baked cheesecake! It is a crowd-pleasing dessert the whole family will love.
What's better than a cannoli? Cannoli cupcakes topped with whipped ricotta frosting and topped with a mini homemade cannoli!
This traditional homemade cannoli recipe has light, crispy fried shell and is filled with a creamy whipped ricotta filling with nuts or chocolate!
Get ready for a rich, tender Cherry Ricotta Pound Cake baked in a 9x5 loaf pan and topped with a Cherry Cream Cheese icing!
Cannoli filling is a rich and creamy sweet cheese mixture made with a blend of ricotta and mascarpone cheese. It's traditionally used to make the Italian dessert known as cannoli, but it can also be used as a filling for cakes and sandwich cookies.
If you have visited the Campania region, then you must have encountered this curious-looking puff pastries called sfogliatelle. And yep, that's not a typo, no matter how the spellcheck may tell you otherwise.
Celebrate the blueberry season with this rich, fluffy, and moist Blueberry Ricotta Pound Cake! The sweet cream cheese icing on top elevates every bite and gives this brunch and dessert-worthy cake an extra pop of tang.
Sweet Italian ricotta cheese pie recipes are a traditional Italian dessert. Maybe you've made ricotta lemon pie which is similar but not the same. This one is a cheese pie with ricotta, vanilla, orange, and spices.
This Italian ricotta dessert falls somewhere between a cake and a pudding. You will need a Bundt pan to make this tasty lemon ricotta amaretti cake which is often served at Christmas or other holidays.
This Lemon Ricotta Cookies Recipe is for all the lemon lovers out there. It's a soft cookie with a zesty lemon and delicious glaze topped with flaky sea salt.
This magic Italian ricotta cheesecake is similar to the classic cheesecake, it's light and soft and calls for just 3 ingredients.
This creamy, fluffy whipped Ricotta Frosting is great on cupcakes, cakes, and even soft sugar cookies. It's the best thing to do with leftover ricotta, and you will love how it tastes like the inside of a cannoli!
Ricotta pound cake cupcakes topped with whipped ricotta frosting are so special! It is the flavors of a poundcake but in a small-batch form. Next time you have leftover ricotta, make this whipped ricotta frosting and spread it on anything.
This cannoli dip is a blend of two types of sweet Italian cheeses, sugar and chocolate chips, all blended together to make a creamy dip that tastes just like the inside of a cannoli.
Moist and delicious, this Raspberry Ricotta Coffee Cake with Almond Streusel is oh-so-tasty as a light dinner dessert and just as delicious as a fresh, fruity coffee cake on your next brunch menu.
This cheesecake is super creamy and moist, with a deep chocolate flavor. It's spongier than your normal cheesecake due to the Ricotta, and it has a special, different and amazing flavor!
Luxurious, light, and easy to make, this creamy Sicilian cheesecake is perfect for desserts, holidays, and every kind of celebration.
Sfingi is a delicious fried dough treat dusted generously in sugar. These are made with ricotta and are absolutely amazing.
A light cinnamon cake frosted with ricotta and mascarpone cream, the sides are covered with mini choc chips and 6 cute mini cannoli on top. An ideal dessert cake with classic cannoli flavors!
Roasted strawberries with whipped ricotta yogurt cream and chopped pistachios. Looks amazing, tastes the same and it is just so easy to make it!
This banana bread with ricotta is the most delicious banana bread you will ever have! Made with ricotta, olive oil and ripe bananas for a rich, moist breakfast bread that you'll eat right out of the oven.
These Cannoli Strawberries are the cannoli for people who love fruit and don't want to turn on the oven.
Moist and soft Italian Ricotta Cookies that have a texture similar to cake. Glazed with a simple silky smooth vanilla glaze, and decorated with colorful sprinkles, you will love these delicious cookies!
This Fresh Figs Tart is a delicious summer treat, it's perfect for an afternoon tea or a side for a morning coffee. I love how well figs pair with ricotta and puff pastry, topped with walnuts and drizzled with maple syrup!
Lemon ricotta cake is the perfect dessert. It is filled with citrus and almond flavor, while the ricotta cheese creates a rich and tender texture. This Italian cake tastes even better the next day!
Blueberry Ricotta Coffee Cake is a super moist and flavorful cake with a brown sugar oatmeal streusel topping. Made with ricotta cheese and fresh blueberries, this recipe is perfect for every occasion.
Raspberry Ricotta Cake is a deliciously moist and flavorful Italian cake made with ricotta cheese and fresh raspberries. Raspberry lovers will love this sweet treat that's perfect for any occasion!
Pumpkin Ricotta Cookies are deliciously soft cake-like cookies that are perfect for the fall! Use pumpkin pie spice or a combination of your favorite fall spices here.
These Italian-style lemon ricotta ramekin cheesecakes are made with ricotta and mascarpone cheeses, Greek yogurt and lemon zest for easy individual-sized desserts.
These whipped ricotta and lemon stuffed crepes will transport you to Paris and make you want to throw away all your pancake recipes. Light-as-air thin pancakes are stuffed with creamy, lemony ricotta and topped with a foolproof raspberry sauce.
This Cherry Almond Cake is made with ricotta, which creates a moist and tender cake, and topped with sliced almonds. Perfect for cherry season.
Very easy to make, this is a moist and dense lemon ricotta cake recipe topped with mixed berries that can be fresh or frozen, so it can be made year-round.
Soffioni Abruzzesi is cute little Italian cupcakes or muffins filled with fluffy Ricotta cream. They are easy to make and so delicious.
Ricotta Mousse can be made in just 10-minutes with 4 simple ingredients. This no-bake raspberry mousse is a creamy, decadent dessert that can be made ahead of time for dinner parties.
Supremely moist, rich, and decadent Chocolate Ricotta Layer Cake. This cake is always a crowd-pleaser and so good with a cup of coffee! Dangerously delicious!
You can't beat the berry and cream combination during summer and this time it's blueberries and ricotta that steal the show. This Lemon Blueberry Ricotta Tart is refreshing and healthier than your average tart, and it looks amazing!
Ricotta Desserts Faq's
Can you freeze ricotta cheese?
Freezing ricotta cheese is possible, but it may affect the texture and consistency of the cheese. When frozen, ricotta cheese tends to become grainy and watery upon thawing.

However, if you still want to freeze ricotta cheese, it is recommended to drain any excess liquid before freezing it in an airtight container or freezer bag.
What can I do with a lot of ricotta cheese?
With a lot of ricotta cheese on hand, you can whip up some creamy pasta sauces, such as classic spinach and ricotta stuffed shells, or a flavorful lasagna.

Additionally, you can use it to make fluffy pancakes or waffles for a delightful breakfast treat. The possibilities are endless when it comes to utilizing the abundance of ricotta cheese in your kitchen.
What can you eat ricotta cheese with?
It pairs well with both sweet and savory dishes for a savory twist, you can spread ricotta cheese on toast or crackers and top it with fresh herbs or sliced vegetables.
More Dessert Recipes
Buttermilk chocolate cake- This moist, and rich buttermilk chocolate cake is made in just one bowl and combines the richness of chocolate with the tanginess of buttermilk.
Mini cupcakes- These mini cupcakes are bite-sized treats that are perfect for any occasion. This recipe shares mini vanilla cupcakes and mini chocolate cupcakes as well as chocolate buttercream and vanilla buttercream.
Chocolate Parfait- This chocolate parfait is made with layers of rich chocolate mousse, velvety whipped cream, and crunchy chocolate cookie crumbs.
If you tried any of these recipes, don't forget to leave a rating and a comment below. We love hearing from you.
If you liked this post:
Share/pin this recipe to Pinterest.
Leave a comment down below!
📖 Recipe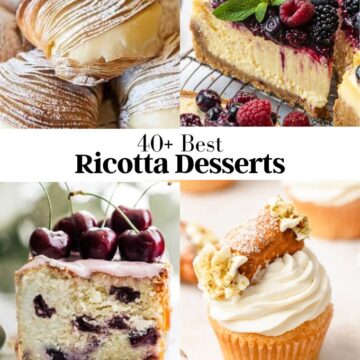 40+ Ricotta Desserts: Ricotta Pancakes & More
These ricotta desserts are a delicious collection of the best desserts made with ricotta cheese from cheesecakes to cannoli, these will not disappoint!
Instructions
Select your favorite recipe that caught your eye.

Make a shopping list and purchase the ingredients.

Make your favorite ricotta dessert recipe!