Make these unique cupcake recipes with various flavor combinations that you never dreamed of! These recipes are foolproof and are perfect for birthdays, holidays, and every special event.
If you're looking to add a touch of creativity to your baking routine, this unique cupcakes recipe roundup is the perfect resource.
From decadent filled cupcakes with surprising fillings to beautiful designs that are sure to impress at any gathering, these recipes will elevate your baking game.
Whether you're an experienced baker or just starting out, exploring this roundup will inspire you to experiment with new flavors, textures, and decorations in your cupcake creations.
Get ready to indulge in a world of delectable and one-of-a-kind treats!
For more recipe roundups, check out my cupcake recipes, coffee desserts, best cheesecake toppings, easy baking recipes, unique cookie recipes, Rice Krispie Treats Variations.
Jump to:
These mini cupcakes are bite-sized treats that are perfect for any occasion. This recipe shares mini vanilla cupcakes and mini chocolate cupcakes as well as chocolate buttercream and vanilla buttercream.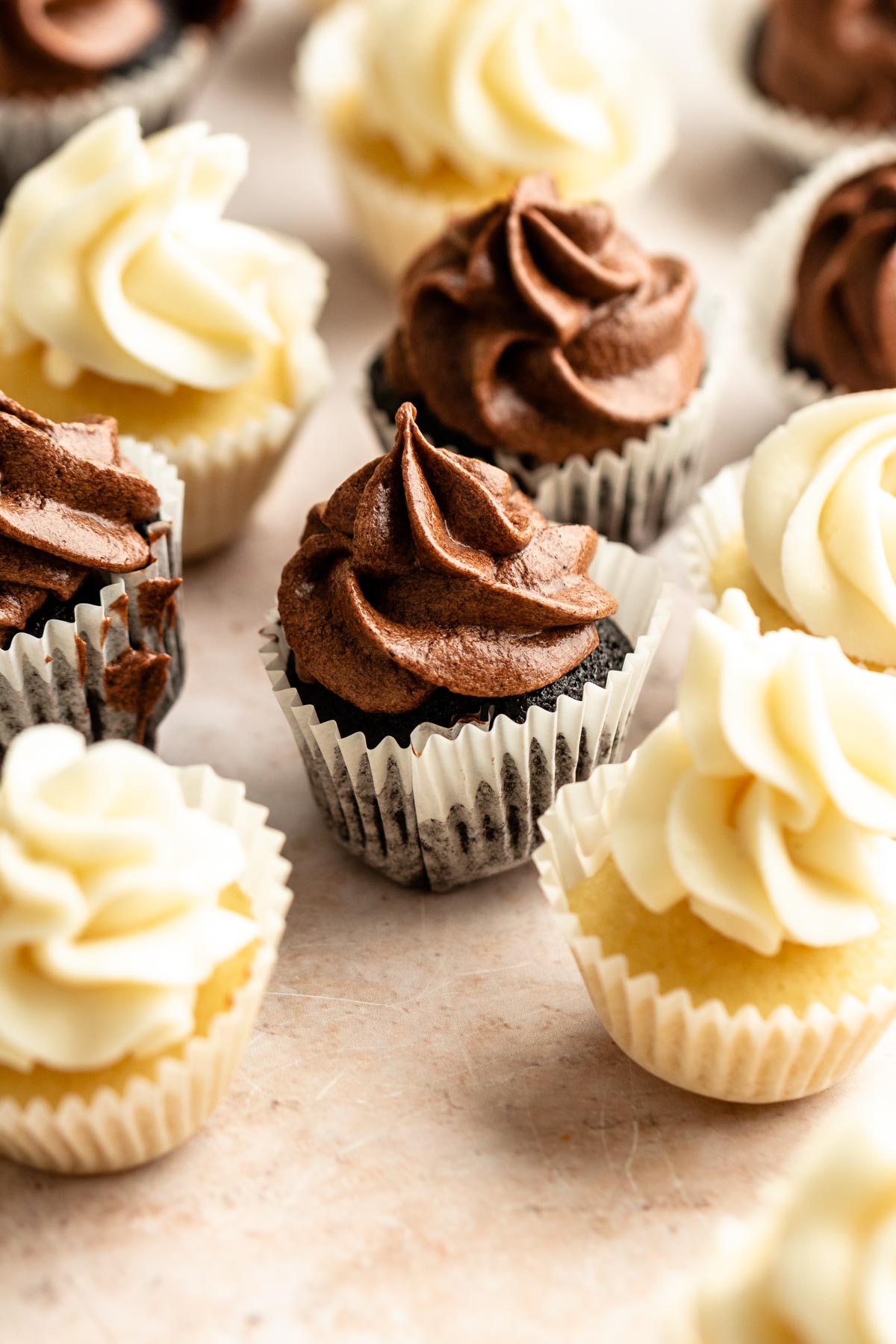 These battenberg cupcakes boast almond and vanilla sponge, raspberry jam, marzipan and a smooth, two-tone almond buttercream.
These strawberry filled cupcakes are made with vanilla fresh strawberry cupcakes, filled with chopped ripe strawberries, and topped with strawberry buttercream frosting.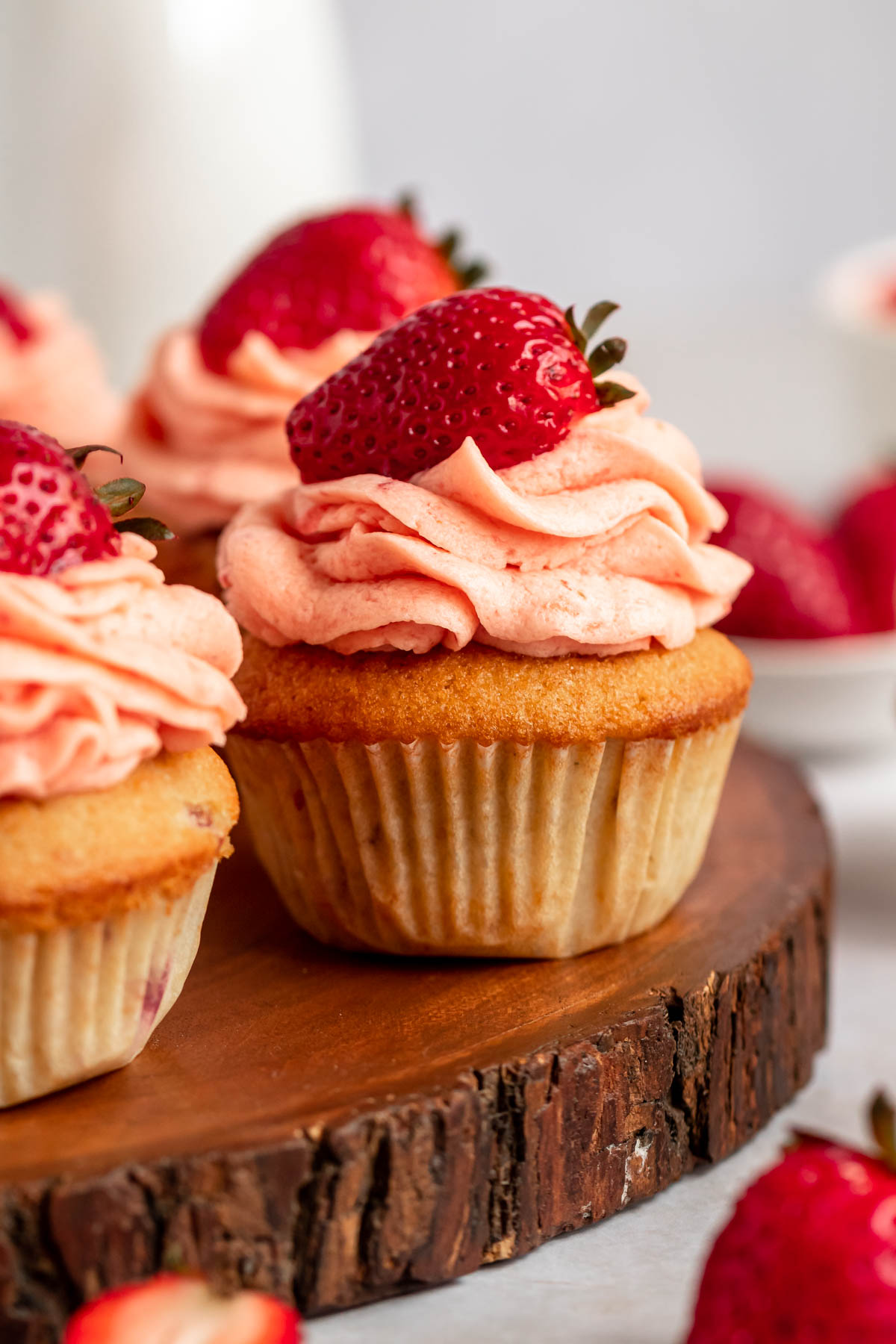 These adorable reindeer cupcakes are surprisingly easy to make! All you will need is chocolate cupcakes, chocolate buttercream, pretzels, vanilla wafers, and red M&M'S.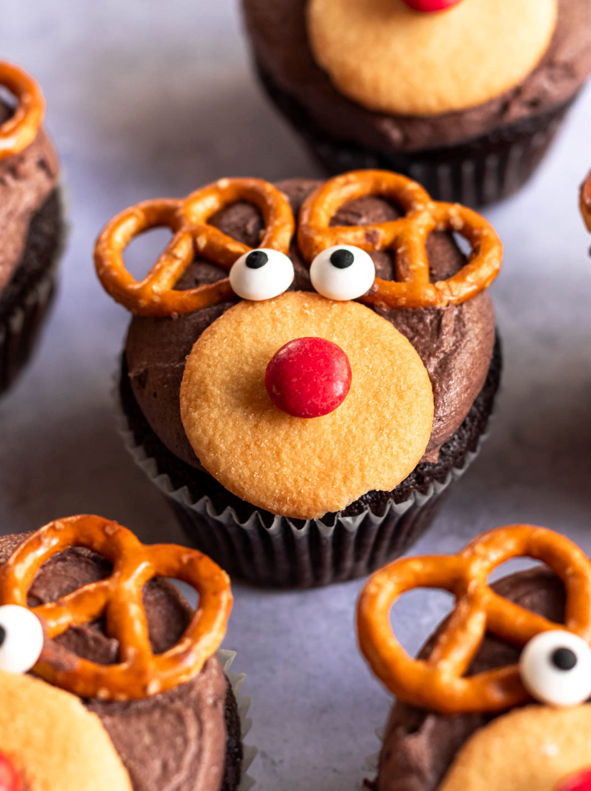 These Nutella cupcakes are made with delicious chocolate Nutella cupcakes, filled with Nutella, and topped with Nutella buttercream and chopped hazelnuts!
These cupcakes take full advantage of the genius Cheddar/caramel combo that is Chicago Mix popcorn.
These banana pudding cupcakes are made with a moist, tender, and light banana cupcake base, filled with a banana pudding filling, and topped with stabilized whipped cream.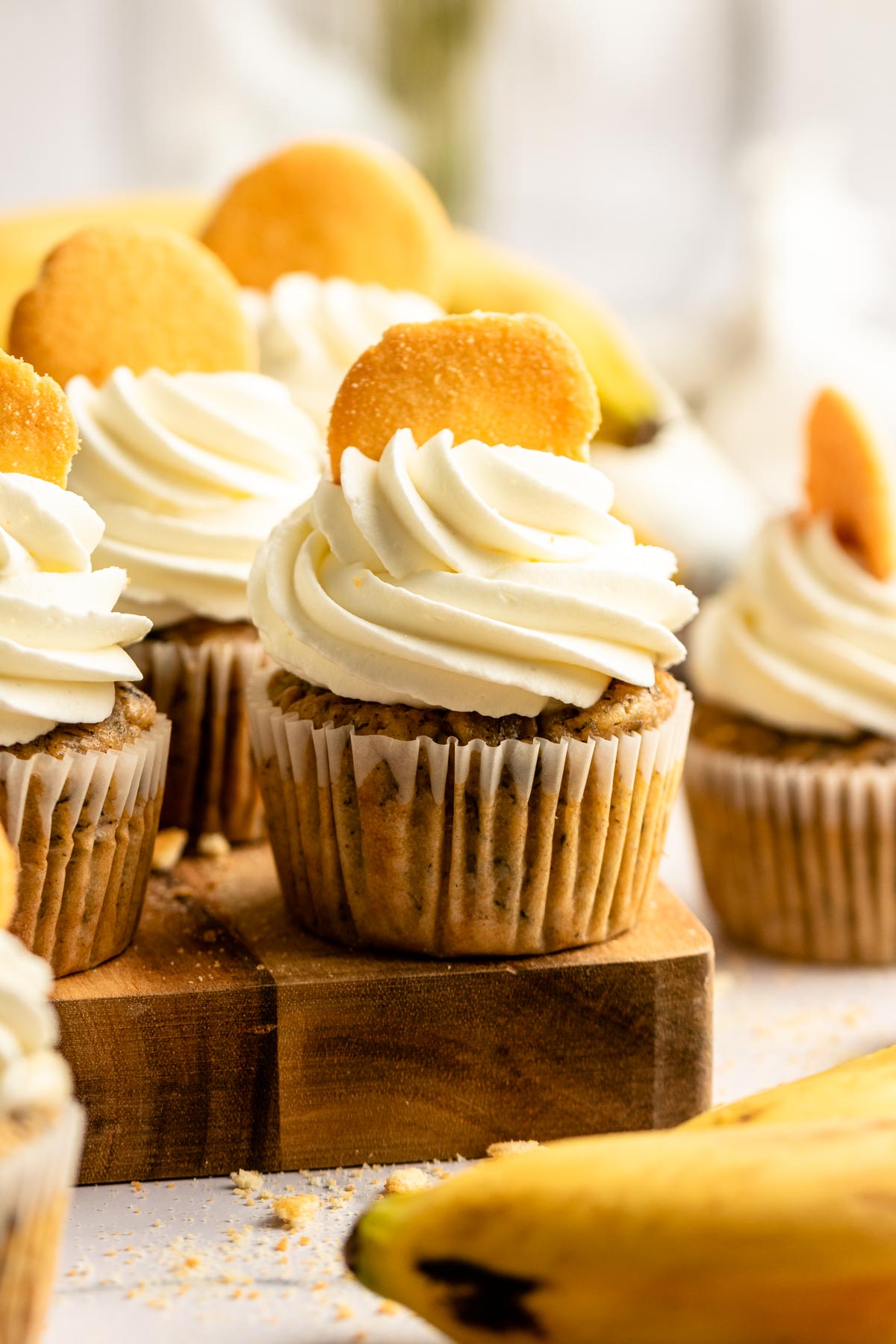 These Christmas tree cupcakes are super easy to make, they are made with chocolate cupcakes, vanilla buttercream or vanilla frosting, shredded coconut, pretzels, green candy melts, and sprinkles!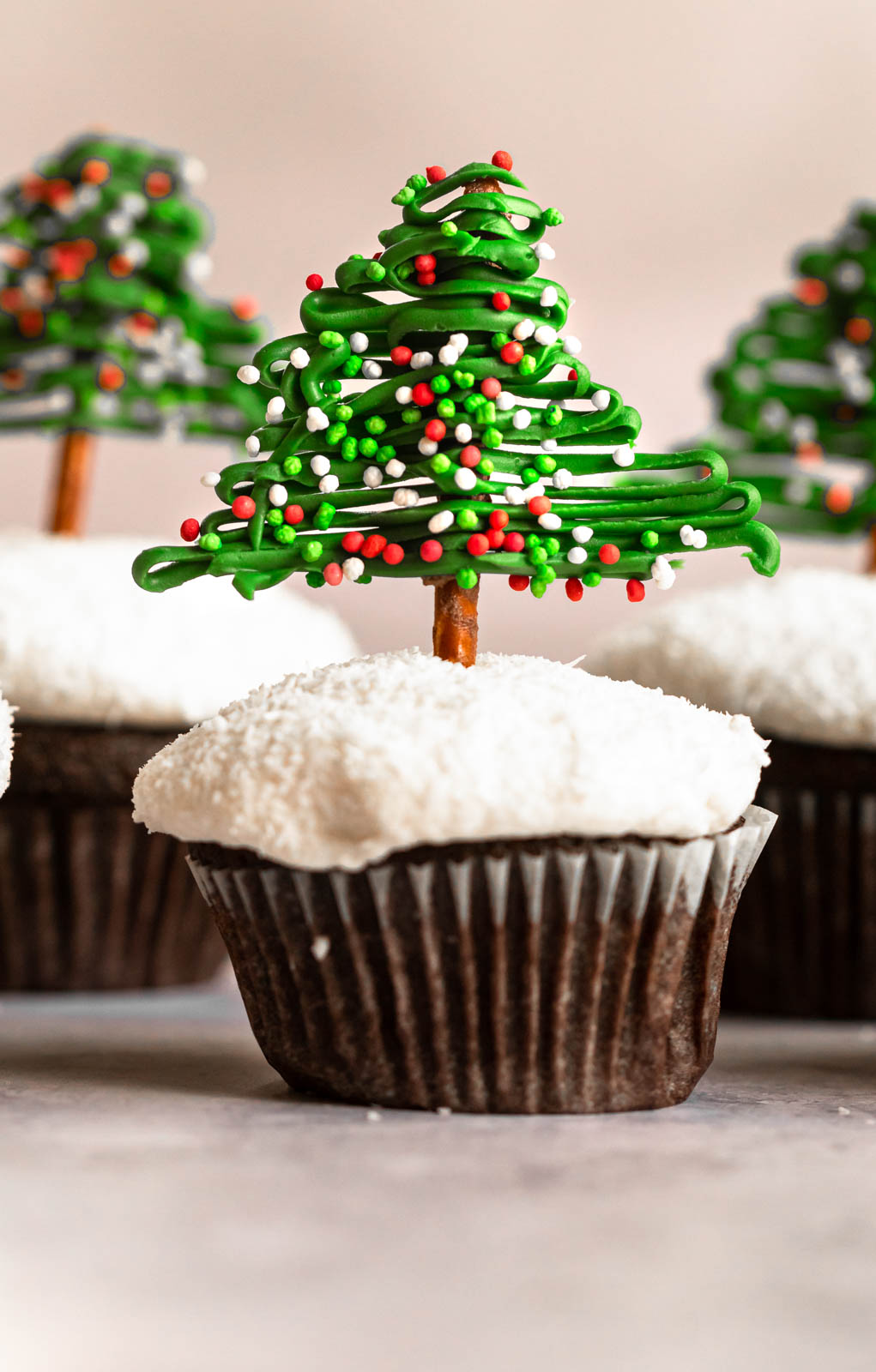 These Fun Cookie Monster Cupcakes are a hit at every party! Stuffed with chocolate chip cookies and fun royal blue icing, kids love them.
The perfect homemade chocolate cupcake is decorated with peppermint patties, shredded coconut, and chocolate-covered raisins to look like a polar bear paw!
Everything is better when you have cupcakes, and cupcakes are better when they are bright and colorful Rainbow Cupcakes!
This delicious strawberry twist on churro cupcakes is perfect for celebrating Valentine's Day, Taco Tuesday, Cinco de Mayo, or any day of the year!
Sweet Potato Cupcakes are the perfect treat if you're looking for a tasty and elegant looking dessert! They're moist and filled with warm spices. My favorite part is the toasted meringue frosting.
Banoffee Cupcakes are moist banana cupcakes filled with dulce de leche and topped with a whipped chocolate ganache frosting. The combination of banana, dulce de leche, and chocolate is hard to beat!
These Nutella Bueno Cupcakes deliver on both fronts and there's also the extra treat of a mini Bueno piece on top. The cake sponge is lovely and light, with delicious chocolate flavor.
These ultimate s'mores brownie cupcakes are a dangerously delicious twist on everyone's favorite summertime classic. Complete with a crunchy graham cracker crust, rich fudge brownie center and a super fluffy brown sugar frosting.
Apple spice cupcakes with salted caramel frosting are a great anytime cupcake, but especially in the fall! These fall applesauce cupcakes feel like a warm hug with applesauce in the batter along with cozy spices like cinnamon, cloves, and allspice.
Cinnamon Swirl Cupcakes with Cinnamon Cream Cheese Frosting, topped with a glazed mini cinnamon roll.
Perfectly tender, moist and zesty lemon cupcakes get topped with the smoothest and most delicious mojito flavored buttercream.
These perfectly moist, tender and spiced Pumpkin Cupcakes with a Halloween festive Candy Cane buttercream will definitely get you in the fall baking mood!
These Easy Mermaid Cupcakes, with swirls of colorful frosting and a fun candy mermaid tail, are sure to make a splash at your next party!
Homemade lemon cupcakes with a lovely herby kick! These cupcakes balance lemon with fresh rosemary and thyme and a tart lemon mascarpone cream cheese frosting.
A soft Banana Cupcake is filled with the most delicious and creamy Banana Pudding, which is also used to top the cupcakes, and then gets sprinkled with sugar and blasted with a blowtorch to caramelized, crackling perfection, resulting in an awe-inspiring creation.
These carrot cupcakes are filled and topped with brigadeiro, this is how we do carrot cake in Brazil. It's so delicious, fudgy, and rich!
It features a moist Pina Colada flavored cupcake, that's filled with a pineapple sauce, frosted with a piña colada buttercream, dipped in toasted coconut, and decorated with cherries, pineapples, and umbrellas.
Pineapple Upside Down Cupcakes deliver big tropical flavor in cute little single serving size portions that everyone loves! These adorably easy little treats are the perfect bite-sized dessert that you can make for any occasion.
These Cannoli Cupcakes are fluffy Vanilla Cupcakes, filled with a sweet and creamy Cannoli Filling, topped with Ricotta Buttercream Frosting and decorated with a homemade mini cannoli.
Boston Cream Pie Cupcakes for two. A small batch cupcake recipe for Boston Cream cupcakes. the recipe makes just 4 cupcakes.
Carrot patch cupcakes are chocolate cupcakes with strawberries dipped in orange chocolate to look like carrots in dirt for Easter or Spring!
These rich, soft vanilla cupcakes are filled with creamy orange curd filling and topped with a silky, buttery orange buttercream – welcome to Creamsicle Orange Cupcakes!
These matcha cupcakes are sweet, soft, and tender. They're topped with a swirl of silky, velvety smooth matcha buttercream frosting. They have a delicate matcha green tea flavor that'll take you to matcha heaven!
Chocolate Cupcakes with Espresso Buttercream is a decadent dessert of mocha cupcakes topped with a coffee flavored frosting. Skip your morning cafe run and that trip to the bakery.
Enjoy the flavors of summer with these delightful Peach Cobbler Cupcakes. Bursting with juicy peaches, warm spices, and a fluffy whipped cream frosting, these cupcakes are a delightful twist on the classic peach cobbler dessert.
These Maple Bacon Cupcakes are full of rich maple flavor and the savory taste of bacon bits. If you've ever had a maple bacon donut, it's like that but in cupcake form!
Satisfy your sweet tooth with these stuffed dulce de leche cupcakes. They are fluffy and moist with a luscious buttercream frosting. It's the perfect dessert for Cinco de Mayo!
It's a lovely day for Guinness cupcakes with Bailey's frosting. This dessert is perfect for St. Patrick's Day! Chocolate stout cupcakes are filled with a whiskey ganache and topped with Irish cream frosting.
These strawberry basil cupcakes have a light, basil infused cupcake base filled with homemade strawberry basil compote, then topped with lemon mascarpone frosting!
These caramel popcorn cupcakes with homemade caramel are the perfect movie night treat! Just the right combo of sweet and salty!
These funfetti donut cupcakes are perfect for any birthday bash! They have a moist, funfetti cupcake base and vanilla bean buttercream topped with mini funfetti donuts and lots of rainbow sprinkles!
How to make brightly colored surprise-inside cupcakes! These are soft vanilla cupcakes filled with sprinkles and topped off with vanilla buttercream frosting!
These ice cream cone cupcakes are so cute and incredibly easy to make! My recipe includes tips for substituting your favorite cake flavor and frosting.
Peanut Butter and Jelly Cupcakes encompass raspberry filling inside of a vanilla cupcake that's then covered in creamy peanut butter frosting and peanuts! It tastes just like a PB&J Sandwich!
These White Chocolate Raspberry Champagne Cupcakes are perfect for New Year's Eve, Bridal and Baby Showers, and Valentine's Day! Light and fluffy white chocolate cake filled with raspberry filling and topped with a luscious champagne buttercream!
These French toast cupcakes are delicious breakfast inspired cupcakes, with a cinnamon cupcake, topped with an amazing maple buttercream frosting.
Texas Sheet Cake Cupcakes are light and fluffy chocolate cupcakes topped with a rich fudge frosting. The easiest way to make Texas sheet cake!
These Red Velvet Cream Cheese Cupcakes are PERFECT for any occasion! Birthdays, Valentine's Day, Christmas, the 4th of July – if you're craving red velvet you NEED these in your life.
Struggling to choose between vanilla and chocolate? You don't have to! These moist and fluffy Marble Cupcakes combine both flavors into one drool-worthy dessert and are topped with a swirl of chocolate and vanilla buttercream!
These Cereal and Milk Cupcakes are topped with cereal milk buttercream. Homemade vanilla cupcakes get a sweet fruit loop cereal milk twist, making these cereal cupcakes a dessert must!
Hummingbird cupcakes are moist, flavorful and one-of-a-kind. Made with crushed pineapple, banana and pecans, they are simply delicious with cinnamon cream cheese frosting!
These Beer Cupcakes are the perfect dessert for any man in your life. Classic cupcakes pair up with the traditional flavor of beer and pub treats such as peanuts and pretzels to make the ultimate man-treat.
Unique Cupcake Recipes Faq's
How to make fluffy cupcakes?
Make sure that all your ingredients are at room temperature and your butter is softened. The most important ingredients that should be at room temperature are eggs, buttermilk, and butter.

This will ensure that your mixture mixes into a homogenous batter and will bake perfectly.
When do you know when a cupcake is done baking?
My biggest tip for this is to do the toothpick test. Insert a toothpick into the middle of 1-2 cupcakes, and if it comes out clean, with a few moist crumbs, the cupcakes are ready!
What are the top five cupcake flavors?
The top five cupcake flavors are chocolate, vanilla, red velvet, carrot cake, and lemon.
More cupcake recipes
Vanilla cupcakes- These moist and tender vanilla cupcakes are made in one bowl and are topped with the most delicious vanilla buttercream frosting.
Chocolate cupcakes- This is the most amazing chocolate cupcake recipe. These chocolate cupcakes are moist, fluffy, full of rich chocolate flavor, and come together in one bowl.
If you tried any of these recipes, don't forget to leave a rating and a comment below. We love hearing from you.
If you liked this post:
Share/pin this recipe to Pinterest.
Leave a comment down below!
📖 Recipe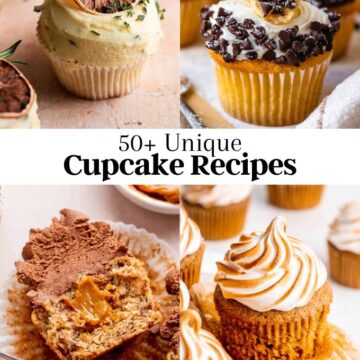 50+ Unique Cupcake Recipes
Make these unique cupcake recipes with various flavor combinations that you never dreamed of! These recipes are foolproof and are perfect for birthdays, holidays, and every special event.
Instructions
Select your favorite recipe that caught your eye.

Make a shopping list and purches the ingerdients.

Make your favorite cupcake recipe!
Notes
Use room temperature ingredients. It is important that you use room-temperature ingredients like eggs and butter. This step ensures that your mixture mixes into a homogenous mixture and bakes perfectly. you don't want to place cold batter into the oven.
Don't overmix the batter, you don't want to develop the gluten in the flour. This step ensures you have a moist cupcake and not a dense and dry cupcake.
Measure your flour correctly! When measuring your flour, avoid scooping it with a measuring cup. Instead, stir the flour with a spoon to create as many air pockets as possible, and spoon it into your measuring cup. Finally, level it with a back of a knife.
Be patient! I know it's extremely tempting to eat and frost these cupcakes as they are pulled out of the oven, but let these cupcakes cool for at least 1 hour to prevent the frosting from melting.
Make sure that your leaveners are fresh like baking powder and baking soda. If you are using expired leaveners. You can check this by adding a little bit of the baking soda or baking powder to some hot water, and if it bubbles, it's still good to use, if it's not, throw it away!