From buttermilk waffles to buttermilk pie, these buttermilk dessert recipes showcase the versatility of this ingredient.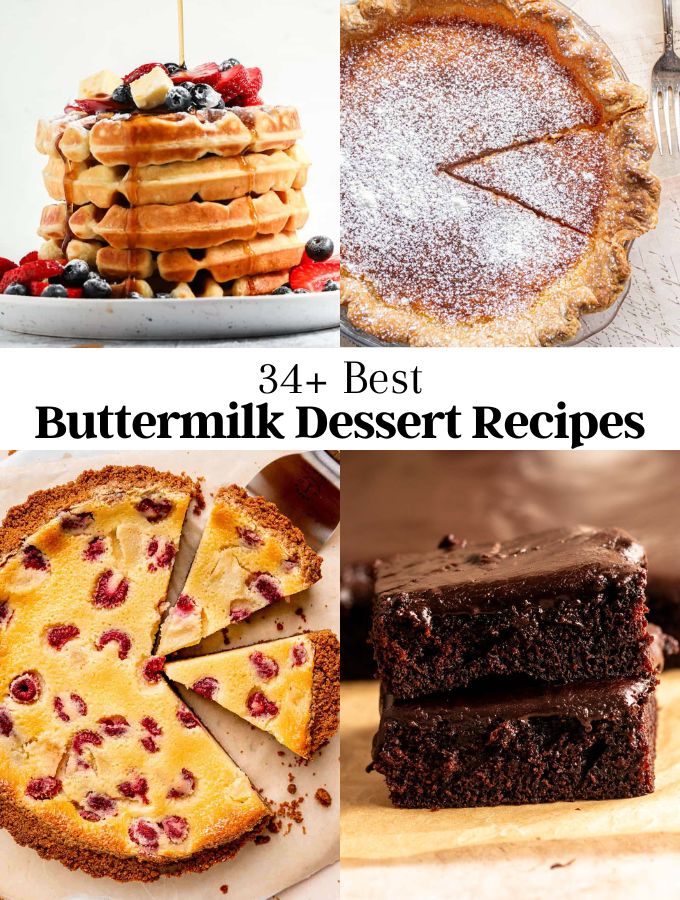 Jump to:
This moist, and rich buttermilk chocolate cake is made in just one bowl and combines the richness of chocolate with the tanginess of buttermilk.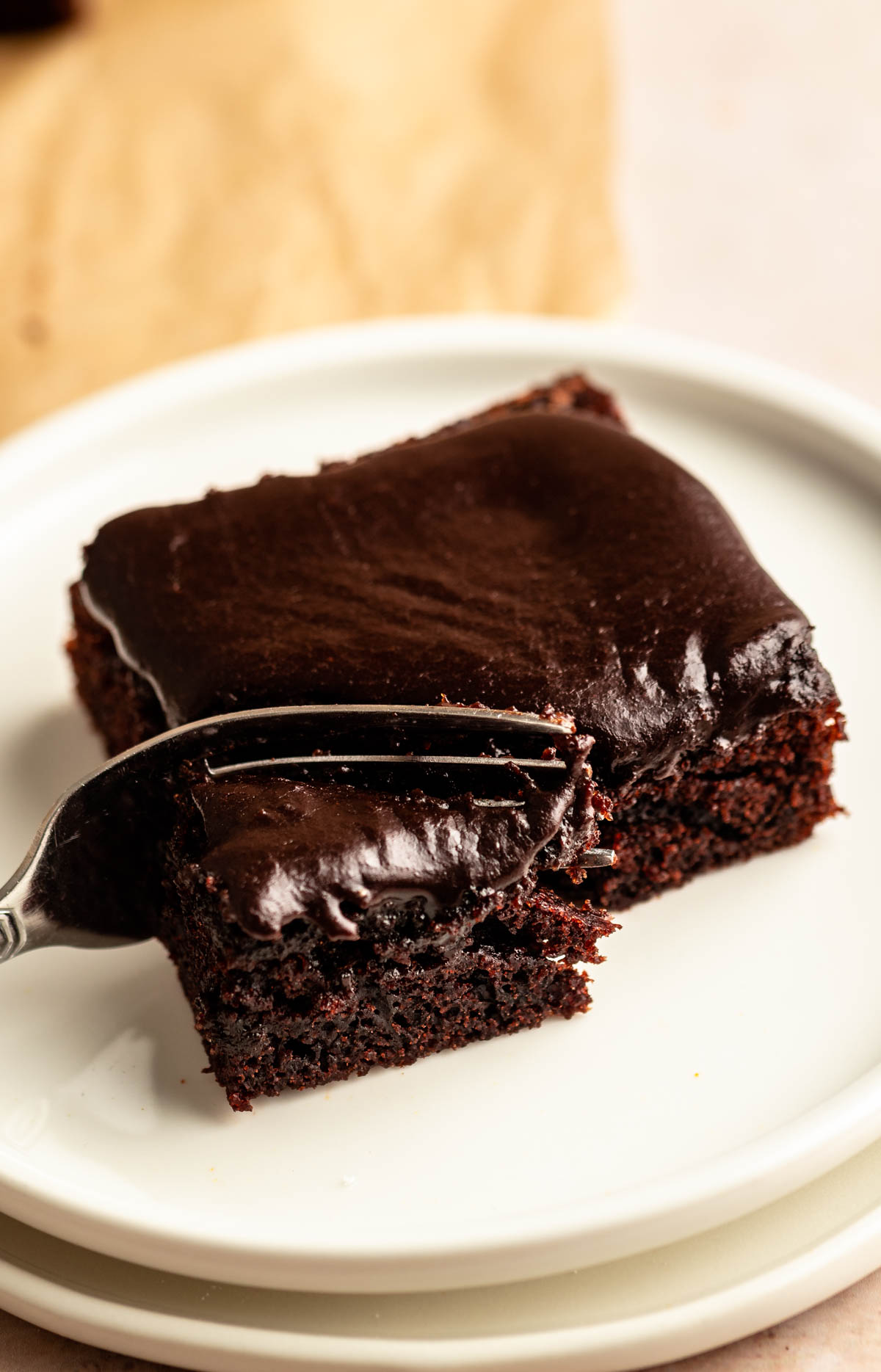 Best, classic, old fashioned, traditional, quick, and easy buttermilk pound cake recipe, homemade with simple ingredients. Soft, moist, and packed with vanilla!
My Buttermilk Lemon Bread is a tangy lemon loaf that practically sings with fresh lemony flavor, and I'm spilling all the secrets to this perfect citrusy pound cake right here!
This glazed buttermilk donut cake starts with an ultra-moist, tangy cake base and kicks things up a notch with a crisp vanilla glaze that locks in all that donut flavor.
Buttermilk helps to create a light, fluffy breakfast bread while also adding a bit of tartness. Vanilla and orange zest round out this quick bread with a punch of sweet, bright flavor! You won't want to miss this one.
Buttermilk blueberry muffins are always a favorite! These lemon blueberry buttermilk muffins are super moist and perfect for breakfast or a snack! You'll love these best-ever buttermilk blueberry muffins!
A soft sugar cookie crust topped with a creamy sweet-tart lemon buttermilk filling. Simple, decadent, delicious and gluten-free, too! We're winning on all counts here.
This buttermilk and honey banana bread smells amazing while baking. The addition of buttermilk and honey is a wonderful twist on a classic favorite.
This Vanilla Buttermilk Sheet Cake is a one bowl simple vanilla sheet cake recipe! You can make this vanilla cake with buttermilk in a mixer or by hand!
Rich, decadent and dense, this buttermilk-pumpkin pound cake is a welcome addition to any holiday dessert table. Each delicious bite is perfectly moist and full of our favorite fall flavors and warm spices.
Lemon buttermilk cookies are a delicious treat that are perfect for satisfying a sweet tooth. These are topped with a homemade raspberry glaze that gives the cookies a delicious flavor and beautiful color.
This dense, moist lemon buttermilk cake can be made without a mixer! It's a perfect, pretty dessert for any occasion.
This is a one bowl easy recipe, and the crumb is so easy to put together. They have both butter and oil in them to give them the best flavour and texture.
Using buttermilk instead of the more traditional cream in these Lemon Blueberry Buttermilk Scones makes a lighter, flakier scone.
Buttermilk Pie is a tangy, creamy Southern classic that will take you back to grandma's house. It's so easy to throw together and is a real crowd-pleaser.
Buttermilk Ice Cream is a creamy and tangy yet not too sweet ice cream, making it the perfect companion for desserts like apple pie or peach cobbler.
Carrot Cake Layer Cake with Buttermilk Cream Cheese Frosting is easy to bake and will certainly impress your family and friends.
This sweet and tangy buttermilk chess pie is made with a creamy custard filling with a slight texture from the cornmeal. It has a rich flavor that balances sweetness with a slight tang.
This Cherry Galette with an Almond Buttermilk Crust has sweet, roasted cherries and the all-butter, buttermilk crust has a wonderful texture and just a hint of almond.
There is nothing like a smooth, creamy buttermilk panna cotta with vanilla beans and fresh fruit. This tasty dessert is easier to make than you think, and will impress anyone you serve it to!
A sweet, tangy, and completely mouthwatering blueberry buttermilk pie. You won't have any other pie after this!
My Pear and Raspberry Buttermilk Tart has a Biscoff cookie crust filled with a buttermilk custard, pears, and raspberries. It has complex flavors and textures but is surprisingly quick and easy to make!
With a buttery flaky crust and a classic custard-like filling, this traditional pie recipe comes together quickly and easily using nothing but basic pantry ingredients.
This Buttermilk Waffles recipe will be your family's new favorite way to enjoy waffles. They are easy to with pantry staples and make nice thick waffles have crispy edges with a perfectly fluffy interior.
A sweet, custardy Chocolate Buttermilk Pie with an incredibly rich chocolate flavor, paired with a crunchy Oreo crust. A pie worthy of a special event, but easy enough for a Tuesday night.
Buttermilk Chocolate Cupcakes with Mocha Buttercream Icing are not only delicious, but it's easy to make them look professional, too.
Vintage desserts such as a Buckle are perfect for the more relaxed dining of summer. A single layer cake with spice and fresh fruits ends any meal as a special treat!
Enjoy a slice or two of this easy to make Cinnamon Buttermilk Loaf. Deliciously soft, filled and topped with cinnamon sugar, just so perfect with a cup of coffee or tea.
Buttermilk Brownies – Rich, fudgy, decadent, and pure chocolate bliss. There is no doubt in my mind, these are the best brownies ever!
These Buttermilk Cookies are soft & buttery and topped with a smooth vanilla frosting. Keep them as-is or add sprinkles for a fun flair!
Buttermilk Coffee Cake with Crumb Streusel is an easy cake recipe that will quickly become a favorite! Add a sprinkling cinnamon, pumpkin pie spice, or nuts to fit whatever flavor you're in the mood for.
These buttermilk cupcakes are sweet, slightly tangy, and just so delicious. Top it with a swoosh and swirl of maple cream cheese frosting though, and all bets are off.
These Old Fashioned Buttermilk Donuts are all about the texture. They are soft and cakey on the inside, and golden brown on the outside with these beautiful nooks and crannies for that sweet glaze to hold onto.
Blueberry Buttermilk Custard Pie - This extra sweet buttermilk pie recipe is full of blueberries and creamy custard. Such an easy dessert!
Buttermilk Desserts Faq's
How to make homemade buttermilk?
To make it, you will need two main ingredients - milk and lemon juice or vinegar. Start by pouring one tablespoon of lemon juice or vinegar into a measuring cup.

Then, add enough milk to reach the one-cup mark. Stir the mixture gently and let it sit for about 10 minutes to allow the acid to react with the milk.

After this time, you will notice that the milk has thickened slightly and curdled, resembling traditional buttermilk.
What can I do with lots of buttermilk?
Make buttermilk desserts! From buttermilk chocolate cake to buttermilk pound cake and buttermilk cookies, making desserts with buttermilk adds a delicious tangy flavor to these classic desserts!
What is the use of buttermilk in baking?
It acts as a leavening agent, helping to create light and fluffy baked goods. Additionally, buttermilk adds moisture and tanginess to recipes, enhancing the overall flavor profile.

Its acidic nature also helps to tenderize gluten, resulting in tender and moist baked treats. Whether used in cakes, biscuits, or pancakes, buttermilk adds a unique depth of flavor and texture to baked goods.
More delicious desserts
Peanut Butter Mousse- This delicious peanut butter mousse has a rich, creamy mousse texture with the irresistible flavor of peanut butter.
3 Ingredient Mug Cake- This chocolate 3-ingredient mug cake is a delightful and quick dessert that can be made effortlessly in just a few minutes from start to finish.
Chocolate Coffee Cake- This incredibly moist chocolate coffee cake is made with chocolate cake layers infused with coffee, and frosted with chocolate and coffee frosting.
If you tried any of these recipes, don't forget to leave a rating and a comment below. We love hearing from you.
If you liked this post
Share/pin this recipe to Pinterest.
Leave a comment down below!
📖 Recipe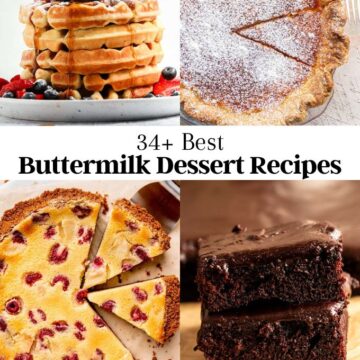 34+ Best Buttermilk Dessert Recipes
From buttermilk waffles to buttermilk pie, these buttermilk dessert recipes showcase the versatility of this ingredient.
Instructions
Select your favorite recipe that caught your eye.

Make a shopping list and purchase the ingredients.

Make your favorite buttermilk dessert recipes!