These 25+ dessert shooters recipes are perfect for parties, get-togethers, holidays, and every special occasion.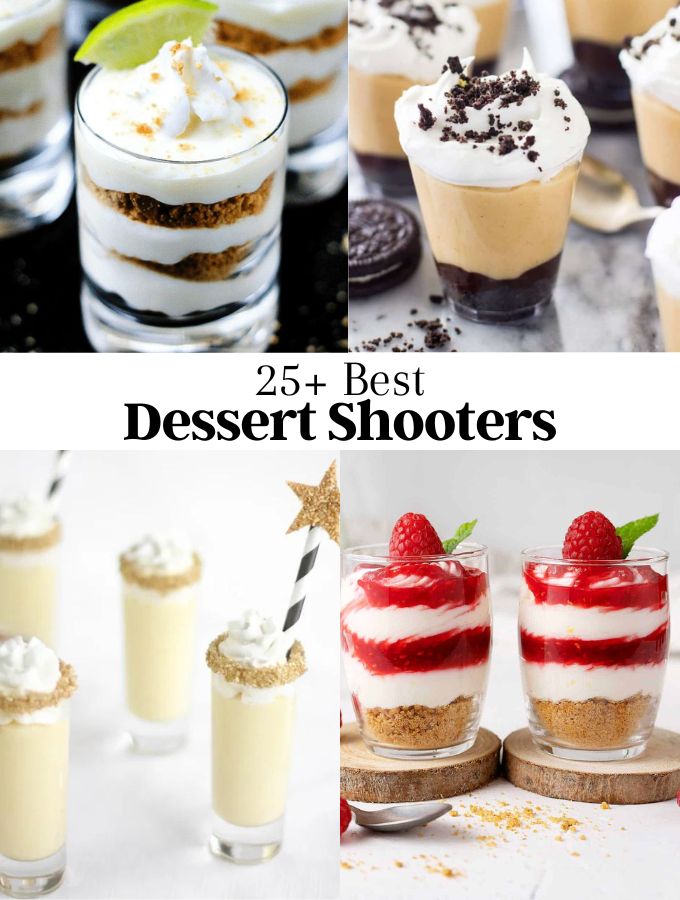 These miniature desserts pack a punch of flavor in a small package. From rich chocolate mousse to creamy cheesecake, dessert shooters offer a variety of options to satisfy your sweet tooth.
With combinations like salted caramel and chocolate, or strawberry shortcake in a shot glass, these recipes are not only delicious but also visually appealing.
So why settle for just one dessert when you can have a selection of delectable treats all in one?
For more recipe roundups, check out my types of cookies, cupcake recipes, coffee desserts, best cheesecake toppings, easy baking recipes, unique cookie recipes, Rice Krispie Treats Variations.
Jump to:
Shot glasses filled with champagne-infused pastry cream are the perfect petite size for ringing in the New Year. The glasses are rimmed with gold sugar for extra sparkle.
Chocolate pudding mix combines with milk, Fluffed Marshmallow Vodka, and Cool Whip to create a fun, simple, and boozy sweet treat that's sure to be the hit at any party.
Creamy eggnog pudding takes all of five minutes to whip up, and after a quick chill, it's layered with prepared caramel in shot glasses.
Coffee, Kahlua, and pudding make this Tiramisu Pudding shots recipe a party favorite!
An easy and delicious fruity cheesecake in a shot glass! Perfectly sized to satisfy a sweet tooth and makes a gorgeous display at any party or buffet table.
Sweet marshmallow cheesecake layered over milk chocolate ganache and a graham cracker crust. Topped with graham cracker crumbs and a toasted marshmallow, no campfire required!
Easy, no-bake peanut butter pie dessert shooters! This peanut butter pie filling is layered over a silky chocolate ganache and an Oreo cookie crust and served individually in disposable shot glasses.
No Bake Salted Caramel Cheesecake Shooters are a delicious treat! Fancy enough to impress guests, easy enough to make any time you want.
An easy, creamy, crispy-cookie-bit-stuffed Nutella filling layered over an Oreo crust and topped with whipped cream and more cookie crumbs.
Caramel Apple Pie Cheesecake Shooters is an incredibly delicious and impressive dessert that is quite easy to make! These mini desserts are perfect for parties, get-togethers, and special occasions.
This summery-style dessert is going to make you a star! It is so simple to make, so delicious to eat, and just what strawberry shortcake should taste like.
It's time for the peanut butter bash again and I made some chocolate peanut butter crunch trifles for the party. The theme this month was peanut butter and ritz crackers. I wasn't quite sure what I wanted to make.
An easy and fast no bake dessert perfect for any get together!
A very simple dessert, extremely tasty and beautiful. Fans of Raffaello pralines will be delighted, because this dessert goes perfectly with this popular chocolate. A perfect,mini-sized dessert for various celebrations.
It's a trifecta of perfect layers on a soft, walnut-based crust. Creamy and sweet, refreshingly lemony, light and fluffy…
These No-bake Blueberry Cheesecake Shooters are crowd-pleasers and super easy to make. Learn how to make the individual desserts that would make you go for three shots or more!
These mini pumpkin pie cheesecakes consist of creamy pumpkin pie-flavored cheesecake on a gingersnap-crumb crust. These are an easy, no-bake fall-time treat that would be perfect to serve as a Thanksgiving dessert (and it's great for kids!)!
You can have a shot and a dessert too with Baileys Chocolate Dessert Shooters. The dessert shooter cup is made of chocolate graham crackers and filled with a Baileys chocolate ganache.
Key lime pie turned into a mini dessert! Layer traditional pie fillings in shooter glasses for key lime pie shots. the perfect no-bake party dessert!
Fun bite-sized cheesecake treats that are great for any party or get-together. Made single-serving-sized in disposable shot glasses, these (non-alcoholic) Oreo Cheesecake Dessert Shooters are guaranteed to be a hit at your next event!
These Cherry Pie Dessert Shots should be on everyone's to-make list. These stunning mini desserts in a glass are simple to make and will have everyone licking their spoons.
Make these creamy cotton candy dessert shots that will remind you exactly of your favorite state fair food! Perfect for parties – easy and delicious.
Why not try smaller portions and bigger flavors for dessert? This 15-minute prep recipe uses a pudding mix which makes it easier.

Perfect for a small family or group of friends. They are super easy to make and yet look super fancy. Crunchy cookie base, creamy lemony cheesecake layer and sweet tangy beautiful red raspberry coulis.
Well, if you like desserts and bananas, these Banana Pudding Shots might be something to add to your menu.
Dessert Shooters Faq's
How many ounces are dessert shooters?
Mini dessert shooters are 2 oz per shot, and the medium size is 3.5 oz per shot.
How do you pack dessert shooters?
When it comes to packing dessert shooters, there are a few key considerations to keep in mind. First and foremost, you'll want to choose the right packaging material that is both sturdy and food-safe.

It's important to pack them tightly to prevent shifting during transportation. Ensure that the packaging is sealed properly to maintain freshness and prevent any leaks or spills.
How do you store dessert shooters?
Since dessert shooters usually contain dairy, you will need to store them in an airtight container in the fridge.
More desserts
Mini Fruit Tarts- These mini fruit tarts are made with easy and buttery tart shells, filled with homemade pastry cream, and topped with fresh fruit.
Chocolate parfait- This chocolate parfait is made with layers of rich chocolate mousse, velvety whipped cream, and crunchy chocolate cookie crumbs.
If you tried any of these recipes, don't forget to leave a rating and a comment below. We love hearing from you.
If you liked this recipe
Share/pin this recipe to Pinterest.
Leave a comment down below!
📖 Recipe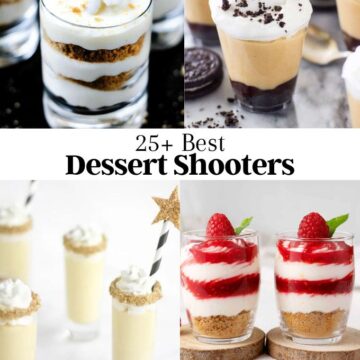 25+ Best Dessert Shooters You Need To Make
These 25+ dessert shooters recipes are perfect for parties, get-togethers, holidays, and every special occasion.
Instructions
Select your favorite recipe that caught your eye.

Make a shopping list and purchase the ingredients.

Make your favorite dessert shooters recipe!