This collection of the best middle eastern desserts will make your taste buds thank you! Middle Eastern cuisine has so much delicious food to offer and they also have some awesome desserts!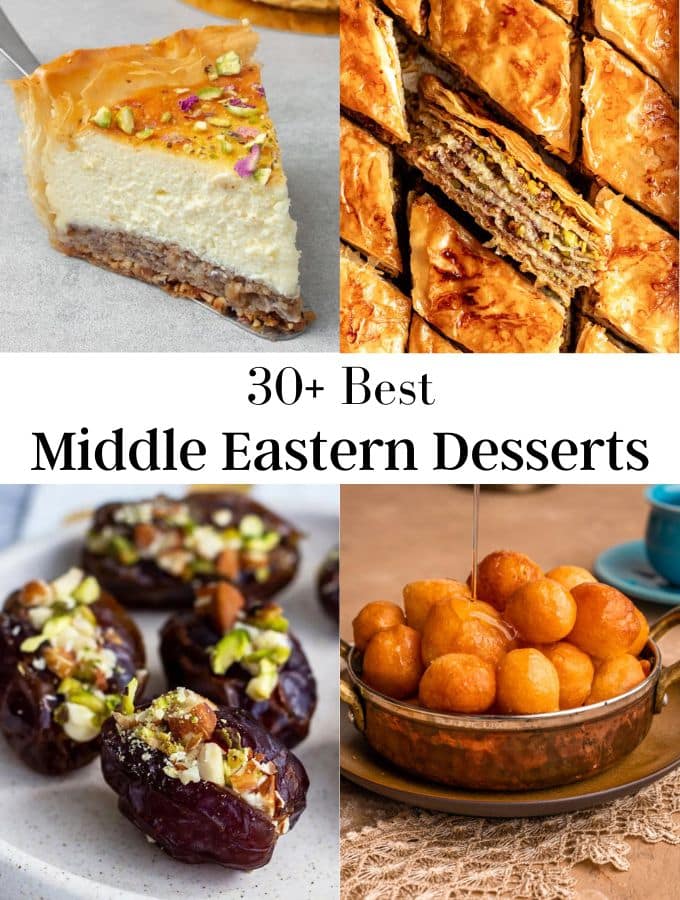 Jump to:
This super delicious pistachio baklava is buttery, sweet, flakey, nutty, gooey, and surprisingly easy to make! I was really surprised by how easy it is to make this impressive dessert that is always a crowd-pleaser.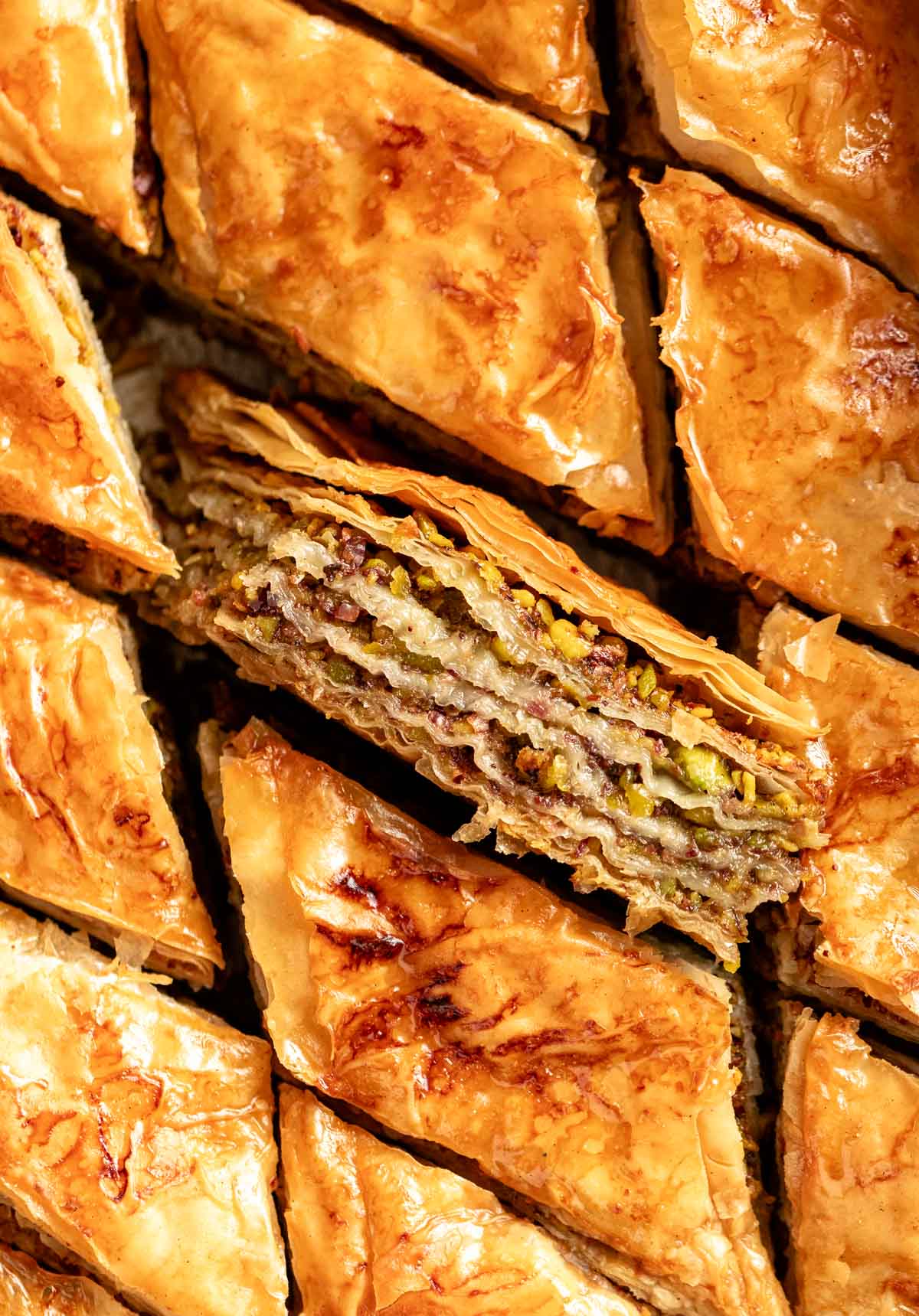 This honey cake is moist, rich in flavor, and full of spices that will make your house smell like autumn. We make this cake every Rosh Hashanah, it's our favorite time of the year.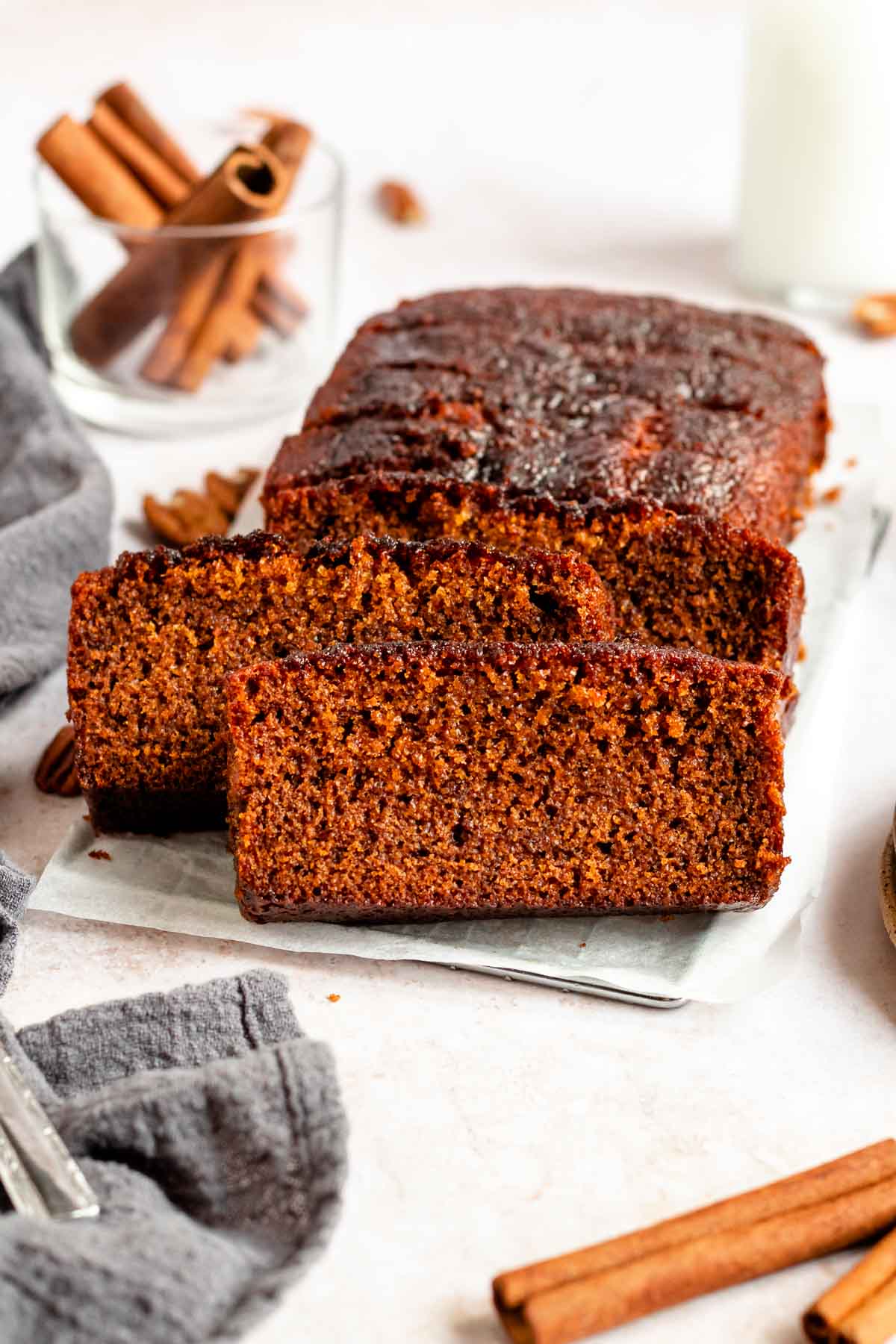 These rolled date cookies are made with buttery shortcrust pastry, filled with date paste, cinnamon, and chopped walnuts, and topped with powdered sugar that makes these cookies irresistible.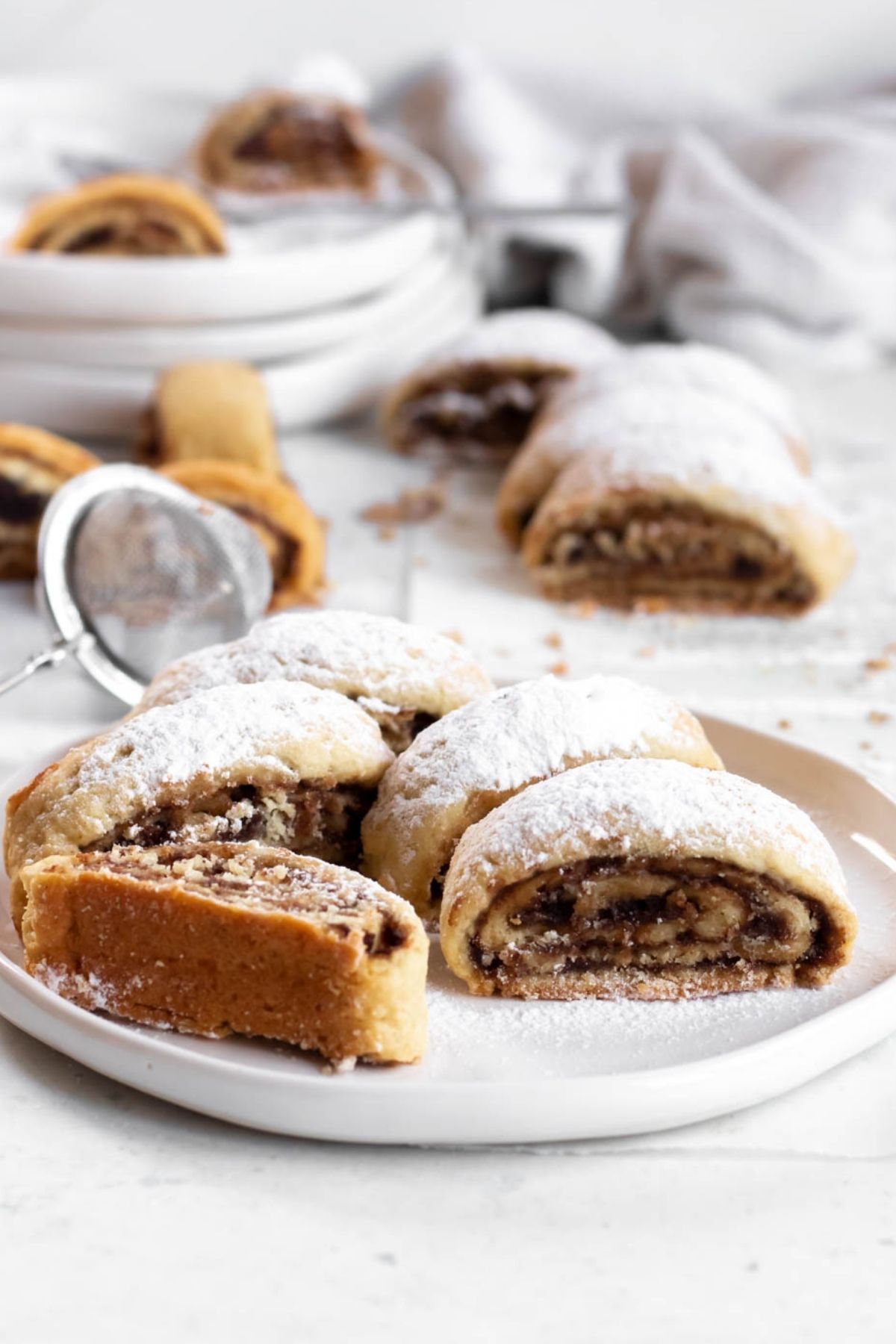 This chocolate babka is made with a decedent brioche-like bread and filling it with rich chocolate filling made with dark chocolate, butter, powdered sugar, and cocoa powder, topped with a simple sugar syrup that brings all the flavors together.
Halva is a 5-ingredient Middle Eastern treat! It's sweet, tender, and filled with nutty flavor thanks to the tahini and pistachios.
Kunafah is a cheese-based pastry, made with crispy kataifi dough, akawie cheese, and gooey ricotta; all soaked in a rosewater syrup for a sweet finish.
Silky smooth and comforting Middle Eastern sweet milk pudding topped with a sprinkle of ground cinnamon, crushed nuts, and desiccated coconut.
Pistachio Maamoul Cookies are very famous traditional Middle Eastern cookies that have been around for generations. They are stuffed with ground pistachios and dusted with powdered sugar.
Jazz up regular dates with this simple recipe for cream cheese stuffed dates. They take minutes to make and are a delicious snack, appetizer or dessert.
10. Pistachio Cookies
These pistachio cookies are made with a chocolate chip cookie base filled with chopped pistachios and dark chocolate chunks and topped with flakey salt!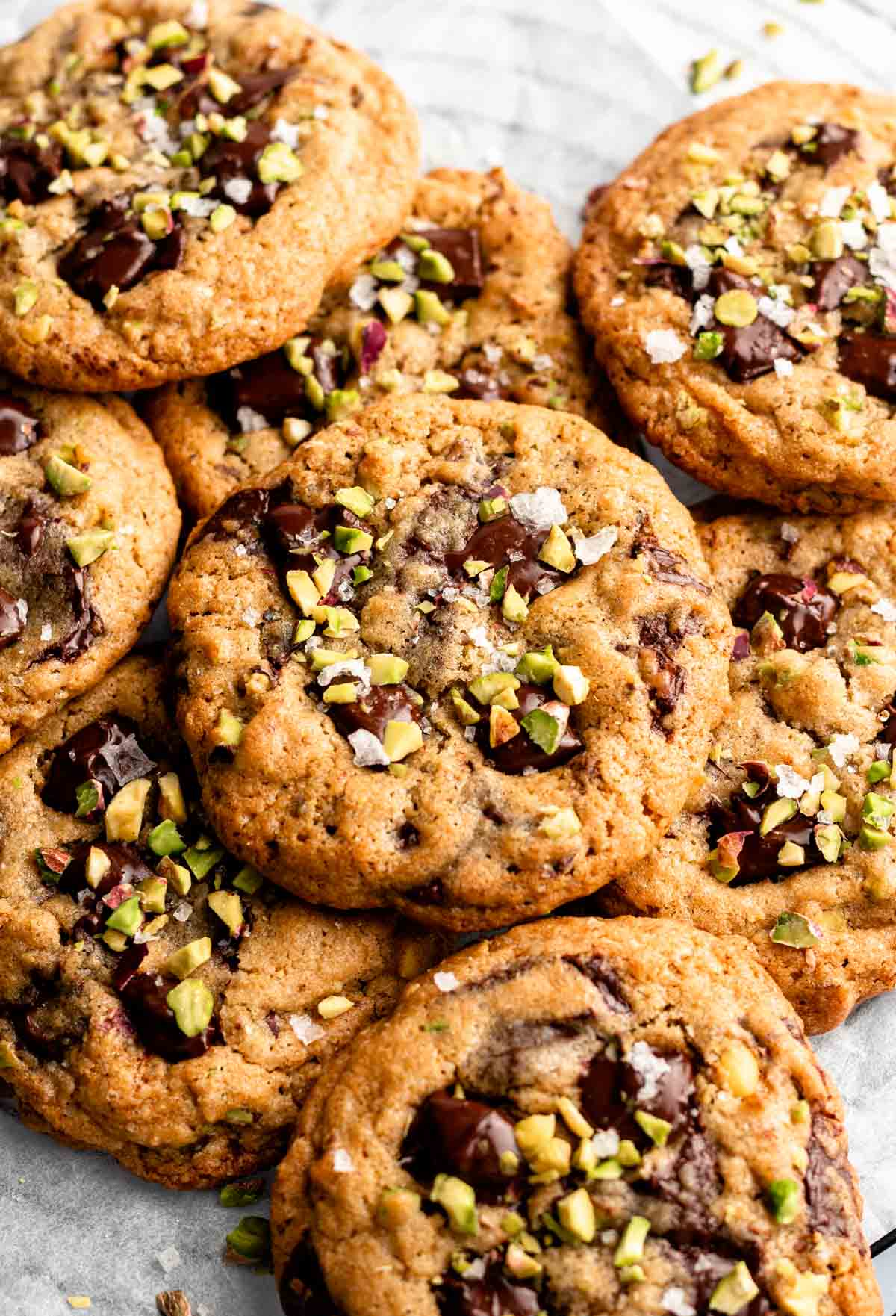 Mahalabia is a milk-based dessert recipe that is creamy, delicious and mouthwatering. This milk pudding dish is soft and easy to swallow; hence toddlers can enjoy it too.
Taking classic baklava one step further, this is a must-try recipe for baklava and cheesecake lovers. Lighter than traditional baklava, in the meantime more exciting flavor profile than traditional cheesecake, the best of both!
This delicious Lebanese Rice Pudding (Riz Bi Haleeb) is super delicious and made with only 3 main ingredients, Rice, Milk and Sugar. It's served as dessert and even as breakfast or snack.
Qatayef (Atayef) are a Middle Eastern dessert made from pancakes, filled with nuts or cheese, then deep fried or baked to crispy perfection and drizzled with simple syrup.
Kadaif is made with shredded phyllo pastry dough that's as thin as angel hair pasta. The pastry is filled with chopped nuts, typically pistachios, walnuts, or almonds.
Luqaimat is delicious Middle Eastern-style doughnut balls, also called lokma, lugaimat, or awameh (or loukoumades in Greek). They are crisp on the outside, soft and fluffy on the inside, and absolutely deliciously drizzled with homemade sugar syrup. The batter comes together so easily!
Turkish semolina halva is a delicious semolina-based cake. While many semolina halvas are flavored with syrup or vanilla, this one is filled with ice cream!
Namoura Cake, aka Basbousa or Harissa is a traditional Middler Eastern sweet dessert, made with semolina flour and topped with a simple sugar syrup.
This vibrant yellow Lebanese turmeric cake- sfouf is easy to make. It is also egg- free, butter- free and made in one bowl! Sfouf cake has a subtle earthy flavor and tastes as good as it looks.
In this beautiful Persian Love Cake, a buttery almond crust is filled with a creamy yogurt filling full of Middle Eastern flavors! This gluten-free cake has the most amazing taste and is super simple to make.
Mini Phyllo Baklava Cups Recipe - flakey, sweet and delicious, these mini bites are great for a party or celebration. A mini version of a popular Middle Eastern dessert.
Learn how to make Aish El Saraya, a delicious Middle Eastern dessert that is composed of sweetened bread, topped with ashta cream.
Qatayef, or Middle Eastern Semolina Pancakes, are a traditional Arabic pastry very popular during the fasting month of Ramadan. They are stuffed with a variety of fillings, the most common being nuts or sweet cheese.
Om Ali (aka Um Ali) is a delicious Egyptian dessert that's the Middle Eastern version of bread pudding. My version is made with buttery croissants, milk and heavy cream, with a hint of cardamom. Add nuts in the pudding, or top it with some, it's divine either way.
Sweet and slightly exotic, Turkish delight is a popular Middle Eastern candy that can be made and flavored in a variety of ways. Learn how to make it at home and customize it to suit your taste.
Basbousa is a delicious Middle Eastern Semolina cake soaked in simple syrup that comes together in under an hour with minimal effort. The coarse semolina in the cake offers a unique texture distinct to this popular Middle Eastern dessert. This easy dessert is very much worth trying!
These fluffy fritters, soaked in syrup flavored with saffron, cardamom, and cinnamon, are a favorite Emirati dessert during Ramadan.
Egyptian Kahk cookies are traditional sweets that are often served during the holiday season in Egypt. Filled with sweet nutty mixture and dusted with powdered sugar these cookies are enjoyed by people of all ages.
Ghraybeh, or sometimes you can find it written as Ghorayeba, is a Middle Eastern Cookie. These cookies melt in your mouth, with fine texture, delicate, and delicious.
Kataifi is made with roughly chopped walnuts (and sometimes other nuts), scented with ground clove and cinnamon, wrapped into buttered crispy kataifi dough and bathed in lemon scented syrup.
Ever had Booza before? That stretchy and chewy Lebanese ice cream. This Arabic take on ice cream is full of intense flavors that will take you on a lifetime journey.
Middle Eastern Desserts Faq's
More middle eastern recipes
If you liked this recipe:
Share/pin this recipe to Pinterest.
Leave a comment down below!
📖 Recipe