In this recipe collection, we will explore a variety of delicious orange desserts that are sure to satisfy your sweet tooth. When it comes to desserts, orange is a flavor that adds a refreshing and citrusy twist.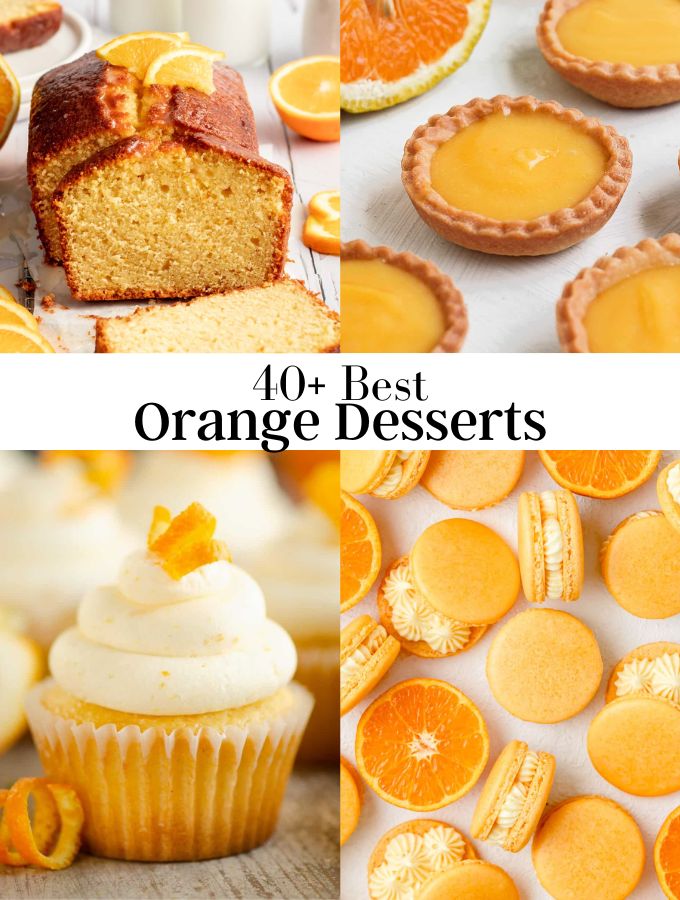 Jump to:
This orange cake is fluffy, light, and extremely moist. It is made with 9 simple ingredients, and topped with powdered sugar.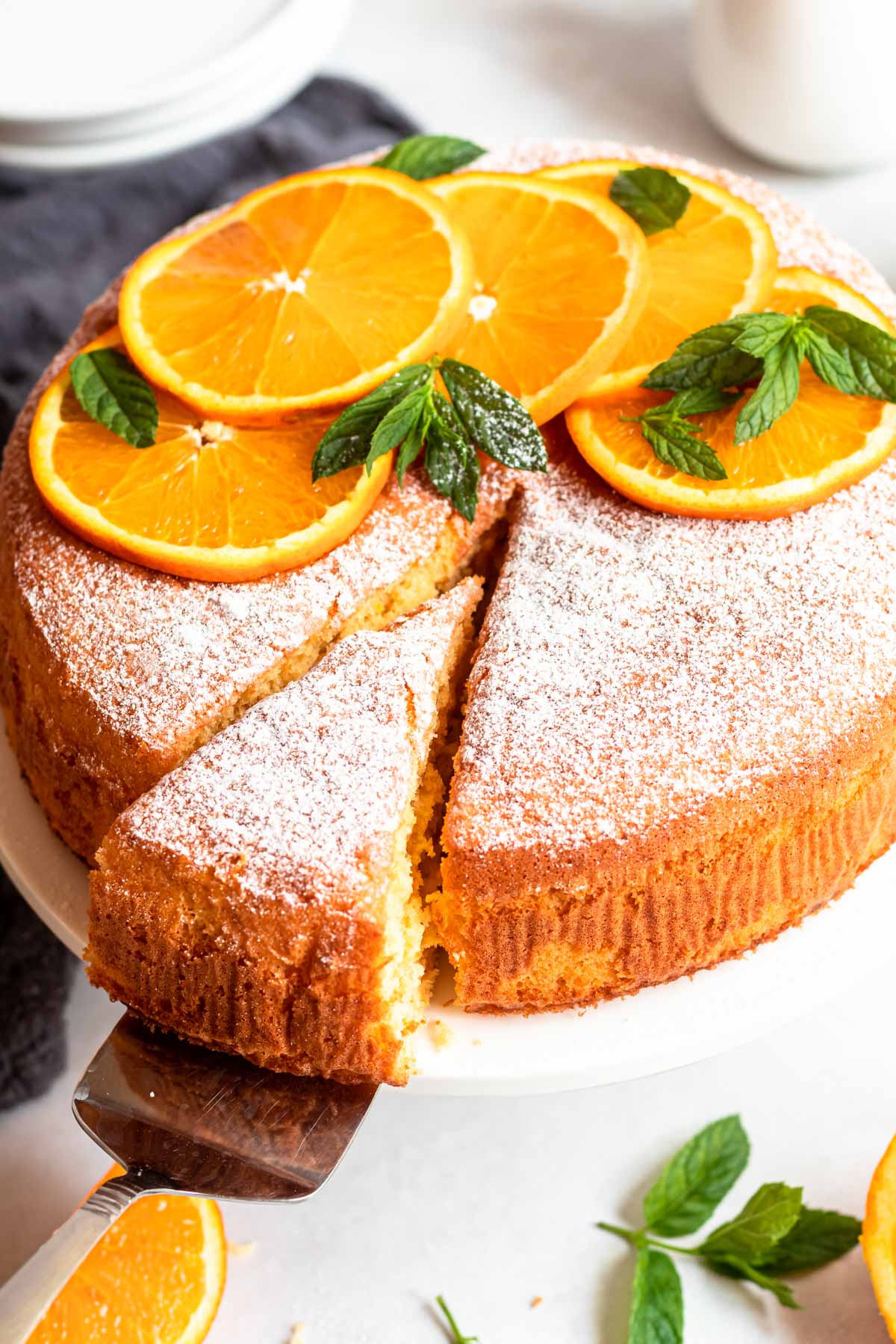 This super moist chocolate orange cake is made with fresh orange juice, orange zest, and dutch cocoa powder, and topped with chocolate orange buttercream.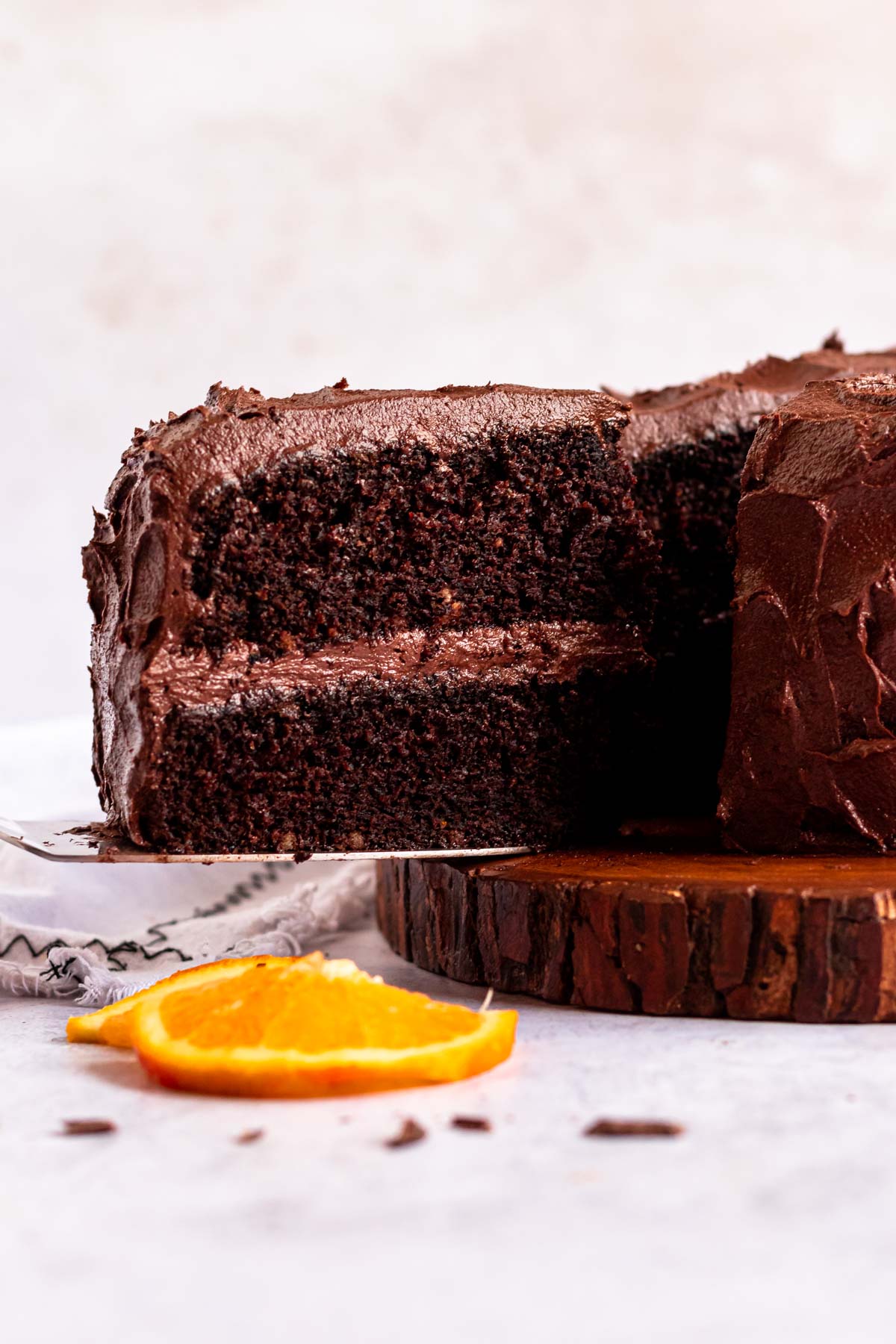 This orange pound cake is loaded with orange flavor and is moist, buttery, dense, and topped with a delicious orange glaze.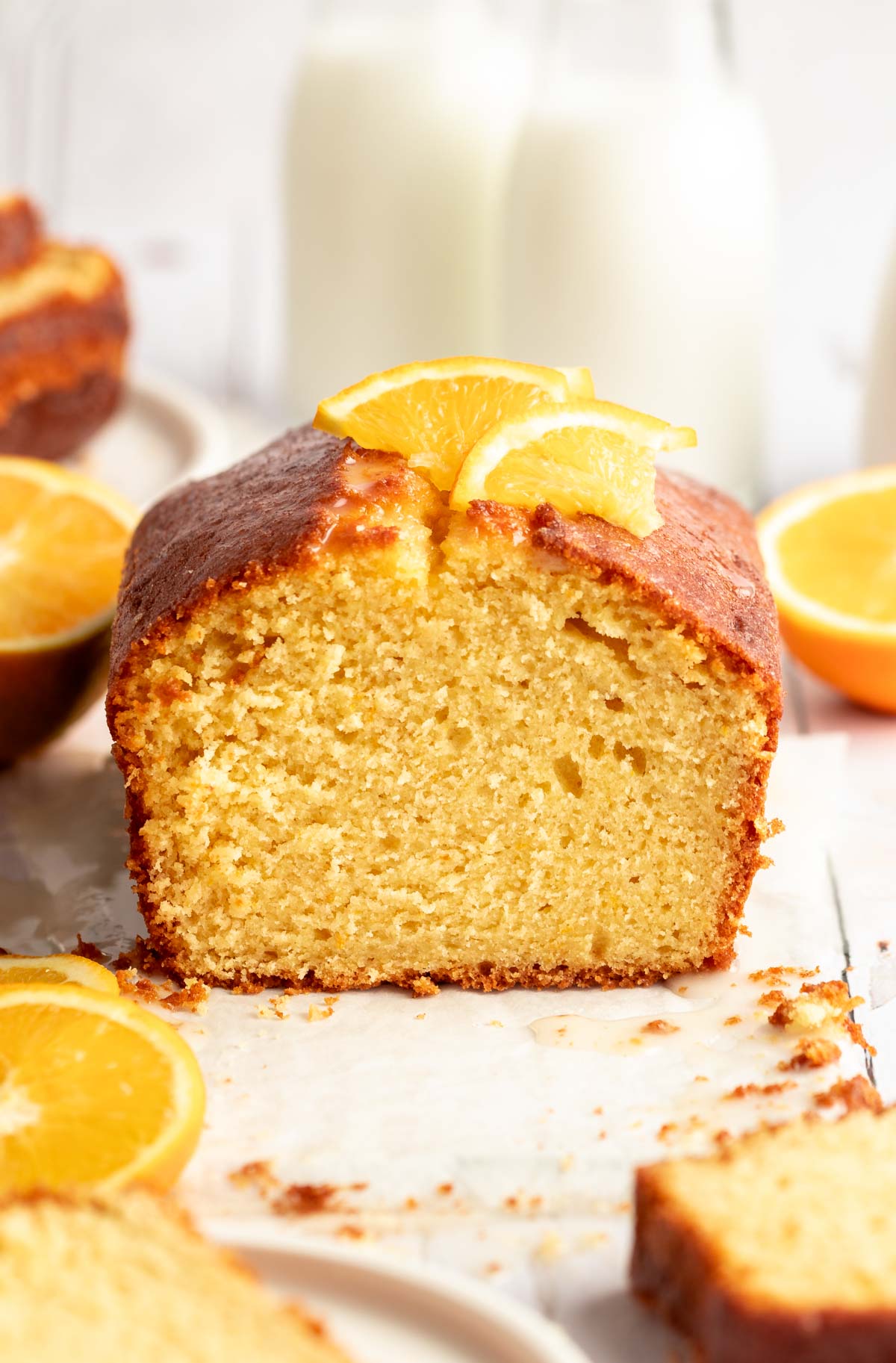 4. Orange Bars
Orange Bars are the perfect dessert for anyone who loves oranges! Packed with flavor and seriously sweet, these bars are the perfect summertime treat!
Sicilian whole orange cake is a moist and delicious crowd-pleasing dessert. It is called a whole orange cake, because the entire orange is used, peel and all.
These bakery style orange muffins are bursting with citrus flavor! These moist muffins use fresh orange juice and orange zest for big orange flavor.
Just like the orange creamsicles you loved as a kid, these orange creamsicle cookies are bursting with sweet and creamy vanilla orange flavor and rolled in powdered sugar just before baking for that extra melt-in-your-mouth experience.
These orange cupcakes taste like creamsicles, one of our childhood favorite treats! A moist and flavorful sour cream cupcake is studded with orange zest and topped with orange buttercream for an refreshing dessert.
Homemade Orange Curd Recipe is a bright and sweet orange curd that is easy to make with only 6 simple ingredients, and perfect to enjoy with breakfast or your favorite baked snack treats!
Delicious Italian iced orange cookies that melt in your mouth with every bite. These beautiful, soft orange cookies are perfectly sweet and have hints of fresh orange juice and zest in every bite.
11. Orange Creme Brulee
Orange Cinnamon Creme Brulee is a rich, gluten free, orange cinnamon flavored custard, with a layer of hard caramel on the top.
These Best Ever Orange Sweet Rolls are insanely delicious, super simple and SO bright and zesty with fresh orange flavor! Such a fun and zippy twist on a sweet roll!
Orange monkey bread – it's sticky, it's gooey, it's orangey, it's caramelly, it's decadent. Perfect for the kid in all of us.
If you love orange, you'll love this twist on the traditional blondies recipe! Orange flavors go throughout both the blondie and the creamy orange cream cheese frosting. These are divine straight from the refrigerator!
This easy, yummy Orange Creamsicle Cake recipe is totally bursting with a delicious, dreamy combo of orange and vanilla cream flavors!
You're only 4 ingredients away from these refreshing Orange Creamsicles! This small batch recipe makes only 4 orange yogurt pops.
You'll love this moist orange cake loaf that is so delicious and easy to make with only 6 ingredients! You can have this light cake as orange bread for breakfast or as a delicious afternoon tea snack.
This versatile recipe can be made coated with a crunchy sugar glaze or traditional bundt icing. It can also be made using a Bundt pan, two loaf cakes, or using a muffin pan for 24 individual cakes. The recipe has baking times for all three options.
This is a beautiful marble bundt cake that keeps well and freezes wonderfully. This an irresistible chocolate orange cake recipe to make during cold months, when oranges are in season.
This French Orange Tart Recipe makes a deliciously fresh Winter dessert. It combines a Sweet Shortcrust Pastry (Pâte Sucrée) and a simple Orange Cream Filling (Orange Crémeux). A perfect dessert for a dinner party or for the Holidays!
This Chocolate Orange Cheesecake recipe combines an Oreo Cookie Crust, a creamy Orange Cheesecake Filling and decadent Dark Chocolate Ganache Topping. It is the perfect dessert to serve for the Holidays or a special occasion!
Sweet, creamy, and crunchy, these Orange Tartlets are the perfect little treat for a party, birthday, Holiday dessert table, or afternoon tea. These Mini Orange Tarts combine homemade Mini Tartlets Shells and a simple yet flavourful Orange Curd filling.
This easy Upside Down Blood Orange Cake, packed with Citrus Fruits, is the perfect Winter dessert. The slightly caramelized Blood Oranges are baked under a light and fluffy Butter Cake, making it a deliciously fresh yet comforting winter cake or afternoon tea slice!
These super easy Dark Chocolate Orange Brownies are deliciously fudgy and decadent. They are packed with fresh Orange and intense Dark Chocolate flavors to create an irresistible treat.
Made with a luscious, rich, french-style custard base, and blended with the juice and zest from juicy fresh oranges, you won't believe how amazing this ice cream is!
These orange creamsicle macarons have a light, orange flavored macaron shell filled with a vanilla cream cheese frosting. They taste just like a classic orange creamsicle but in macaron form!
Sweet and creamy orange creamsicle truffles have a bright sunshine orange flavor combined with smooth white chocolate and vanilla to make a delicious treat. This dessert reminds you of summer and is perfect for parties and potlucks.
Soft cranberry orange bread with the most tender crumb topped with a sweet orange glaze and full of juicy cranberries, delicious! Make this sweet treat for breakfast, snack or dessert.
Brighten your day with Orange Donuts topped with a sweet orange glaze! Freshly squeezed orange juice and zest give the light and fluffy donuts a moist citrus flavor that you won't be able to resist.
These orange cupcakes taste like creamsicles, one of our childhood favorite treats! A moist and flavorful sour cream cupcake is studded with orange zest and topped with orange buttercream for a refreshing dessert.
These classic Orange Madeleines may become your new favourite recipe for these classic French cakes. Buttery soft sponges fragranced with orange zest and baked in their signature shell design then dipped in an orange glaze for more citrusy goodness are sublime.
32. Orange Biscotti
Nothing beats a good old-fashioned biscotti, especially not an orange almond one! This recipe will give you 18 crumbly cookies with crispy edges, crunchy nuts, and a lingering citrusy taste. Enjoy!
Once you try these Orange Candied Almonds, you won't be able to put them down! Perfectly sweet and crunchy with a surprising but delicious citrus twist. Not only are they super easy to make, but they're also the perfect gift for the holidays!
Orange Fluff Salad: This creamy, fluffy dessert salad is a no-bake recipe made with just 5 ingredients: jello, pudding mix, whipped topping, mandarin orange, and mini marshmallows!
This No-Bake Orange Creamsicle Cheesecake starts with a buttery graham cracker crust that's topped with citrusy sweet and light cream cheese filling and then topped with homemade whipped cream.
36. Orange Scones
Orange Scones are tender, flakey, and oh-so-delicious! Made with both orange juice and orange zest, then drizzled with a simple glaze, they pair perfectly with a cup of coffee in the morning!
Homemade, easy candied orange peel recipe and candied orange slices recipe, made with simple ingredients. Great as dessert, snack, or cake decorations.
Orange shortbread cookies couldn't be easier or more delicious. Pair them with a mug of tea and your afternoon is complete!
These fudgy orange chocolate cookies are chewy with a rich chocolate and orange flavor. The dough is filled with orange zest, cocoa powder, chocolate chips and a hint of cardamom.
This Orange Juice Cake is sweet and delicious. This is a super moist cake that needs no frosting, instead, we are using an Orange Juice infused glaze! You will love this cake that's perfect for summer!
Orange Pistachio Cookies-orange butter cookies topped with a sweet orange glaze and chopped pistachios. I bet you can't eat just one!
Orange olive oil cake is an outstanding dessert that's loaded with bright citrus flavor from the orange, and super moist from the olive oil. This cake is easy to make and can be served with a sprinkle of powdered sugar, or a simple orange glaze.
Orange Desserts Faq's
What can I do with lots of oranges?
Make some of these delicious orange desserts! From orange cakes to orange cookies. This is the ultimate list that covers all orange desserts!
What pairs with oranges?
So many flavors pairs well with oranges like chocolate, almonds, vanilla, hazelnut, mint, cherry, berries, cranberries, and much more!
What can I do with overripe oranges?
You can juice and zest the oranges and make one of these orange recipes!
For more desserts
Vanilla cake with strawberry filling- This incredible vanilla cake with strawberry filling is moist, tender, and full of strawberry flavor and is made with fresh strawberries!
4-ingredient peanut butter cookies- These 4 ingredient peanut butter cookies are the easiest peanut butter cookies, they are crunchy and full of peanut butter flavor, and come together in 20 minutes!
Limoncello mascarpone cake- This limoncello mascarpone cake has a soft and tender crumb and is topped with creamy mascarpone cream and lemon curd.
If you tried any of these recipes, don't forget to leave a rating and a comment below. We love hearing from you.
If you liked this recipe
Share/pin this recipe to Pinterest.
Leave a comment down below!
📖 Recipe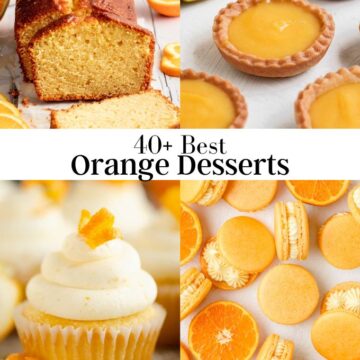 40+ Best Orange Desserts: Orange Cake & More
In this recipe collection, we will explore a variety of delicious orange desserts that are sure to satisfy your sweet tooth. This orange cake is fluffy, light, and extremely moist. It is made with 9 simple ingredients, and topped with powder sugar.
Ingredients
5

Eggs

1 ¼

cup

Granulated sugar

½

teaspoon

Kosher salt

1

teaspoon

Vanilla extract

¾

cup

Vegetable oil

2

tablespoon

Orange zest

1

cup

Orange juice

2 ¼

cups

Flour

2

teaspoon

Baking powder
Instructions
Preheat the oven to 160c (320f) and prep a 9-inch baking pan with parchment paper.

Carefully separate the egg whites from the egg yolks and pour the egg whites to a stand mixer with a balloon attachment and gradually add the sugar over medium speed.

Whip the mixture on high speed until the mixture is light and fluffy. You want stiff peaks in this mixture. Add the orange juice, egg yolks, orange zest, vanilla extract, kosher salt, vegetable oil, and mix over low speed until combined.

Add the flour and baking powder and mix until there are no flour lumps visible.

Pour the batter into a parchment paper lined 9 inch round baking pan and smooth it out using a spatula.

Bake in a 160c (320f) preheated oven for about 40-45 minutes or until a toothpick inserted into the cake comes out clean.

Top the cake with as much powder sugar as you would like, we like to top it with thin slices of orange and mint leaves.
Notes
Use room temperature ingredients. It is important that you use room-temperature ingredients like eggs. This step ensures that your mixture mixes into a homogenous mixture and bakes perfectly. you don't want to place cold batter into the oven.
Measure your flour correctly! When measuring your flour, avoid scooping it with a measuring cup. Instead, stir the flour with a spoon to create as many air pockets as possible, and spoon it into your measuring cup. Finally, level it with a back of a knife.
Don't overmix the batter, you don't want to develop the gluten in the flour. This step ensures you have a moist cake and not a dense and dry cake.
Butter your pan with butter and sprinkle flour to prevent sticking. This step helps the cake to bake evenly, and it makes sure that your cake will release easily from the pan.
 Make sure you line your baking pan with parchment paper to prevent the cake to stick to the pan.
Be patient! I know it's extremely tempting to eat this cake as soon as it's ready. Allow the cake to cool to room temperature before eating the cake. This step prevents the cake to fall apart.
Use fresh orange juice and fresh orange zest! This step can transform your cake and make it so delicious, fresh, flavorful, and zesty.
Nutrition
Calories:
389
kcal
Carbohydrates:
50
g
Protein:
6
g
Fat:
19
g
Saturated Fat:
3
g
Polyunsaturated Fat:
10
g
Monounsaturated Fat:
5
g
Trans Fat:
0.1
g
Cholesterol:
82
mg
Sodium:
233
mg
Potassium:
114
mg
Fiber:
1
g
Sugar:
27
g
Vitamin A:
173
IU
Vitamin C:
14
mg
Calcium:
69
mg
Iron:
2
mg