These mini desserts offer a perfect balance of flavors and textures, making them an ideal choice for those who want to indulge in a variety of desserts without feeling overwhelmed.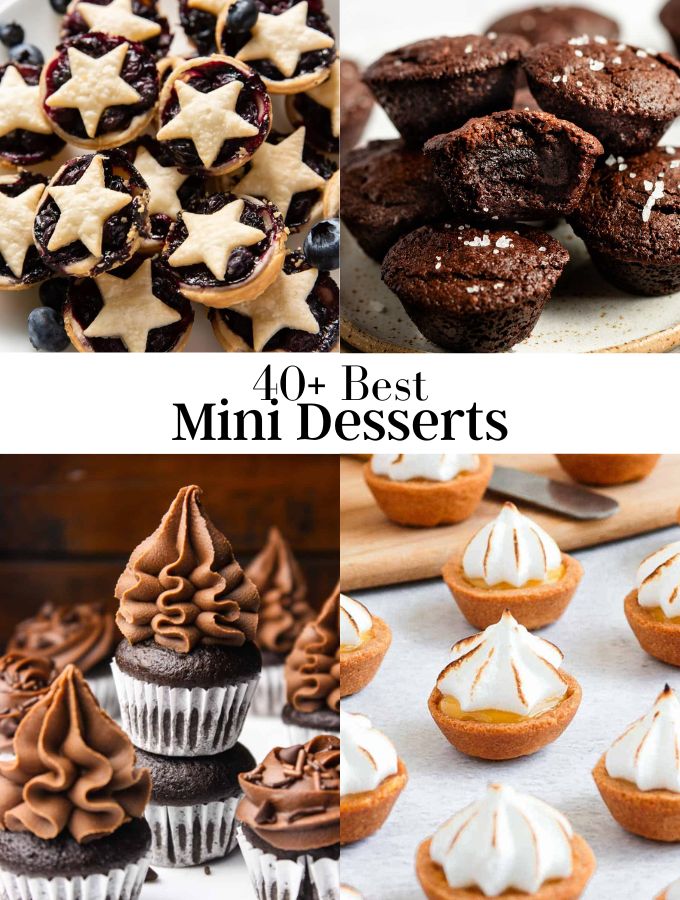 From miniature cheesecakes and tiny tarts to petite cupcakes and dainty macarons, there is something for everyone on this list for mini desserts.
Whether you're hosting a party or simply craving something sweet, this collection is sure to satisfy your taste buds and leave you wanting more.
For more recipe roundups, check out my orange desserts, unique desserts, pistachio desserts, best cheesecake toppings, easy baking recipes, unique cookie recipes, Rice Krispie Treats Variations, best nutella recipes.
Jump to:
These mini strawberry cheesecakes are made with a graham cracker crust, topped with an easy and creamy cheesecake filling, and topped with homemade strawberry topping.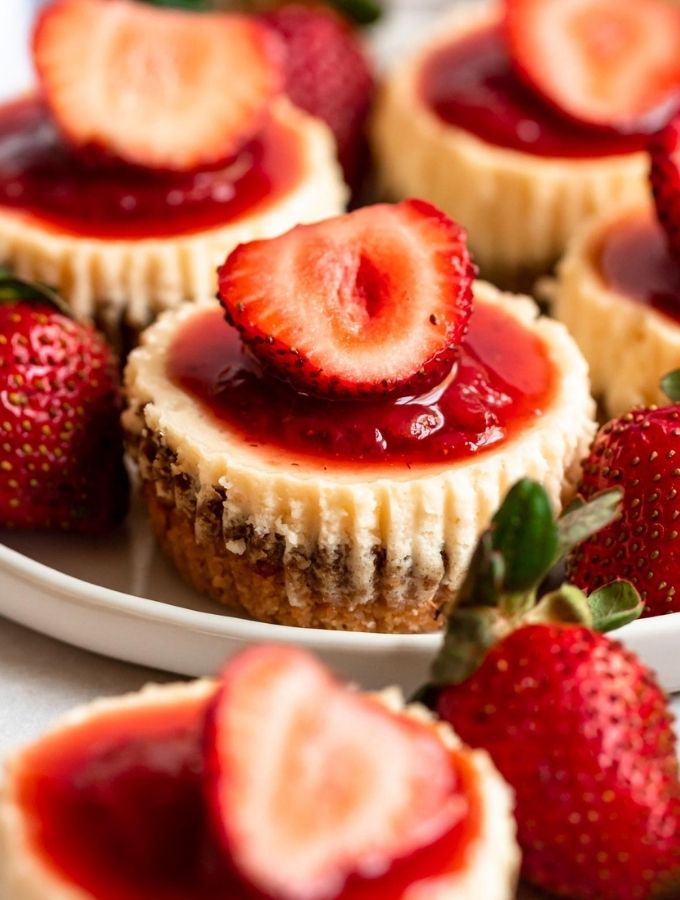 These mini fruit tarts are made with easy and buttery tart shells, filled with homemade pastry cream, and topped with fresh fruit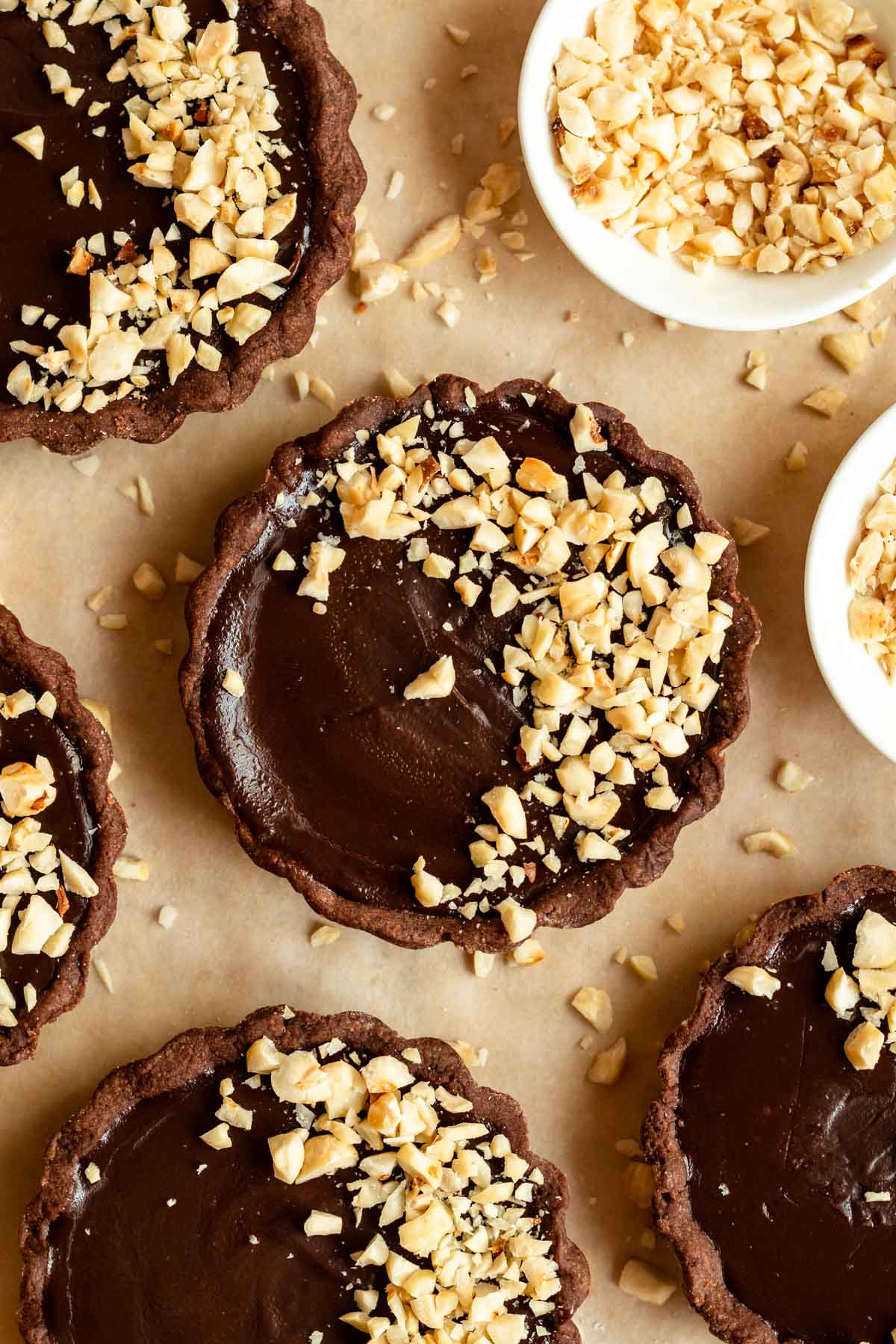 These mini chocolate cheesecakes are made with oreo crust, topped with creamy chocolate cheesecake filling, topped with chocolate ganache which is topped with chocolate whipped cream.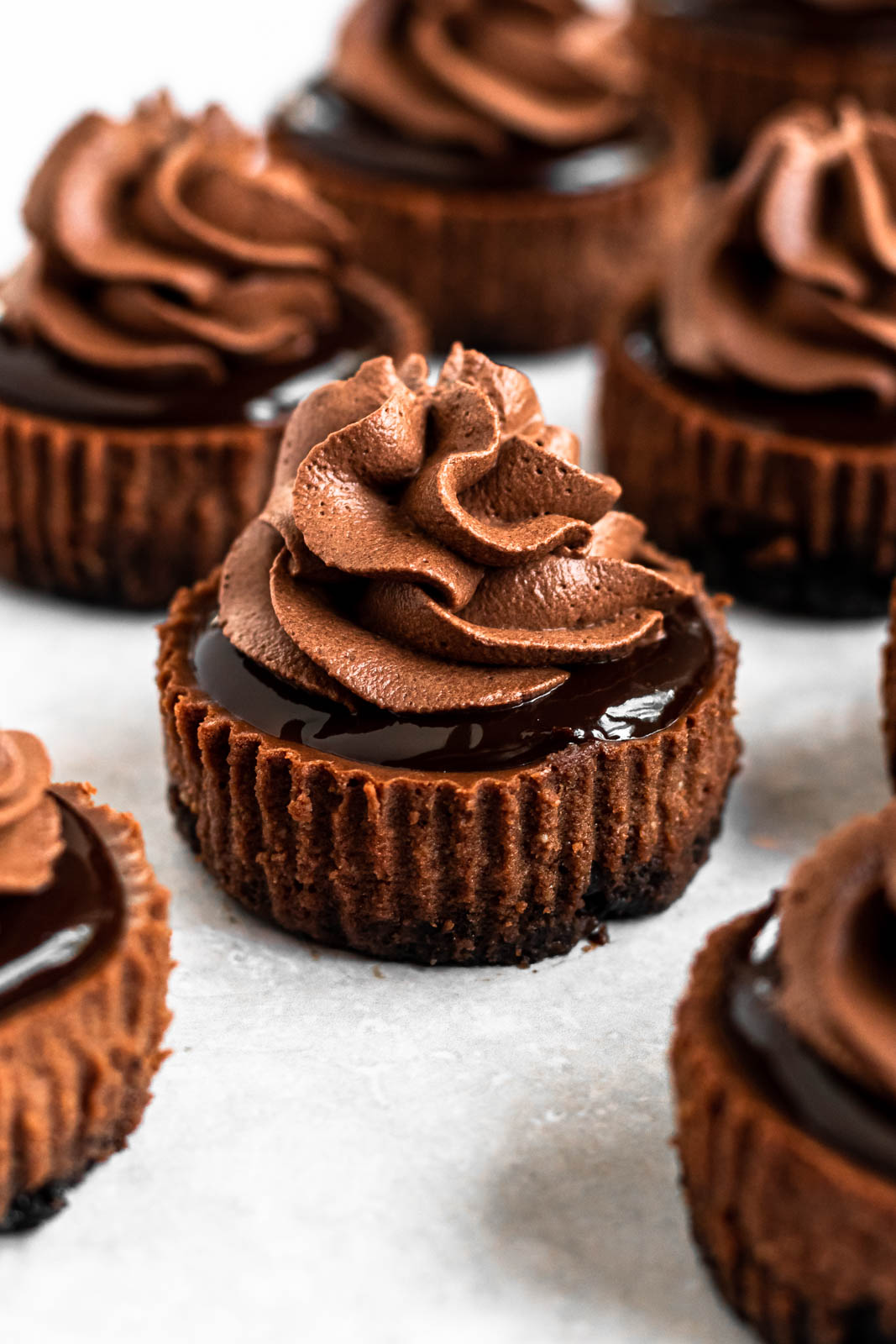 These mini Oreo cheesecakes are made with an oreo crust, topped with a creamy Oreo cheesecake filling, and topped with our homemade oreo whipped cream.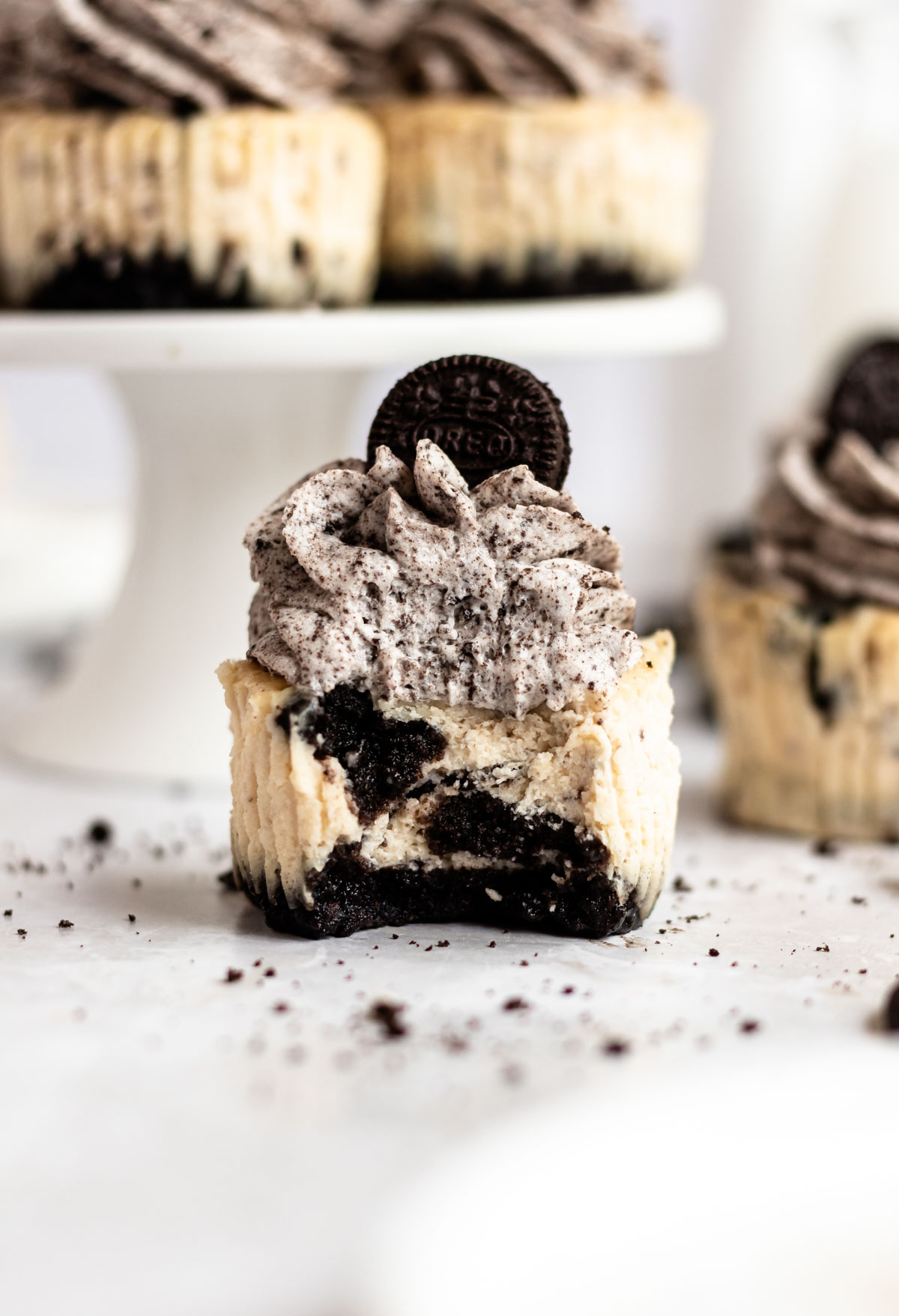 These adorable mini pumpkin pies are made with a buttery pie crust, filled with my favorite pumpkin pie filling, and topped with a dollop of whipped cream.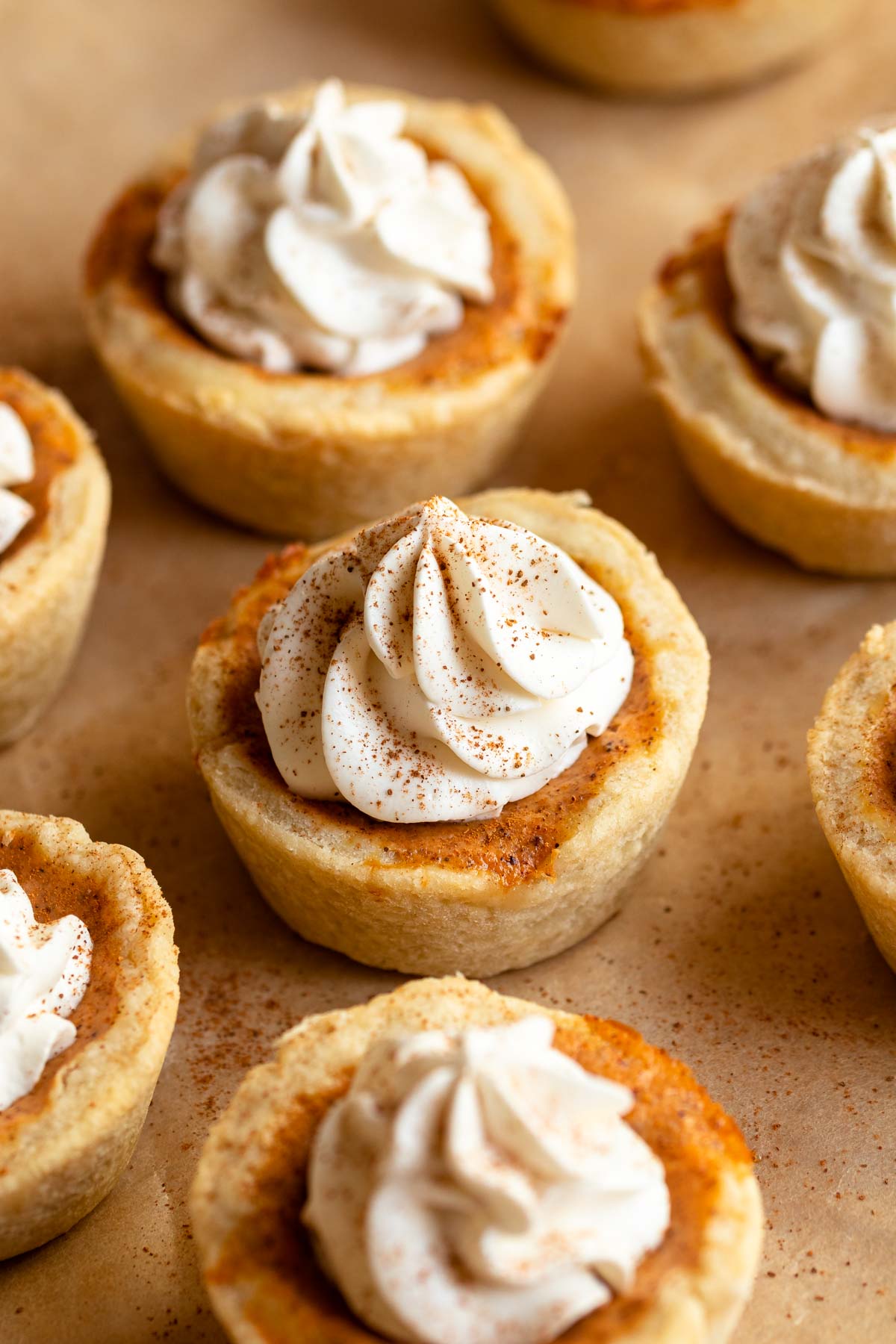 These banana mini muffins are the most perfect bite-size snack! They are soft and moist and fluffy and are filled with banana flavor.
Pavlova is the lightest dessert that is made with a light meringue that is baked at low temperature, topped with homemade whipped cream and fresh fruit.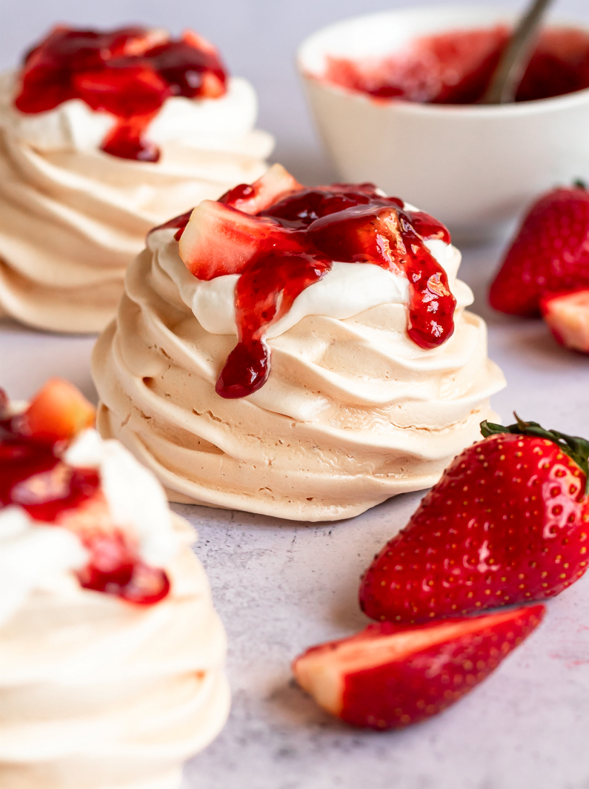 These brownie bites are moist, fudgy, and full of chocolate flavor! They are gooey in the center and have a crackly brownie-like top!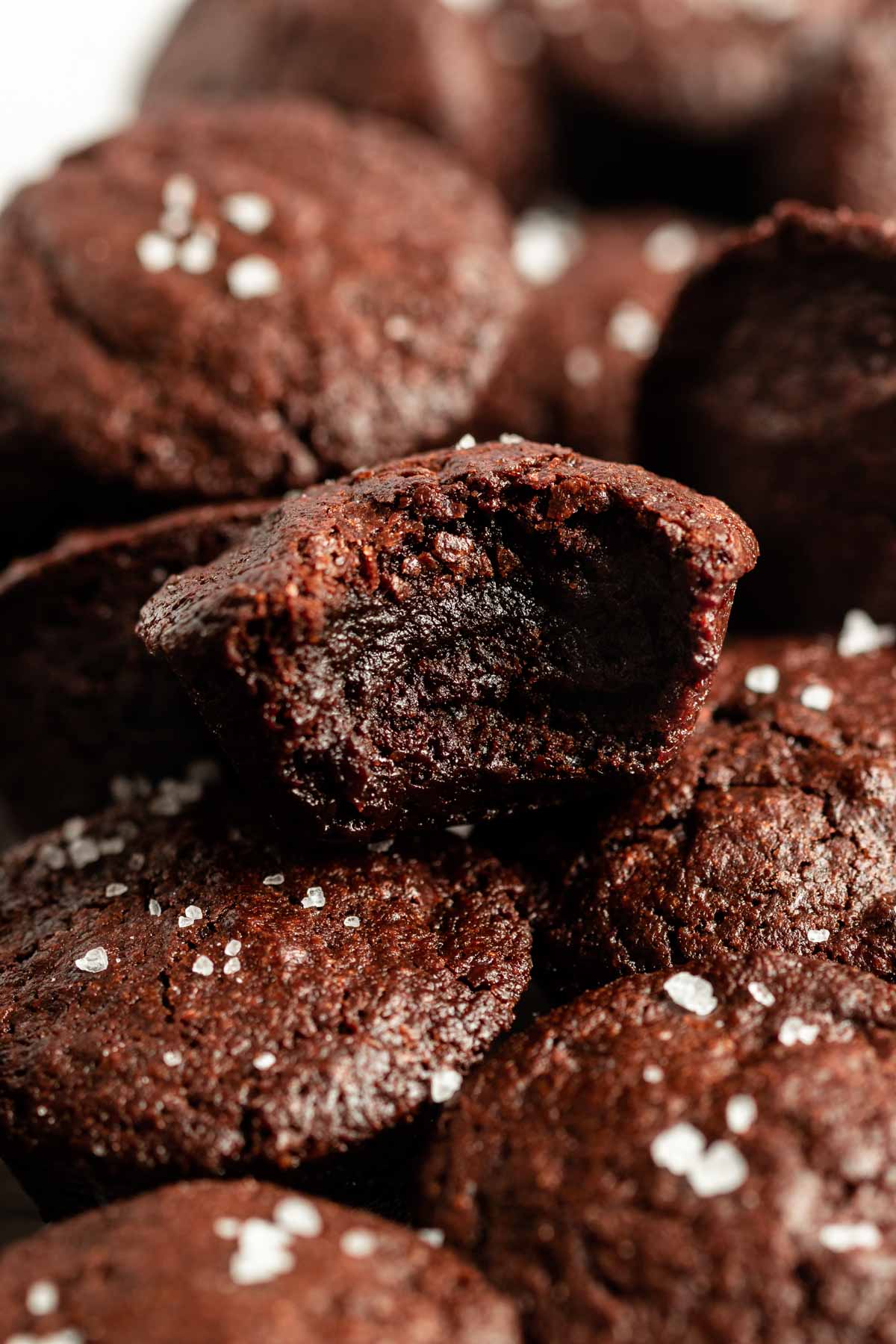 These mini fruit tarts are made with easy and buttery tart shells, filled with homemade pastry cream, and topped with fresh fruit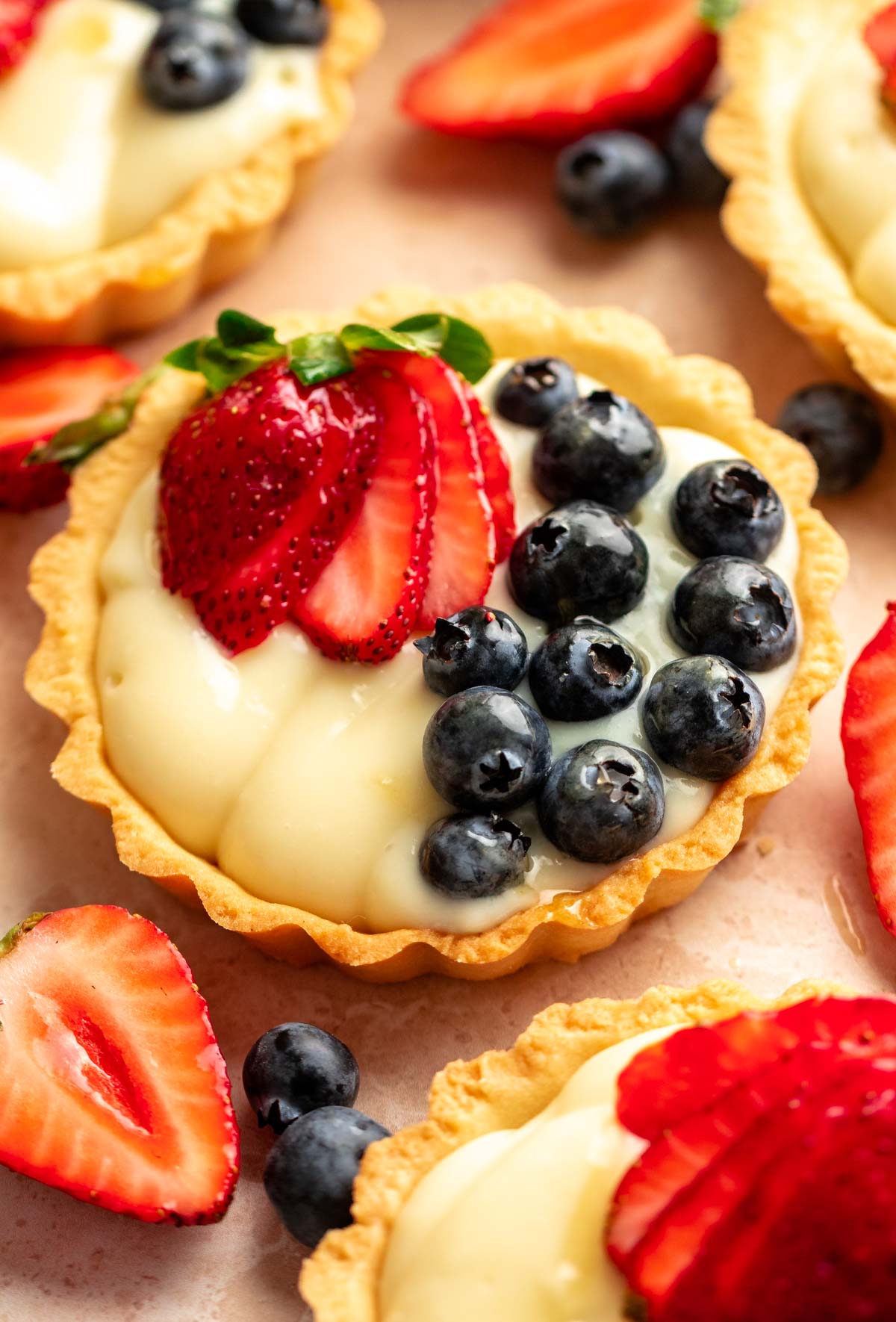 This mini basque cheesecake is the perfect-sized cheesecake if you don't serve a crowd. Yes, this cake is intentionally "burnt" with a slightly burnt caramelly flavor that adds so much to this cheesecake.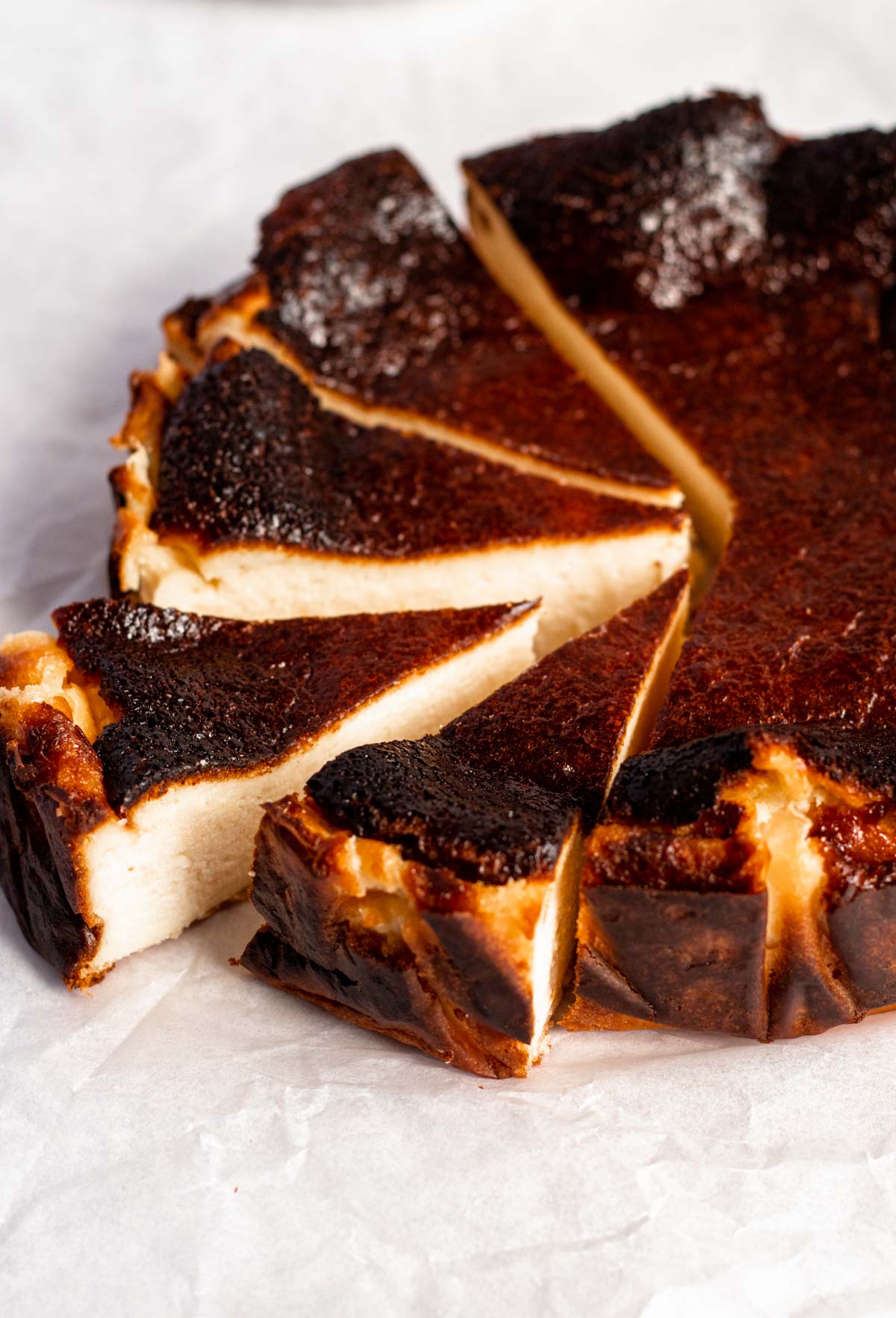 These no bake mini cheesecakes are creamy, easy to make, and perfect with berries on top. These are made with simple ingredients and take minutes to prep!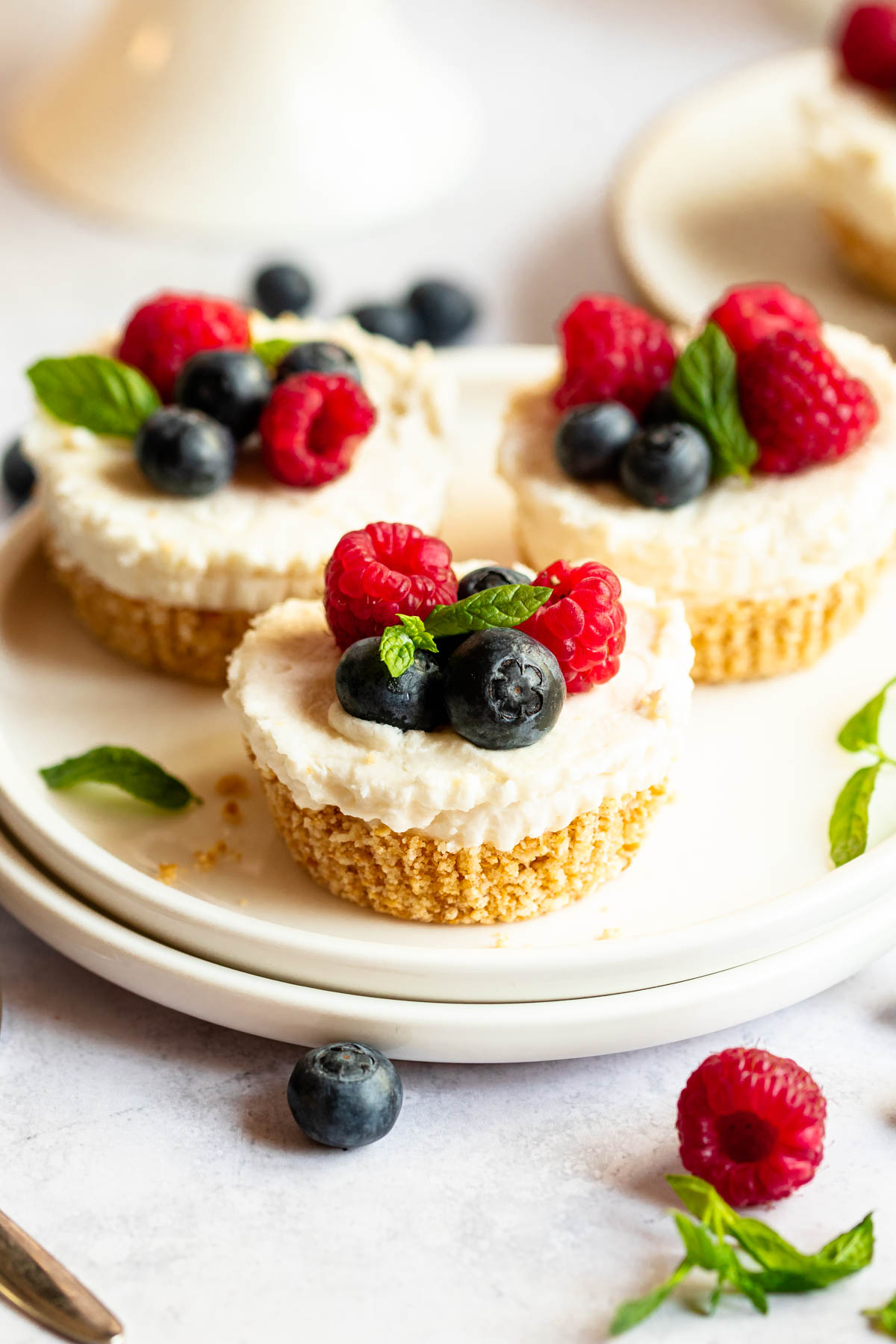 These mini donuts are made with a simple vanilla cinnamon cake-like batter and tossed in a cinnamon sugar mixture. These are so cute and so fun to make!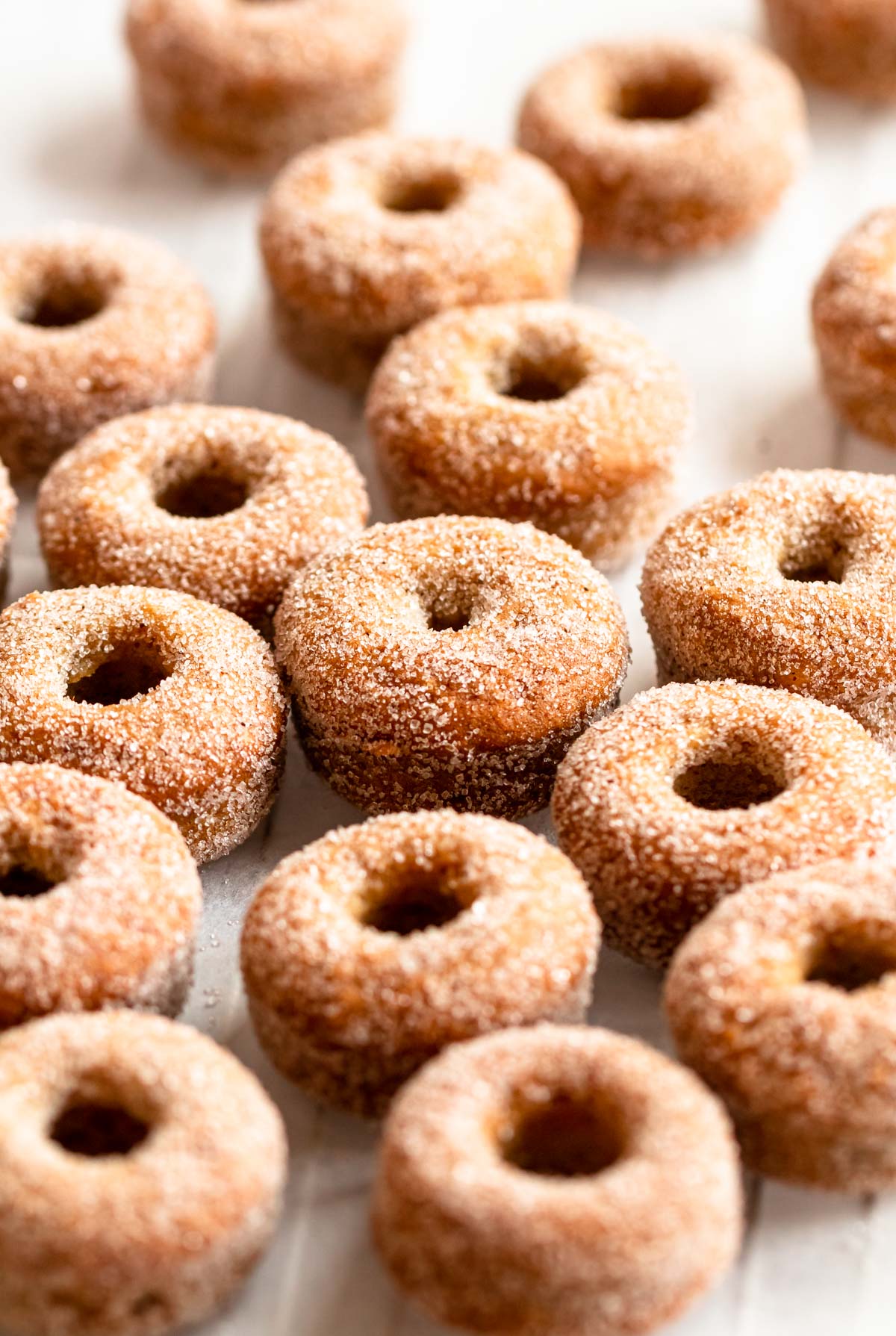 These cheesecake balls are the perfect bite sized dessert for cheesecake lovers! They are made with only 5 simple ingredients that you may find in your kitchen!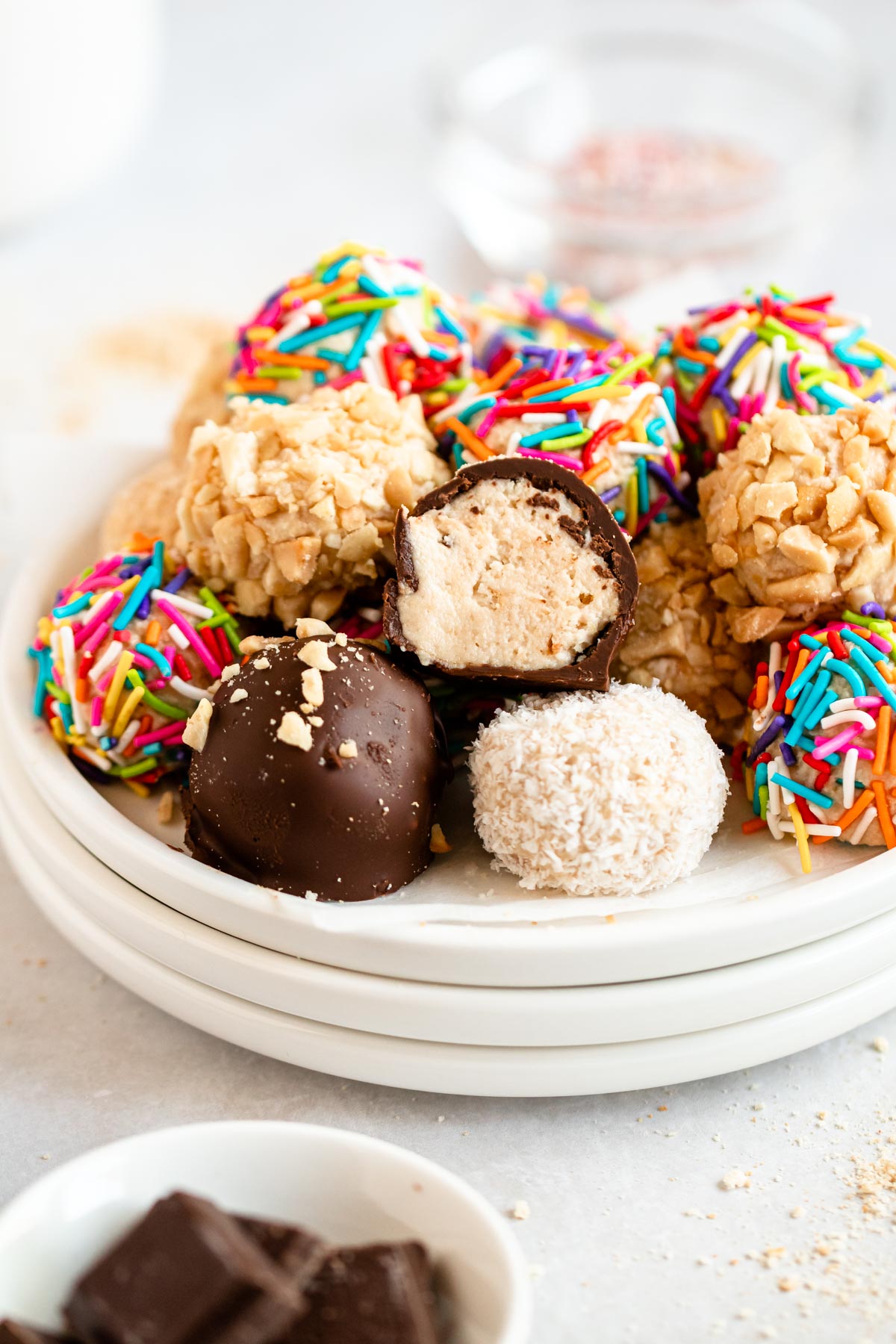 These no bake peanut butter balls with rice Krispies are crunchy and delicious and are super easy to make. They will turn into your favorite candy to make! You can serve them as a snack, dessert, or sweet treat!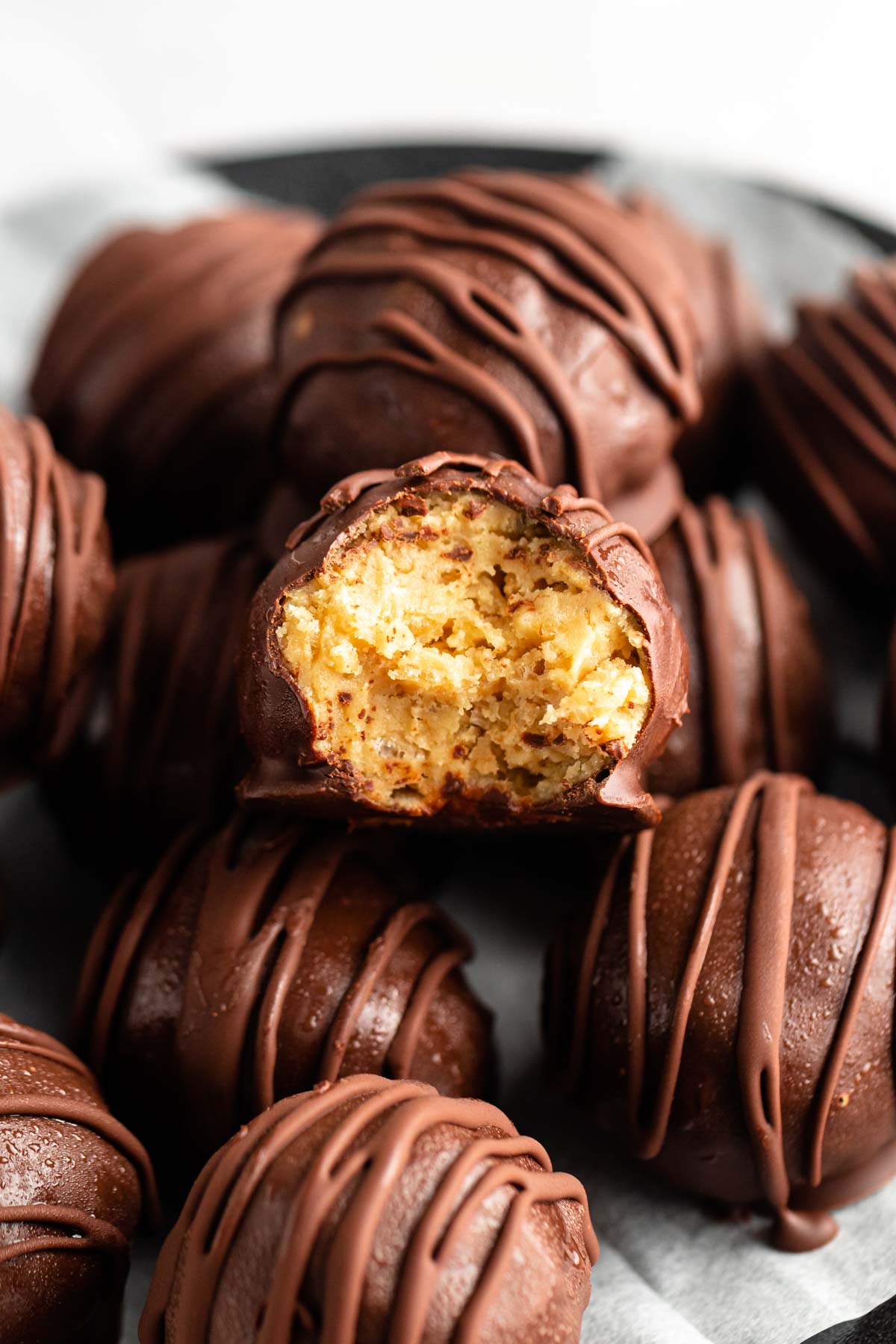 These chocolate truffles are made with only 4 ingredients, are rich in chocolate flavor, and can be covered in many different toppings like coconut, cocoa powder, chopped nuts, holiday sprinkles, melted chocolate, and much more!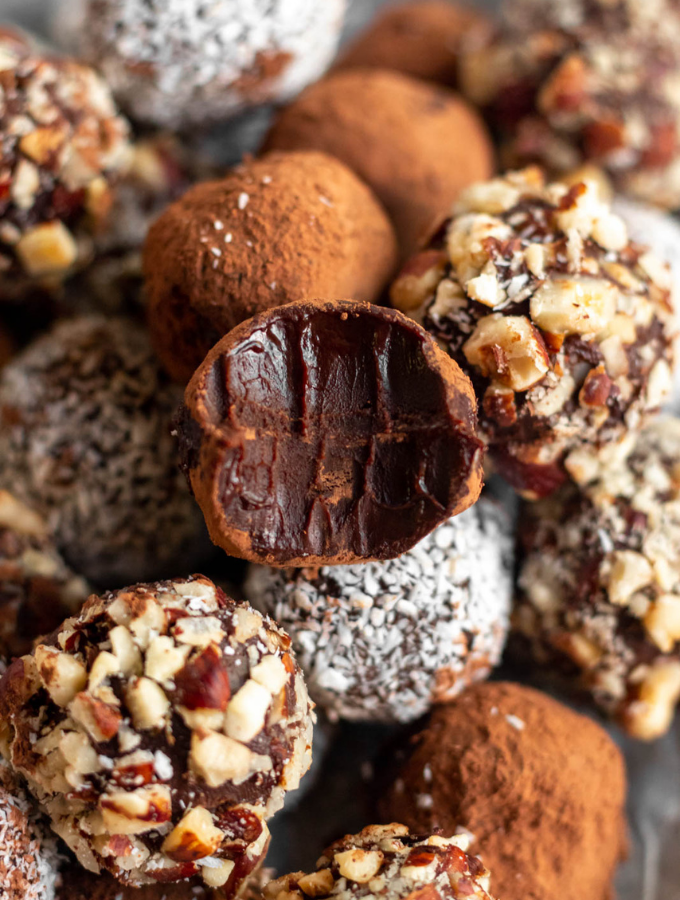 These mini Blackberry Tarts are made with a buttery, oh-so-easy sweet, shortbread cookie-like crust and filled with a tart blackberry filling made from whole blackberries. Use fresh or frozen berries for a slice of summer any time of the year.
These mini cheesecake bites are made with an Oreo crust, creamy and easy cheesecake filling, topped with our homemade salted caramel sauce, and topped with whipped cream.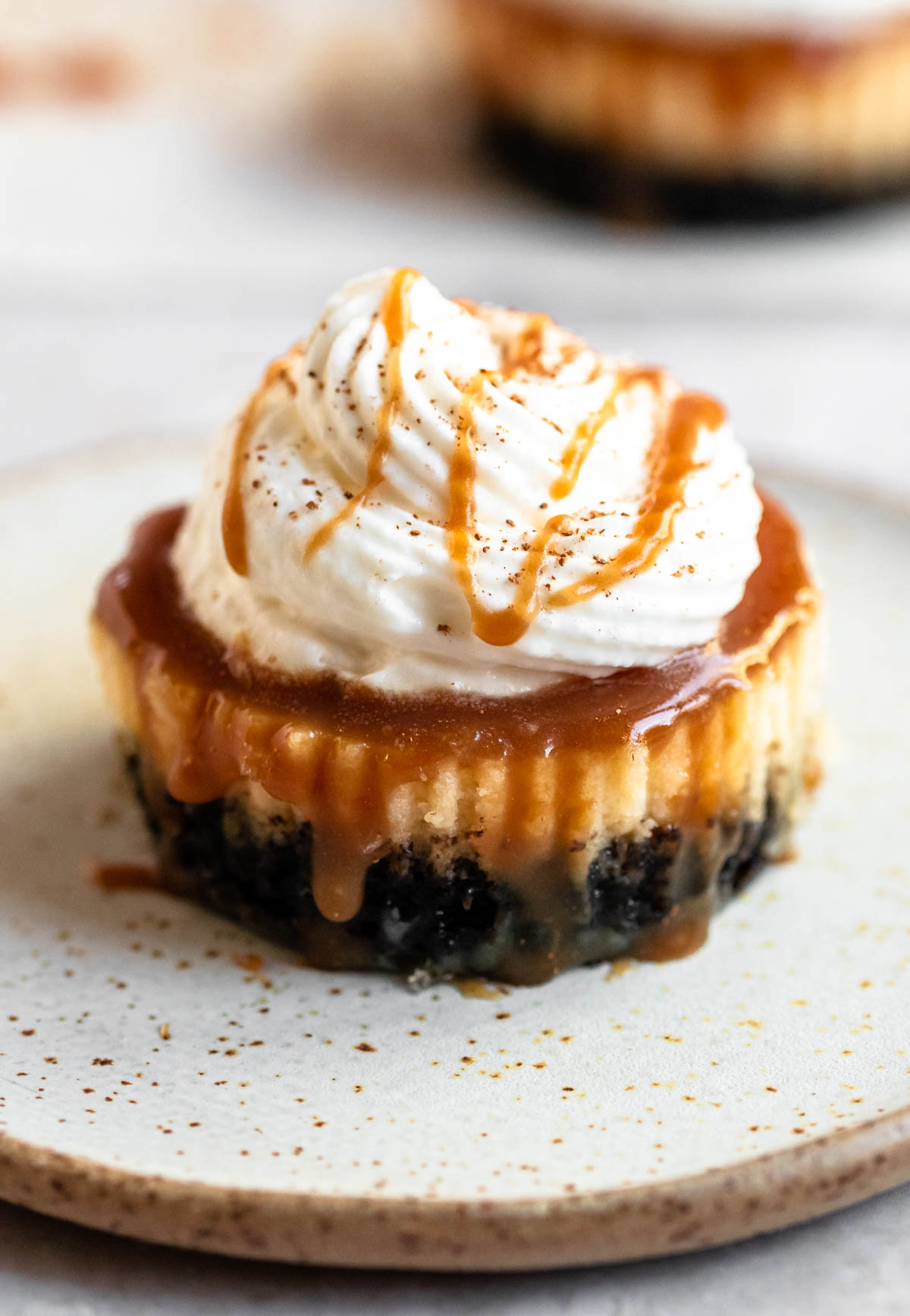 Bite-size mini blueberry cake made from a delicious lemon sponge. Filled with cream cheese frosting, blueberry jam and decorated with fresh fruit.
Mini apple galettes are individual freeform pies made with homemade pie crust, apples, and fall spices. Top these rustic mini pies with a dollop of whipped cream or a scoop of vanilla ice cream.
Mini red velvet cupcakes are tender, moist, and made entirely from scratch. These eye catching two-bite treats are topped with a classic ermine frosting that's silky and less sweet than traditional buttercream.
One bowl, twelve chocolate mini bundt cakes, and one fulfilled decadent chocolate dream. One bite into these chocolate cakes drizzled with an ultra velvety chocolate ganache will make you check in to chocaholics anonymous.
These oreo balls are made with only 3 ingredients! These oreo balls are covered with chocolate and are perfect for Christmas or any other day!
Deliciously bite-sized Carrot Mini Bundt Cakes make the perfect Easter dessert. Moist carrot cake with hints of cinnamon and ginger is topped with a decadent cream cheese frosting.
These mini pumpkin cheesecakes are made with a lotus biscoff cookie crust, filled with an easy pumpkin cheesecake filling, and topped with whipped cream and cinnamon!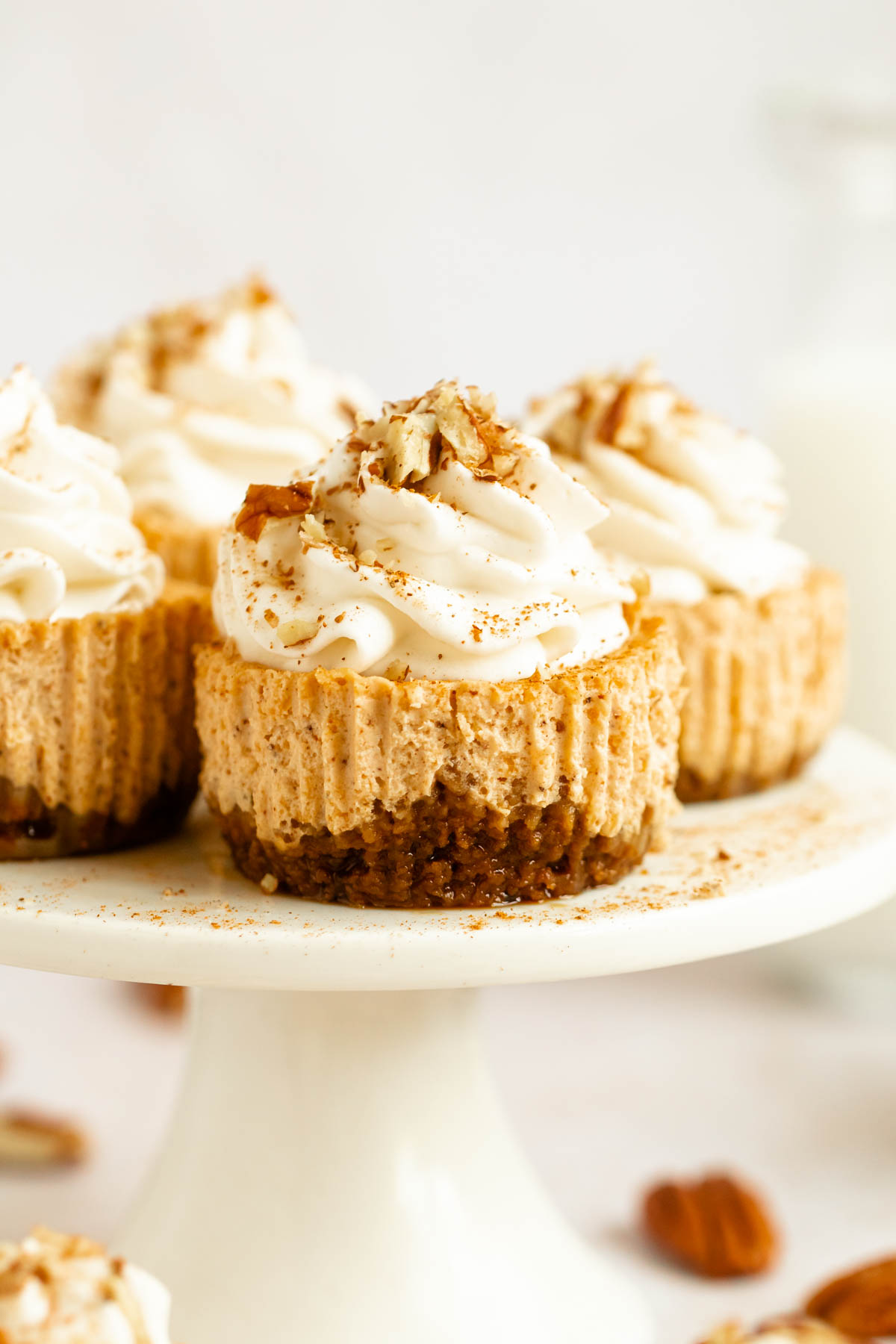 My heart (and stomach) is calling for some warm cobbler filled with fresh peaches topped with vanilla ice cream, but in portion control fashion…a.k.a Individual Peach Cobbler!
This is a favorite recipe for perfect chocolate donuts. Not only are these super quick and easy to make, these Chocolate Mini Donuts are topped with a thick chocolate glaze and colorful sprinkles. Ideal for parties, birthdays or to satisfy your every chocolate craving!
Make these easy Mini Cinnamon Rolls that are frugal and delicious. They are bite size and perfect for breakfast any day of the week.
Mini Cannoli are the perfect way to enjoy the flavors of cannolis in a single, bite-sized package. If you are looking for a fun, tasty treat that is sure to impress your friends and family at parties or other special occasions, these mini cannolis are perfect.
Mini Peach Upside Down Cakes. A soft and moist spiced cake topped with fresh peaches. The perfect summer dessert! Serve warm with a scoop of ice cream!
These mini raspberry trifles are a delicious dessert that only takes a few minutes to make! Tart raspberries, creamy vanilla pudding, and sweet pound cake are a tasty combination that is delicious.
These delicious Mini Lemon Meringue Tarts combine some buttery Shortcrust Pastry Shells baked in a Mini Muffin Tin, a tangy Lemon Curd filling and a sweet toasted French Meringue topping.
Chocolate eclairs recipe for two, a small batch of homemade eclairs. Homemade small batch pastry cream recipe, too.
These Edible Cookie Dough Bites are an easy no-bake recipe! Perfect for when you are craving some yummy cookie dough because it takes just 5 minutes to make.
They are individual rich and fudgy brownies topped with a peanut butter cup which ensures you get chocolate and peanut butter in every bite of these brownie cups with peanut butter.
Mini blueberry pies are a delicious bite-sized treat. The star garnish makes the pies a patriotic dessert for Memorial Day or the Fourth of July!
These mini chocolate chip cookies are perfectly soft, loaded with chopped chocolate, and can be enjoyed in just two to three bites!
Meet one of the most favorite chocolate desserts! Decadent and super cute mini chocolate cupcakes piled high with the most amazing Chocolate buttercream.
Moist, tender mini bundt cakes are sure to be the hit of your next party! They're super cute, extremely easy, and loaded with a bright, lemony flavor.
These fudgy Mini Flourless Chocolate Cakes are perfect for Valentine's Day or any special occasion. This recipe makes four individual cakes that are rich, decadent, and gooey. Serve warm with fresh whipped cream on top.
This Mini S'mores Pie is the easiest dessert that can be made in the oven or the air fryer. Scale this recipe down for a personal dessert or make a tray for a crowd.
Start your morning on a sweet note with these mini blueberry muffins! Whether you're a busy student or a working professional, these nostalgic bite-sized treats are the perfect on-the-go breakfast or mid-day snack.
Learn how to make these adorable mini macarons! They're the perfect bite-sized version of our favorite French cookie!!
This mini Victoria sponge cake recipe features golden, buttery cakes sandwiched with vanilla buttercream and raspberry jam for a classic afternoon tea party treat that's as easy to make as cupcakes!
Need something fun and festive for the holidays? Try these sweet mini apple pies, a small dessert that makes a big statement!
Craving something sweet? These Mini Key Lime Pies are fun to make and oh-so delicious! Mini graham cracker crusts make this easy dessert a breeze to make!
Mini Desserts Faq's
What are the small desserts called?
Petit fours are delightful bite-sized treats that originated in France. These miniature pastries are known for their exquisite presentation and diverse flavors.

Petit fours come in a wide range of flavors, including chocolate, fruit, and nut varieties.
What are mini desserts?
Mini desserts are miniature versions of popular desserts and are perfect for those who want to satisfy their sweet tooth without overindulging.

Mini desserts come in various forms, such as mini cupcakes, tarts, cheesecakes, and pies, offering a wide range of flavors and textures to suit every palate.
What are the 4 main desserts?
The top 4 main desserts are cakes, cheesecakes, cookies, and pastries.
More dessert recipes
Tiktok cinnamon rolls with heavy cream- These TikTok cinnamon rolls with heavy cream are ooey gooey, fluffy, and moist, and are topped with homemade cream cheese icing.
Soft Strawberry Shortcake Cookies- These strawberry shortcake cookies are made with fresh strawberries, and rolled in buttery shortcrust crumble, and are chewy on the inside and crunchy on the outside.
Chocolate Fudge Cake- This chocolate fudge cake is the most amazing chocolaty, rich, moist, and tender, and is the perfect dessert to satisfy your chocolate cravings!
If you tried any of these recipes, don't forget to leave a rating and a comment below. We love hearing from you.
If you liked this post:
Share/pin this recipe to Pinterest.
Leave a comment down below!
📖 Recipe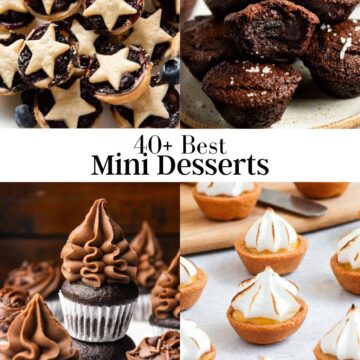 40+ Best Mini Desserts: Mini Chocolate Cheesecakes & More
These mini desserts offer a perfect balance of flavors and textures. These mini chocolate cheesecakes are made with oreo crust, topped with creamy chocolate cheesecake filling, topped with chocolate ganache which is topped with chocolate whipped cream.
Ingredients
Crust:
200

g

Oreos

70

g

Butter

melted
Filling:
350

g

Cream cheese

⅓

cup

Sour cream

2

cups

Granulated sugar

1

teaspoon

Vanilla extract

1

tablespoon

Cocoa powder

150

g

Dark chocolate

melted and cooled

⅓

teaspoon

Salt

2

Eggs

1

Egg yolk

⅓

cup

Heavy cream
Chocolate ganache:
100

g

Dark chocolate

100

g

Heavy cream
Chocolate whipped cream:
1

cup

Heavy whipping cream

2

tablespoon

Sugar

¼

cup

Cocoa powder

1

teaspoon

Vanilla extract
Instructions
Prepare a 12 cupcake or muffins pan with paper liners, and preheat an oven to 180c (350f).

Make the crust: pulse Oreos in a food processor until fine crumbs form. If you don't have a food processor on hand, place the Oreos in a Ziplock bag and smash them with a cup until fine crumbs form.

Into a small to medium mixing bowl, add the oreo crumbs, and melted butter. Mix with a spoon until the crumbs are coated with butter.

Scoop about 1 teaspoon of the oreo crumbs and place it in each muffin tin, pressing evenly and firmly into the pan.

Bake the crust in a 180c (350f) preheated oven for about 5-8 minutes. Keep an eye on the crust and make sure it doesn't burn. Take the crust out of the oven and let it cool to room temperature.

Lower the temperature to 140c (280f).

In a big mixing bowl, add the room temperature cream cheese and mix with an electric hand mixer until the cream cheese is creamy.

Add the sugar, cocoa powder, and vanilla extract and mix until the mixture is creamy and smooth.

Melt the chocolate and let it cool to room temperature and pour it into the mixture. Mix until well combined. Add the heavy cream and sour cream and mix it until combined.

Lower the hand mixer speed to low, and add each egg at a time. This step stops the cheesecake batter from overbeating. Overbeating can cause a weird cheesecake texture and stop the cake from cracking.

Pour the cheesecake batter over the crust, filling each mold until it's almost full, and release air bubbles by tapping the pan onto a flat surface.

Bake the cheesecakes in a preheated 140c (280f) oven for about 15 minutes or until the edges of the cheesecakes are set, but the middle is a bit jiggly. Keep the oven door closed for 5 minutes.

Open the oven door halfway, and let the cheesecake cool to room temperature for 1-2 hours. After the cheesecake is cooled, wrap the cheesecake with a plastic wrap tightly, and place the cheesecake in the fridge to cool completely for at least 5 hours.
Make the chocolate ganache:
Melt dark chocolate and heavy cream in a small to medium mixing bowl in the microwave for about 50 seconds.

Let the chocolate and the cream sit for 10 minutes for the chocolate to melt, then mix until the chocolate ganache is smooth and silky.
Make the chocolate whipped cream:
In a cold big mixing bowl add the heavy whipping cream, sift the cocoa powder, add the sugar and vanilla.

Whip with a hand mixer or in a stand mixer until stiff peaks form. Make sure that you don't overmix the whipped cream so it won't turn into butter.

Top each mini cheesecake with about a teaspoon of the chocolate ganache, and top with a big dollop of chocolate whipped cream.
Notes
Make sure that you are using room-temperature cream cheese in this recipe, this step makes it easier to mix the cream cheese with no unnecessary lumps, we don't want that. Use a nonstick cupcake or muffin pan. We use nonstick pans for all of our mini cheesecakes recipes. This makes sure that your cheesecakes will be easy to release from the pan. Use high-fat cream cheese or the well-known Philadelphia cream cheese. Using full-fat cream cheese ensures you that your cheesecake will be stable and will not crack. Let your cheesecake cool in the fridge for at least 5 hours. We know it's very hard to resist eating this delicious cheesecake right away, but you have to let the cheesecake cool and set in the pan. We like to let the cheesecake sit in the fridge overnight. For a smooth and creamy cheesecake, make sure that you are using room-temperature ingredients. Before you begin to make this cheesecake, make sure that your cream cheese is completely soft, and that your eggs are at room temperature. Don't overbeat the mixture! It's really easy to overbeat the mixture, and that is one of the most common mistakes. To avoid overbeating your mixture, make sure that you lower the speed of the hand mixer and add each egg at a time. Scrape down the sides of the bowl frequently to ensure that you have a homogeneous mixture that has no cream cheese lumps. Don't open the oven door before the cake is fully baked or about to be baked! Drastic changes in the temperature of the cake while baking can cause the cake to collapse or to crack.
Nutrition
Calories:
423
kcal
Carbohydrates:
41
g
Protein:
5
g
Fat:
28
g
Saturated Fat:
16
g
Polyunsaturated Fat:
2
g
Monounsaturated Fat:
8
g
Trans Fat:
1
g
Cholesterol:
86
mg
Sodium:
191
mg
Potassium:
211
mg
Fiber:
2
g
Sugar:
33
g
Vitamin A:
772
IU
Vitamin C:
1
mg
Calcium:
58
mg
Iron:
3
mg