These strawberry desserts are the most perfect recipe collection of the most delicious strawberry desserts that are perfect all year long.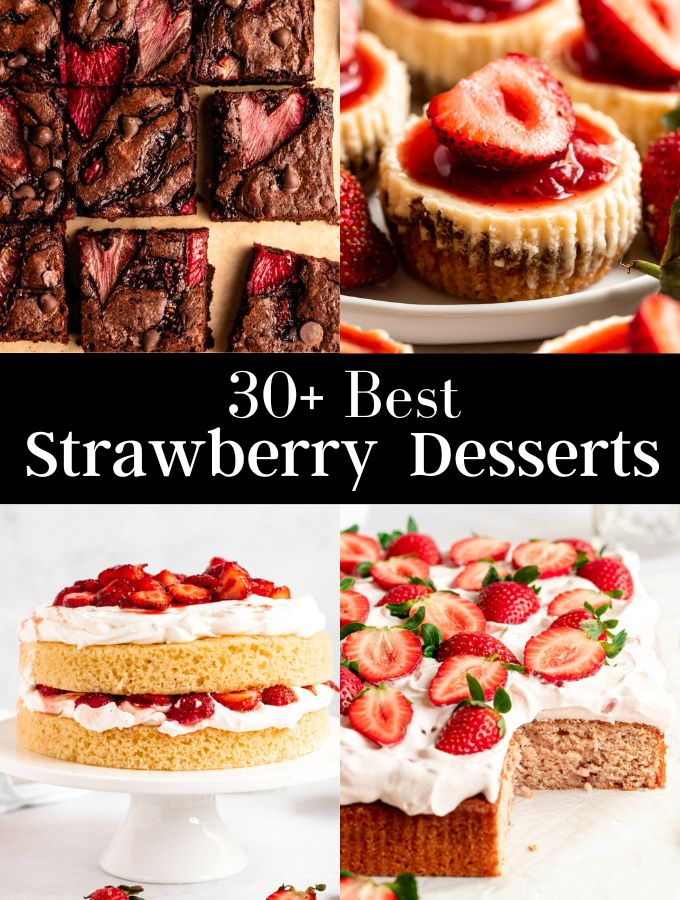 Strawberries are one of my favorite fruits to bake with. It has a sweet, light, and tangy flavor that goes perfectly in so many recipes and so many variations.
If you have some ripe strawberries to use up or even frozen strawberries, these strawberry recipes are the most perfect desserts to do so.
For more recipe roundups, check out my best lemon desserts, best Nutella recipes, best cake recipes, and thanksgiving dessert recipes.
Jump to:
1. Strawberry Shortcake Cake
This strawberry shortcake cake is made with a tender vanilla cake, filled with whipped cream and fresh juicy strawberries.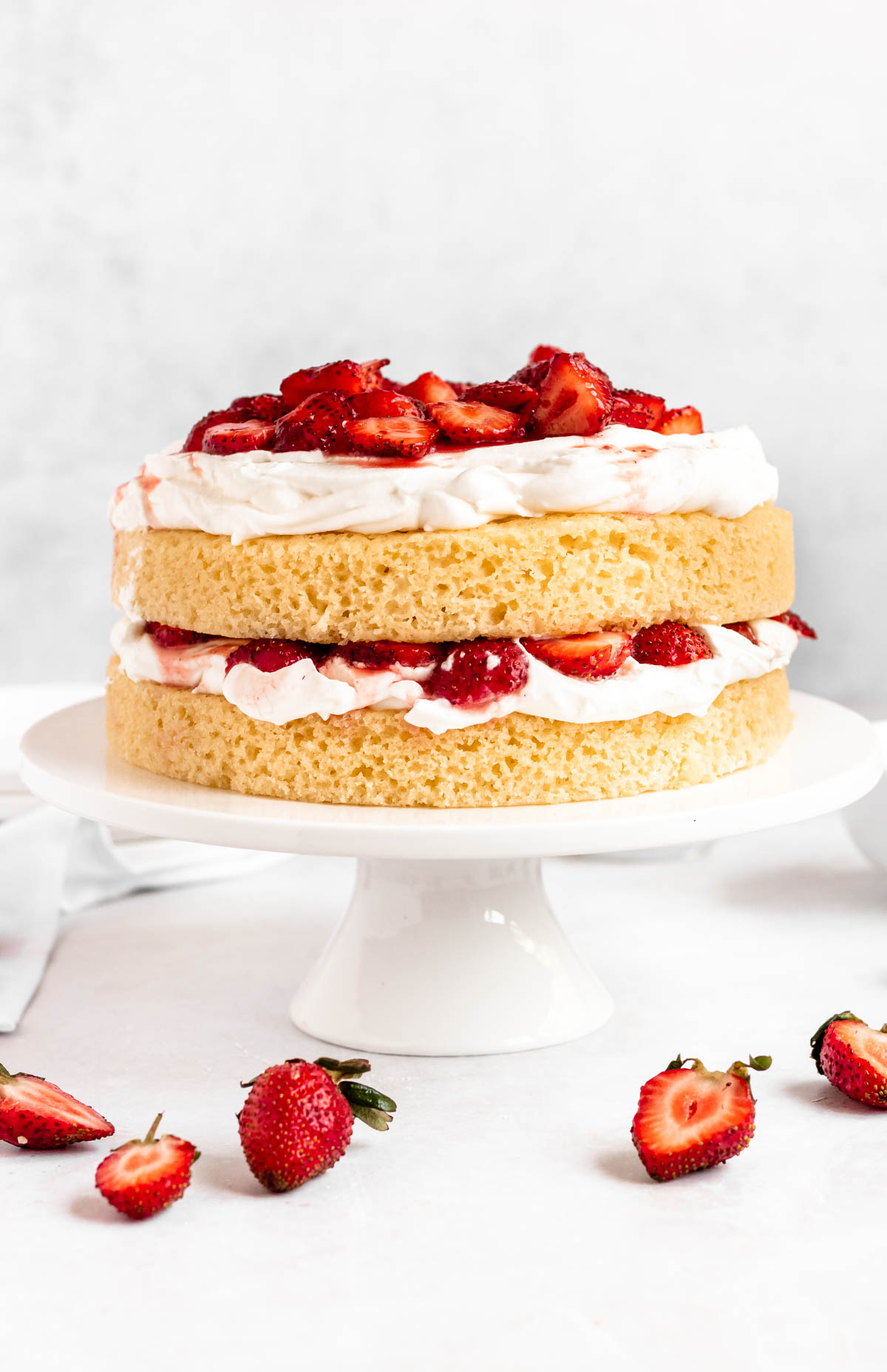 2. Strawberry Crumble
This strawberry crumble is made with lots of fresh strawberries, and topped with a crispy and buttery oat crumble which is topped with vanilla ice cream for a perfect dessert.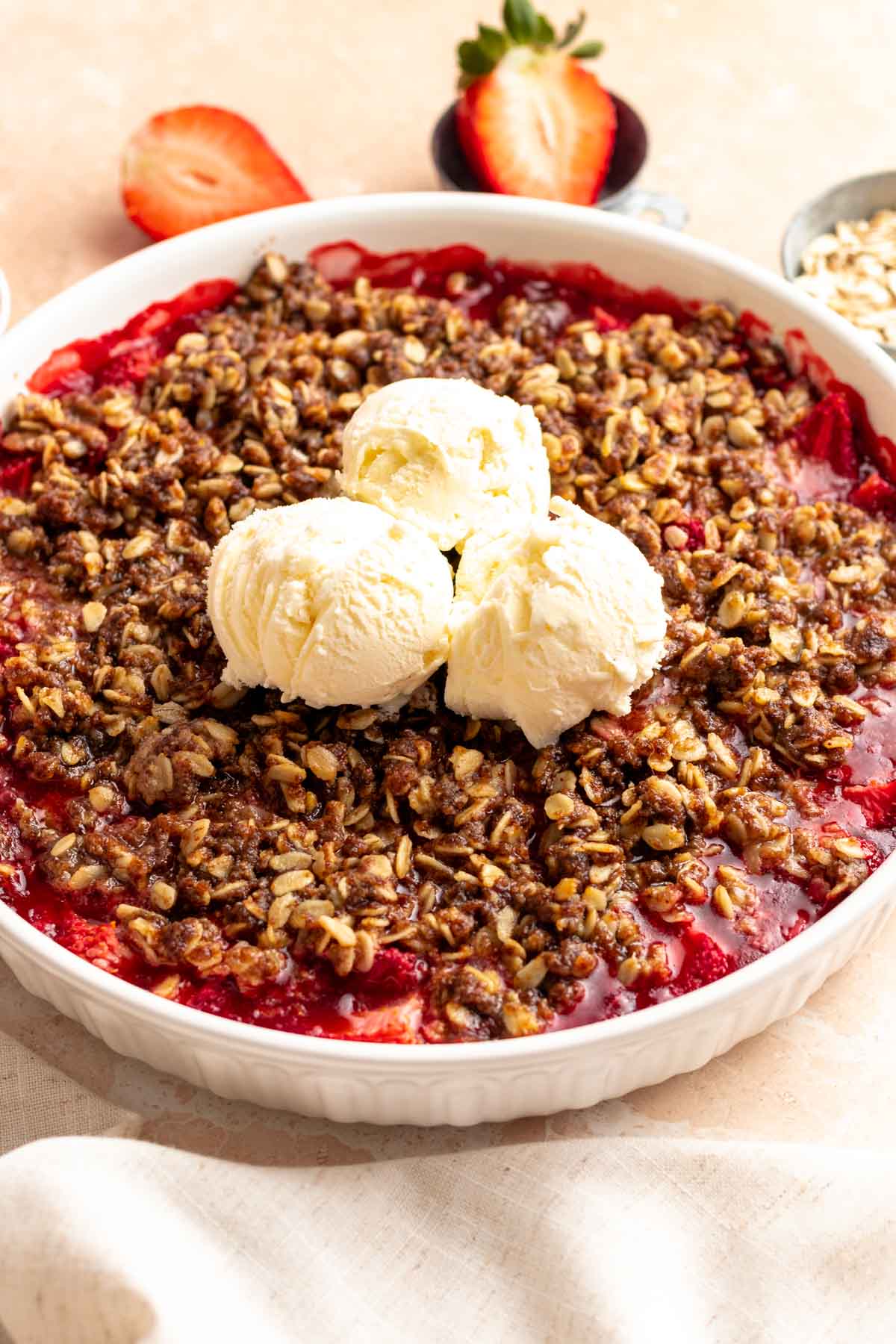 3. Strawberry Filled Cupcakes
These strawberry filled cupcakes are made with vanilla fresh strawberry cupcakes, filled with chopped ripe strawberries, and topped with strawberry buttercream frosting.
4. Fresh Strawberry Sheet Cake
This extra moist and fluffy strawberry sheet cake is made with fresh strawberries and topped with strawberry whipped cream. It's really easy to make and the flavor will not disappoint.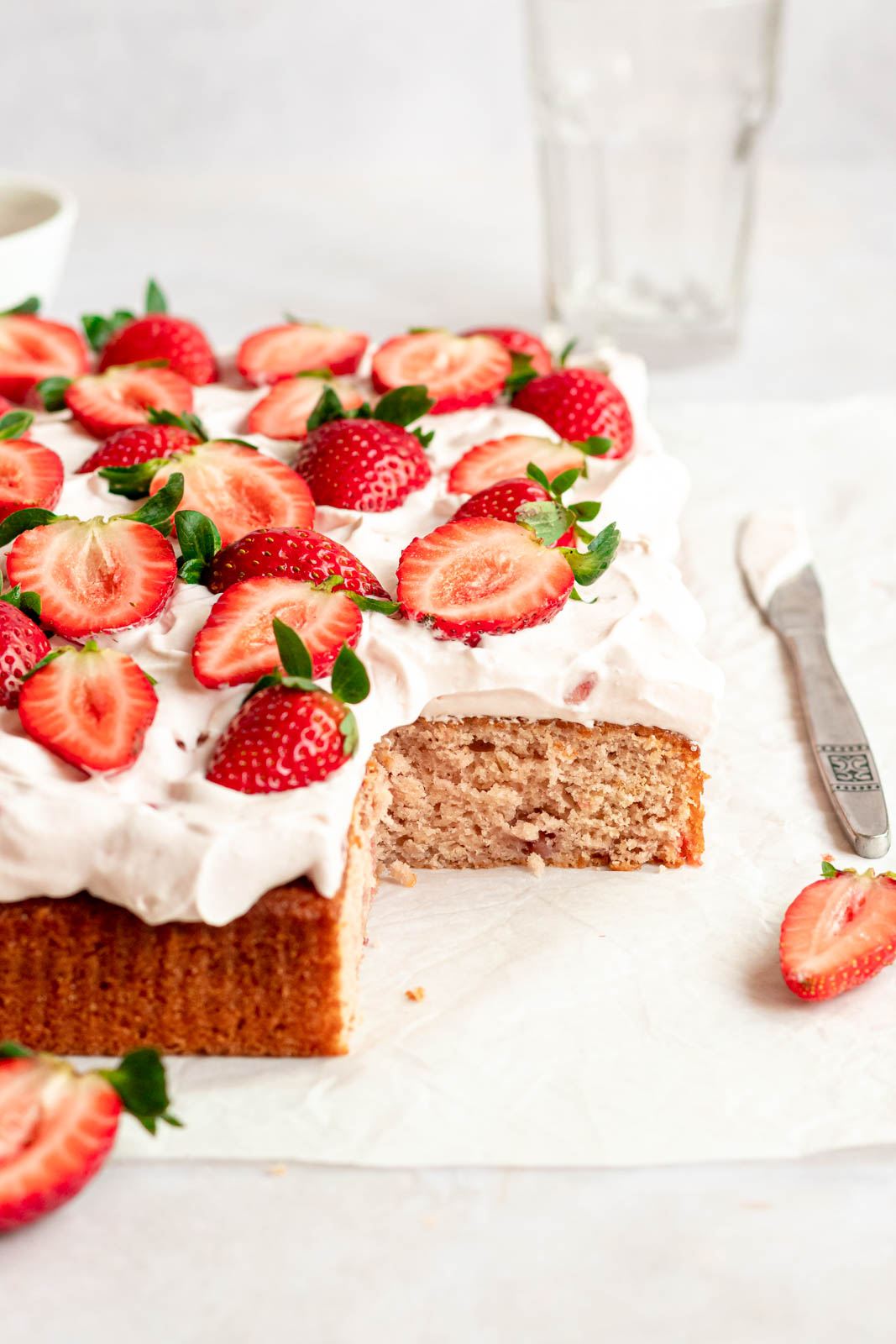 5. Strawberry Danish
This bakery-style strawberry danish is made with frozen puff pastry, fresh strawberries, and cream cheese filling, and is topped with either powdered sugar or zesty lemon glaze.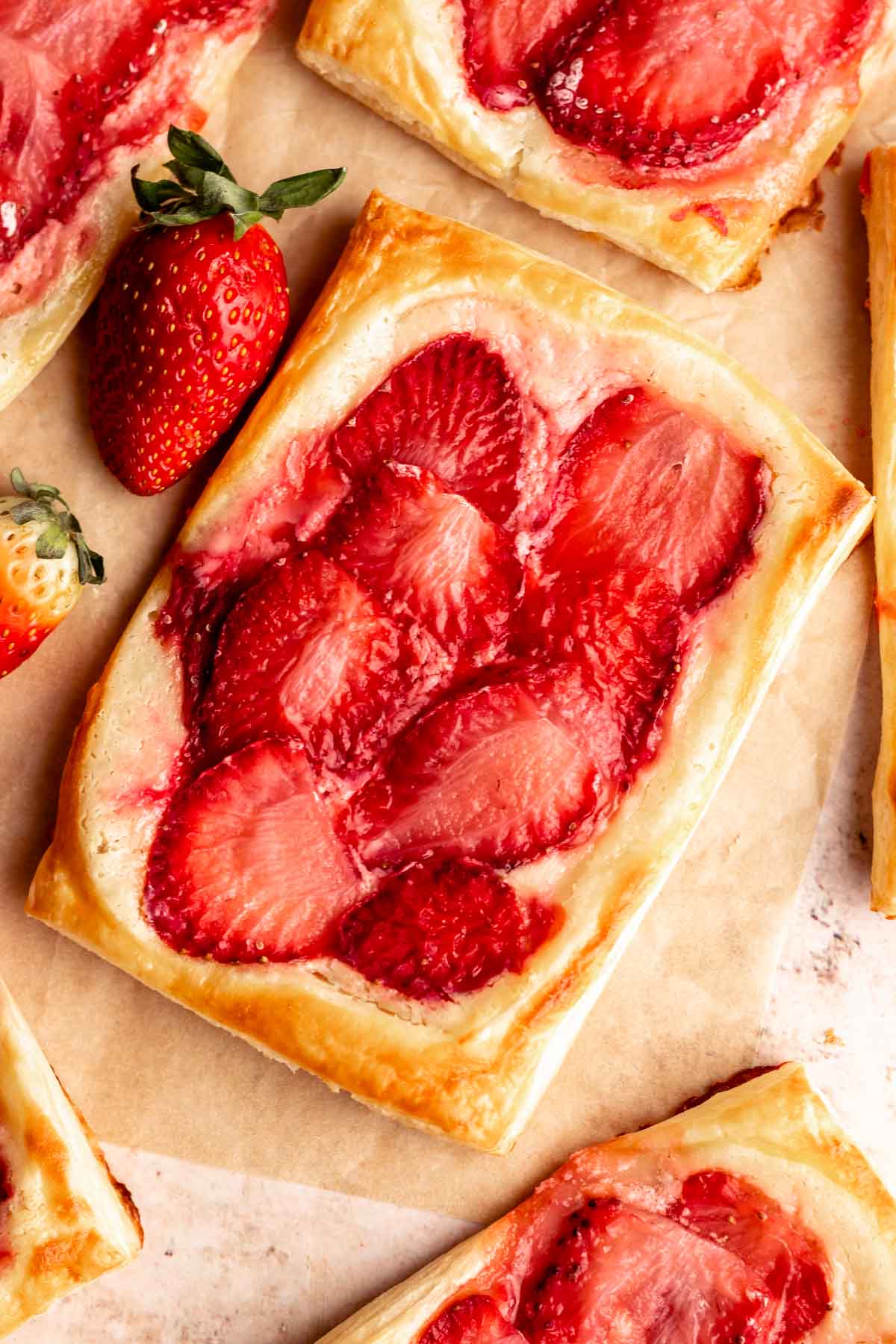 6. Fudgy Strawberry Brownies
These strawberry brownies are fudgy and gooey, made in one bowl, topped with a swirl of strawberry jam, and topped with fresh strawberries.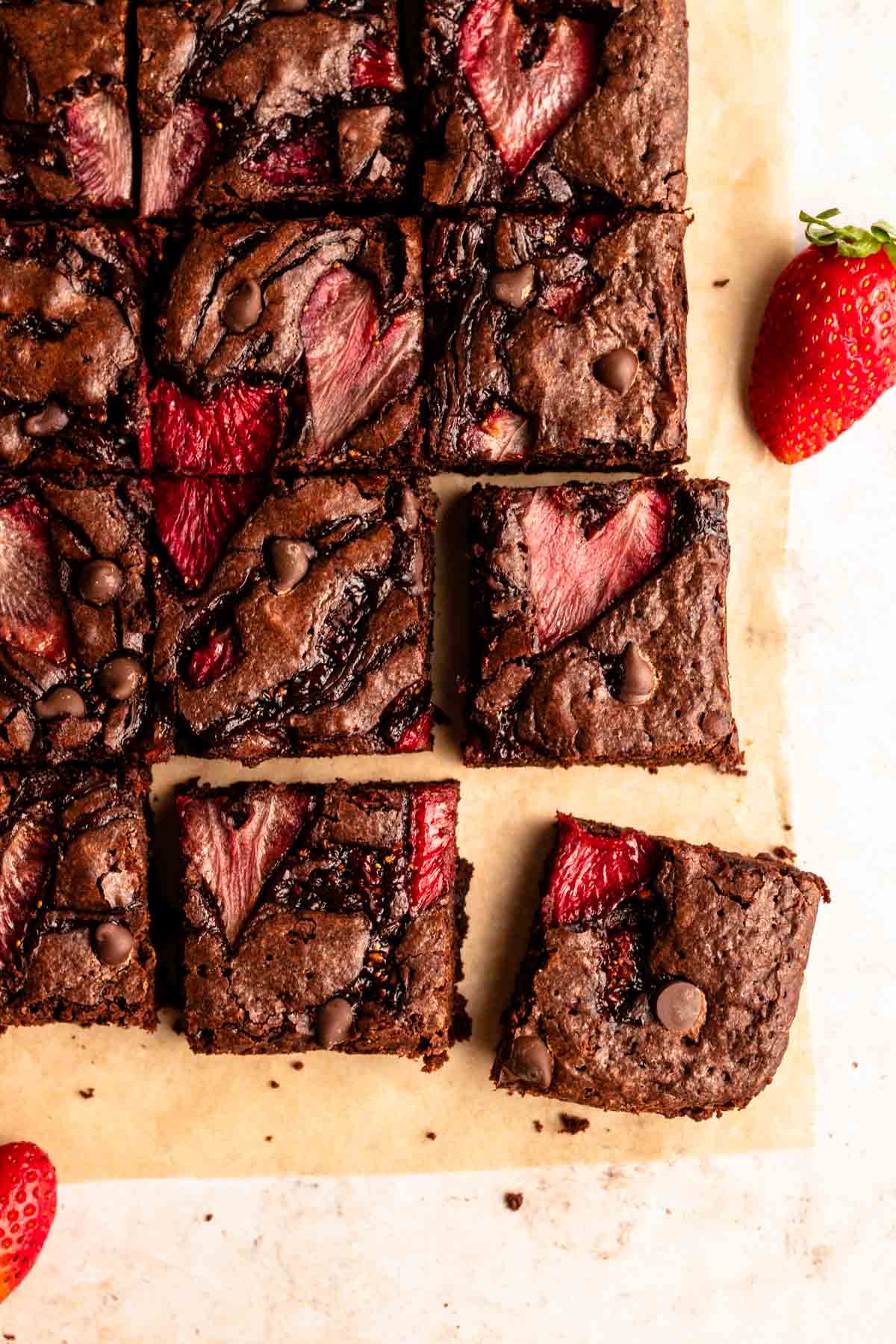 7. Strawberry Glazed Donuts
These strawberry glazed donuts are made with baked donuts that are made with fresh strawberries and topped with a fresh strawberry glaze.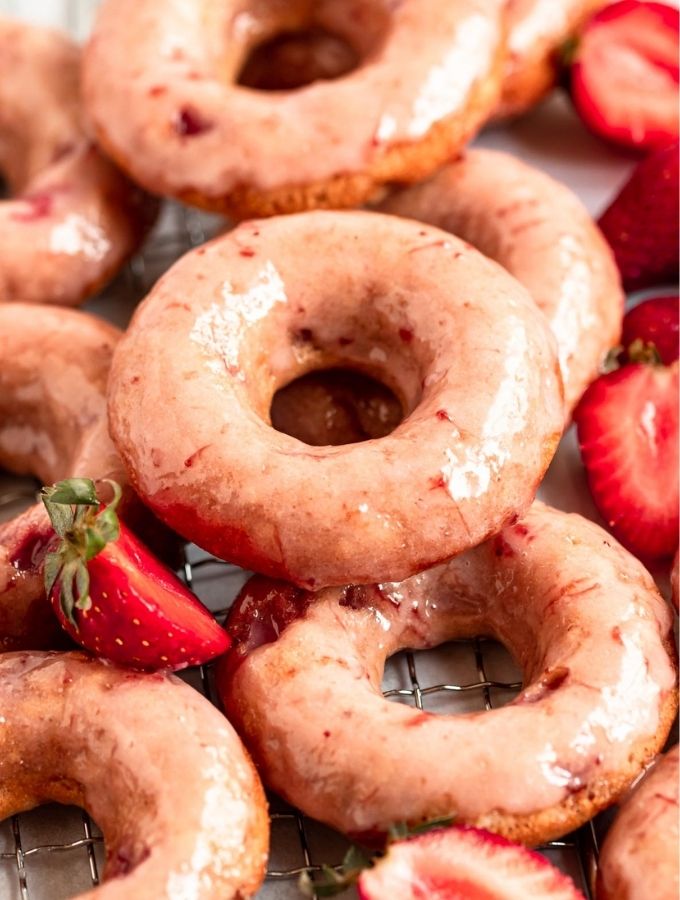 8. Strawberry Jam Cake
This strawberry jam cake is made with a moist and fluffy vanilla cake, filled with strawberry jam, whipped cream, and fresh strawberries, covered in vanilla buttercream, and topped with more fresh strawberries!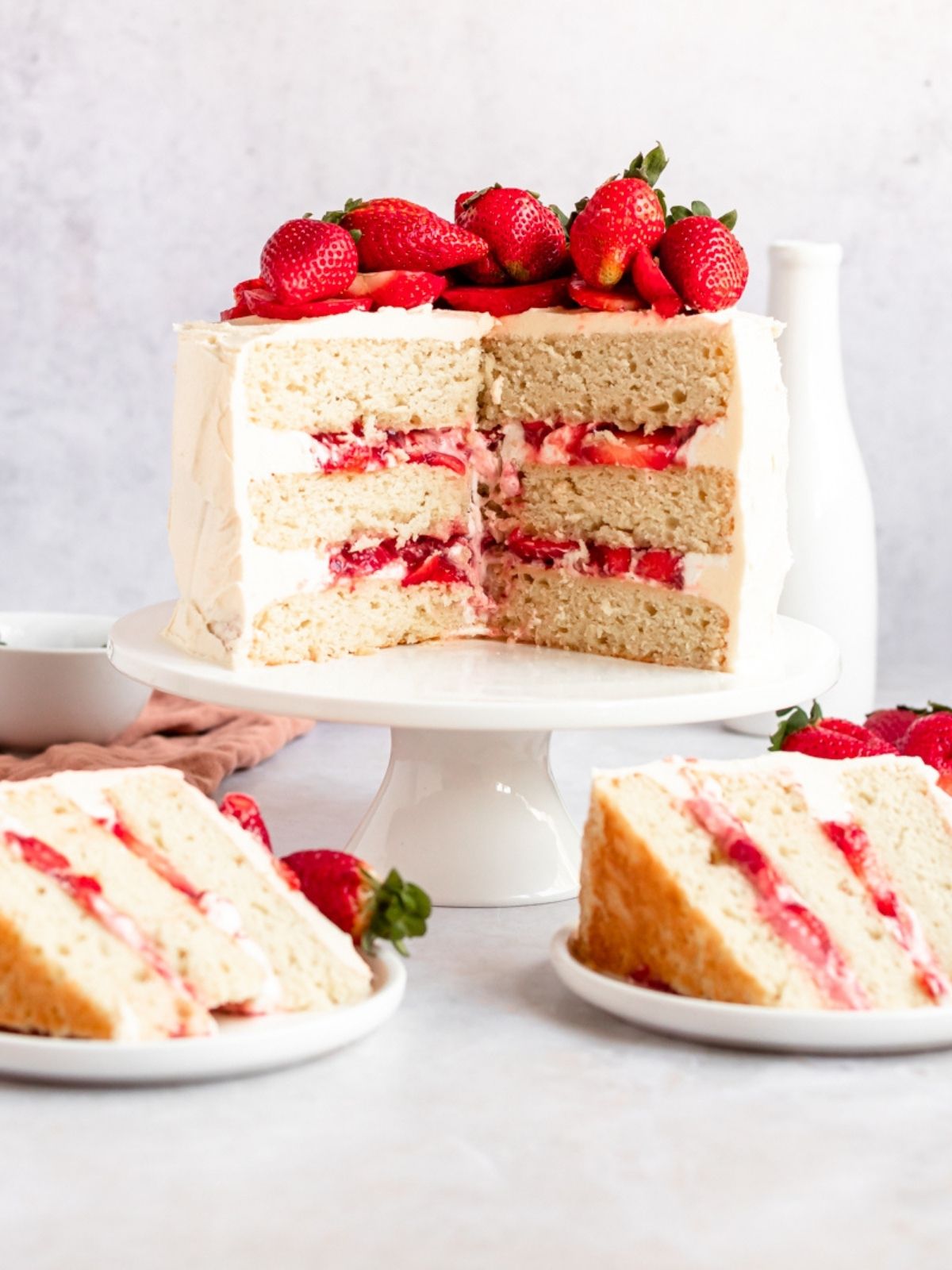 9. Mini Strawberry Cheesecakes
These mini strawberry cheesecakes are made with a graham cracker crust, topped with an easy and creamy cheesecake filling, and topped with homemade strawberry topping.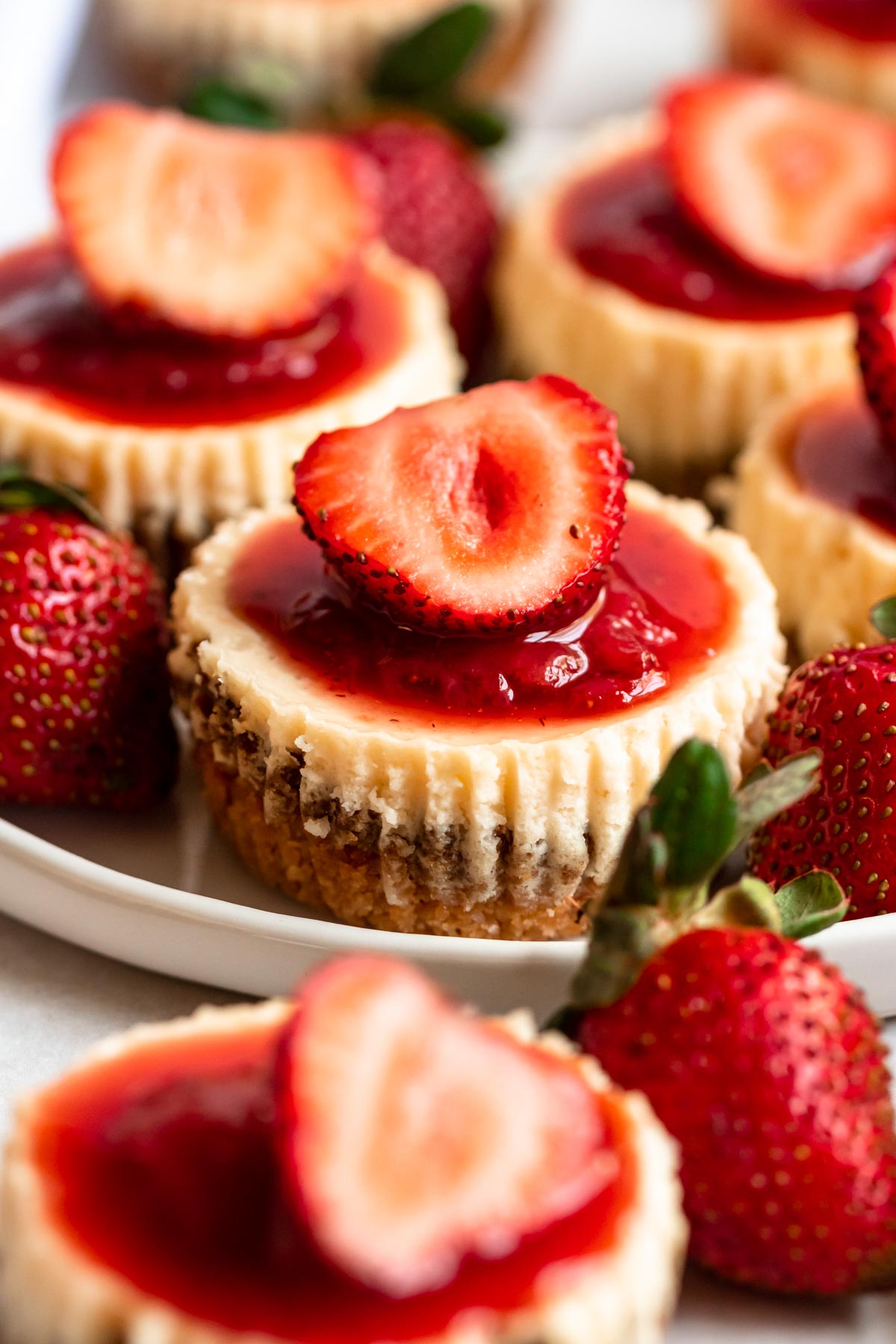 10. Strawberry Topping For Cheesecake
This strawberry topping for cheesecake can be made with fresh or frozen strawberries, is easy to make, and takes a few simple ingredients.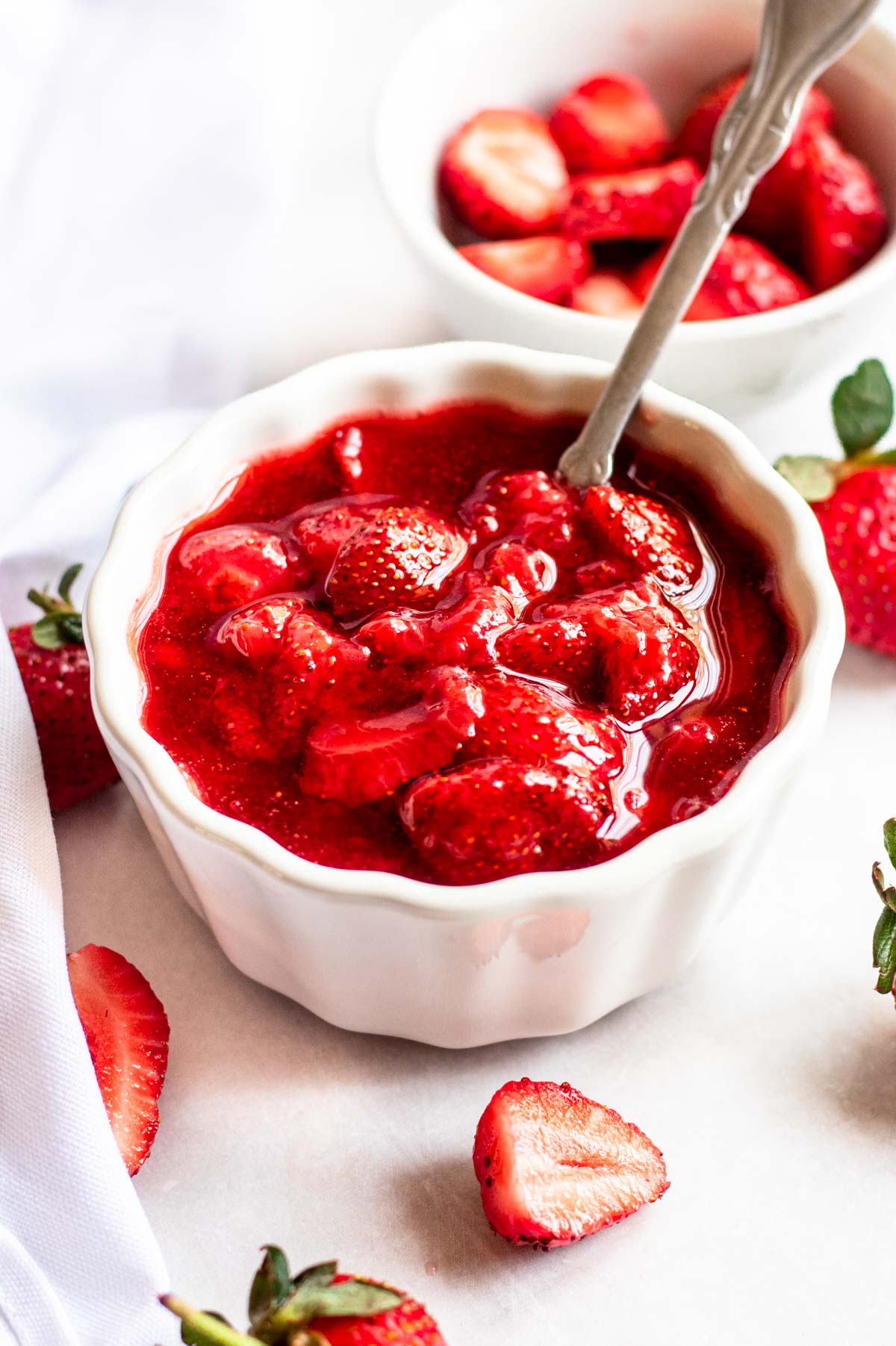 11. Soft Strawberry Cheesecake Cookies
These strawberry cheesecake cookies are soft and sweet, loaded with fresh strawberries, and filled with creamy cheesecake filling.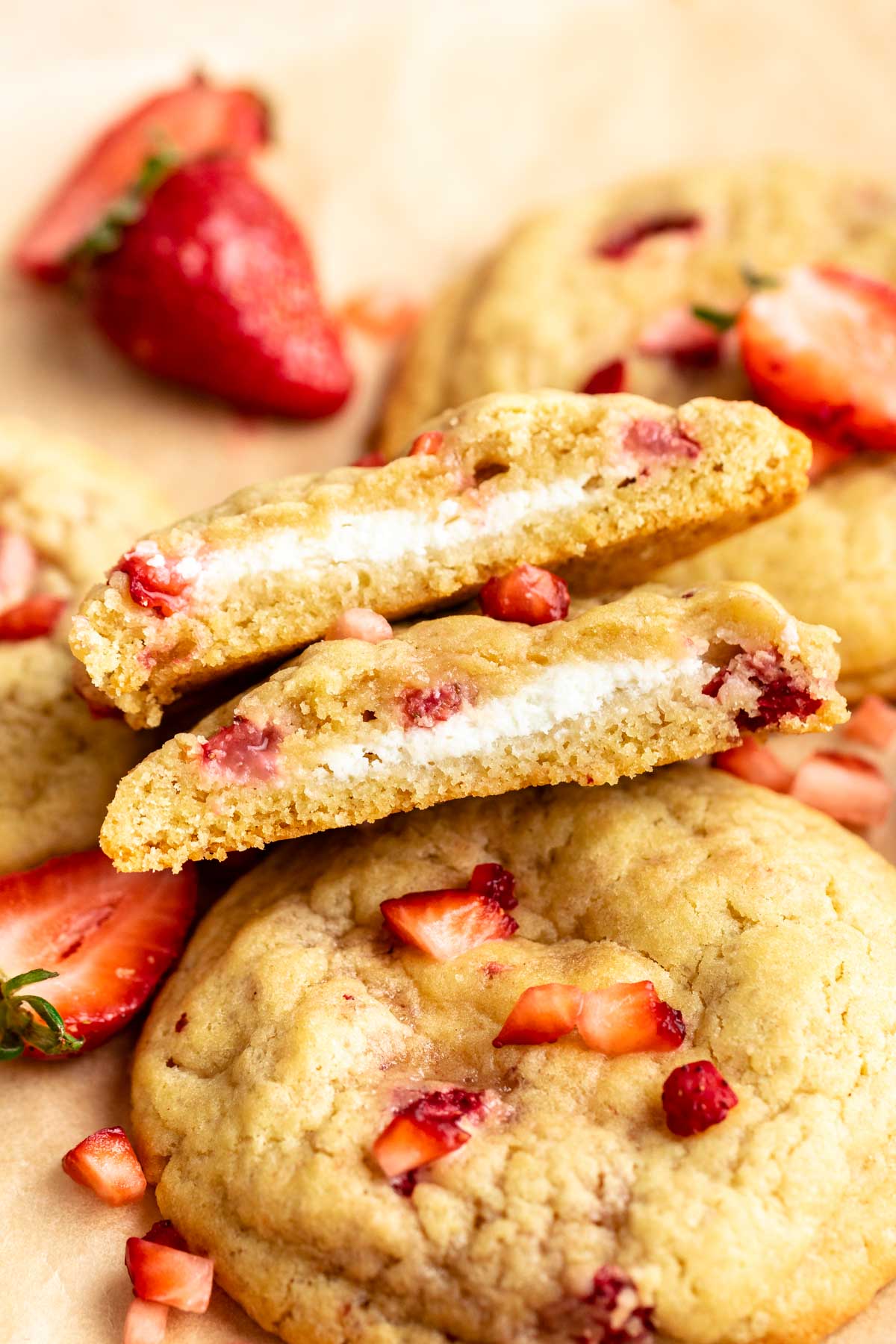 12. Strawberry Cinnamon Rolls
These strawberry cinnamon rolls are soft and gooey and are made with homemade strawberry filling and topped with strawberry cream cheese icing.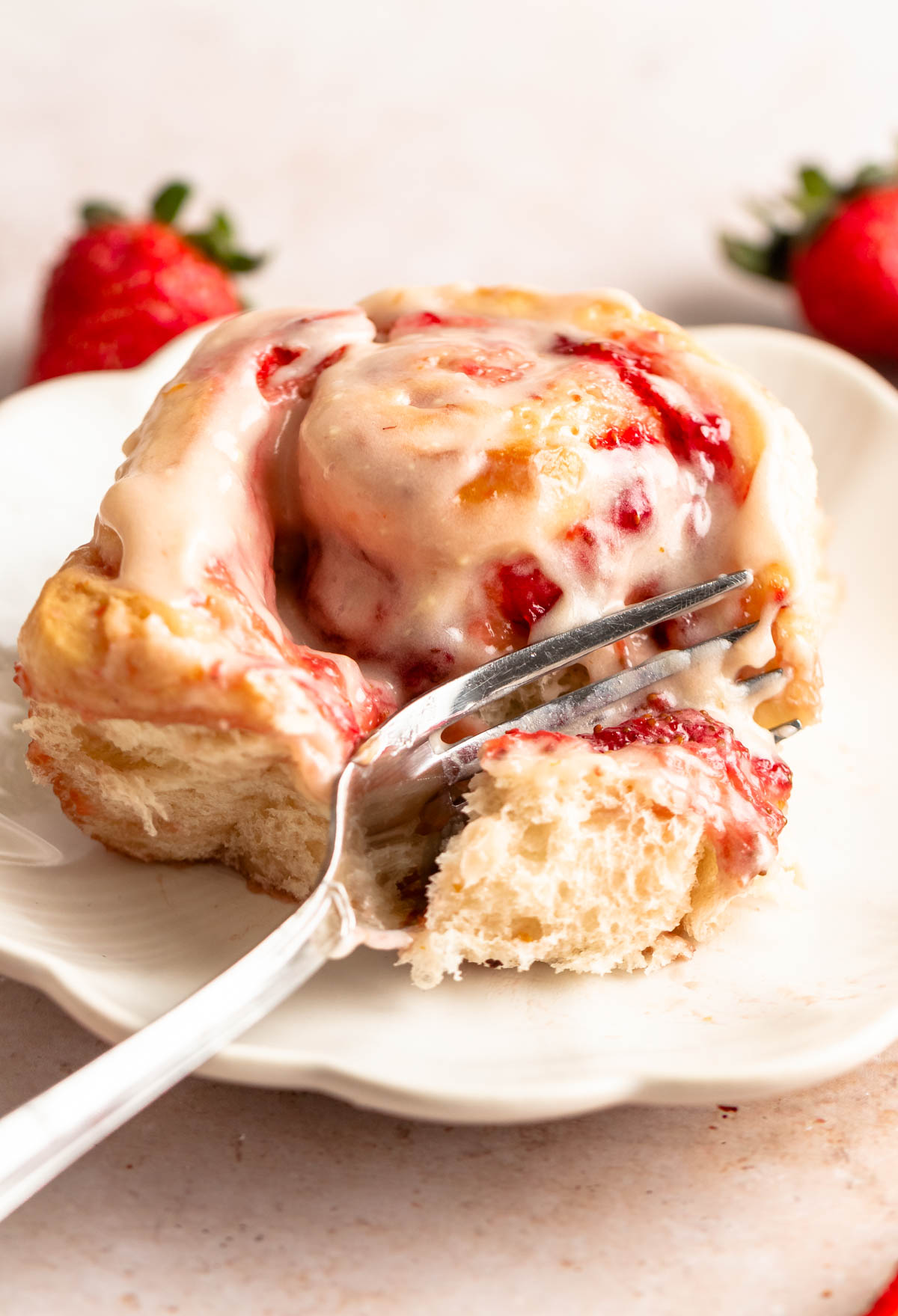 13. Strawberry Bundt Cake With Strawberry Glaze
This strawberry bundt cake is made with fresh strawberries, and fresh strawberry puree and is topped with a strawberry glaze.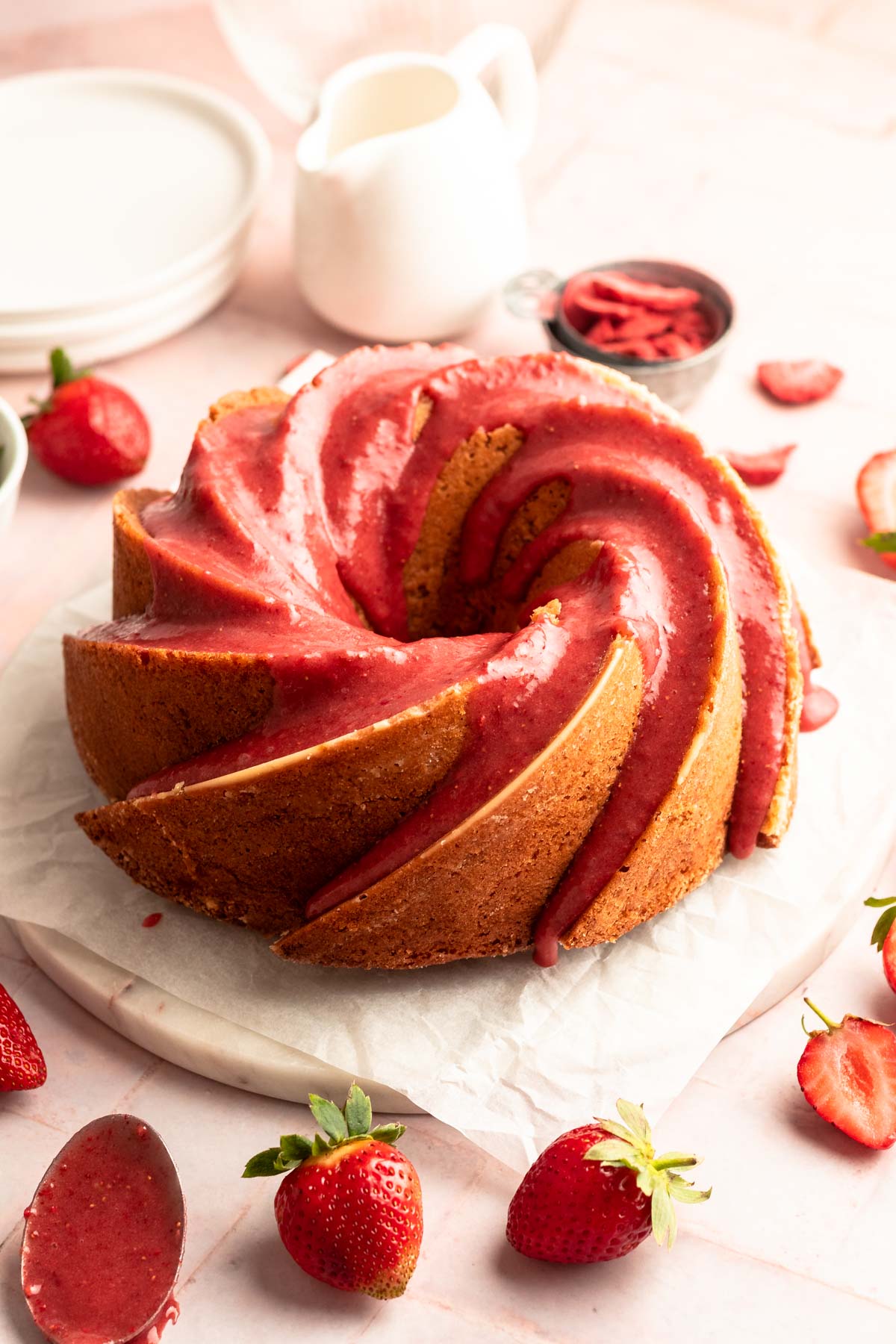 14. Strawberry Crumble Cake
This strawberry crumble cake is made with a one-bowl vanilla cake, topped with slices of fresh strawberries, and topped with a delicious crumble topping.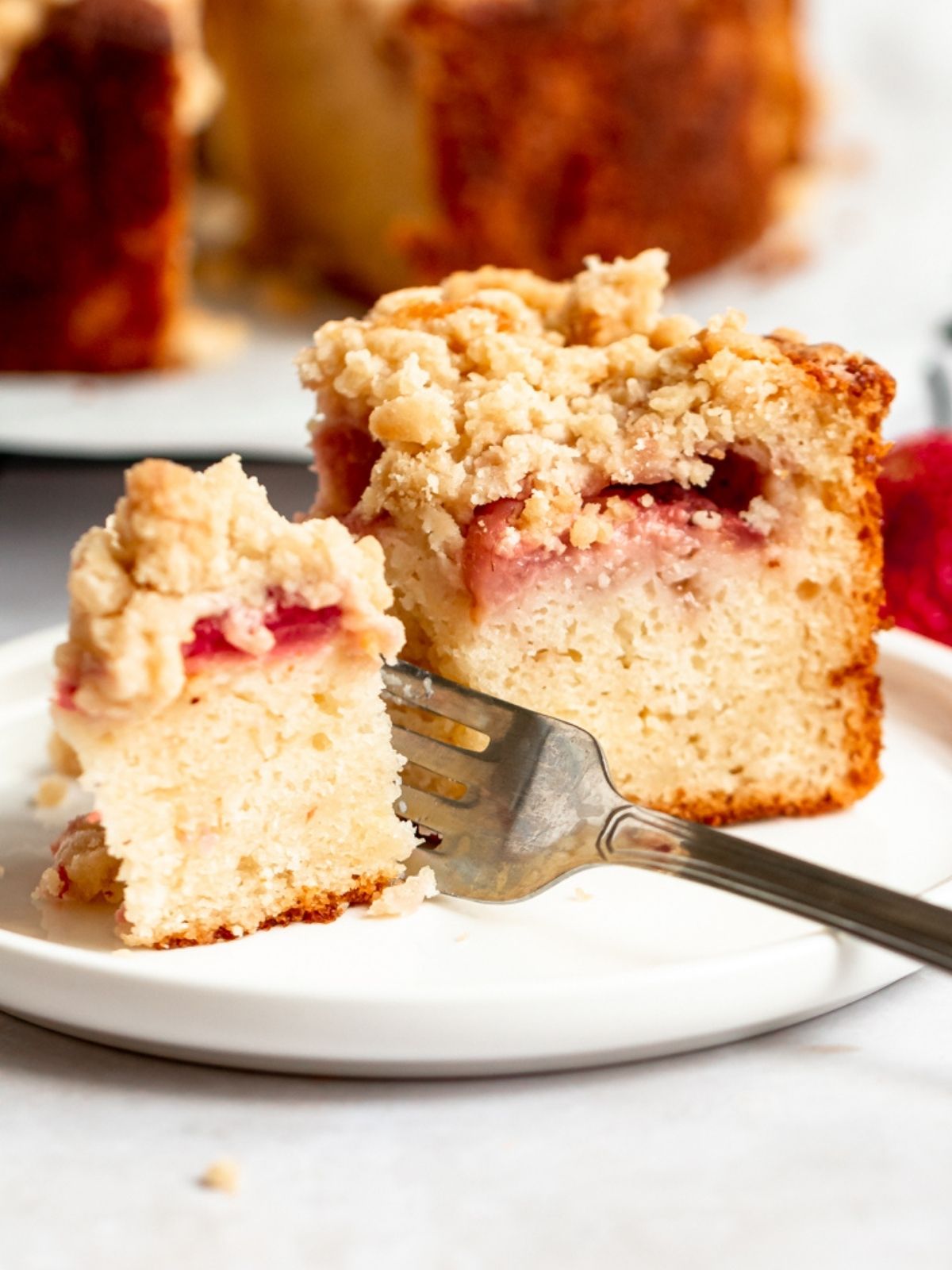 15. Strawberry Turnovers
Strawberry turnovers are very easy to make, they are made with a flakey and buttery puff pastry dough and filled with homemade strawberry filling, topped with a simple glaze, and served with vanilla ice cream.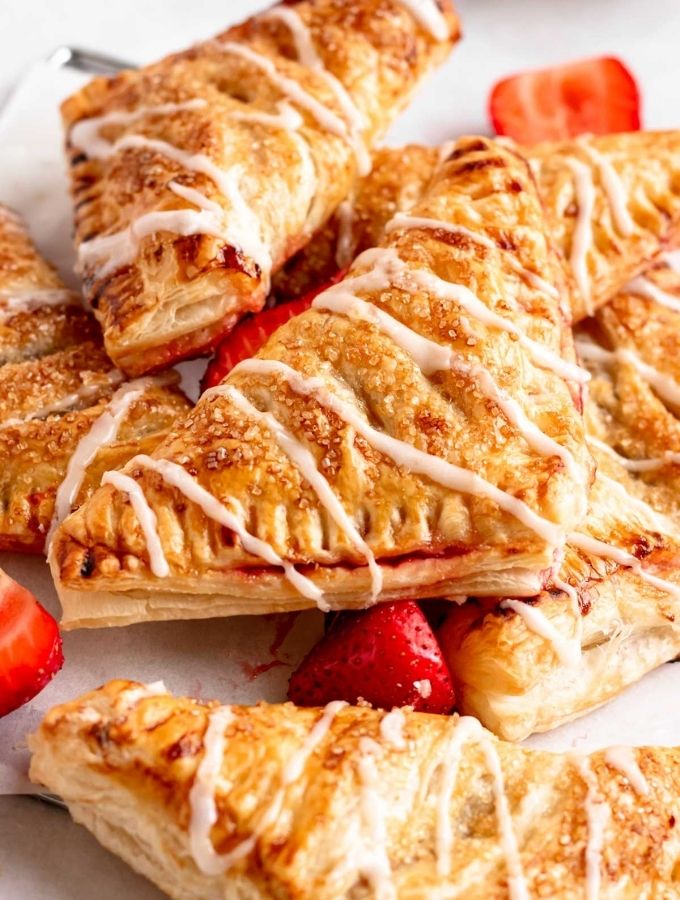 16. Cheesecake With Strawberry Sauce
This cheesecake with strawberry sauce is made without a water bath, with a creamy and light cheesecake that is topped with homemade strawberry sauce.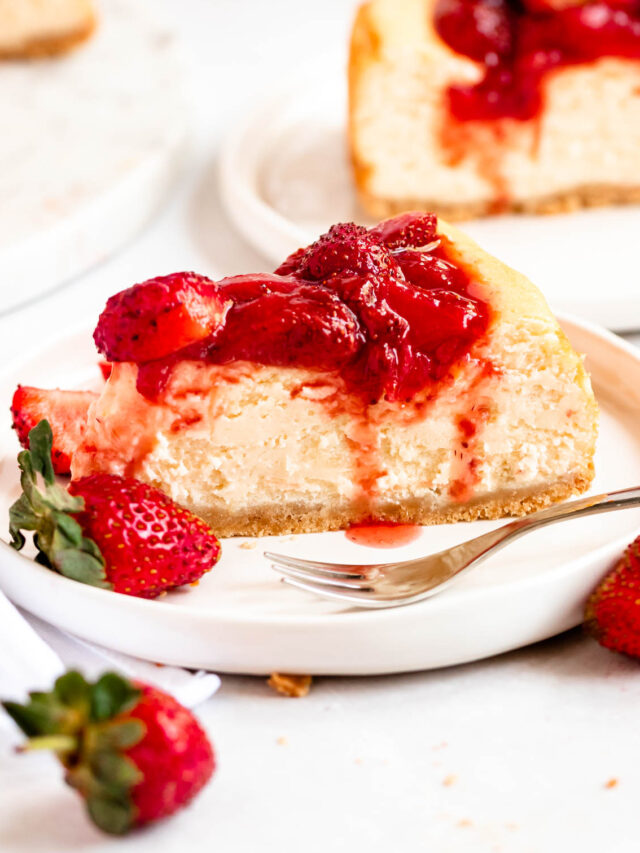 17. Strawberry Compote
This easy strawberry compote can be made with fresh or frozen strawberries, takes 20 minutes from start to finish, and is a perfect way to use up ripe strawberries!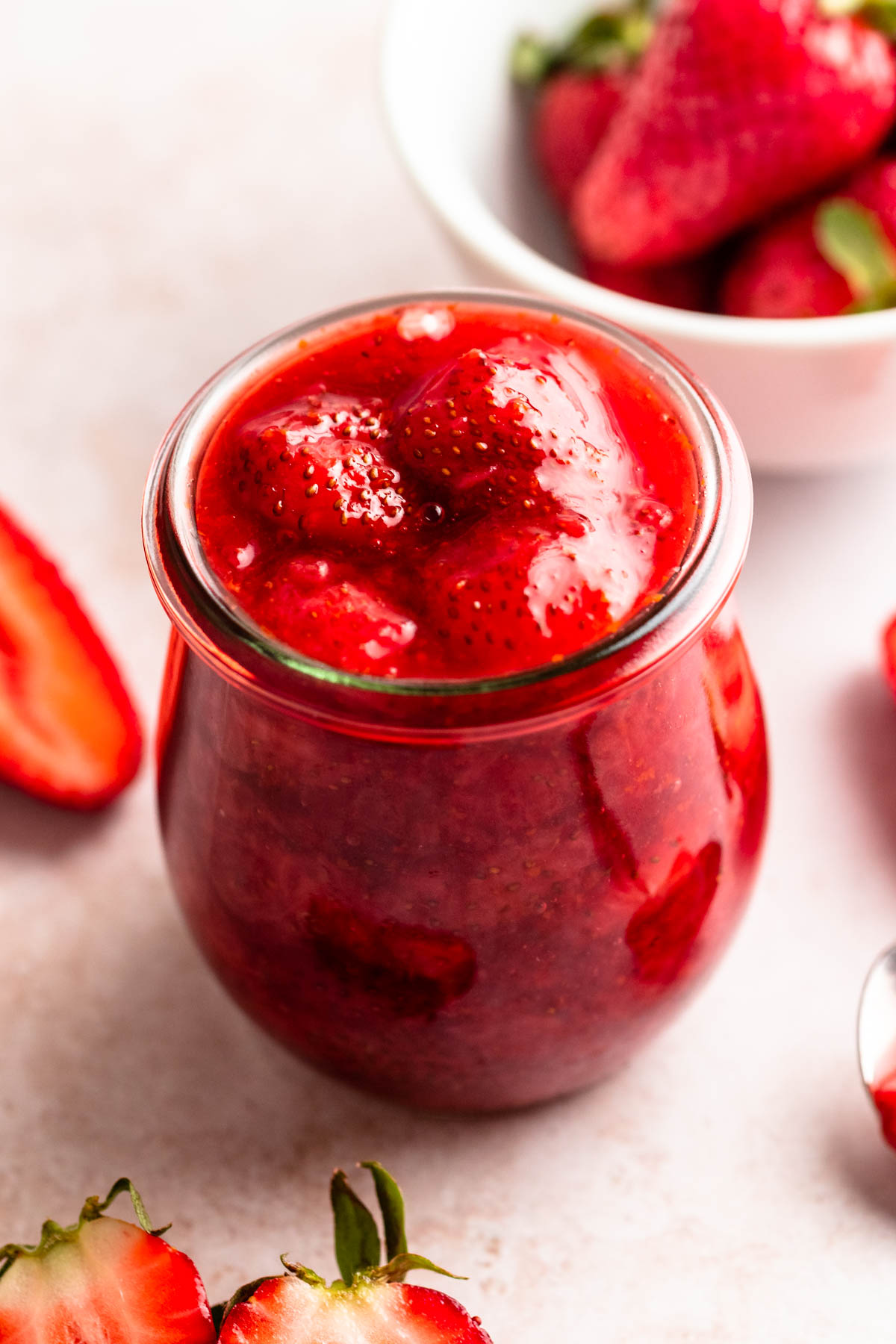 18. Strawberry Shortbread Cookies
These strawberry shortbread cookies are buttery, and full of strawberry flavor and have a texture that will just melt in your mouth.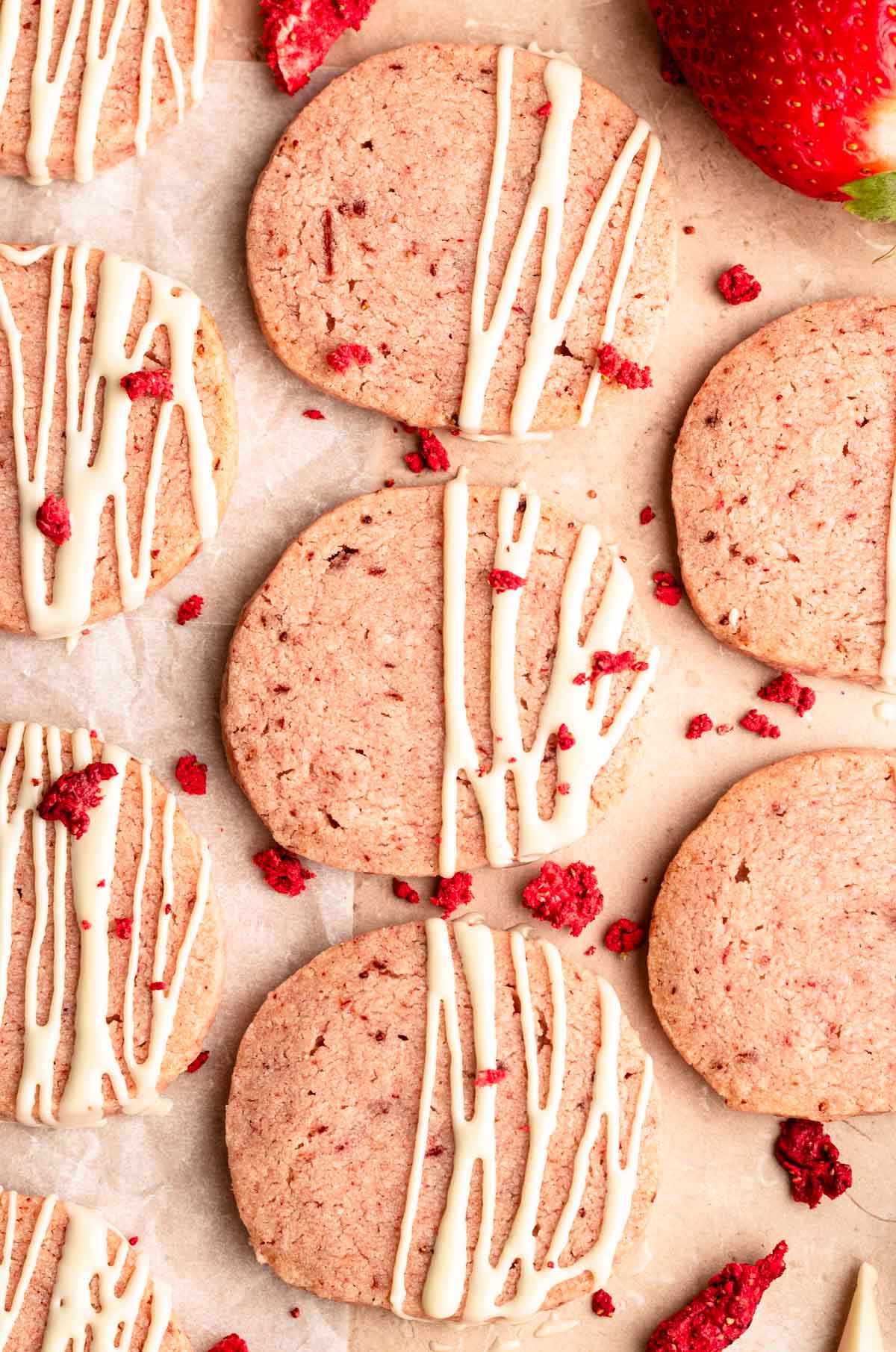 19. Mini Strawberry Pavlova Nests
Pavlova is the lightest dessert that is made with a light meringue that is baked at low temperature, and topped with homemade whipped cream and fresh fruit.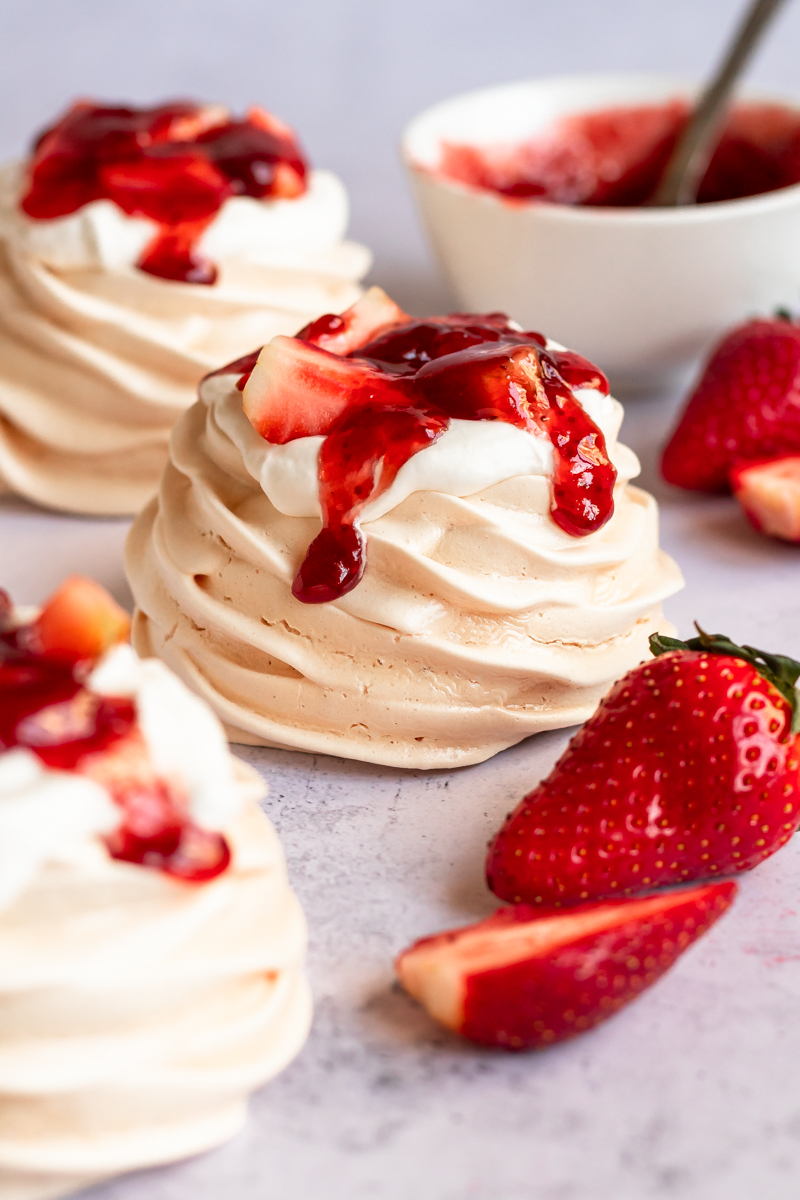 20. Moist Strawberry Bread
This incredibly moist fresh strawberry bread is made with fresh strawberries and is topped with a delicious strawberry glaze.
21. Strawberry Poke Cake
This Strawberry Poke Cake is perfect for spring. It's a white cake mix, with strawberry gelatin, and then topped with whipped dessert topping. It's light, refreshing and really packs a punch of strawberry.
22. Strawberry Crunch Cupcakes
They are filled with nostalgic memories and bright strawberry flavor. They are vanilla and strawberry Jell-O cupcakes, topped with vanilla buttercream, and a delicious strawberry crunch layer.
23. Strawberry Yogurt Crumb Bars
Strawberry yogurt crumb bars bring together fresh berries with a creamy yogurt layer all nestled between buttery crumbs. They are a magical way to celebrate spring sweetness.
24. Strawberry Crunch Cheesecake
This No Bake Strawberry Crunch Cheesecake is layers of strawberry and vanilla bean cheesecake in a graham cracker crust, topped with strawberry crunch topping!
25. Strawberry Sherbet
Turn fresh or frozen strawberries into a tasty homemade sherbet with just four simple ingredients. The berry flavor really shines through in this refreshing dessert.
26. Strawberry cookies
This easy strawberry cookies recipe is made with freeze-dried strawberry powder which makes the cookies very flavorful. These cookies are crunchy on the edges with a chewy middle and have a beautiful pink color.
27. Strawberry tiramisu
Made with layers of creamy strawberry mascarpone cheese and delicate ladyfingers soaked in strawberry syrup, this tiramisu is a delicious twist on the classic Italian dessert.
28. Strawberry Crumble Bars
These strawberry crumble bars are the bomb! Crispy brown butter oat crumble layered with juicy sticky strawberries and baked to perfection is a match made in heaven.
29. Strawberry Sorbet
Strawberry sorbet is a frozen dessert made with fresh or frozen strawberries. It is a vegan, gluten-free, kid-friendly dessert and can be made in a matter of minutes with just 2 ingredients.
30. Strawberry Shortcake
This Easy Strawberry Shortcake is the perfect spring or summer dessert. It has a light and flaky biscuit, fresh juicy strawberries, and a lemony homemade whipped cream.
31. Strawberry Tiramisu
This strawberry tiramisu has a creamy, tangy, strawberry filling, green tea-dipped ladyfingers, and fresh strawberry hearts on top.
32. Fresh Strawberry Pie
Easy, fresh Strawberry Pie from Scratch! This fresh, made-from-scratch strawberry pie recipe is low in sugar so the natural flavor and sweetness of the strawberries really shine!
33. Strawberry Cheesecake Macarons
Crisp on the outside, chewy on the inside, and bursting with real strawberry flavor and a cream cheese filling.
34. Homemade Strawberry Cake
Homemade Strawberry Cake Recipe. With this delicious homemade strawberry cake recipe, you can enjoy the sweet and tart taste of fresh strawberries in a soft and fluffy cake.
Strawberry Dessert Faq's
What to do with strawberries?
If you have pounds of ripe strawberries that are just sitting there, make strawberry desserts from this collection of recipes! Like strawberry cakes, strawberry brownies, strawberry cookies, etc.
What dessert can be made from frozen strawberries?
There are a lot of desserts that can be made from frozen strawberries in this list like our strawberry crumble cake, strawberry crumble, strawberry sorbet, and strawberry turnovers.
What to eat with strawberries for dessert?
When your strawberries are ripe and sweet, you can serve them with yogurt or cream along with delicious homemade granola.
What flavors go best with strawberries?
Strawberries go well with berries, almonds, oranges, lemons, white chocolate, dark chocolate, mint, peach, pineapple, vanilla, honey, and much more! The options are endless.
More Fruit Desserts
Orange pound cake with orange glaze- This orange pound cake is loaded with orange flavor and is moist, buttery, dense, and topped with a delicious orange glaze.
Chewy lemon blueberry cookies- These chewy lemon blueberry cookies are loaded with white chocolate chips and flavorful blueberries, are chewy in the middle, and crispy on the edges.
Moist blueberry cake- This easy and moist blueberry cake is made in one bowl and is loaded with bursting blueberries and lemon zest flavor.
If you tried any of these recipes, don't forget to leave a rating and a comment below. We love hearing from you.
If you liked this post
Share/pin this recipe to Pinterest.
Leave a comment down below!
📖 Recipe
30+ Best Strawberry Desserts: Strawberry Cheesecake & More
These strawberry desserts are the most perfect recipe collection of the most delicious strawberry desserts that are perfect all year long. These mini strawberry cheesecakes are made with a graham cracker crust, topped with an easy and creamy cheesecake filling, and topped with homemade strawberry topping.
Ingredients
Crust:
1

cup

Graham crackers

45

g

Butter

melted

1

tablespoon

Granulated sugar

optional
Filling:
340

g

Cream cheese

½

cup

Granulated sugar

1

teaspoon

Vanilla extract

⅓

cup

Sour cream

2

Eggs

½

teaspoon

Kosher salt
Strawberry topping:
230

g

Strawberries

¼

cup

Sugar

1 ½

teaspoon

Lemon juice

1

teaspoon

Cornstarch
Instructions
Prepare a muffin tip with paper liners, and preheat an oven to 180c (350f).

Make the crust: pulse graham crackers or digestive biscuits in a food processor until fine crumbs form. If you don't have a food processor on hand, place the crackers in a Ziplock bag and smash them with a cup until fine crumbs form.

Into a small to medium mixing bowl, add the crumbs, and melted butter. Mix with a spoon until the crumbs are coated with butter.

Scoop about 1 teaspoon of the crumbs and place it in each muffin tin, pressing evenly and firmly into the pan.

Bake the crust in a 180c (350f) preheated oven for about 5-8 minutes. Keep an eye on the crust and make sure it doesn't burn. Take the crust out of the oven and let it cool to room temperature. Lower the temperature to 140c (280f).

In a big mixing bowl, add the room temperature cream cheese, sour cream, and sugar, and mix with an electric hand mixer until the cream cheese is creamy.

Whisk the eggs with a fork, and add the eggs, kosher salt, and vanilla extract and mix until the mixture is creamy and smooth.

Overbeating can cause a weird cheesecake texture and stop the cake from cracking.

Pour the cheesecake batter over the crust, filling each mold until it's almost full, and release air bubbles by tapping the pan onto a flat surface.

Bake the cheesecakes in a preheated 140c (280f) oven for about 15 minutes or until the edges of the cheesecakes are set, but the middle is a bit jiggly. Keep the oven door closed for 5 minutes.

Open the oven door halfway, and let the cheesecake cool to room temperature for 1-2 hours.

After the cheesecake is cooled, wrap the cheesecake with a plastic wrap tightly, and place the cheesecake in the fridge to cool completely for at least 5 hours.
Make the strawberry topping
In a saucepan, add strawberries that are cut in half, add the sugar, and lemon juice, and mix over medium-high heat.

Mix the cornstarch with water and add to the mixture, mixing constantly.

Decrease the heat to medium-low and simmer for 20 minutes mixing occasionally.

Set aside and let it cool. Top the mini cheesecakes with about a tablespoon of the strawberry topping and enjoy!
Notes
Make sure that you are using room-temperature cream cheese in this recipe, this step makes it easier to mix the cream cheese with no unnecessary lumps, we don't want that.
Use a nonstick cupcake or muffin pan. We use nonstick pans for all of our mini cheesecake recipes. This makes sure that your cheesecakes will be easy to release from the pan.
Use high-fat cream cheese or the well-known Philadelphia cream cheese. Using full-fat cream cheese ensures you that your cheesecake will be stable and will not crack.
Let your cheesecake cool in the fridge for at least 5 hours. We know it's very hard to resist eating this delicious cheesecake right away, but you have to let the cheesecake cool and set it in the pan. We like to let the cheesecake sit in the fridge overnight.
For a smooth and creamy cheesecake, make sure that you are using room-temperature ingredients. Before you begin to make this cheesecake, make sure that your cream cheese is completely soft, and that your eggs are at room temperature.
Don't overbeat the mixture! It's really easy to overbeat the mixture, and that is one of the most common mistakes. To avoid overbeating your mixture, make sure that you lower the speed of the hand mixer and add each egg at a time.
Scrape down the sides of the bowl frequently to ensure that you have a homogeneous mixture that has no cream cheese lumps.
Don't open the oven door before the cake is fully baked or about to be baked! Drastic changes in the temperature of the cake while baking can cause the cake to collapse or crack.
Nutrition
Calories:
228
kcal
Carbohydrates:
23
g
Protein:
3
g
Fat:
14
g
Saturated Fat:
8
g
Polyunsaturated Fat:
1
g
Monounsaturated Fat:
4
g
Trans Fat:
1
g
Cholesterol:
64
mg
Sodium:
270
mg
Potassium:
93
mg
Fiber:
1
g
Sugar:
17
g
Vitamin A:
517
IU
Vitamin C:
12
mg
Calcium:
42
mg
Iron:
1
mg