In this delightful cherry desserts roundup, we explore a variety of sweet treats that celebrate the irresistible flavor of cherries.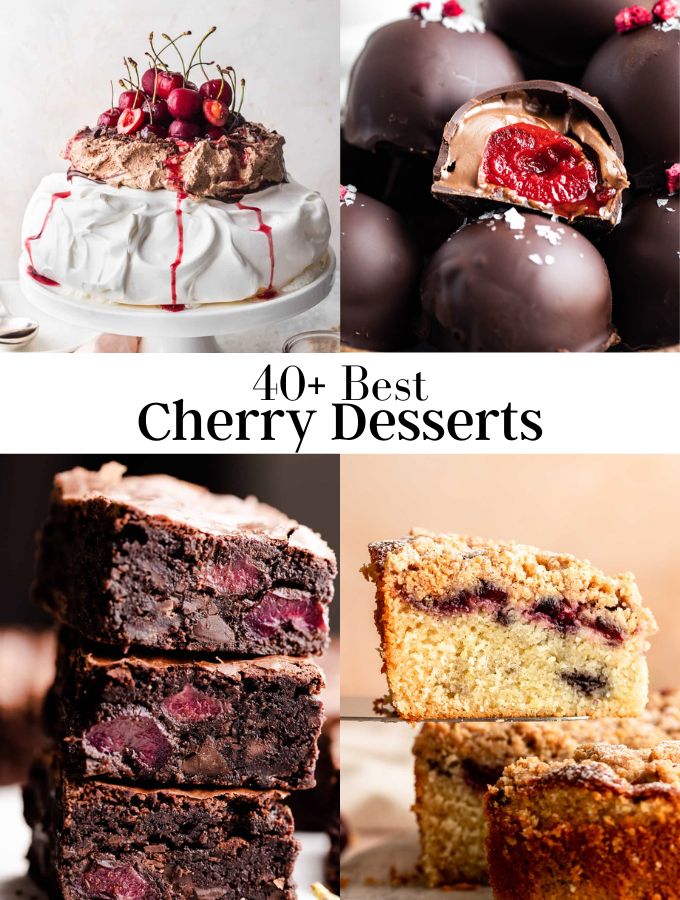 From classic cherry pie to indulgent cherry cobbler, these desserts are sure to satisfy any sweet tooth.
Whether you're a fan of traditional recipes or looking for a unique twist on this beloved fruit, this roundup has something for everyone.
Get ready to indulge in the luscious flavors and vibrant colors that only cherries can bring to your dessert table.
For more recipe roundups, check out my types of brownies, orange desserts, unique desserts, pistachio desserts, best cheesecake toppings, easy baking recipes, unique cookie recipes, Rice Krispie Treats Variations, best nutella recipes.
Jump to:
This cherry coffee cake is made with fresh or frozen cherries, and lemon zest, and topped with a buttery crumble topping.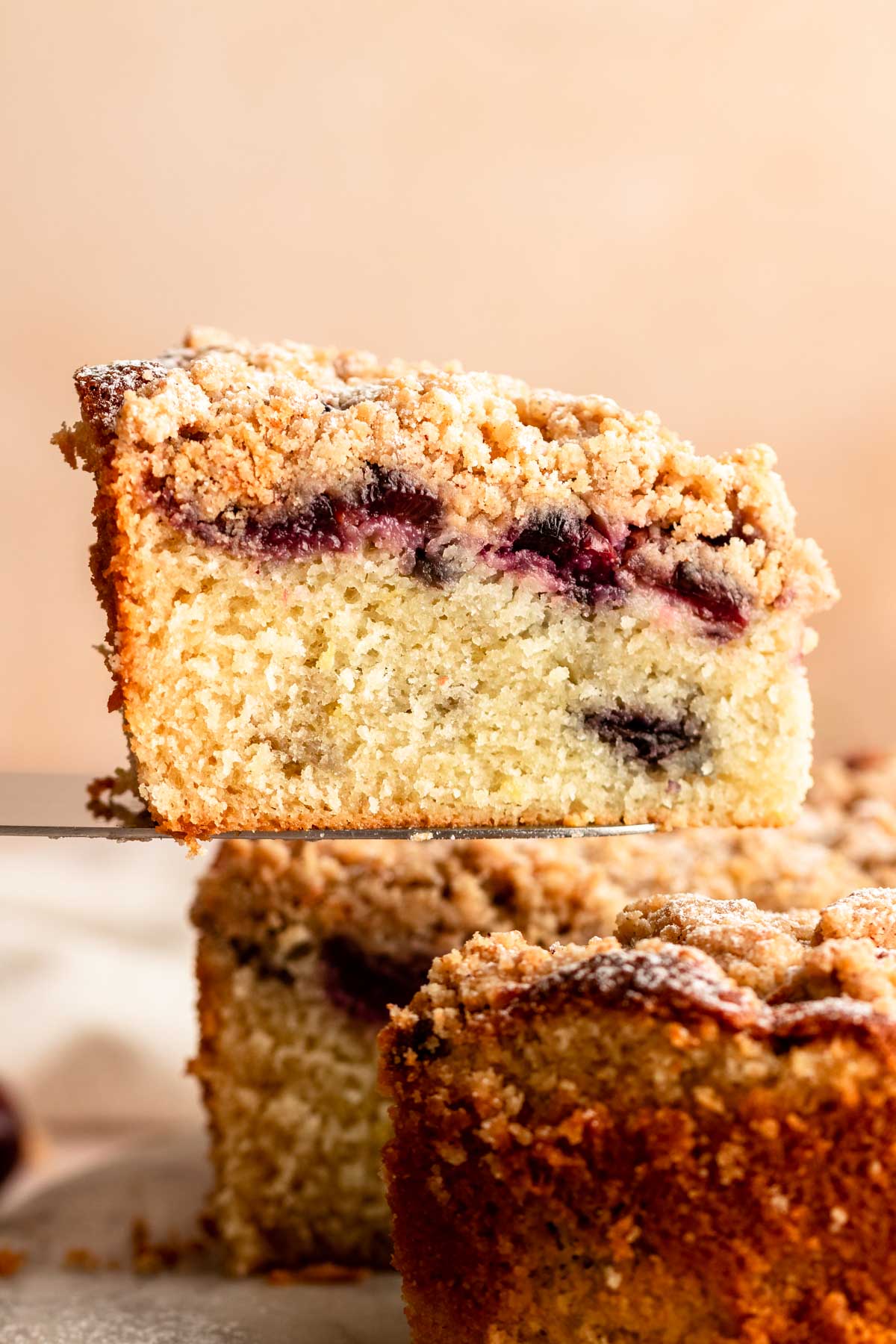 This decadent and easy cherry galette is made with a buttery flakey crust and filled with a delicious cherry filling.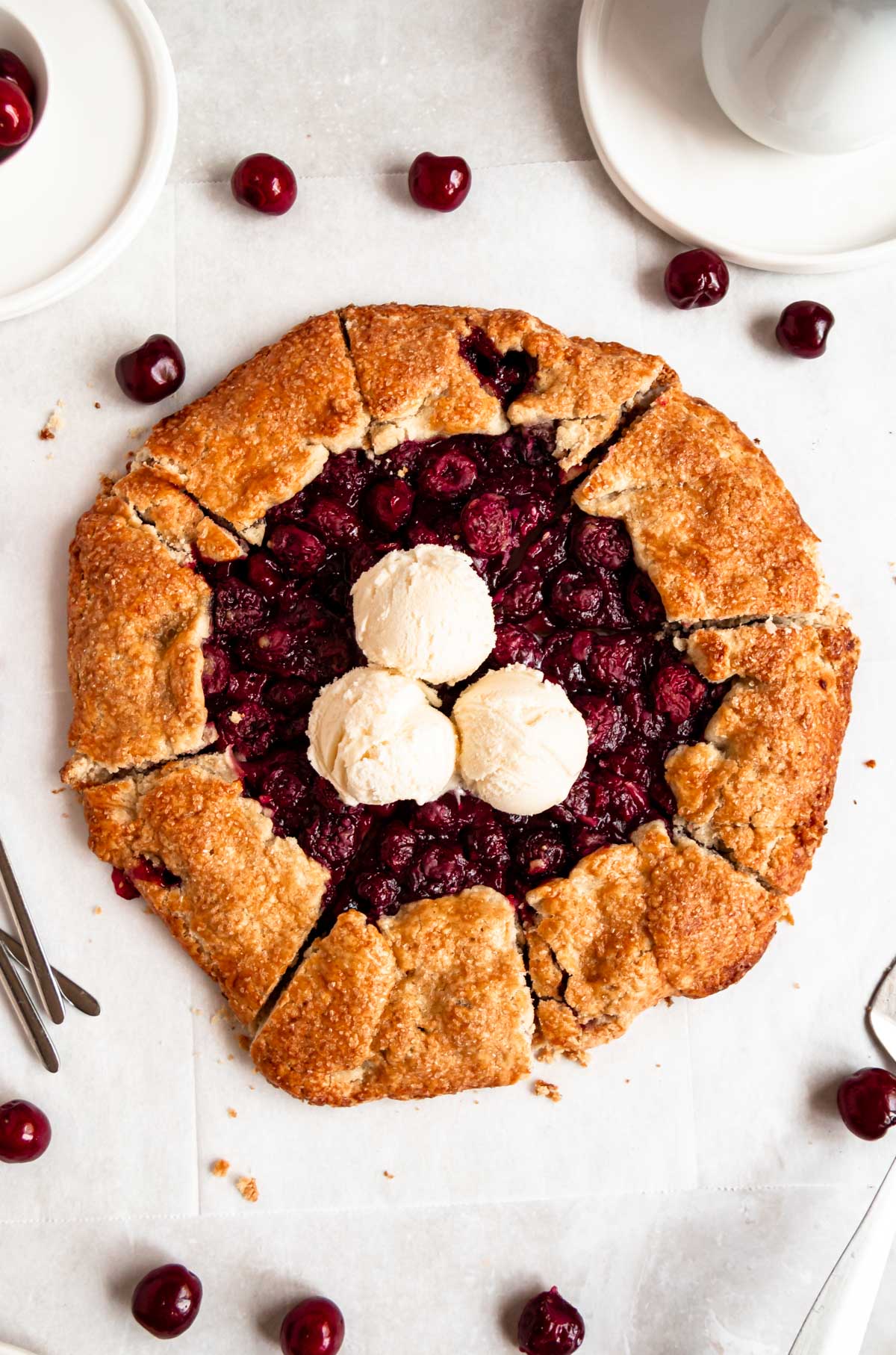 This homemade cherry pie is incredible. Our homemade cherry pie is made with a delicious and easy cherry pie filling and the easiest flakey pie crust. This recipe is a family favorite and always gets rave reviews.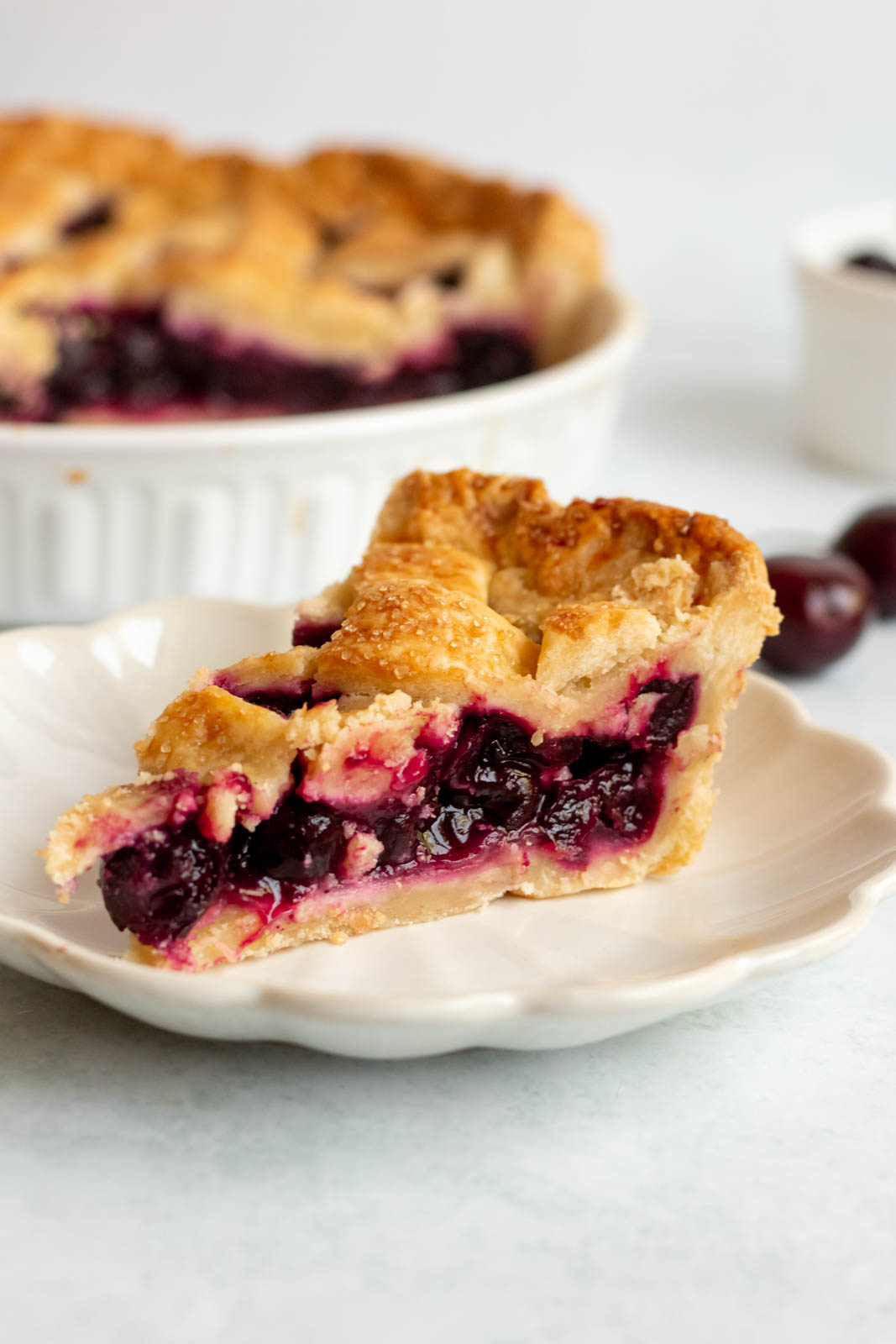 This black forest cake is made by layering moist chocolate cake layers with fresh cherries, cherry liquor, whipped cream, and topped with chocolate ganache.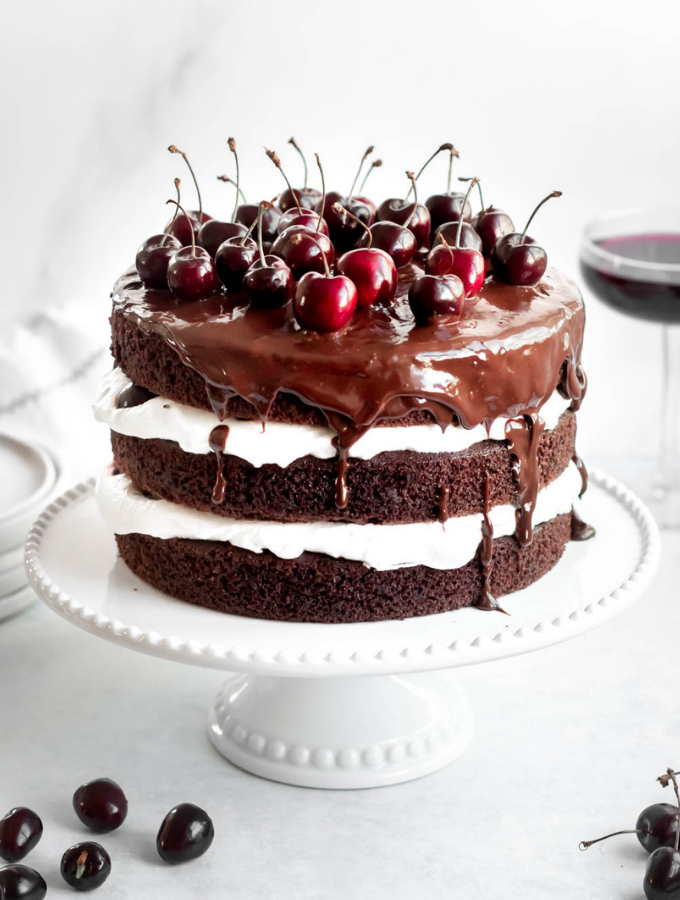 Beautiful, fudgy chocolate brownie studded with sweet and juicy cherries! This easy recipe produces perfect, rich and indulgent brownies every time!
Cherry Crumble is a cherry lover's dream! It's filled with tart, sour cherries...then covered with a buttery, crisp topping. You'll flip over this easy dessert that's made without oats or nuts.
Gooey almond-flavoured blondies with white chocolate chips, candied glace cherries, and cherry jam swirled on top!
This Cherry Almond Tart is easy and delicious! The almond tart dough crust is crunchy and tender, the almond cream filling is soft, and the fresh cherries are baked to jammy perfection!
Cherries Jubilee is a tried and true sweet treat that goes great on top of vanilla ice cream, whipped cream, and so much more! This easy to make cherry syrup calls for just five simple ingredients and takes no time at all to whip up. Make a little jar of this cherry delight today!
If you're a chocolate covered cherry lover, these Cherry Cheesecake Brownies will make your day! They start with a chocolate brownie crust, followed by creamy cheesecake swirled with cherry pie filling!
This easy Cherry Vanilla Ice Cream Maker Recipe features a creamy vanilla bean custard base swirled with a fresh cherry compote! It's the perfect cherry lovers treat for a hot Summer day!
Cherry crumb pie has a tart and sweet cherry pie filling baked inside a buttery pie crust and topped with a delicious crumb topping. It's the perfect combination of cherry crumb and pie.
Cherry cobbler has a sweet and tart cherry pie filling and is topped with a buttery, flaky homemade pie crust.
This Black Forest Pavlova combines soft billowy meringue, topped with chocolate whipped cream, juicy fresh cherries, and a sweet Kirsh cherry sauce. This indulgent, show-stopping dessert will become a firm favorite on your dessert table.
These Mini Cherry Cheesecakes are individual cheesecakes, baked in muffin tins, quick and easy to make, with cherry pie filling and an easy Oreo cookie crust.
This cherry syrup for pancakes is the best pancake topping for fruity pancakes. It's made with only 6 ingredients in 15 minutes, and you can use either fresh or frozen cherries.
Cherry Bread is bursting with fresh, sweet Bing cherries and chunks of dark chocolate and is so deliciously decadent, no one will ever guess how easy it is to make!
This cherry slab pie is made in a sheet pan and is ideal for serving larger crowds or bringing to a picnic. The natural sweet cherry flavor shines through and the apple only adds a subtle fruit sweetness which also means less sugar is necessary in the filling.
This easy black forest ice cream features chocolate ice cream, filled with cherry compote, crumbled fudgy brownies, and dark chocolate shavings. It's rich and decadent and the perfect dessert.
Cherry hand pies are made with a juicy homemade cherry pie filling inside a flaky, golden browned pie crust.
Try these homemade Cherry Oatmeal Bars made from fresh or frozen cherries! With a sweet, chewy oatmeal crust and topping and a tart cherry filling, these bars are the perfect combination of flavors and textures.
This Chocolate Covered Cherries recipe is the absolute BEST! It's a sweet maraschino cherry, covered in Nutella then dipped in a rich dark chocolate!
Cherry Salad is a super simple dessert with only six ingredients that you can whip up in a matter of minutes. Perfect for potlucks and parties!
An impressive dessert, but also incredibly simple to make, this cherry almond clafoutis is a delicious way to celebrate in-season cherries.
Homemade Cherry Muffins are made from scratch with fresh, sweet cherries. Make these muffins quickly and easily with yummy cherries and some simple pantry ingredients.
This 3-ingredient cherry dump cake is one of the easiest desserts, made with cherry pie filling, a box of yellow cake mix, and salted butter.
Flaky and buttery puff pastry cherry turnovers are a quick and easy homemade treat. Puff pastry pockets are filled with freshly made cherry pie filling and have a crunchy sugar crust.
The most delicious cherry almond polenta cake which you will want to make again and again! Make the most of beautiful summer cherries in this easy-to-make cake which is even easier to eat!
Cherry clafoutis, made famous by Julia Child, is a simple French custard dish, that's easier to make than pancakes! A fuss-free versatile recipe, you can make this year-round with frozen or fresh cherries.
Chocolate Cherry Cheesecake is a chocolate no-bake cheesecake with an Oreo crust and cherry topping. It takes the classic combinations of chocolate and cherry and puts a new spin on traditional cheesecake.
This easy no bake cherry cheesecake combines a classic Philadelphia cheesecake with juicy fresh cherry cheesecake topping, yum!
Black forest cookies combine the flavors of chocolate and cherry into a soft, chewy cookie! They are easy to make, only 20 minutes from start to finish. Plus no chilling of the dough is needed.
This Cherry Almond Chocolate Fudge is thick, smooth, and oh so chocolatey, and studded with salted almonds and sweet candied cherries. Made easily with NO candy thermometer, this fool-proof fudge recipe is perfect for any holiday!
Inspired by your favorite childhood boxed cake mix, this homemade cherry chip cake pairs a moist vanilla and almond flavored cake with maraschino cherries and their sweet, syrupy juice.
This Fresh Cherry Tart Recipe is beautiful and delicious and perfect for your next party or special occasion. You won't regret making this impressive and tasty treat!
This showstopping cake is made with a moist and fluffy vanilla cake, lots of fresh whipped cream, and homemade cherry preserves. The dark cherries are cooked in kirschwasser (cherry liquor), making this the perfect cake for a dinner party.
Cherry Sorbet is a refreshing, light dessert that is vibrant in color and flavor! It is loaded with fresh (or frozen) cherries and it's the perfect frozen treat for staying cool on a hot summer day.
These delicious cherry cheesecake popsicles are a perfect summertime treat. They're packed with rich and creamy cheesecake flavor, a fresh cherry compote swirl, graham cracker crumbles, and a couple of secret ingredients that will leave you wanting more.
Cherry Scones are a perfect combination of flaky, buttery goodness and juicy cherries, making them a wonderful treat for breakfast or tea time.
A Chocolate Cherry Trifle is a classic dessert that's so easy to make. Layers of moist chocolate cake, creamy pudding, whipped cream, and sweet cherries make it irresistible for family and friends!
Cherry Cream Cheese Danish is a puff pastry topped with cream cheese and cherry pie filling, baked until flakey and golden brown.
Cherry Desserts Faq's
How to pit cherries?
To pit cherries, start by selecting ripe cherries that are firm and juicy. Next, wash the cherries thoroughly to remove any dirt or residue.

To remove the pits, you can use a cherry pitter, which is a handy tool specifically designed for this purpose. Simply place the cherry in the pitter and press down gently to extract the pit.
How to pit cherries with a knife?
If you don't have a cherry pitter, you can also use a small paring knife to carefully cut around the stem and twist it off, then gently push out the pit using your fingers or a toothpick.
What are the best cherries for baking?
Two popular choices for baking are sweet cherries and sour cherries. Sweet cherries, such as Bing or Rainier, offer a juicy and rich flavor that pairs well with a variety of baked goods.

On the other hand, sour cherries, like Montmorency or Morello, have a tartness that adds a delightful tang to pies and pastries.

Both types can be used fresh or frozen depending on availability and preference. Ultimately, selecting the best cherries for baking depends on your desired taste profile and the specific recipe you're working with.
If you tried any of these recipes, don't forget to leave a rating and a comment below. We love hearing from you.
If you liked this post:
Share/pin this recipe to Pinterest.
Leave a comment down below!
📖 Recipe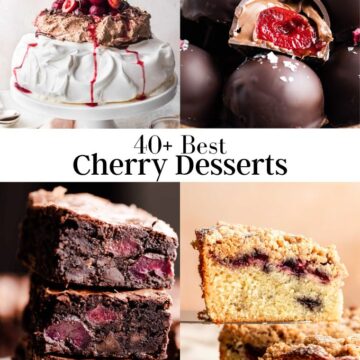 Top 40+ Cherry Desserts To Satisfy Your Sweet Tooth
In this delightful Cherry Desserts roundup, we explore a variety of sweet treats that celebrate the irresistible flavor of cherries.
Instructions
Select your favorite recipe that caught your eye.

Make a shopping list and purchase the ingredients.

Make your favorite cherry dessert recipe!