Tender and juicy, these chicken tenderloin recipes can be prepared in a variety of ways, from grilling and baking to sauteing or frying.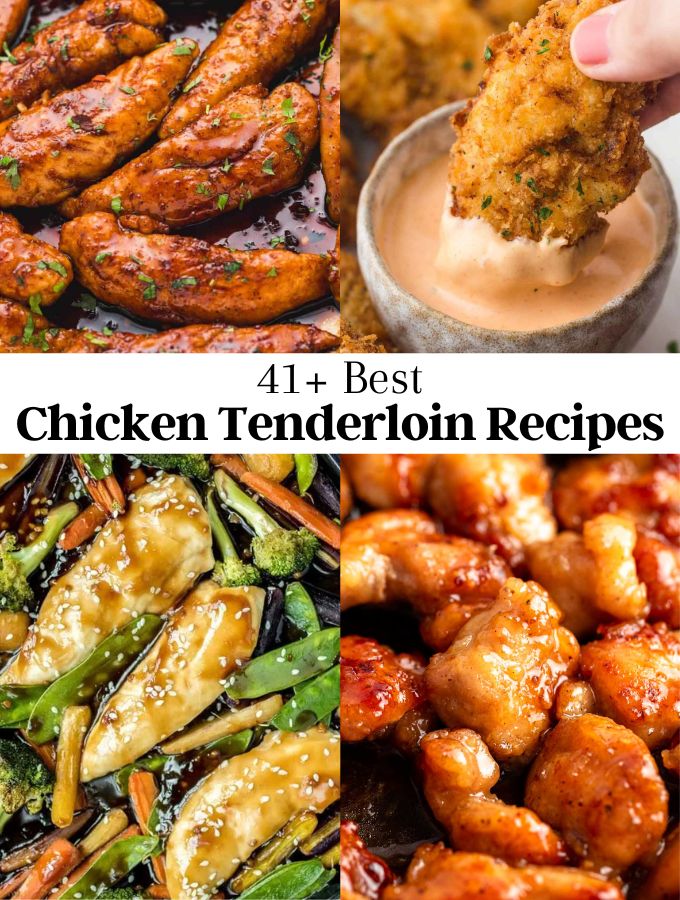 These chicken tender recipes are a popular choice for those looking for quick and delicious meals.
Whether you're craving classic breaded chicken tenders or seeking more adventurous flavors like honey mustard or buffalo-style, there is no shortage of options when it comes to cooking with chicken tenderloins.
With their versatility and ease of preparation, these recipes are sure to satisfy any palate.
For more recipe roundups, check out my custard desserts, cake filling recipes, Thanksgiving dessert recipes, birthday cake ideas, dessert shooters, and cupcake recipes.
What are chicken tenderloins?
Chicken tenderloins are a cut of meat that comes from the underside of the chicken breast. They are long, thin strips of meat that are tender and flavorful.
Chicken tenderloins are often used in recipes that call for bite-sized pieces of chicken, such as stir-fries, salads, or skewers.
Jump to:
These air fryer chicken tenders are crispy, tender, juicy, and loaded with delicious flavor. They take under 30 minutes to make and are super easy to throw together for a quick lunch or dinner.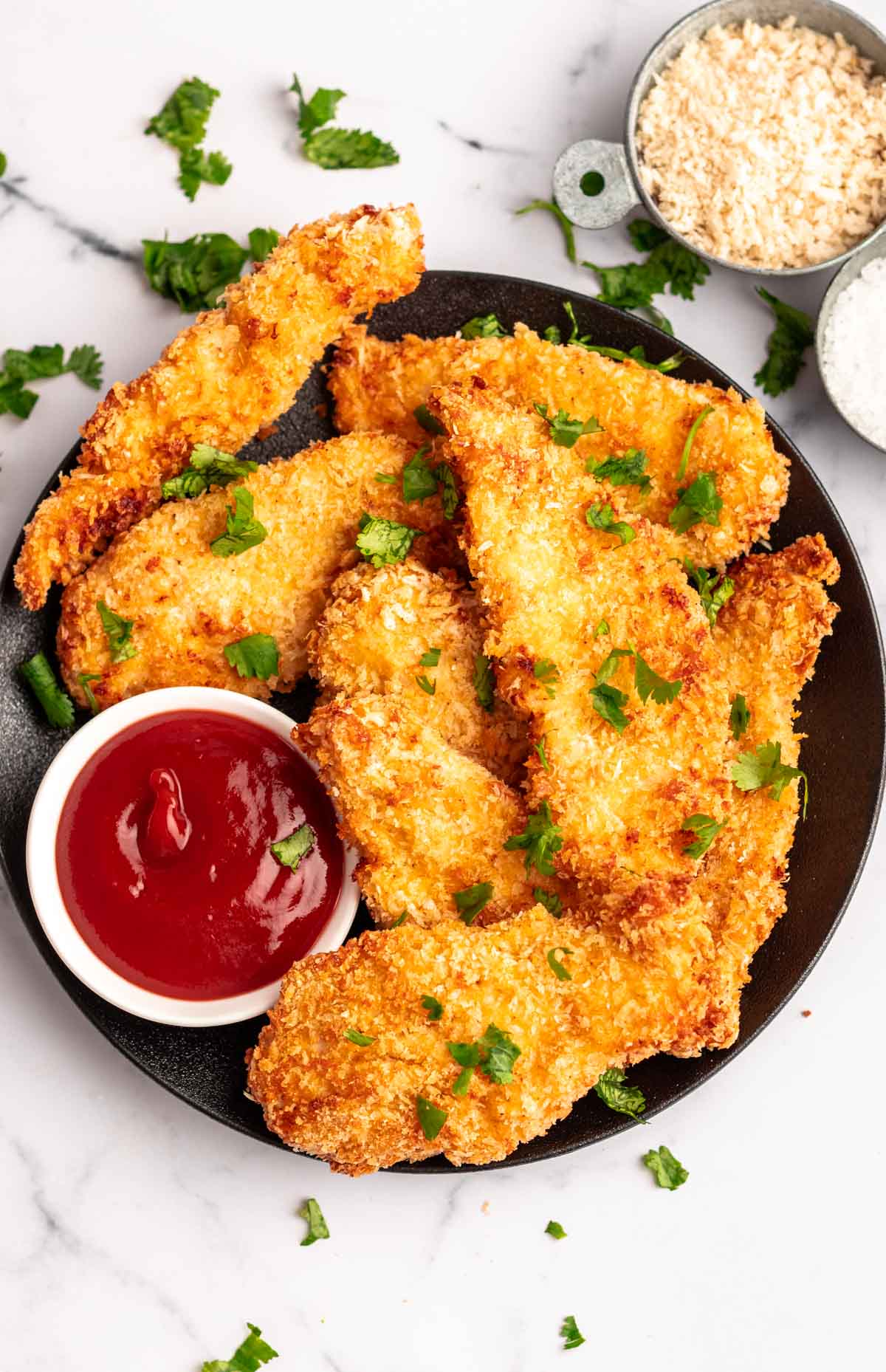 This honey butter chicken is crispy, sweet, juicy, and tender, and comes together in 30 minutes! My favorite part about this chicken is that is not deep fried, it is shallowed fried uses less oil, and is less heavy.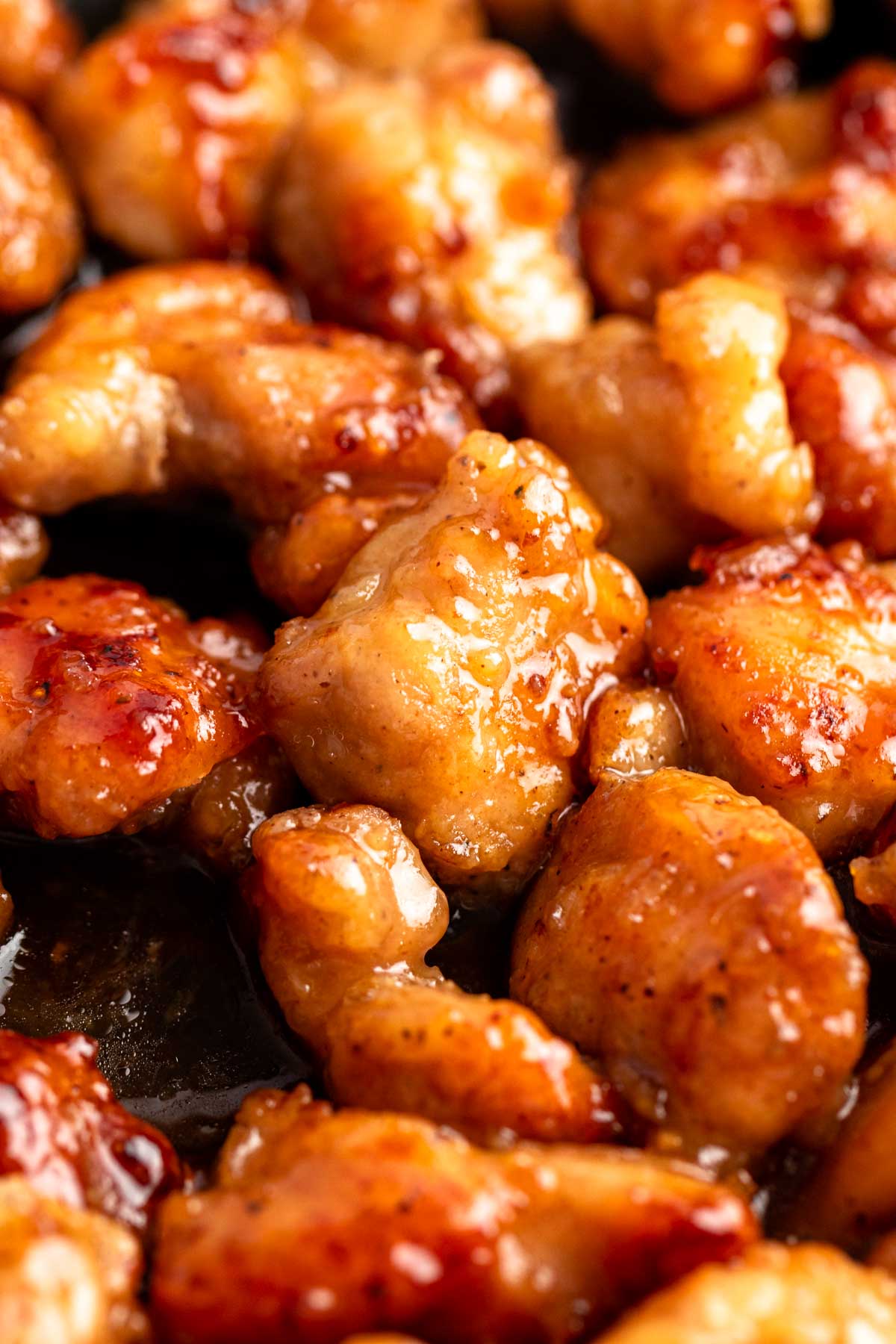 From Tennessee to your kitchen table, these homemade Nashville tenders offer a symphony of flavors that turns simple chicken strips into a spicy feast.
Whether you know bourbon chicken from New Orleans or from your favorite Chinese take-out, this dish is brimming with loads of flavorful components.
These Buffalo Chicken Tenders are oven-baked yet super crispy and tossed in a creamy, spicy, and tangy sauce. It's so so good!
Sweet and savory flavors of honey, garlic, and soy sauce combine to create a chicken tender recipe that is completely amazing! You'll love how easy this recipe is to make and how much your family loves it.
Extra crispy, juicy, and tender buttermilk chicken tenders that are so easy to make at home using a few simple ingredients, and the result is better than what you get at a restaurant!
Healthier chicken tenders cooked in a simple delicious garlic butter sauce. The chicken tenderloins turn out so tender, juicy, succulent, and flavorful. A weeknight dinner is ready in just 15 minutes!
This colorful chicken scampi recipe dinner is so quick and easy! The chicken tenders are juicy and flavorful, and the buttery garlic sauce is so creamy and good as it's made with a hint of white wine and cream.
Have you ever made something that was so delicious you even surprised yourself? Well, that was the case with my Thai Thai-inspired chicken Tenders and that oh-so-tasty Pineapple-Mango Chili Sauce!
Looking for a new chicken recipe? Crunchy Parmesan Chicken is full of flavor, and a nice change of pace from regular fried chicken.
Crispy, oven-baked chicken tenders on top of a fresh salad with cherry tomatoes, cucumbers, avocado, thinly sliced red onion, and a drizzle of homemade honey mustard dressing.
These buttermilk fried chicken tenders are super crispy and crunchy on the outside while still being juicy and tender on the inside.
Smoked Chicken Tenders: 1 way to cook, 3 ways to season! You choose which rub to use and let the smoker be the hero of flavor!
Grilled Bacon Wrapped Chicken Tenders has the best flavor with just 4 ingredients. This is an easy weeknight recipe for the grill that everyone will enjoy.
These grilled chicken tenders are marinated in lemon, garlic, herbs and olive oil, then grilled to golden brown perfection. The ultimate easy main course for summer time!
Enjoy some delectable basil balsamic chicken in just under 20 minutes! You only need 5 ingredients, and every bite is the right amount of sweet and savory.
You are going to want to keep this Blackened Chicken Tenders recipe handy! It's a breeze to cook, and your whole family is going to want to eat it time and time again.
Crispy, crunchy on the outside, and juicy on the inside, packed with mustard and pretzel flavors, and served with an addicting hot honey mustard sauce – these are weeknight perfection!
Cajun Chicken Tenders are kid and adult approved! These tender chicken strips are full of flavor and perfect for dunking in your favorite dipping sauce.
These Crispy Coconut Chicken Strips can be an easy weeknight meal or a quick-fix party appetizer! Make them as mild or as spicy as you'd like with cayenne pepper for a great sweet & spicy combo!
Cracker Barrel Chicken Tenders are one of the most popular items on the menu and for good reason! They are tender, flavorful, and slightly sweet, with a fresh citrus flavor.
Sheet Pan Honey Garlic Chicken and Veggies is a mix of tender chicken and vegetables coated in a sweet honey garlic sauce and baked on one pan for a quick and easy dinner.
Pan Fried Chicken Tenders are a delicious and easy-to-make meal that is perfect for any occasion. This recipe is a great way to enjoy juicy and flavorful chicken tenders that are crispy on the outside and tender on the inside.
These Taco Spiced Crispy Baked Chicken Tenders are absolutely THE BEST baked, crunchy chicken tenders, with a crispy and flavorful twist with a golden panko bread crumb coating and a taco spiced seasoning!
Our healthy baked chicken tenders (no breading) are the BEST way to enjoy flavorful chicken tenders that can be used in a variety of ways!
Rich Guinness flavor mingles with sweet honey in every finger-licking bite of these Guinness & Honey Glazed Chicken Tenders. You'll love this easy appetizer recipe perfect for St. Patrick's Day!
Crispy and yummy Panko Baked Chicken Tenders is the comfort food chicken dinner you need after a long busy weekday!
Greek Style Chicken and Salsa is the perfect dish for those moments when you just want (or need) a quick meal. This is the ultimate easy chicken meal; you can have it on the table in just 30 minutes.
Healthy pecan crusted chicken tenders are coated with a crunchy pecan crust and one of my favorite ways to make chicken that the whole family will love for a quick dinner.
Prepare a cheesy dish with a touch of spice with this Honey Pepper Chicken Mac and Cheese recipe. It's the perfect dish to have for lunch or dinner when you want a high-quality meal in no time.
Make your favorite chicken at home with this easy copycat Chick-fil-A Chicken Nuggets Recipe. Here is how to make them for your family!
Creamy Lemon Chicken is the perfect meal for busy weeknights. The delicately flavored chicken tenderloins are cooked in a frying pan, then bathed in a garlic-flavoured, creamy sauce, brightened by the tang of lemon juice and zest.
These Baked Cornflake Chicken Tenders are easy to make and delicious! Chicken tenders are coated in cornflakes, then baked until perfectly crispy.
These Lemon Garlic Chicken Kabobs are tender and delicious!! They have a tangy zip from the lemon zest and savory bite from the garlic.
Cheez-It Chicken Tenders are ready in 15 minutes, and so CRISPY on the outside thanks to a Cheez-It Cracker coating!! Don't bother frying chicken when you can bake it! If you like Cheez-Its, you're going to LOVE this chicken!!
The typical Teriyaki marinade and Thai peanut sauce has at least 10 ingredients in each of them. Most are not found in the average pantry such as lemongrass, garlic chili paste, and fish sauce.
Bang Bang Chicken is panko-crusted chicken tenderloins deep-fried to a crispy golden brown, drizzled with homemade bang bang sauce. Crispy tangy chicken delight!
You only need 5 ingredients and 15 minutes to make these Sweet & Spicy Sticky Chicken Tenders! Dip them in ranch dressing for an easy appetizer or dinner!
Quick and easy to prepare, this Baked Chicken Tenderloin Parmesan is a family-friendly weeknight dish, prepared with just a handful of simple ingredients. One of my all-time favorite chicken tenderloin recipes!
Chinese lemon chicken with an irresistibly sticky, sweet, and sour Chinese lemon sauce. move over take-out!
Chicken Tenderloin Faq's
What are chicken breast tenderloins good for?
Chicken breast tenderloins are perfect for chicken nuggets, fried or baked chicken tenders, and chicken strips.
Are chicken tenderloins healthy?
Chicken tenderloins have a bit more fat than regular chicken breasts, but they are still good for you in moderation.
Is a chicken tenderloin the same as a chicken tender?
Chicken tenderloins or chicken tenders are thin muscles that loosley attached to the chicken breast.
More chicken recipes
Chicken limone- This chicken limone is made by dredging chicken breast in flour and spices and then topped with a creamy lemon sauce that is filled with delicious flavor.
Chicken pomodoro- This homemade chicken pomodoro is light, easy, delicious, and comes together in under 30 minutes from start to finish!
Grilled chicken legs- These grilled chicken legs are the perfect recipe for flavorful, crispy, and tender chicken drumsticks for your summer BBQ!
If you tried any of these recipes, don't forget to leave a rating and a comment below. We love hearing from you.
If you liked this post
Share/pin this recipe to Pinterest.
Leave a comment down below!
📖 Recipe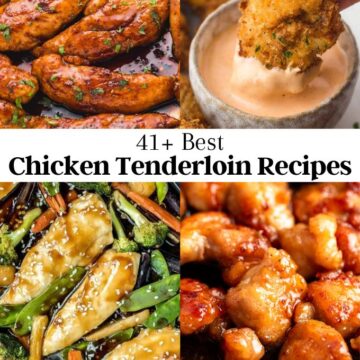 41+ Best Chicken Tenderloin Recipes
Tender and juicy, these chicken tenderloin recipes can be prepared in a variety of ways, from grilling and baking to sauteing or frying.
Instructions
Select your favorite recipe that caught your eye.

Make a shopping list and purchase the ingredients.

Make your favorite chicken tenderloin recipes!