These custard desserts will satisfy your sweet tooth from classic favorites like creme brulee and flan to comforting bread pudding and silky panna cotta.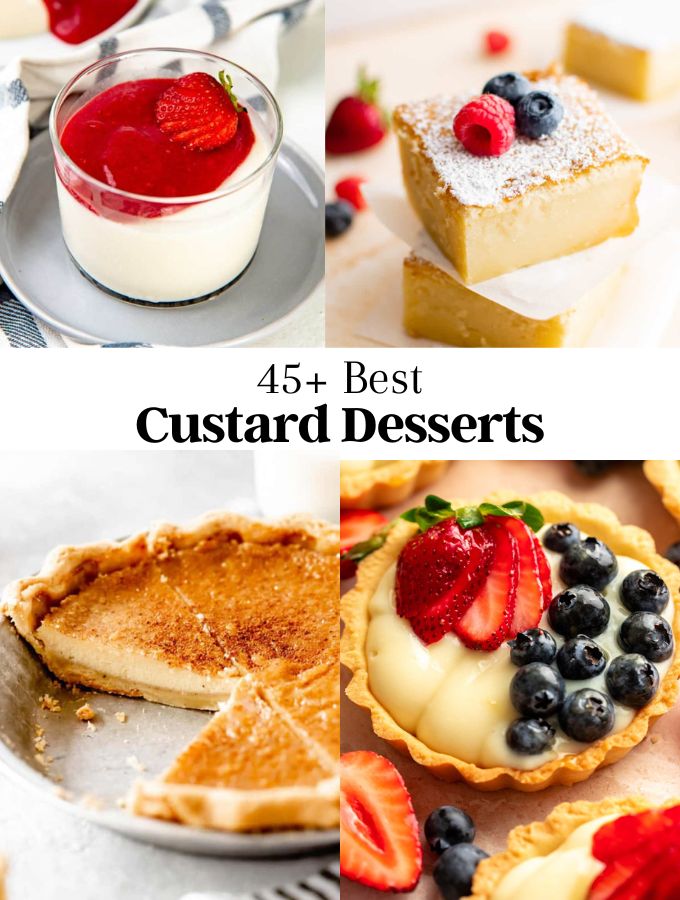 Custard desserts are a delightful and creamy treat enjoyed by many.
Made from a combination of milk or cream, eggs, sugar, and flavorings such as vanilla or chocolate, custard desserts offer a smooth and luscious texture that is hard to resist.
Whether served warm or chilled, these delectable treats are perfect for indulging in after a meal or as a standalone dessert.
With their rich taste and velvety consistency, custard desserts are sure to satisfy any sweet tooth craving.
For more recipe roundups, check out my cake filling recipes, Thanksgiving dessert recipes, birthday cake ideas, dessert shooters, cupcake recipes, coffee desserts, cinnamon desserts, and buttermilk dessert recipes.
Jump to:
This creme brulee recipe is made with only 4 ingredients and it's the best creme brulee that I've ever had! Creme brulee is a classic French dessert that is easier to make than it looks and tastes like an expensive dessert!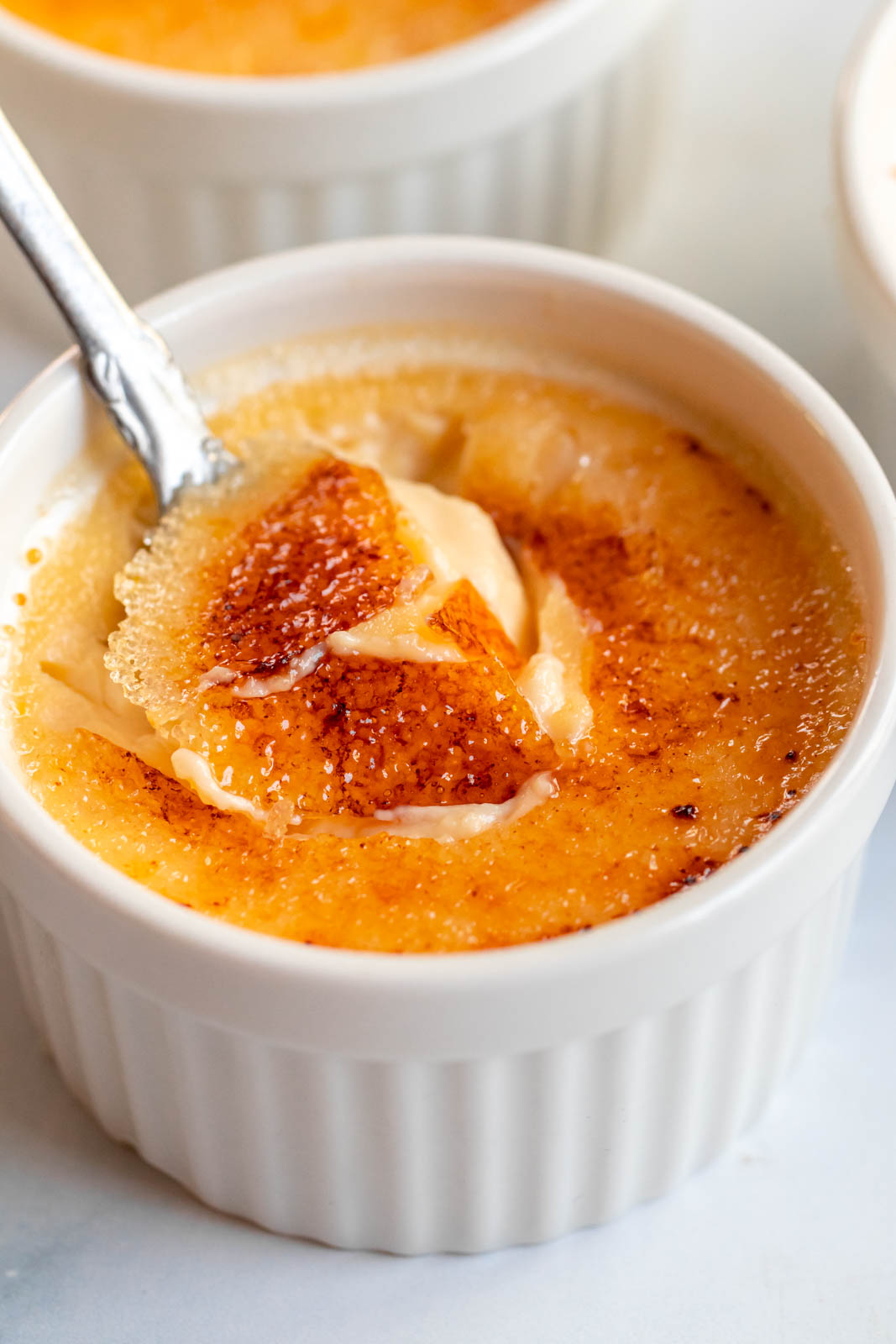 This chocolate creme brulee has a silky pudding custard consistency and is topped with a crispy caramelized sugar layer that is simply irresistible.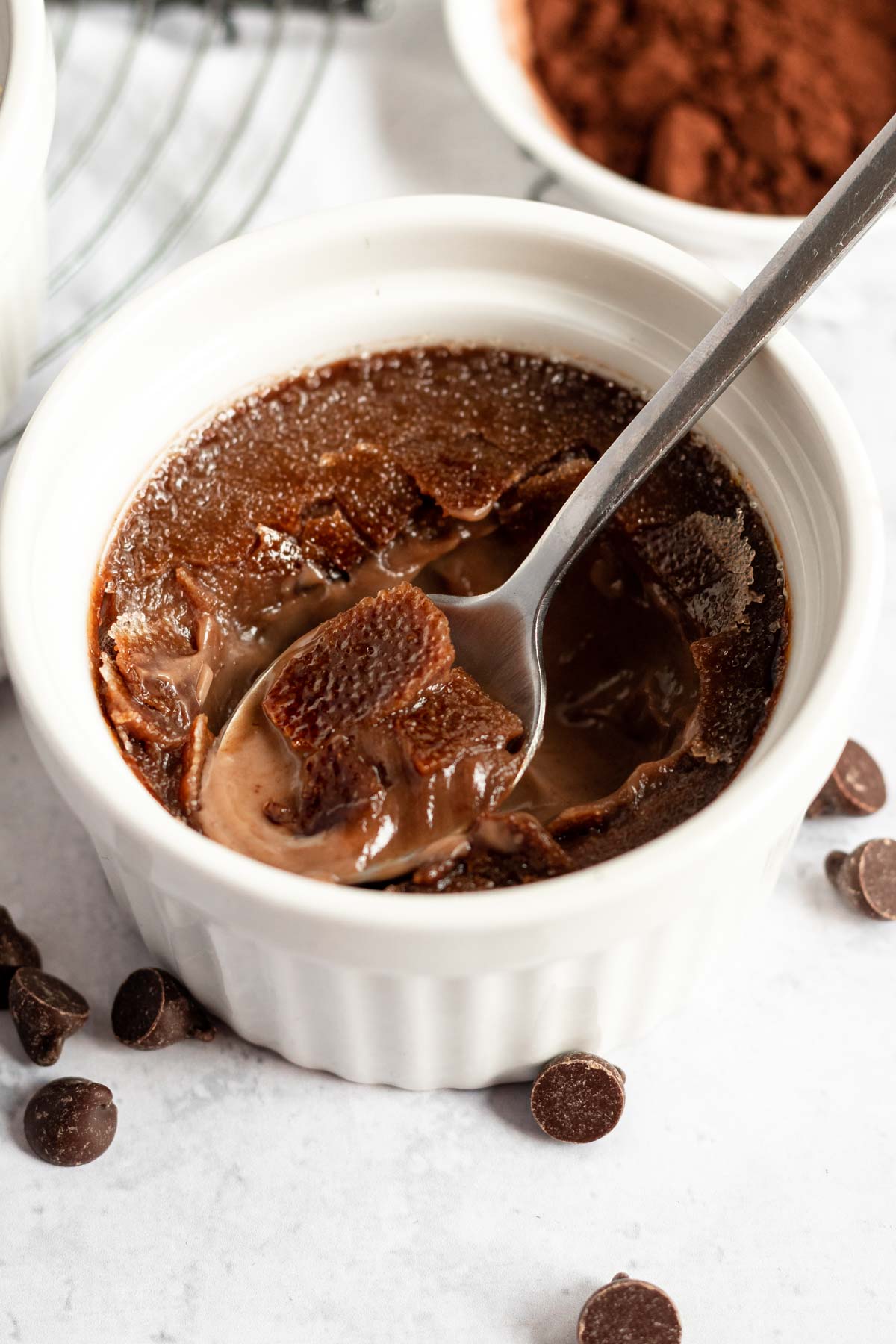 This chocolate chip bread pudding is made with an easy custard made with eggs, vanilla, cinnamon, milk, and plenty of chocolate chips!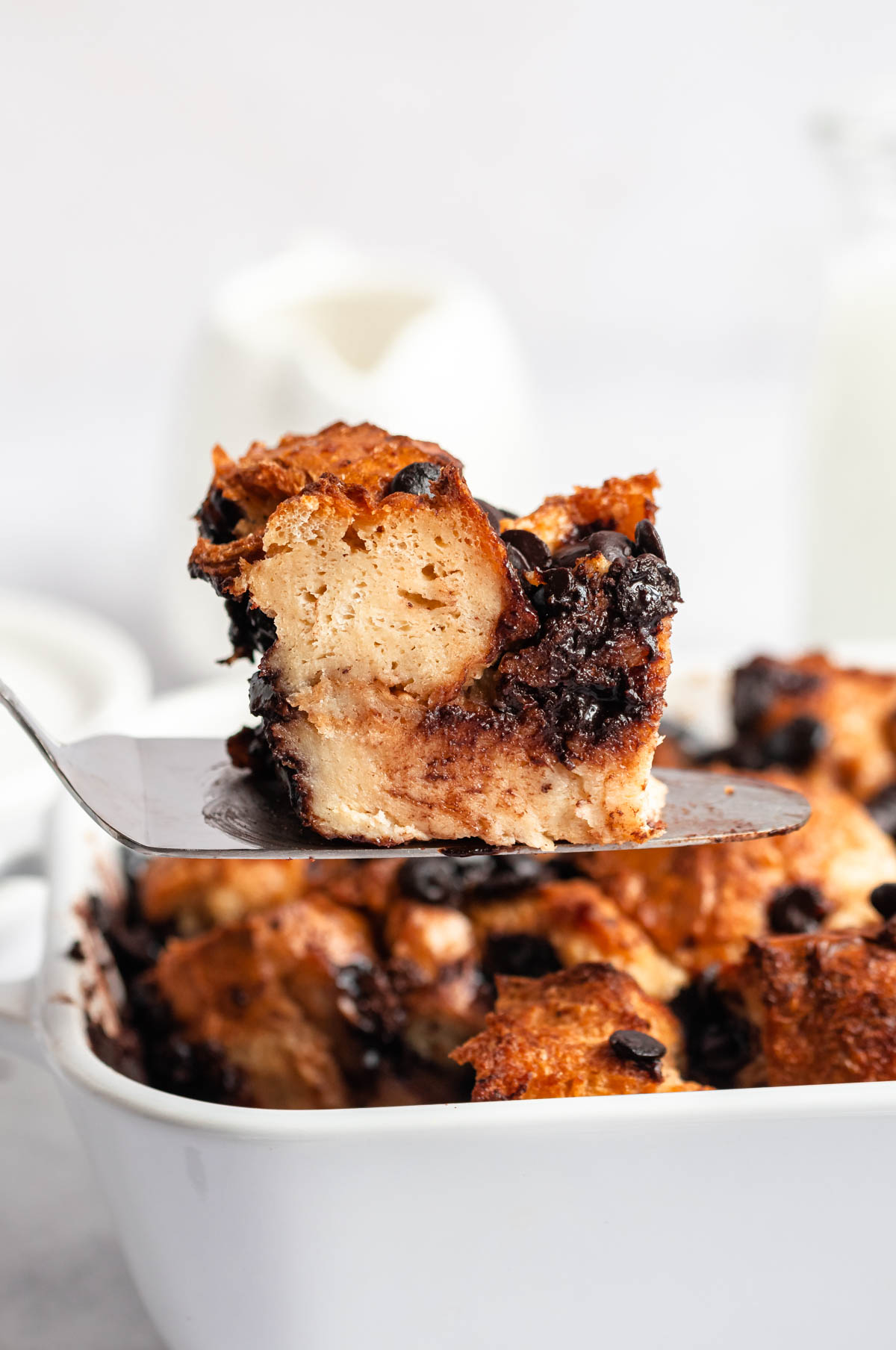 These mini fruit tarts are made with easy and buttery tart shells, filled with homemade pastry cream, and topped with fresh fruit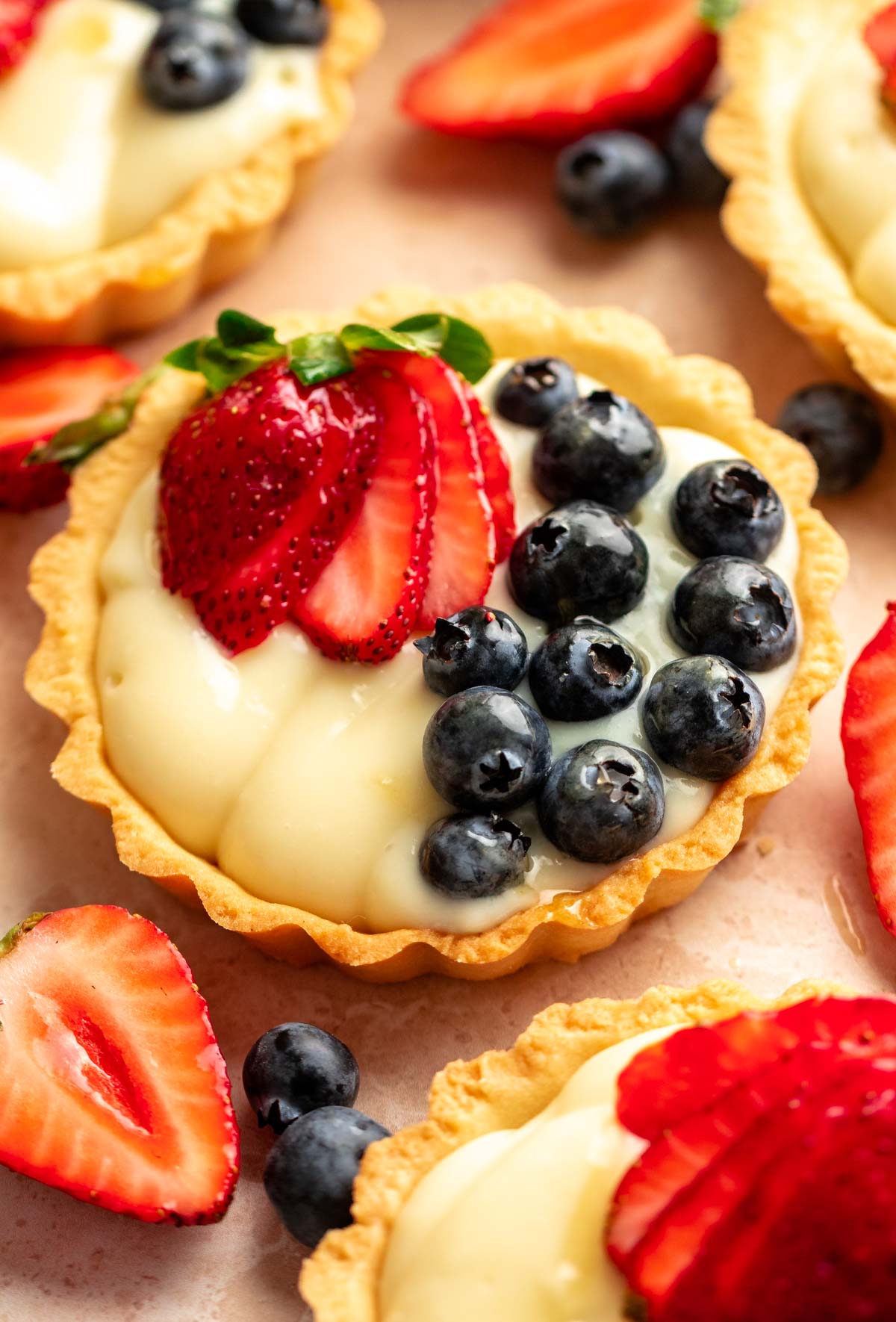 These Bavarian cream donuts are made with soft and fluffy donut dough, rolled with sugar, and filled with decadent vanilla pastry cream.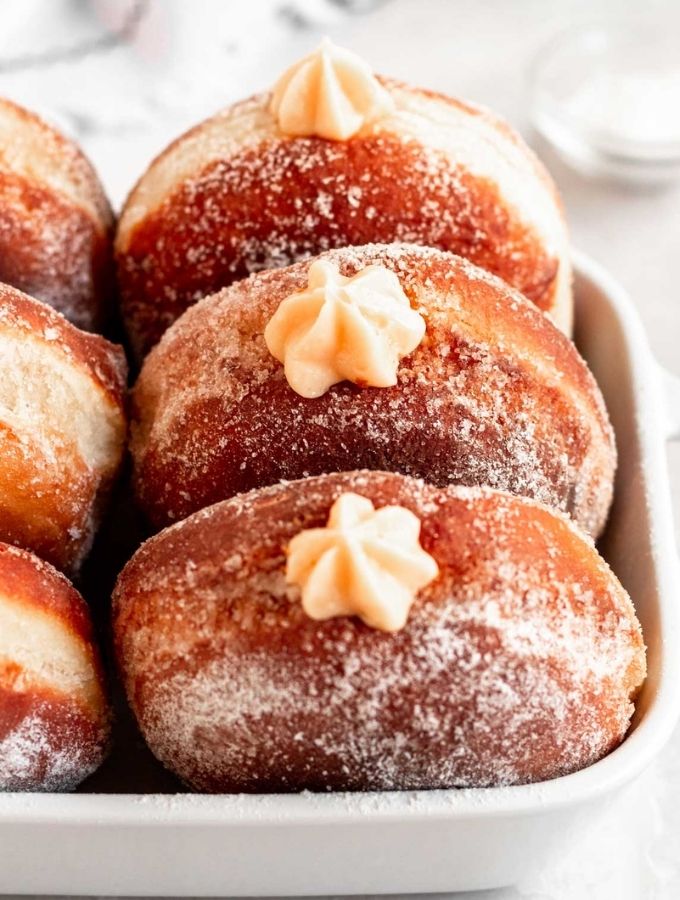 These banana pudding cupcakes are made with a moist, tender, and light banana cupcake base, filled with a banana pudding filling, and topped with stabilized whipped cream.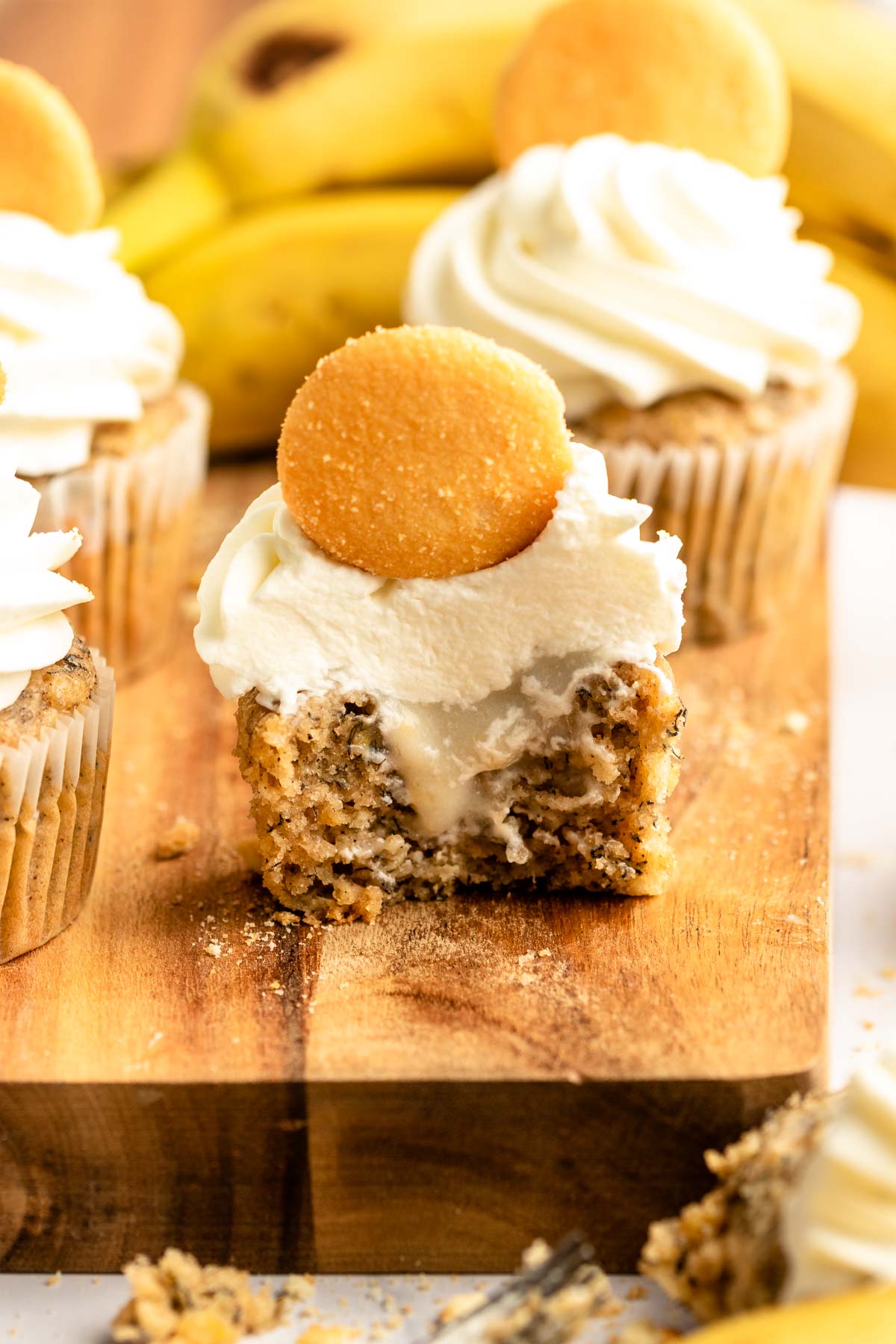 This creme brulee cheesecake is creamy, thick, and custardy, made with a graham cracker crust, and topped with a burnt caramel shell on top, just like creme brulee!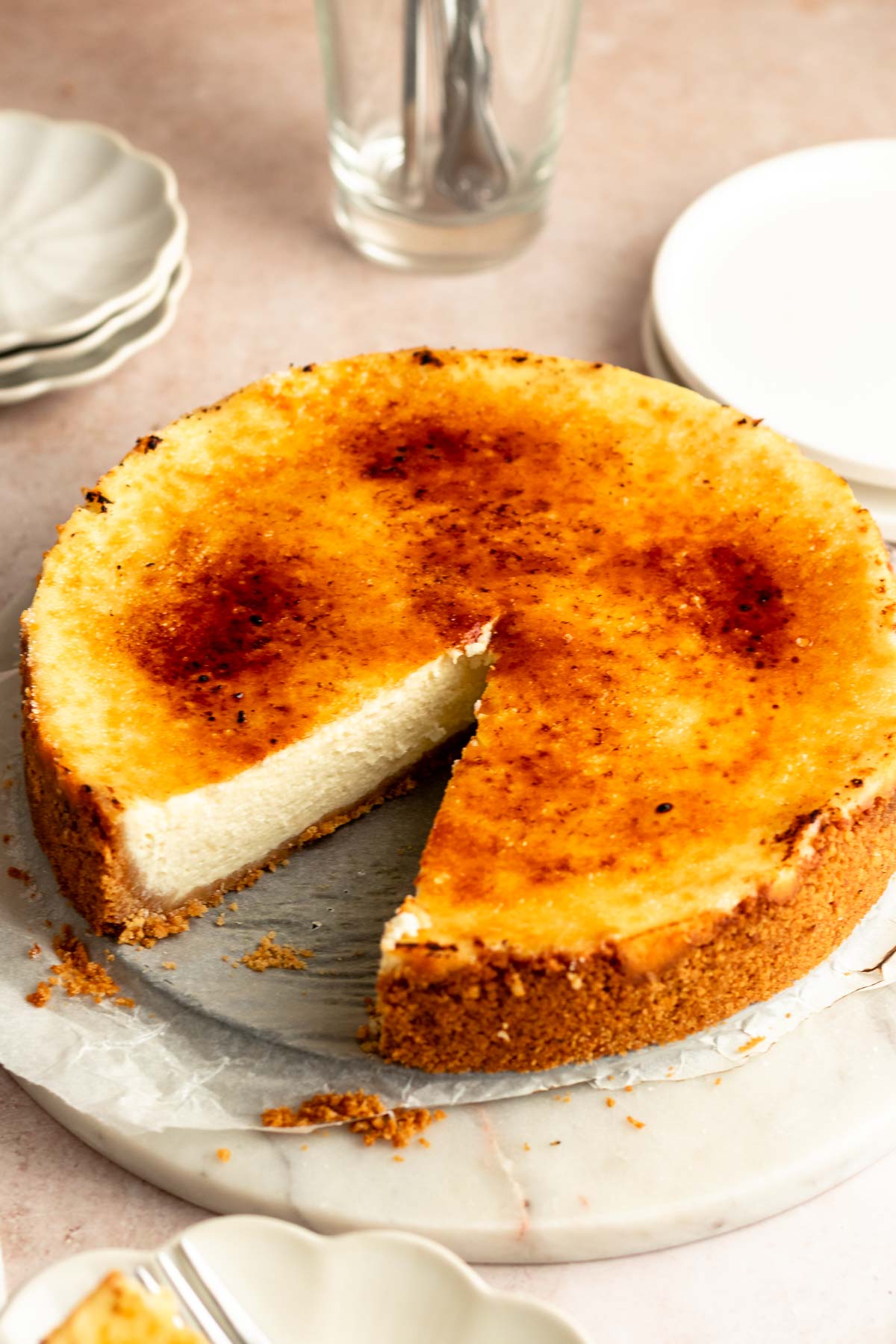 This candied kumquat and custard tart has creamy vanilla custard filling, a crunchy butter cookie crust, and is topped with bright candied kumquats!
This eggnog custard tart has a crunchy gingersnap cookie crust topped with boozy eggnog custard. Then garnished with homemade gingerbread cookies, sugared cranberries and rosemary!
Learn how to make a soft and flavorful Magic Custard Cake. The "magic" is how it creates its own layers of cake when it bakes!
There is nothing that compares to a homemade vanilla custard. Velvety and smooth, serve it with fresh berries or cinnamon.
This sugar cream pie has a delightfully flaky crust filled with a creamy filling full of vanilla flavor. It's topped with a torched buttery cinnamon and nutmeg blend to create the perfect texture and flavor, similar to creme brulee.
The rich and bold flavor of Cuban coffee meets flan's silky vanilla custard and caramel. The result is a delicious café con leche flavored Cuban dessert.
The amazing flavor of dulce de leche meets flan's silky vanilla custard and caramel. Dulce de leche is one of my all time favorite desserts as well as flan, so combining the two seemed like the natural thing to do!
Lemon posset is an ultra silky smooth dessert that pairs the richness of the cream with the brightness of the lemon! Best of all, there are just three ingredients in this incredibly simple but decadent dessert.
Tart and tender rhubarb with a sweet and creamy custard is a match made in heaven in this old-fashioned pie. If you're a fan of rhubarb, then you're going to love this easy-to-make pie!
Eggs, butter, vanilla and a dash of nutmeg come together to make this to-die-for custardy Southern Egg Pie with a perfectly flaky buttery crust!
This homely tart consists of lemony, tender shortcrust filled with a luscious Italian pastry cream and is an absolutely ideal way to end any meal!
Custard yogurt toast is a breakfast and dessert in one. In just 15 minutes, enjoy perfectly crisp air fryer toast topped with yogurt custard and mixed berries!
Jericalla is a seriously indulgent and ultra creamy dessert. This Mexican custard is famous for its blackened tops and will steal the show at any meal.
After a modest but delicious dessert recipe? Try our custard pudding, flavored with cardamom & topped with strawberries!
This delicious easy vanilla custard slice consists of a delightful creamy vanilla custard filling sandwiched between two layers of puff pastry and topped off with a simple icing glaze. A true classic!
This Vanilla Frozen Custard Ice Cream is rich, decadent, and oh so creamy. Pair with your favorite pie, cake, or cookie or simply perfect on its own.
This custard apple pie is as easy as it gets and takes minutes to make! Made on a biscuit base and loaded with cinnamon apples and vanilla custard, this pie is irresistibly delicious.
Peach custard tart with a spiced shortcrust tart shell, silky smooth custard filling, and fresh yellow peach slices on top.
This strawberry custard tart is made with a buttery shortcrust pastry tart shell filled with homemade custard, whipped cream, and fresh strawberries. It's a simple and classic combination but so delicious!
Also known as "mille feuille," this classic French Napoleon recipe features layer upon layer of flaky puff pastry separated by rich vanilla bean pastry cream.
Enjoy a heavenly slice of this Pumpkin Magic Custard Cake! It's basically a pumpkin custard pie but it's a cake as well. Firmer at the bottom, then custard, then cake, with no pie crust.
Bavarian cream is a super easy to make yet incredibly delicious dessert! Creamy, silky smooth, melt in your mouth texture with every spoonful, and can be paired with different flavored sauces and toppings.
This Chocolate Cremeux - or Crémeux au Chocolat - is a classic French Cream that has an incredibly silky texture and intense chocolate flavor. It is great to use as a filling or topping for your favorite cakes and pastries - or on its own as a dessert!
This French Strawberry Custard Tart combines a deliciously buttery Shortcrust Pastry, a Vanilla Pastry Cream filling and Fresh Strawberries. It is a great light summer dessert for parties or afternoon tea.
This Vanilla Custard Plum Tart makes the most delicious summer dessert. The tart is filled with a creamy vanilla Pastry Cream and topped with fresh Plums; a great combination of flaky, creamy and fresh!
The perfect, foolproof panna cotta recipe, that's also so easy to make! The only classic panna cotta recipe you will need, plus variations. Perfectly sweet, and melt in your mouth creamy!
Clafoutis Cerise is a baked cherry custard, French dessert. Cherry clafoutis is an easy dessert, served in individual ramekins. To my mind, it is one of the best sweet breakfast recipes!
A dark chocolate twist on the original, Chocolate Panna Cotta is an impressive dessert that's surprisingly simple to make.
This apple custard tart is a sweet, comforting dessert with complementary textures and great flavors. You'll get a crisp shortcrust pastry case, a creamy, smooth-set custard, semi-soft cinnamon apples and a sweet apricot glaze.
Lemon Custard Cake is bright, zesty, and perfect for baking all summer long! This homemade cake is sweet, super soft, easy to make, and oh so lemony!
This quick and easy Strawberry Panna Cotta with Strawberry Sauce is a deliciously light and creamy Summer dessert. It is the perfect make-ahead dessert for a fancy dinner party, Date Night or even Valentine's Day!
Hokkaido Baked Cheese Tarts are the ultimate rich and creamy bite-sized Japanese desserts with crunchy shortcrust tart base and distinct sweet and savory cheesy filling.
Soft airy and feathery, made with cocoa instead of chocolate this Chocolate Custard Cake is going to amaze you!
These elegant pastries filled with custard cream and berries are incredibly easy to make and are absolutely delicious!
Bite-sized sugar cookie cups filled with a creamy vanilla custard and topped with fresh berries.
This incredible French tart is like a gigantic Portuguese Tart. It's a flaky pastry crust filled with a wicked amount of creamy and rich vanilla custard that glows with a gorgeous bronze sheen after baking.
Here's a Custard Bread Pudding is a decadent and delicious dessert. This recipe leans more towards the custard side than the bready side. It's a simple recipe with a delightful and rich egg custard filling.
This sweet and tangy buttermilk chess pie is made with a creamy custard filling with a slight texture from the cornmeal. It has a rich flavor that balances sweetness with a slight tang.
Custard Desserts Faq's
What are the 3 types of custard?
The three main types of custard are baked custard, stirred custard, and pastry cream. Baked custard is made by baking a mixture of milk, eggs, sugar, and flavorings until set.

Pastry cream is a thicker version of stirred custard. Stirred custard involves cooking the ingredients on the stovetop until thickened.
What to top custard with?
The best toppings for custard are fresh fruit like fresh berries (strawberries, raspberries, blueberries), chocolate shavings, shredded coconut, and fruit sauce.
What is the secret to making custard?
The secret lies in combining egg yolks, sugar, and milk or cream over gentle heat while continuously stirring.

This process thickens the mixture without curdling the eggs, resulting in a smooth custard.

Adding vanilla extract or other flavorings enhances the taste, while careful temperature control ensures a perfect consistency.
More dessert recipes
Snickerdoodle Recipe Without Cream Of Tartar- Make this snickerdoodle recipe without cream of tartar for a delicious cookie that is rolled in cinnamon sugar, and can be made with simple pantry ingredients you probably have in your kitchen.
3 Ingredient Banana Bread- This insanely tender and moist 3 ingredient banana bread is the easiest way to make banana bread and is versatile.
Chewy Gingersnap Cookies- These gingersnap cookies are thin and crispy with a chewy center and rolled in cinnamon sugar which creates the most delicious crunchy exterior.
If you tried any of these recipes, don't forget to leave a rating and a comment below. We love hearing from you.
If you liked this post:
Share/pin this recipe to Pinterest.
Leave a comment down below!
📖 Recipe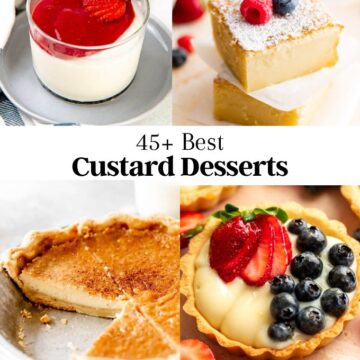 45+ Best Custard Desserts You Need To Make
These custard desserts will satisfy your sweet tooth from classic favorites like creme brulee and flan to comforting bread pudding and silky panna cotta.
Instructions
Select your favorite recipe that caught your eye.

Make a shopping list and purchase the ingredients.

Make your favorite custard desserts recipes!