From classic tiramisu to luscious cheesecakes and fluffy mousses, there are endless possibilities when it comes to creating mouthwatering mascarpone desserts.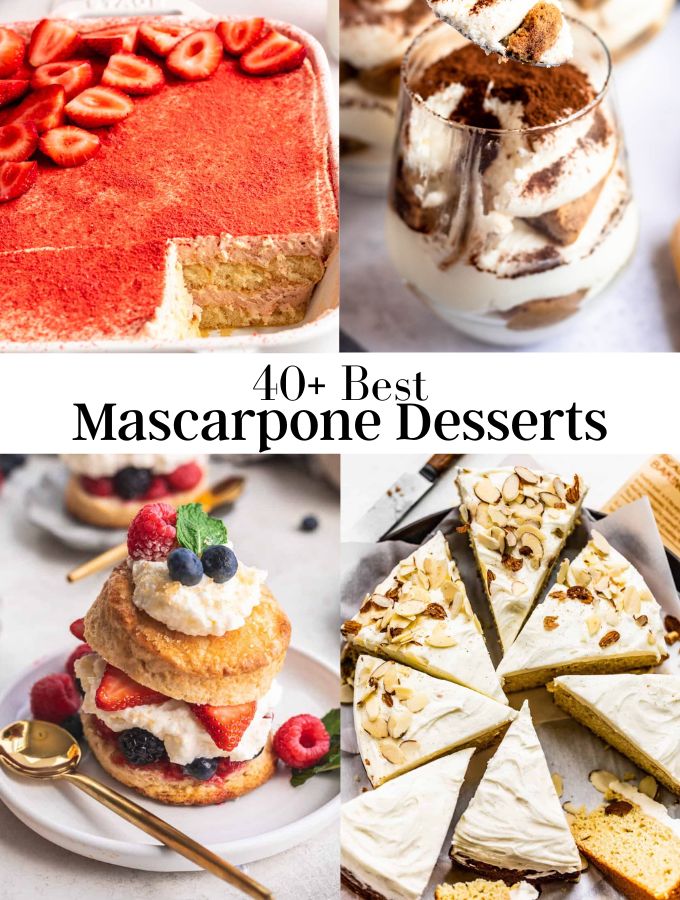 Indulge in the creamy and decadent world of mascarpone desserts.
Mascarpone, with its velvety texture and rich flavor, is a versatile ingredient that adds a luxurious touch to any sweet treat.
Whether you're a seasoned baker or just starting out in the kitchen, there's a recipe for everyone to enjoy. So why not explore the world of mascarpone desserts and treat yourself to something truly indulgent?
For more recipe roundups, check out my types of brownies, cherry desserts, orange desserts, unique desserts, pistachio desserts, best cheesecake toppings, easy baking recipes, unique cookie recipes, Rice Krispie Treats Variations.
Jump to:
This limoncello mascarpone cake has a soft and tender crumb and is topped with creamy mascarpone cream and lemon curd.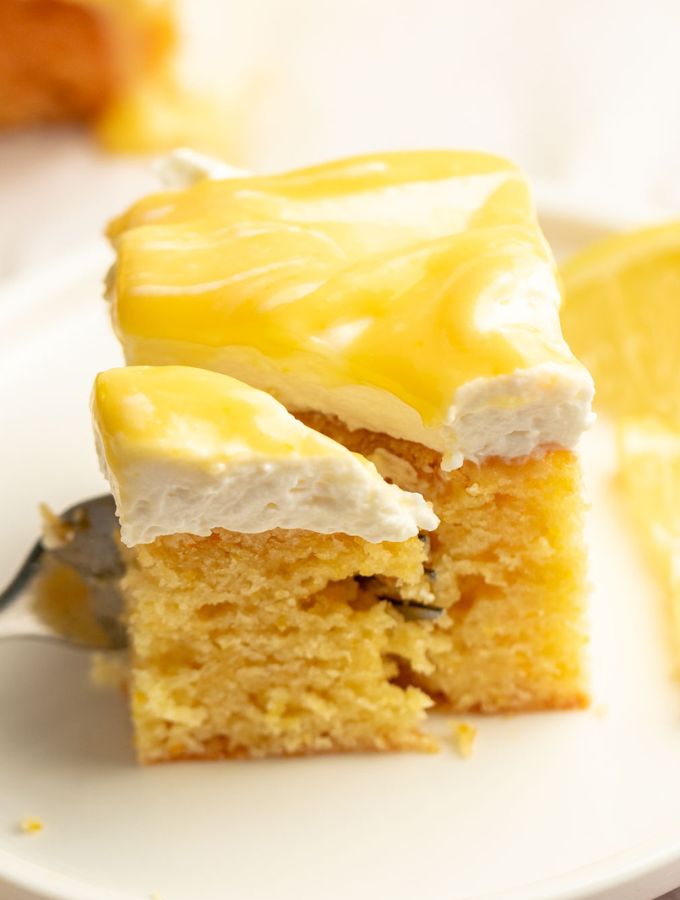 This tiramisu cake is made with genoise cake layers soaked with espresso and filled with creamy and silky mascarpone cream, then topped with plenty of cocoa powder.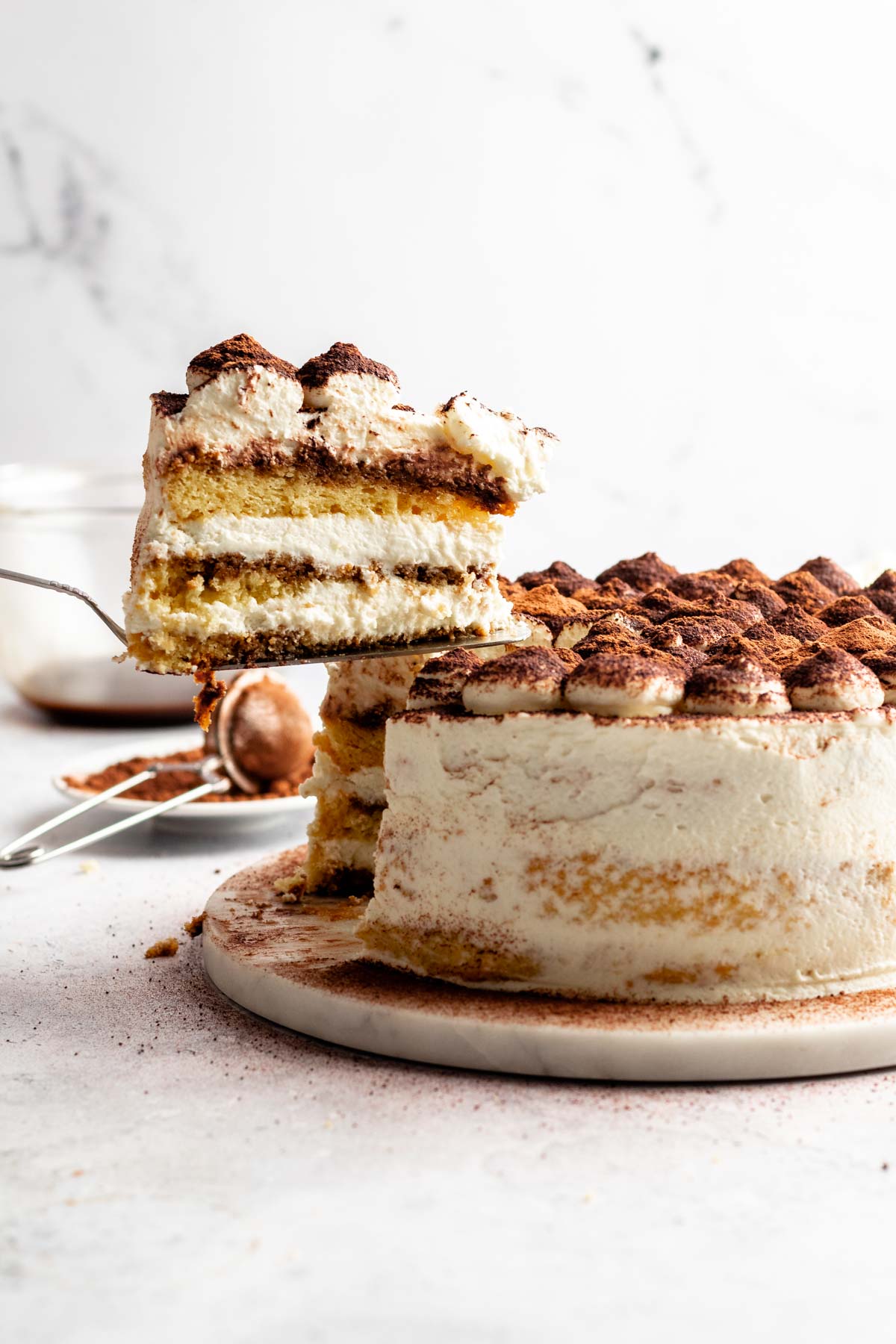 This lemon poke cake is made with a moist and tender lemon cake, lemon condensed milk filling, and lemon mascarpone whipped cream.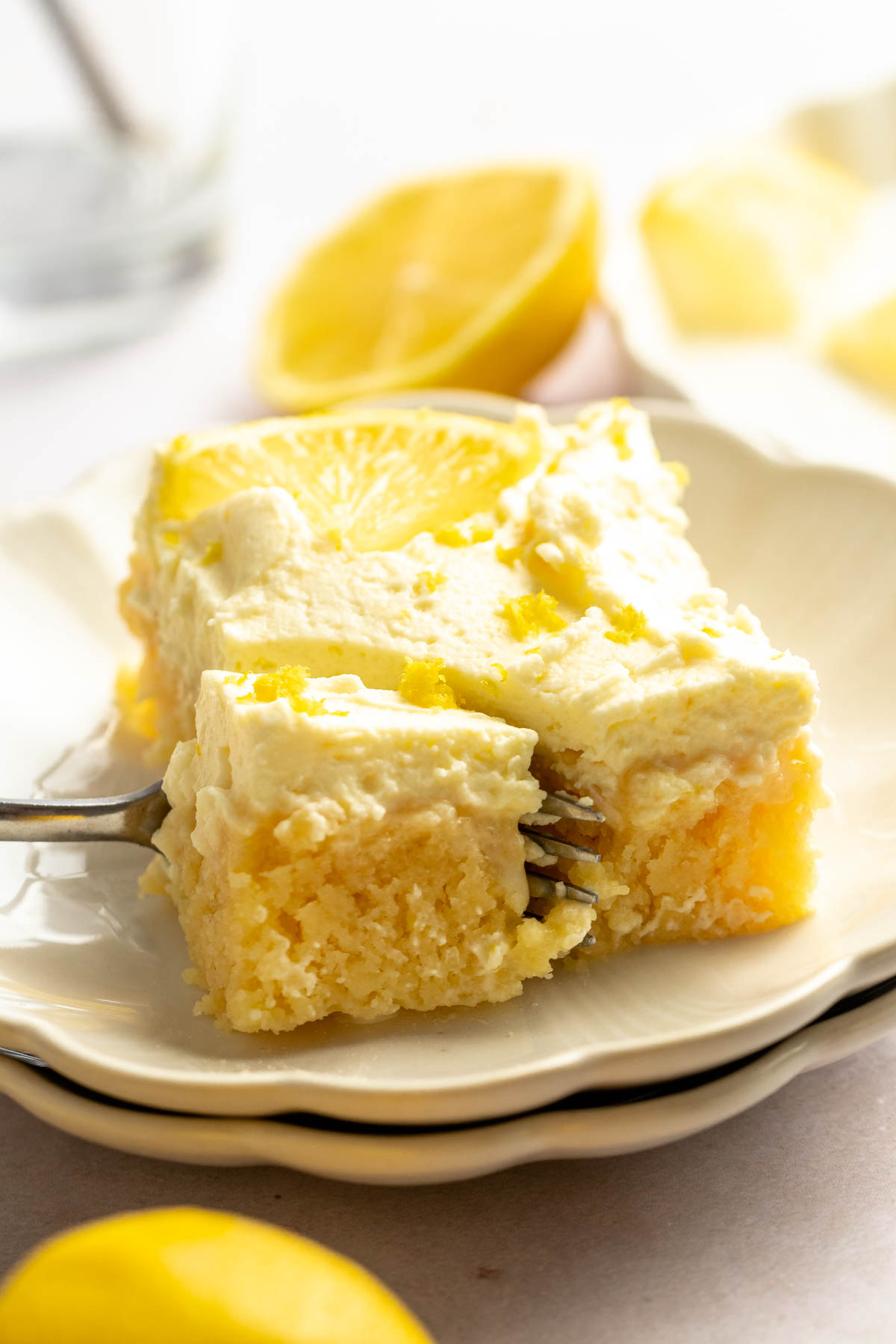 This mascarpone whipped cream is the perfect not-too-sweet and stable frosting that goes perfectly on everything!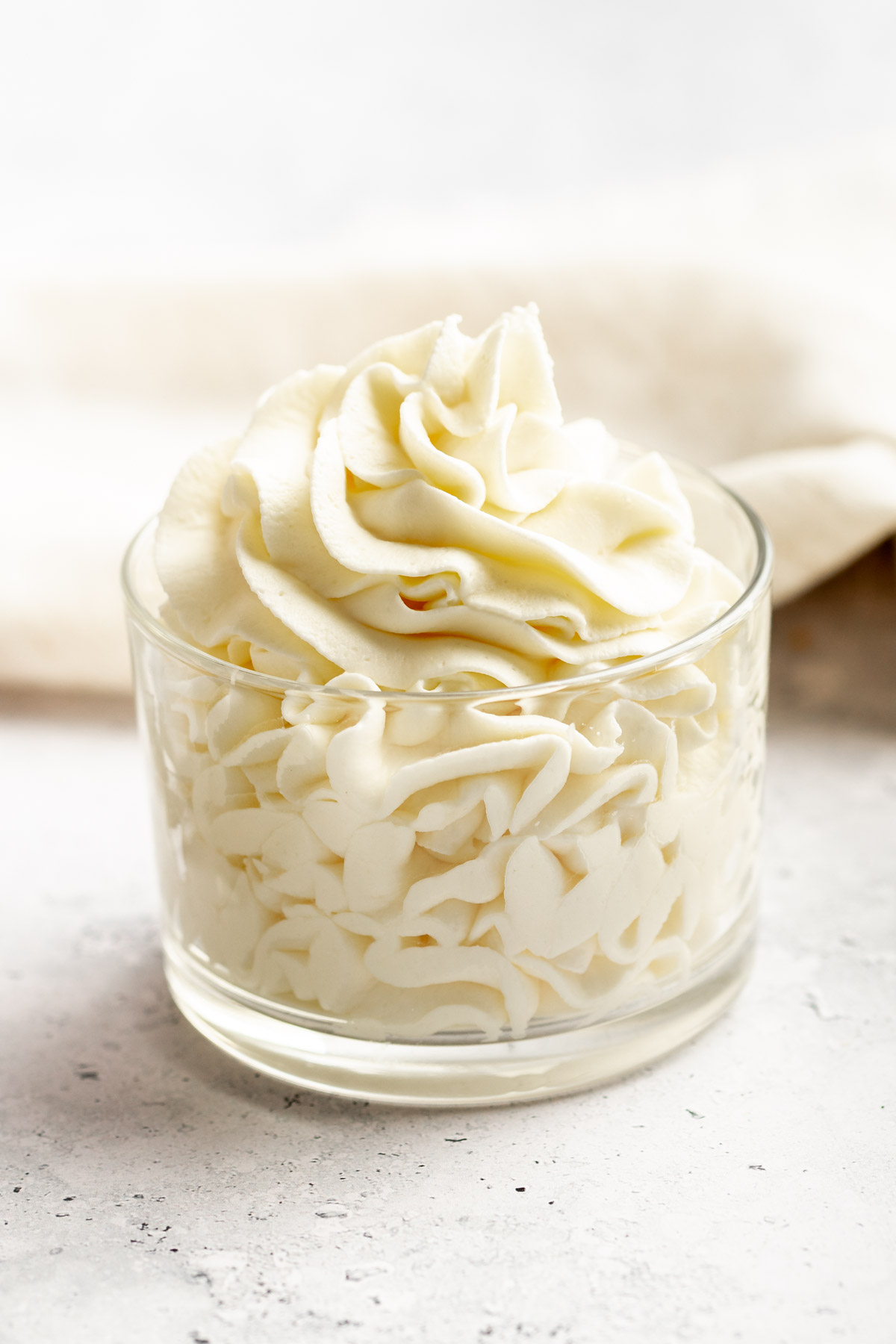 These individual tiramisu cups are an easy twist on the classic dessert, made with layers of creamy mascarpone, ladyfingers, and cocoa powder, this makes the perfect dessert!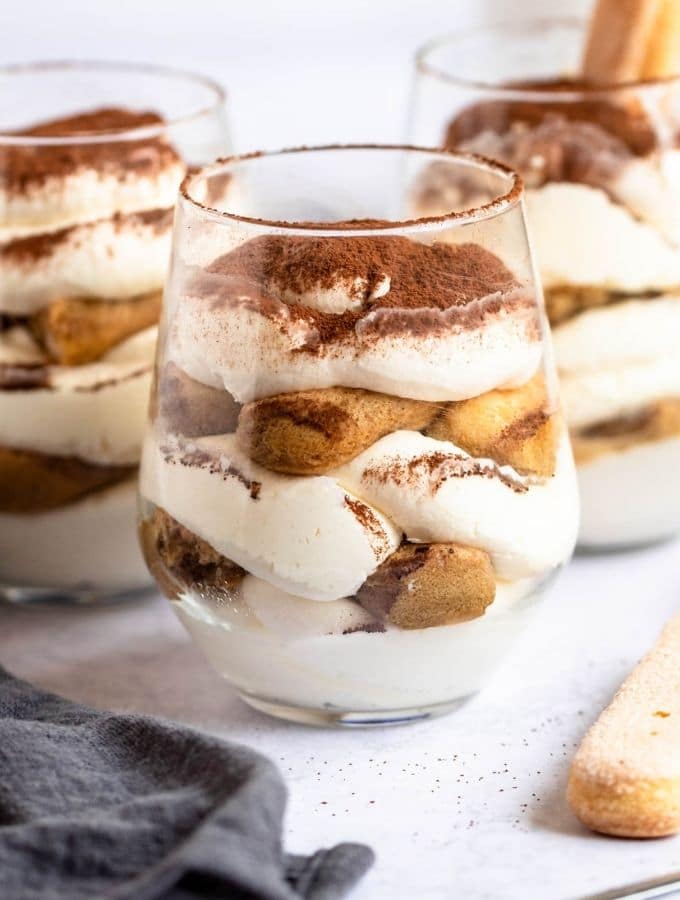 This strawberry tiramisu is made with a delicious and creamy mascarpone strawberry filling, soft ladyfingers, and topped with fresh strawberries.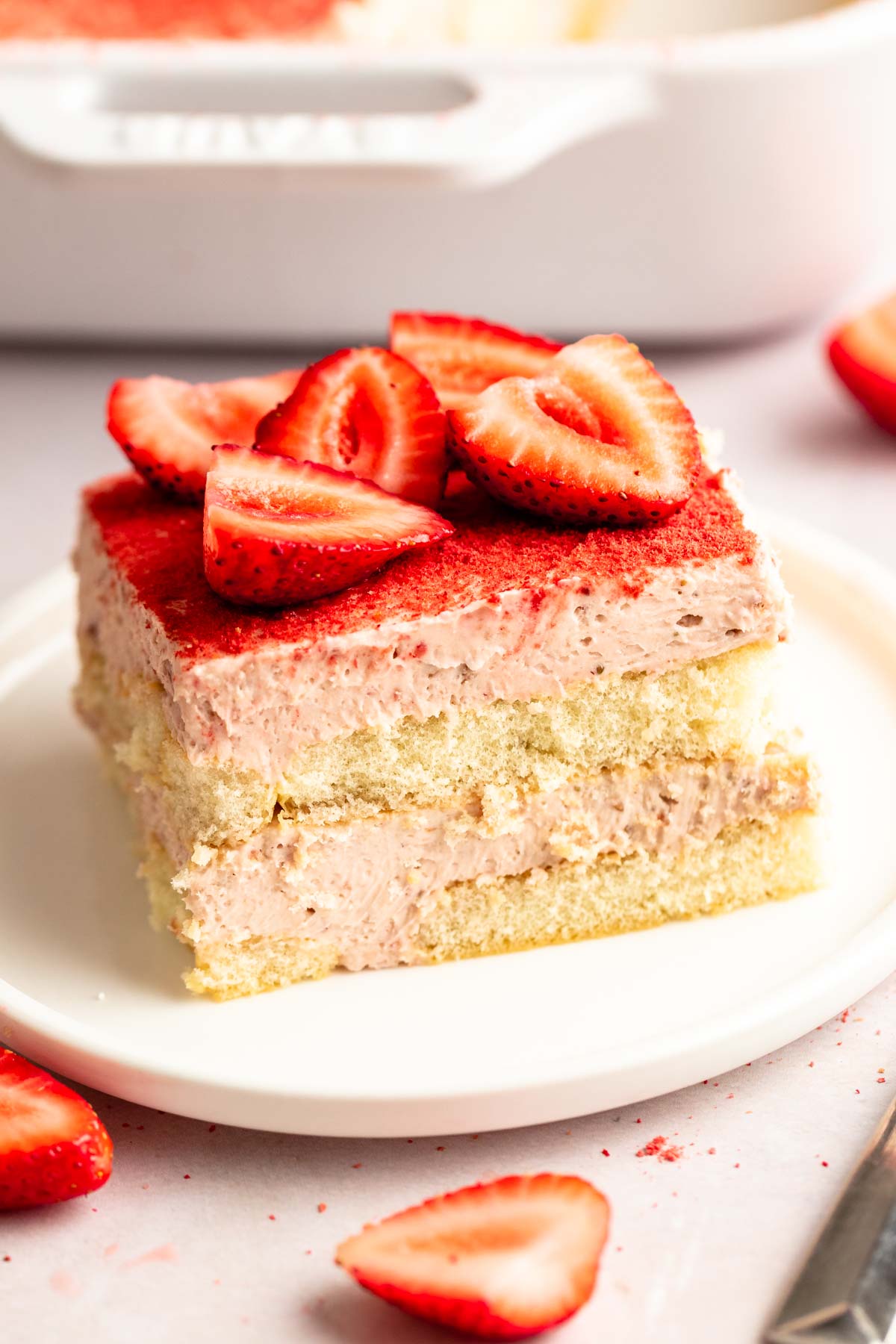 This fresh lemon tiramisu is made with lemon curd, lemon mascarpone cream, and with ladyfingers dipped in limoncello.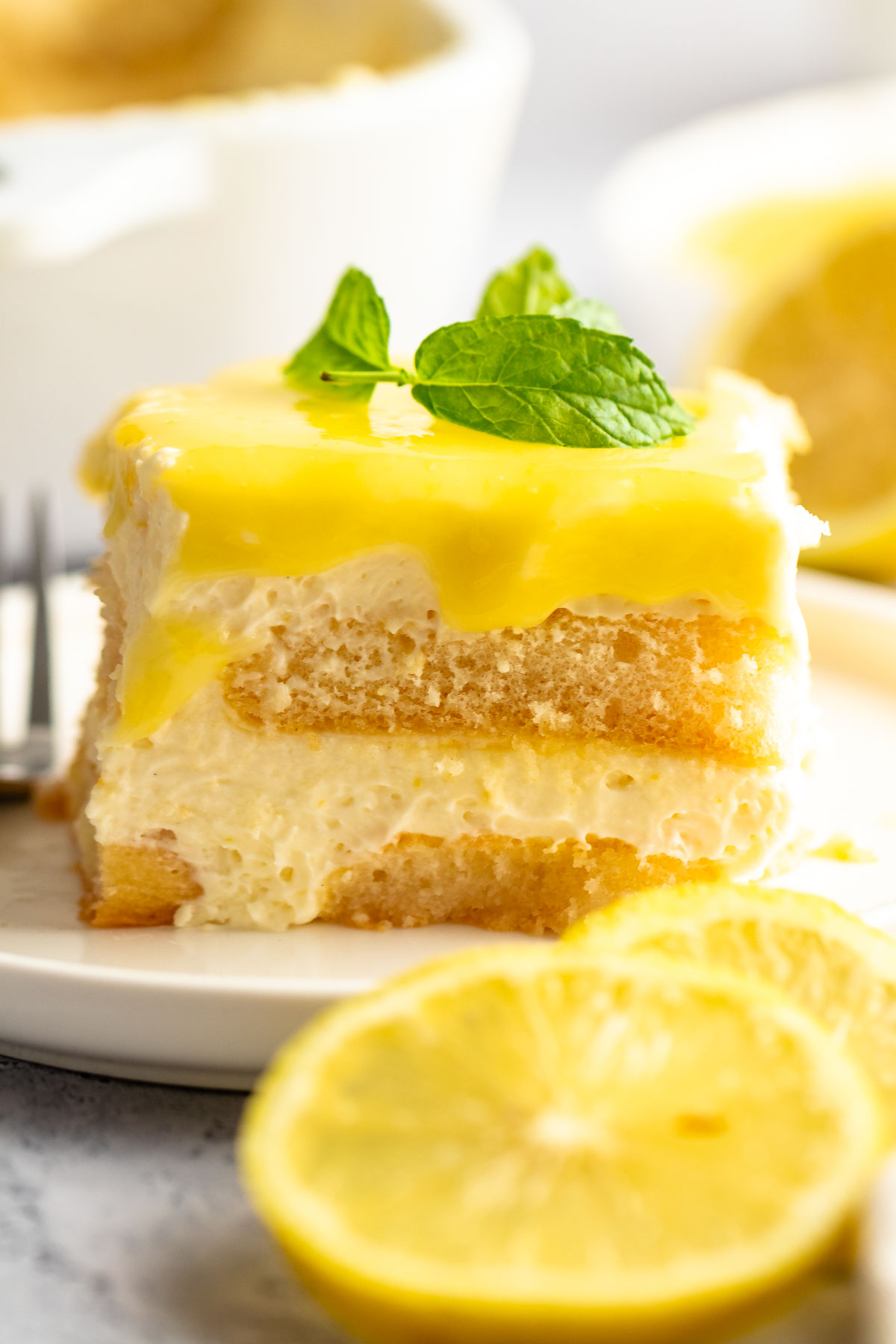 These fig olive oil cupcakes have a pistachio and olive oil cupcake base filled with fig jam, then topped with honey mascarpone frosting, fresh figs, and rosemary for a light, floral cupcake!
Italian-inspired creamy tiramisu cheesecake is easy to make at home with this step-by-step recipe. It's hands-down the best cheesecake there is!
Grilled Peaches with Mascarpone Cream is the perfect way to enjoy your favorite summer fruit! This dessert is simply delicious!
These blueberry mascarpone macarons have a light, French macaron shell and are filled with a simple mascarpone cheese frosting and blueberry jam.
This mixed berry tart is delicious, easy to make, and doesn't require too many ingredients. With a buttery crust, creamy mascarpone cheese hinted with orange zest & vanilla bean, and lots of fresh berries, it is luscious and a real treat.
It's got a tender vanilla cake base, a homemade raspberry filling, and creamy mascarpone frosting. Nothing is too heavy or too sweet in this cake, so you can easily eat a slice (or two!)
This blueberry Swiss roll cake makes a stunning dessert and is simple too! It has an airy sponge filled with blueberry filling and whipped mascarpone cream.
This mixed berry puff pastry tart with sweetened mascarpone is super easy to put together and will be the hit of any summer party. Ready in 30 minutes, perfect for July 4th!
A delightfully light almond cake full of buttery rich flavor, topped with a creamy whipped mascarpone frosting. This almond cake recipe is sure to please! One bowl, no stand mixer required, the perfect anytime dessert!
Mixed Berry Shortcakes with Mascarpone Cream is a delightful dessert. A buttery, flaky shortcake with raspberries, blueberries, blackberries, and strawberries, topped with whipped mascarpone cream.
This recipe for Mascarpone Ice Cream is delicious, creamy, and rich with a luxurious texture that you will absolutely love.
The BEST Pastel De Zanahoria you'll ever have! Fluffy & moist with real grated carrots and a Mascarpone frosting. This cake is always a hit!
This Mascarpone Cake, is a moist Italian Cake perfect on it's own or served with a fresh Raspberry Cream sauce. An easy and delicious cake recipe, perfect as a breakfast, snack or even dessert idea.
This easy Blueberry Mascarpone Tart recipe is made with a flavorful olive oil crust, mascarpone cheese filling and fresh blueberries!
Slightly sweet whipped lemon mascarpone mousse is layered with tart strawberry puree for a creamy and decadent summer dessert! Next time try my strawberry rhubarb bars.
This decadent lemon loaf gets its rich, tart taste from mascarpone cheese, juicy raspberries, fresh lemon juice, and a touch of lemony glaze to finish it off.
Lemon Olive Oil Loaf with Lavender Mascarpone is the perfect dish for spring. Floral lavender, lemony citrus, and creamy mascarpone come together to make the perfect treat!
In this cocktail-meets-dessert recipe, we're leveling up your favorite espresso martini with a sweet, luscious mascarpone foam on top.
These delicious, coffee-flavored tiramisu cookies are the perfect after-dinner treat, dessert table addition, or compliment to your morning cup of coffee.
Award-winning Mascarpone Pound Cake is a dense, buttery, and moist pound cake recipe with a fine, tender crumb and brown, crusty outside and top.
This Mascarpone Mixed Berry Cake is so soft and moist, it can be baked and served straight from the pan. You can serve it as a coffee cake for brunch or with a scoop of ice cream for dessert.
Italian lemon mascarpone tart is creamy, tangy, lemony, and delicious. Quick to put together and quicker still if you use a store-bought pastry.
Slightly sweet whipped lemon mascarpone mousse is layered with tart strawberry puree for a creamy and decadent summer dessert! Next time try my strawberry rhubarb bars.
This no bake mascarpone cheesecake is the easiest cheesecake you'll ever make! With a press-in biscotti crust and an almond-scented filling, it's the perfect dessert for any occasion or holiday.
This Olive Oil Cake is exceptionally moist and flavorful, with a sugary crust and deliciously fine-textured crumb that's not overly sweet.
Just like classic tiramisu but in cupcake form! These tiramisu cupcakes are soaked in coffee syrup and topped with soft and dreamy mascarpone cream and a sprinkle of cocoa powder. They taste absolutely incredible and are so easy to make!
If you're in search of sunshine on a plate, stop scrolling. My Lemon Curd Tart with Whipped Mascarpone Cream is a perfect blend of bright citrus, extra creamy fresh cheese, and a sweet, short pastry crust. This, my friends, is an exemplary springtime dessert.
This Chocolate Mascarpone Bundt Cake is nothing short of incredible! It's thick and fudgy without being heavy and has a fine, dense crumb that is seriously to die for.
Rich, and chocolaty, this Chocolate Mascarpone Cookies recipe has a gorgeous chocolate flavor. Sprinkling them with powdered sugar gives the cookies a perfect level of sweetness that makes them irresistible. I could seriously eat the entire batch by myself.
Nutella Tiramisu requires so little effort for such a big payoff it's almost like cheating! A chocolate hazelnut mascarpone filling gives this classic Italian tiramisu recipe a gourmet flair.
An easy tiramisu for chocolate lovers that is made with layers of mascarpone cream, chocolate ganache, and ladyfingers dipped in hot chocolate.
Get ready for summer with these tiramisu parfaits! Sweet mascarpone cheese spiked with Kahlua and layered with coffee syrup infused ladyfinger crumbles.
Chocolate Mascarpone Cheesecake Recipe – chocolate cookie crust, luscious dark chocolate mascarpone filling and rich chocolate ganache topping.
Mascarpone Desserts Faq's
Where can I find mascarpone cheese?
You can find mascarpone cheese in the deli section of your grocery store, where all the cheeses, hummus, and meat products.
What is the difference between cream cheese and mascarpone?
Cream cheese is made with milk and is more acidic, while mascarpone is made with heavy cream and is more creamy and velvety smooth, and is also higher in fat content.
What does mascarpone go well with?
In desserts, mascarpone complements the sweetness of fruits like berries, peaches, or figs. It adds a luscious element to classic desserts like tiramisu or cheesecake.

Additionally, mascarpone can be incorporated into savory dishes such as pasta sauces or risottos to add a luxurious creaminess. It also pairs beautifully with herbs like basil or thyme and can be spread on crusty bread for a simple yet flavorful appetizer.
If you tried any of these recipes, don't forget to leave a rating and a comment below. We love hearing from you.
If you liked this recipe
Share/pin this recipe to Pinterest.
Leave a comment down below!
📖 Recipe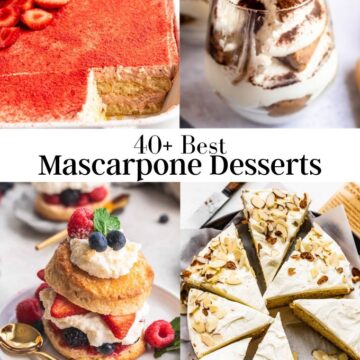 Top 40+ Mascarpone Desserts: Mascarpone Cake & More
From classic tiramisu to luscious cheesecakes and fluffy mousses, there are endless possibilities when it comes to creating mouthwatering mascarpone desserts.
Ingredients
1 ⅓

cups

Granulated sugar

3

tablespoon

Lemon zest

¼

cup

Vegetable oil

2

teaspoon

Vanilla extract

½

teaspoon

Kosher salt

90

g

Butter

melted and cooled, unsalted

3

Eggs

3

tablespoon

Lemon juice

½

cup

Limoncello

⅓

cup

Buttermilk

⅓

cup

Sour cream

2 ½

cups

Flour

2

teaspoon

Baking powder
For the mascarpone cream
230

g

Mascarpone cheese

1 ⅓

cups

Heavy cream

1

cup

Powder sugar

1

teaspoon

Vanilla extract

5

tablespoon

lemon curd
Instructions
Preheat an oven to 180c (350f) and prepare a 9x9 inch cake pan with parchment paper.

Into a large mixing bowl, add granulated sugar and lemon zest and mix it with a whisk until well combined for about 2 minutes. This helps to release oils from the lemon zest and get a strong flavor.

Add the vanilla extract, kosher salt, sour cream, vegetable oil, melted butter, lemon juice, and limoncello, buttermilk, and mix until well combined.

Add the eggs and mix until well combined.

Add the flour and baking powder and mix until just combined.

Pour the batter into the prepared baking pan and bake in a 180c (350f) preheated oven for about 30-40 minutes or until a toothpick inserted into the cake comes out clean.
Make the mascarpone cream
Add the mascarpone cheese (which is at room temperature) and mix it lightly into the whipped cream using a spatula until a creamy mixture forms.

Do not overmix this mixture! Stop just when the mixture is creamy and smooth. If you overmix this, the mixture will curdle and lose its creaminess.

Top the cooled cake with the mascarpone cream and make swirls using an offset spatula.
Notes
Use room temperature ingredients. It is important that you use room-temperature ingredients like eggs and butter. This step ensures that your mixture mixes into a homogenous mixture and bakes perfectly. you don't want to place cold batter into the oven.
Measure your flour correctly! When measuring your flour, avoid scooping it with a measuring cup. Instead, stir the flour with a spoon to create as many air pockets as possible, and spoon it into your measuring cup. Finally, level it with a back of a knife.
Don't overmix the batter, you don't want to develop the gluten in the flour. This step ensures you have a moist cake and not a dense and dry cake.
Line your baking pan with parchment paper! This step helps the cake to bake evenly, and it makes sure that your loaf cake will release easily from the pan.
Be patient! I know it's extremely tempting to frost this cake as it is pulled out of the oven, but let the cake cool for at least 1 hour so it will be firmer and won't crumble up, and prevent the frosting from melting.
Nutrition
Calories:
413
kcal
Carbohydrates:
48
g
Protein:
5
g
Fat:
24
g
Saturated Fat:
13
g
Polyunsaturated Fat:
3
g
Monounsaturated Fat:
4
g
Trans Fat:
0.2
g
Cholesterol:
83
mg
Sodium:
212
mg
Potassium:
72
mg
Fiber:
1
g
Sugar:
24
g
Vitamin A:
717
IU
Vitamin C:
3
mg
Calcium:
85
mg
Iron:
1
mg