This collection of Oreo desserts is perfect for Oreo cookie lovers! You will find delicious Oreo recipes like Oreo brownies, oreo cheesecake, oreo chocolate chip cookies, and Oreo cake!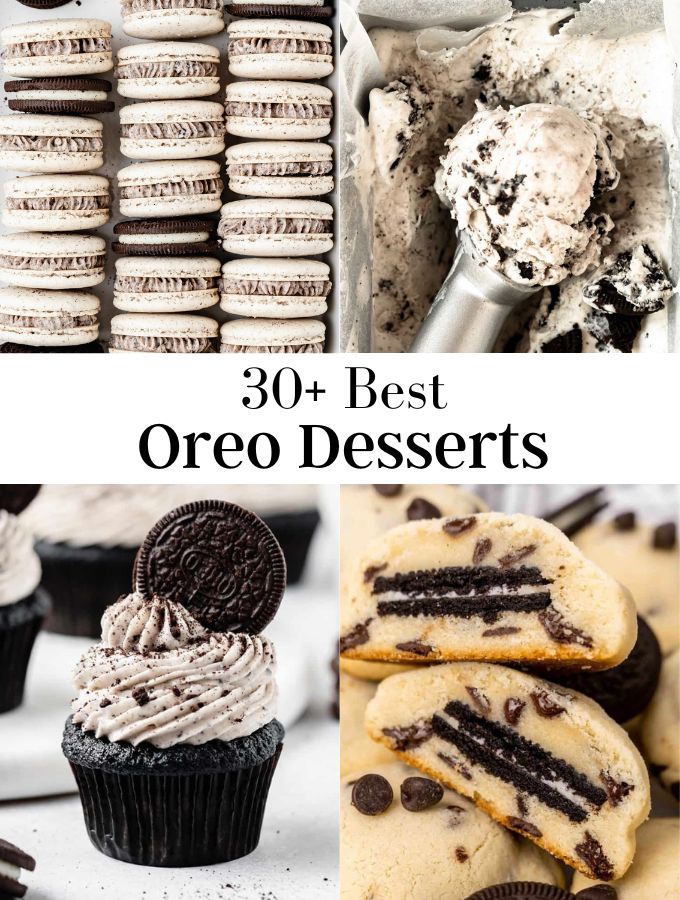 Jump to:
These Oreo cheesecake cookies are made with cream cheese and lots of Oreos! You will need only 7 ingredients to make this recipe!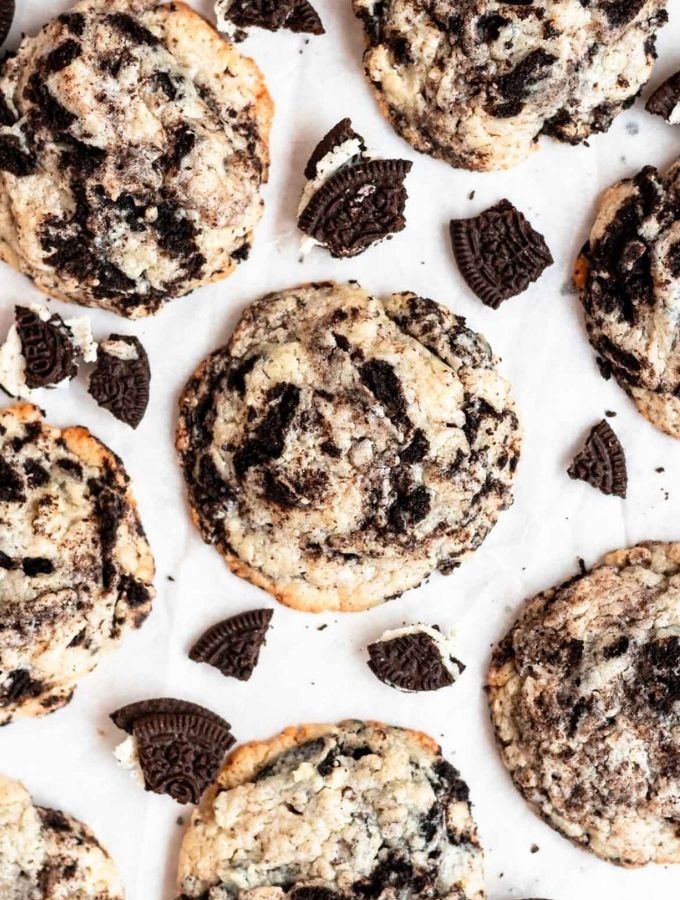 This Oreo cookie cake is soft, and chewy on the inside, filled with Oreos and gooey chocolate chips, and topped with freshly made whipped cream!
This Oreo cheesecake is made without a water bath, made with a creamy Oreo filling, and Oreo crust, and topped with Oreo whipped cream!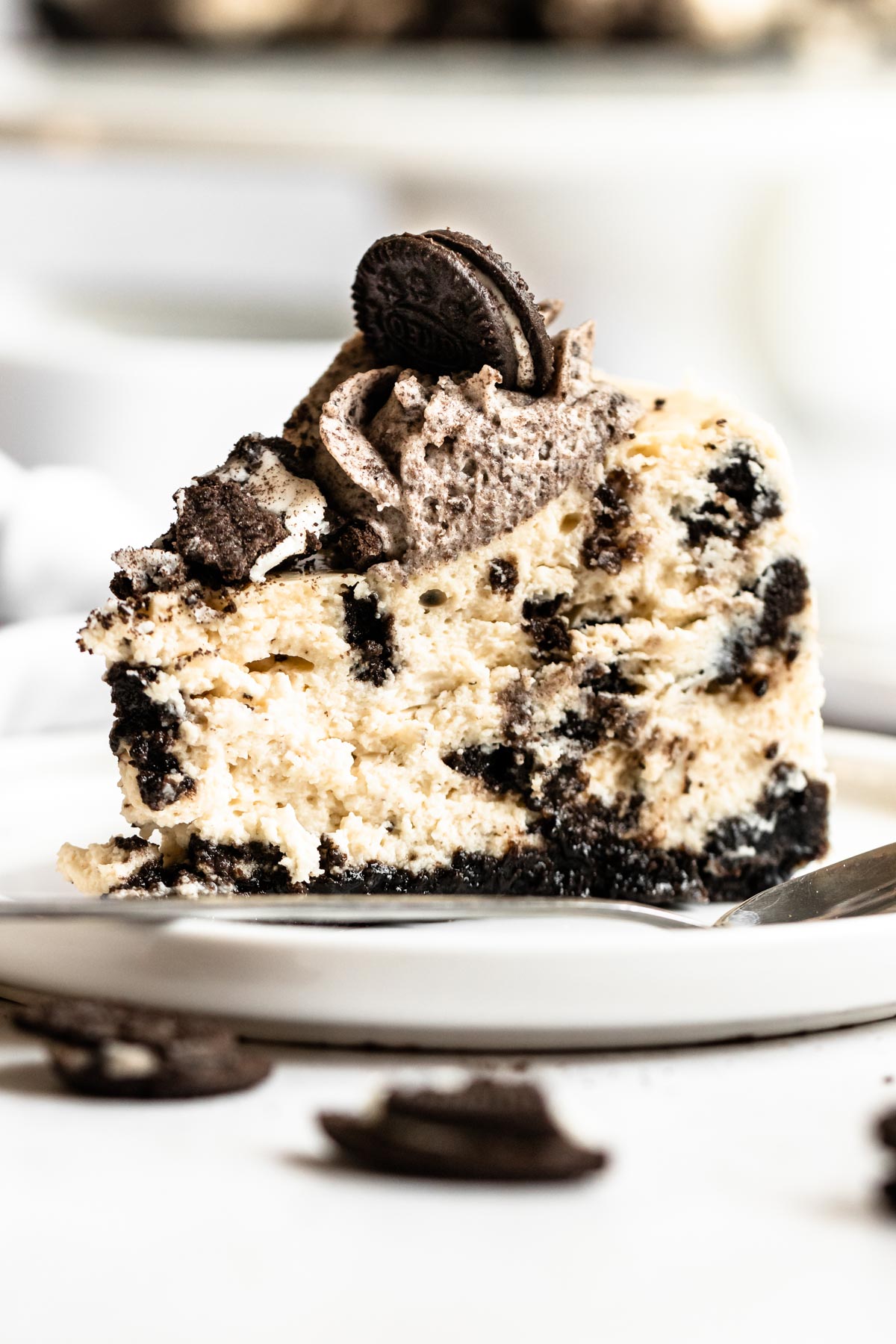 These oreo balls are made with only 3 ingredients! These oreo balls are covered with chocolate and are perfect for Christmas or any other day!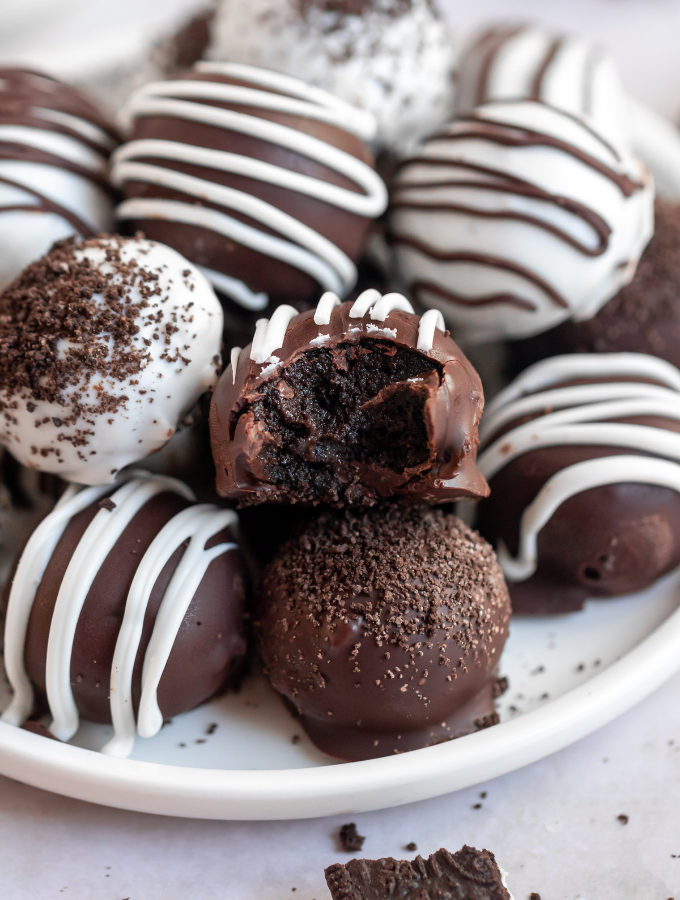 This cake is made with moist and fluffy oreo cake layers, filled and covered with oreo frosting, and topped with chocolate ganache, whipped cream, and Oreos!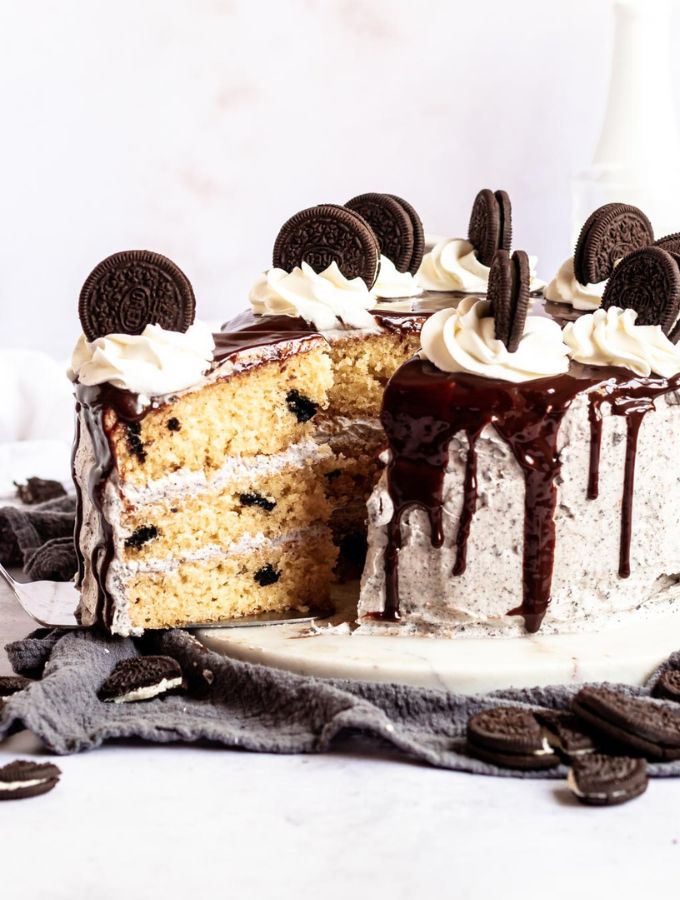 These oreo chocolate chip cookies are made with oreo chunks and chocolate chips inside the cookies and topped with even more oreo chunks. Oreo chocolate chip cookies are chewy and crispy on the edges like the perfect cookie.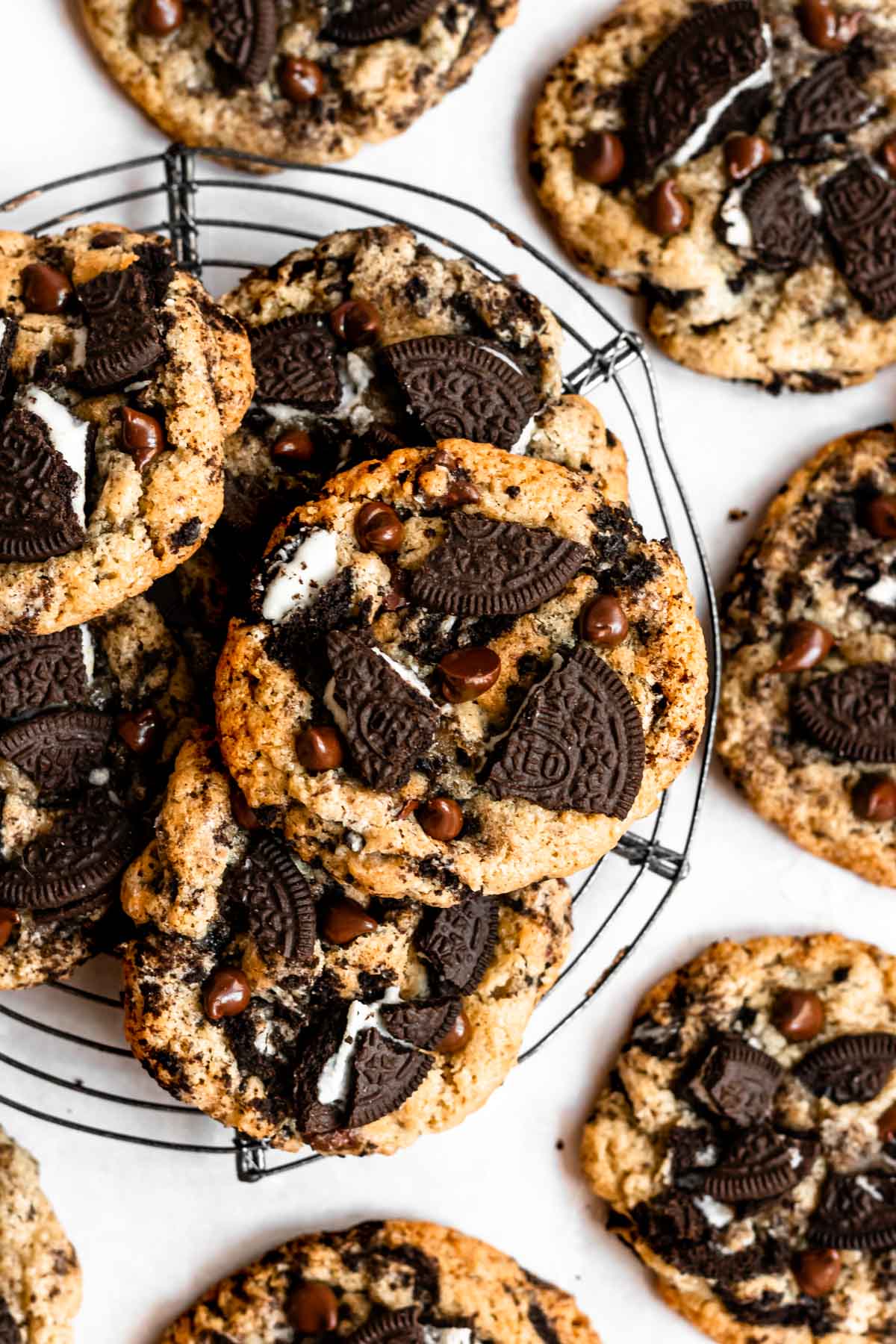 These fudgy Oreo brownies are loaded with Oreo pieces and chocolate chunks, have a crinkly top, taste a million times better than boxed brownies, and take under an hour to make.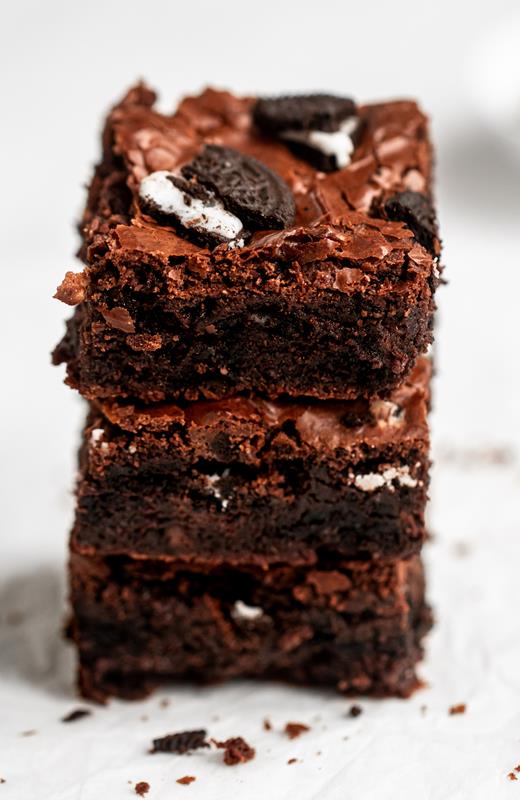 This Oreo tart is made with an Oreo tart crust, topped with an incredibly creamy chocolate filling, topped with whipped cream, and Oreo chunks.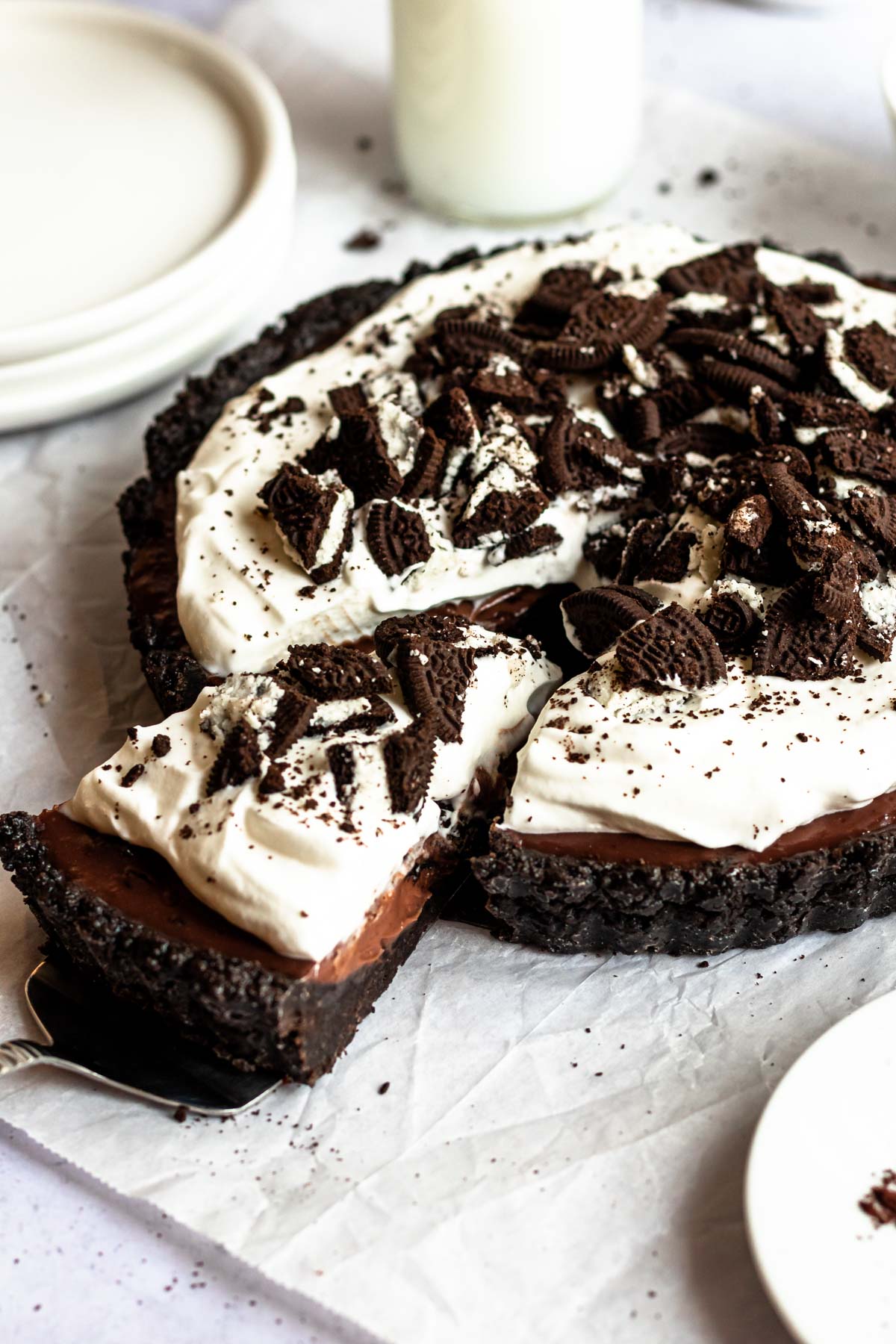 This no-bake Oreo cheesecake is the perfect summer dessert, made with only a few ingredients, and filled with Oreo chunks. This no-bake Oreo cheesecake is made with an Oreo crust, topped with creamy Oreo cheesecake filling, and topped with whipped cream dollops and more Oreos!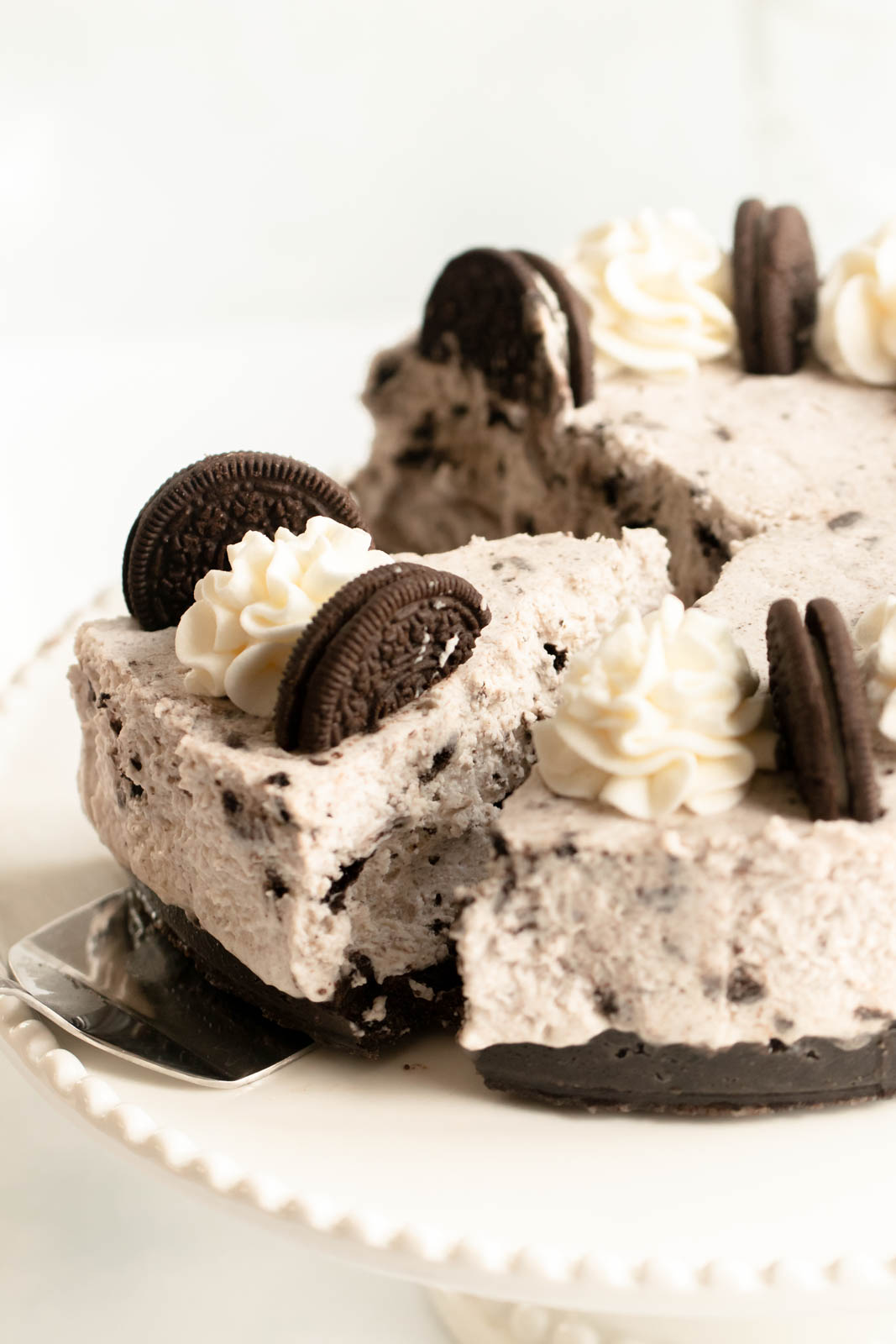 This homemade no churn Oreo cookies and cream ice cream is extremely easy to make, has no need for an ice cream machine, and tastes better than store-bought!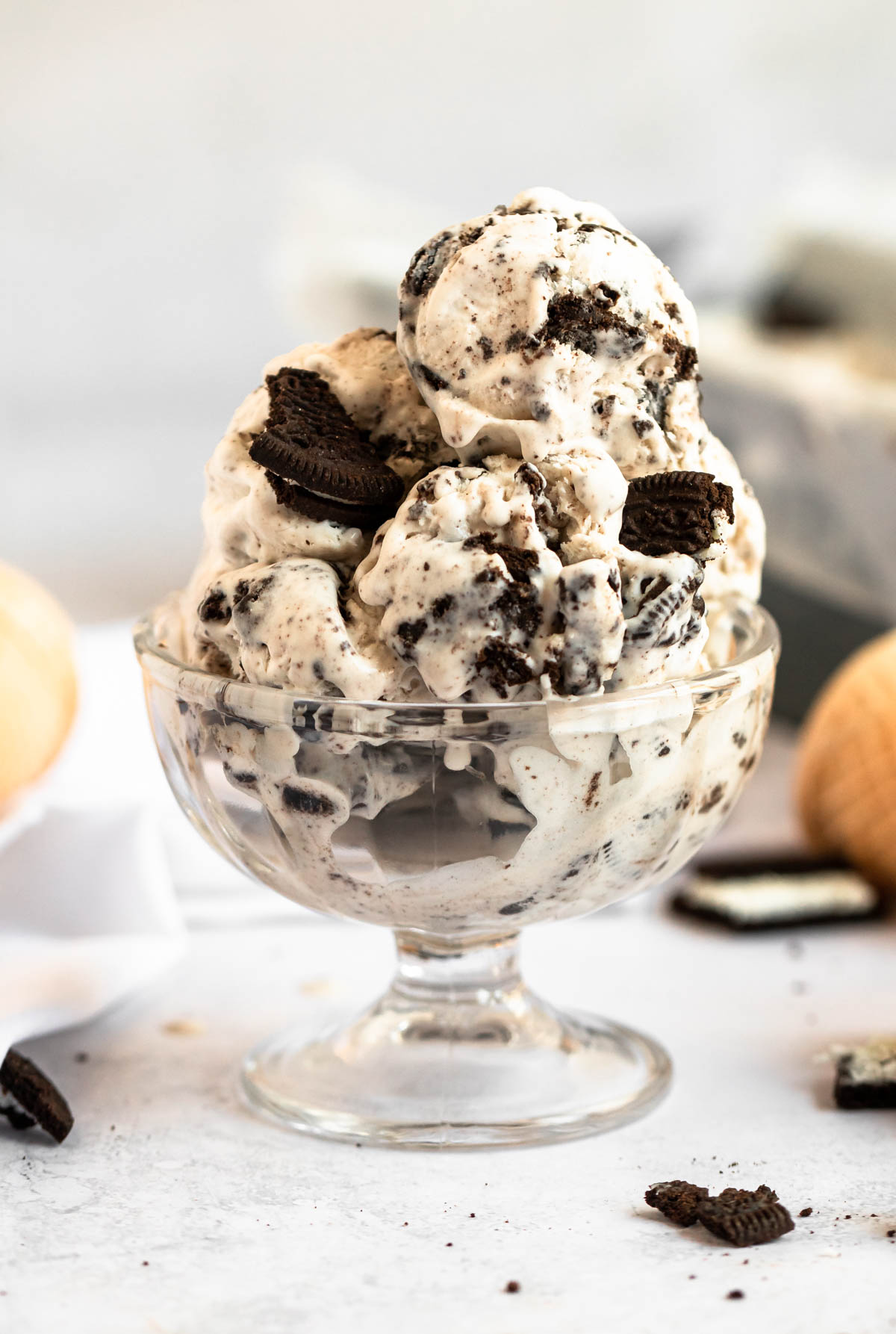 These fudgy Oreo skillet brownies are loaded with Oreo pieces and chocolate chunks, have a crinkly top, taste amazing, and are ready in under one hour!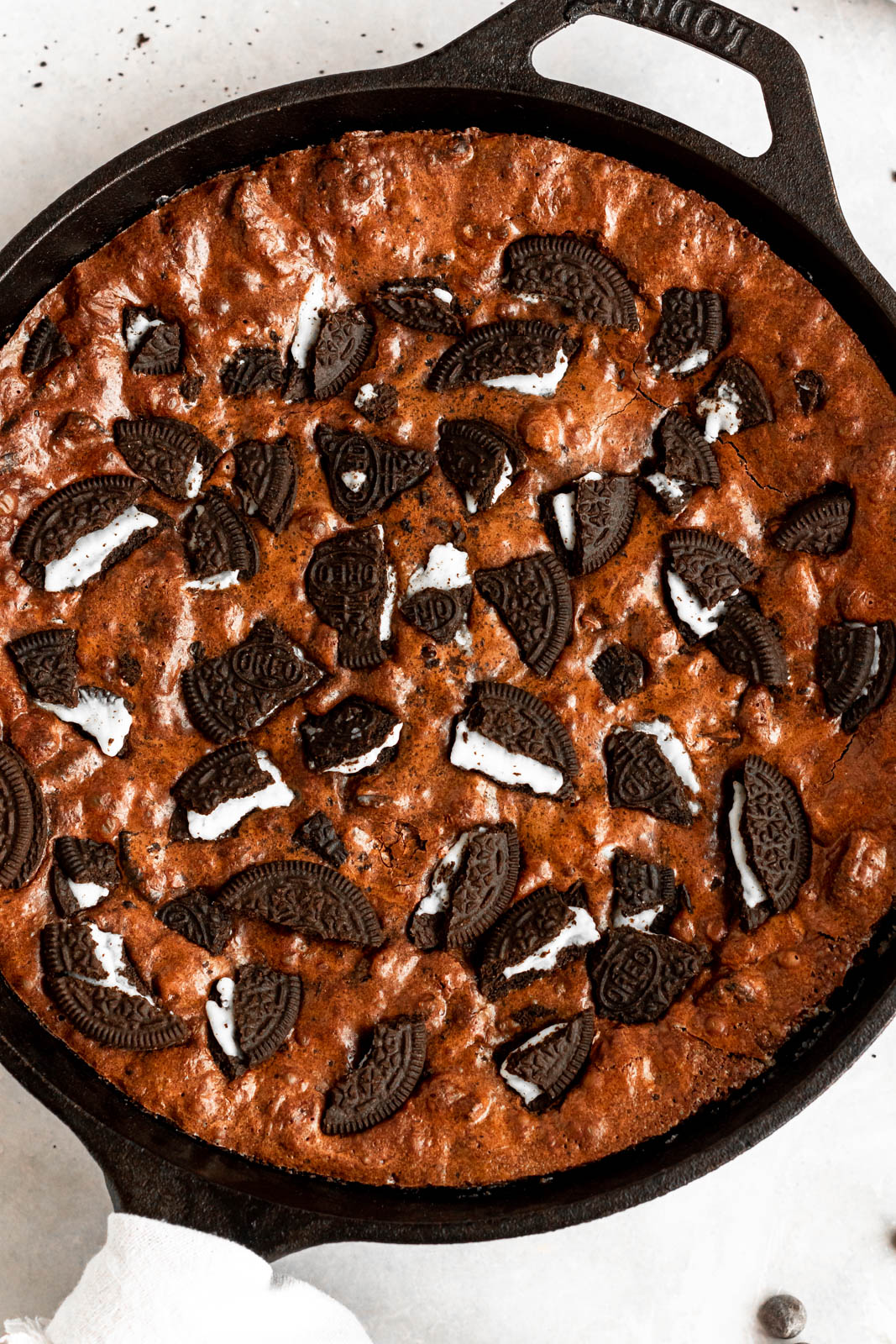 These mini Oreo cheesecakes are made with an Oreo crust, topped with a creamy Oreo cheesecake filling, and topped with our homemade Oreo whipped cream.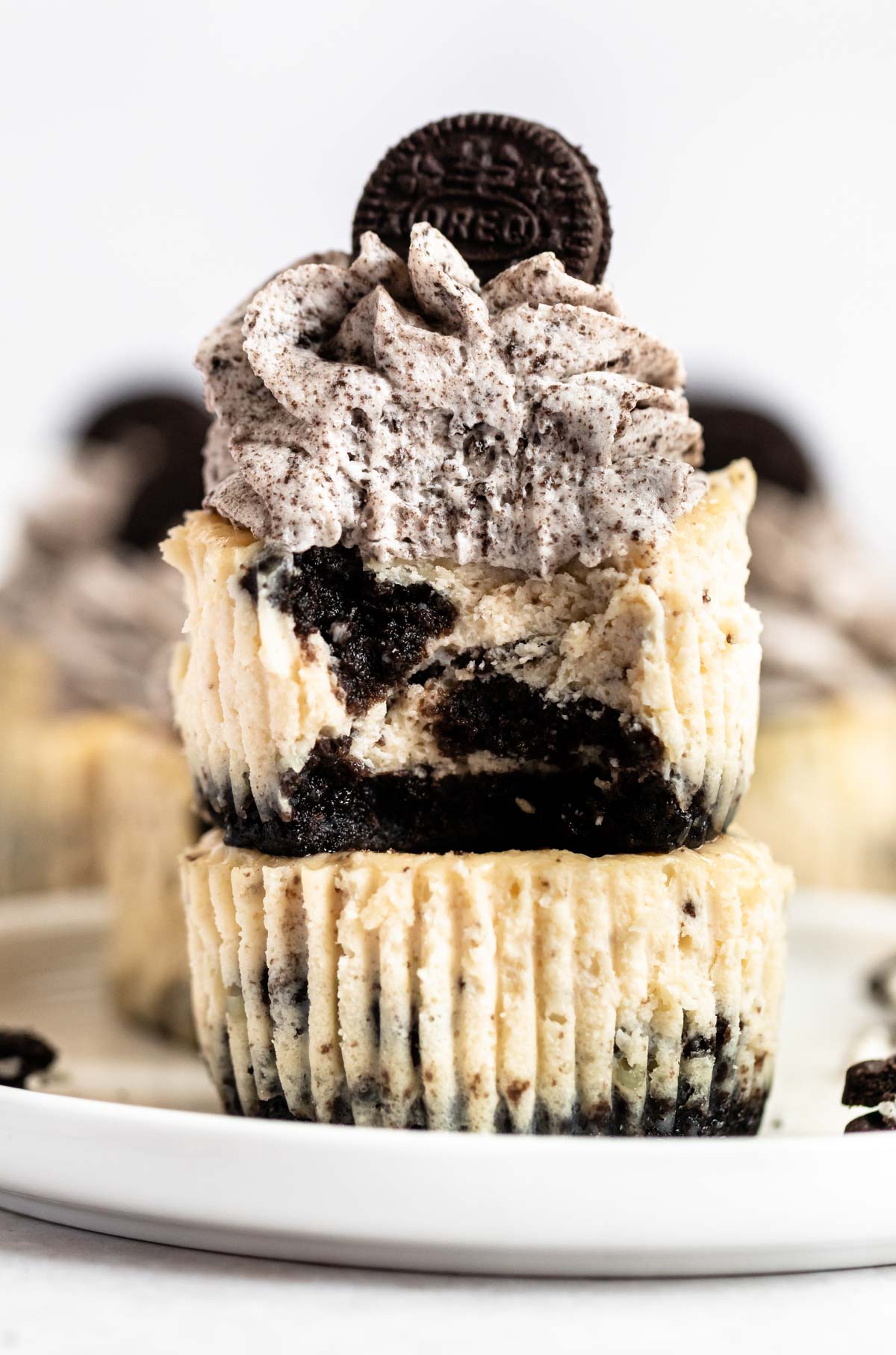 These oreo brownie cookies are made with a delicious and fudgy brownie cookie, filled and topped with oreo chunks!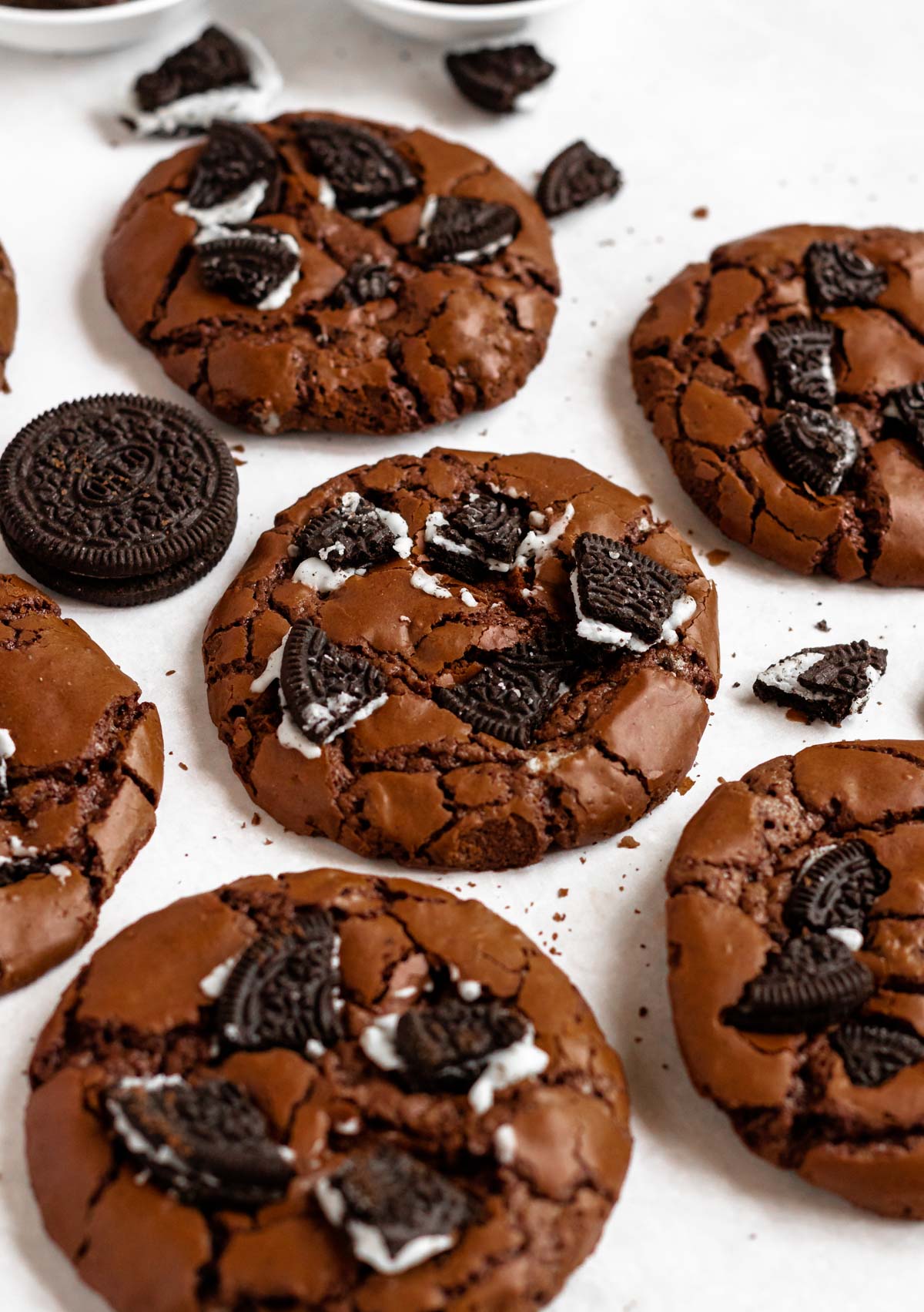 These cookies and cream cookies are made with crispy on the outside and soft on the inside cookies with oreo chunks, cookies and cream chocolate, and white chocolate chips.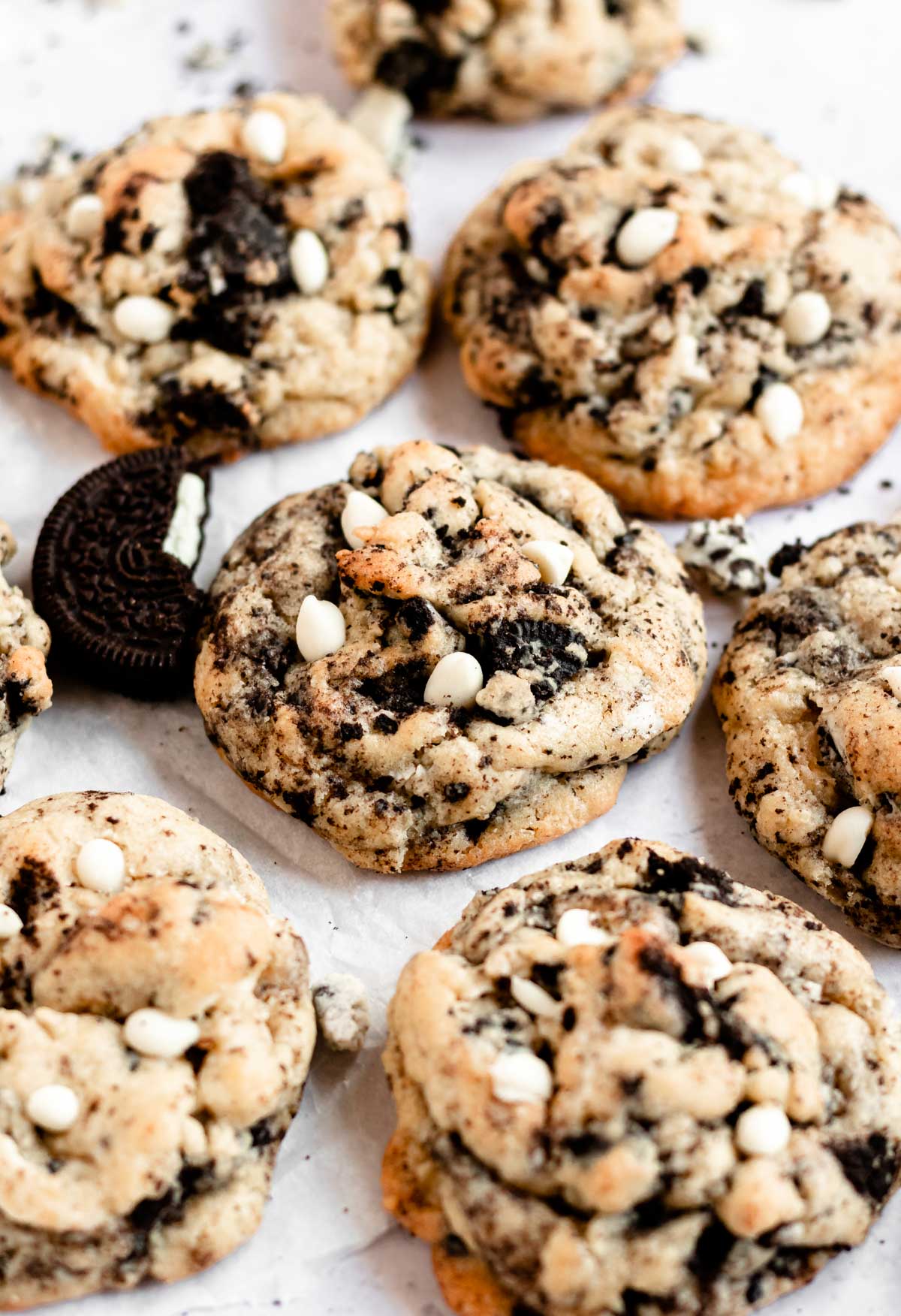 This 3 ingredient chocolate cake is the easiest way to make a chocolate cake, and it tastes amazing! This chocolate cake is moist, rich in flavor, and quick.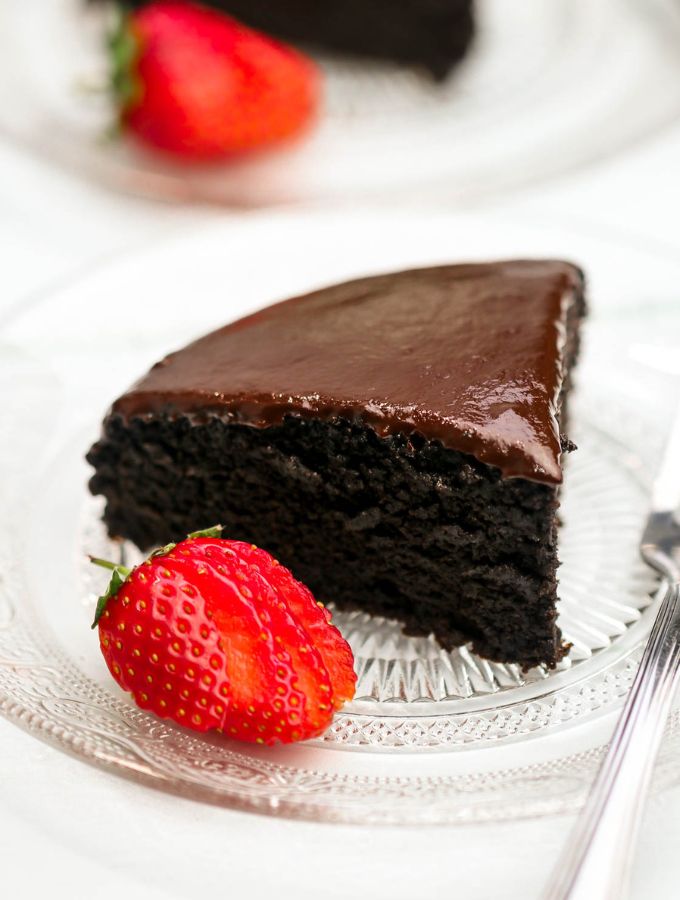 Oreo brookies are the ultimate combination of a chewy cookie, a fudgy brownie, and an oreo cookie! This brownie cookie fusion is the best of both worlds!
Love the combination of Oreo cookies and ice cream? Then a delicious and decadent Oreo milkshake is for you! This sweet treat is perfect for celebrations, special occasions, or simply to cool you down on a hot summer day.
Oreo Fudge is an easy, creamy 3 ingredient sweet treat the whole family will love. With condensed milk, white chocolate plus crushed Oreo cookies it's a fast microwave fudge recipe too.
The only thing better than homemade chocolate chip cookies is Oreo Stuffed Chocolate Chip Cookies! This easy recipe makes big, thick cookies packed with Oreos hidden inside among lots of chocolate chips.
These Oreo macarons are filled with cookies and cream buttercream frosting and white chocolate ganache! They taste just like classic Oreo cookies but in macaron form!
These Oreo cupcakes have a black cocoa cupcake base topped filled with white chocolate ganache and topped with cookies and cream buttercream!
Oreo Rice Krispies Treats are gooey marshmallow treats that are stuffed with Oreo cookie pieces! These simple, no bake treats take just 15 minutes to make.
Indulge on these giant, chocolatey, fudgy Oreo Crumbl Cookies! Nothing beats a delicious soft cookie with lots of crushed Oreos, creamy vanilla cream frosting and even more crushed Oreos on top!
This Oreo Trifle is packed with Oreos, brownies, cream cheese for an easy no-bake cheesecake filling, and Oreo pudding. It's mind-blowing delicious and easy to make!
The best No-Bake Oreo Pie recipe made with a homemade, made from scratch, Oreo Crust and a creamy silk cream cheese filling.
Oreo cake pops are one of the EASIEST no-bake desserts that not only taste amazing but are adorable too! They're such a fun party treat and so inexpensive to make!
This homemade Oreo ice cream cake is a mouthwatering combination of creamy Oreo and vanilla ice cream with chocolate sauce and Oreo pieces, yum!
This Oreo tiramisu for two is irresistibly decadent. The Oreo, coffee, and mascarpone flavors make it the perfect Valentine's Day dessert!
My Oreo Pudding Dream Bars have an Oreo crust, sweet cream cheese, Oreo pudding, Cool Whip topped with crushed Oreos. The perfect cookies & cream dessert!
This Oreo poke cake is an easy and delicious moist chocolate cake that's loaded with cream pudding and topped with a whipped topping, Oreos, and chocolate sauce.
A little bit of chocolate, cream, and pancake makes one heck of a dreamy combination. You can't forget to dust them with powdered sugar, it's like icing on a cake!
Chocolate Covered Oreos are sandwich cookies smothered in chocolate and hardened into the PERFECT combo of sweet and crunchy. They're incredibly easy to make and a great holiday treat!
Oreo Desserts Faq's
What is in Oreo filling?
Oreo filling is actually vegan and is not made with cream. It is made with hydrogenated vegetable oil, high fructose corn syrup, soy lecithin, and vanillin.
What do you do with Oreo biscuits?
Make these delicious Oreo desserts from this collection of the best desserts you can make with Oreo cookies. From Oreo cheesecake to Oreo brownies, from Oreo tiramisu to Oreo cake pops, and more!
Are Oreos vegan?
Yes! Oreos have been dairy free and vegan since they were launched.
More dessert recipes
Best Matilda's Chocolate Cake- This Matilda's chocolate cake is made with moist one bowl chocolate cake layers that are topped and filled with the most luscious and glossy chocolate fudge frosting that is swirled onto the cake beautifully.
No Bake Cheesecake (Secret Ingredient)- This no bake cheesecake is made with a thick buttery graham cracker crust and filled with velvety and creamy cheesecake filling.
Moist Banana Pudding Cupcakes- These banana pudding cupcakes are made with a moist, tender, and light banana cupcake base, filled with a banana pudding filling, and topped with stabilized whipped cream.
If you tried any of these recipes, don't forget to leave a rating and a comment below. We love hearing from you.
If you liked this recipe
Share/pin this recipe to Pinterest.
Leave a comment down below!
📖 Recipe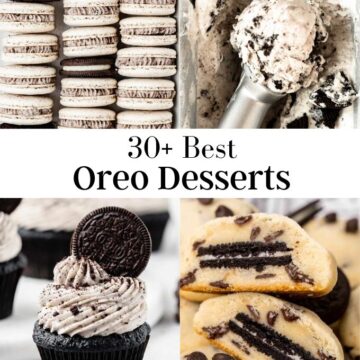 30+ Best Oreo Desserts: Oreo Balls & More
This collection of Oreo desserts is perfect for Oreo cookie lovers! You will find delicious Oreo recipes like these oreo balls that are covered with chocolate and are perfect for any occasion!
Ingredients
36

Oreos

230

g

Cream cheese

250

g

Semisweet chocolate

melted
Instructions
Start by crushing the Oreos. The best way to crush Oreos is in a food processor or in a blender. If you don't have a food processor or a blender, place the Oreos in a ziplock bag and smash them with a cup until fine crumbs form.

Transfer the Oreos to a medium-sized bowl and set aside.

Add the room temperature cream cheese into a big mixing bowl, and mix with an electric hand mixer for 2-3 minutes or until the cream cheese is creamy and silky.

Add the oreo crumbs to the cream cheese and mix until well combined.

Use a small cookie scoop to scoop out the oreo balls (or about 1 tbsp). Roll them into balls using your hands and place them onto a parchment paper-lined baking sheet.

Freeze the balls for about 20 minutes so they will not crumble when you dip them into the chocolate.

Melt the chocolate and mix it until it's smooth and silky without any lumps. Place each oreo on a fork or a spoon and gently dip it into the melted chocolate. Use a spoon to drizzle more chocolate on top.

Drizzle the melted chocolate with another spoon until it's nicely coated, and then tap the excess chocolate by tapping the fork or the spoon on the side of the bowl.

Carefully place each oreo ball onto a parchment paper-lined baking sheet. I like to use a small skewer to help place the oreo balls on the baking sheet.

If you are using oreo crumbs for decoration, immediately sprinkle the crumbs on top of the oreo balls so the crumbs will stick to the chocolate.

Place the chocolate-coated oreo balls in the fridge to firm up for about 30 minutes.

Serve these as is or drizzle melted chocolate on top of the oreo balls. We like to drizzle white chocolate on the semisweet chocolate-covered oreo balls, and semisweet chocolate on the white chocolate-covered oreo balls.
Notes
Add some of your favorite add-ins! Make this recipe your own and add your favorite muffins add-ins: chocolate chips, chopped walnuts, chopped pecans, chocolate chunks, M&M, caramel sauce, white chocolate, kinder, toffee, and more! Be creative! Make sure you line your baking pan with parchment paper to prevent the oreo balls to stick to the pan. Make sure that your cream cheese is at room temperature. An hour or two before making these treats, take the cream cheese out of the fridge and let it come to room temperature. The cream cheese should be soft to the touch. If your cream cheese is too cold, it will be harder to mix and there will be lumps in the batter of the oreo balls. Use a cookies scoop to scoop out the balls, that way you will have even-sized balls, plus it ensures that your balls cool evenly. Keep the oreo balls chilled in the fridge before serving. if you place the oreo balls at room temperature, the chocolate may melt. Use whole fat cream cheese. Don't use low fat in this recipe. light cream cheese can be not as rich in flavor and not as creamy. Use regular oreo for this recipe. Don't use double stuffed Oreos for this recipe, the double stuffed Oreos contain too much stuffing and it will ruin your oreo balls.
Nutrition
Calories:
125
kcal
Carbohydrates:
13
g
Protein:
2
g
Fat:
8
g
Saturated Fat:
4
g
Polyunsaturated Fat:
1
g
Monounsaturated Fat:
3
g
Trans Fat:
1
g
Cholesterol:
7
mg
Sodium:
71
mg
Potassium:
80
mg
Fiber:
1
g
Sugar:
8
g
Vitamin A:
95
IU
Calcium:
14
mg
Iron:
2
mg