Looking for some delicious and healthy ways to incorporate dates into your meals? Look no further than our Date Recipes roundup.
In this roundup, we have curated a collection of mouthwatering recipes that feature dates as the star ingredient.
From date energy balls to sticky date pudding, to date snickers, these recipes will satisfy your sweet tooth while providing you with a nutritious treat.
Whether you're looking for a quick snack or a show-stopping dessert, our Date Recipes roundup has got you covered. Date recipes offer a delicious and nutritious way to satisfy your sweet tooth.
For more recipe roundups, check out my cupcake recipes, coffee desserts, best cheesecake toppings, easy baking recipes, unique cookie recipes, Rice Krispie Treats Variations, best nutella recipes, best cake recipes, and pistachio desserts.
Jump to:
These rolled date cookies are made with buttery shortcrust pastry, filled with date paste, cinnamon, and chopped walnuts, and topped with powdered sugar that makes these cookies irresistible.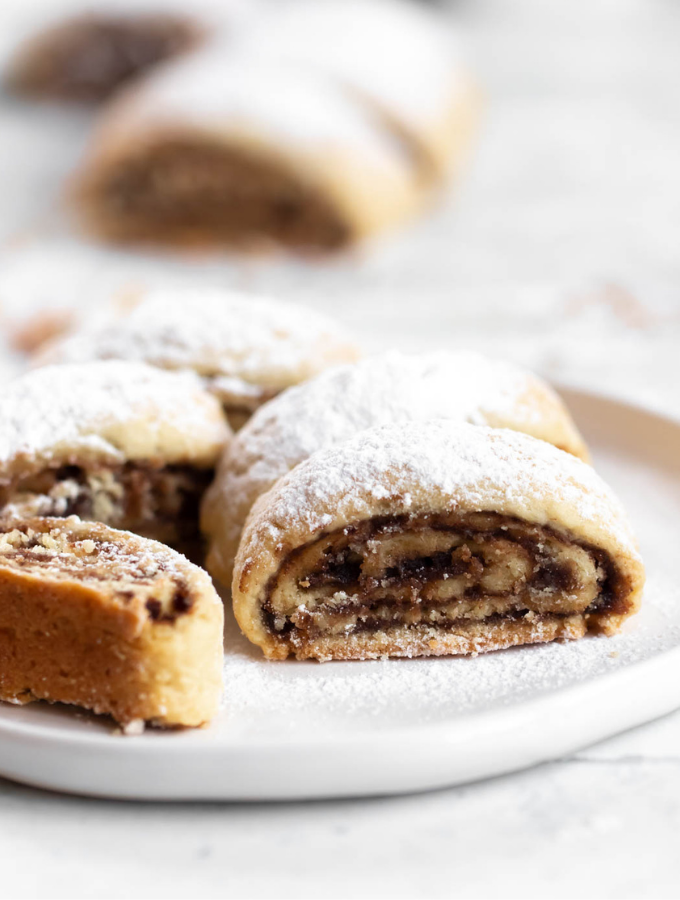 Date paste is super easy to make, takes only two ingredients, and is a great natural sweetener, dip, or spread for baking. This healthy sugar substitute is loaded with fiber, is rich in antioxidants, and has many other health benefits.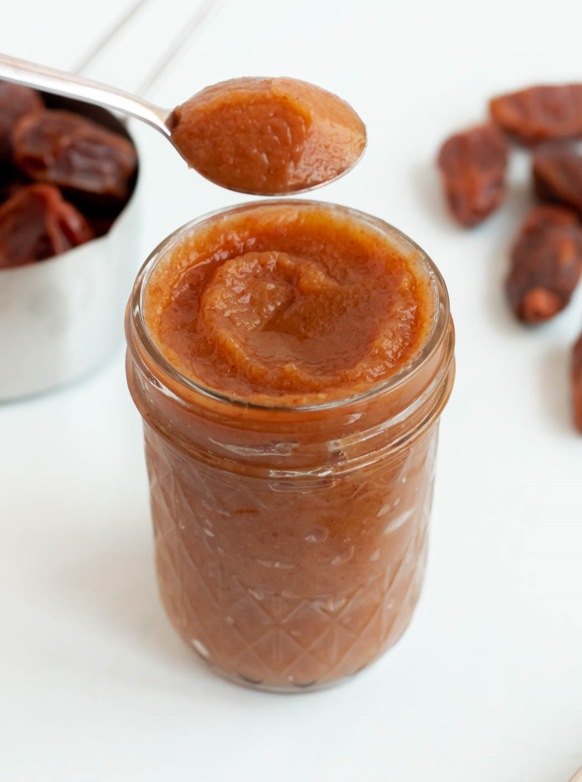 Natural peanut butter bliss balls are the ultimate healthy treat! They're packed with nutritious ingredients and made in just 10 minutes. You won't regret having this snack stashed in the freezer for quick on-the-go snacks or an easy breakfast.
These stuffed and chocolate-covered dates are a sweet treat for sure. They will make a wonderful gift or addition to a special occasion, so give them a try. I love the process of making these dainties, and I'm sure you will too.
This luxurious date jam is a healthy spread and amazing sugar substitute that you won't be able to live without! Smear it on your muffin with a dollop of mascarpone for a decadent treat!
These date & pistachio rolls are the perfect healthier sweet treat that takes no time at all to prepare! You only need a handful of ingredients to make them and they're so moreish!
Date Nut Bread is an easy and moist quick bread with dates and walnuts. Perfect for breakfast, dessert, or afternoon tea. This recipe can also be baked in an old fashion cylindrical baking pan called a can (or nut roll cake can).
This old fashioned recipe for Date Cake is packed with walnuts and chocolate chips, plus the caramel-like sweetness from the dates.
These Date Pinwheel Cookies have a buttery brown sugar dough filled with swirls of dates and pecans. These babies are crisp, chewy, crunchy, and gooey all in one bite!
These luxurious coconut date balls are a bit of a treat! Packed with dates, cherries, candied peel and crushed biscuits. Finished off with a flourish of coconut and a hint of sherry.
This sweet and moist chocolate date cake is a dream come true for chocoholics with its rich chocolate flavor and soft texture. The crunchy surprise from the walnuts and chocolate chips on top makes it irresistible.
Lemon Bliss Balls are the perfect snack or dessert bites. The creaminess of the cashews combined with zesty lemon and shredded coconut is a true blissful combination. Prepare to make a double batch - they go quick!
These Date Scones are incredibly fluffy and packed full of sweet dates! Perfect with butter or some jam and cream.
Whole dates stuffed with mildly sweet and very rich almond paste make these Moroccan Stuffed Dates a very popular dessert.
Persian rice with dates, chopped pistachios, and aromatic cardamom is steamed together with an additive and crunchy saffron crust called tahdig.
These Goat Cheese Stuffed Dates are a fancy finger food your guests will drool over at your next party! They're sweet, savory, creamy, crunchy...everything you want from a one bite appetizer!
These delicious cookies are lightly sweetened and nutrient-packed-- a perfect option for a hearty breakfast cookie. They will have you asking, "How are these only sweetened with fruit?"
Both hearty and healthy, these Canadian date bars with oatmeal crumble topping are certainly delicious. They're packed with tasty ingredients like dates, oats, coconut, and cinnamon. Enjoy homemade date bars for breakfast, a snack, or as part of brunch.
This simple date cake recipe creates a cake that is moist and flavorful. The addition of cardamom gives the cake a slightly lemony, slightly spicy flavor that perfectly complements the caramelly flavor of the dates.
Make these easy and delicious date cookies for the holidays, or any time you're looking for a soft, not-too-sweet, cinnamon-spiced treat!
Warm Sticky Date Pudding served with vanilla bean ice cream and drizzled with Butterscotch Sauce, it doesn't get more delicious than this! This dessert is simple and easy to make, perfect for colder nights.
Also known as Sticky Date Pudding, this date cake is moist and comforting with notes of caramel and raisin. An easy homemade rum sticky toffee sauce ties the cake together and brings you back for more!
The most delicious sourdough bread loaf, lightly spiced with ginger and nutmeg and studded with sweet dates also features the signature chewy crust!
These bacon wrapped dates are stuffed with goat cheese, covered in bacon, then brushed with maple syrup before they go into the oven to bake to perfection. A super easy and unique 4 ingredient appetizer!
These date squares are rather unique. They are luxuriously buttery with a toffee-like flavor and a lovely crunchy texture from the pieces of biscuit.
Date Rice Krispie Balls have just a few ingredients & you can whip up these no bake treats in no time. Chewy, crunchy, vegan-friendly, and refined sugar-free.
An easy and moist date and walnut cake that isn't overly sweet. It can be served as-is or drizzled with a simple-to-prepare toffee sauce and toasted coconut.
Old-fashioned Date-Filled Oatmeal Cookies are soft and chewy with a sweetened date filling in the middle. Delicious with a cup of coffee or tea. This is an easy recipe that comes together quickly.
These no-bake date energy bar are loaded with natural ingredients like dates, walnut, almonds, and nuts like pumpkin seeds and sunflower seeds. Being no-bake, they require very less time to prepare.
This loaf consists of just a few ingredients, banana, dates, and spelt flour making it more nutritious than the regular banana loaf. The rum is the star here giving this loaf such a nice flavour and aroma.
Great for sprinkling onto your morning yogurt, this granola has a hint of savory from the olive oil. Add crunchy pistachios and chopped dates for sweetness!
An easy, do-ahead hors d'oeuvre that goes great with a cocktail and some good company!
A sticky base, with that familiar toffee flavor. But loaded with rice crispies, giving the base a perfectly balanced texture of crunch and chew. Blanketed with a complimentary layer of milk chocolate.
Made with whole grain oats and chewy dates, these Easy Homemade Oatmeal Date Granola Bars are perfect for a quick and healthy snack on the go!
This Date and Tahini Ice Cream is a revelation! Creamy, and sweetened with only dates, with the nutty, savory flavor of tahini mixed through. A uniquely delicious ice cream unlike any you've tasted before!
No bake date brownies made with minimal wholesome ingredients. These vegan brownies are easy to make, fudgy, and can be topped with chocolate ganache or homemade nutella.
This easy banana and date loaf is easy to make with ripe bananas, and taste great. Serve banana bread for breakfast, as a snack, or as a sweet treat in the lunchbox!
Date Filled Rugelach Recipe: naturally sweet and simple to make cookies with a tangy dough and pureed date spread.
This Medjool Date Coffee Cake is made with a moist coffee cake base, a layer of sweet and fruity Medjool date and brown sugar filling and a crumbly streusel topping!
Baked with coconut oil, these ultra-moist and super fluffy banana muffins are filled with lots of gooey, warm, sweet dates. 30 minutes from start to finish!
This Palm Springs Date Shake is the perfect summertime treat! Sweet and delicious, this milkshake recipe is made with dates and blended to creamy perfection.
It's perfectly sweet and creamy and will delight at your next party or family movie night. The dates naturally sweeten this cinnamon smoothie, while the rolled oats thicken it to a milkshake consistency.
Date Recipes Faq's
What is the best way to eat dates?
One of the best ways to eat dates is to simply consume them as they are, right out of the package. This allows you to experience their soft and chewy texture, along with their rich caramel-like taste.

Another popular way to enjoy dates is by stuffing them with various fillings such as nuts, cheese, or even chocolate for a delightful combination of flavors.
How many dates should we eat in a day?
Dates are nutritious fruit that is packed with essential vitamins, minerals, and fiber.

However, they are also high in natural sugars and calories. It is important to consider your overall calorie intake and dietary needs when incorporating dates into your daily diet.

As a general guideline, it is recommended to consume dates in moderation as part of a balanced diet. Consulting with a healthcare professional or registered dietitian can provide personalized guidance on the appropriate amount of dates for your specific dietary goals and needs.
Are dates good for you?
Yes! Packed with fiber, vitamins, and minerals, dates are not only a sweet treat but also provide essential nutrients for overall well-being.

They are a great source of energy due to their natural sugars and can be beneficial for maintaining healthy digestion.

Dates also contain antioxidants that help fight inflammation and protect against chronic diseases. Additionally, they are known to support heart health by reducing cholesterol levels and promoting healthy blood pressure.
For more recipes
Mini cupcakes- These mini cupcakes are bite-sized treats that are perfect for any occasion. This recipe shares mini vanilla cupcakes and mini chocolate cupcakes as well as chocolate buttercream and vanilla buttercream.
No Bake Biscoff Cheesecake- This no bake Biscoff cheesecake is made with biscoff crust, creamy biscoff cheesecake filling, biscoff spread, and biscoff cookie crumbs.
Chicken Pomodoro- This homemade chicken pomodoro is light, easy, delicious, and comes together in under 30 minutes from start to finish!
If you tried any of these recipes, don't forget to leave a rating and a comment below. We love hearing from you.
If you liked this post:
Share/pin this recipe to Pinterest.
Leave a comment down below!
📖 Recipe
Top 40+ Date Recipes: Date Cookies & More
Looking for some delicious and healthy ways to incorporate dates into your meals? Look no further than our Date Recipes roundup. These cookies are addictive and melt in your mouth delicious.
Ingredients
3 ½

cups

Flour

1 ½

teaspoon

Baking powder

2

tablespoon

Powder sugar

1

teaspoon

Vanilla extract

½

cup

Orange juice

200

g

Butter

¼

cup

Vegetable oil

1

Egg yolk

¼

teaspoon

Kosher salt
Filling:
450

g

Date paste

1

teaspoon

Cinnamon

1

cup

Walnuts

chopped
Instructions
Start by adding the dry ingredient to a large mixing bowl. (you can do this process in a food processor as well)

Add the flour, baking powder, powder sugar, salt, and mix with a whisk.

Add the vanilla extract, orange juice, and the egg yolk, soften butter, vegetable oil, and mix with a wooden spoon or with your hands until you get a smooth dough texture.

Form the dough into a ball and place it in a medium-size bowl and cover with plastic wrap. Let the dough rest in the fridge for at least an hour.

Preheat an oven to 170c (340f) and prepare a baking sheet with parchment paper.

Remove the bowl from the fridge and place the dough on a clean lightly floured surface.

Divide the dough into 3 even pieces. Let the other pieces rest in the fridge until you make the dough roll.

Start rolling the dough with a wooden rolling pin into a rectangle shape, cutting the edges if needed. Spread an even layer of the date paste on top of the dough.

Sprinkle the cinnamon on top and chopped walnuts.

Gently roll out the dough as you would do with a cinnamon roll. Transfer the dough roll onto a parchment paper-lined baking sheet.

Cut the roll into even 1-inch thick slices. Bake the cookies in a preheated 170c (350f) oven for 25-30 minutes.

Take the cookies out of the oven and cool for 30 minutes, then sprinkle powder sugar on top and serve.
Notes
Don't overbake these cookies. You don't want to dry out these cookies.
Chill for half an hour before eating. After baking these cookies, take them out of the oven and let them cool for at least 30 minutes. Then powder them with powder sugar.
Don't overmix the dough. You don't want to develop the gluten in this dough to prevent these cookies from being dry.
Add less sugar for less sweet cookies. If you like your cookies less sweet, decrease the sugar in the recipe.
Nutrition
Calories:
172
kcal
Carbohydrates:
12
g
Protein:
2
g
Fat:
9
g
Saturated Fat:
4
g
Polyunsaturated Fat:
3
g
Monounsaturated Fat:
2
g
Trans Fat:
1
g
Cholesterol:
20
mg
Sodium:
79
mg
Potassium:
41
mg
Fiber:
1
g
Sugar:
1
g
Vitamin A:
173
IU
Vitamin C:
2
mg
Calcium:
20
mg
Iron:
1
mg