These puff pastry desserts are a delicious and versatile treat that can be enjoyed in various forms from pies to tarts to danishes.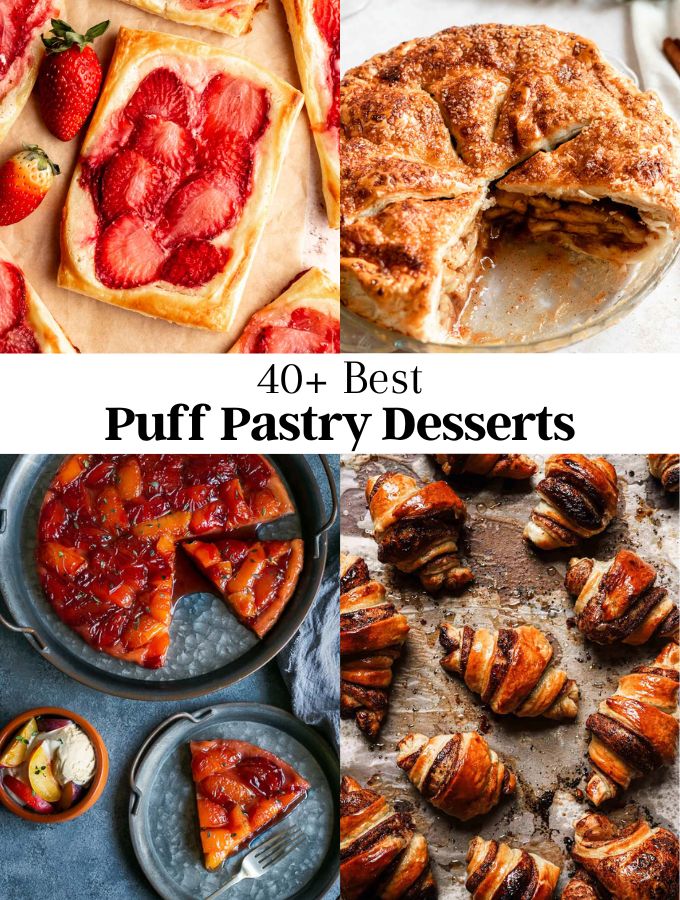 Made from layers of buttery dough that puffs up when baked, these desserts offer a light and flaky texture that is simply irresistible.
From classic favorites like apple turnovers and Napoleons to more creative creations like palmiers and chocolate twists, puff pastry desserts offer endless possibilities for indulgence.
Whether served as a sweet ending to a meal or enjoyed as a delightful snack, these treats are sure to satisfy any dessert lover's cravings.
For more recipe roundups, check out my pecan desserts, sweet breakfast recipes, honey desserts, Jewish recipes, loaf cake recipes, pink desserts, and sour cream desserts.
Jump to:
This apple pie with puff pastry is made with buttery store bought puff pastry and filled with an easy and delicious apple pie filling!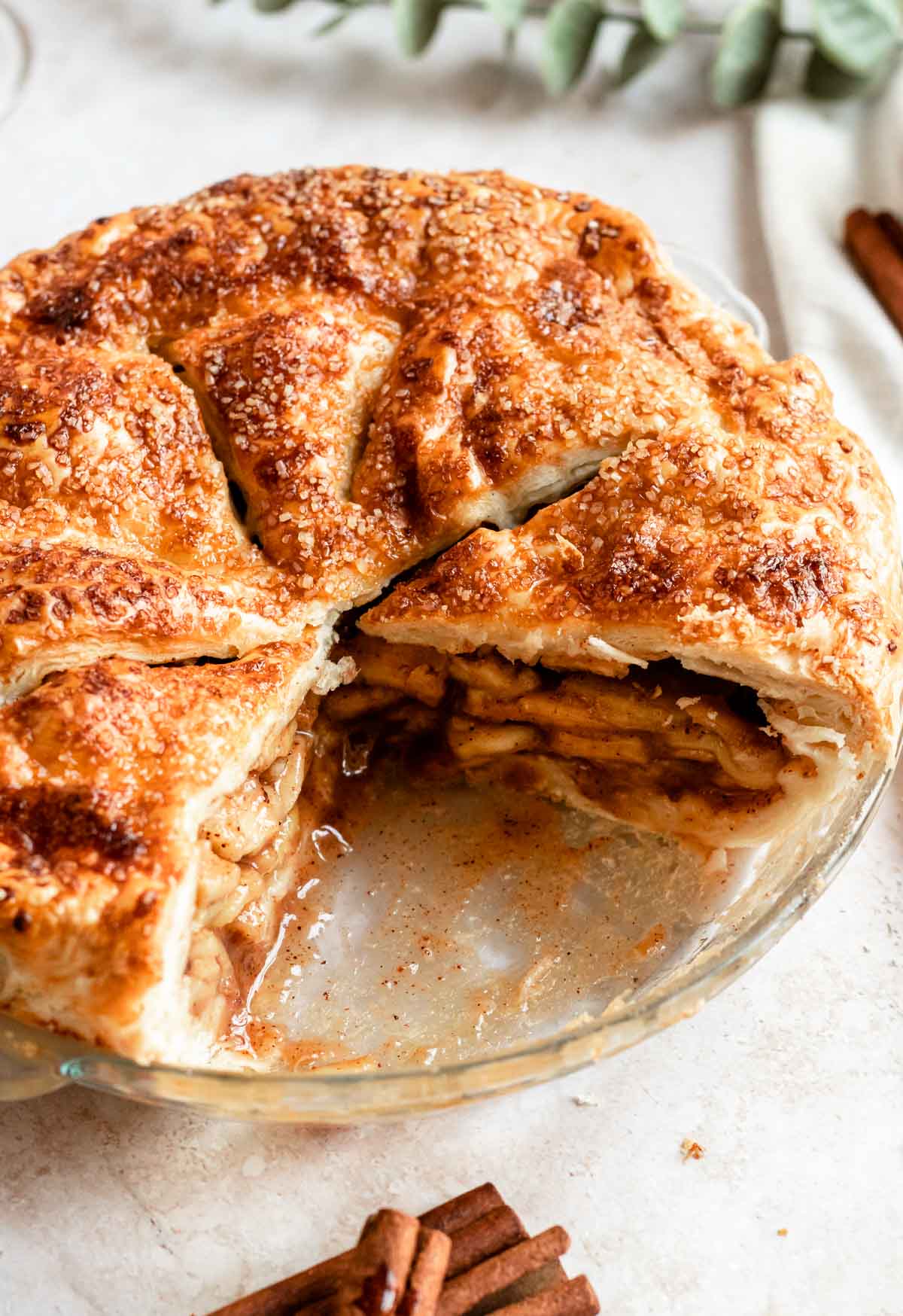 Strawberry turnovers are very easy to make, they are made with a flakey and buttery puff pastry dough and filled with homemade strawberry filling, topped with a simple glaze, and served with vanilla ice cream.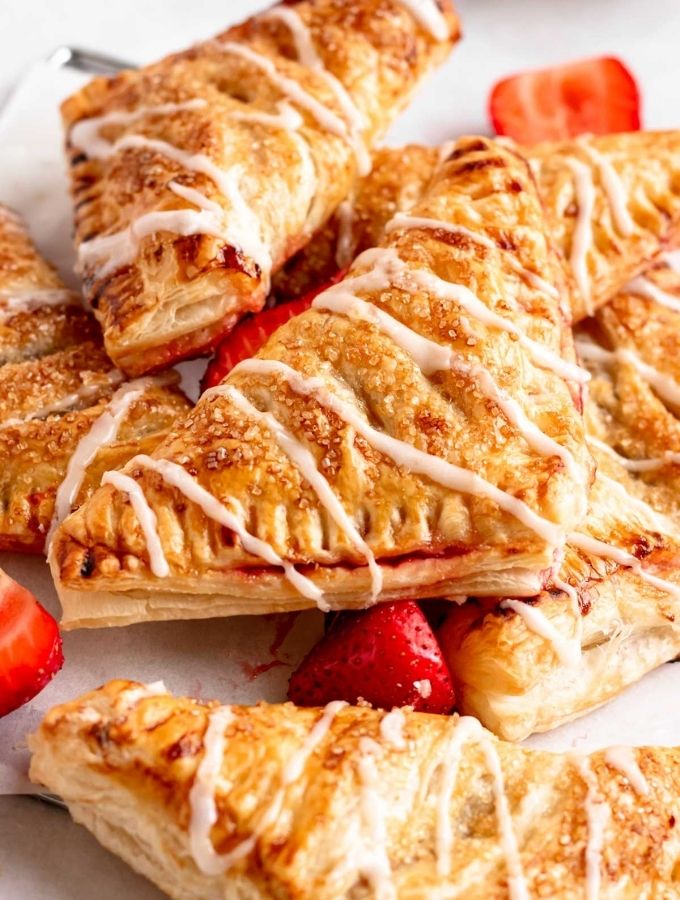 This puff pastry apple tart is the perfect easy apple dessert. It is made with caramelized apples and store-bought puff pastry!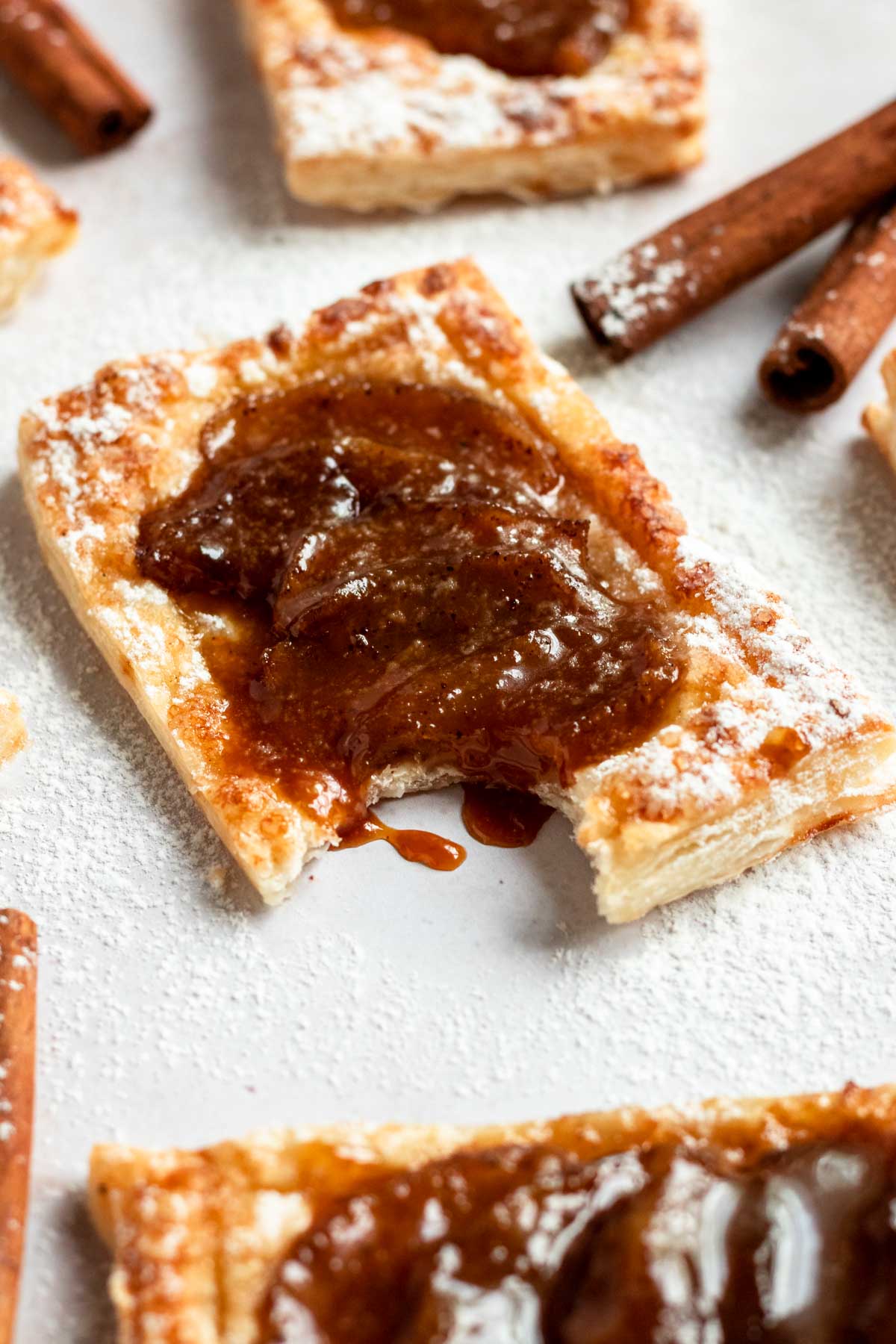 This Starbucks cheese danish is made with a flakey and buttery puff pastry dough, topped with an easy cream cheese filling, and topped with powder sugar.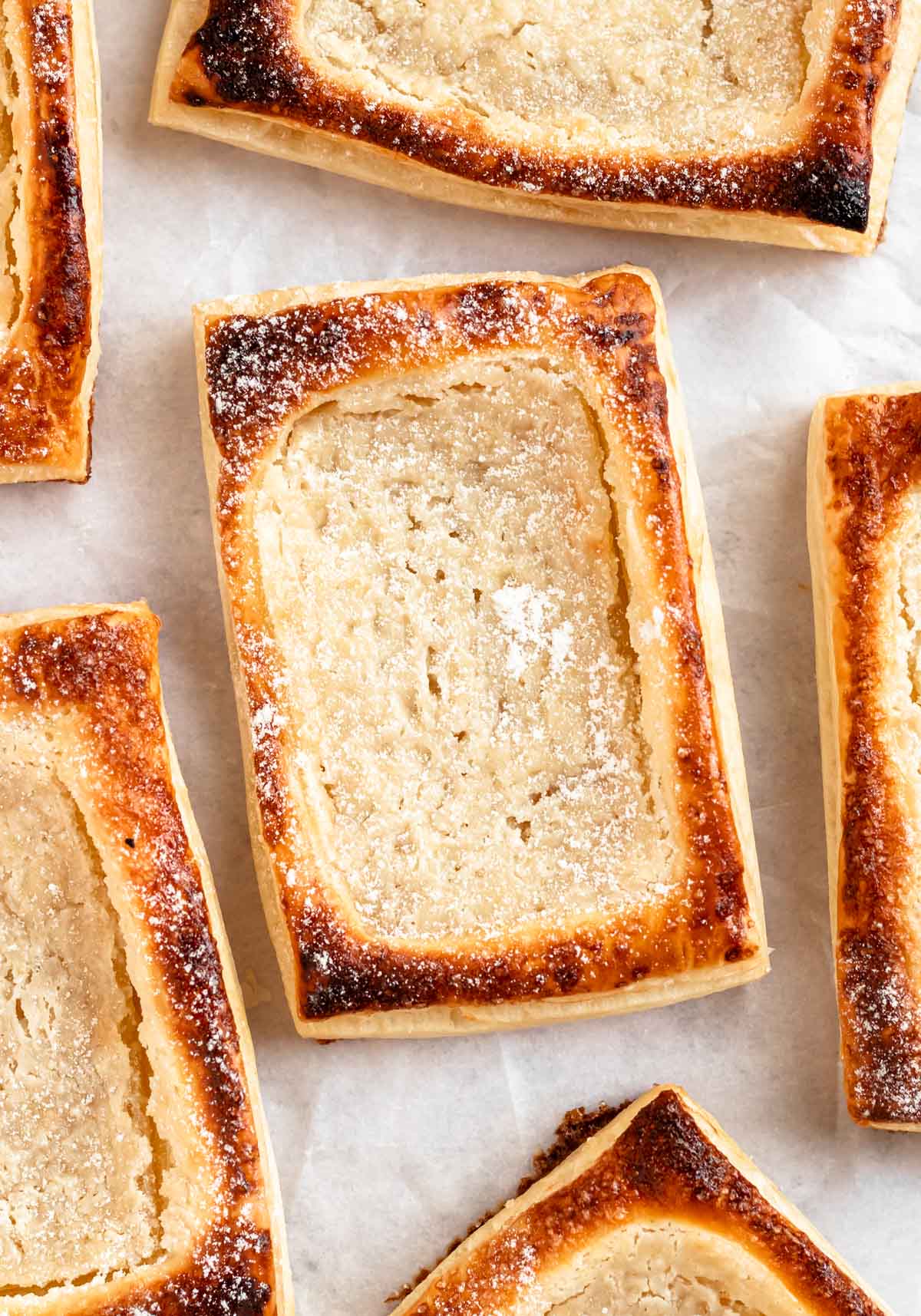 This puff pastry Nutella Christmas tree is filled with plenty of Nutella and is baked to a perfect golden brown. It has a buttery and flakey texture that melts in your mouth with the chocolate hazelnut spread.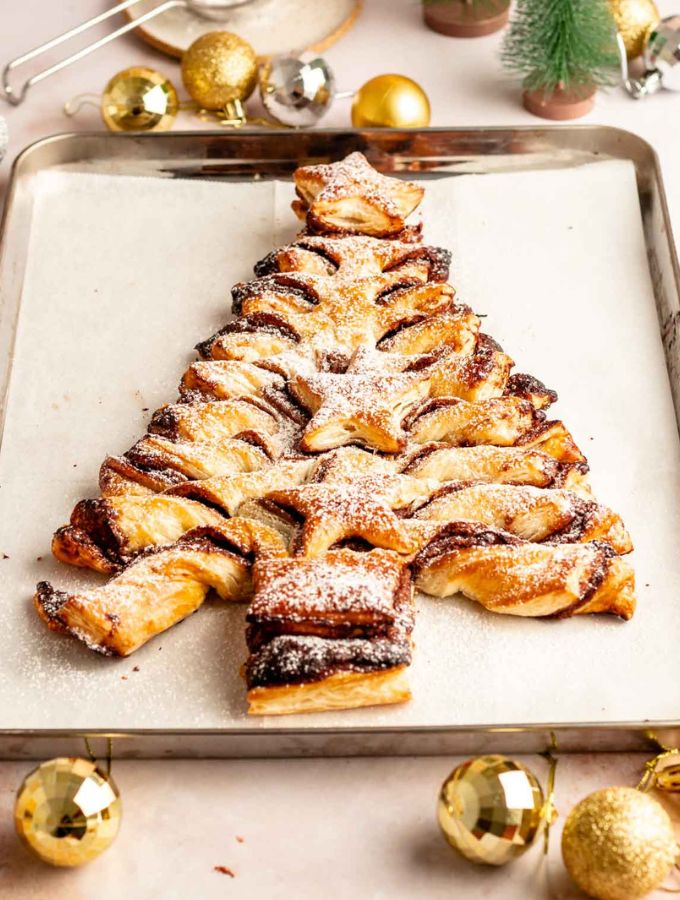 These puff pastry apple turnovers are made with a delicious spiced apple filling and wrapped with flaky puff pastry. These apple turnovers are so easy to make, come together in under an hour, and taste absolutely incredible.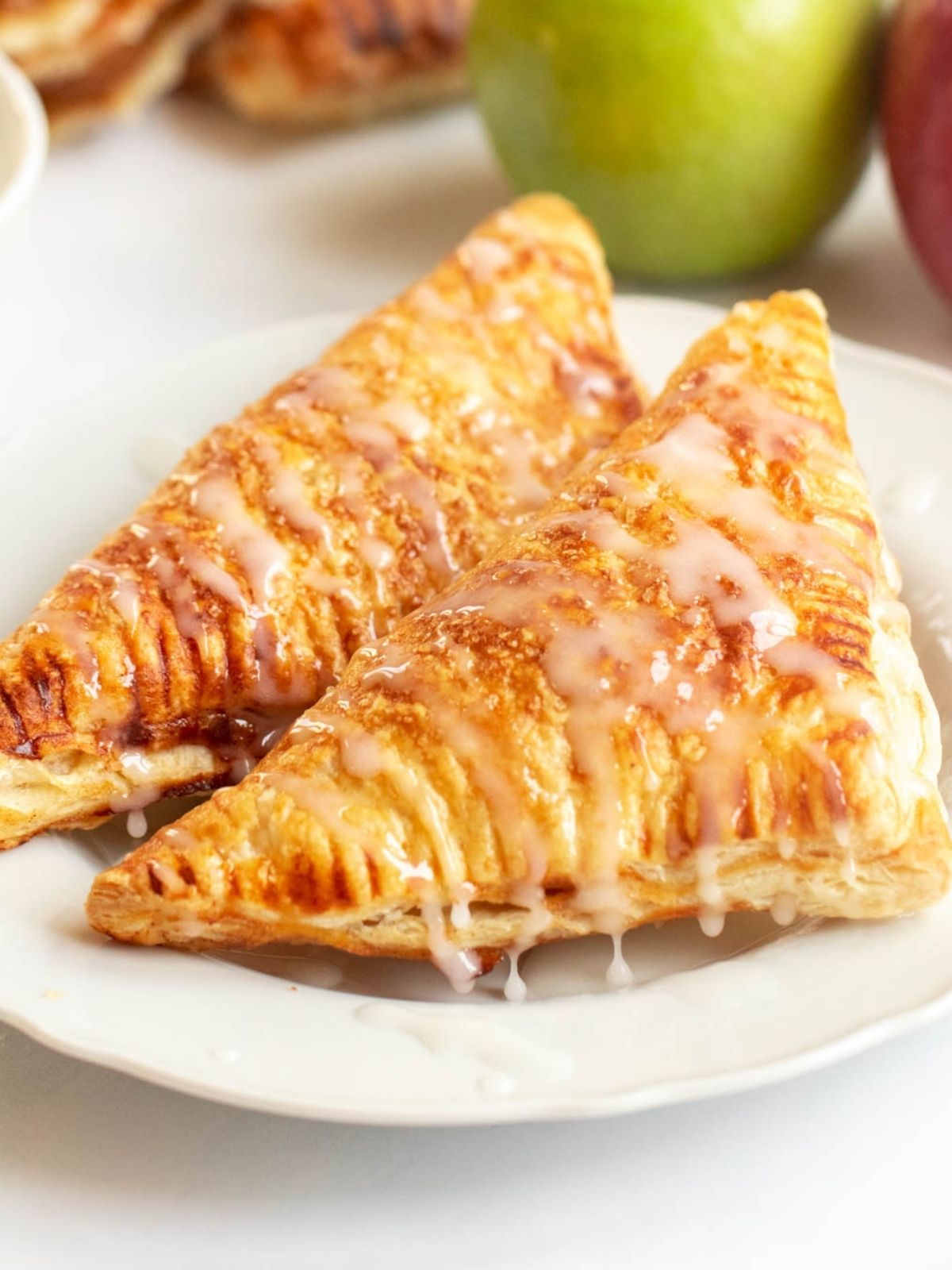 This bakery-style strawberry Danish is made with frozen puff pastry, fresh strawberries, and cream cheese filling, and is topped with either powdered sugar or zesty lemon glaze.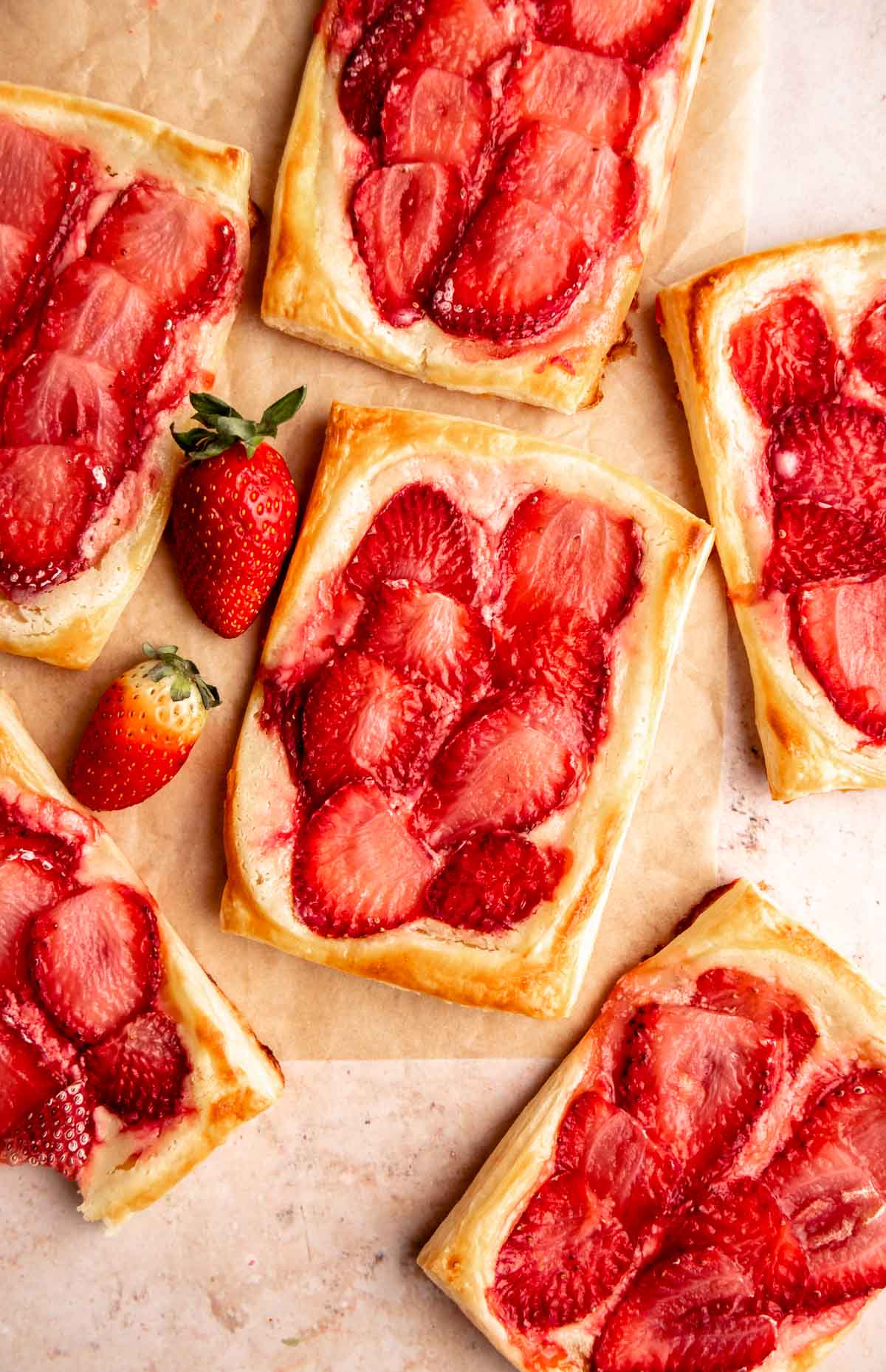 This apple roses with puff pastry recipe is not only incredibly impressive but amazingly easy to make as well! It's perfect for special occasions like Valentine's Day or any fun gathering!
Store-bought puff pastry is brushed with rich butter and then sprinkled with a yummy mixture of cinnamon sugar before being twisted up and popped into the oven to bake.
Napoleon cake is a perfectly moist and deliciously creamy dessert made of crunchy puff pastry and silky pastry cream. This recipe will show you how to make Napoleon cake that is flaky, elegant, and overflowing with homemade goodness.
The flavor of this Lemon Blueberry Danish Recipe is truly out of this world. If you're ready for a sweet treat with fresh blueberries and a citrus taste, this delicious dessert recipe is right up your alley.
Flaky. Simple. Delicious. My Maple Pecan Pastry Braid (or Plait) is made with store-bought puff pastry and layered with crunchy pecans, maple syrup, and an irresistible cream cheese filling!
Made with stickily caramelized plums instead of the traditional apples, cooked while enrobed with a buttery puff pastry, it is a two-step recipe, simple and quick.
These deliciously sweet and buttery Palmiers cookies are perfectly light, crispy, and crunchy perfection with each bite! Made with just a package of store-bought puff pastry and a bit of sugar, this 2-ingredient easy recipe comes together in just 40 minutes!
With this old fashioned Cream Horns Recipe, you won't need to buy them! Find below everything you need about how to make cream horns at home.
Buttery, flaky puff pastry dough meets a combination of lemon and blueberry all of which are topped with a drizzle of sweet glaze in these lemon blueberry hand pies.
These 4 ingredient Cinnamon puff pastry knots are filled with sugar and cinnamon, crunchy from the outside and soft on the inside, and are made with Frozen puff pastry, which makes them super easy to prepare.
This Puff Pastry Peach Danish recipe is super simple to make; it's crunchy and soft, with a layer of cream cheese filling, sugared peaches with a hint of cinnamon, and topped with sugar icing and almonds.
Imagine biting into crunchy yet soft and buttery hazelnut Nutella puff pastry knots, filled with the deliciousness of Nutella and hazelnuts in every bite.
Mini Puff Pastry Apple Pies are the most adorable and delicious little muffin tin apple pies that bake in about 30 minutes. Made with easy homemade apple pie filling and cinnamon crumble topping, they have all the flavors of warm Dutch apple pie in a perfectly flaky crust.
This Blueberry Galette is so easy to make and it is delicious! Simple ingredients come together for the perfect Spring and Summer dessert.
Simple and quick little puff pastry treats with your favorite chocolate, hazelnut spread. Who doesn't love Nutella in puff pastry twist.
This is the simplest puff pastry peach galette you will ever make. It is flaky, juicy, and perfect with a scoop of vanilla ice cream.
These sweet and tangy Lemon Curd Puff Pastry Tarts are an impressive dessert that is quite simple to make! All you need is lemons, eggs, butter, sugar, a touch of salt, and pre-made puff pastry to create this incredibly delicious treat.
This 5 ingredients and easy to make Red, White and Blue Puff Pastry Breakfast Tart is a great festive breakfast or dessert perfect for the Fourth of July, Christmas, brunches and more.
These mini apple pies are made with store-bought puff pastry. This is a classic apple pie but as a hand pie!
Mini Berry Cheesecake Tarts – baked store bought puff pastry filled with an easy homemade cheesecake filling and topped with sweet fresh fruit!
Mini French Puff Pastry Pear Tarts are easy and prepared in 20 minutes! A buttery & flaky crust topped with your favorite jam & juicy pears.
Delicious poached pear tarts, baked in frangipane and filled with a gooey chocolate filling. A show-stopping dessert!
These fried apple pies are a McDonald's copycat recipe that feature a homemade apple pie filling encased in pastry and deep fried to flaky perfection. The pies are finished off with a dusting of cinnamon sugar for a unique and delicious dessert option.
This is a recipe for blueberry turnovers made with puff pastry and homemade blueberry filling. These delicious pastries can be enjoyed for breakfast or as an afternoon treat.
This Strawberry Almond Millefeuille is a delicious and fresh variation of the traditional Millefeuille with pastry cream. It is made of three crispy layers of puff pastry covered with strawberry cream and topped with almonds.
Mince pies made with puff pastry; an unbelievably easy recipe perfect for the festive season. It's made with shop-brought mincemeat and ready-rolled puff pastry so is super quick and simple.
Blackberry Cheese Danish is filled with lemon-thyme cream cheese, then topped with fresh blackberries on a buttery puff pastry crust. It's finished with a delightful sugar glaze!
These chocolate puff pastry croissants are the next big thing in your oven. They are flaky, buttery, and loaded with chocolate and the most crucial part is that they take less than 5 minutes to get into the oven.
Flaky, buttery pastries filled with a lightly sweet apple filling with tart cranberries
Cruffins are the perfect sweet cinnamon breakfast (or dessert) that you can throw together in under 30 minutes. These light and sweet cinnamon sugar pastries are fun to pronounce and fun to eat!
These Puff Pastry Chocolate Croissants taste like they took all day to make. They're buttery, delicious, and perfectly chocolatey.
These Puff Pastry Cronuts with Buttermilk Glaze are delicious, so easy to make, and they just melt in your mouth! This recipe will become your go-to for cronuts!
Super easy puff pastry cinnamon rolls! Cream cheese frosting and super quick prep make these cinnamon puff pastry rolls one of the best puff pastry recipes!
Faq's
How to thaw puff pastry?
Place the puff pastry at room temperature for 2-3 hours until it's thawed or place it in the fridge overnight.
Can I use homemade puff pastry for these recipes?
Yes! If you love making your own puff pastry, use it! If it is frozen, make sure that you thaw it an hour or two before making this recipe.
How long does puff pastry last in the freezer?
If it's stored properly, puff pastry will last for up to 6 months in the freezer.
Can I make these gluten free?
You can make these recipes gluten-free by using gluten-free puff pastry. It can be either homemade or store-bought!
More dessert recipes
Pumpkin Swirl Cheesecake- This pumpkin swirl cheesecake features a biscoff cookie crust topped with creamy cheesecake swirled with pumpkin spice swirl.
Coconut Balls- These coconut balls are a delicious treat made with shredded coconut and sweetened condensed milk, and covered in melted chocolate.
Apple Crumble Cheesecake- This apple crumble cheesecake is made with a creamy cheesecake filled with apple pie filling, topped with crumble topping and caramel sauce.
If you tried any of these recipes, don't forget to leave a rating and a comment below. We love hearing from you.
If you liked this post
Share/pin this recipe to Pinterest.
Leave a comment down below!
📖 Recipe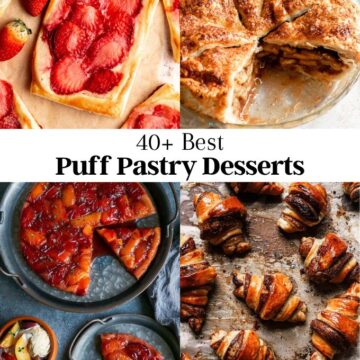 41+ Best Puff Pastry Desserts That Are More Than Easy
These puff pastry desserts are a delicious and versatile treat that can be enjoyed in various forms from pies to tarts to danishes.
Instructions
Select your favorite recipe that caught your eye.

Make a shopping list and purchase the ingredients.

Make your favorite puff pastry desserts recipes!